22 Popular Short Hairstyles for Women
Like This:
You can have many choices if you are going to cut your long hair short this season. Besides, it will take you less time to keep your hairstyle every morning. From the cropped cut, short pixie to the classy bob, there's always one suitable for you. They can work perfectly for all kinds of face shapes and hair types. What you will need to do is only to pick out which one will work best on you and bring it to your stylist.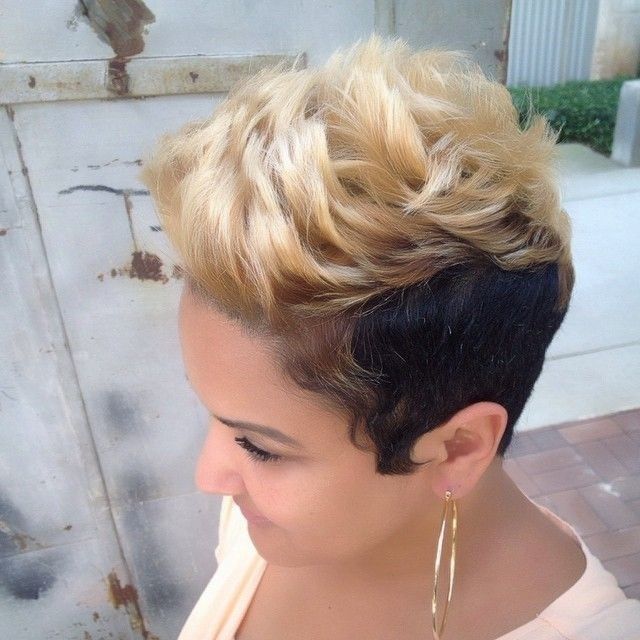 Blonde Pixie Haircut for Black Women
The light blond hair will make a big contrast with black women's dark colored skin. Along with the cool undercut side, this hairstyle is an ideal option to make a bold statement of your hair.
Chic Short Wavy Haircut
Keep the top sections of hair tapering into longer layers which will be able to create a tousled and messy effect for your hair look. They can be also slicked to one side forming the stylish side bangs.
Choppy Layered Short Hairstyle
It is a most flattering way to create a cute short hair look with lovely curls and twists. It looks so flirty with so many wispy hairs in the air.
Choppy Short Hair for Heart Shaped Face
The short hair will look edgy-chic when styled with heavily cut layers throughout. This hairstyle is an ideal option for young schoolgirls.
Cool Layered Pixie Cut
The cool razor cut can make a short hair look very edgy-chic and modern. But it may need plenty of skills when placing the layers throughout.
Cute Blonde Pixie Haircut for Fine Hair
Pixie cuts can be so versatile for different hair types. If you are a girl with thin hair, this cute blond pixie with soft waves can create extra body and shape for your hair look.
Easy Straight Bob Haircut
If you are having soft, fine-textured hair, this straight bob hairstyle will be a best way to showcase your charming features. To avoid dullness of your hair look, you can create volume at the crown.
Layered Bob Hair with Sides Bangs
It is an easiest to spice up your short hair look with blond highlights. It can also lighten up the skin tone for African American women.
Layered Bob Haircut for Blonde Hair
The bob haircut is a classy hairstyle for women. It can be tapered to fit all kinds of face shapes with different types of layers in the body.
Layered Pixie Haircut for Brunette Hair
The short hair can look way too glamorous with boosted volume over the crown. It reminds us of the impressive 70's style with its heavily tapered layers.
Layered Short Haircut
This short hairstyle is featured with vintage side sweeping bangs running across the forehead, while the back remaining of well-trimmed short layers.
Long Bob Haircut for Thick Hair
The long bob haircut is a safe choice for girls who want to keep their mid-length hair straight. Keep the bottom in almost the same length for a clean and neat look.
Long Pixie Haircut for Fine Hair
It still looks amazing when a short pixie has grown out. Apply some hair serum with your hands to boost well-defined strands and textures over the length.
Pink Colored Short Hairdo
A spot of beautiful hair color will make your short hairstyle more alluring and interesting. It is also a great way to emphasize short layers and smoothness.
Pixie Haircut with Side Long Bangs
If you want a gorgeous look of your short hair, try this deep side part hair with old-Hollywood waves. Sometimes, you can even pair this flattering hairstyle with your sporty outfits.
Purple Colored Short Hair for Women
As the two-tone trend is being so popular this year, it is a high time to use this element for your hair look. Pick one adorable color to your side bangs and it will make your short hairstyle full of fun.
Short Brunette Hair with Asymmetry Cut
It is a splendid way to give your short hairstyle a deep red color. The long side bangs will frame your face shape perfectly.
Short Haircut with Bangs for Women
It looks perfect to have blunt bangs for a messy bob haircut. You can wear it for both formal and informal occasions.
Short Hairstyle with Side Bangs
If you are a girl round shaped face, the added lift at the crown will help to elongate your silhouette for a better proportion. Besides, the sleekness your your hair can make your hairstyle look fuller.
Stylish Pixie Haircut with Side Bangs
Short pixie haircut can look very mature and feminine if styled with extra-large waves. Add eye-skimming bangs to make your attractive eyes be the center of attention.
Trendy Pixie Haircut for Summer Hair
Cut your hair very short in the back and sides, while leaving the front part with longer layers for a cool Fauxhawk look of your hair. Finish with a mist of hairspray for strong hold.
You can find more (short hairstyles) on prettydesigns.com