Top 15 Kim Kardashian Hairstyles – Kim Haircuts Pictures
Do you get bored with your present hairstyles and want to take a change? Here are 15 Kim Kardashian hairstyles for you to get inspired. Some hairstyles are sexy and edgy while others are sweet and causal. Keep reading! There must be one style that is suitable for you!
Kim Kardashian Hairstyles: 2014 Ombre Layered Haircut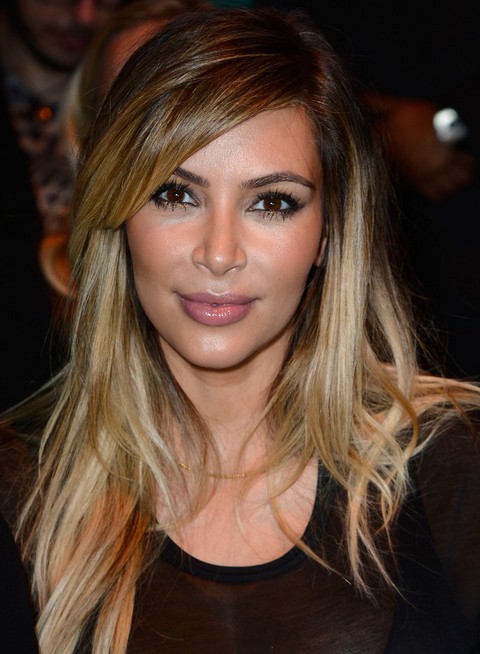 Kim Kardashian sports a layered haircut with side-swept bangs. The casual layers are crispy with the ombre highlights. It's simple yet chic and it's low maintenance. You can rock this haircut for a joyful family get-together or a holiday.
Kim Kardashian Hair styles: 2014 Black Long Straight Haircut with Bangs
Kim Kardashian looks fiercely brisk with this long straight haircut. The bangs are swept to one side and most of the locks are also put to one side and fall on the shoulder and then to the front. The textured black hair delivers a quite healthy look and it is effortlessly stylish.
Kim Kardashian Long Hairstyles: Sassy Braided Hairstyle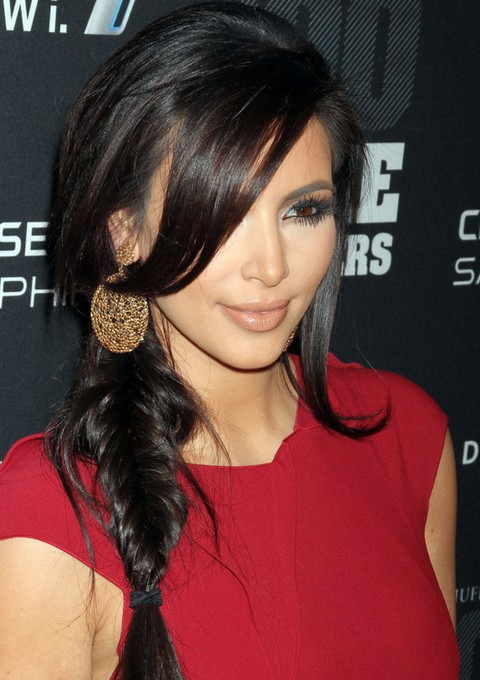 Kim Kardashian looks so flirty with this braided hairstyle. The braid is made messily and the bangs are left falling upon the forehead and cover one eye. On the other side, a strand of lock are left on purpose. Thus, a sassy and stylish look is born.
Kim Kardashian Long Hairstyles: Cute Straight Haircut with Blunt Bangs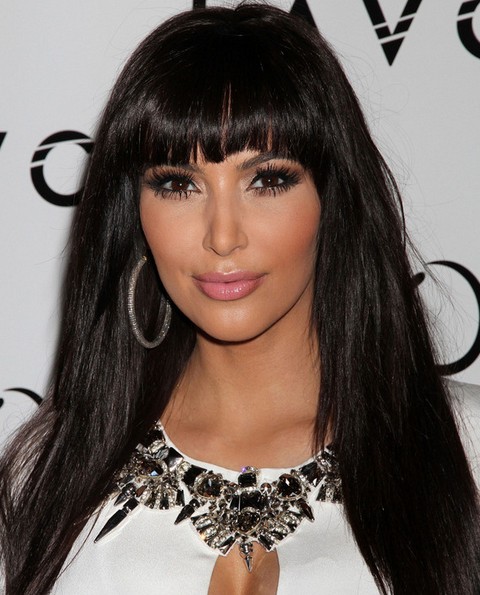 Kim Kardashian rocks a cute straight haircut with blunt bangs. This is a classic hairstyle that suits for every lovely woman. The blunt bangs and textured locks make you face smaller. That's so great!
Kim Kardashian Long Hairstyles: Adorable Long Curls with Braids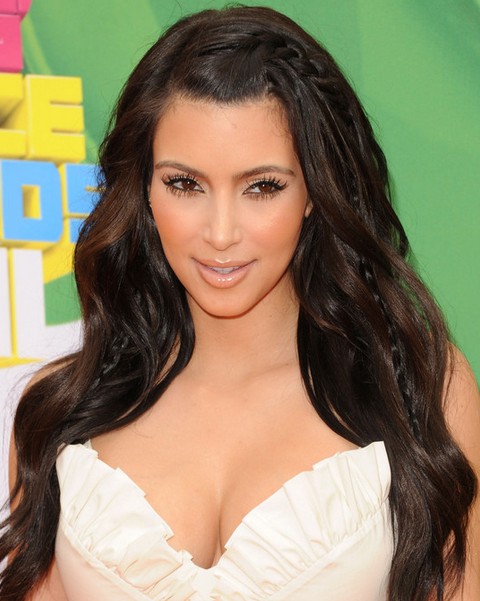 I really like this hairdo. So fabulous! The long loose curls add life to the dark locks. Do you see the lovely braids hidden in the hair? That's really amazing and the tiny braids give sweet touch to the look. Try it, and you must be a popular little princess!
Kim Kardashian Hairstyles: Voluminous Long Curls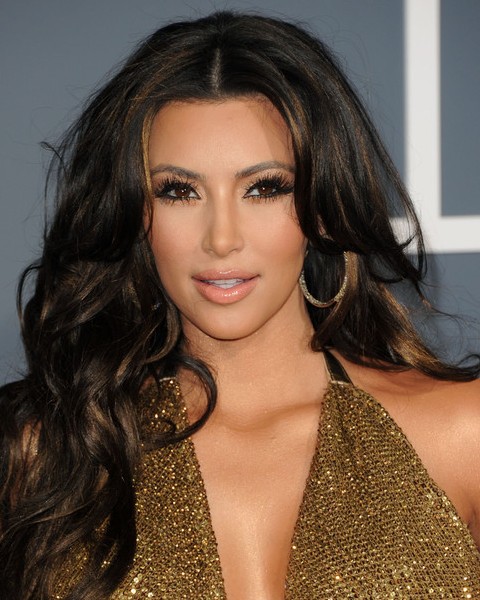 Kim Kardashian looks radiant with the voluminous curls. She parts her hair from the center and enjoys the hug of the curls. The highlights on the fringe make the look more stunning. Rock this hairstyle for a party, and you must be the queen of the party.
Kim Kardashian Hairstyles: Trendy Long Side-parted Hairstyle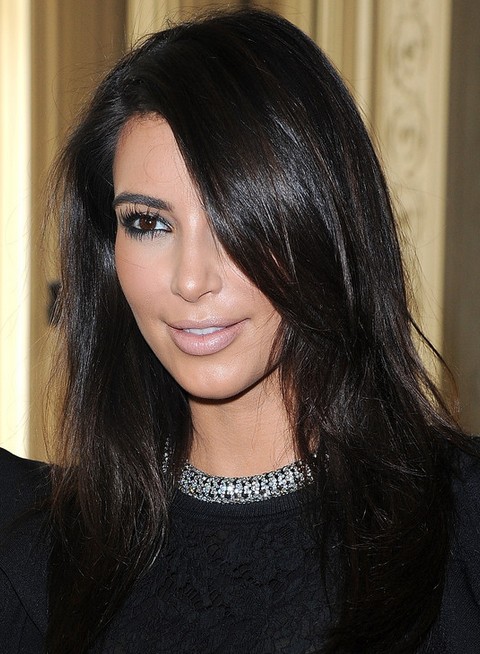 This is a casual yet trendy look for our workdays and weekends. Kim Kardashian just wears her black hair down and there are some natural waves on the side-parted fringe. When you go shopping for have fun with your friends, this hairstyle is quite a good choice.
Kim Kardashian Hairstyles: Sexy Long Curls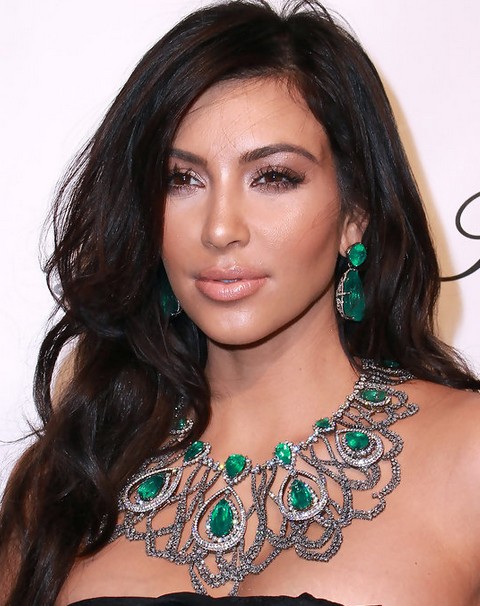 How sexy Kim Kardashian is with this long curly hairstyle! She parts her hair from the side and sweeps them to one side, showing off one side of the face and half-covering the other side. It's really a feminine hairstyle. Go for it if you like it!
Kim Kardashian Hairstyles: Loose Long Curls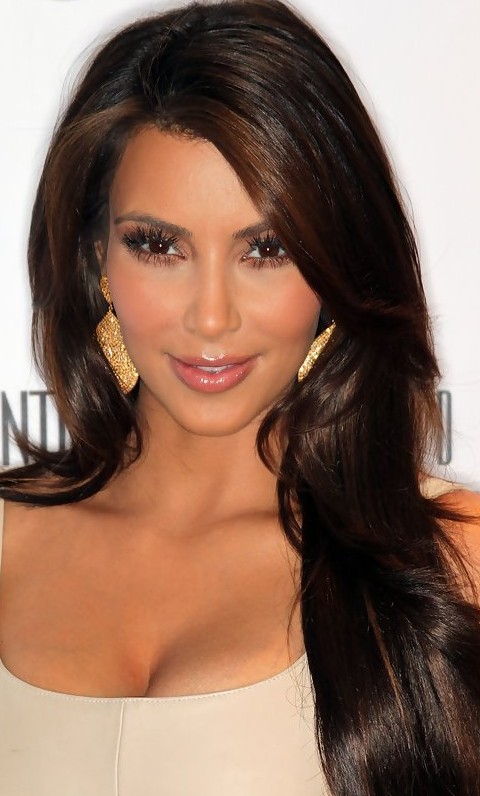 I like loose curls. They make a woman lazy-chic and more natural than the voluminous curls. More importantly, they are easy to maintain. Just look at this side-parted loose long curly hairstyle. The shaggy texture around the face works well to frame the face, and the long wavy lower parts make the whole look more elegant and girlish.
Kim Kardashian Hairstyles: Graceful French Twist with Center-parted Bangs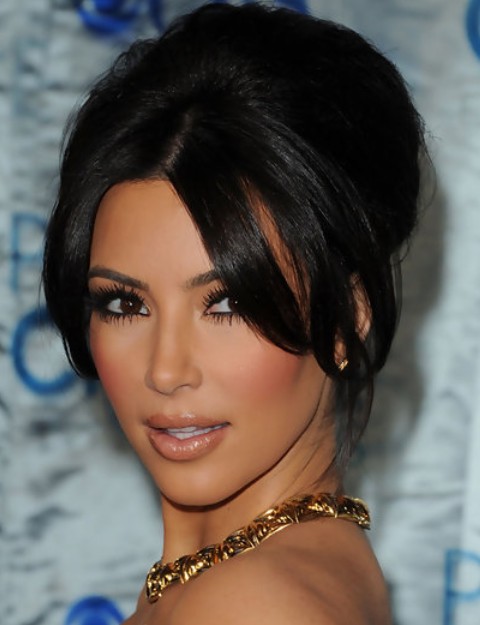 There are always some occasions where we should tie up our beautiful long locks. Don't worry. You can still be pretty with this French twist. Part your bangs from the center to shape your face, and tease the rest of lock back into a big roll a little bit lower than the crown. You will be gorgeous with this hairdo on any occasions.
Kim Kardashian Hairstyles: Gorgeous Long Straight Haircut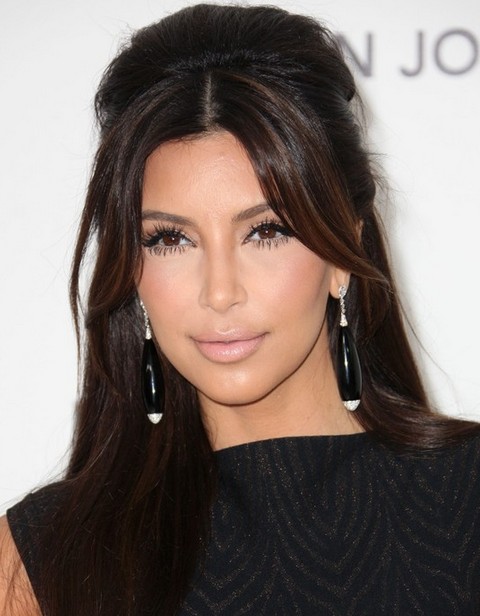 Kim Kardashian looks elegant and stylish with this half-up half-down hairdo. This hairstyle is a new version of the French twist above. Just take up the upper section of your hair and leave the lower part hanging down naturally. It's so chic and classy!
Kim Kardashian Hairstyles: Fabulous Long Braided Hairstyle for Young Girls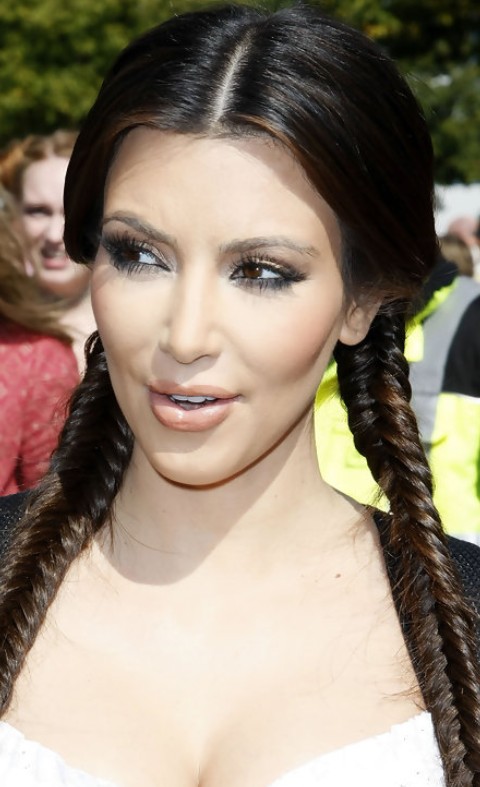 If you like braided hairstyles, this must be your favorite one. The neatly teased two plaits will give you an oh-so-fresh look, and make you popular with others. You can also leave blunt bangs which just glance off your eyebrows, and it will make you more adorable.
Kim Kardashian Hairstyles: Elegant Braided Bun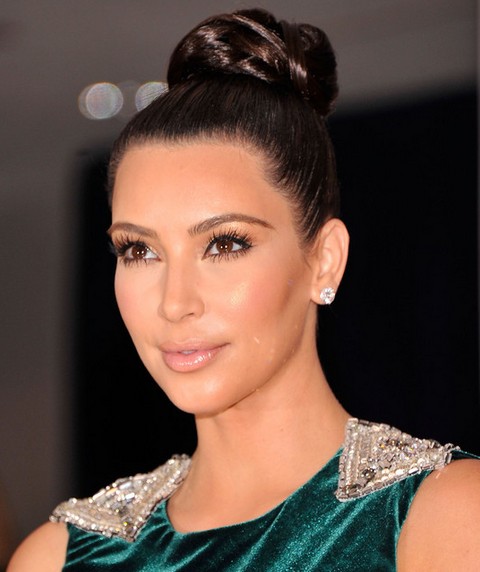 Kim Kardashian teases all her brunette locks slickly up to the crown. Do you notice that this is not a simple classic bun? The bun is made of a thick braid. I think Kim looks really vibrant with this hairstyle. If your face is fat, you'd better keep the bangs on your forehead.
Kim Kardashian Hairstyles: Cute Ponytail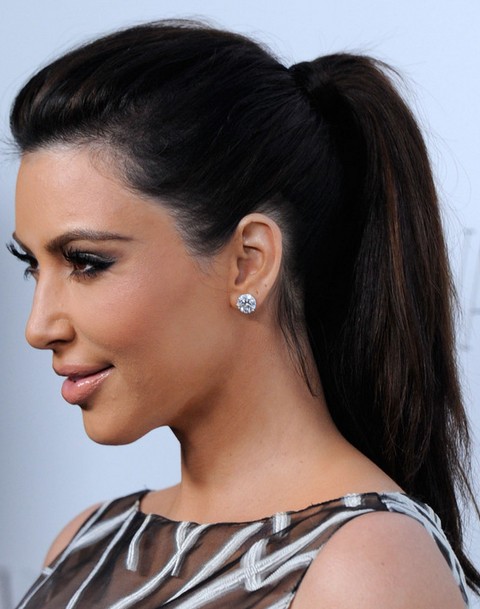 Every girl suits the ponytail. Tease your hair back and fluff the locks on the top of your head. Fix the ponytail on the back, add some texture to the ponytail and make it tousy. You will get a simple yet trendy look with this cute pony tail.
Kim Kardashian Hairstyles: Center-parted Layered Haircut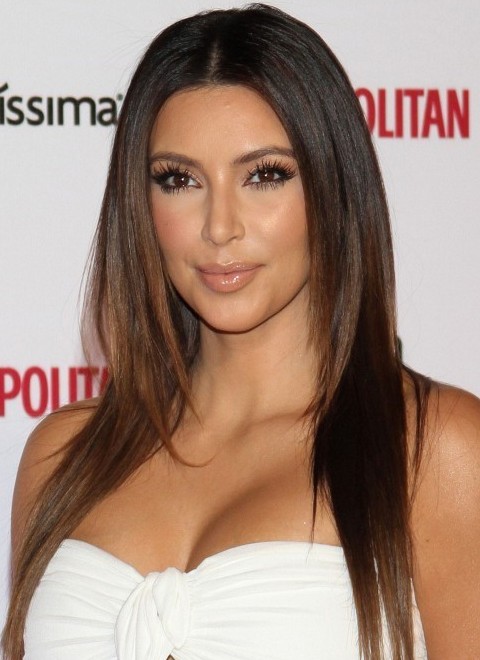 This layered haircut works well for every face shapes. The center-parted hair and the smooth locks on both sides just make your face into the shape of perfect oval. Besides, the layer haircut is airy and vivacious for your everyday look.