Celebrity Bob Hairstyles: 20 Fabulous Short Bob Haircuts for 2023
The year 2013 is soon coming to the end, and with the new year's approaching, it's the best time for you to choose a fresh and fashionable hairstyle. Bob, the most popular one, is undoubtedly still the stunner for the new year. Here, we've picked out the 20 most outstanding short bob haircuts for you. Browse our 20 fabulous bob cuts, find new inspirations from the pop stars, and you are guaranteed to find the perfect one to refresh yourself in 2014.
Rita Ora's short hairstyle: side parted straight bob cut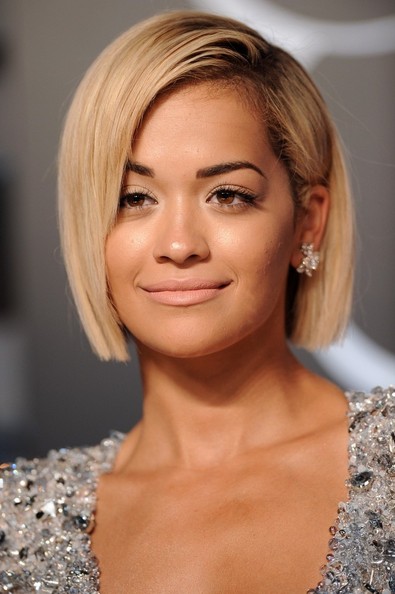 The well-known British pop singer Rita Ora rocks a sleek blonde bob with her hair side-parted, which gives her a simple yet sweet vibe. Rita chose a creamy nude lip to keep her appearance pretty and clean. The best thing is that this hairstyle is suitable for all face shapes when done appropriately. If you are a sweet heart, why not try this hairstyle?
Miroslava Duma's short haircut: Brunette bob hair style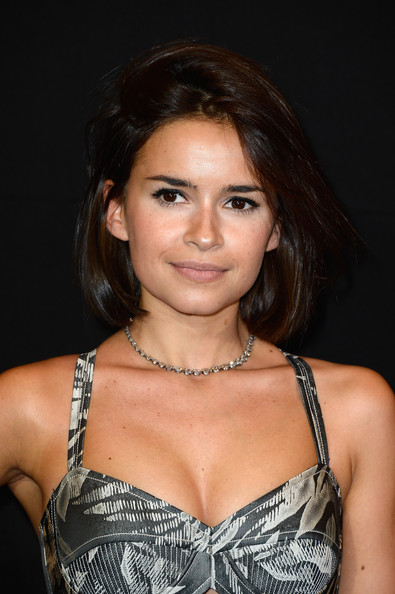 She looks super chic with this bob haircut. The top half of the hair has been put up, with the front fringe sweeping across the face. It is a bit of casual, giving the whole outlook a special charm of independence.
Katharine McPhee 's short hairstyle: choppy bob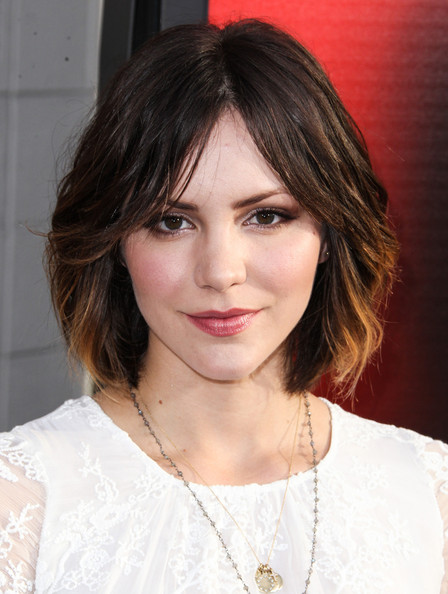 Katharine looks gorgeous with this middle parted bob. This bob hairstyle is naturally curled and leaves us the impression of the choppy 70's look. And this characteristic makes the lady more gentle and graceful. You can also ask your hairdresser to add some highlights to your hair so that it can be trendier.
 Claire Holt's short hairstyle: chic side parted bob cut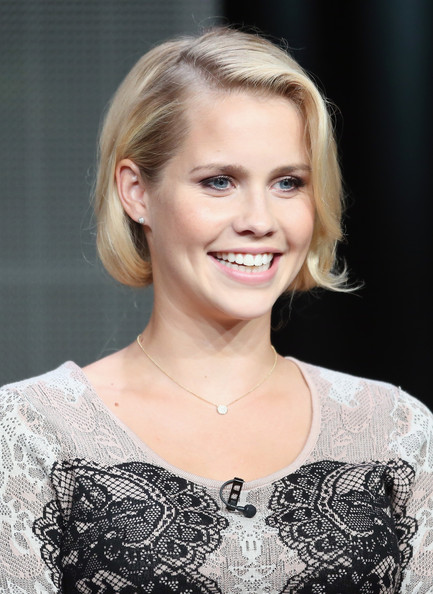 Claire is so radiant with her side parted bob. This hairstyle shows off her sophistication and elegance with the slightly curled bottom. One side of the hair has been put above the ear, which makes the lady more feminine. Have a try. You must be surprised to find out how graceful you are.
Brittany Snow's Short Hairstyle: side parted blonde bob cut with long side swept bangs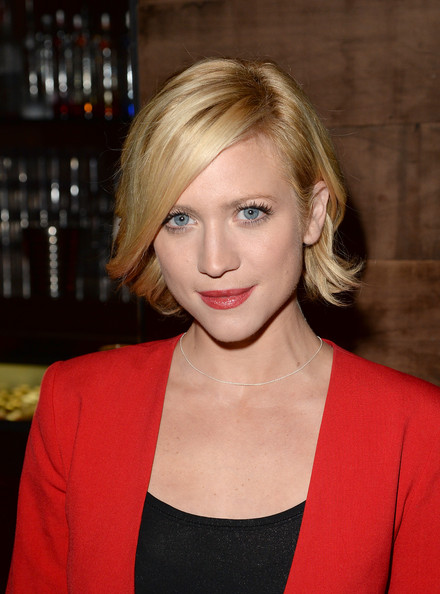 The noted American actor sports the popular bob, too. This haircut is so cute with the end of the hair being flapped out, which add a life to the bob. The side swept fringe in the forehead primely frames the face shape. Brittany achieves a chic glam with this hairstyle effortlessly. Try it! It may be the best choice for you!
Karlie Kloss' short hairstyle: choppy bob hairstyle with side swept bangs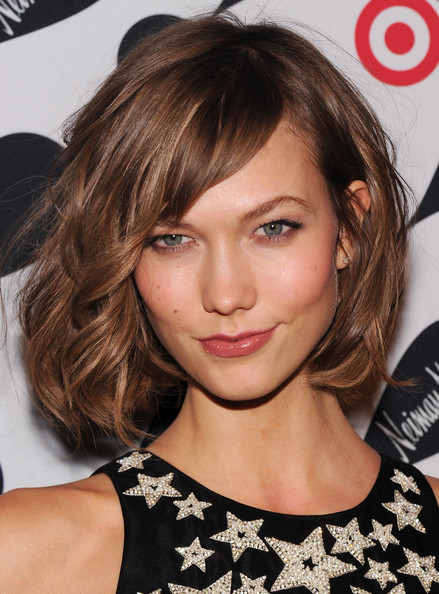 This bob hairstyle is so beautiful that even the angels want to try. A good hairstyle can highlight your best facial features. Just like this one, which give Karlie the great chance to show off her super-covetable cheekbones. The side parted hair gives the hair a textured and flirty touch. Why not experiment with this glamourous hairstyle? You are sure to be more charming!
Leigh Lezark's short haircut: classic black bob hairstyle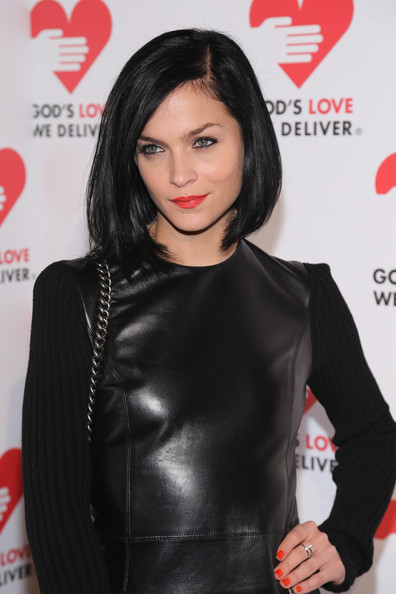 Leigh Lezark, the great model, rocks a simple yet classic side-parted bob. She looks so cool with the black leather suit. You can apply this hairstyle with some variations. For example, you may ask the hairdresser to change your hair color,or you may try it with blunt bangs.
Julianne Hough's short hairstyle: side parted straight blonde bob cut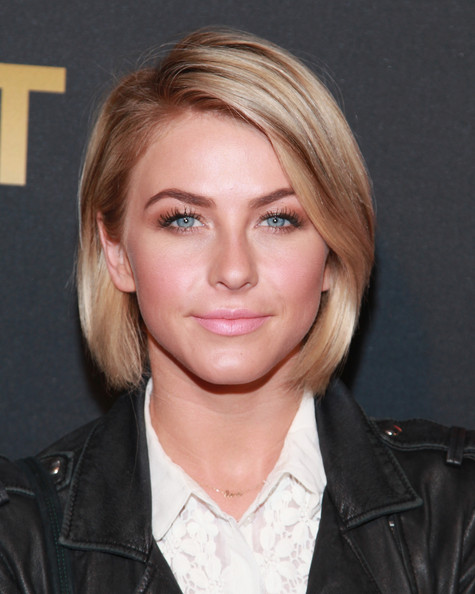 Julianne Hough, an actress from the US, looked super chic with this classic bob while she was attending the Justin Timberlake's concert. She fixes the hair on the right back over the ear, with hairs on the other side falling down naturally in slight curly waves. This side-parted bob beautifies the face shape in a perfect way. No matter what your face shape is, it can be the safest try for you.
Maggie Rose's short hairstyle: blonde sleek bob hair style for women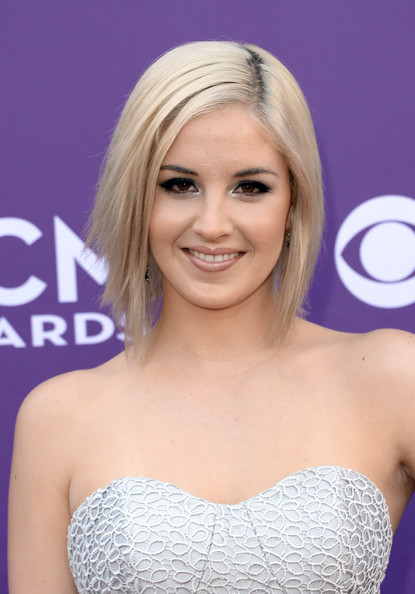 Maggie Rose sticks to a side-parted layered bob for a modern look. The platinum hair color suits Maggie's fair skin complexion and silver dress ably. This hairstyle is seemly simple, yet the stylist gives it a funky touch by chopping the end irregularly so that the layers can be more causal and natural. The long crispy end can also shape your face well. If you have the same complexion as Maggie, try this hair color, too. Or, you may change the color as you like.
Leigh Lezark's short hair style: popular side parted bob hairstyle for oval face shapes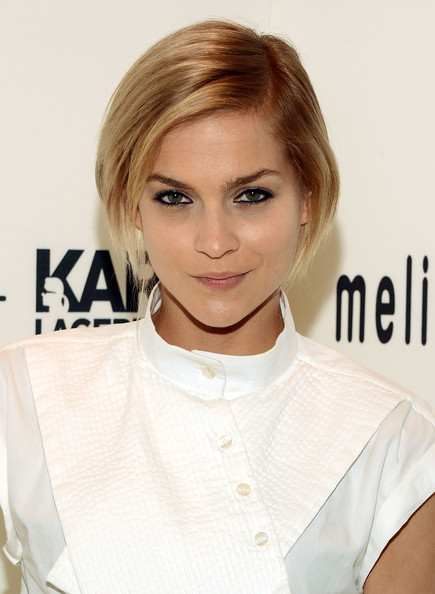 Leigh Lezark goes for a feminine look with this interesting side-parted bob hairstyle. The blonde hair has been styled into well-designed angles, giving the exterior a playful and youthful vibe. The length of the tapered hair in the front is just about ear-length, which has a dramatic effect to framing your pretty face shape. If your face is a little bit fatter or longer than Leigh, you may ask your stylist to leave the fringe around your face to the chin-length long for a greater look.
Brittany Snow's short hairstyle: blonde wavy curly bob hair style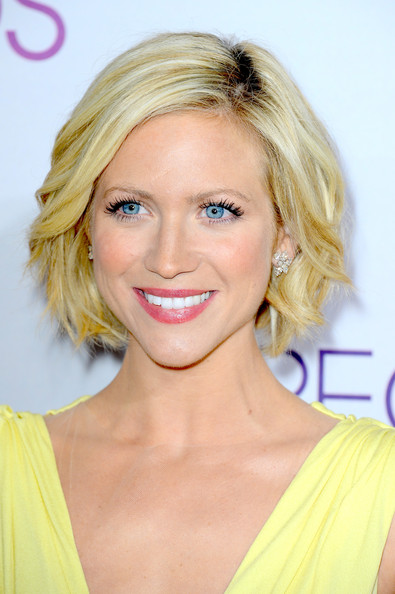 Brittany Snow looks gorgeous with this sparkly ginger bob. The chin-length side-parted bob is so sweet and stylish with subtly spiral curls outwards at the end and the above hair delicately tousled. This hairstyle opens up the face emerges a feeling of refreshment and spirit with the bright hair color. You couldn't be more beautiful with this fabulous hairstyle.
Chloe Grace Moretz Short Hairstyles: Under Curled Chin-Length Bob in Brown Hair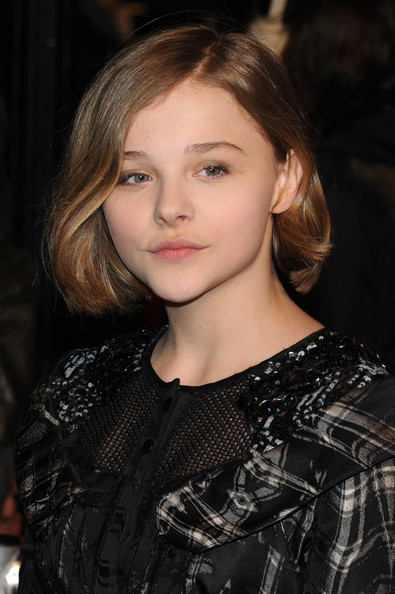 Chloe Grace Moretz's sweet brown hair looks even sassy and charming with this darling bob. She sweeps the locks to one side with the under part moderately curled. In this way, the chin-length wavy bob just embraces her face, half covering one side and totally showing the other side. It is a smart trick to shape your face and show off your unique attraction.
Pixie Lott's Short Hairstyle: best layered bob hair style with bangs for thick hair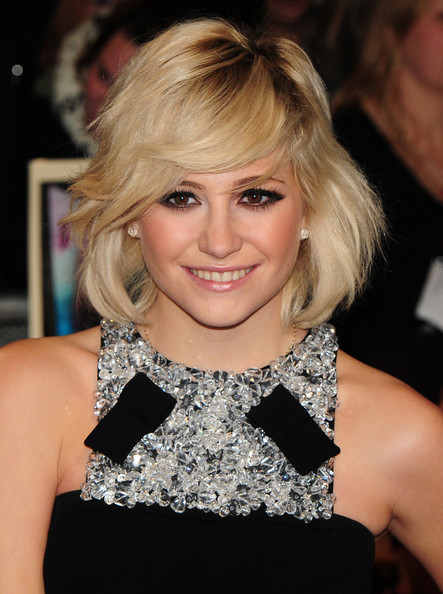 Pixie Lott rocks a bob with lovely layers to show off her fashion statement. This hair on the crown is casually tousled, and the over-grown pixie above adds life to the special styled bob. Locks around the ear are curled inward with an expansive effect. This hairstyle is totally funky, but it may be a little bit difficult to maintain. Turn to the hairdresser or try to make yourself an expert! You deserve it.
Charlize Theron's short hair style: center parted curly out bob haircut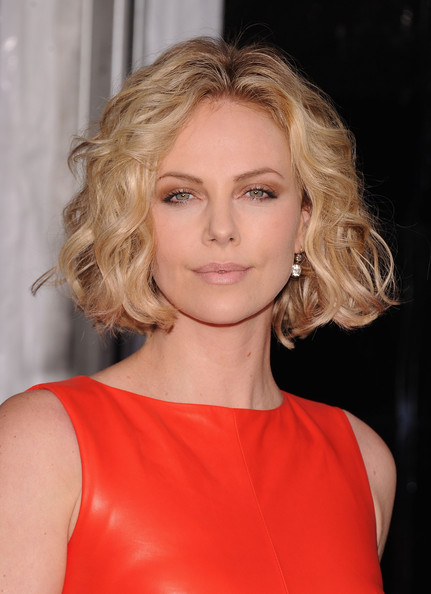 Charlize Theron is absolutely a goddess with this jaw-length bob. The shiny golden hair is center-parted with voluminous textured curls. This hairstyle is both classic and sophisticated. It is available for every woman who wants to be more attractive, for the hairstyle is easy to do and maintain. You can be a goddess without any effort. Why not try it by yourself?
Katy Perry's Short Hairstyle: stylish straight blue bob cut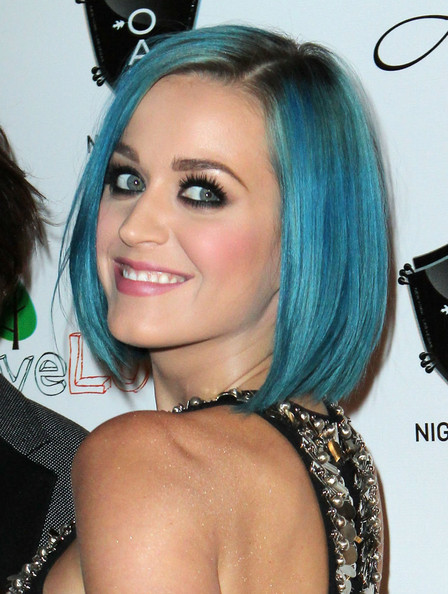 The super chic pop singer in America, Katy Perry, always brings us surprises with her amazing styles. This time, she sports a classic bob in blue with the hair side-parted. The sleek and straight bob is a good choice for almost every one, showing a simple yet trendy exterior. If you are not ready to adopt this light hair color, the common black, flaxen are both nice options.
Jaime King's short hairstyle: latest popular wavy curly bob hair style with long bangs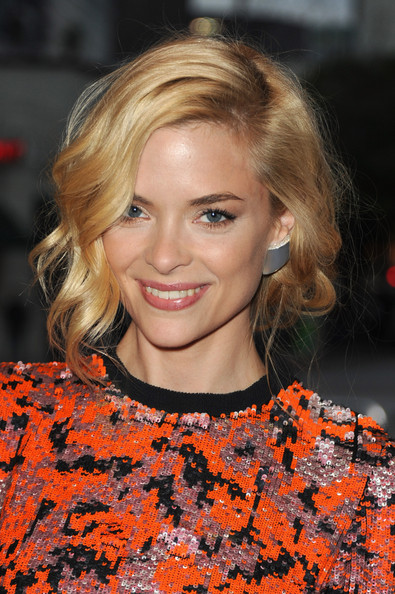 The soft choppy curls make Jaime King even more glamourous with this adorable bob. The fair hair is fixed into a deep side-parted style with loose waves. A deliberate strand of ringlets has been left aside, falling down the face naturally. The other side has been swept back causally. This bob hairstyle oozes a touch of sultriness and elegance and it's best for those graceful and sexy ladies.
Carolina Bona's short hairstyle: elegant blonde wavy bob hair style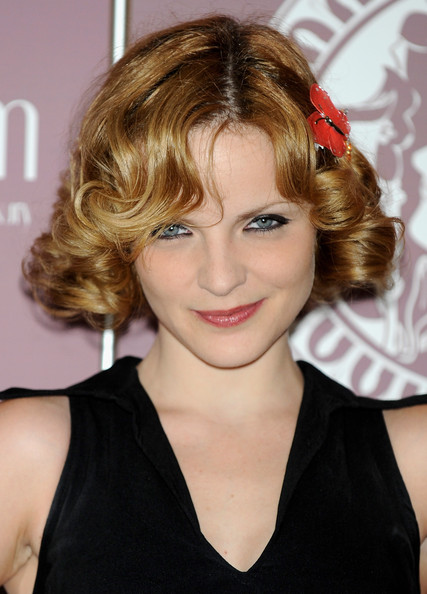 Carolina looks so cute with such lovely curls. This is actually a classic bob, but the locks have been curled. The big and tight ringlets are fixed close to the face so that you can get a minimal and pretty look. The wave bangs further frames the face shape. With the help of a butterfly hairpin, the whole appearance becomes brisk and youthful. Sweethearts, try it right now!
Jaime King's short haircuts: chin length straight bob hairstyle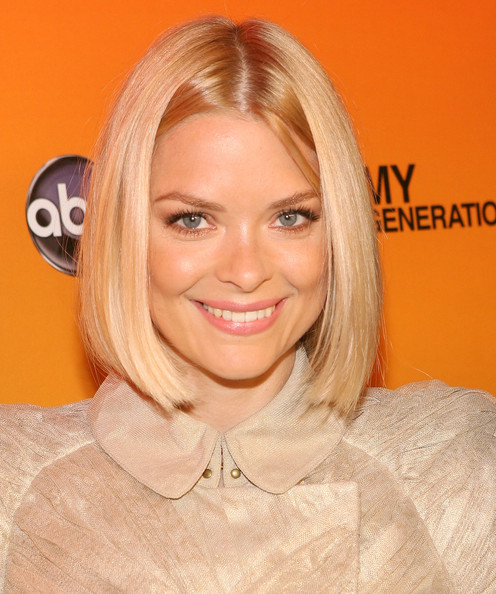 If you appreciate the style of girls-next-door, what do you think about this hairdo for chin-length straight hair? The blunt cut bob is center-parted, while the locks from both sides perfectly modify the face shape. Yes, it's simple, yet it's contemporary as well. Jaime King looks so darling and well-behaved with this haircut. This hairstyle is approachable, girls who wears it must be loved ardently every day.
Katharine McPhee's short haircut: chic short straight bob haircut for thin hair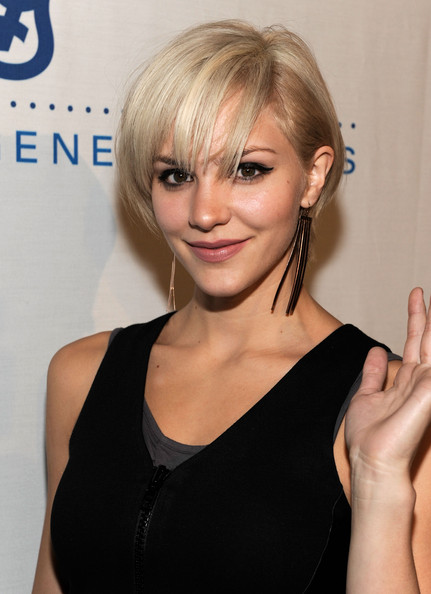 Take a look at Katharine McPhee's bob hairstyle. She looks so edgy with this skillfully-cut hair. It's a layered bob with long wispy bangs skimming over the forehead. The sassy cut attaches a lot of movement to the hair with the graduated layers. You can do this faddish haircut with some innovations, such as highlights and bold hair colors.
Agyness Deyn's short hairstyle: blonde bob cut with side swept bangs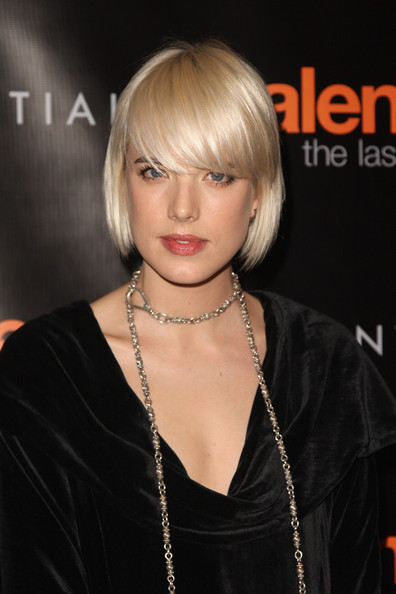 Another available short bob hairstyle is just the one Agyness Deyn rocks. The over grown thick bangs are swept slightly to a side. The brilliant chin-length bob looks extraordinarily pretty with the straight hair naturally hanging down. This is also a wonderful hairstyle that can make you a few years younger. Is that beckoning you?
So far, you have finished all of the 20 fabulous short bob hairstyles. With a totally charming hairstyle, you are certain to enjoy a great mood each day in the new year. If you like anyone of the hairstyle mentioned above, show the picture to your hair stylist and make yourself fresh-faced.