Beauty Product Hall of Fame: 7 Cult Classics
In the market for some new makeup? These miracle-working products are beauty industry classics that are sworn by women and beauty professionals alike – past and present. See which 7 products made it to our "Beauty Product Hall of Fame":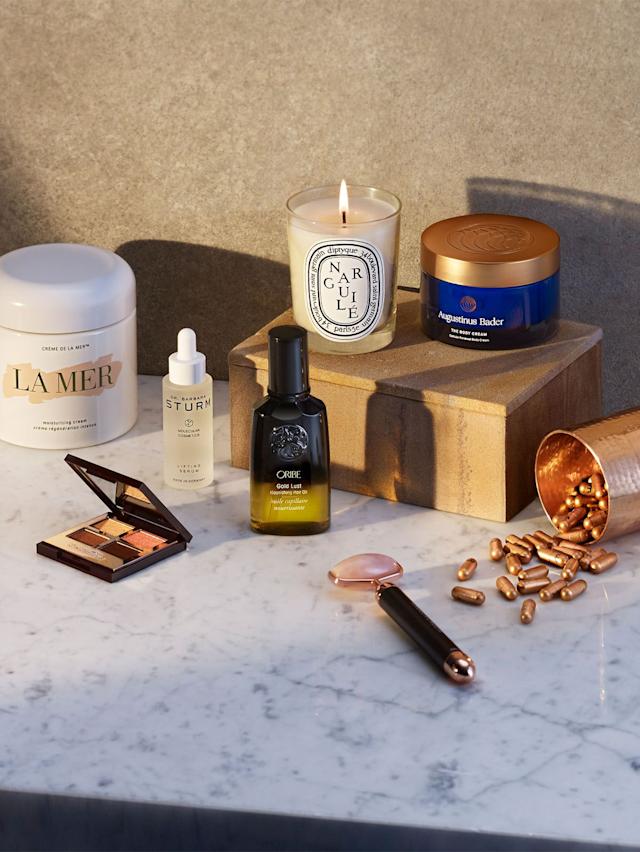 Mascara: Maybelline Great Lash
They don't call it "Great Lash" for nothin'! This mascara has been a staple in makeup bags for 40 years and counting. The formula and classic wand make this mascara extremely versatile – as it can flawlessly pull off a subtle, natural look, or a full, dramatic nighttime look. Stiletto lash, plumping, and volumizing mascaras all sound appealing in the makeup aisle – but why not stick with a tried & true classic with more than just one lash look? Not convinced? Fun fact: Someone buys a tube of Maybelline Great Lash Mascara every 1.7 seconds.
Eyeshadow Primer: Lorac Behind the Scenes Eye Primer
This may be one of the newer products on the block, but it is an absolute must-have for your lids. If you haven't invested in an eye-shadow primer yet, here's all you need to know: CREASE PROTECTION. As most of us know, mere hours can do a greasy, messy number on your eyelids – and by day's end you could be looking like you painted the color on with a pastel crayon. This gentle, oil-free, and lightweight product has a soft, powdery texture that can save your 'shadow from becoming oily and smudging. The best part? The primer protects your eye makeup for up to 12+ hours – even in brutal humidity. TIP: A little goes a long way. The tiniest dab will cover both lids, which prolongs the product.
Foundation: MAC Studio Sculpt Foundation SPF 15
When it comes to a makeup base for our face, I think we all look for the same thing: a light, moisturizing formula that masks the appearance of dull, uneven, and splotchy skin tone. Bonus points for a satin finish, great blendability, and maybe some SPF – to boot. If that sounds like the ultimate authority in foundation to you, then meet your maker: MAC Studio Sculpt SPF 15 Foundation. With a wide variety of skin tone-inspired colors to choose from, this foundation is the miracle worker that BB creams were inspired by.
Bronzer: Hoola by Benefit
The beauty industry has been doing the "hoola" over this beachy bronzer for years now. Described as "Barbados in a box", Benefit's award-winning Hoola bronzer lives up to its name by providing a natural, believable bronze – sans the orange and shimmery tint. The small, festive box also comes with a flat brush designed for contouring, which makes your features pop. Take note, Snooki!
Blush: Nars Orgasm
Behold the Holy Grail of blushes: Nars Orgasm. This blush has won countless awards and is pretty much a household name in the beauty industry. People swear by the gold-flecked rosy pink tint, as it livens up the complexion and gives the apples of the cheeks a healthy, natural flush. This blush is so popular in the beauty industry that Nars created an entire line around it, composed of lip gloss, nail polish, highlighter, and even a multi-purpose stick that can be applied to the eyes, cheeks, lips, and body. If it's not already in your makeup bag, add it to your wish list!
Moisturizer: Clinique Dramatically Different Moisturizing Lotion
Thirsty face? This award-winning moisturizer has been around since the 60's and is still one of the most widely used creams today. It doesn't boast any frills like SPF, tint, or anti-aging technology – it's just a classic moisturizer doing what it does best and that's why we love it! The product was designed to hydrate dry skin by mimicking its oil and water balance – resulting in a lightweight formula that goes on smooth and wears great under makeup. Sometimes you just gotta stick to the classics!
Concealer: Stila Perfecting Concealer
One of the most important rituals in our makeup routine is covering up any traces of flaws for fool-proof flawless skin. Be it dark under-eye circles, splotchiness, acne, or pimples – a concealer that can eliminate these problematic peeves is top notch. Stila's Perfecting Concealer lives up to its name when it comes to perfecting! It's got all of those peeves in the bag and comes in a variety of colors to match your skin tone.
What beauty product do YOU swear by and want to see in the "Beauty Product Hall of Fame"? We would love to know!