Top 10 Best Deodorants For Women That Actually Work
Deodorant is a vital staple in any woman's healthy daily hygiene and beauty routine. We need deodorant to keep us smelling fresh and clean and to prevent any embarrassing tell-tale sweat stains from making an appearance under our arms throughout the day. However, not all deodorants are fully effective at helping us achieve this simple goals. Many deodorants wear off as the day progresses, leaving you with a faint (or not so faint) odor and sweat by the time the late afternoon or evening rolls around.
If you're sick of ineffective deodorants, keep reading the Deodorants reviews to learn about the top rated best deodorants for women that will keep you fresh and dry all day long.
10. Dove Go Fresh Anti-Perspirant Deodorant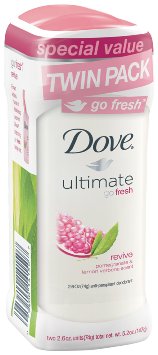 One of the most irritating (literally) elements of inferior deodorant formulas is that they are not gentle on the skin underneath your arms and can cause painful bumps, redness, rashes, and other uncomfortable signs of irritation. Infused with one-quarter moisturizing cream, this deodorant from Dove gently conditions and nourishes the delicate skin underneath your arms to leave it feeling soft and smooth. Plus, it contains no alcohol to prevent drying out your skin and irritating it further.
If you have a long day ahead of you, there's no need to worry. This deodorant will keep body odor and sweat at bay for an extended period of up to forty-eight hours, which allows you to go through your day (and night) without worrying about what your underarms might be up to.

9. Secret Clinical Strength Smooth Solid Women's Antiperspirant & Deodorant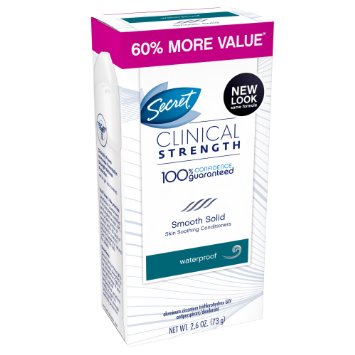 If you're heading to the beach or pool to splash around for the day, you might ordinarily be worried about your deodorant caking up, flaking, and wearing off to leave your underarms exposed to odor and sweat development by the time you get out of the water. This deodorant from Secret effortlessly solves this problem with its waterproof formula that holds its ground against any moisture that comes its way.
Infused with special odor-fighting capsules and skin conditioners, this deodorant keeps your skin protected from sweat and odor all day long and leaves your skin feeling soft and smooth. As compared with other deodorant formulas, it provides you with four times the protection from the accumulation of sweat and moisture under your arms.

8. Degree Dry Protection Anti-Perspirant & Deodorant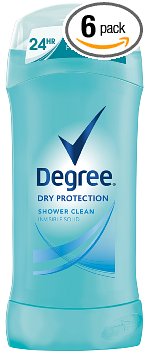 For up to twenty-four hours, this deodorant from Degree responds to natural cues from your body to keep your underarms feeling fresh, clean, and dry no matter how much you sweat. Because of its special invisible solid formula, it won't make nasty tell-tale white streaks on your clothing or add a white powdery appearance to your underarms.
Infused with a light floral fragrance of refreshing rose, jasmine, and sweet fruit, this deodorant keeps your underarms smelling sweet all day long without adding an overpowering scent that smells too strongly.

7. Degree MotionSense Anti-Perspirant & Deodorant

If you're an active woman who plays sports or exercises frequently, it can be extremely difficult to find a deodorant formula that keeps you smelling fresh and feeling dry while you work out or participate in your sport. This deodorant from Degree, however, solves this problem. Designed for active women, it releases bursts of freshness every time you move, thereby keeping you feeling drier and cleaner the more you move.
For up to forty-eight hours, this deodorant will keep your underarms dry and odor-free. Its special motion sense protection defends against moisture and body odor accumulation so you can feel free to exercise and stay active without worrying about sweat or smell.

6. Suave Antiperspirant Deodorant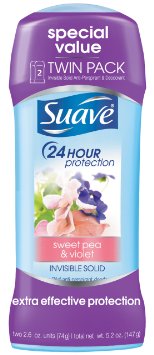 White, streaky deodorant stains on your clothing is a common annoyance which almost every woman is familiar with. It seems that, if you want sufficient sweat and odor protection from your deodorant, you've got to deal with the white stains. This is a misconception, however, and this deodorant from Suave proves it.
Designed specifically to prevent white streak stains as well as underarm odor and sweat accumulation, the deodorant stays on your skin once it is applied and never transfers onto your clothing. It applies clear and keeps your underarms feeling clean and refreshed all day with a light and pleasant sweet pea and violet scent without any messy residue.

5. Donna Karan Cashmere Mist For Women Anti-Perspirant Deodorant Stick
If you're looking for a high-end, effective deodorant, you've found it with this special deodorant from Donna Karan. Formulated with a unique, original fragrance that is not sold or successfully imitated anywhere else, this deodorant keeps you feeling fresh all day long with the light, creamy scent of cashmere.
Beyond its scent, the deodorant formula itself is extremely effective. It prevents moisture and body odor from accumulating under your arms all day long, keeping you feeling cool, fresh, and dry as long as you wear it.

4. Dove Dry Spray Antiperspirant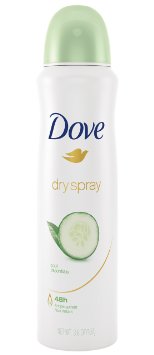 To give you a fresh, dry feel, this spray deodorant from Dove sprays on in a cool, refreshing mist that dries instantly. This instant dryness prevents any cakey white residue from accumulating on your skin or your clothing for a clean finish.
With wetness and odor protection that lasts up to a full forty-eight hours, the deodorant provides you with worry-free protection you can trust. Plus, it is formulated with one-quarter moisturizer in order to leave your underarms feeling soft and smooth.

3. Bali Secrets Natural Deodorant
Many deodorants contain harsh, synthetic chemicals that can irritate sensitive skin and expose your body to toxic ingredients. This deodorant from Bali Secrets is an all-natural formula that contains only gentle ingredients to provide you with soothing, effective wetness and odor protection.
Infused with pure plant essences, seaweed extract, and mineral salt, the deodorant offers a light scent that is pleasant without being overwhelming. Free of gluten, baking soda, parabens, and aluminum hydrochlorate, this deodorant is an all-natural, vegan masterpiece that provides you with irritant-free protection from odor and sweat.

2. Secret Outlast Unscented Women's Clear Gel Antiperspirant & Deodorant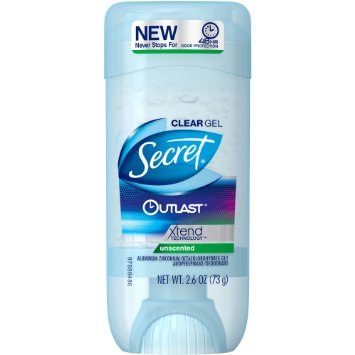 Somewhere between a solid and a liquid spray, this special gel deodorant formula from Secret applies smoothly, evenly, and invisibly to your underarms without leaving any residue behind. Plus, it absorbs quickly into your skin to prevent wet stains on your clothing.
Designed to last forty-eight hours, the deodorant uses a special technology that releases bursts of freshness to extend the life of just one application and keep you feeling fresh and clean all day and all night.

1. Green Tidings All Natural Deodorant

Infused with a light, pleasant lilting lavender scent, this all-natural deodorant from Green Tiding offers effective protection from odor and sweat accumulation that lasts all day long and leaves you feeling fresh and clean.
Free from corn, fragrance, mineral oil, artificial colors, salicylic acid, parabens, soy, and other harsh, potentially irritating ingredients, this deodorant is a vegan, cruelty-free product that is non-toxic and is gentle on even the most sensitive skin without causing any pain, discomfort, or irritation.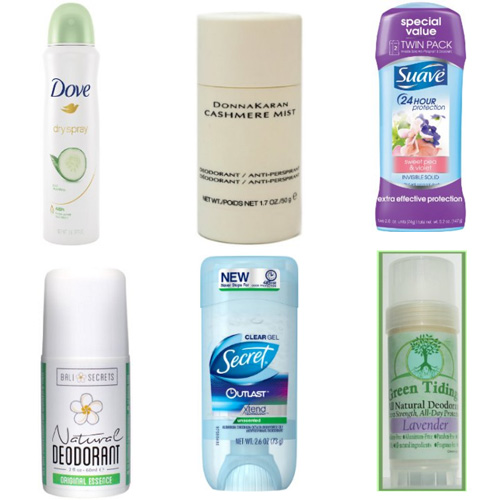 Finding an effective deodorant can be surprisingly challenging, especially if you need extra help when it comes to preventing sweat and body odor throughout the day. Use this list to find some of the most gentle, effective best deodorants for women that can transform your hygiene routine forevermore.