14 Recipes That Use Marshmallow Besides Smores
Summer is here and one quintennial summer food is smores. Most people eat them during a camping trip or a bonfire, but smores can get boring. Marshmallows have now become synonymist with smores, but there's actually a lot of recipes that aren't smores related that use marshmallow. Pretty Designs is here to help you use up that extra marshmallow or give you a break from all the smores you've been having. Here are 14 Recipes That Use Marshmallows Besides Smores.
1. Homemade Marshmallows

If you're sick of using store-bought marshmallows, this recipe is for you. Marshmallows are actually relatively simple to make at home and only take a few ingredients, but should be prepared well in advantage. Making these marshmallows is quite a time-consuming process but will give you delicious results.
2. Healthy Chocolate Marshmallow Fluff

If you're looking for a healthier marshmallow option, this one is for you. The catch here is instead of using something like corn syrup to get the marshmallow effect; This recipe uses chickpea juice. Besides the chickpea juice, it's almost the same recipe as regular marshmallows but instead of using a ton of sugar, it's substituted out for honey. This recipe would be great if you're looking for a healthy snack or if you want a vegan dessert.
3. Classic Marshmallow Fruit Dip
This is a classic marshmallow recipe but one that is great for summer. All you need is marshmallow fluff, cream cheese, and powdered sugar. Mix it all together and you're done. This is the perfect dip to pair with fruit and would be something quick and easy to whip up before a party.
4. Rice Krispie Caramel Marshmallows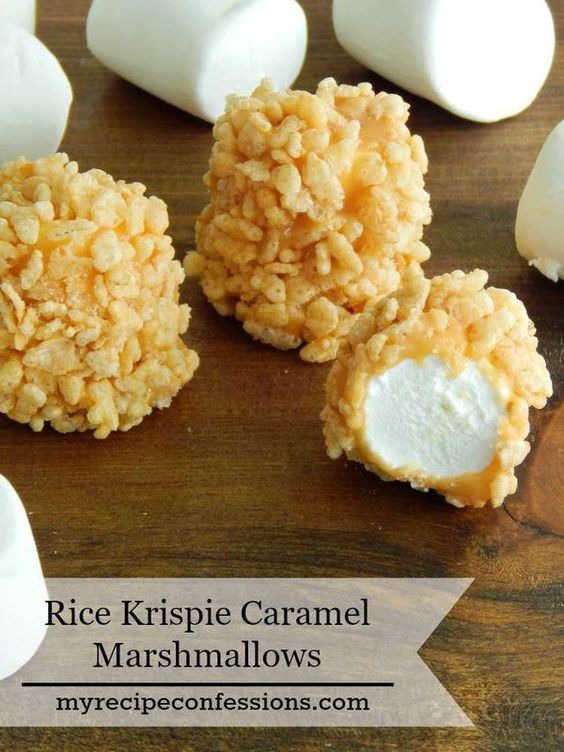 The picture makes this recipe look complicated, but it's not at all. You'll need marshmallows, rice crispies cereal and caramel. You melt caramel with butter, condensed milk, and vanilla until it's smooth. Once that's done, you dip the marshmallows in the caramel and then the cereal. It is recommended to add toothpicks or lollipop sticks when dipping the marshmallows.
5. Peanut Marshmallow Bars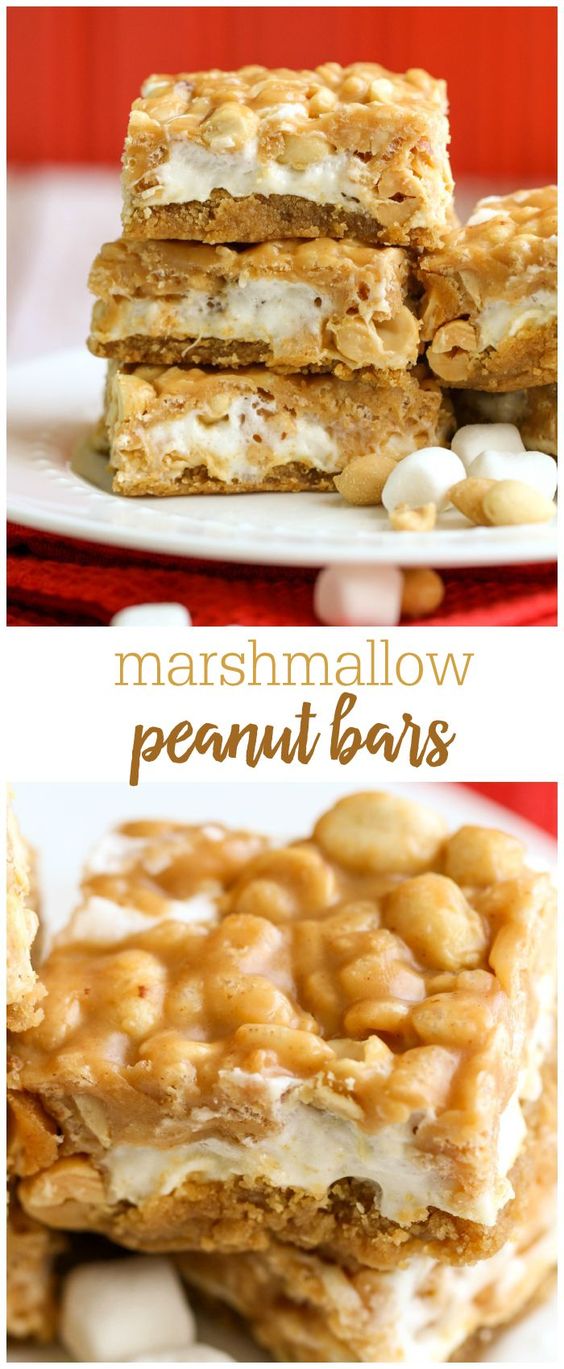 If you're a fan of Pay Day bars, this treat will be great for you. It starts with the bottom layer of peanut butter cookie dough which was store-bought but can be made from scratch. Then the layer of marshmallow before finally adding the topping of peanuts, rice crispies cereal and peanut butter chips to give them a little extra crunch. These bars are loaded with a ton of different flavors and will be sure to please the sweetest tooth.
6. Chocolate Caramel Marshmallows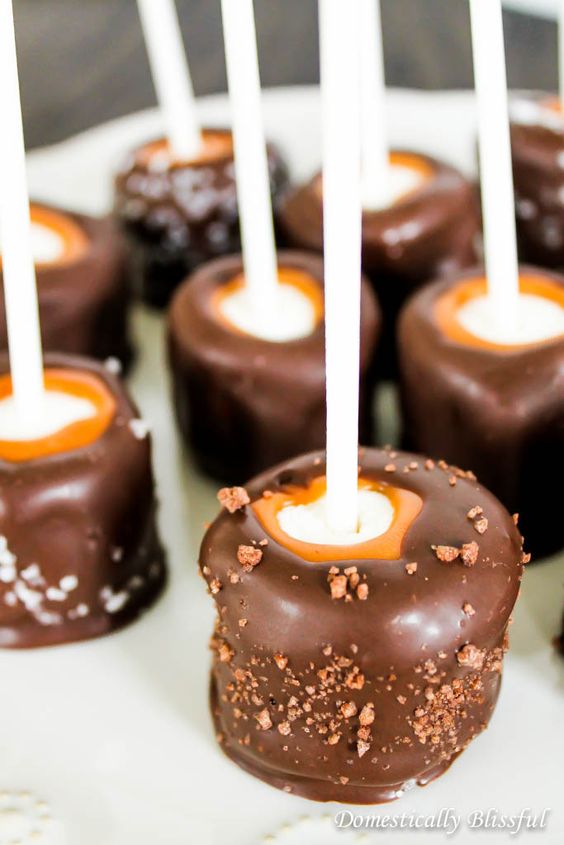 If you're a fan of chocolate, caramel, and marshmallows, this quick and easy recipe will have you drooling. All you need are marshmallows, caramel, chocolate candy melts, sea salt and lollipop sticks. Put the lollipop sticks into the marshmallows before dipping it in caramel until it hardens. After that, dip in the chocolate and you can add salt which is optional. Let the chocolate harden and you're done.
7. Microwave Hot Chocolate Fudge

During the summer time, no one likes to use their oven. However, this microwave fudge allows you to stay cool and have a tasty treat. You will need white chocolate chips, dark chocolate chips, condensed milk and mini marshmallows. Melt the white chocolate with the condensed milk and in a separate bowl, mix the dark chocolate chips. Melt the dark chocolate first so you can put it in the bottom of the pan and then melt the white chocolate, spreading it on top of the dark. Add mini marshmallows and then refrigerate for at least 4 hours.
8. Reese's Marshmallow Brownie Bars

This is another recipe that looks complicated but really isn't. For the bottom layer, bake brownies according to box instructions. After cool, put in refrigerator for at least an hour. Take out, add marshmallow fluff and Reese's cup halves before returning to the fridge for 30 more minutes. Finally, melt peanut butter and chocolate chips in the microwave before adding rice crispies cereal and spreading as the last layer. Keep in fridge for at least another hour and you're done.
9. Fourth Of July Fruit Kabobs

This treat is perfect for the Fourth of July or any summer occasion. All you need is skewers, marshmallows, and fruit. Arrange the marshmallow and fruit on the skewer how you like it and that's it. You can even mix up the type of marshmallows like in the picture and if you can't find those, just cut the full-sized marshmallows in half.
10. Funfetti Marshmallow Popcorn Treats

This is a perfect treat for a birthday or if you're sick of eating Rice Krispies treats. Heat marshmallows and butter in a saucepan until melted. After that's melted, add unbuttered popcorn and sprinkles before putting in a dish and then drizzled with melted white chocolate.  Wait until it's firm and cool before cutting.
11. Fluffernutter Ritz Sandwiches

Marshmallow and peanut butter are a match made in heaven. This recipe for fluffernutter sandwiches only requires 3 ingredients and takes less than 10 minutes to make. All you need are ritz crackers, marshmallow fluff, and peanut butter. Spread the peanut butter and marshmallow on the bottom cracker and add the top cracker. This would be a great treat for a kid's birthday party or even a mid-afternoon snack.
12. Chocolate Dipped Marshmallows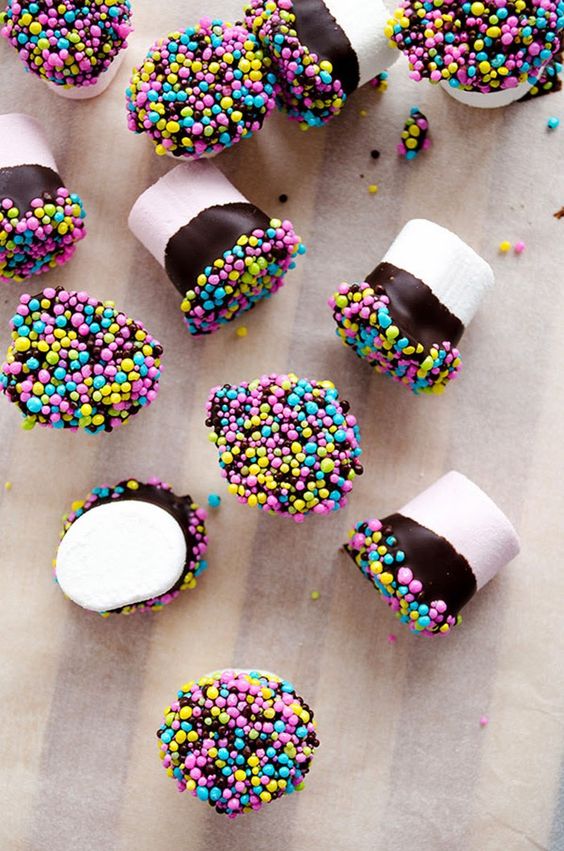 This is another quick recipe and most ingredients you might already have. You'll need marshmallows, chocolate and whatever you want to decorate. Melt the chocolate and let it cool for a few minutes. Once cooled, dip marshmallows in halfway and top with sprinkles or whatever you like the best. Keep cool in the fridge for at least half an hour.
13. Strawberry Marshmallow Popsicles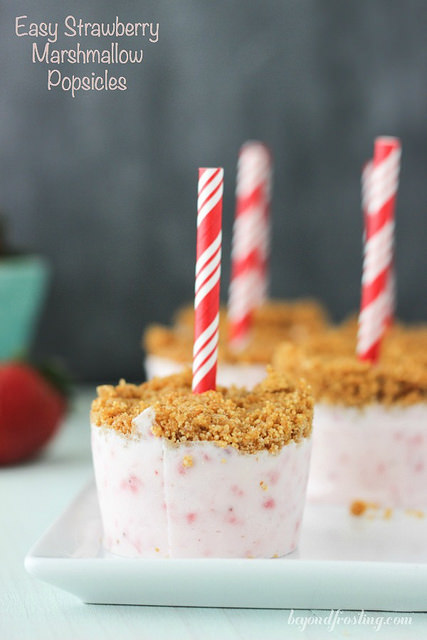 Popsicles are staples for the summer and these popsicles are especially sweet. While the recipe calls for strawberries, you can certainly substitute a different fruit in for it and the graham cracker topping is optional if you're just looking for plain popsicles. These popsicles can also be made the night before instead of waiting for them to freeze for 4 hours.
14. Toasted Marshmallow Milkshake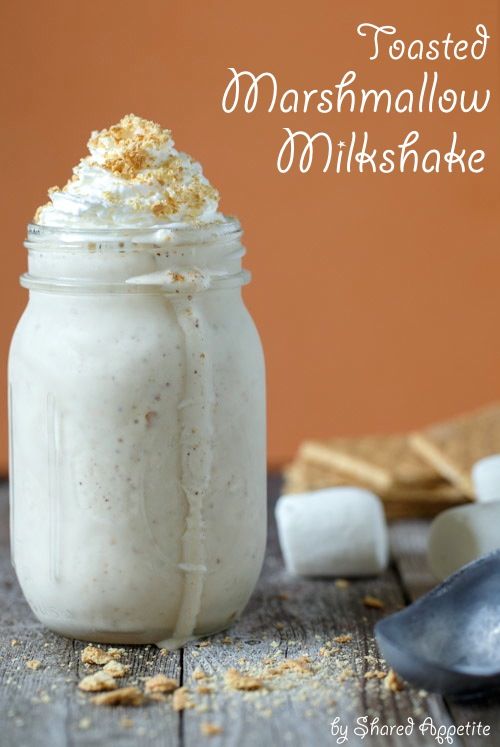 Milkshakes are another way to stay cool in the summer. You follow all of the same steps for making a milkshake but with the addition of greek yogurt and marshmallows. These shakes are a great way to get the toasted marshmallow taste without making smores or having a campfire.