Top 40 Maria Menounos Gorgeous Hair Styles
Each time Maria Menounos appears to the public, she is always so flawless and gorgeous with her pretty hairstyles and decent makeovers.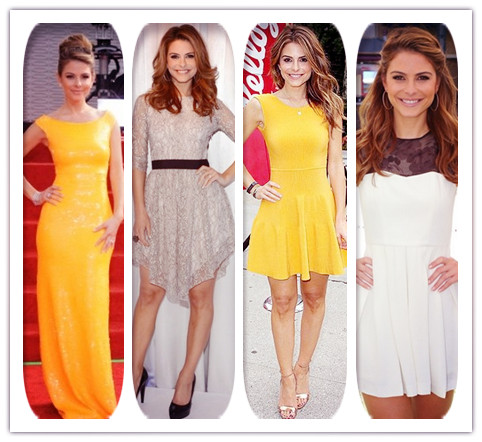 This post is about Maria Menounos' hairstyles all of which are really pretty, feminine and graceful.
We have collected her most beautiful straight haircuts, wavy hairstyles, braided hairstyles, ponytails and updos. For women with medium and long tresses, you should really not miss this fabulous hairstyles-collection for the coming 2014!
Maria Menounos Hairstyles: Cute Ponytail
The ponytail hairstyle is classic for women. You may learn from Maria to rock a loose low ponytail with a center part. Or, you can just tie up your voluminous long curls into a ponytail with a side-parted fringe. The side-parted bangs will make the look more feminine. So, leave long side-parted bangs to frame you face, and then add a tiny braid to give your hair a sleek and neat look. Any occasion is suited for these glamorous ponytail hairstyles.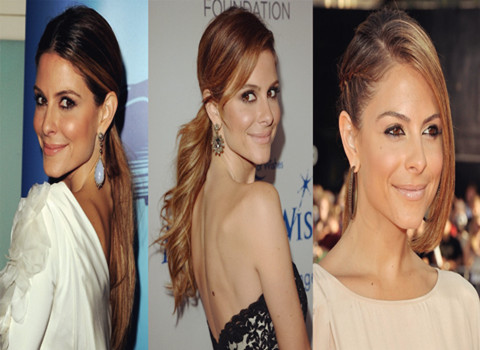 Maria Menounos Hairstyles: Bouffant Hairstyle
This bouffant hairstyle is not so versatile, yet it's indeed chic. Besides, the bouffant style adds much volume and air to the hair, so it's a great choice for women with thin hair.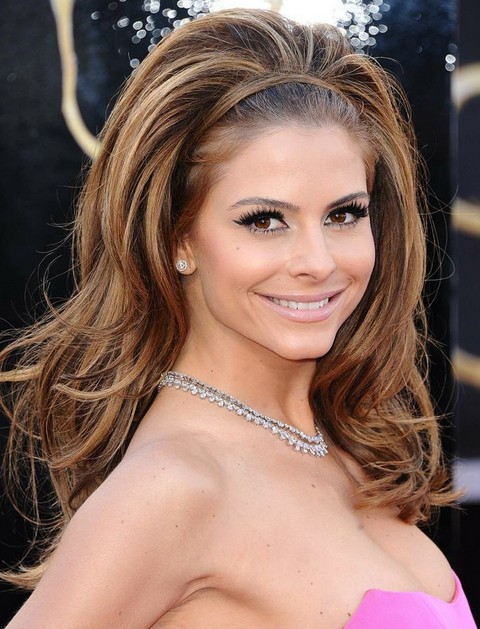 Maria Menounos Hairstyles: Stylish Waves
This is another voluminous look. First style your brunette tresses into fluffy curls and then pick up a small section in the front, pinning them back. The fringe-free hairstyle is fabulous to show off your pretty face, while the textured curls around the cheek works well to frame your face. Younger women are most suitable for this sweet and stylish hairstyle.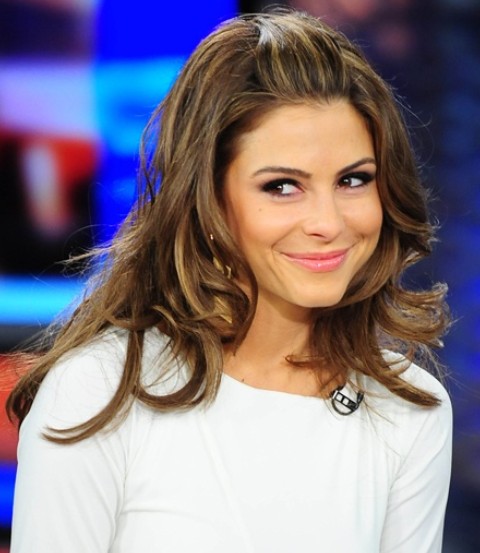 Maria Menounos Hairstyles: Side-parted Curls
For a decenter modern look, you can rock these brunette long curls. The textured big waves will give you a romantic look. All women will look stunning with this center parted curly hairstyle.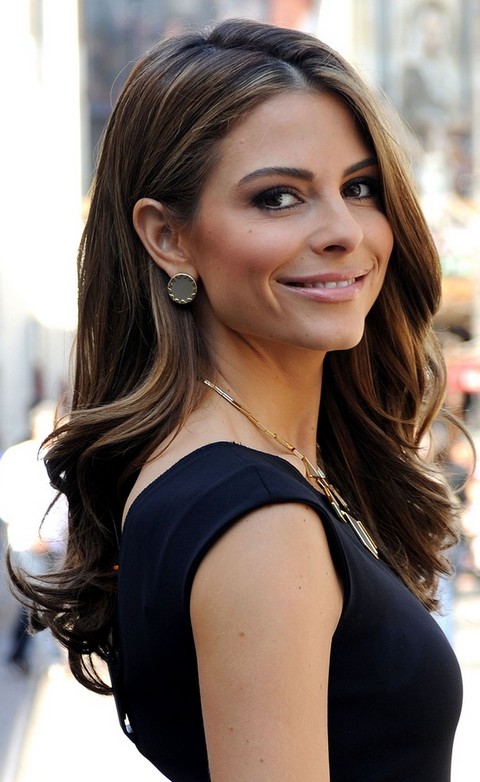 Maria Menounos Hairstyles: Loose Waves
Change your hair color into a brighter one like golden. Rock a side-parted loose wavy hairstyle and add some highlights to get a chicer look! This stylish haircut will make you much younger.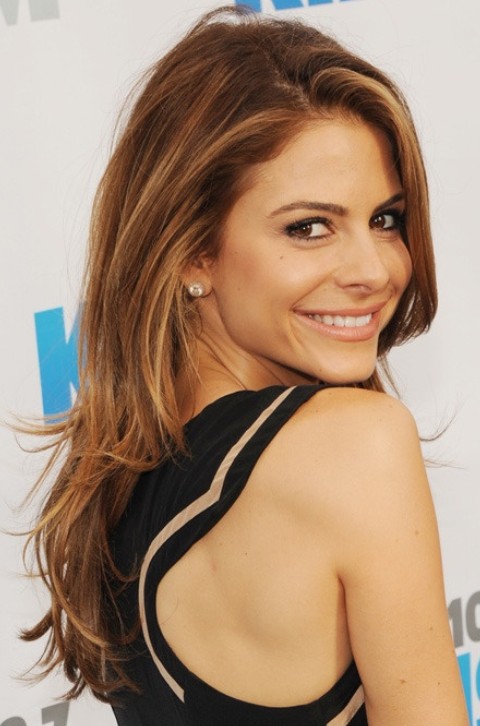 Maria Menounos Hairstyles: Charming waves
Opt for a shaggy look with your long tresses. Curl your hair into big and soft waves. Tousle them messily and then you can get such a faddish and pretty look!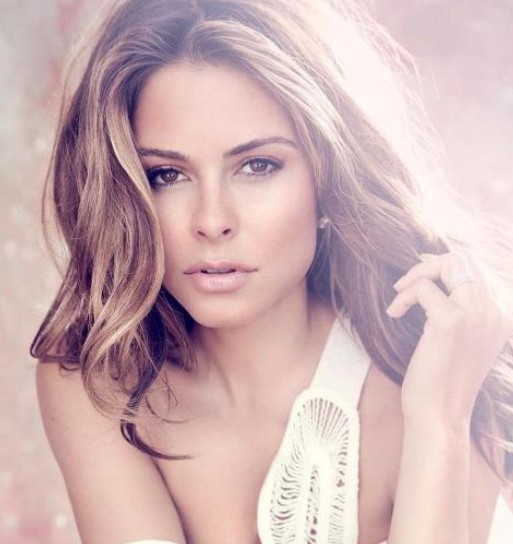 Maria Menounos Hairstyles: Pretty Look
Maria looks endearing with this side-parted haircut. Take a strand of hair from the side-parted section and fix them back. The hair ends should be styled in natural waves. You will be popular with this hairstyle wherever you go.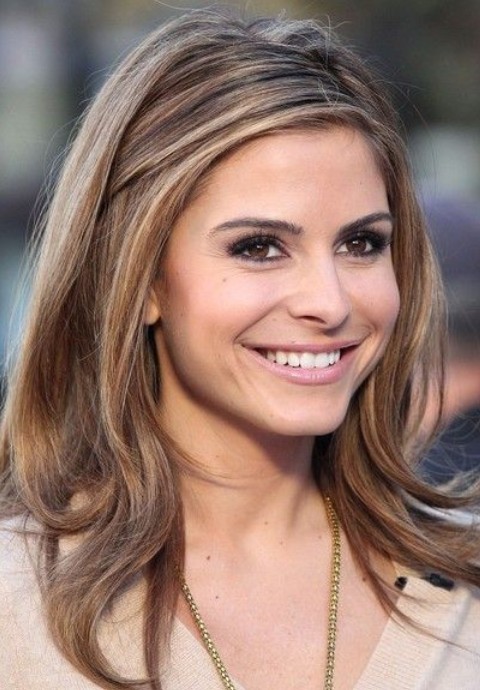 Maria Menounos Hairstyles: Side-swept Curls
Women will never be wrong with a side-swept curly hairstyle. Just see how happy Maria is with these intensive medium curls. Use some hair polisher to make your hair sheeny.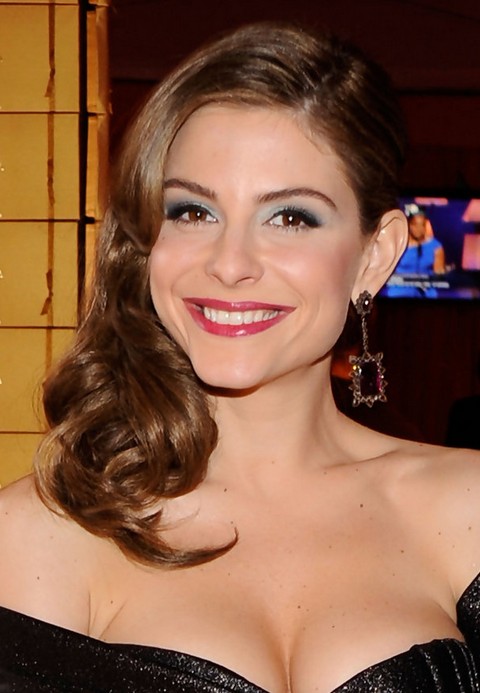 Maria Menounos Hairstyles: Side-parted Waves
Flip up your bangs and give your stylish curls a deep side part. The voluminous curls work well to frame the face into a perfect shape. Women over 20 are suited for this hairstyle.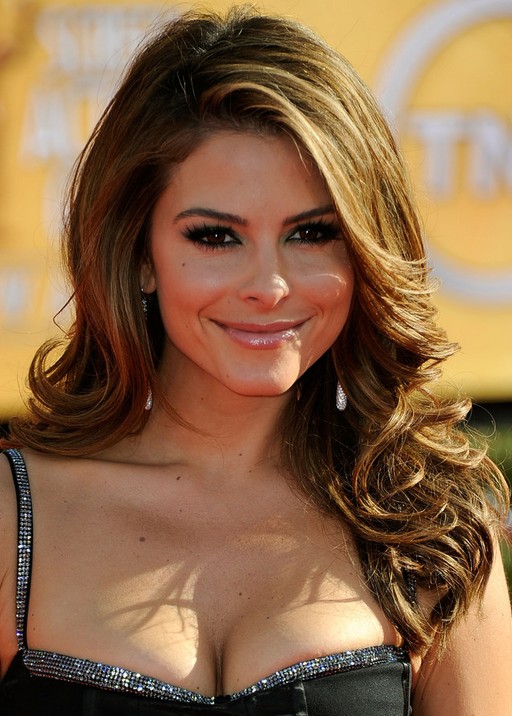 Maria Menounos Hairstyles: Radiant Curls
In fact, the center-parted curls are also fashionable. Whether it is the barrel waves or loose big waves, the center parting can always make the overall look romantic and demure.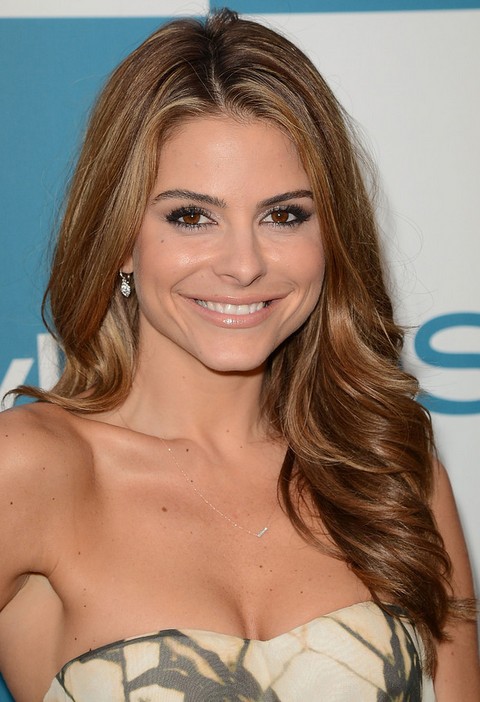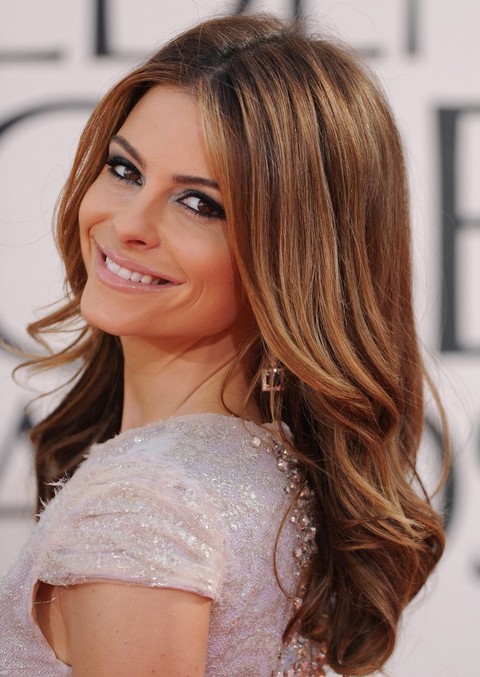 Maria Menounos Hairstyles: Center-parted Long Wavy Haircut
You can also rock an ombre hair or add some highlights with your center-parted curls. Sometimes, just a small change will make a great difference.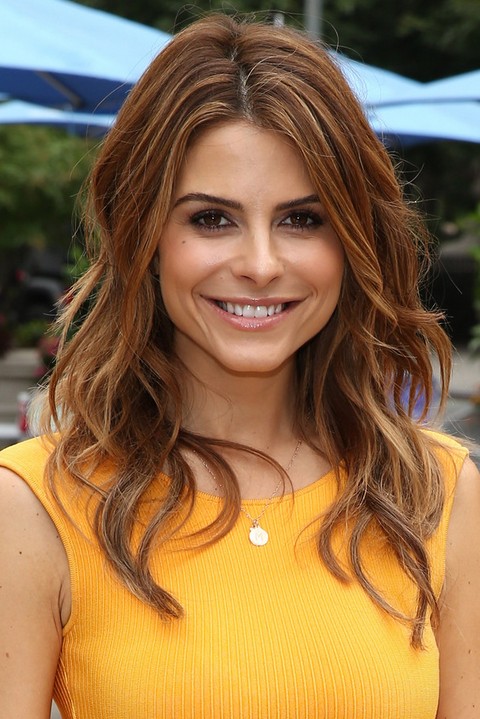 Maria Menounos Hairstyles: Fluffy Waves
These fluffy waves are wonderful for mature women to get a rather voguish look. The highlights are essential elements to make the look stand out.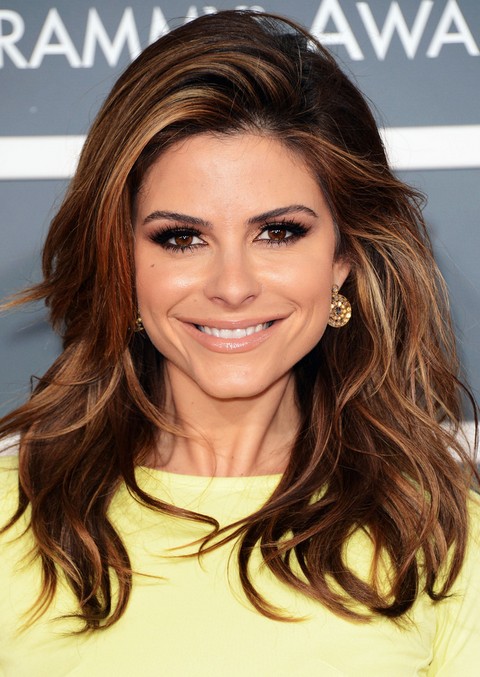 We have selected four of Maria Menounos most beautiful updo hairstyles.
Maria Menounos Hairstyles: Voluminous Updo
This voluminous high bun is made of the basic ombre locks. The updo style adds height to the look and will make women sophisticated.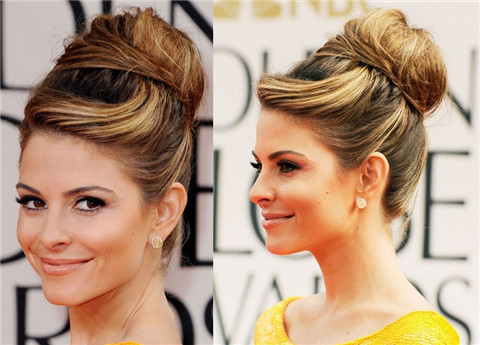 Maria Menounos Hairstyles: Loose Updo
The loose updo is suited for younger and mature women. The wave strand spices up the look with a romantic vibe. All faces will look gorgeous with this loose updo.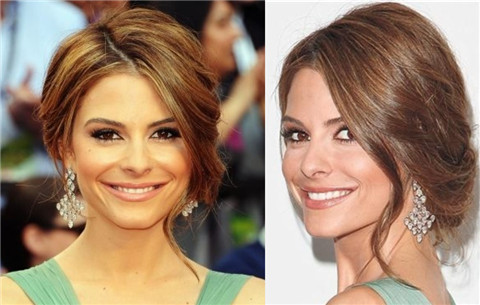 Maria Menounos Hairstyles: Gorgeous Updo
The fringe has been pinned back and the bun has been teased in a floral shape. The sparkly hair pin top off the look. It can be a pretty wedding hairstyle.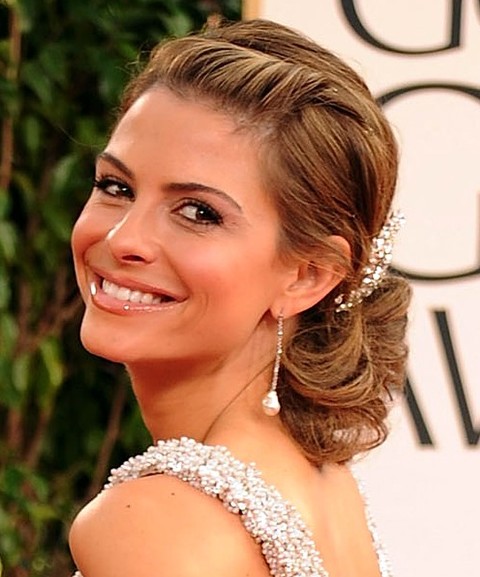 Maria Menounos Hairstyles: Classic Bun
Maria glows with this back-teased updo hairstyle. The hair has been teased messily to create much volume and height. Mature women can sport this elegant hairstyle for a trendy look.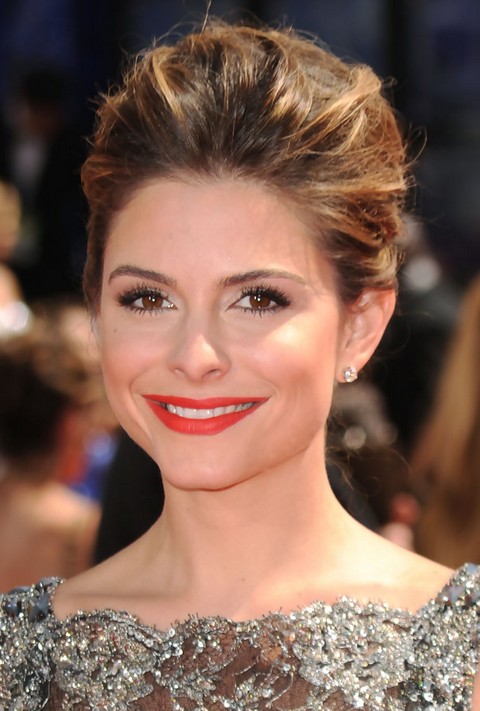 Now, let's see the braided hairstyles.
Maria Menounos Hairstyles: Braided Hairstyle
A good hair dresser knows that a braid can be an amazing accessory for the hair look. Whether your hair is straight or wavy, make a braid along the forehead, and you can get a lively and voguish look.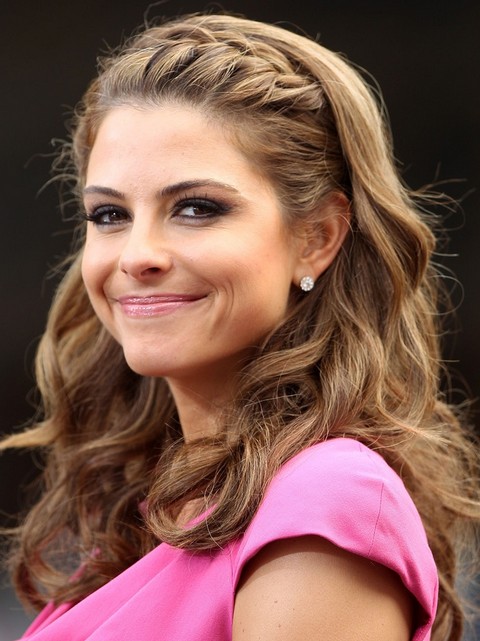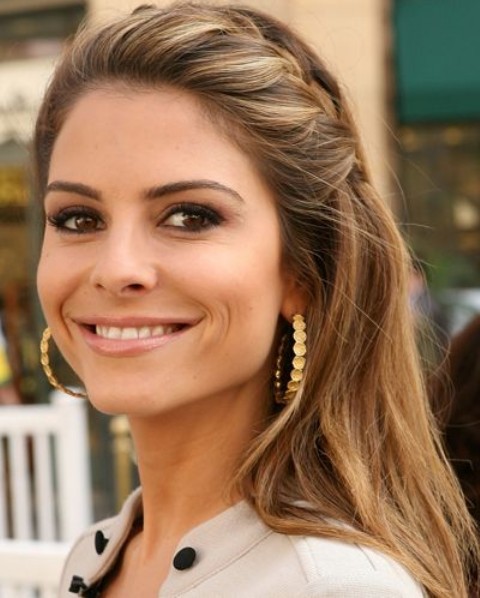 Maria Menounos Hairstyles: Ponytail with Braid
The braided elements can also be applied to the ponytail hairstyle. You can make a braid from the forehead and secure them together with a high ponytail. You can also make braids with your locks on in the tail. Both of them are faddish.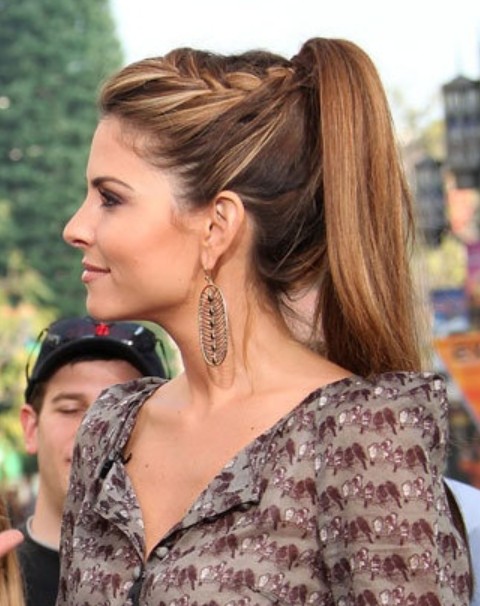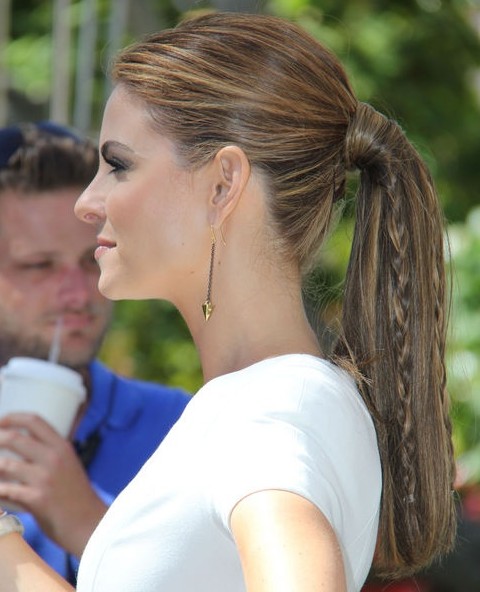 Maria Menounos Hairstyles: Messy Braid
For mature women, you can experiment with this high-fashioned messy fishtail braid. The messy look will make you a head-turner anywhere.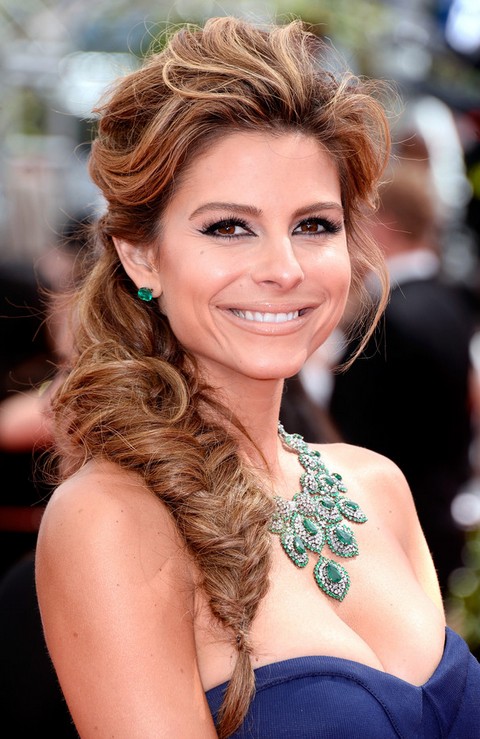 Maria Menounos Hairstyles: Cute Fishtail
Younger women should try this adorable fishtail braid. The tight and neat fishtail contrasts fiercely with the loose upper lengths! And the two long strands hair along the cheek make the look oh-so-cute!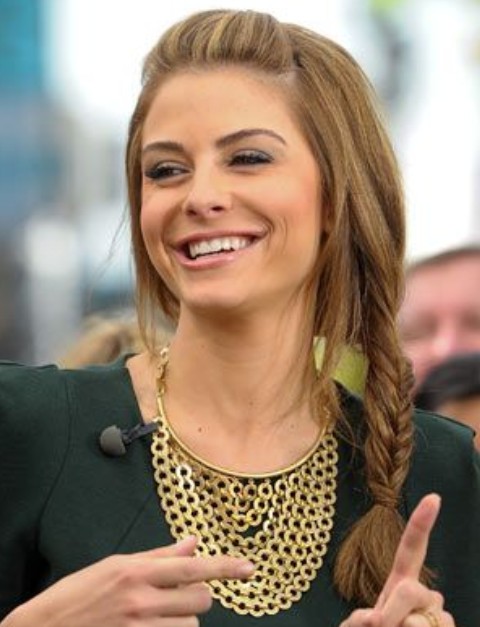 Maria Menounos Hairstyles: Beautiful Braid
This braided hairstyle is really amazing. There are two tight braids on the head and they meet each other at the nape with a thicker and messy long braid. All women should have a try with this fashionable braided hairstyle.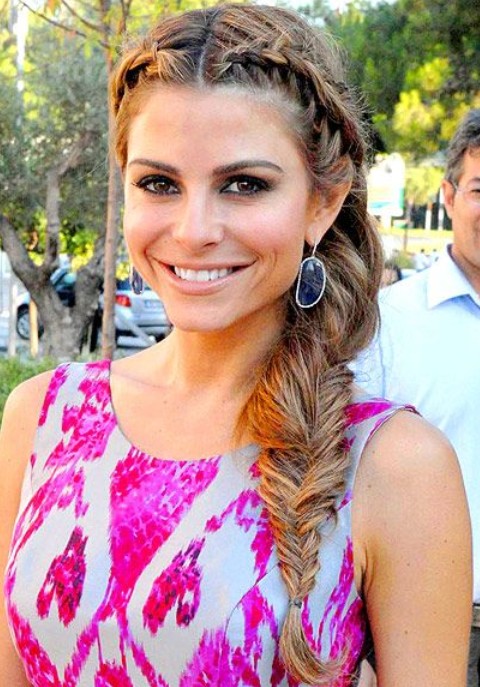 Finally, let's come to the half-up half-down hairstyle.
Maria Menounos Hairstyles: Adorable Half-up Half-down Hairstyle
Maria is so adorable when she just pins a small strand of hair back. The pinned section has been created into a small hump so that the face can be framed. Other locks are teased smoothly for a minimal look.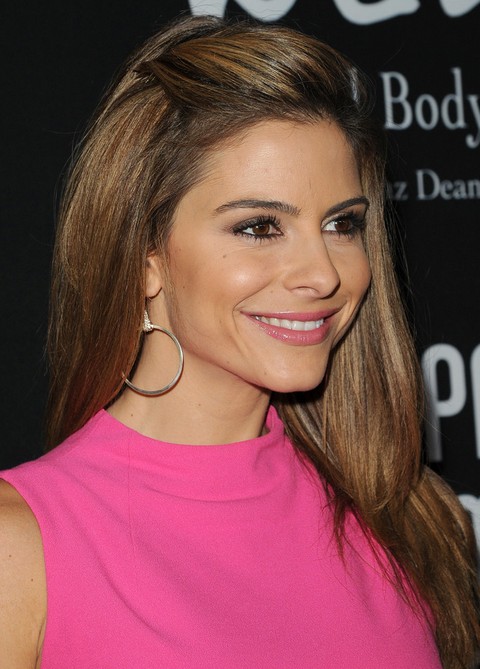 Maria Menounos Hairstyles: Trendy Half-up Half-down
Here is another way for you to create a stylish half-up half-down hairstyle. Take up the very front locks and secure them with an elastic band. The top should be neat and fluffy.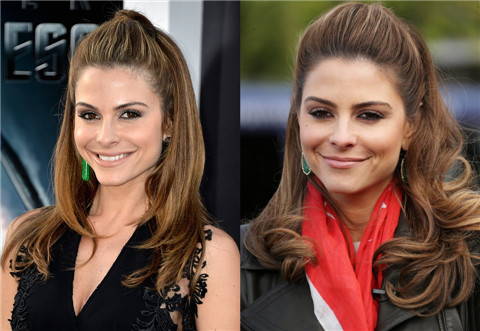 Maria Menounos Hairstyles: Mini Ponytail
The mini ponytail resembles the above hairstyle. The difference is that the mini ponytail need take more hair, locks on the upper section of the head. Then, fix them in a ponytail. The similarity is that the top should be tousled higher. You can opt for a sleek look or a messy look. Each one will be gorgeous and attractive.