'Eternal Love' – The Inspirational Bridal Theme
Like This:
This bridal style shoot takes inspiration from the timeless 'Swan Lake' ballet to create a unique, creative and luxurious wedding theme. The bride is styled with couture feathered gowns straight off the Paris Fashion Show runway, with three contrasting designs by celebrity designer Alin Le' Kal. These awe-inspiring gowns were styled with a range of exquisite jewellery, designer shoes, millinery and high-fashion beauty styles.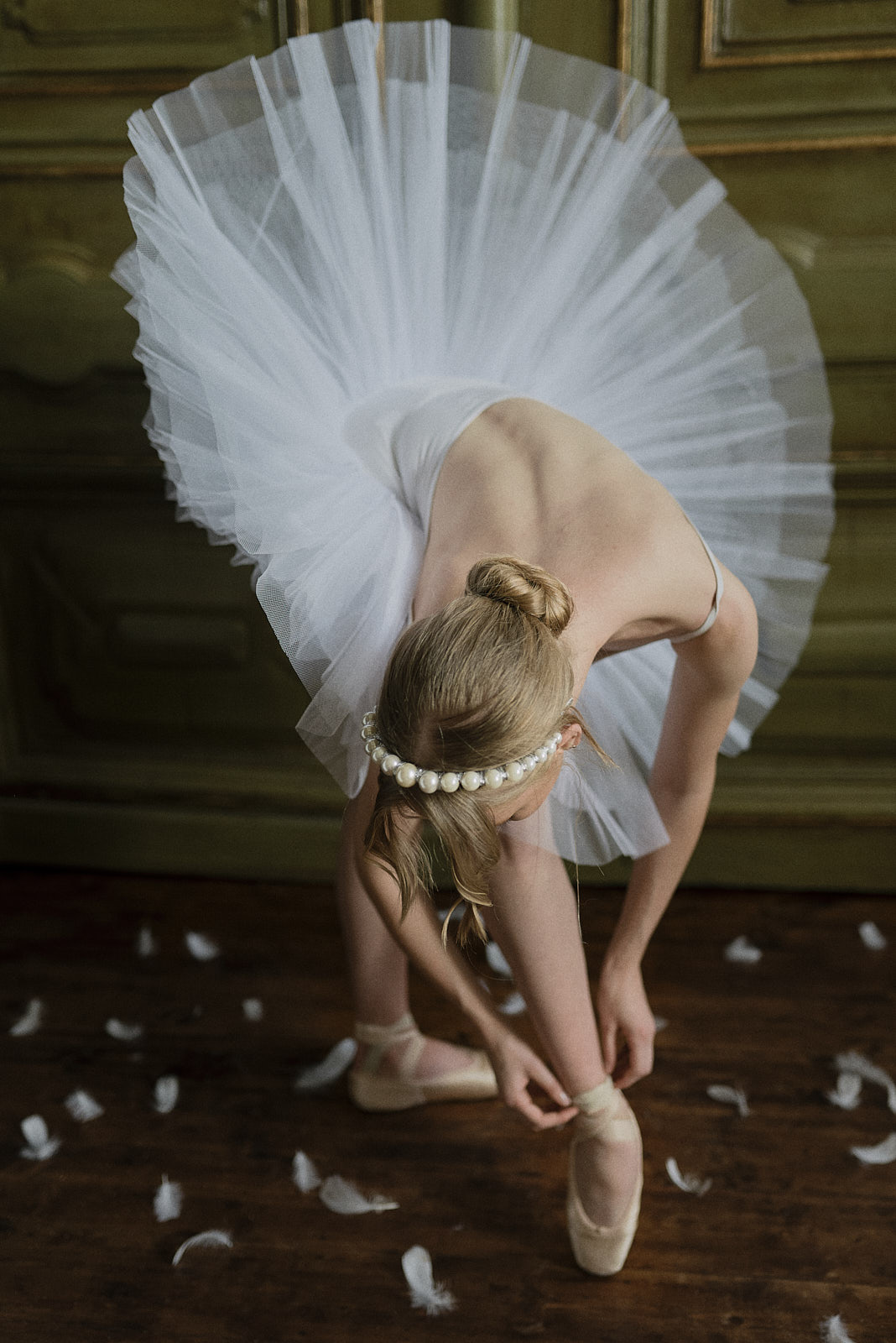 The Crown
To display the royalty aspect found from 'Swan Lake', the bride is crowned with 'Gloria Grace'. This masterpiece is an intricately handmade millinery design by Viktoria Novak, featuring rhodium plated leaves and an array of clear Swarovski crystals, finished with a luxe metallic silver braid. For her second look, the bride wears a bejewelled 'Derby Pearl White' crown, which features vintage ivory tone pearls and finished in a white satin braid.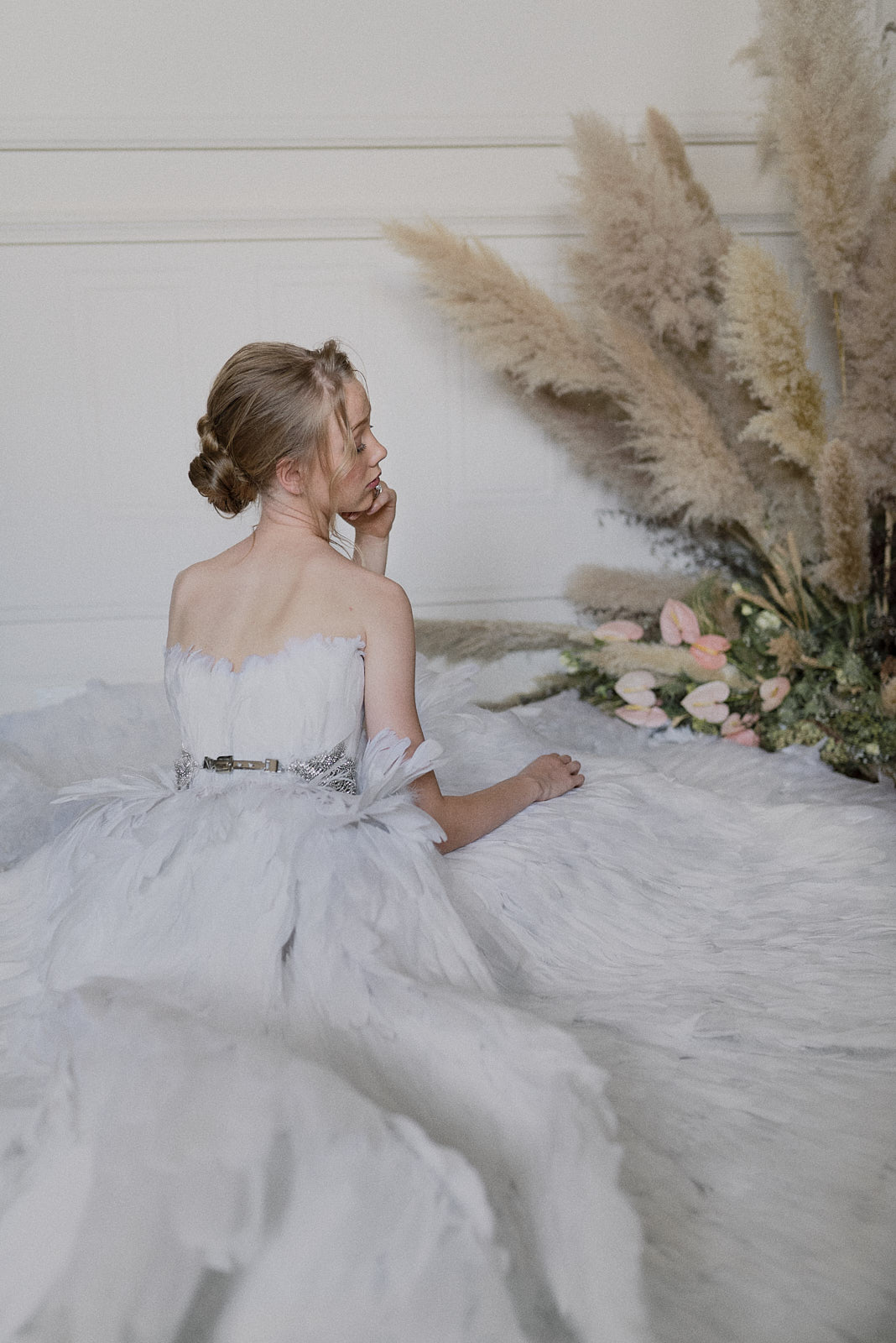 The Hair
As we embrace the ballet-inspired theme, we have styled the bride in a classic ballet flat bun. This was achieved by loosely sweeping back her hair into in a detailed low twist bun. With this understated look, the bride styles her hair with one of her luxurious crowns. As she starts to let loose and dances freely in her silk gown and short black feathered gown, her bun comes out and instead she flaunts a messy ponytail. To match her pearl crown, the bride is covered in an extravagantly long veil by designer Alin Le' Kal, which is beautifully adorned with white pearl embellishments.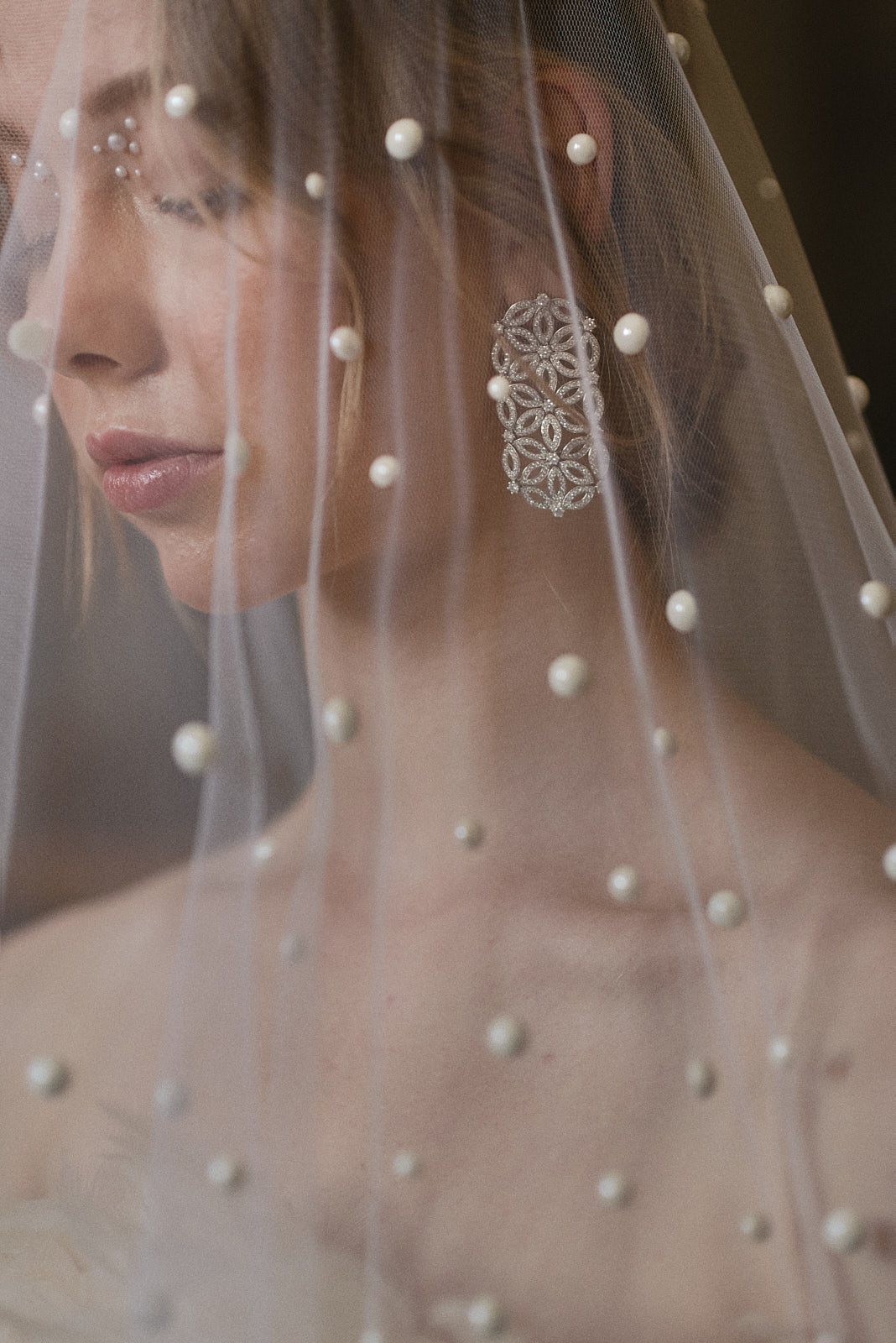 The Make Up
Throughout the day, the bride wears natural bridal make up. When she her hair is styled with the pearl elements, the trendsetting bride wears different sized stick-on white pearls, applied on the inner corner of her eyes, to complement the look. As the black swan emerges in the night, her lip colour deepens and her eyes are covered with smokey winged shadows and glued-on black feathers.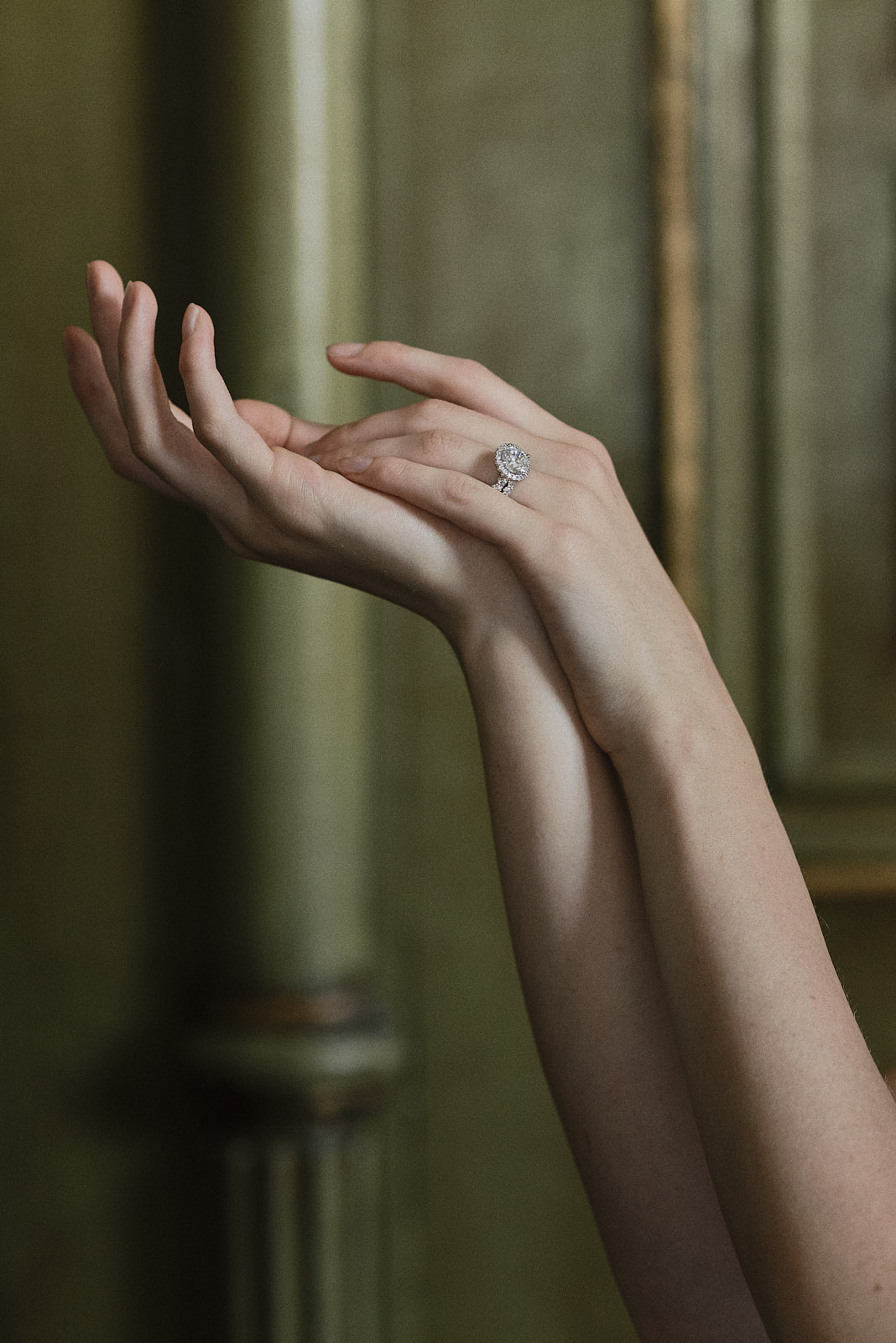 The Jewellery
The luxury wedding band is a modern interpretation, featuring a thin band filled diamonds. This band is designed to fit perfectly under the magnificent halo design engagement ring. As the bride changes into the pink feathered silk gown, she removes her diamond floral earrings, and replaces it with striking statement floral earring design. She dances throughout the day in range of different sparkling bracelets. When the sun sets, she changes to a dark evening look to embrace the black swan. For this evening look, the bride wears a black statement ring and drop earrings, perfectly match the mood of the final black feathered gown.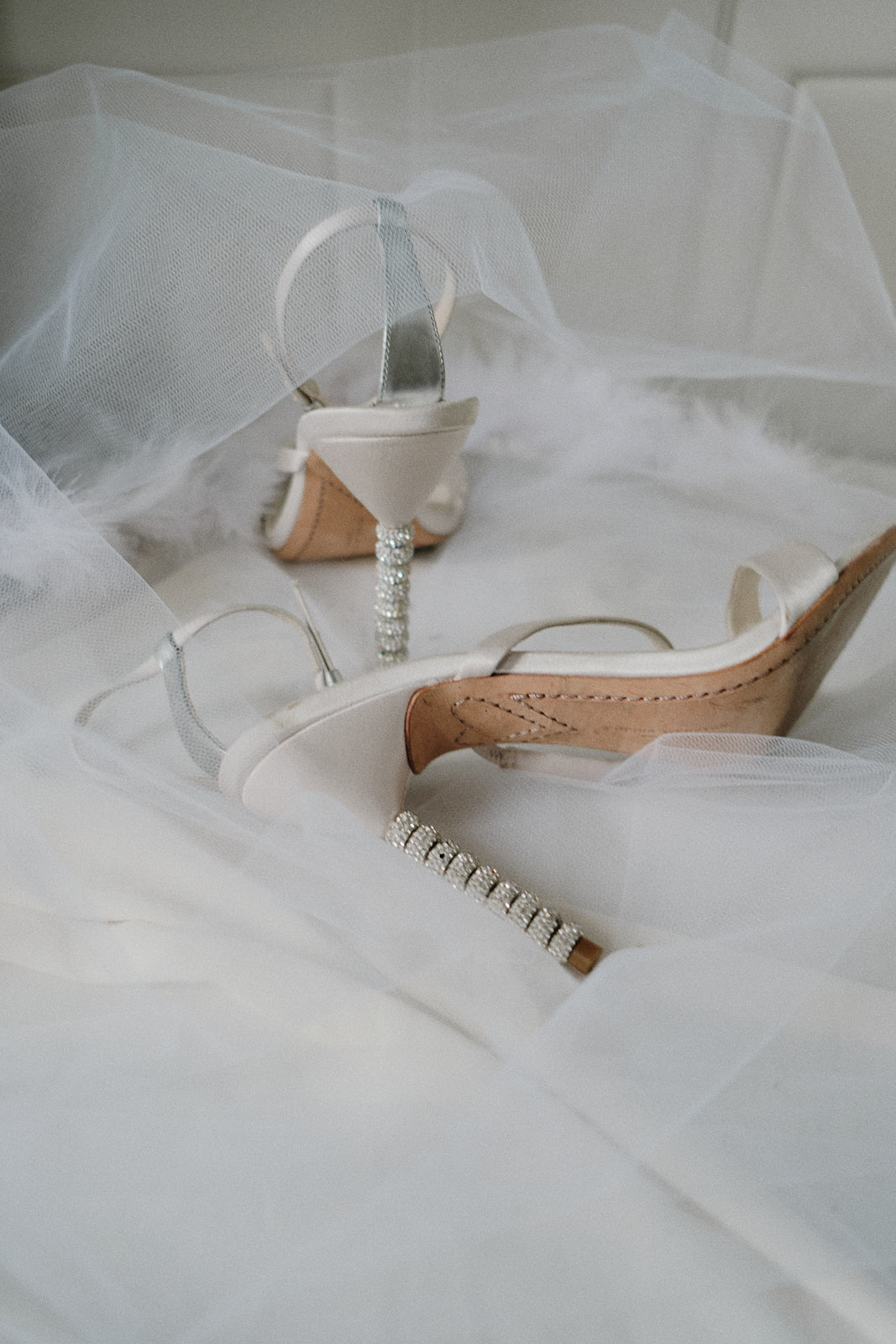 The Shoes
Luxury could be considered a perfect synonym for the 'Eternal Love' theme. For this very reason, the luxurious bridal details do not come to an end with designer gowns, crown and jewellery alone. Covered from head to toe in sparkles, the bride takes her first steps a newlywed wife in glimmering crystal designer bridal shoes by Sophia Webster.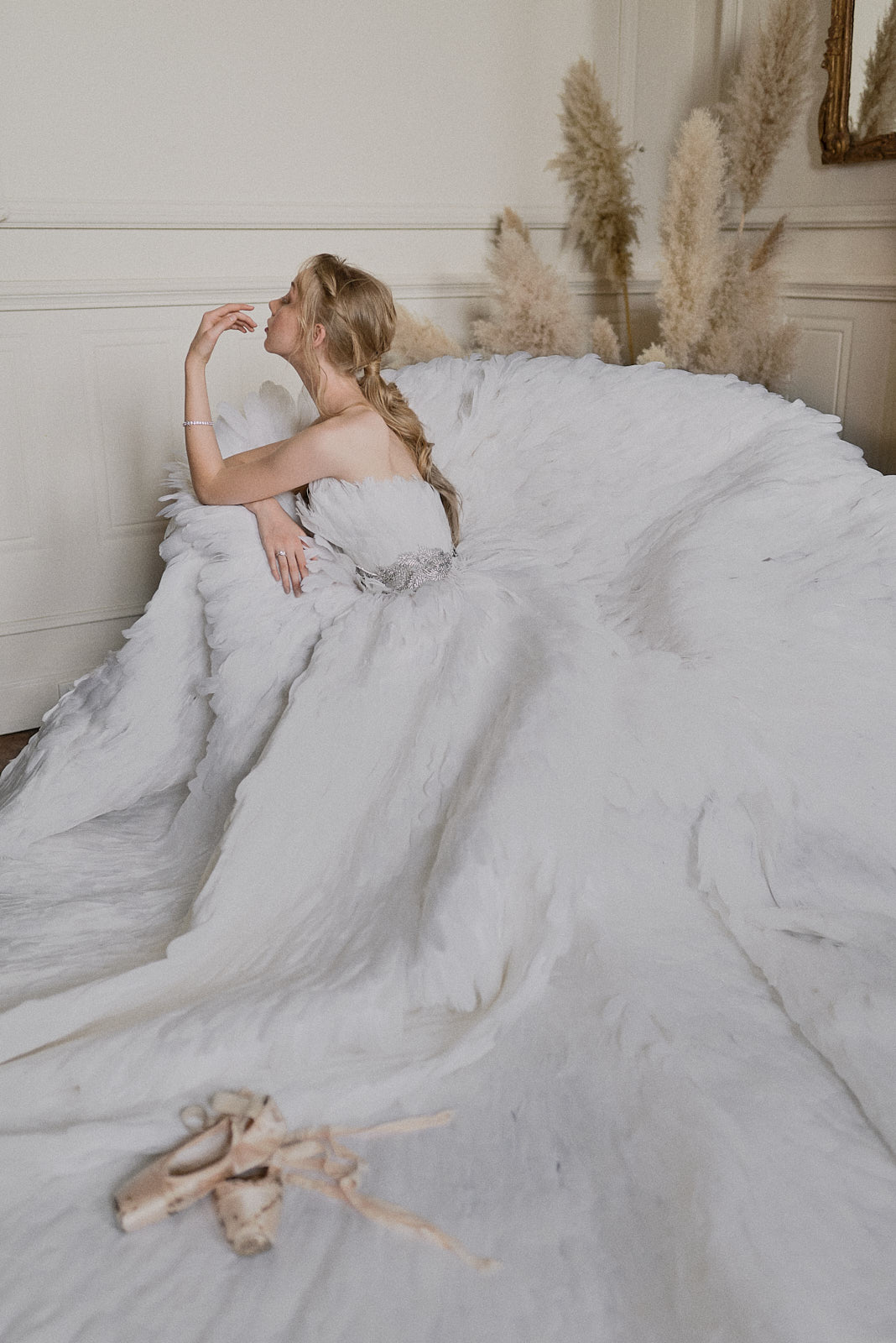 The bridal theme 'Eternal Love' was brought to life by a creative team of the leading experts in the industry. We hope that this trendsetting wedding style and theme has inspired you to embrace a touch of creative and couture opulence on your special day!
Vendor List
Photography/Art directions: Sephory Photography http://sephoryphotography.com.au @sephoryphotography
Gowns: Alin Le' Kal https://alinlekal.com/ @alinlekal
Shoes: Sophia Webster https://sophiawebster.com @sophiawebster
Crowns: Viktoria Novak https://viktorianovak.com.au @viktorianovak
Invitations: Adorn Invitations https://adorninvitations.co.uk @adorninvitations
Flowers: Chloe Lashay Floristry https://www.chloelashay.com/ @chloelashayfloristry
Jewellery: Temelli Jewellery http://www.tj.net.au/ @temellijewellery
Skincare: LUIERE https://luiere.com @luiereau
Make up: Suzy Sela http://www.suzysela.com/ @suzyselamakeup
Hair: Coco Mane http://www.cocomane.com.au/ @coco_mane
Cake: Mary Eats Cake https://www.maryeatscake.com.au/ @maryeatscake
Ballerina/Model: Darcie Keil @darcishka