10 Admirable Up-do Hairstyles for Gorgeous Brides
Getting married with someone you love deeply is the happiest moment in one's life. For a woman, that's the very moment when she is supposed to be the most beautiful during her lifetime. Therefore, a woman usually spares no effort to make themselves as pretty as possible, so that she can be the most beautiful bride in the world. The hairstyle is one of the most important parts of a bride's appearance, so take your time to pick out a hairstyle that is most suitable for you!
Every woman dreamed to be a princess when she was a little girl. When the biggest day in your life approaches, how can you give up the chance to make yourself a princess?
This hairstyle is just a princess look. The locks are curled forward and swept down one side of the face, with a branch of braids lying on the sleek center-parted bangs. How dramatic it is!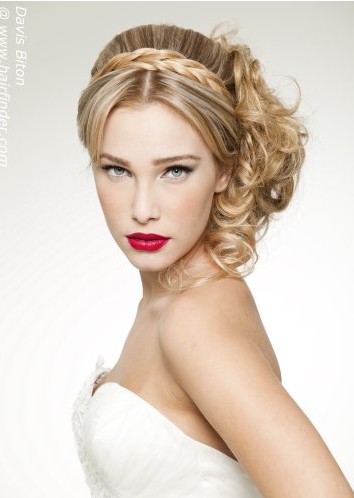 This regal spirals is also an ideal choice for a princess bride look. Locks on the crown are styled a little high and then put a tiara on it. The braids frame the face and the ringlets give it a romantic vibe.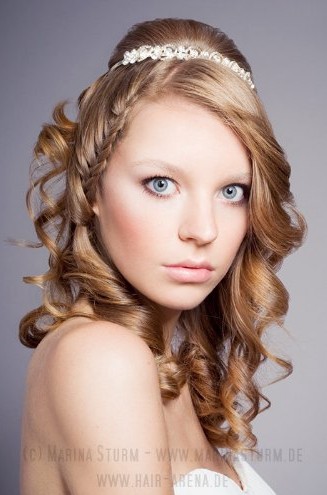 A more traditional up style is the beautifully sculpted coils. The thick hair has been twirled into many coils and fixed throughout the back of the head. The front is left sleek and tidy. Two strands are hanging there just like two ribbons touching the neck, which makes the hairstyle playful and classy.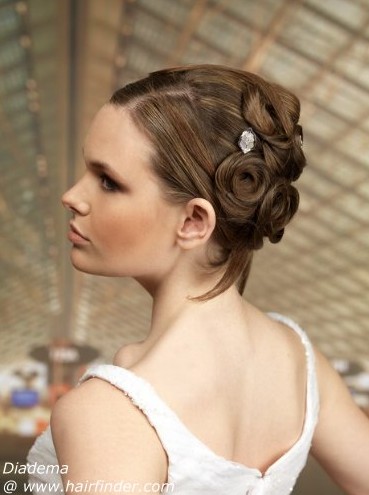 This champagne twirls are extremely elegant and sassy for a bride. You can get different appearances from each side. One side has been teased back smoothly while the other side is styled with a thick strand of bangs in cute ringlets. I really love it!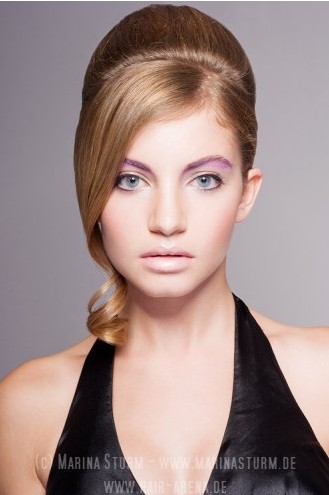 You can turn this hairstyle into a classic beauty with a high crown and a great chignon. We all believe that "less is more". This simple yet trendy hairstyle is a safe choice for almost every woman.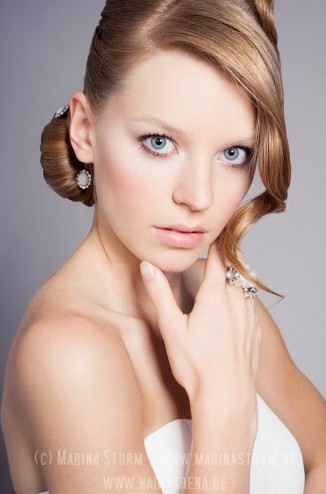 Here are some perfect up-dos that require a lot of skill. This classic snood is a typical representative. The stylist creates knots and snood with the model's hair. This is playful, and the smooth-tucked roll is elegant.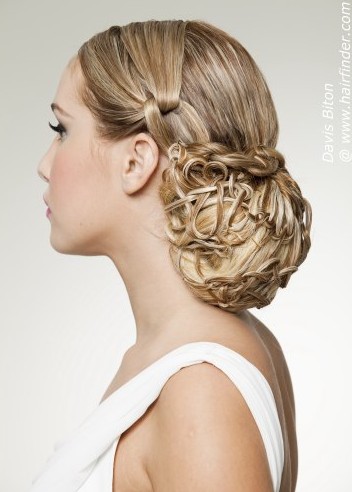 Here is another fabulous hairstyle. The nape-gathered knot is retro-chic. The braids are lovely and the well-made roll is pure elegance.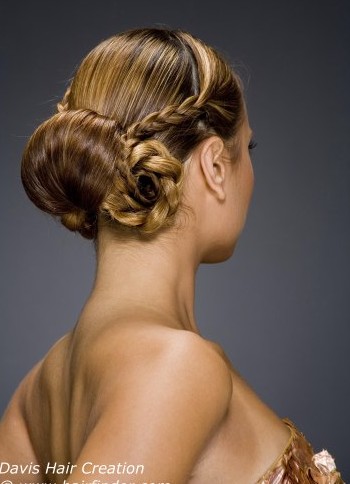 If you add bangs and tease the roll a little bit messily, you can get a totally different hairstyle. That is the casual chic up style. This hairstyle is more girlish and especially fit for those adorable Barbie dolls.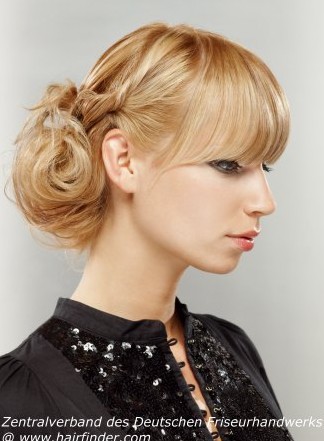 At last, let's take a glance at two great up-dos that transforms a princess into a shiny queen.
The hair is sleek styled and the remainder of the hair is gathered to the upper crown. The hair has been shaped like a twisted nest for those jewelry ornaments.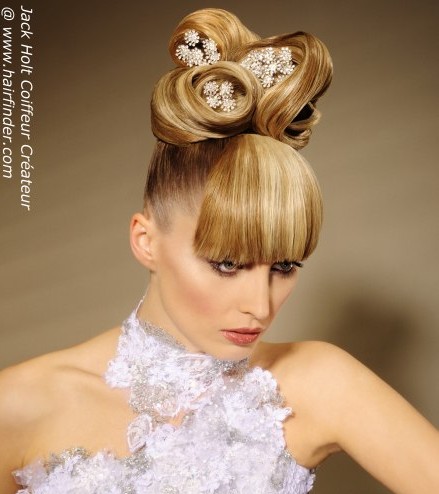 All of the hair has been gathered together and twisted smoothly as a grand crown on top of the head. Then, decorate it with a sparkly tiara and shiny ear-rings. You are definitely beautiful on you wedding.
The proud princess is getting married. Don't forget to choose an appropriate hairstyle for yourself from above. Wish you a happy wedding and a happy life.