10+ Colorful Pumps for the Season
Have you ever thought that there are only one or two colors left in fall and winter? Now you will find that you will shine all the year round wearing the colorful pumps. The colorful pumps can be opted for any season. Whether you prefer summer or fall, there are plenty of colors for you to choose.
You can rock any color anytime. The colorful pumps are chic as well as bright. They are stylish enough for anyone to pair her jeans, tees or outfits.
Celebrities love colorful pumps as well. They opt for bold color to enlighten themselves.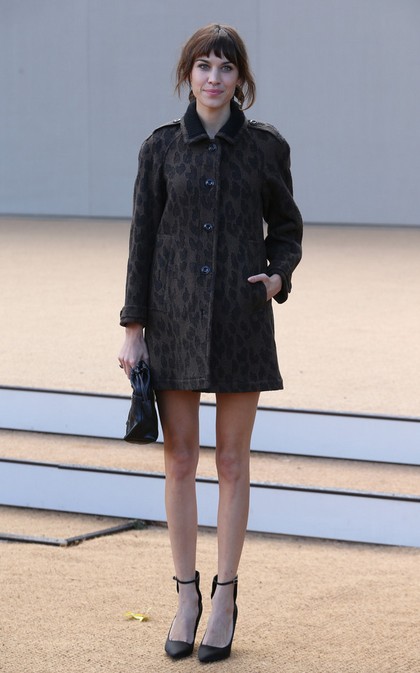 Alexa Chung wears a pair of black pumps with ankle strap when she attends the Burberry Prorsum show. Though they are simple, they lengthen her legs pairing with a coat. So she looks classic as well as stylish.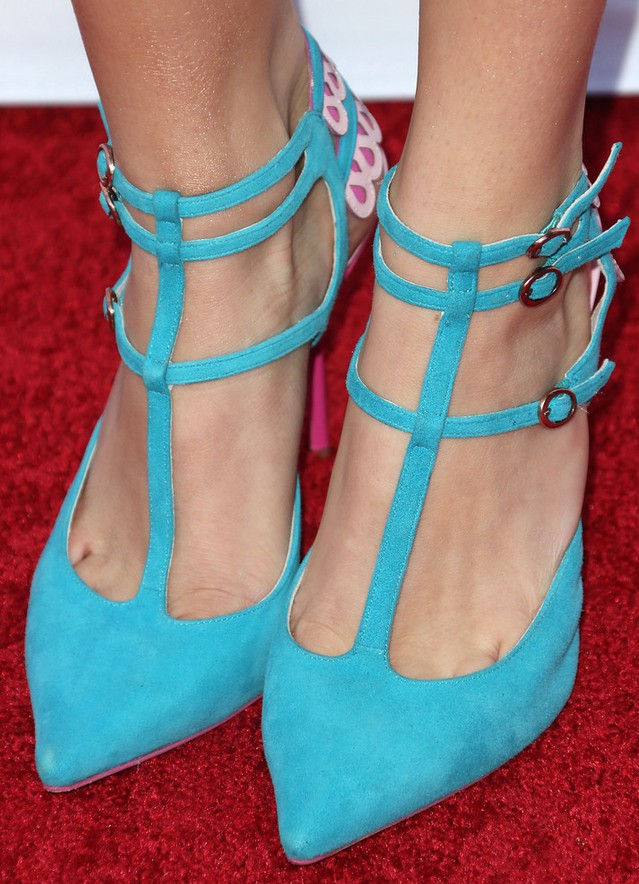 Bella Thorne's pumps are fresh and chic. The blue shoes are designed in the stylish strappy style by Sophia Webster. She looks good in the shoes.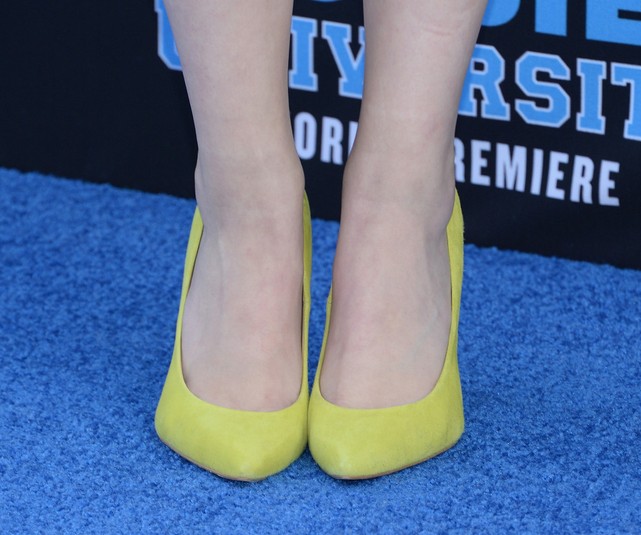 Taylor Spreitler chooses a pair of light green pointy pumps for the 'Monsters University' premiere. She looks lovely and vibrant.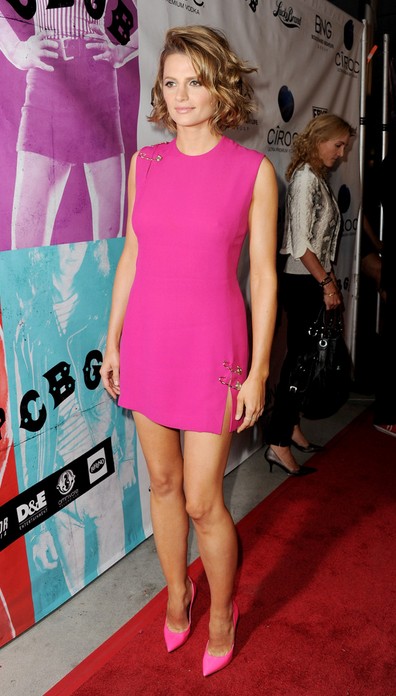 Stana Katic becomes a pink lady at the screening of XLrator Media's 'CBGB'. She pairs her pink dress with a pair of pink pumps. She looks edgy but elegant.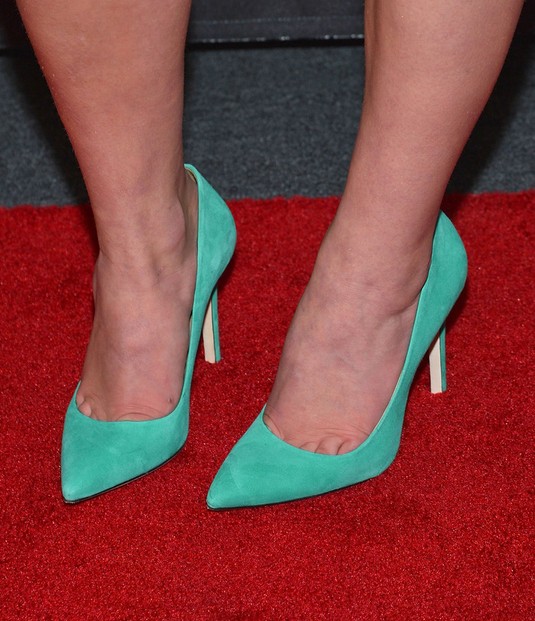 Sophie Turner steps out in her colorful shoes for a vibrant red carpet look. The pumps shine as beautifully as a turquoise. They create a chic look.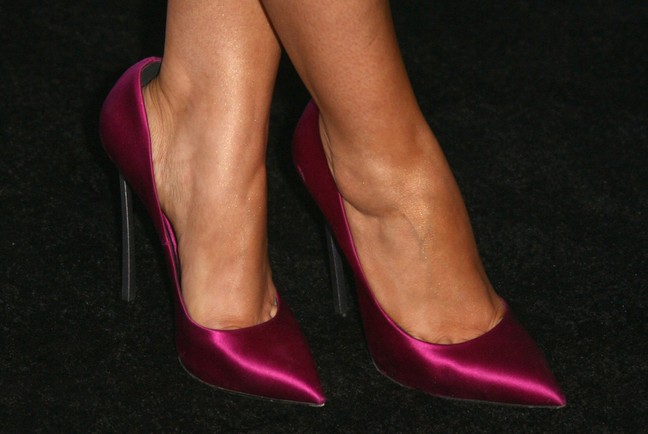 Sarah Hyland's pumps are satin deep pink. They are classic but sassy. She looks so great in the shoes when she attends the Teen Vogue Young Hollywood party.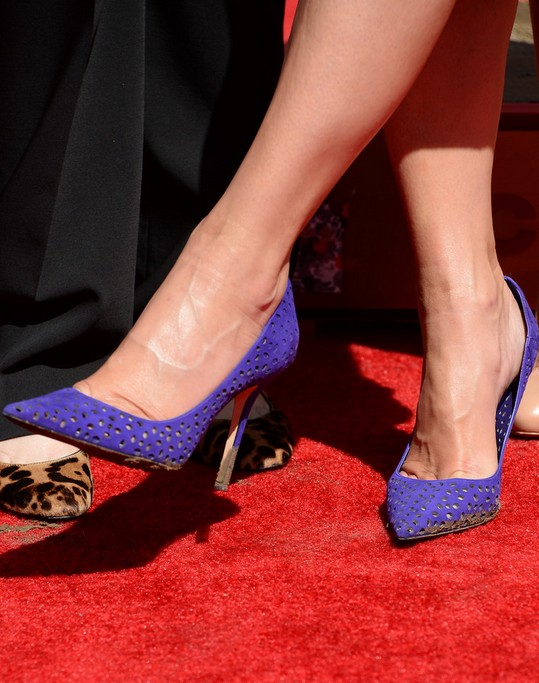 Sandra Bullock wears a pair of purple pumps by Jimmy Choo. Even if they are a little dirty, they won't destroy her look. She is happy and bright.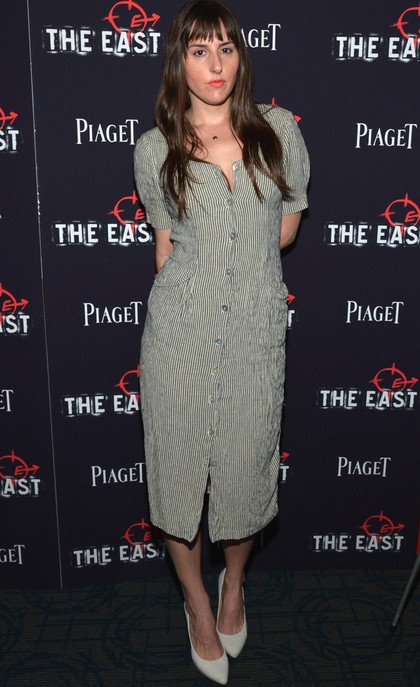 Ry Russo-Young steps out a pair of typical white pumps. Though they are simple, she still looks so great pairing with the dress.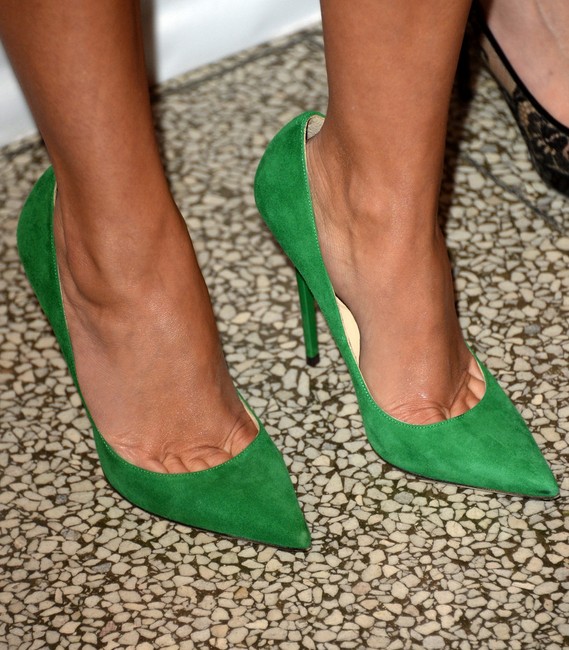 Reese Witherspoon chooses a pair of Jimmy Choo shoes during the premiere of 'The Devil's Knot'. The shoes are green pointed pumps. It is an amazing color that create a new look. The pumps reveal her natural beauty.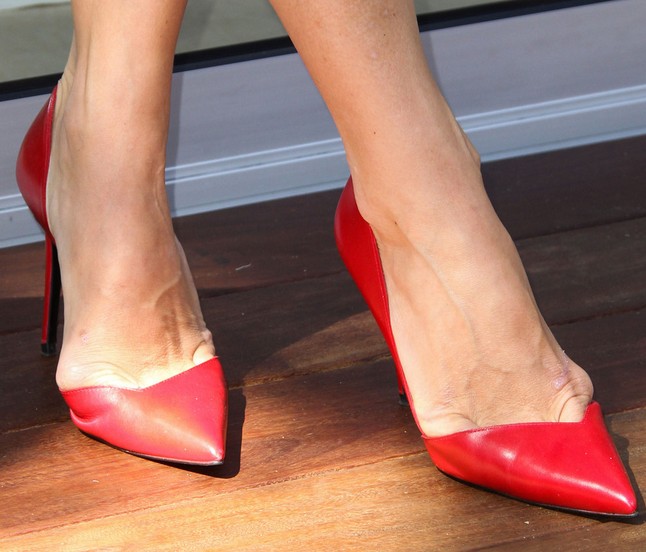 Molly Sims chooses a pair of red shoes in the Hello LA event. The shoes are red pointed pumps. They create an elegant and a sexy look.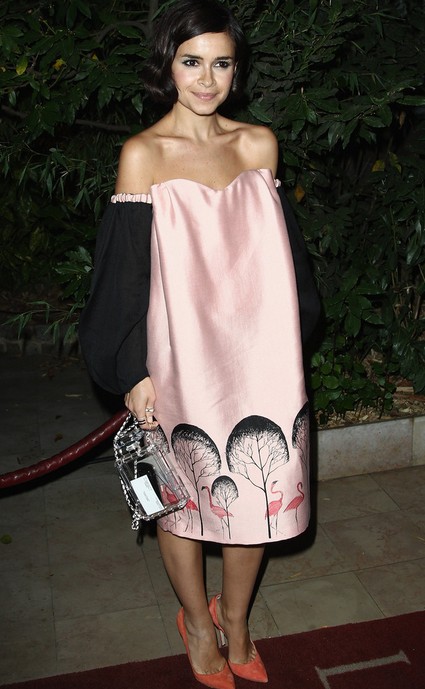 Miroslava Duma pairs her pink dress with a pair of orange pointy pumps for a stunning finish. She looks more feminine in the shoes.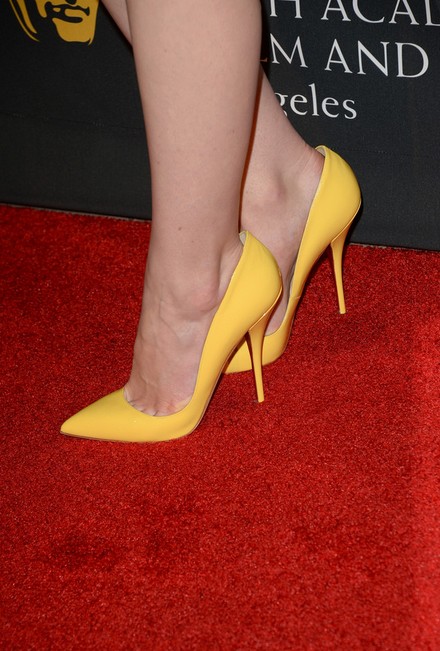 MICHELLE Dochery adds a pair of yellow pumps to her look for the BAFTA LA red carpet. These shoes are super high with yellow pointy. She looks as bright as possible.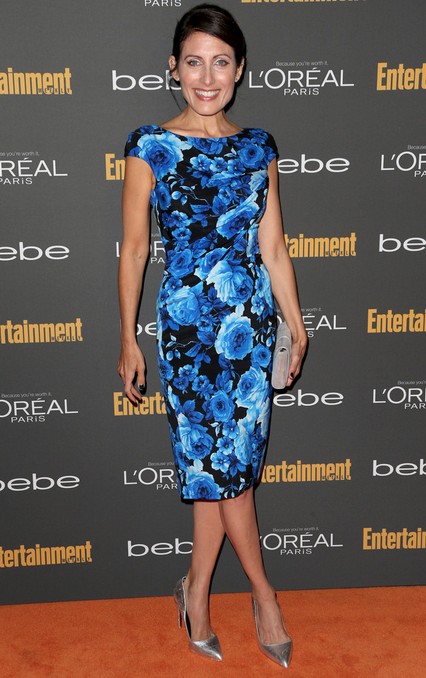 Lisa Edelstein completes her flower-printed sheath with a pair of silver pumps for the Entertainment Weekly pre-Emmy party. Her silver pumps silhouette her feet appropriately and create a gorgeous look.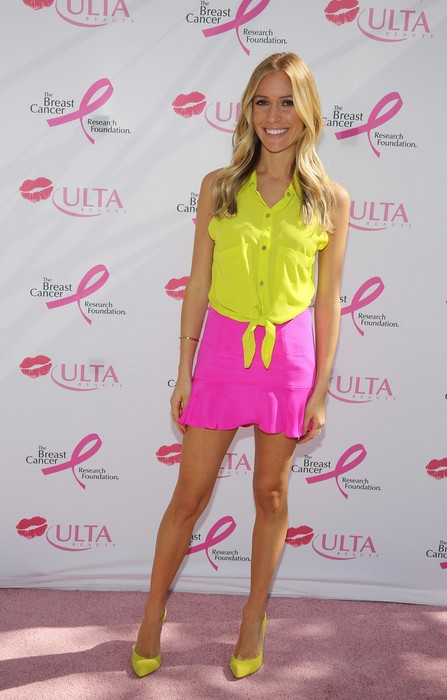 Kristin Cavallari looks lovely and fresh with neon color outfits. Her pumps are the same color as her chic shirt. They are neon yellow. They give more vitality to her look.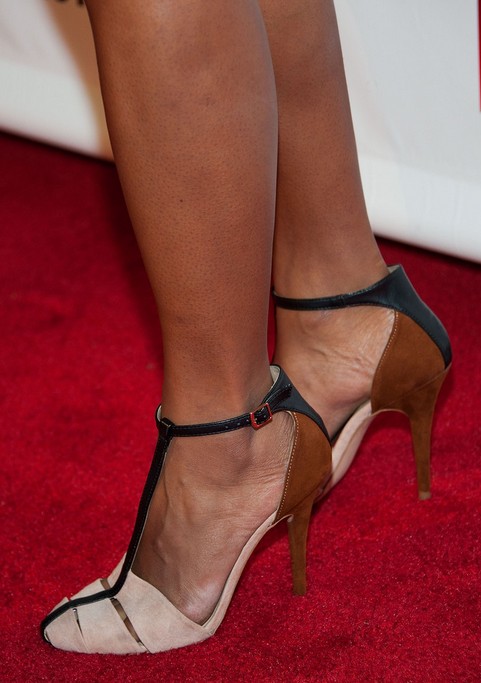 Kearran Giovanni dons a pair of white and brown pumps with straps for the LA Confidential pre-Emmy celebration. Actually, they are "T" strappy pumps with cutouts. The streamlines make her feet more beautiful. The shoe can soften her look as well.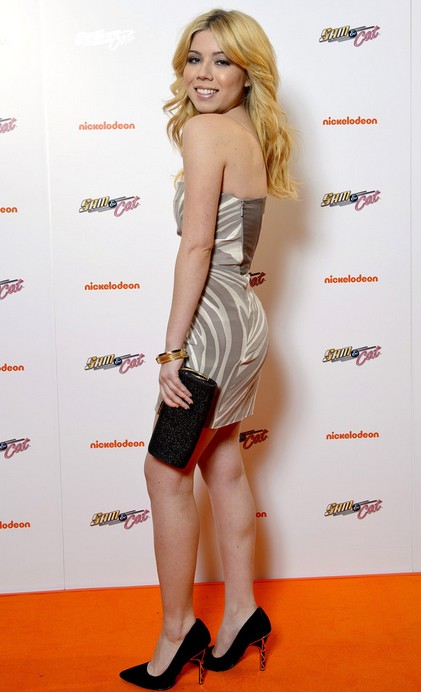 Jennette McCurdy wears a grey and white dress with her blonde hair. The most eye-catching things are her shoes. She wears a pair of black pumps with red prints on the hells. The pumps are creative and chic.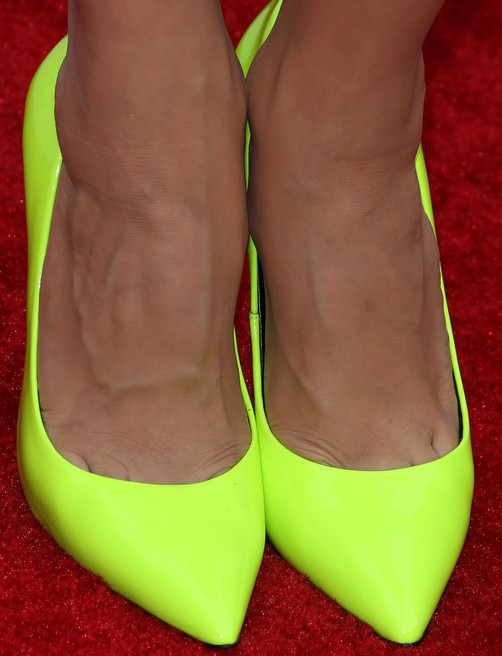 Edy Ganem's pumps glitter. The shoes are neon green which is very popular trend. They are not only modern, but also comfortable. They can be paired with both jeans and dresses.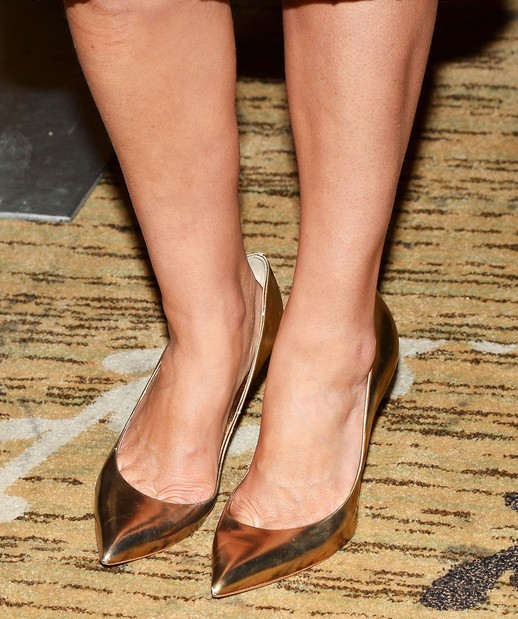 Cobie Smulders pairs her dress with a pair of golden pointed pumps when she attends Marvel's "Captain America: The Winter Soldier". Her shoes shine as brightly as her big eyes. The shoes are so classic and chic.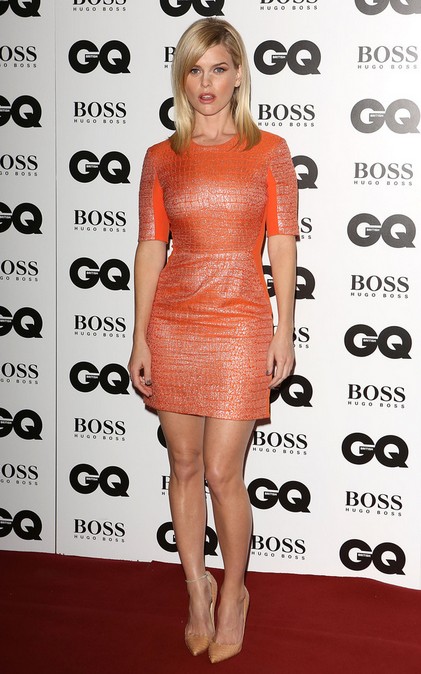 Alice Eve teams her beautiful dress with a pair of pointy pumps. The pumps are simple and nude, but nearly the same color as her outfit. So she looks so bright and fresh in an orange set.