18 Leopard Print Outfits That Aren't Overpowering
It feels like leopard print outfits are hard to pull off especially if you're not looking for attention. Actually, wearing a little bit of leopard can really add something to your outfit and give an outfit a pick-me-up. If you're afraid to wear leopard print, Pretty Designs is here to remove those worries and make you look fabulous. Here are 10 Leopard Print Outfits That Aren't Overpowering.
1. Casual Leopard Print Skirt

This first outfit is for those who are a little more daring. If you haven't worn leopard print before, why not jump right in with this skirt? This look is very casual, especially with the white t-shirt and denim jacket. This would be excellent for a date as the skirt doesn't show too much skin and doesn't overpower the entire ensemble.
2. Leopard Print Blouse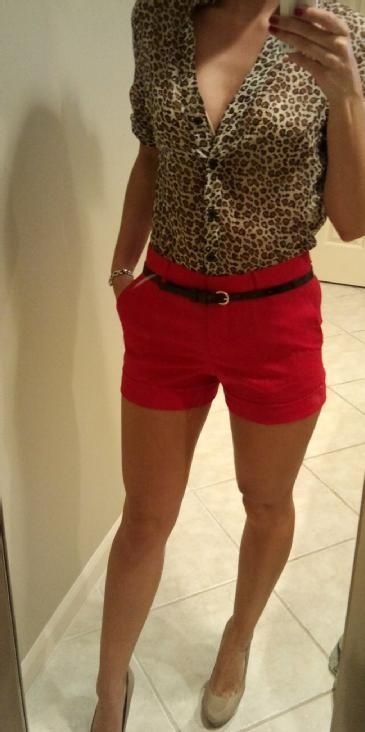 If you want to go a little dressy, then try a leopard print blouse. This outfit especially mutes the leopard print top by pairing it with bright red shorts and heels. This leopard print is very flirty and fun without showing off the print.
3. Leopard Print Scarf

If you're really not sure about wearing leopard print, this outfit would be great for you. Accents of leopard print are a great way to start. The small addition of the scarf gave the outfit a more exciting and wild look.
4. Layered Leopard Print Blouse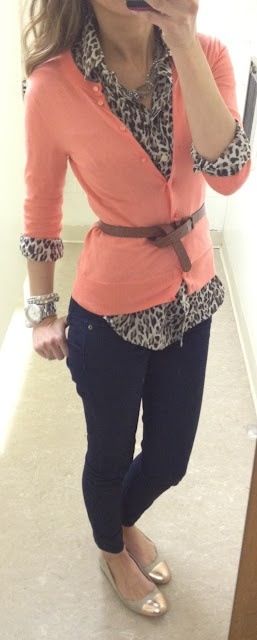 Usually, there aren't a lot of leopard print outfits for work. This is a great option because most of the print is covered. By adding the pink sweater over top, it draws the eyes elsewhere and makes the look more polished.
5. Leopard Print Cardigan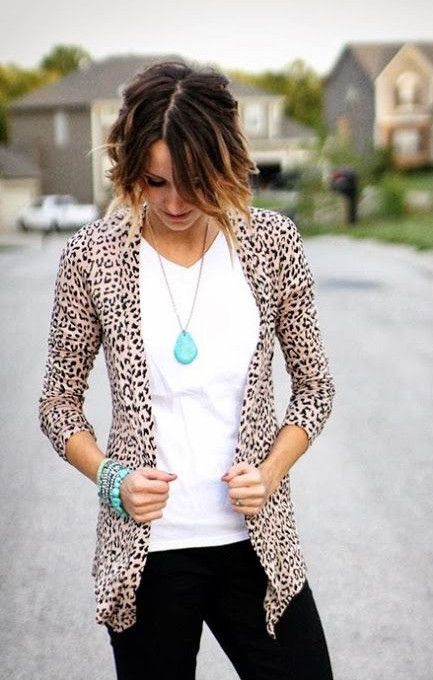 This outfit features the leopard print cardigan as the star but it doesn't take away from the rest of the outfit. The outfit is relatively simple, a white shirt and black pants with turquoise jewelry. Adding the cardigan pulls it all together and makes it look a little bit more fun.
6. Leopard Print Long-Sleeved Sweater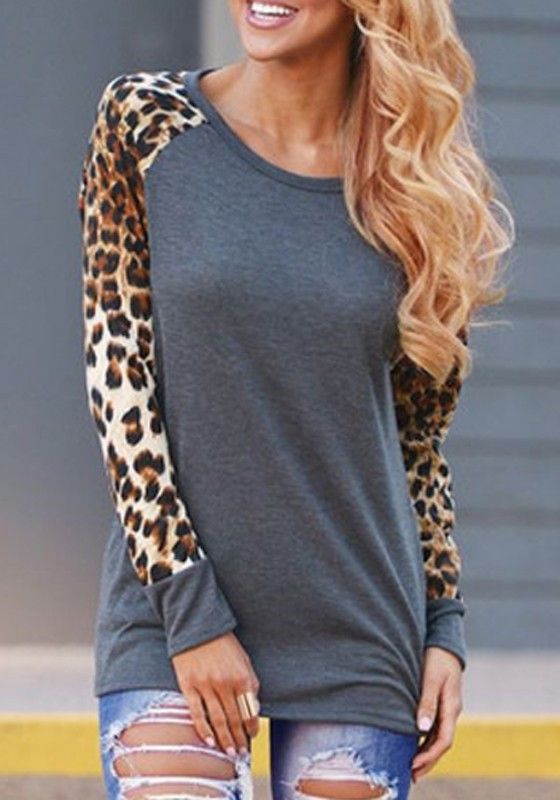 If you're looking for a fall or winter leopard print piece, this sweater is for you. The all-over gray sweater has leopard print sleeves that jazz up the normally plain sweater. This outfit can be styled  multiple different ways too such as with jeans, leggings or even shorts if it's not too hot.
7. Leopard Print Skinny Jeans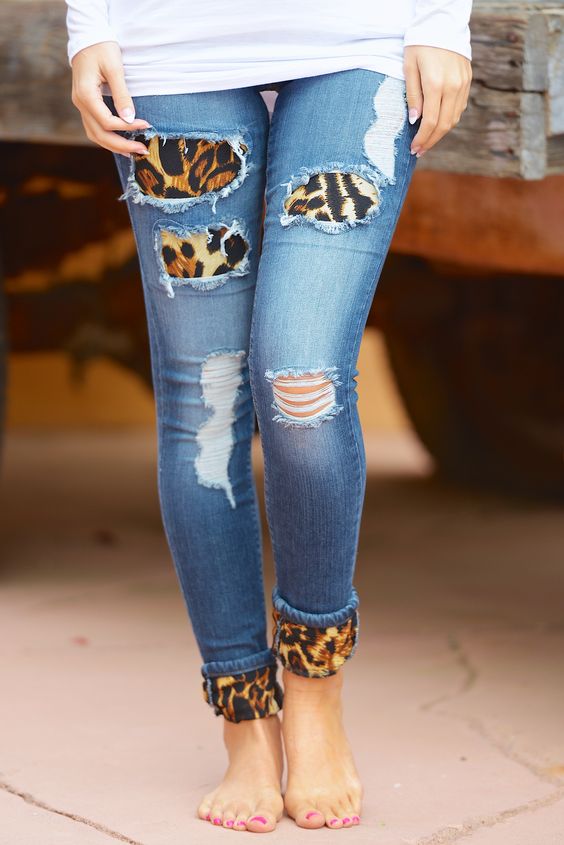 Jeans are one of the most underrated pieces that actually utilizes prints. Since jeans are pretty much just strips of denim sewn together, they're seen as just plain blue. Adding a leopard print pattern on the inside is ingenious because it gives the jeans a uniqueness. The great thing about those jeans, in particular, is that when they're cuffed, the print is visible. Honestly, these jeans can be worn with anything from sweaters to tank tops to blouses…whatever you want or feel comfortable in.
8. Leopard Print Maxi Skirt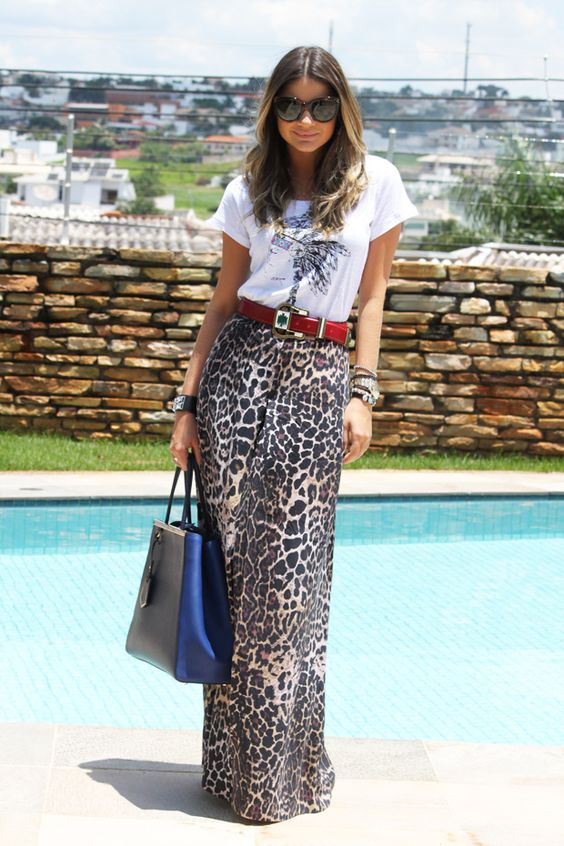 Maxi skirts are great because they're so effortless and can be styled a million different ways. This leopard print maxi skirt is complimented by a graphic t-shirt which normally doesn't work. The two patterns would normally clash but here, the outfit actually benefits from another pattern. If you plan on wearing a leopard maxi skirt, try to pair something bold with it if you feel like you are being overpowered by the print.
9. Leopard Print Shorts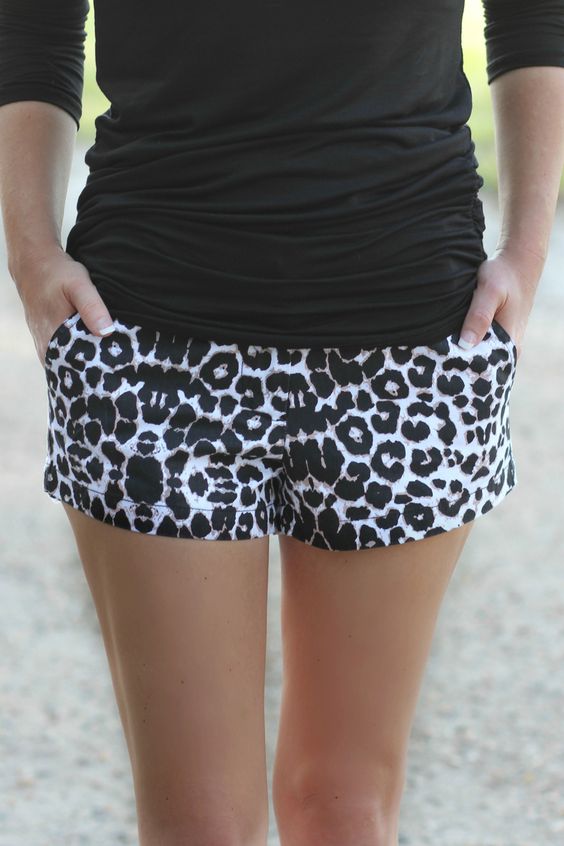 If you can't handle just straight leopard print, try a different color. These shorts have a white background instead of the usual brown and paired the shorts with a simple black shirt. If you really can't handle normal leopard print, take a more muted color to introduce yourself.
10. Leopard Print Belt

If you're still not sure about wearing leopard print, then try using it as an accessory first. This outfit would be fine on its own but the addition of the belt gives it some pizzazz. That small detail can take a relatively simple outfit to the next level.