The Complete Guide To Ballgown Wedding Dresses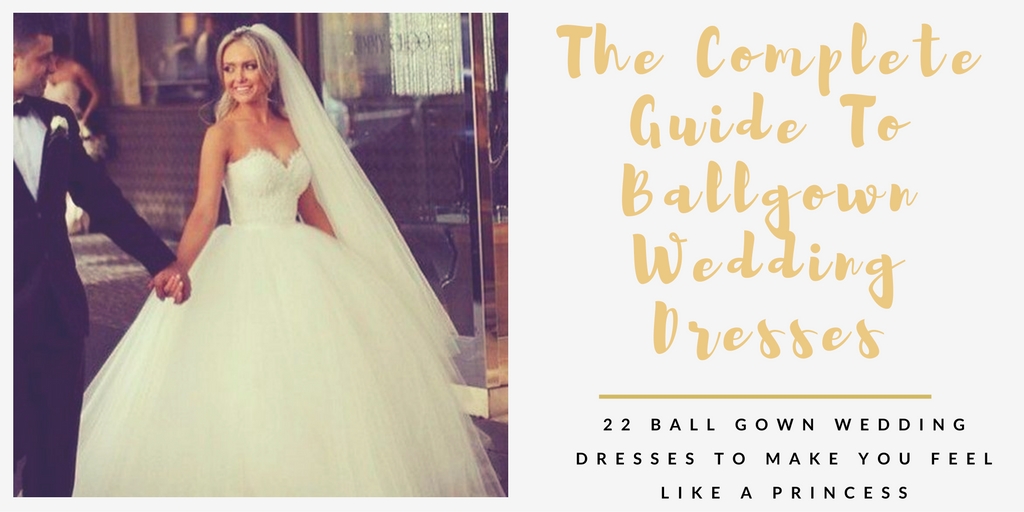 It's your special day, and all eyes are on you! Your wedding day is one of the only days where you can go as big and obnoxious as you want, and no one can say anything, because it is YOUR day! Some people like to go simple and elegant, and some like to go sparkling and classic. The possibilities are endless. But no matter what, it is your day to look and feel like a princess, whatever that means to you.
When I think of a princess, I think of Belle in her big yellow dress, or Cinderella in her big sparkling dress. The one thing these two princesses have in common, is that they both wear those big ball gown dresses.
Traditionally, a ball gown is small and fitted along the waist attached to a full, puffed out skirt. It is usually made out of some sort of gorgeous and luxurious fabric, and has multiple layers or tulle and other fabrics to give it that poofy look. The most common fabrics for a ball gown are satin, silk and taffeta, while the most common trimmings are pearls, sequence and lace. Many brides pair a ball gown with accessories such as gloves, a glittery clutch, and a tiara (of course!).
Even some celebrities have jumped on the ball-gown wedding dress wagon, including: Elizabeth Taylor, Portia De Rossi, Salma Hayek, Kaley Cuoco and Kim Kardashian.
In the most recent years, the shape and fabric of a ball gown have changed slightly, to keep up with modern fashion movements. Today you can find a ball gown made of chiffon, and even feathers if you wish! The most popular style of this year has been the layered chiffon/tulle look to give almost a bubble-like appearance. The most popular colors for these ball gown weddings dresses are the traditional white, off-white, and even a baby pink.
No matter what your style or taste, their is bound to be a ball gown that fits your wedding theme! If you still aren't convinced, check out these 2o drool-worthy dresses that may just change your mind!
1. Layered Cotton Candy
Speaking of drool worthy, this one looks like cotton candy to me. The light pink color, and the layered look give it that shape, nd I mean this in a good way. I love this dress and think it is a new twist to the traditional ball gown style.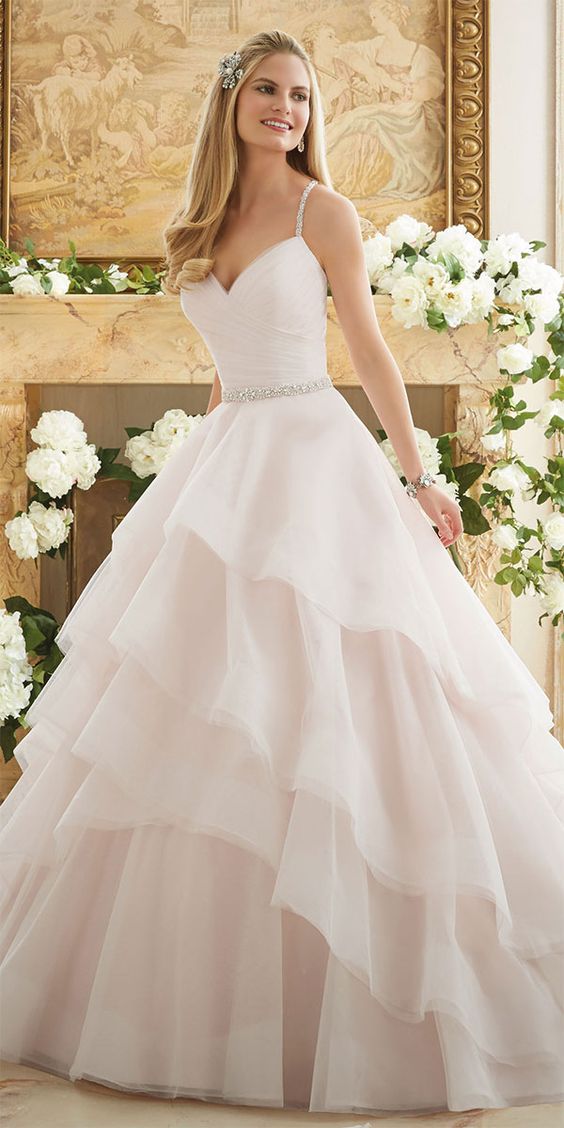 2. Simple Elegance
This dress is stunning because it is so simple! It has a little bit of the tussled look to give you something extra to look at, but other wise it is the simple fabric all the way down. This would be a great dress to wear if you have some major bling to show off, as the dress still looks amazing but would help extenuate a sparkly necklace or some earrings!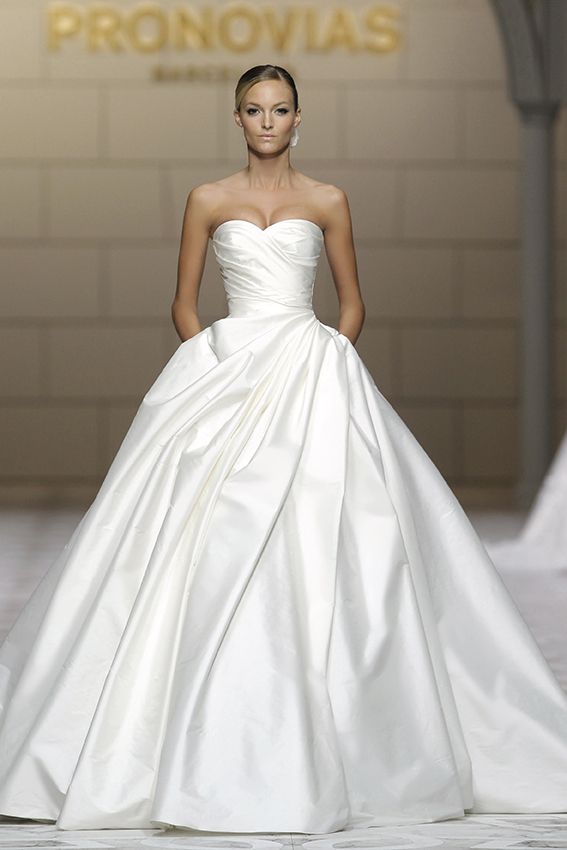 3. No Necklace Needed
Because of the beautiful jeweled detailing on this ball gown dress, you wouldn't even need any jewelry! Its a win-win!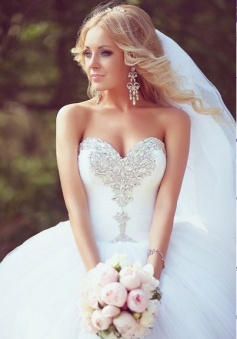 4. Fairy-Like Ball Gown
This one makes me think of a fairy of some sort! The beautiful flower detailing across the front, plus the other flowers along the skirt almost look like butterflies fluttering down.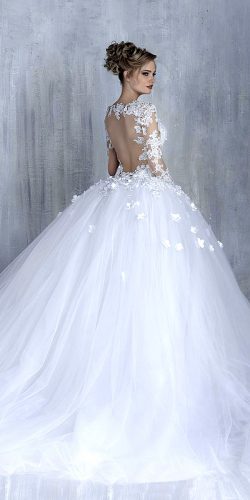 5. For the Modest Bride
It isn't strapless, and it is long sleeve. This dress also elegantly covers the chest while exposing the collar bones in a classy way. Sophisticated and classic.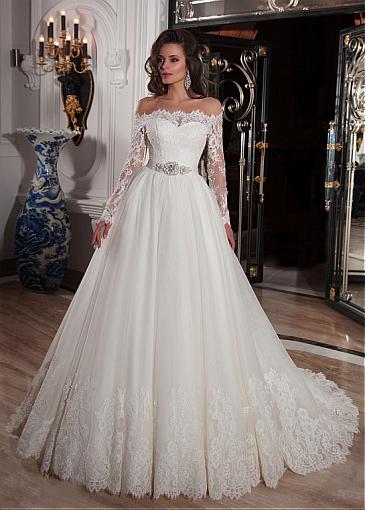 6. The Sash Is Everything
Without the sparkly sash, this dress is still gorgeous, but missing something. With that stunning sash though, this dress goes from simple to fabulous in a snap! This goes to show that a minor detail can completely change the game.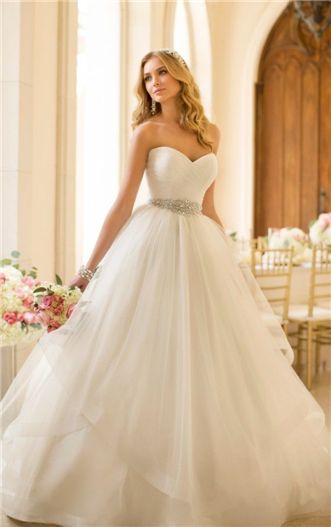 7. Big Bows And Roses
As I stated above, some people want to go big and bold on their wedding day! Well this bride definitely went above and beyond! With the giant bow and the row of roses, you might think that it wouldn't work, and yet, it is stunning.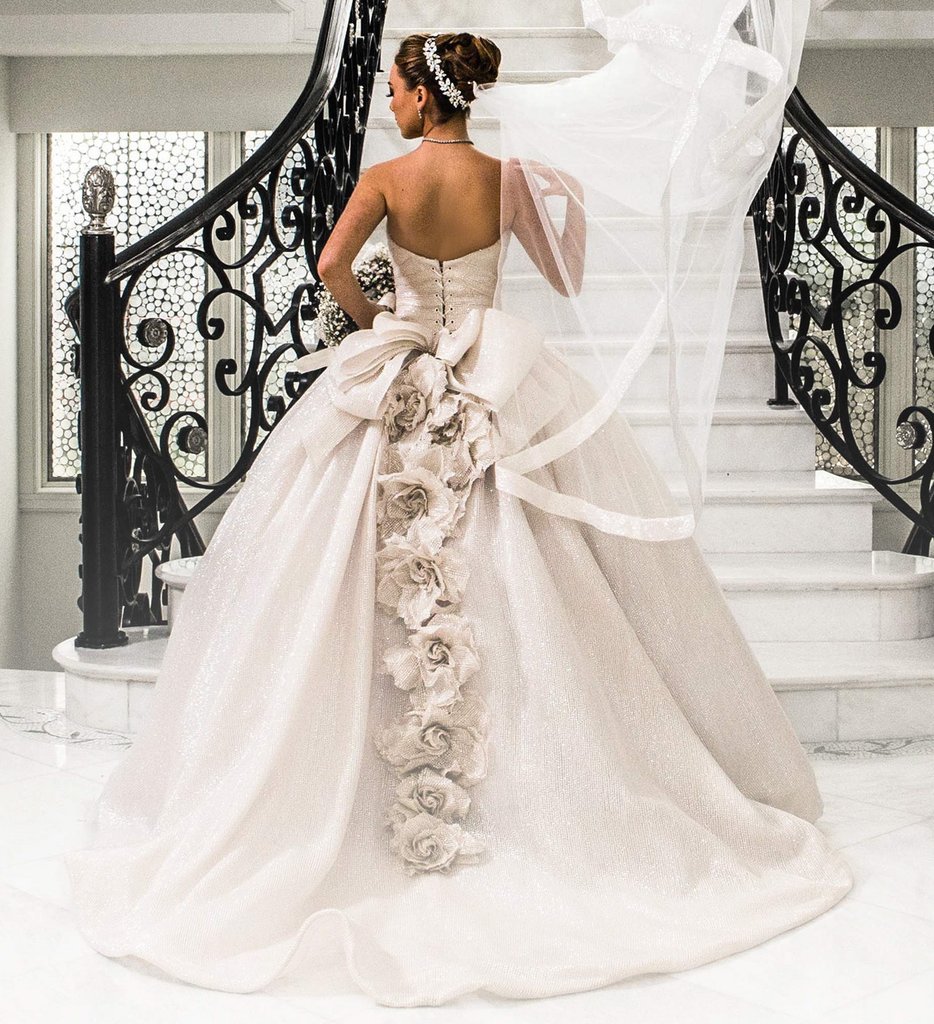 8. The Lace Bodice
Lace is one of the most popular trimmings for a reason: it's gorgeous and elegant! So why not make the entire bodice out of lace? I think yes! The same lace also along the bottom of the dress helps tie the whole thing together! Plus, I love that this dress have the halter straps, that way you don't have to be self conscious about the dress falling down at any point during the wedding.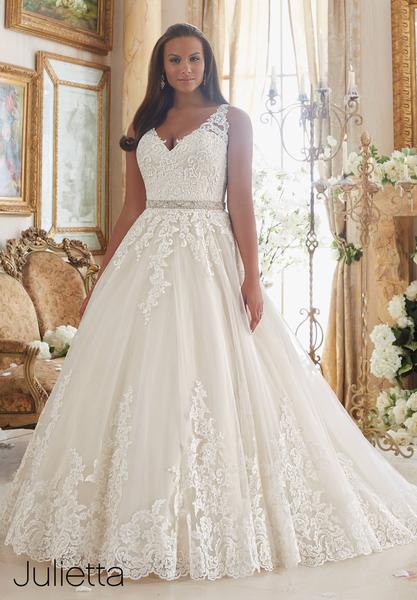 9. Off- White Sparkles
First, I must say that it is difficult to tell the difference between white and off white, because they are so close! And this wedding dress is one of those examples! But whether it is off white or white, it doesn't really matter! The sparkles help take it over the top.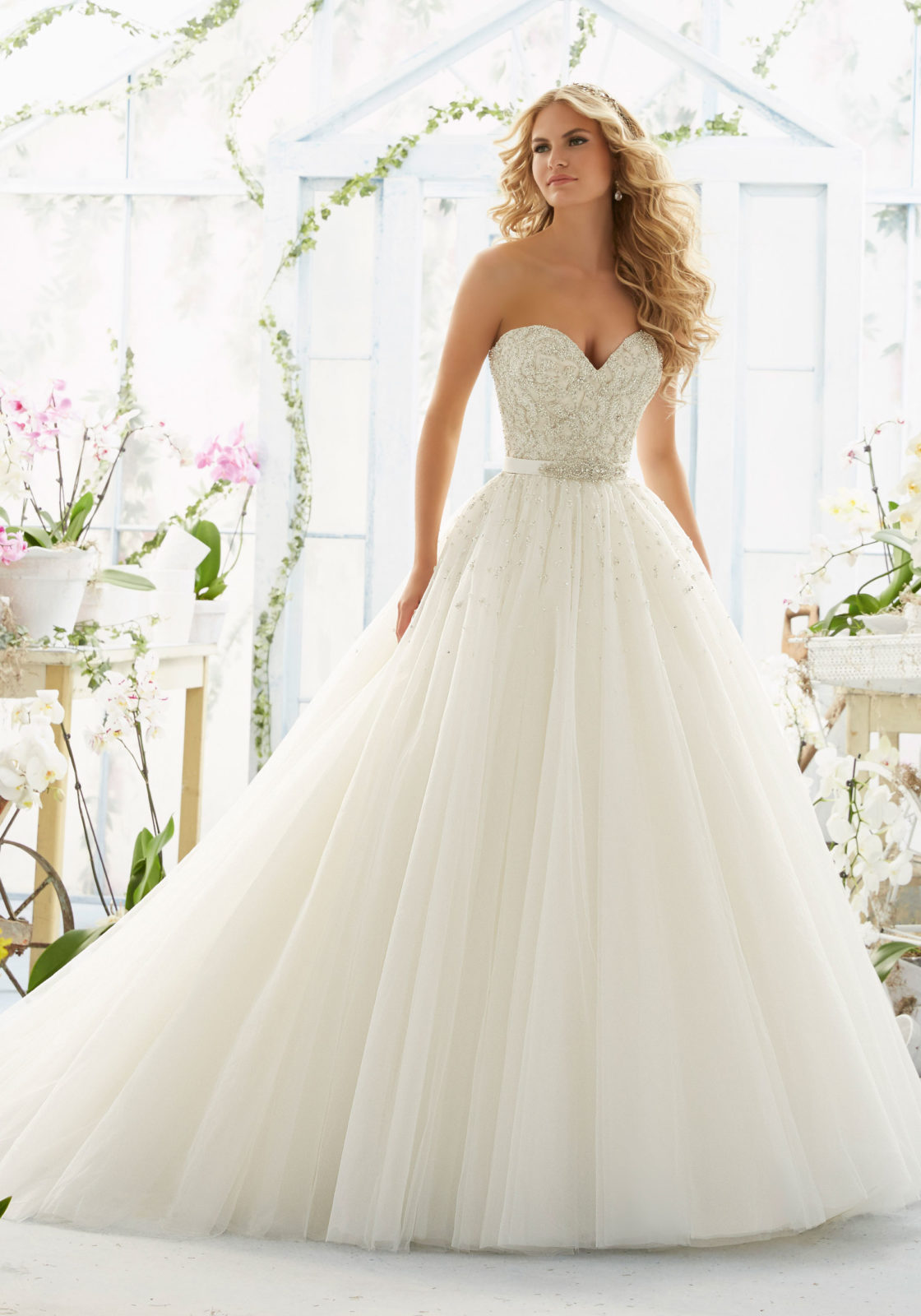 10. Feather-Like
This is one of those examples of the dress looking like feathers, but it is really tulle bunched up to give it that beautiful affect!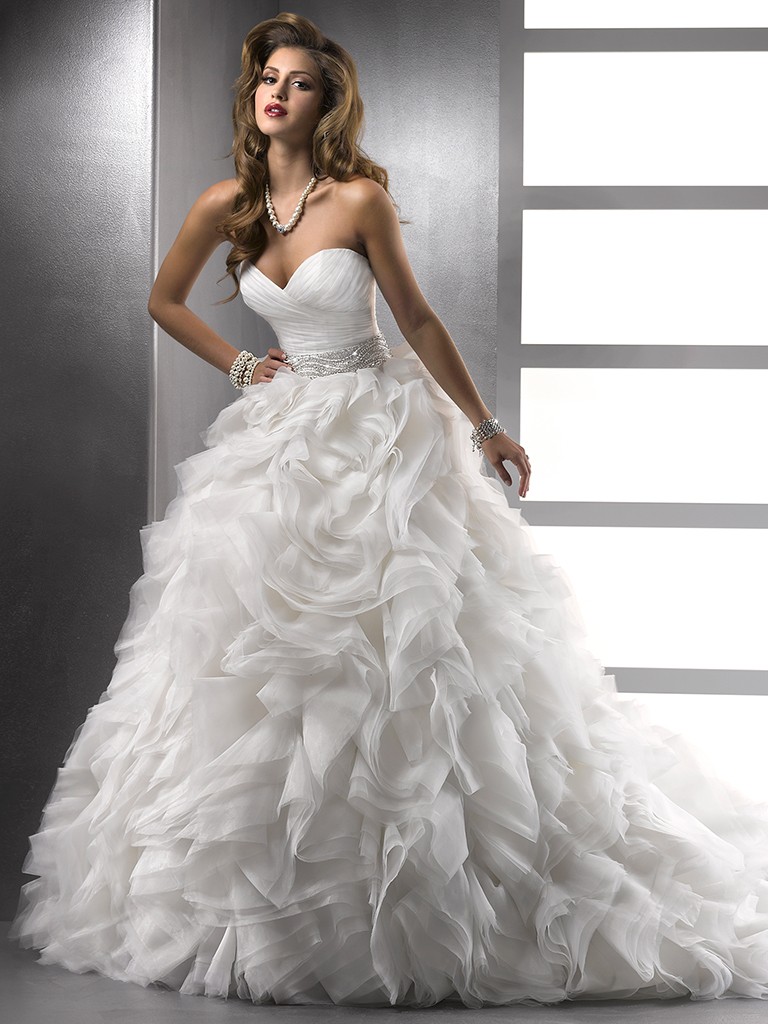 11. The Bigger The Better
Now this is a poofy princess dress! And it totally works! The lace, the pearls, the volume of this dress! It is princess dress heaven!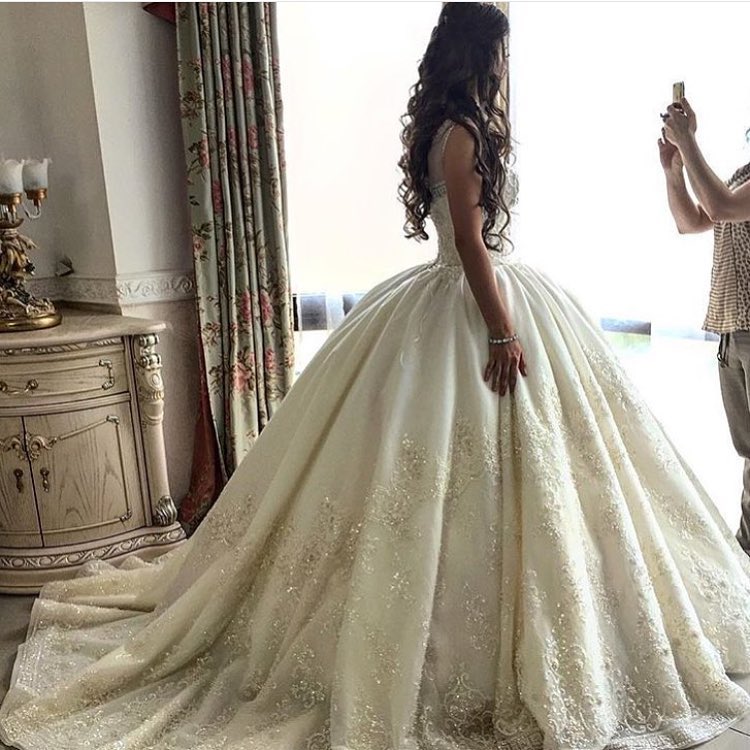 12. More Tulle Please!
There is no such thing as too much tulle, and this beautiful dress proves it!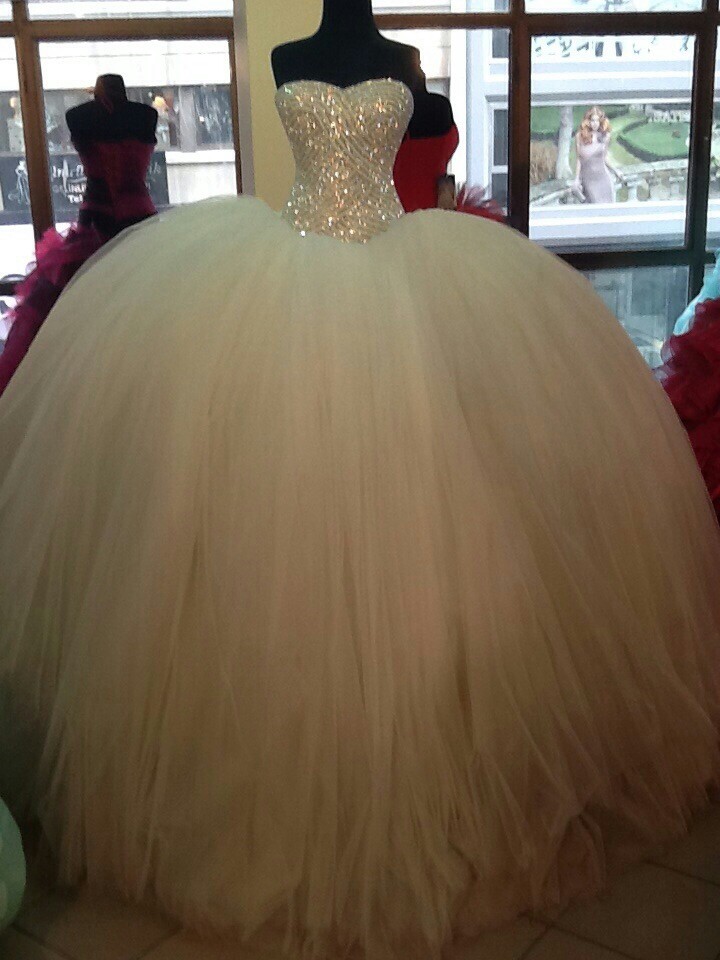 13 & 14 For A Pop Of Color
If you want to give off that expensive look, then this beautiful white ball gown with the gold detailing is perfect for you.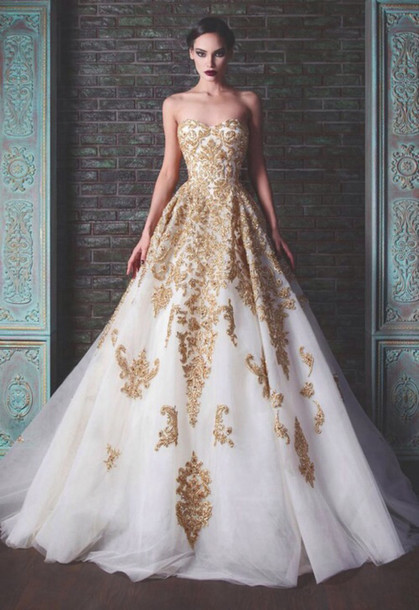 Or if you are going for a more cute and sweet look, then this dress with the pop of color flower print is absolutely doll-like!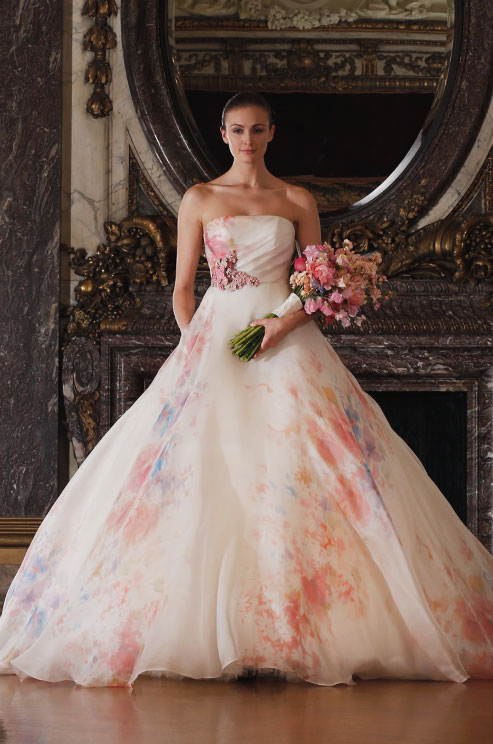 15. For The Inner Wildflower
The two piece wedding dress is one of the hottest fashion statements of this year. This dress would look beautiful on the free-spirit bride, while also being sophisticated and appropriate.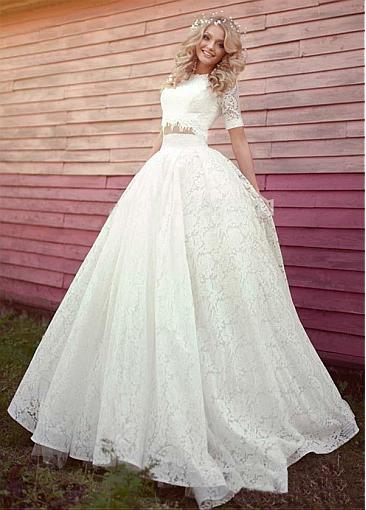 16. The Gorgeous High-Neck
Nothing is more elegant than the cut of a high-neck dress. This beauty just screams graceful, and with the shape of the bodice, would look great on everyone while also making a modest bride feel comfortable. Plus the folded pieces of tulle in the front give it an extra adornment!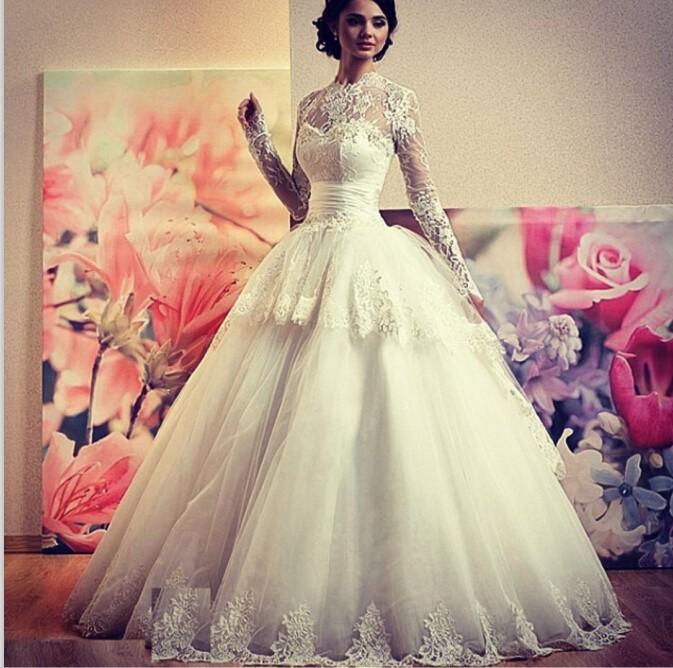 17 & 18. Perfect For The Outdoor Wedding
Most dress guides you find will advise you to pick a dress that doesn't touch the floor if you are having an outdoor wedding. Now of course, as the bride, you may do what you please, but this rule of thumb is mainly for if you do not have some sort of aisle runner, as you do not want leaves or grass sticking to the bottom of your dress. These dresses below are perfect because you still get all the fluff and glam of a ballgown, plus you don't have to worry about anything getting caught on your dress (plus no tripping over it either)!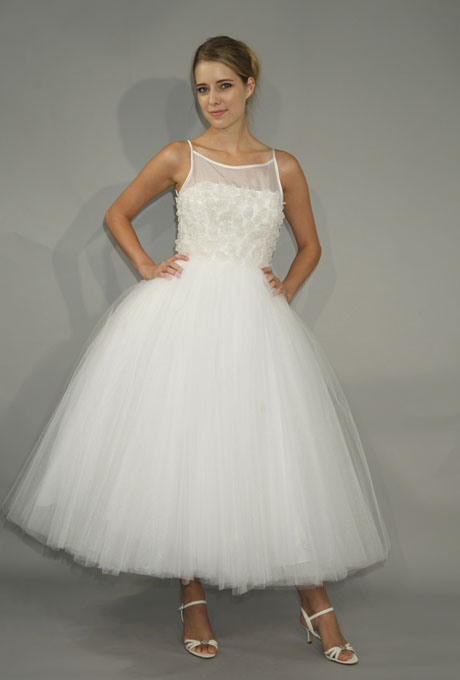 Or if you want this same look, but are more of a vintage gal: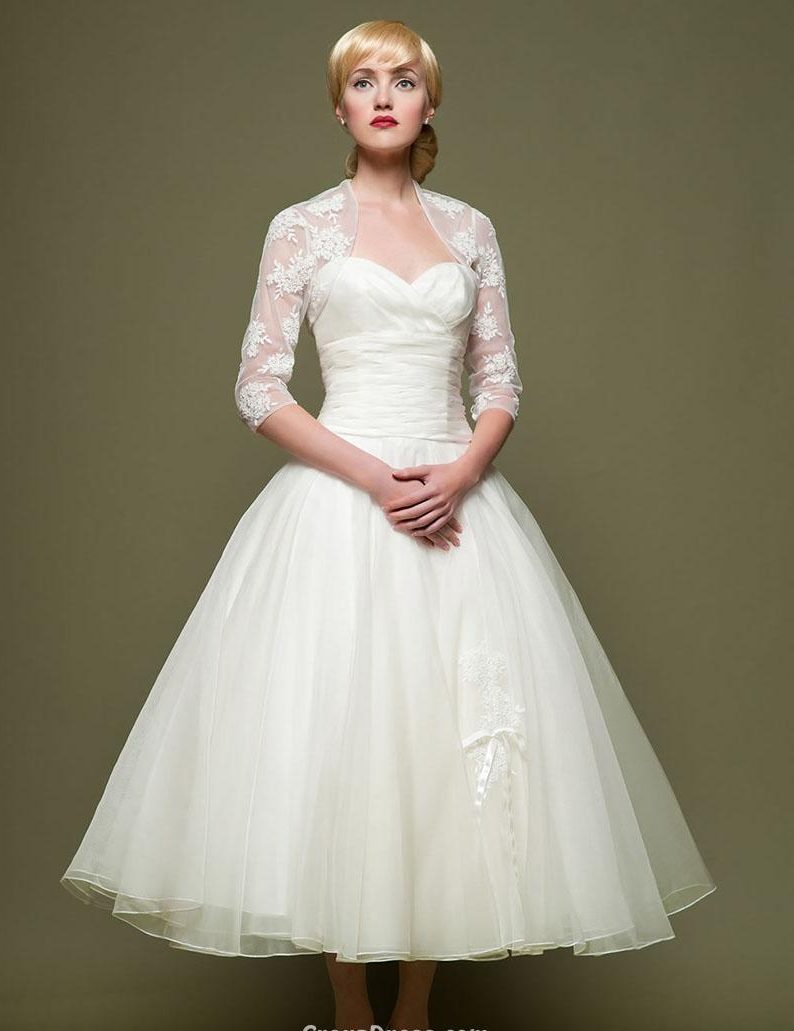 19. Speaking of Vintage
Can you say Titanic? Because this dress totally reminds me of the one Kate Winslet wore in the movie. If you are going for that early 1900s feel, then this dress definitely fits that theme. Plus it is stunning! And what princess doesn't want to wear satin gloves with her dress?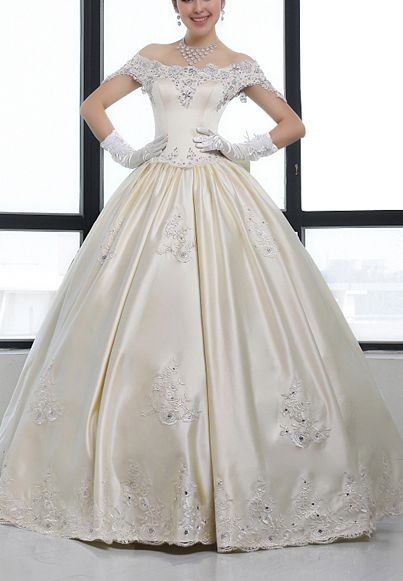 20. Sweet And Satin
As I stated above, Satin is one of the most popular fabrics in the making of a ballgown wedding dress, and based off of this dress, I can see why! It shimmers and shines while still looking classic and stunning.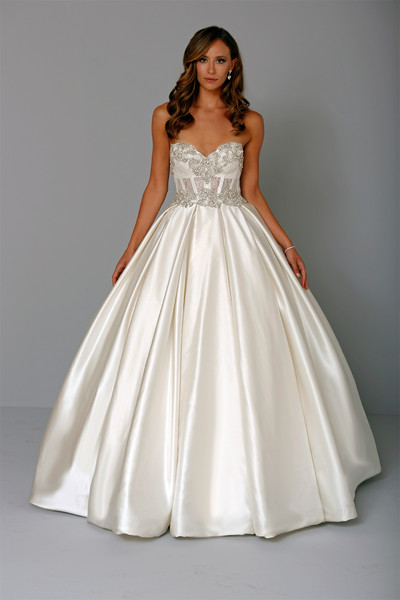 21 & 22. The Non-Traditional Dress
The last two dresses on our list are for the bride who wants something more than just the typical, white ball gown dress.
First up, this stunning high-low ball gown dress is to die for. It has the flow and poof of a ball gown dress, but is a bit more modern and chic.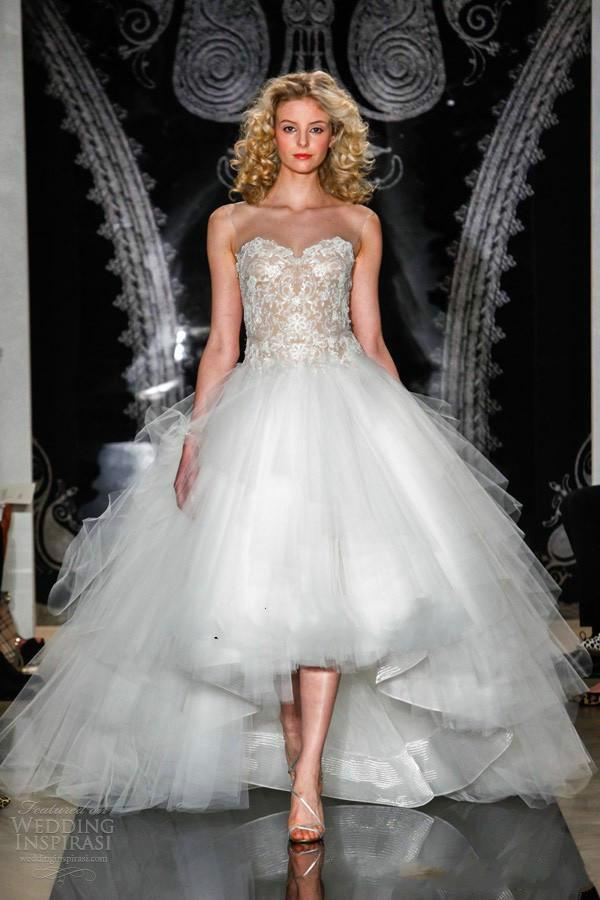 Finally, for a more colorful and creative bride. This dress with the pops of pastel colors is very playful while still being sophisticated.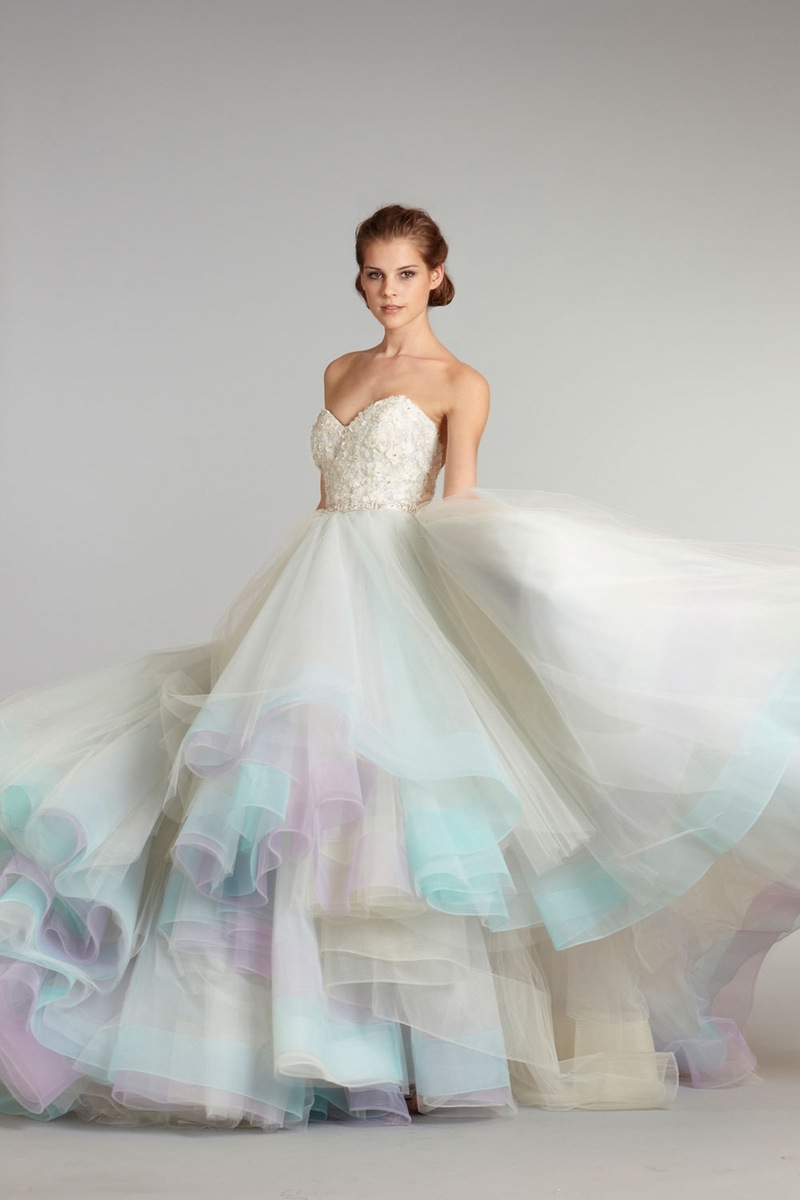 Thanks So Much For Reading!
And if Ball gowns aren't really your forte, then stay tuned for more wedding dress guides for every kinds of bride and every dress style!