12 Beautiful Bridesmaid Hairstyles – Best Bridesmaid Hair Ideas
Wedding season is here and maybe you've been asked to be a bridesmaid in a wedding or two or three. No matter how many weddings you'll be a bridesmaid in, there are plenty of hairstyles to choose from and you'll never have to repeat any. Unless you want to, of course. The one thing that a good bridesmaid always remembers is never to overshadow the bride and that's exactly what this list gives it. These hairstyles will make you look elegant and beautiful without showing up your friend so check out these bridesmaid hairstyles!
1. Bridesmaid Braided Updo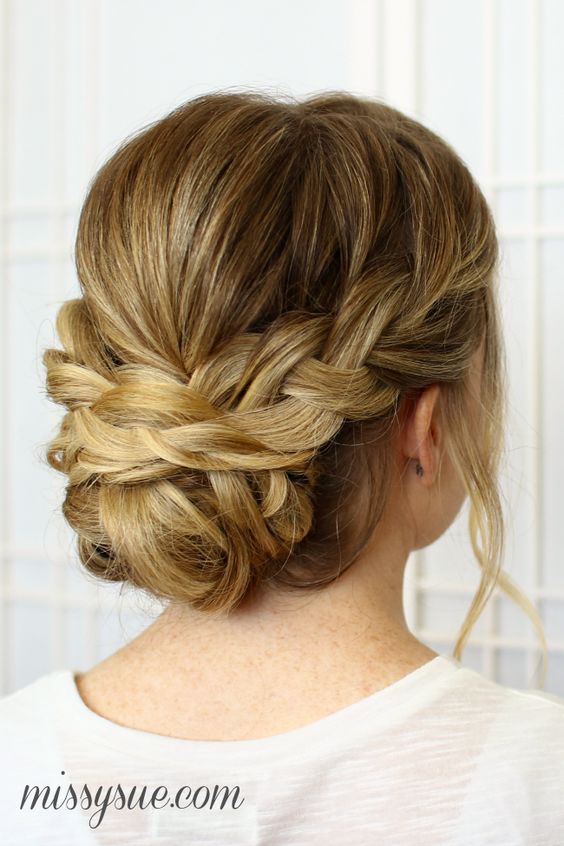 Braids are a gorgeous way to make your hair look a little more dressed up without it being too much. With braids draped behind your head, you'll be keeping the hair out of your face and the bun will make your hair look formal but not overpower the bride.
2. Bridesmaid Waterfall Braid Hairstyle
Here's another braided hairstyle if you're a bridesmaid. Making a waterfall braid will allow you to keep it a little bit more casual but still fancy. Curling or straightening your hair will give your hair texture and be the perfect accent to the braid.
3. Bridesmaid Twisted Crown Hairstyle

The best thing about this twisted crown hairstyle is that it doesn't take long to achieve. However, it still looks presentable and gorgeous without a lot of effort.
4. Bridesmaid Fishtail Updo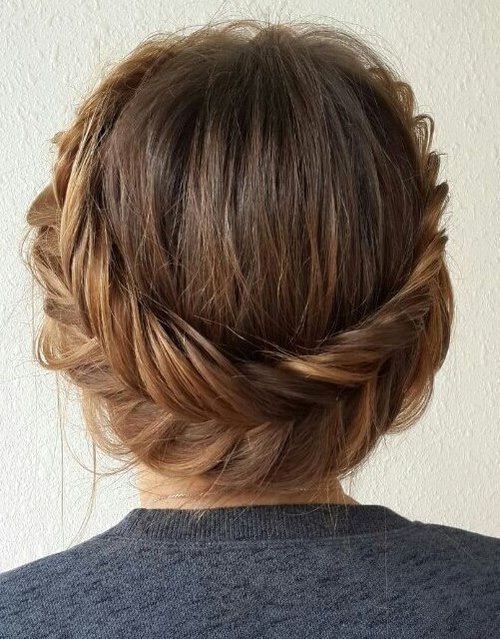 This updo is similar to the first hairstyle, but it takes to another level with fishtail braids. Fishtail braids somehow end up looking a little bit more formal and polished than regular braids. That's why this updo would be perfect to wear if you're a bridesmaid.
5. Curly Bridesmaid Hairstyle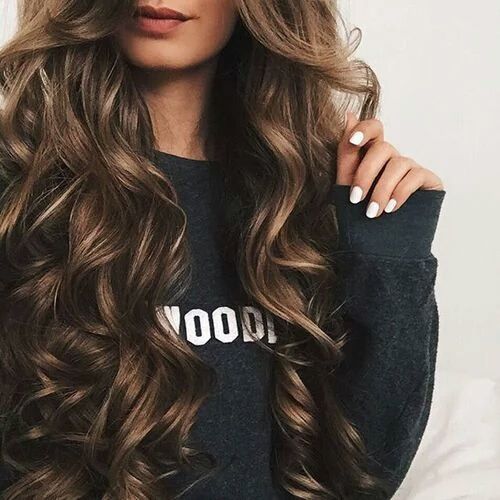 If the bride isn't wearing her hair in curls, no reason you can't! These curls are gorgeous and almost have a Victoria Secret model vibe. If you have the chance, wear your hair like this because it makes your hair look voluminous and super gorgeous.
6. Bridesmaid Ponytail Hairstyle 1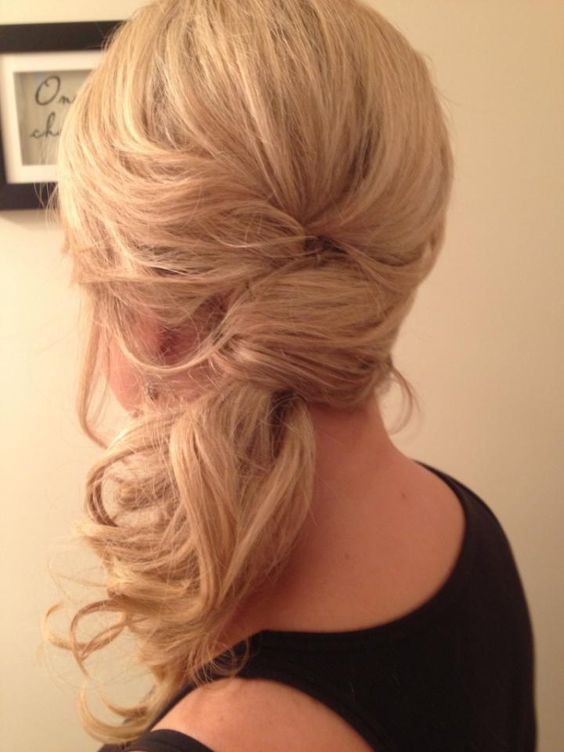 There's no rule about not wearing your hair in a ponytail to a wedding, is there? If there is, then this hairstyle is the one expectation. A side-swept ponytail with curled hair will make you look formal and keep your hair in one place for the entire wedding most likely. Plus there's a lot of different ways you could customize this ponytail to make it your own.
7. Bridesmaid Ponytail Hairstyle 2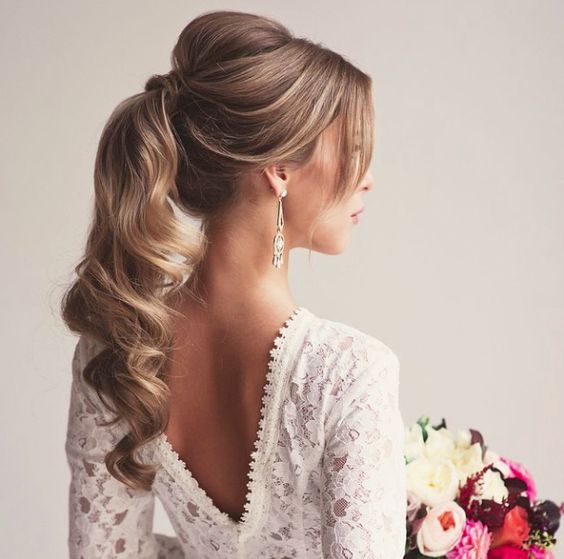 Here's another variation of the ponytail hairstyle. Instead of sweeping your ponytail to the side, add some volume around your crown area before pulling your hair up and curling it. Your hair will look gorgeous in no time and you'll still only be rocking a ponytail all night.
8. Braided Flower Hairstyle

This hairstyle is pretty simple if you're not great at doing your own hair, are running out of time or if the wedding has an outdoor them or is outdoors. The steps are relatively simple and will turn your hair from drab to fab in a matter of minutes.
9. Bridesmaid Hairstyle For Short Hair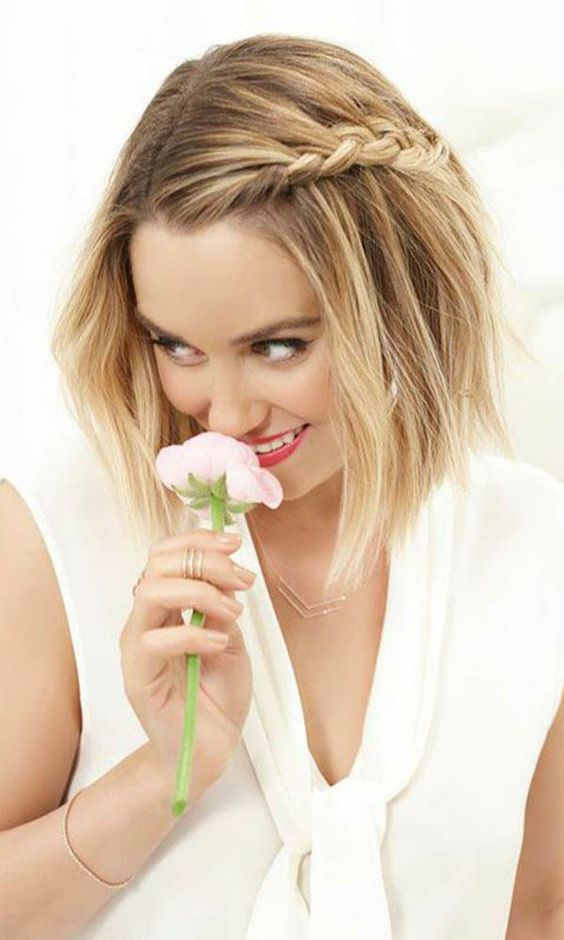 Take a page from Lauren Conrad if you're looking for a short bridesmaid hairstyle. Make a small braid on one side of your hair and pin it in place before either straightening or curling the rest of your hair. It might seem like braids are impossible for short hair but this solves that problem.
10. Bridesmaid Hairstyles For Short Hair 2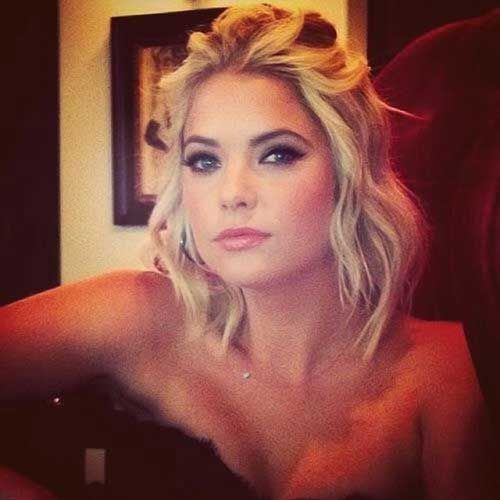 Maybe you'd prefer this Ashley Benson bridesmaid hairstyle instead. For this one, all you'd have to do create some volume at the crown and then pin it back before working with the rest of your hair. This hairstyle will allow you to have a little bit extra volume and texture thus making it look thicker.
11. French Fishtail Braid Hairstyle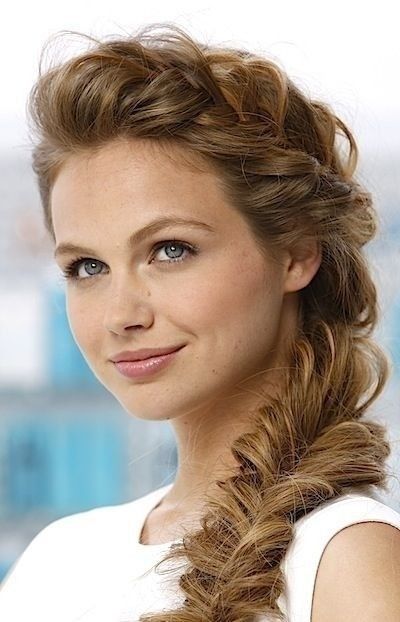 This statement fishtail braid doesn't look like your typical bridesmaid hairstyle but it's an awesome choice. As a more formal alternative to a regular braid, this side braid is unique and no one else will even think about rocking this.
12. Chignon Bridesmaid Hairstyle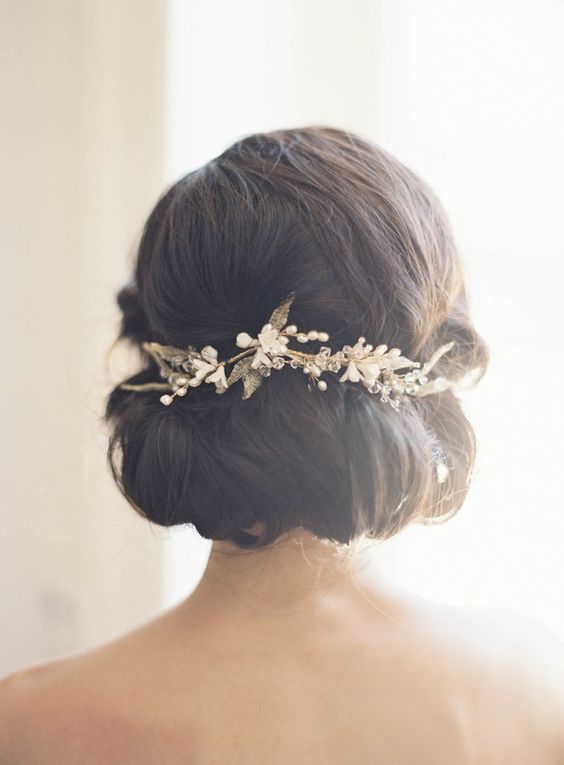 This last bridesmaid hairstyle is simple but has taken the world by storm. Wearing your hair in a chignon requires almost no effort with tremendous results. What really makes it stand out is the accessories, of course, but this hairstyle could honestly work on a lot of different hair types and could be perfect for all bridesmaids to wear together.