12 Celebrities Short Haircuts You May Love
Dianna Agron short hairstyle – most popular hair style for thick hair – messy chin length bob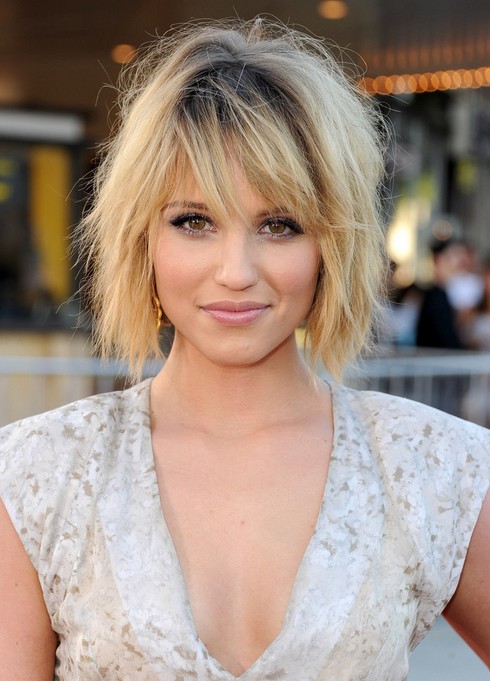 We love this trendy bed-head look which gives the chin-length bob a totally contemporary twist. The hair is razor cut into layers which begin at eye-level and accentuate Dianna's lovely brown eyes. The ends are highly textured giving a slightly ragged, edgy finish which just needs a bit of fluffing up to style! And the piecey fringe has dark roots changing to pale golden blonde, keeping the look light and youthful. This cut is a great way to get extra volume and style into fine hair.
Dannii Minogue short haircut – summer hair ideas – pixie cut for mature women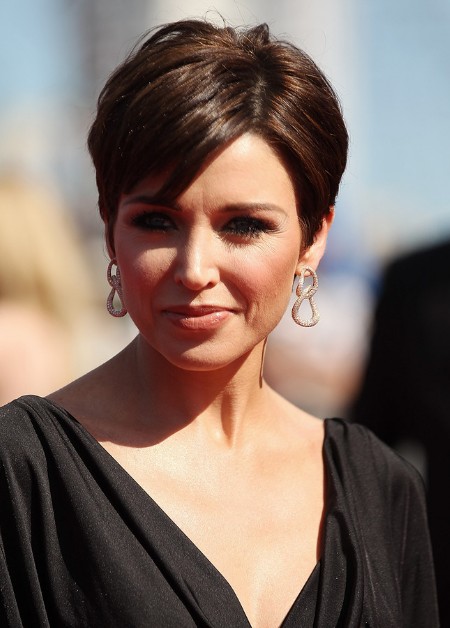 Here's another example of how much younger you can look when you swap long for short hair. The pixie cut absolutely swept through the ranks of international celebrities at the end of 2013 and after Pamela Anderson's amazing pixie makeover, thousands of women followed suit! This is the best style we've ever seen on Dannii and with this rich, warm brown she now looks more chic and a lot prettier than before!
Chloe Grace Moretz short hairstyle – cute short hair style for girls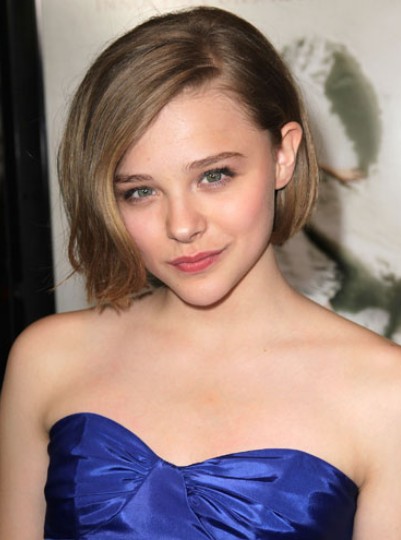 This sophisticated look is also a low maintenance, low product look that makes it easy to keep hair in good condition. It has an attractive side-parting adding a contemporary vibe. And the lovely sweep of hair follows the contours of Chloe's face in a flattering line that accentuates her blue eyes. This is a great choice for anyone with a slightly pointed chin, as the curved-back wave leads the eye away from the shape of the chin. Want to try long hair this year? Find the latest long hairstyles for women here.
Cate Blanchett short hairstyle – straight short haircut -blonde bob cut for women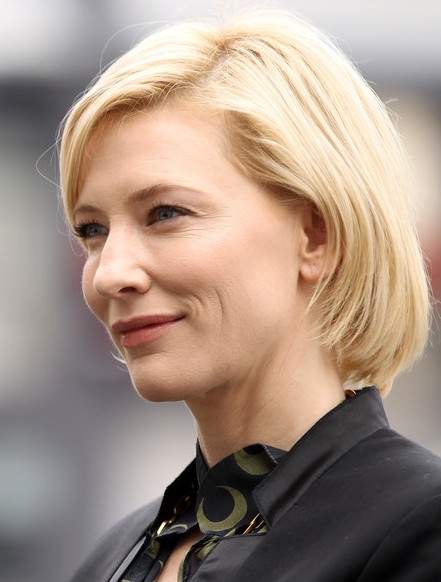 Proving that an all-over blonde colour isn't always flat and boring, Cate looks classy and beautifully groomed in this style. The cut is a bob with most of the hair cut to the same length, just long enough to touch the collar. Then the shape is gently graduated up towards the face, softening the profile line. The short, side-parting does not show any dark roots for once and complementing her beautiful skin tone, this cut gives Cate a youthful, natural blonde look!
Carey Mulligan short haircut – latest most popular short pixie hair style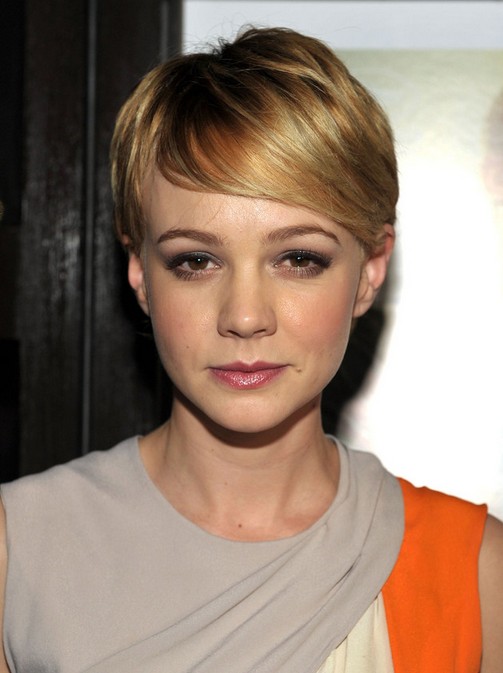 Carey's soft, fine hair gains plenty of volume and texture in this short, chic cut that's so easy to style. This pixie is cut in graduated layers radiating from the crown and has an asymmetric side-parting. The hair is styled forwards from the crown and then combed in a nicely curved fringe with a sleek line across the forehead and around to one ear. And the contemporary colour technique, mixing blonde and pale copper highlights, gives Carey's fine hair lots of added depth and texture!
Shailene Woodley short haircut – sleek bob hair style with highlights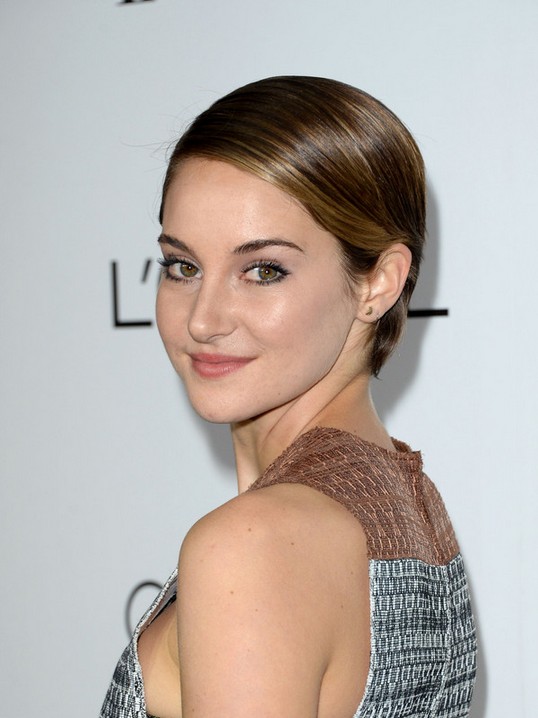 Smooth, no-nonsense styling of Shailene's silky-fine hair, creates a fabulous look that really accentuates her perfect skin and lovely hazel eyes. The hair is highlighted in a very subtle way that picks out the lighter flecks in Shailene's eyes, and adds lots of texture and movement. The silhouette shows the perfect shape of Shailene's head and is a great easy-care look for sporty, trendy or busy women!
Anne Hathaway short haircut – boycut for women – best short hairstyle for summer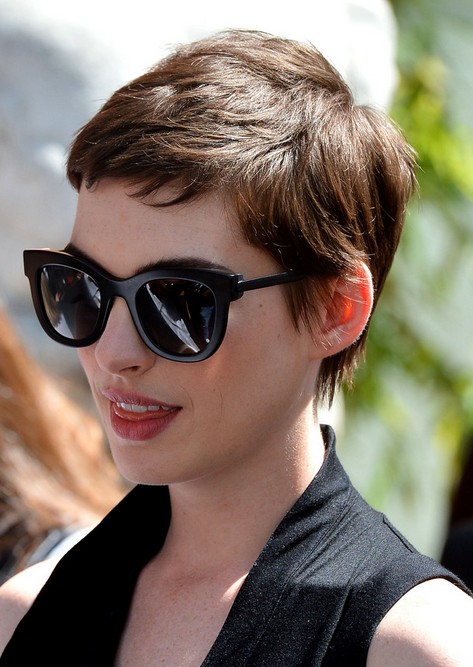 We've all seen the wonderfully anti-ageing effect of having a pixie cut makeover, which always looks great in the celebrity's 'after' picture! But what happens when the photo-shoot hair and makeup team packs up and goes home? Do pixie cuts live up to the hype? Well, here's a photo of Anne Hathaway out and about and far away from the professional beauty team and her hair looks fabulous. The short layers create natural volume and the wispy tresses on the ears casually soften the line and keep this cute haircut as popular as ever! Find more on prettydesigns.com
Violante Placido short hairstyle – ombre hair for short hair – ombre hair color trends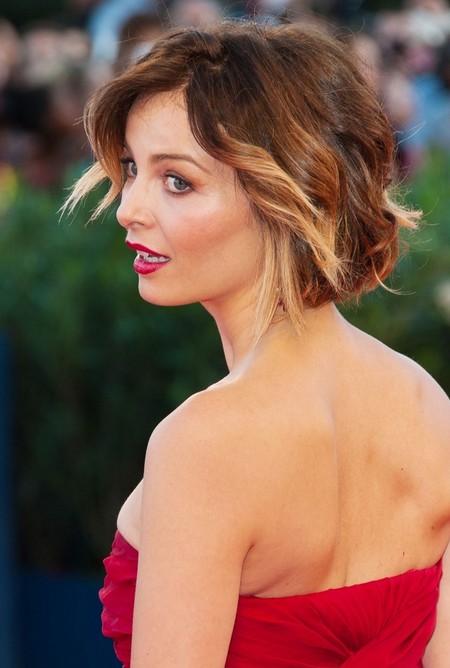 Short hair is the style that usually brings in the future-fashion looks first and Violante's edgy chin-length bob produces a feminine, but assertive, image for the 21st century woman. Her naturally thick hair creates body and volume in addition to the casual twists. And the warm medium brown is highlighted with thick strands of blonde and pale copper, for a stunning evening (or anytime) fashion haircut and colour! This short hairstyle is perfect for wedding! If you're looking for latest wedding hairstyles, check it out here.
Ginnifer Goodwin short hairstyle – fabulous pixie cut for women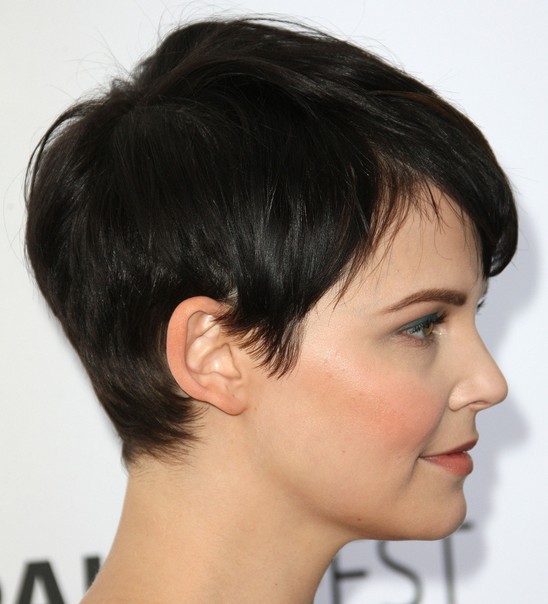 Here's a fabulous profile shot of the pixie cut that suits Ginnifer so well. The look is simple in a way that shows off her face, complexion and dainty features. The short layers create plenty of textures and movement in the hair and the side-points are kept soft and wispy to keep the line feminine, but unfussy!
Jennifer Grey short hairstyle – popular medium – short curly hairstyle for women over 50s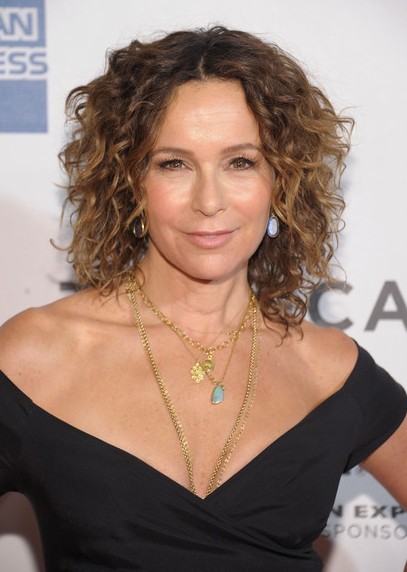 This is a lovely style, but not the best choice for Jennifer, I'm afraid, because the length and the tousled, beach-casual curls all combine to make her look older. The centre parting is fine on her oval-shaped face, but not with volume so high up on either side. Having a flat section on the top centre of your head, which moves out to create a square-shape around the forehead is definitely something to avoid! But apart from that, the tousled waves are nice enough – though rather outdated when the latest short cuts are so much more imaginative and could flatter Jennifer's face a lot more!
Jaimie Alexander short hairstyle – bold thick dark bob haircut with side fringe for square faces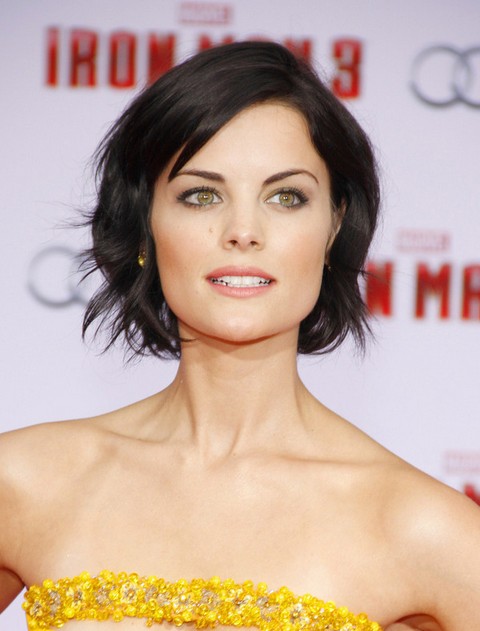 Thick, dark hair like Jamie's looks great in these new bob styles. This cut cleverly emphasises the beauty of a Jamie's eyes and bone structure, by setting it in a frame of strong lines and spikey movement. The thickness of her hair creates natural volume on top and the defined strand covering the corner of her forehead, softens the geometric shape of her face. The hair silhouette is rounded and curved down the sides to balance out her strong jaw. However, the line is broken up by the ultra-trendy, outward-pointing tips to produce a stunning contemporary look!
Kellie Pickler short haircut – blonde pixie cut with bangs for thin hair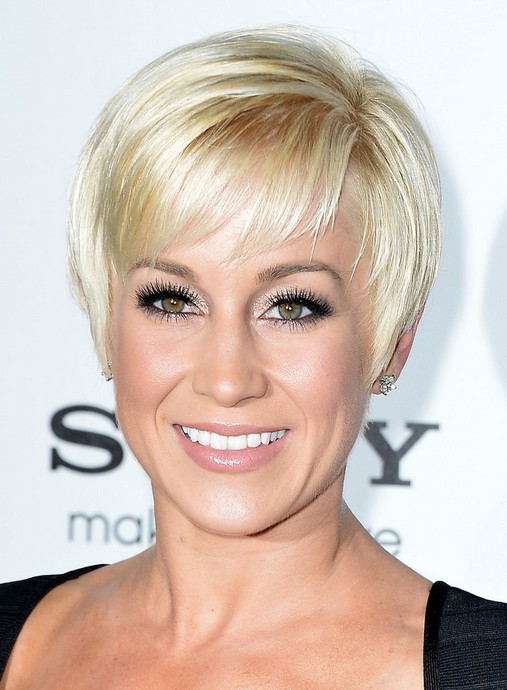 This is such a beautiful shade of palest blonde with a clever touch of gold at the roots to make it slightly softer and more natural. This is the perfect style for anyone who loves short styles and is ready for a little change in the colour or shape. Shown here Kellie is wearing her razor cut hair in a perfectly-groomed, formal red carpet look, but with this versatile cut you can also just fluff it up with your fingers for a trendy tousled vibe. The pretty, wispy fringe has textured tips so it adorns Kellie's forehead, rather than 'covering' it up. And underneath, all the focus is kept on the eyes with the feathery textured hair at the temples styled forwards to frame the upper part of the face perfectly! This is one of those amazing short cuts that always gives a youthful image to the wearer – whatever their age!