14 Easy Step by Step Updo Hairstyles Tutorials
We all love updo hairstyles for their elegant look and style. There are many different kinds of updos that will be able to suit all face shapes. All of them are very easily to dress up or down as necessary. Sometimes, you can create one perfect updo only in the need of an elastic or some bobby pins. Follow us with some easy updo hairstyles with tutorials in this post!
Twisted Updo Hairstyle Tutorial

Style your long hair into soft, large waves with a curling iron first, leave the side sections apart and tease up the top section for volume. Make the rest part into an adorable bun and twist the side sections around it. Fix the ends with bobby pins.
Retro Updo Tutorial

This is a simple updo for our everyday hairstyles. Create a ponytail first and pull your hair through the hole above the base. Keep doing this step and fix the ends with bobby pins. Add a hair ribbon if you like.
Perfect Simple Updo Hairstyle Tutorial

To get this elegant updo hairstyle, you may need plenty of bobby pins. Tease up the front part to create volume at the crown, drag the side sections to the center and fix with bobby pins. Continue doing this step until all the hair is secured.
Low Bun Tutorial for Fine Hair

Keep out your bangs and tease them all the way back. Smooth the surface and secure half up. Roll the bottom hair inwards and secure with bobby pins. Place a flower above to cover the hole.
How to Style a Glamorous Hair Bun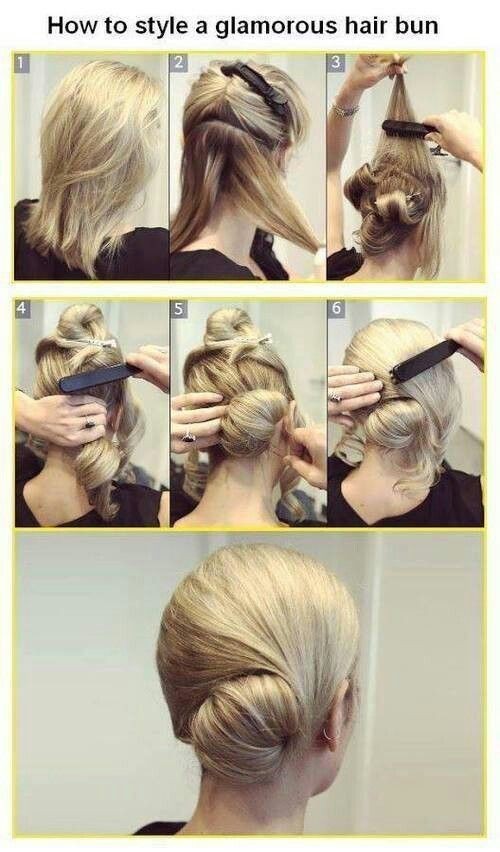 This elegant side updo hairstyle is a perfect option to attend a formal occasion. Divide your hair into two parts. Make the bottom part into a side bun and wrap the upper part around the base. At last, fix this hairstyle with bobby pins.
How to Do a Rolled Updo Hairstyle

Do you want to create a polished look for tonight's evening? This sleek rolled updo is definitely your best choice. Make a low ponytail and pull it through the elastic until the ends. Fix the rolled up bun with bobby pins.
How to Do a Messy Bun Hairstyle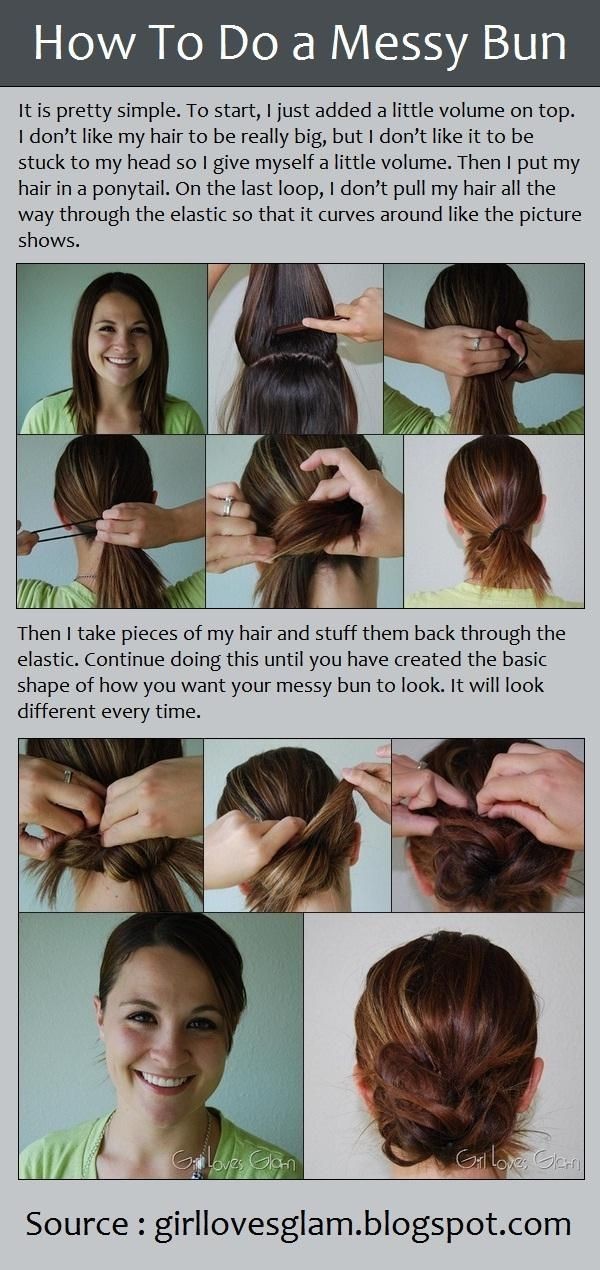 Here's a basic updo that everyone can make it within one minute. To start, you should create volume on top as needed. Then make a low pony and don't pull your hair through on the last loop. Finally, take pieces of your hair and stuff them back through the elastic.
Elegant Braided Updo Hairstyle Tutorial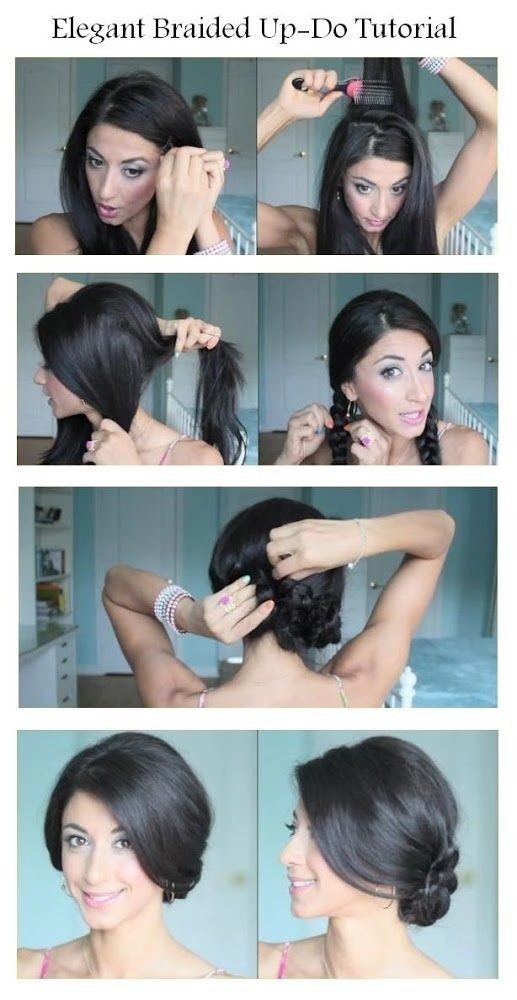 To make a flattering look of the updo, you can tease the top section to create volume over the crown. Part your hair into three sections and make the middle one into a bun at the back of your neck. Wrap two side sections around the bun loosely for a casual-chic style.
Easy Updo Hairstyle for Long Hair

This beautiful updo hairstyle is very easy to make in the morning for girls. Make your hair smooth with a round comb. Pull a small section of your hair together from two sides and secure with a hair band. Fix the rest with another hair band and tuck them through the previous one until the ends.
Easy Braided Up-Do for Medium Hair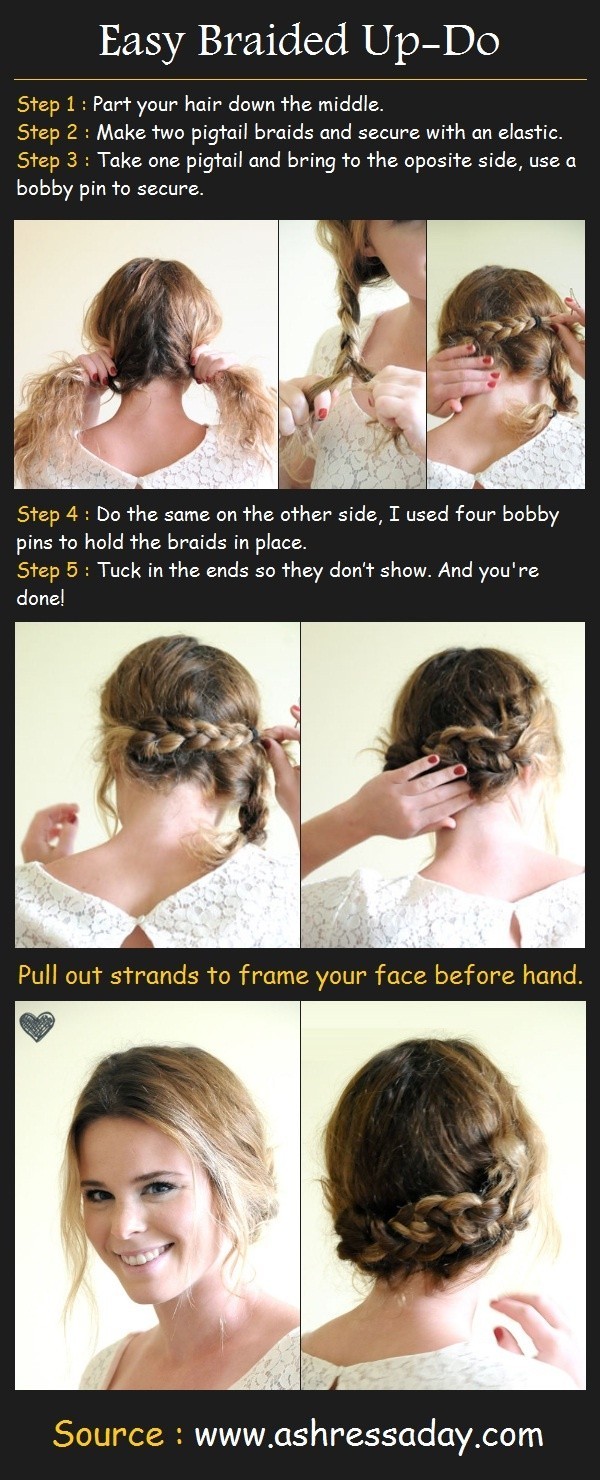 This is an easy yet still very glamorous braided updo hairstyle for women. Divide your hair into two equal parts from the center and braid them one by one. Wrap them around each other and tuck the ends for a clean finish.
Cute Updo Tutorial for Long Hair

This is a pretty updo hairstyle for young girls. Create a high pony first, take one piece out and wrap it around the base. Continue doing this until all your hair is pulled up. Define the final look with your hands.
Braided Updo Tutorial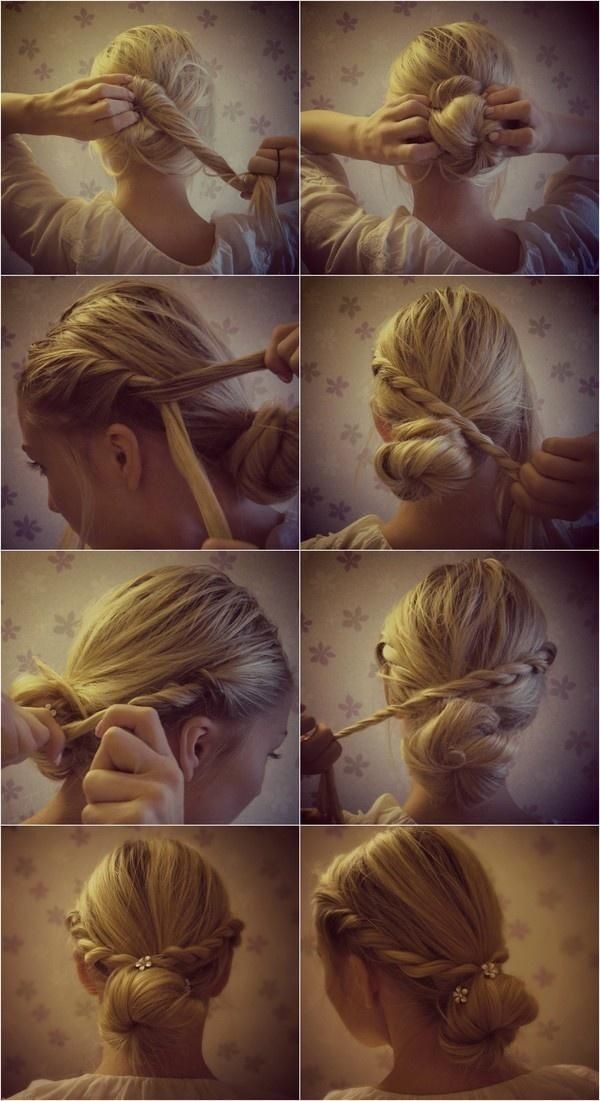 This is a very trendy way to create a low bun. Pull your hair back into a bun at the back of your nape while leaving the side sections free. Twist them separately and wrap around the hair band. At last, add some hair accessories if you like.
You can find more (updo hairstyle tutorials) on prettydesigns.com