16 Super Charming Wedding Hairstyles for 2024
Is there anyone who is going to become a bride these days? Do you want to be informed of the latest wedding hair trends? Well, I should say that you are in the right place with so many beautiful wedding hairstyles here. You can pick anyone you like depending on your own hair types. And I believe all these hairstyles will make you a perfect wedding look on that "big day". Follow us with 16 super charming wedding hairstyles in this post and draw some inspiration!
Boho-Chic Wedding Hairstyle with Flowers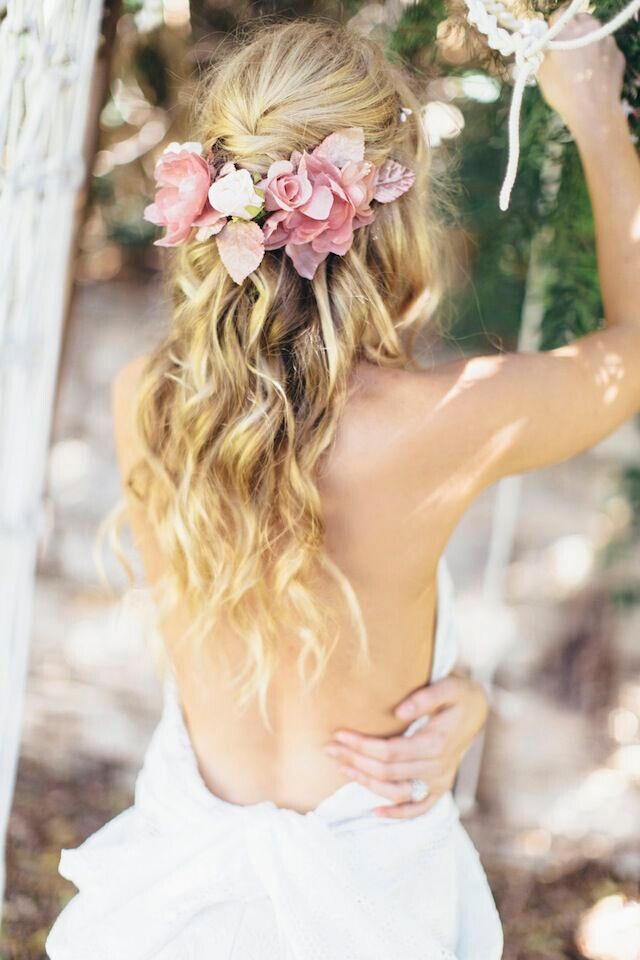 This romantic half up half down hairstyle is made up of loosely curled hair and can definitely leave us speechless. Some pretty flowers have been added around the crown.
Braided Half Up Half Down Hairstyle for Wedding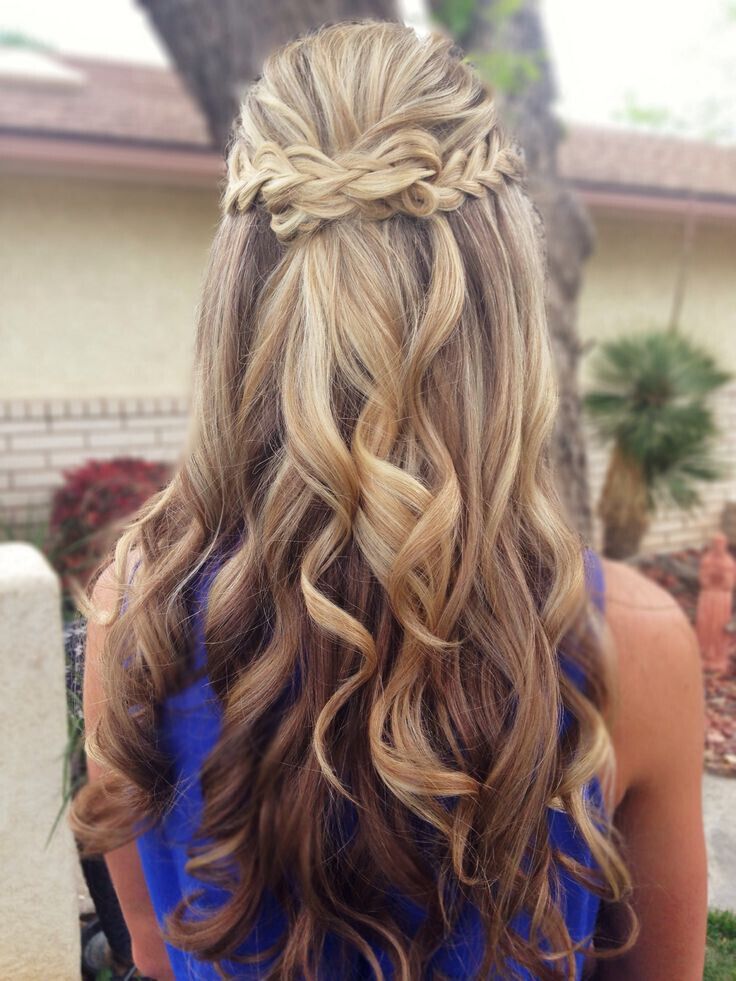 Braids can add much interest into any hairstyles. So is to the wedding hair. It looks like a delicate hair accessory wrapped around your head.
Half Up Half Down Wedding Hairstyle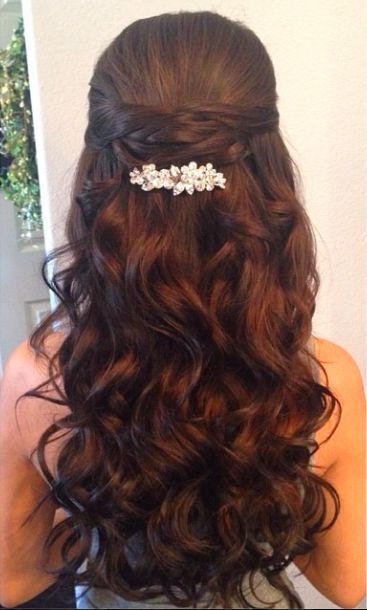 The half up half down hairstyle looks extremely glamorous on dark brown hair. The embellished hair pin brings tons of glamour to this look.
Half up Wedding Hairstyle with Flowers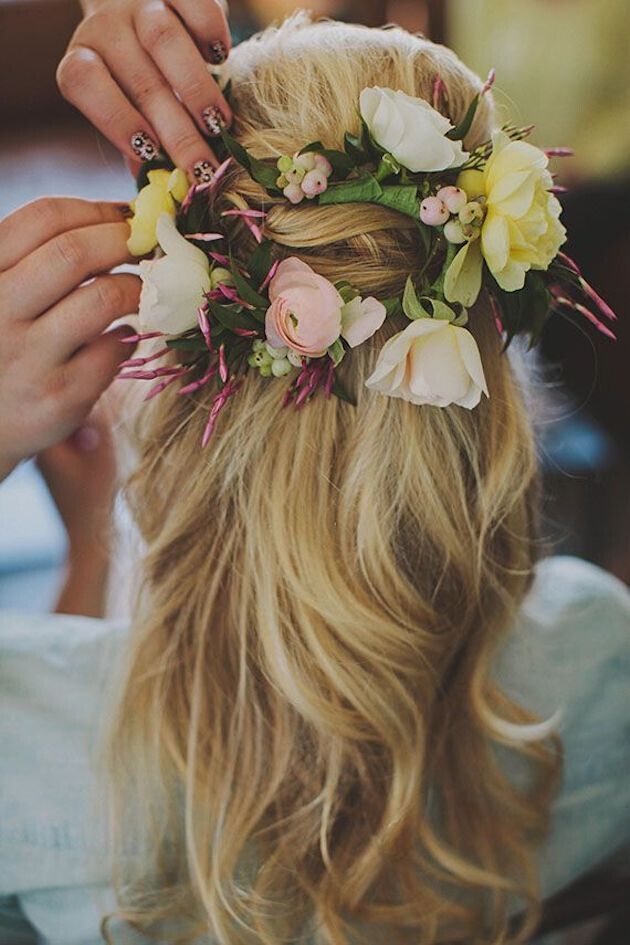 If you want a romantic wedding look, it will be great to wear some flowers for your hairstyle. They will look very colorful and beautiful on the head.
Long Blond Wavy Wedding Hairstyle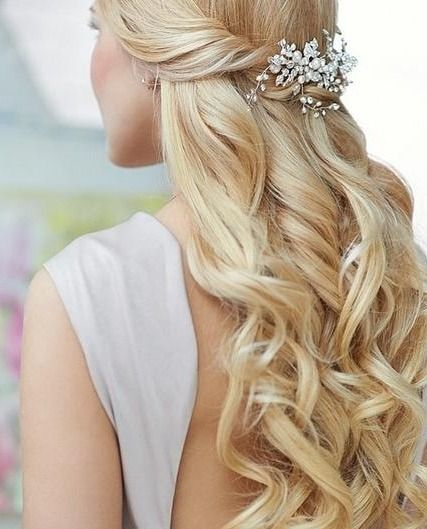 The half up half down hairstyle can create a look between formal and informal. So when you wear it for your wedding look, you can enhance the whole effect by adding an elaborate hair accessory.
Bridal Hairstyles for Long Curly Hair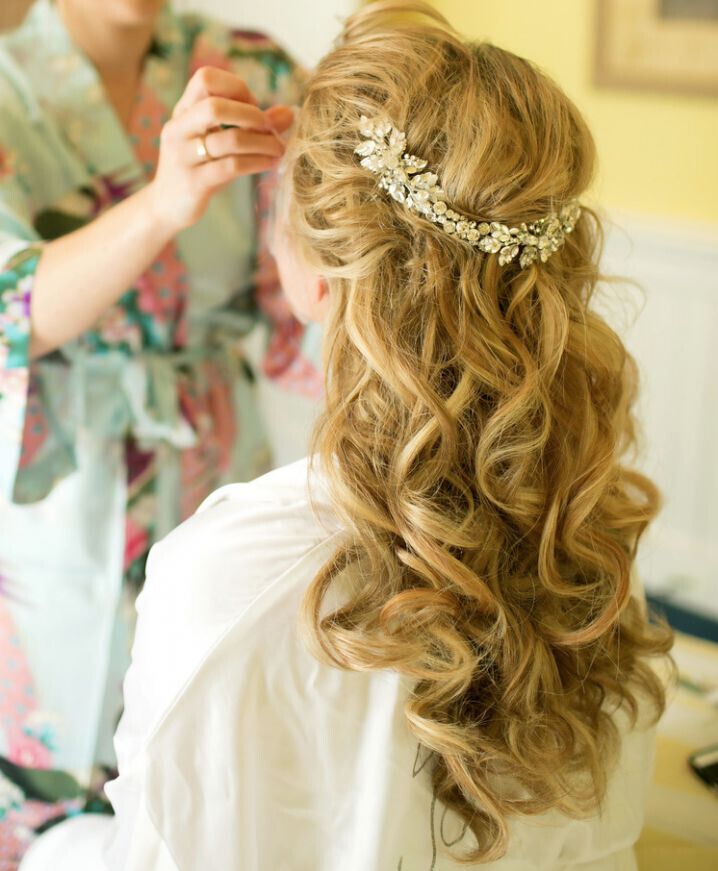 It won't be hard to arrange you tousled long curly hair into a controlled look with the help of a headband, which can also give another spot of attention to your wedding hairstyle.
Wedding Hairstyles for Short Hair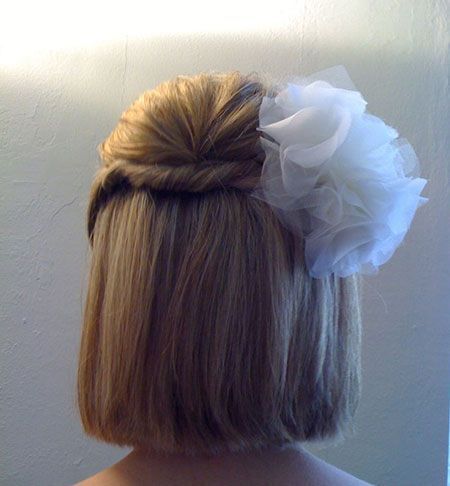 The short hair can also look very fabulous on a wedding. Pull the front sections back, twist them and decorate with a hair accessory at the side.
Wedding Hairstyles for Long Curly Hair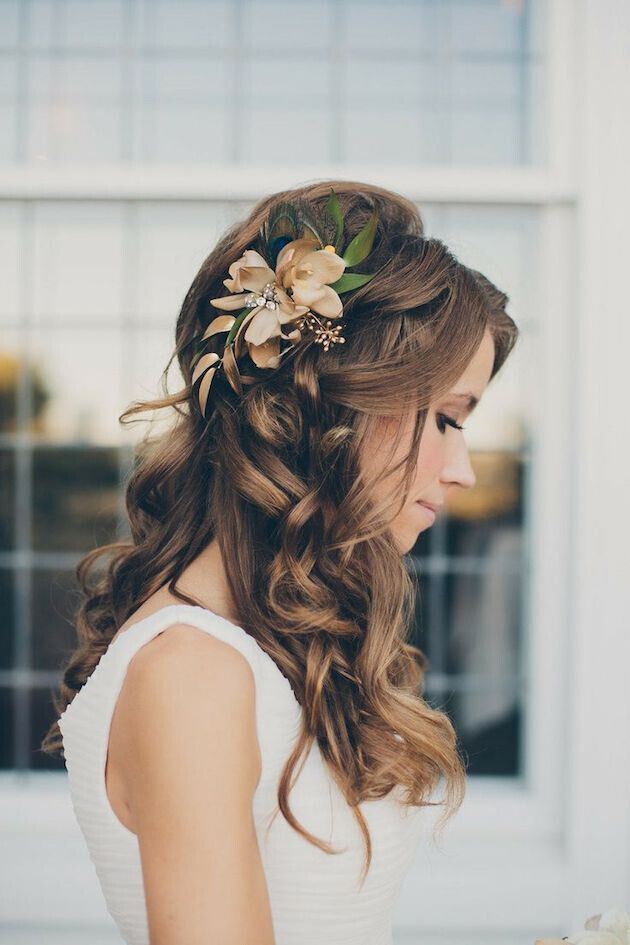 The half up half down hairstyle has a lovely bump over the crown. It can create extra height and volume to your hairstyle and you can wear flowers above it.
Wedding Hairstyles for Blond Ombre Hair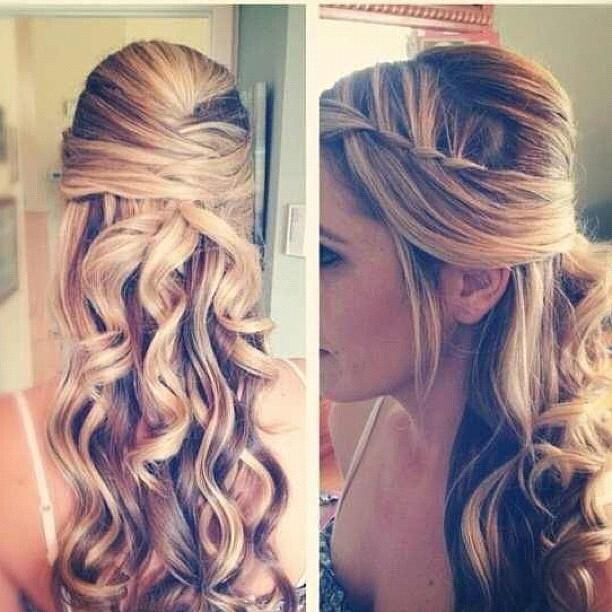 It is great to make a tiny braid into your long fringe and then style it into a sleek and smooth look at the sides, which also creates a better frame for your face.
Wedding Hairstyles for Long Blond Hair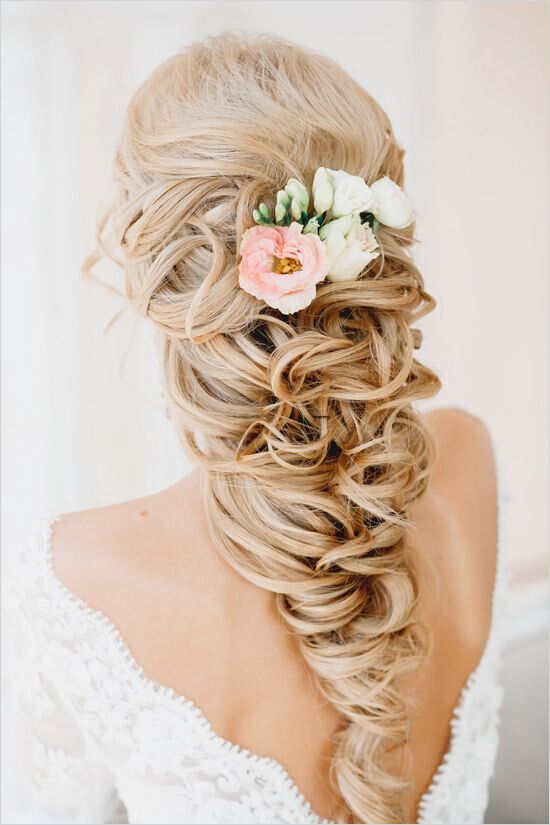 Nowadays, soft waves are being very essential for a glamorous wedding hairstyle. They can add plenty of volume and textures to your hair.
Wedding Hairstyles for Medium Hair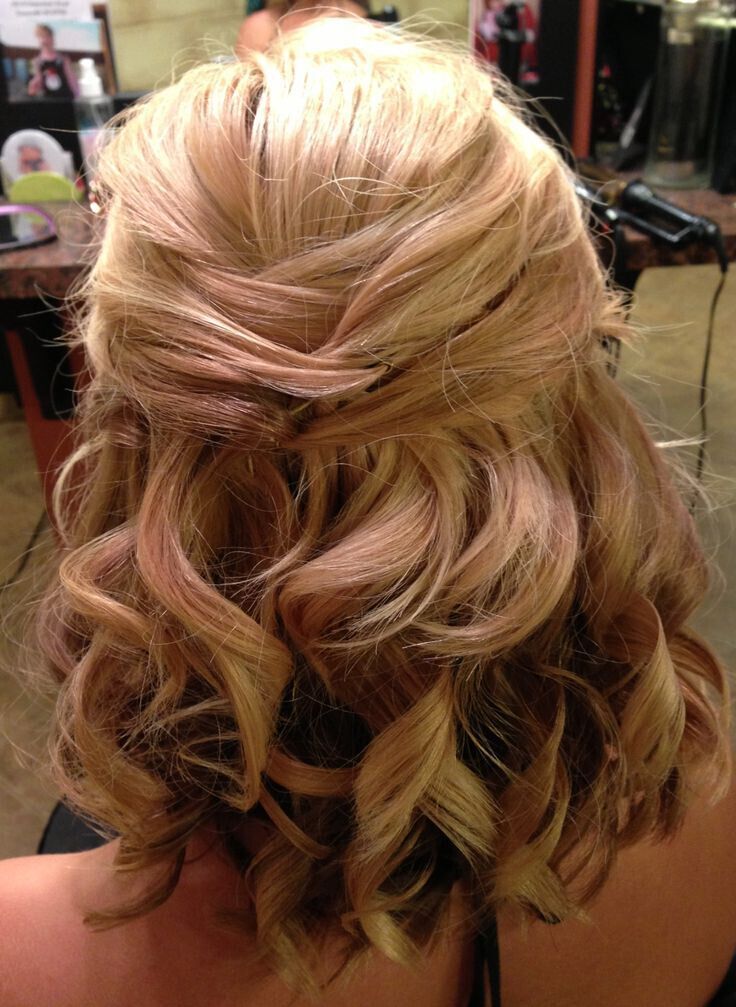 To keep the medium wavy hair in a polished style, you can pin up the front layers around the crown while leaving the rest of hair in uniform curls.
Glamorous Wedding Hairstyle with Accessory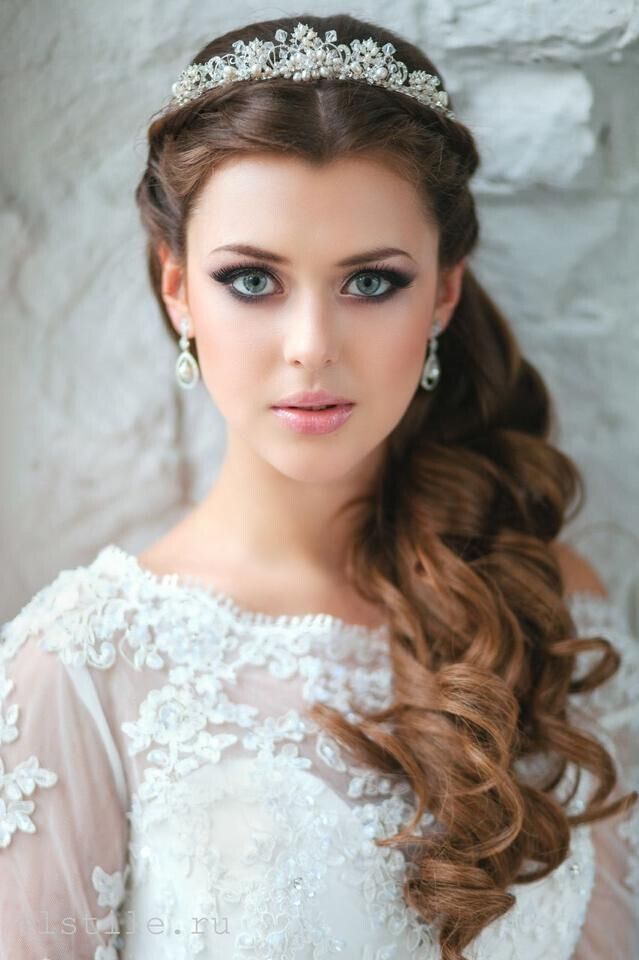 This stunning wedding hairstyle is styled upon a side ponytail which has tons of pretty curls that sit on the shoulder. At last, it is completed with a tiara at the center of the head.
Wedding Hairstyle with Braids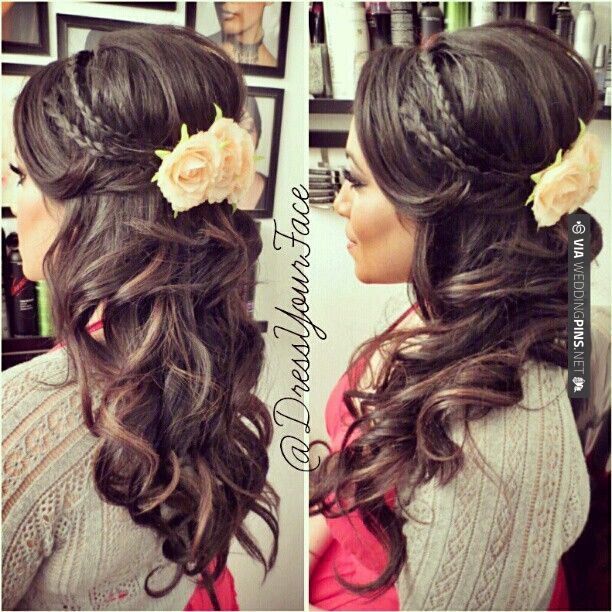 It is a trendy way to keep long side fringe for the latest wedding hairstyle trends. You can slightly curl it and arrange it around the face to accentuate your facial features.
DIY Twisted Wedding Hairstyle for Brides

The crown braid will also look very pretty and chic for wedding hairstyles. It creates a lovely round shade over your head and you can even DIY it at home.
Wedding Hairstyle with Fishtail Braid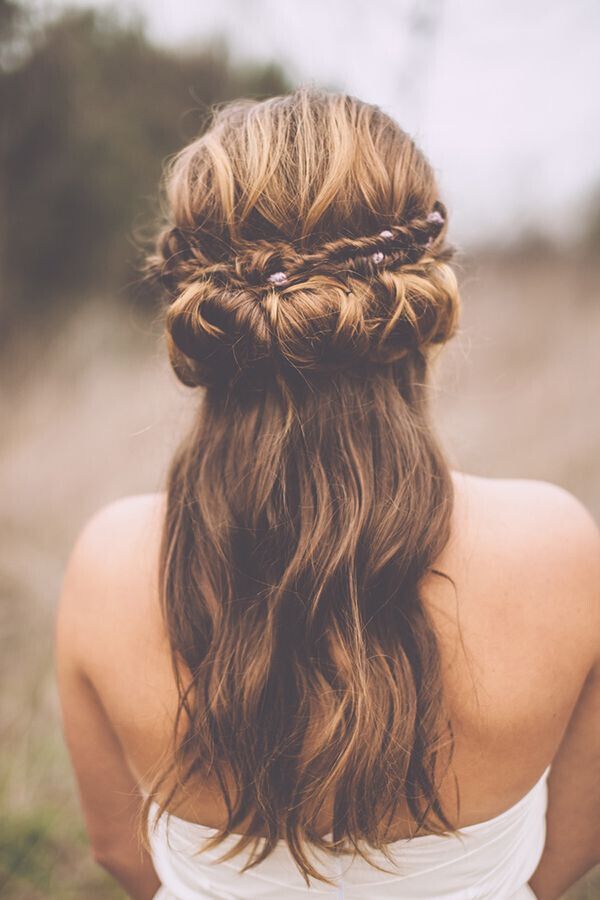 There's no wonder that the fishtail braid will announce its presence on the wedding day. It looks so delicate and graceful above the adorable buns.
You can find more (wedding hairstyles for 2016) on prettydesigns.com