20 Awsome Highlighted Hairstyles for Women – Hair Color Ideas
Is there anything that highlights can't do? This is one of the most varied hair styling techniques of all time. From chunky ribbons of color and thin, subtle highlights to ombre and balayage, there is just no end to the possibilities when it comes to highlights and even lowlights- and that's just the application techniques. Then, of course, there is a whole rainbow of colors for you to play around with when you experiment with highlights. Want to add texture to fine, pale blonde hair? Simply throw in some soft, brown lowlights and you'll find that your locks are more defined and thick than ever before.
Alternatively, if you feel like making a dramatic statement about your fun, quirky personality, add some pastel pink tints to your hair. Or, perhaps you'd rather unleash your inner surfer chick this summer? Then opt for sun kissed golden highlights and beach waves. These are just a few of the many ways to wear highlights in your hair. Here are 20 stunning examples that we're sure you'll want to show your stylist.
Pink Tinted Blonde Bob
Looking for a way to brighten up your blonde angled bob? We love this classic, graduated cut and the many different tones of blonde within it, however, the sweet, cotton candy pink framing the face is what really makes it pop.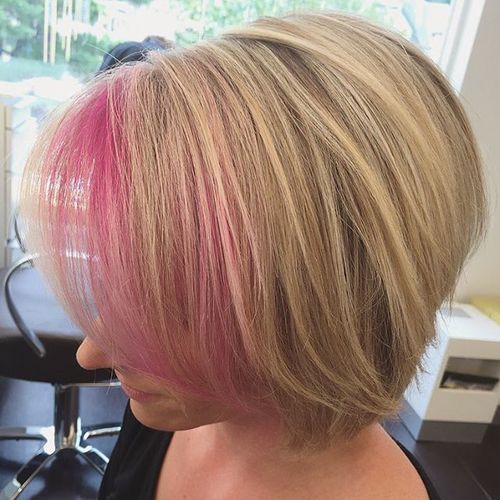 Purple Tinted Blonde Bob
Here is another, even more daring, way to make the most of your graduated blonde bob. Instead of being focused at the front, these vivid purple streaks have been highlighted throughout the entire hair in ribbons.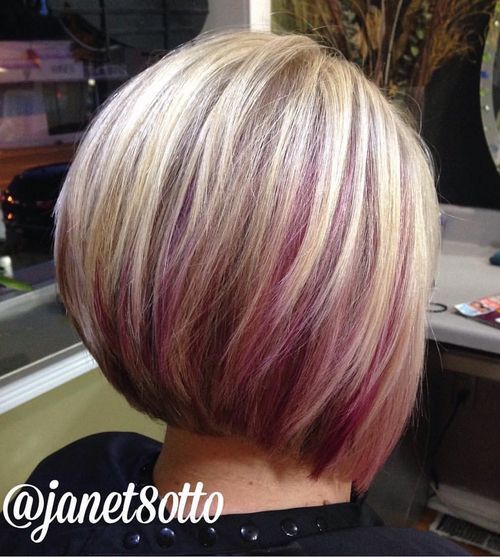 Singular Stripe
Highlights don't necessarily have to come in groups. Try out one, extremely thick streak of a vibrant color like purple if you want to make a striking statement.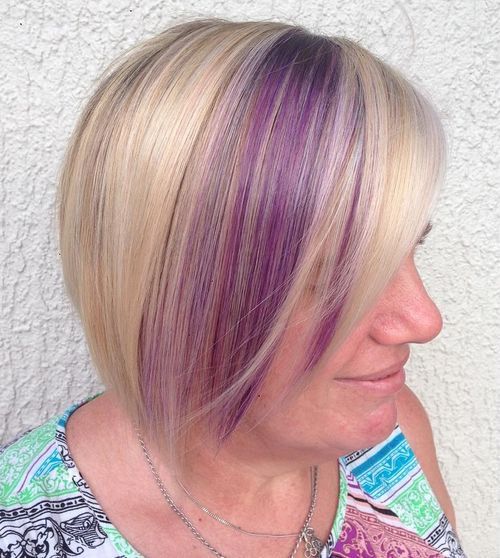 Vivid Pixie
Just when we thought that a choppy, layered pixie with a lot of length in the front and a sharply shaved undercut couldn't get any more exciting, along come these highlights. This hair is a pretty pastel lilac with startling streaks of orange in the front.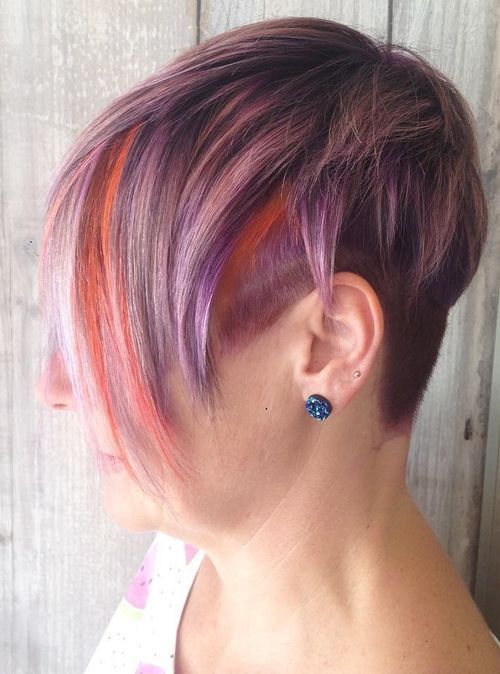 Cherry Brown Bob
It turns out that chocolate and cherry aren't just a delicious combination in desserts; they also go perfectly together in bouncy bobs like this one. These bold and bright highlights work wonders to brighten up this brunette bob and the outcome is electric.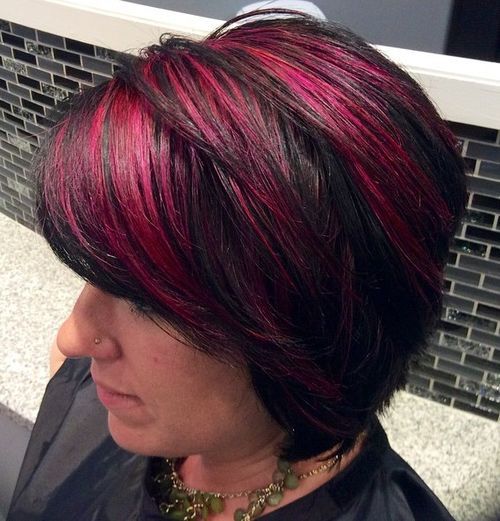 Braided Up-Do
If you want to play around with exotic colors like lavender, mint green and red, but are worried about looking formal and professional enough for work, then highlights on the underside of your head will be ideal for you. On your days off, flaunt your rainbow highlights by wearing them in a beautifully braided up-do like this one.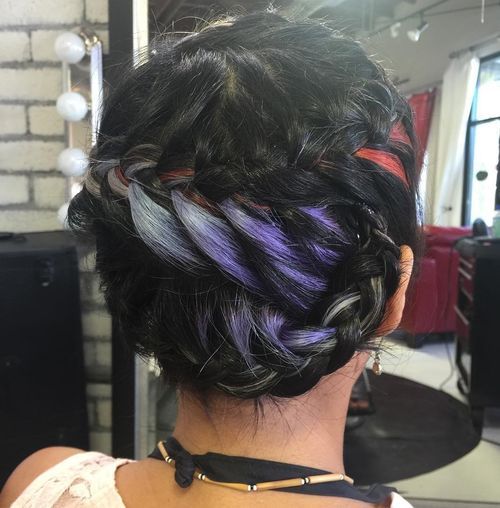 Choppy Layers
Freshen up your look this spring by adding some extreme layers into your mid-length hair. No matter how fine or lank your locks are, you'll find that severe layers like these add an insane amount of volume. As if that wasn't enough, pastel purple dip-dye on the lower layer layers makes the look stand out even more.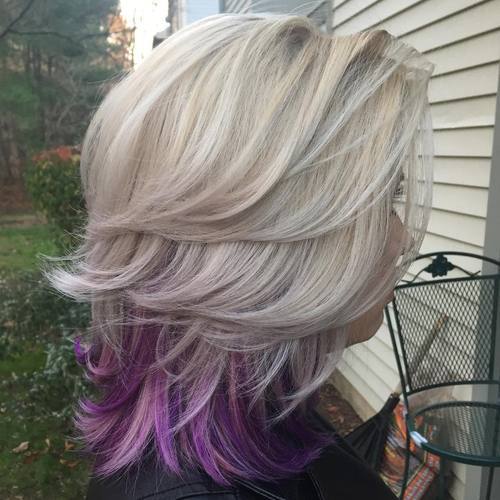 Subtle Highlights
We never imagined that purple highlights could possibly look so subtle and understated. However these thin, peek-a-boo look totally demure hidden among cinnamon brown curls.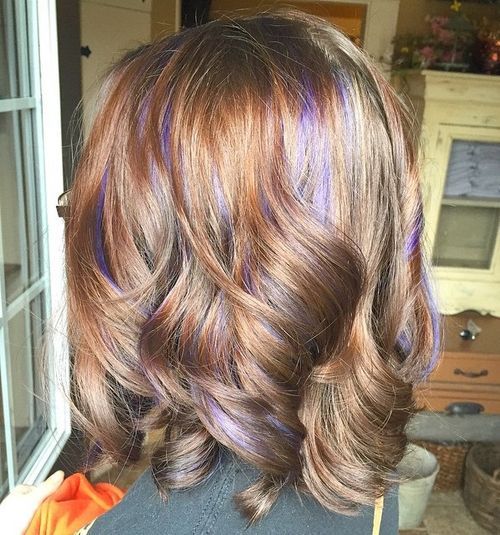 Caramel Curls
It's no secret that brunette locks almost always look completely glossy and healthy. So, it's hardly surprising that a double dose of brown hair, like this curly combination of chocolate and caramel, is one of the shiniest styles we've seen.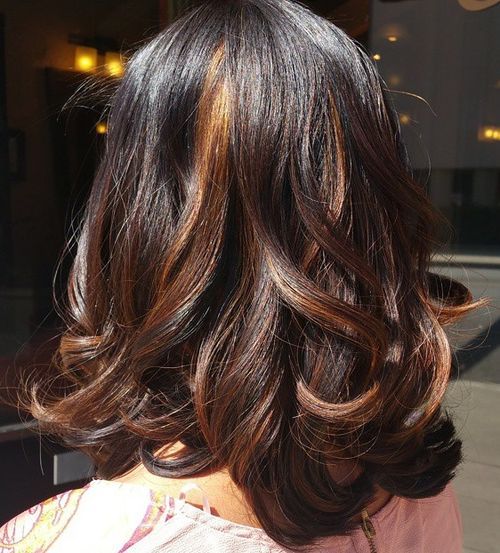 Pink Curls
These blonde, spiraling curls look fit for a Disney princess. As if they weren't feminine and flirty enough, those flamingo pink ribbon highlights really finish off the look.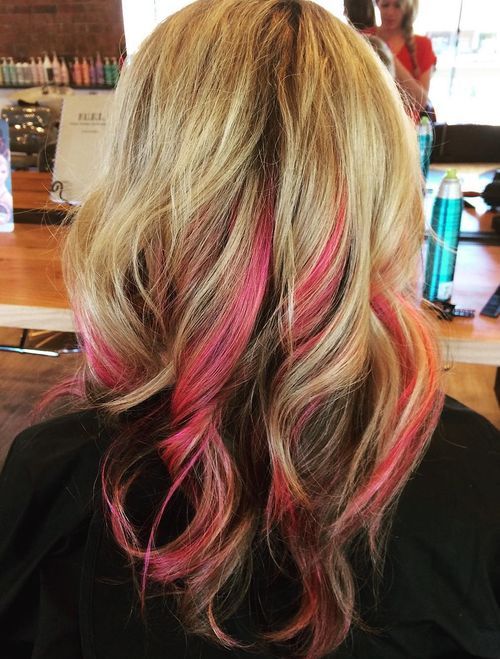 Bright Yellow
Honey blonde is a stunningly sophisticated shade and looks particularly beautiful on long, flowing waves like these. It is also, however, a hugely popular hairstyle that is regularly rocked by celebrities and real-life girls alike. You can add a truly unique twist to this look by adding just a few bold canary yellow highlights to the back.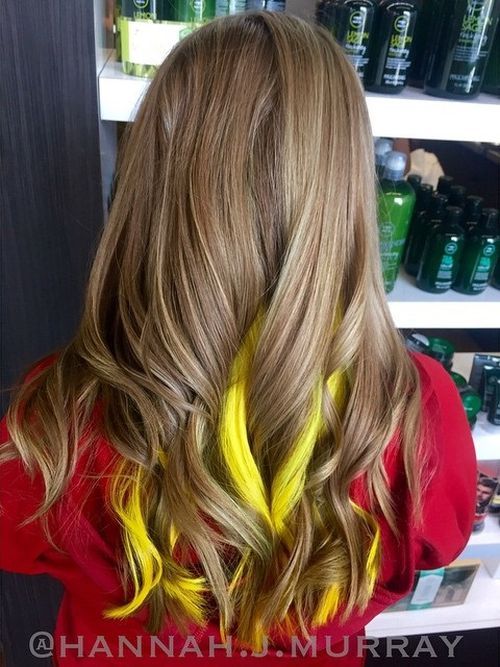 Blue Temptress
You'd have to search pretty far to find a hairstyle more enticing than this one. Deep sea blue streaks really add a touch of magic to the glossy black locks.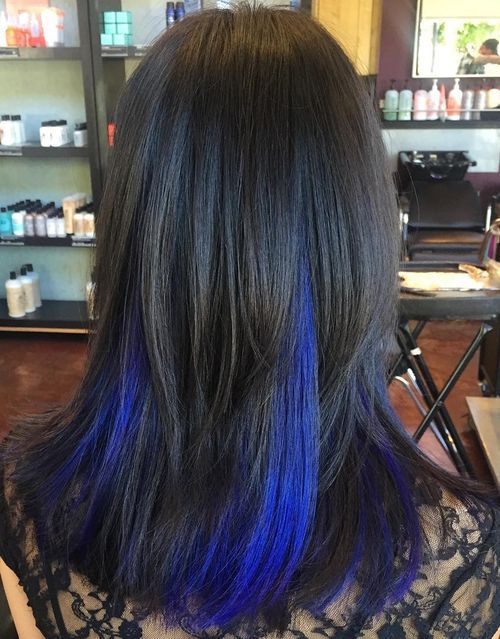 Two Tone Ginger
Stay warm this summer by dying your luscious waves this sassy shade of red. The whole look is made even more exciting thanks to the addition of a singular, bright blonde highlight.
Half Up Half Down
This hairstyle also shows off just how sultry and stunning long red hair can look when teamed with chunky blonde highlights. This time around the hair has been pulled up into the sort of half up, half down do that we might expect to find in a fairy tale.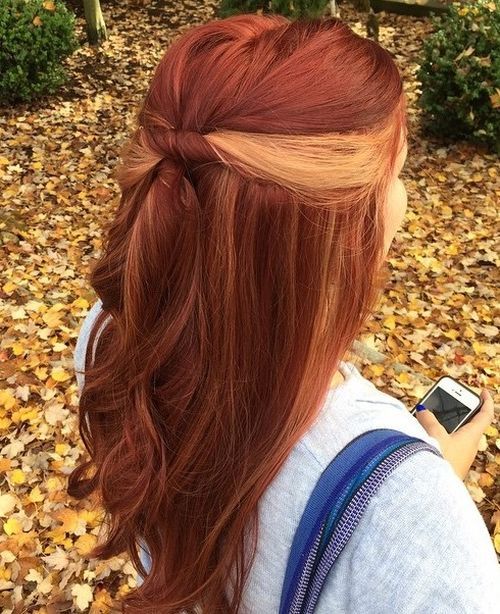 Purple Lowlights
Time and time again we've seen just how amazing blonde and purple go together. This classic, flicked out cut is yet another example of exactly that.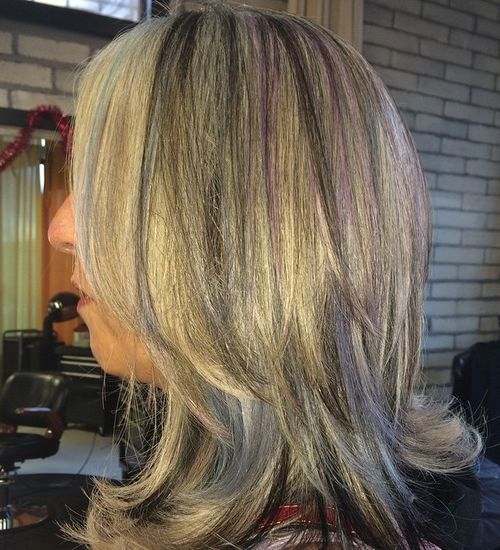 Red and Black
There's something very bewitching about this long, sleek hairstyle. With colors as daring as these, you can afford to keep it straight and simple.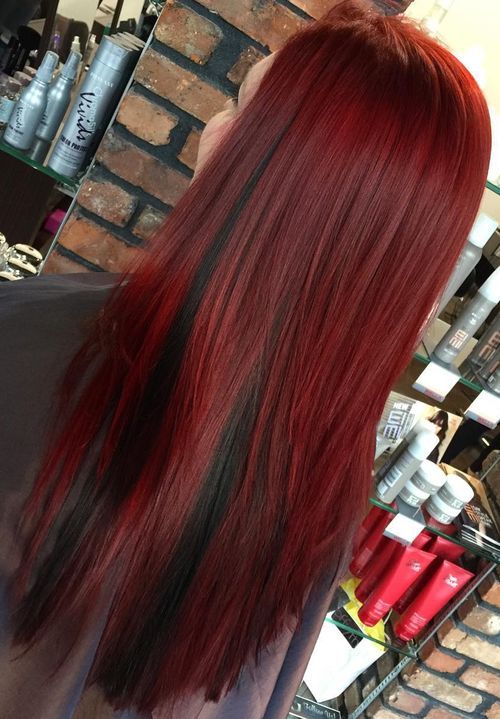 Wine Red Low Lights
Splash some red wine on your hair! Okay, maybe not literally. But a splash of deep red wine in the lowest layers of wavy, blonde balayage with thick bangs is an absolutely stunning style.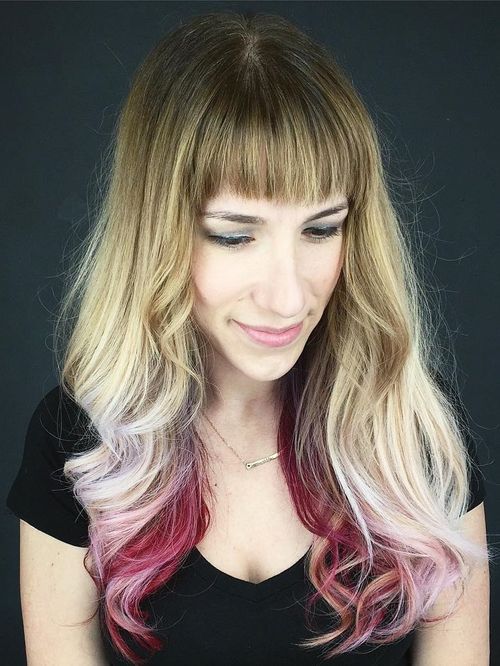 Splashlights
If you haven't heard of splashlights yet, don't worry, you will do soon. This is a truly astounding new highlighting trend which works by dying just one horizontal strip around the hair. Here we can see how great rainbow splashlights look in soft, golden curls.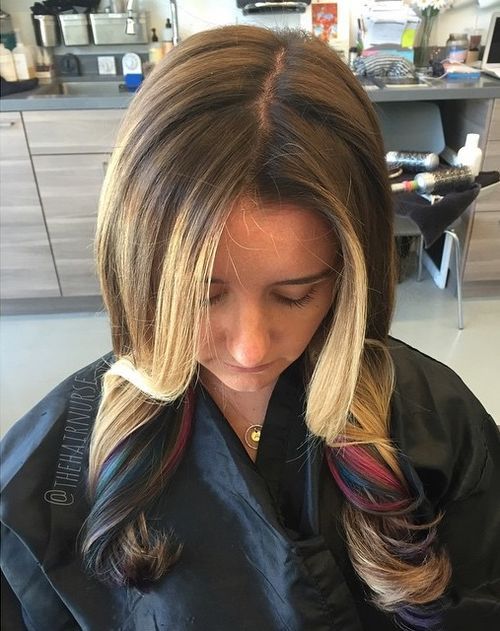 Peekaboo Lowlights
Striking streaks of deep brown add a whole new dimension of depth and volume to this wavy, layered ash blonde hair.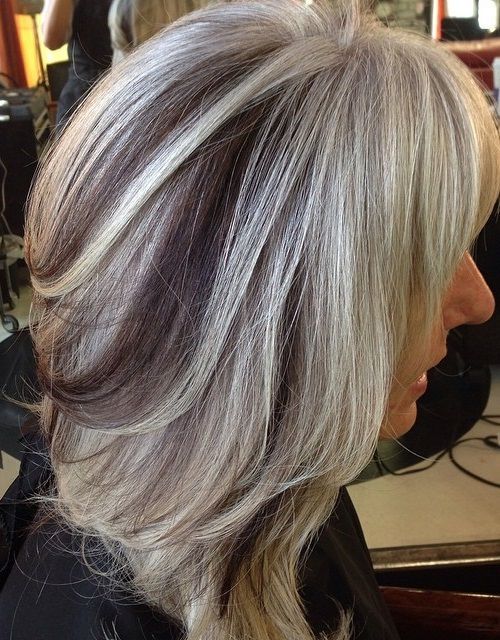 Gold and Brown
The great thing about highlights is that they can be just as subtle or as eye catching as you want them to be. Thin, honey blonde highlights like these are a guaranteed way to brighten up your glossy, brunette curls.