20 Faux Hawk Hairstyle for Women – Trendy Female Fauxhawk Hair Ideas
The faux hawk is an ever trendy take on one of the oldest haircuts in the world. The Mohawk takes its name from the warriors of a Native American tribe and has been worn by cultures around the world, from the time of ancient warriors, right up to the punk rockers of today. Mohawks are characterized by having both sides of the head shaved and leaving a strip of noticeably longer hair down the middle. This, of course, could be considered a little bit too extreme for many people, which is exactly how the faux hawk came into fashion. Simply by sleeking down the sides of your hair and raising the center sections, you can get all of the structure and edginess of the Mohawk without doing anything to your locks. Faux hawks suit all hair lengths and textures and can make anyone look seriously stylish. Here are some of our favorite faux hawk looks to inspire you.
Multi-Dimensional Faux Hawk for women
This incredibly intricate up-do is almost like two styles in one and proves that even girls with long, feminine blonde locks can rock a rebellious faux hawk. A tight French braid along the sides pushes up the perfectly coiffed height and the tiny bun at the back give the illusion of short hair.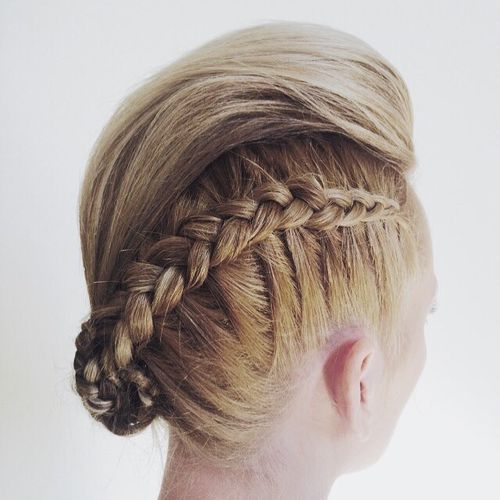 Punk Princess – Fauxhawk Hairstyle for Women
It's no secret that the faux hawk is the ultimate style for every rock chick. You can unleash your inner punk princess without doing anything too long-lasting or drastic, just try out this look. All you need is some serious backcombing and a slick side braid.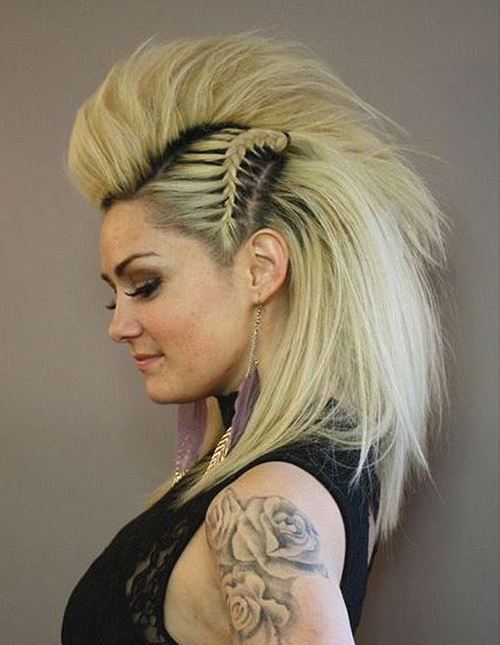 Caramel Swirl – Trendy Fauxhawk inspired Hairstyle for Women
This faux hawk really does give the illusion of shaved sides. Extremely tight and tiny cornrow-style braids make the caramel colored waves stand out in a big way.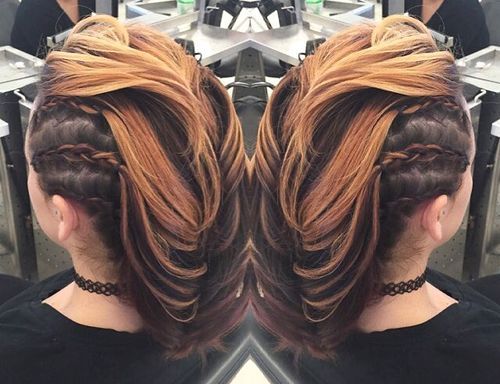 Fishtail Braid Ponytail – Fauxhawk inspired Hairstyle for Women
The fishtail braid is widely considered to be one of the most beautiful and intricate hairstyles around. Placing the plait at the very top of the head in a faux hawk style adds a touch of mermaid magic to an otherwise unassuming hairdo.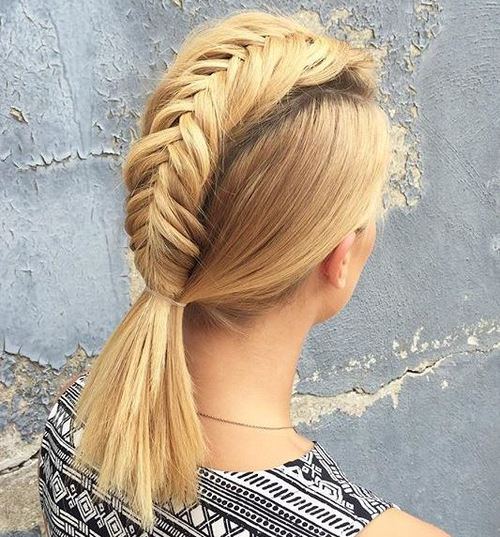 Faux Hawk Ponytail
Who would ever have guessed that a seemingly simple ponytail could be so edgy? This stylish pony works almost like an optical illusion. There is so much going on in this look that it allows the wearer to have their hair long and flowing while still rocking the raised faux hawk height.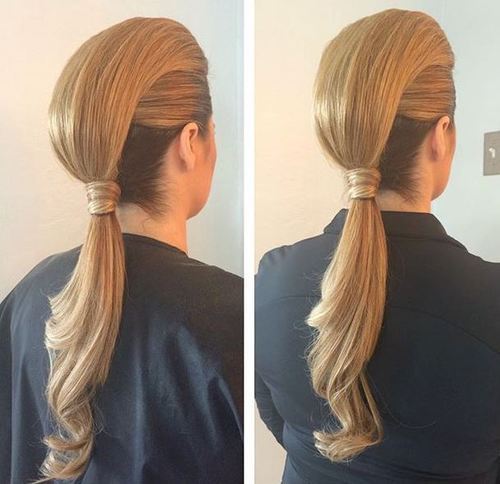 Pastel Pixie – Fauxhawk inspired haircut for short hair
Pixie crops are some of the simplest haircuts to experiment with faux hawks on. All you need to do is push up the longer layers into a daring, upswept style. As if this wasn't cute enough, the pastel blue tone of the hair is both fun and fashionable.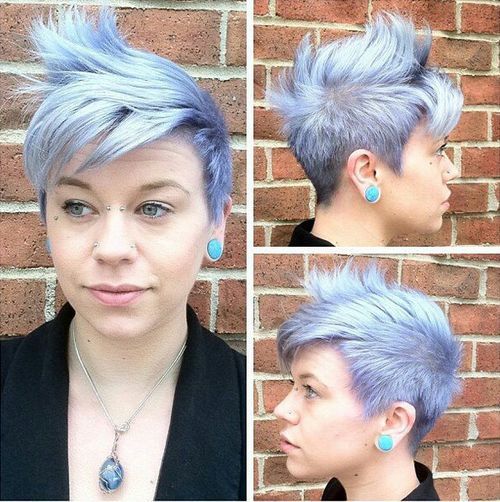 Crimped Braids – Fauxhawk Hairstyle for female
The crimped style of this hawk braid makes it look almost like thick dreadlocks. Honey blonde and dark brown ombre work together to add even more depth and texture to these locks.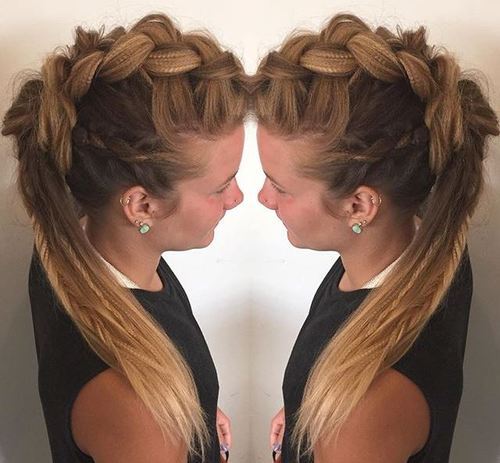 Pink Punk Pixie
If you're going to experiment with a Mohawk hairstyle, why not go all out and try this funky look? This messy pixie crop, complete with shaved sides and face framing bangs is made all the more dramatic thanks to the fuchsia pink coloring.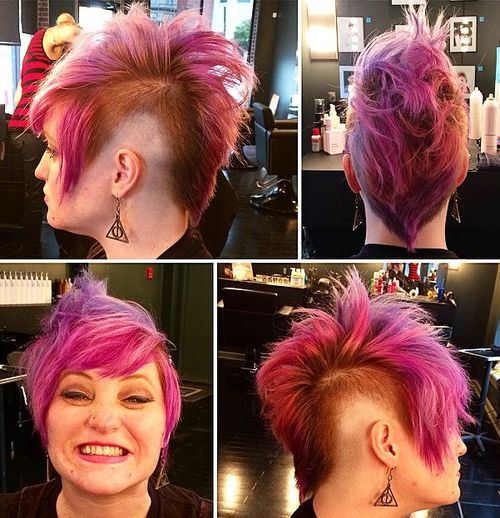 The Pompadour
There are plenty of softer variations of faux hawk for girly girls to enjoy. This eye-catching style, however, is about as close to the original, daring Mohawk worn by punks and rock chicks around the world. Keep the sides super short and the top bulked up with plenty of dramatic height.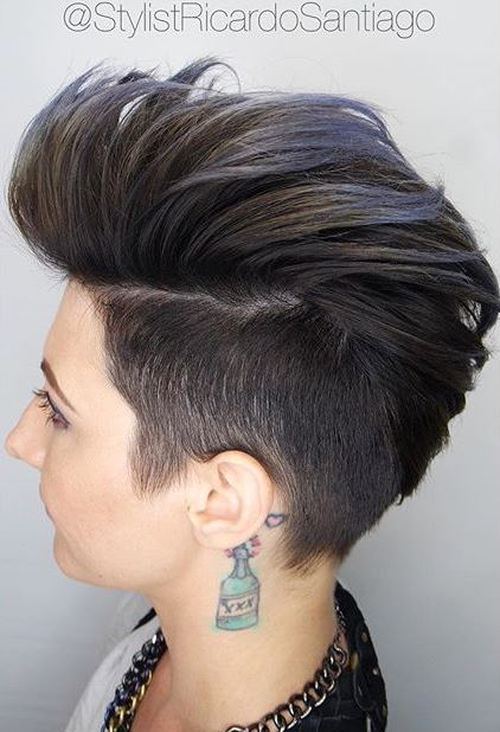 Hair Art
This rebellious, spiky faux hawk is the perfect combination of feminine and tomboyish. The artistic roses which have been shaved into the back are the ideal juxtaposition from the hard-angled, gelled up middle.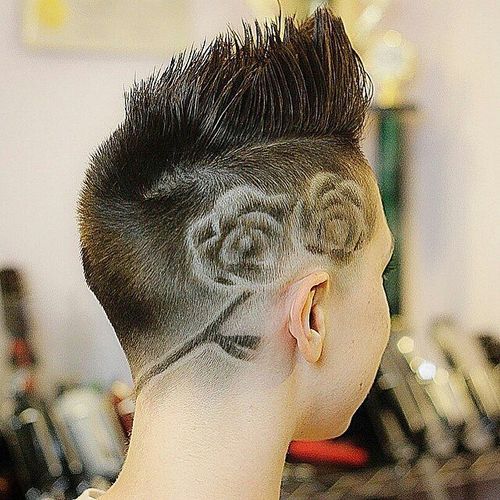 French Braided Faux Hawk
Here is one example of how you can style long locks into a Mohawk style, without making the commitment of shaving the sides. This long hair has been swept up into a gorgeously elaborate French braid; the sides have been pulled back to open up that bone structure, while the braid on top is piled perfectly high.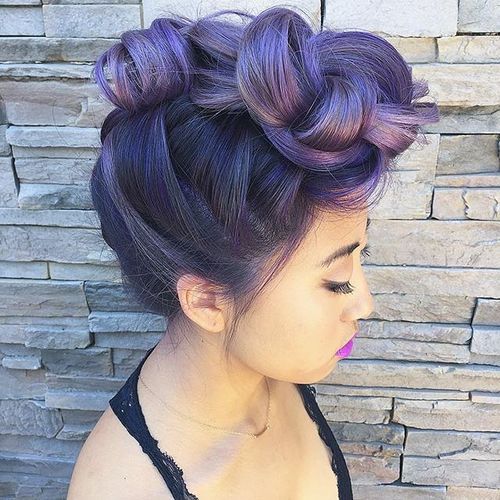 Looped Faux Hawk
There's something seriously fun and funky about this pinned up faux hawk. The long hair has been pulled up into a long row of spiraling loops going right down the centre of the crown. The pastel purple shade makes this pinned up style look even more playful.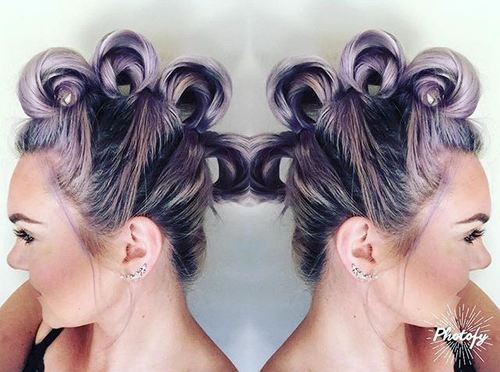 Messy Braid
Part of the point of wearing a faux hawk is showing the world just how much of a cool, carefree babe you are. This scruffy, swept up faux hawk, complete with a loose braid and golden ombre, is the bohemian up-do you've been dreaming of.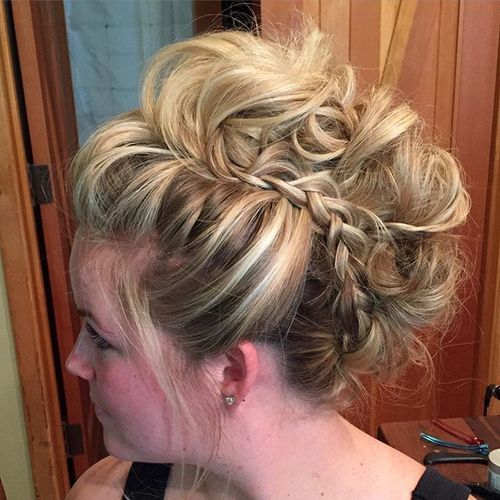 Unicorn Curls
If you're lucky enough to rock tight, spiraling curls like these, you'll be delighted with this hairstyle. A slicked back faux hawk like this one allows curly girls to wear their hair big and bouncy with pride, while still enjoying a sleek and manageable style.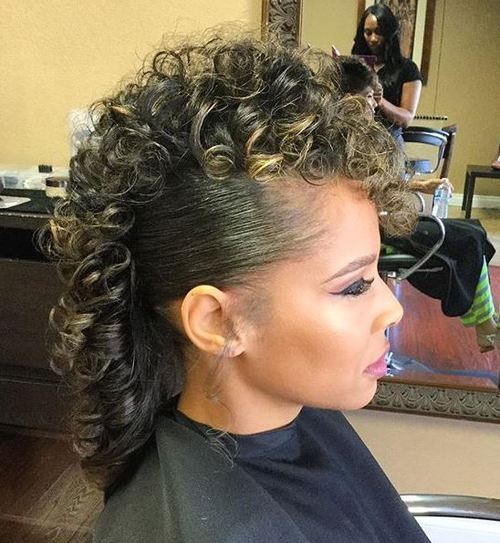 Pink Ombre
Dark brunette locks with tinted pink tips go together absolutely beautifully. Create a fashionable faux hawk shape by braiding the sides and teasing the central strip of pink hair.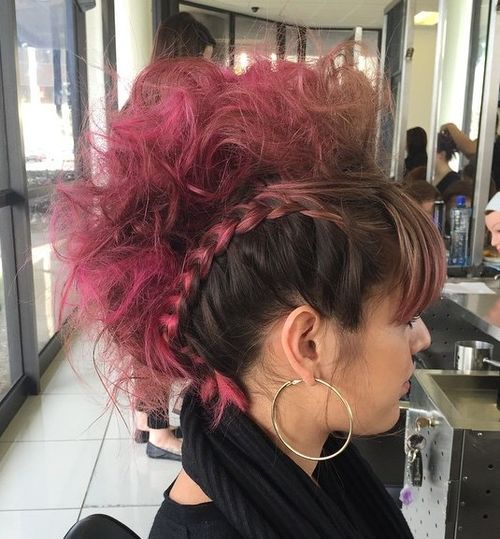 Blue Black Braid
Afro texture hair can be perfect for sculpting and reshaping. Keep the sides of your hair shaved and build a high, glossy fishtail braid at the top of the head – like this one- to ensure that all eyes are on you. The blue black shade makes hair look even shinier.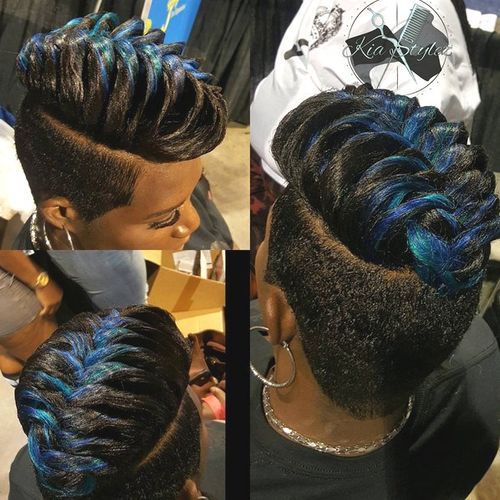 Chunky Braid
These long locks have been elaborately styled into a faux hawk braid that looks fit for a fairytale princess. The fiery Celtic red shade makes this hairstyle look even more stunning.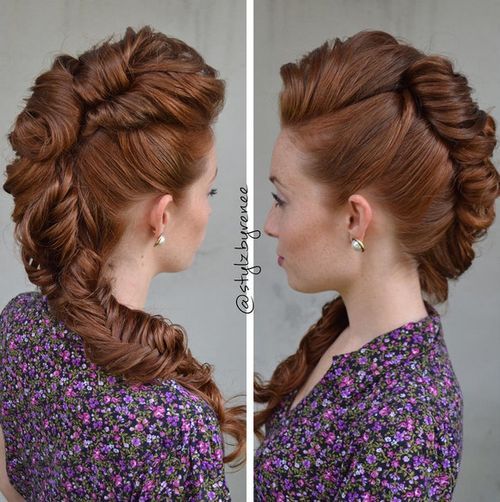 Unicorn Braid
It's easy to see how the unicorn braid earned its name. Replace your centre parting with a braid and you'll have a gorgeous crown-like effect.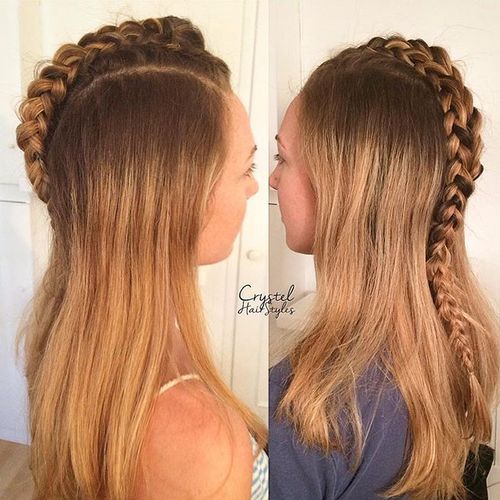 Asymmetrical Pixie
We mentioned earlier how well the faux hawk style lends itself to pixie crops. This choppy brown pixie looks totally unique thanks to the uneven length, particularly the long strands around the face.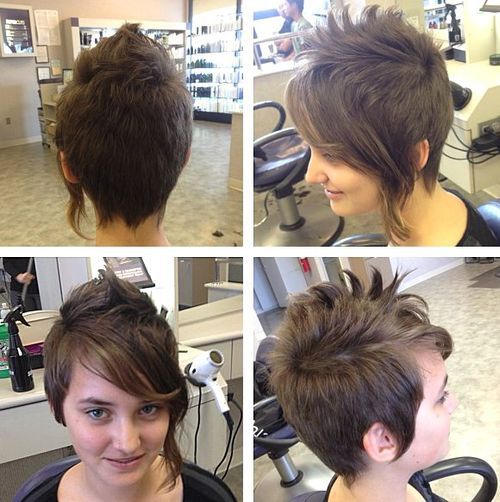 Bridal Faux Hawk
Looking for a glamorous up-do to wear at a formal occasion- even your own wedding? This beautifully braided style, complete with a floral accessory, shows that faux hawks can be worn to just about any event.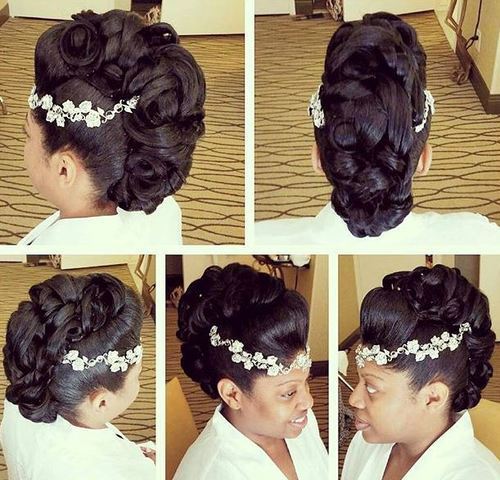 Save