20 Ideas to Style Wedding Hairstyles for Fall
The new season is here. The pumpkins turn yellow; the leaves fall freely and the weather becomes cooler and cooler. Have you prepare for everything for fall? Today's post is all about the hairstyles for those who are going to have wedding parties in fall. There are ideas to style your hair in a fall-inspired way.
An appropriate hairstyle in wedding can not only pair your wedding dress, but also bring you a nice look. To pair your wedding dress, you should choose a right hair look. It seems that half up half down hair can succeed in pairing wedding dresses. However, every woman wants to make a unique hairstyle for her big day. Your hair look will be added elements, like braids and twists. Besides the half up hair looks, stylish buns and pretty curls can also complete a great wedding look.
More hairstyle ideas can be found in the post. Don't miss them and get inspired.
Side Part for Black Hair
If you are going to wear an off-shoulder wedding dress, you can opt for one side parted hair to complete the look. Curl your hair first and pull it apart. The makeup can be pink or nude to pair the hair and the dress.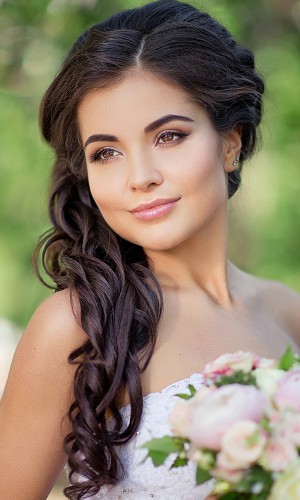 Side Part for Thick Hair
You have thick and blonde hair? You will not miss this hairstyle. It is pretty and sassy to make this look for your off-shoulder wedding dress.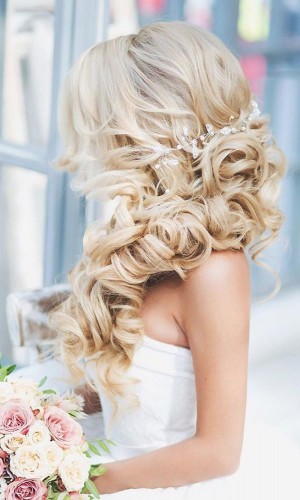 Braided Side Part for Brown Hair
It is a pretty side parted hair do with face-framing strands. You'd better add a hair piece to upgrade the hair look. To meet the vibe of fall, you can make a bright color makeup to match the brown hair and stitched wedding dress.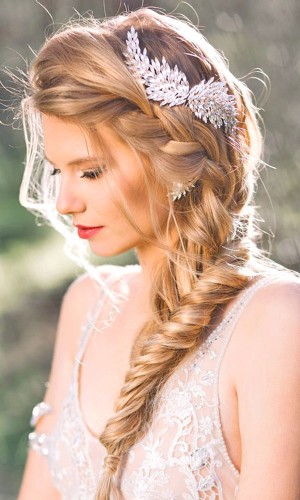 Half up Hair
It is easy for you to have half up hair do. You can just tuck some locks back and add a pretty hair piece.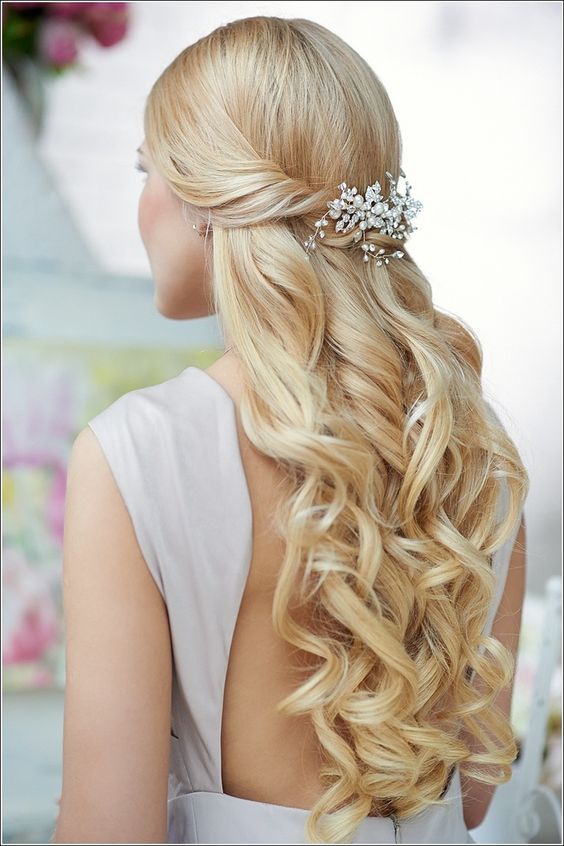 Romantic Half up with Golden Headband
How to get a romantic vibe for your wedding? Style a half up hair! Don't forget to add a headband and make a fall wedding hairstyle.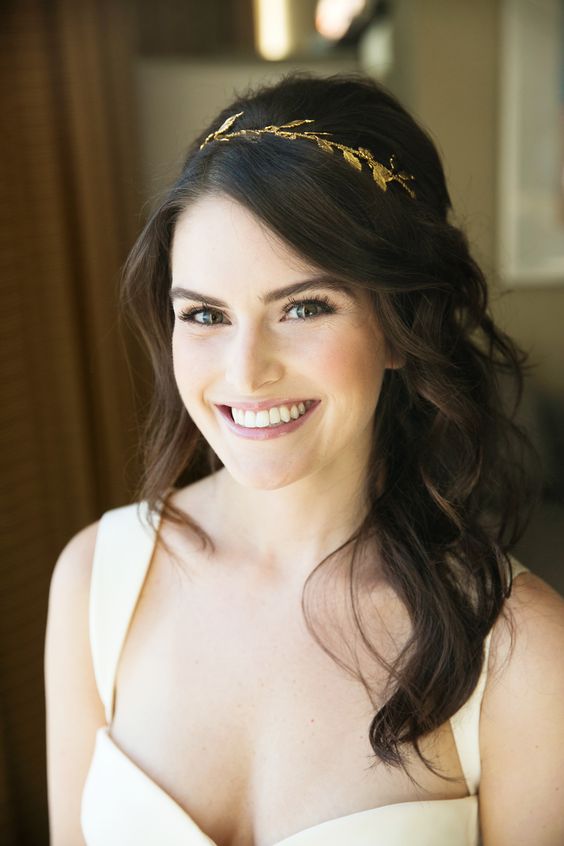 Curly Half up
If you don't like any accessory for your wedding hair look, you can make this look simply. Make a knot and tuck it back.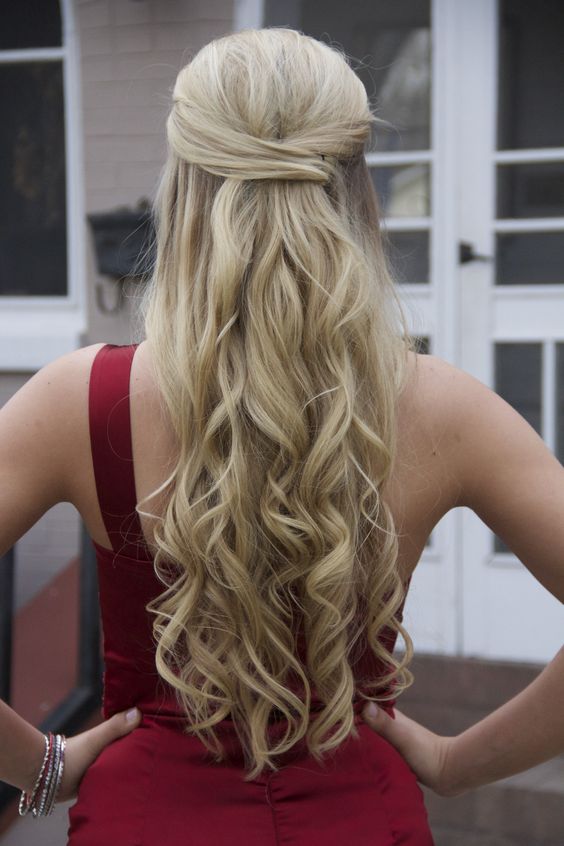 Half up Hair with Flowers
If you don't have idea on hair pieces, you can just pick a flower from your bouquet and tuck it for your half up hairstyle.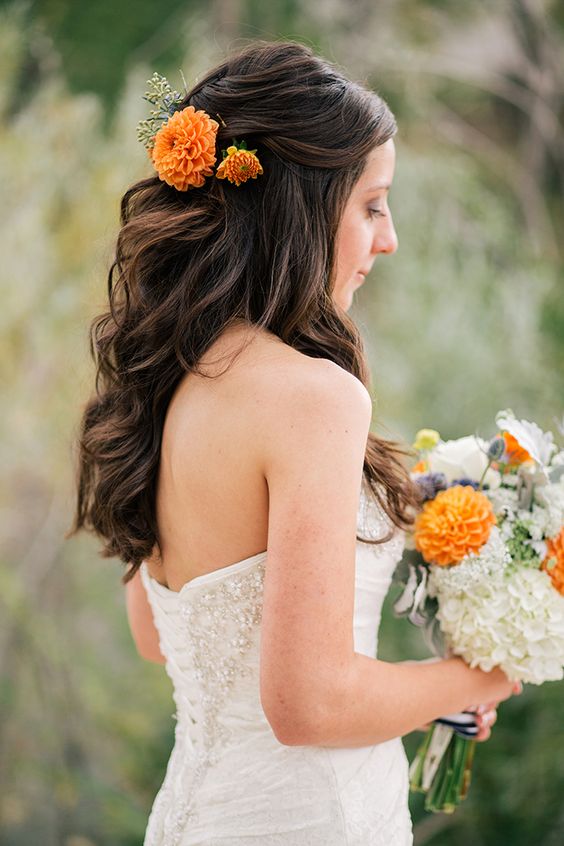 Braided Half up Hair
It is gorgeous for bride to have a braided half up hairstyle. The basket braid style can not only bring a pretty look, but also give an ultra-feminine vibe.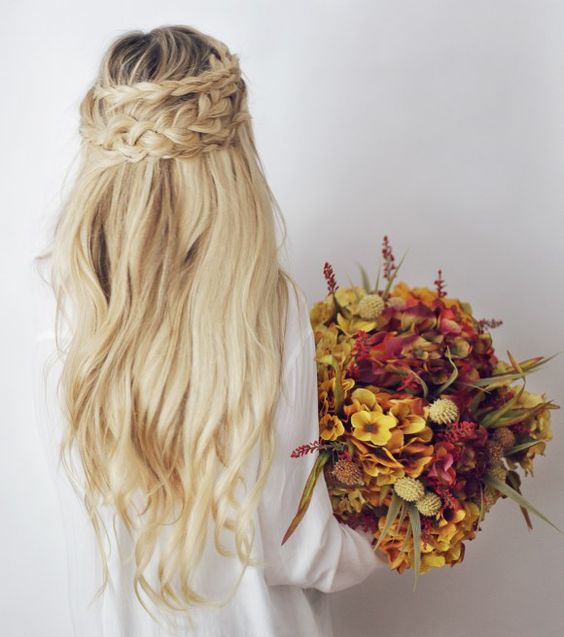 Half up Hair with Curly Bangs
Sweep aside your half up hair to pair your wedding dress. Choose a pair of white earring to complete the look and upgrade the hairstyle.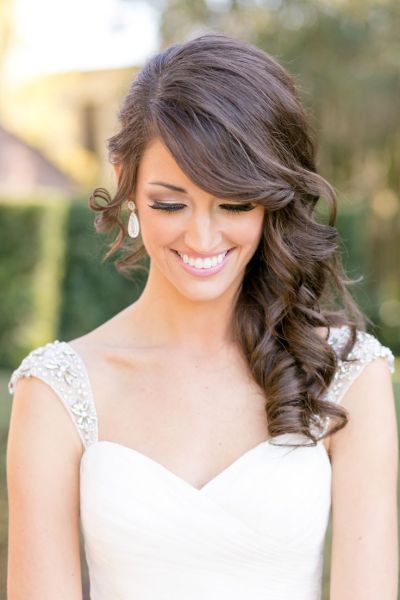 Waterfall Braid Hair
When talking about wedding hairstyles, how can we miss the waterfall braid hair looks? The hairstyle is one of the trendy and prevalent wedding hairdos. It is versatile for various dresses. The bride looks elegant in the hairstyle.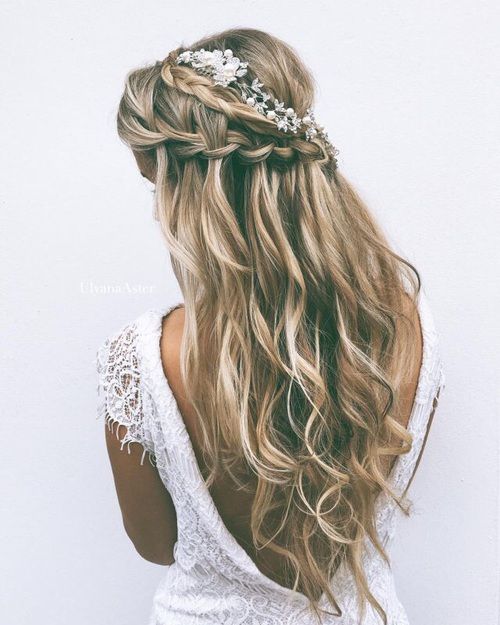 Waterfall Hair with Flowers
You want a sophisticated hair look for your big day? The waterfall hair look is your best choice. To upgrade the classic waterfall hairstyle, you can just add some flowers to it.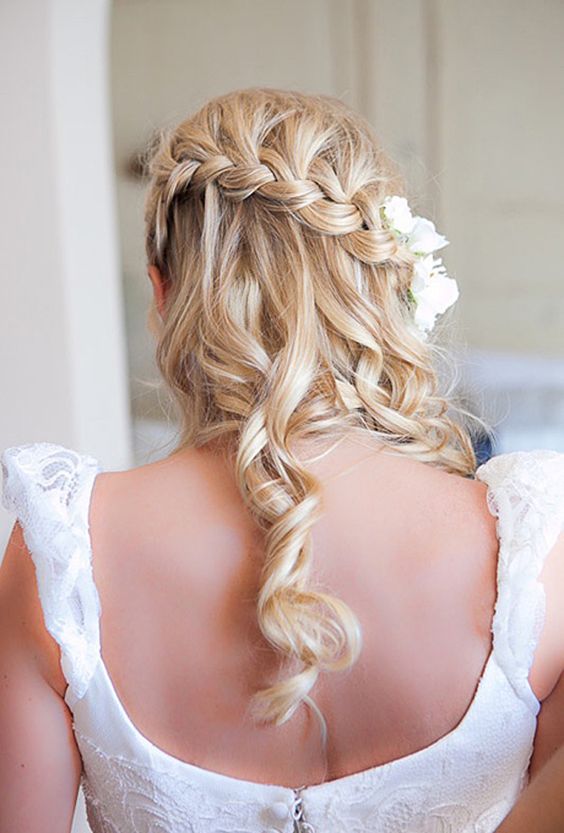 Mid-length Waterfall Hairstyle
The bride doesn't have long hair? Don't worry. Mid-length hair can be styled into a pretty waterfall hair do as well.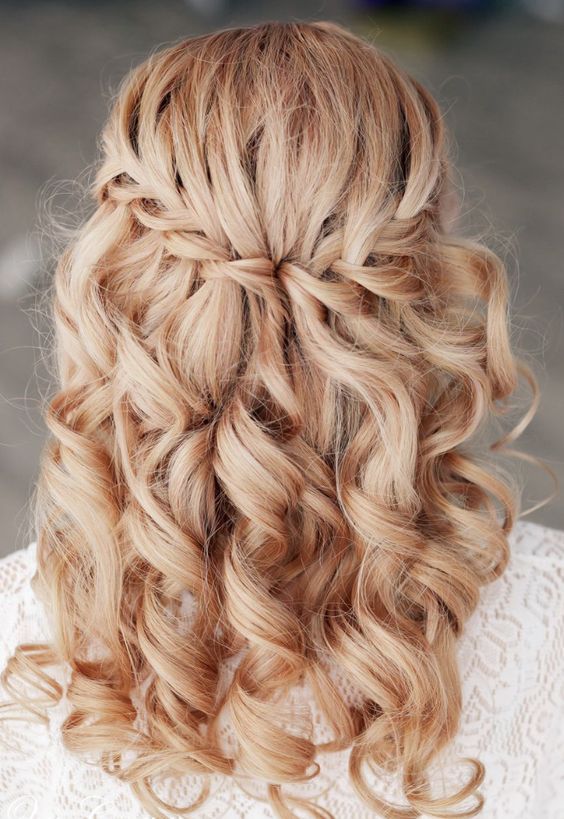 Messy Bun for Brown Hair
Pull the locks up gently and make a messy bun at the neck. The bun hair do can length your neck and reveal your outstanding makeup for the whole look.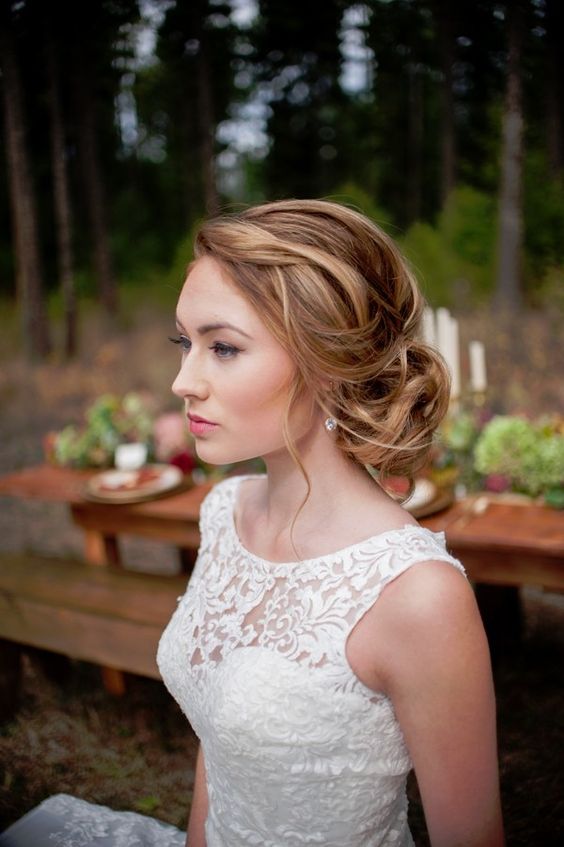 Loose Bun
If you enjoy a casual wedding party, why not style a loose bun to pair your easy look.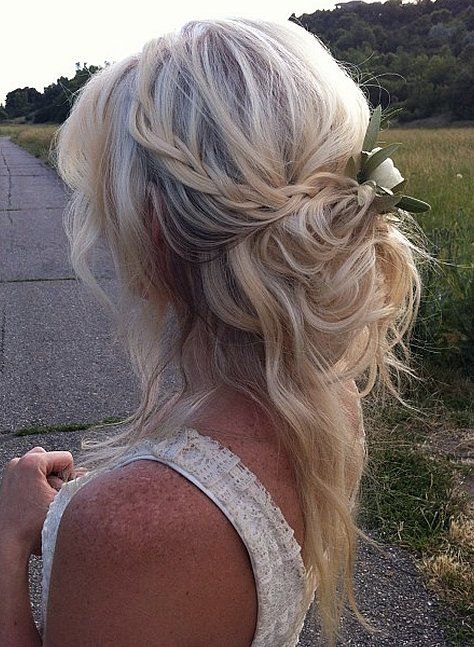 Side Braided Bun
It is graceful and elegant to make the hairstyle.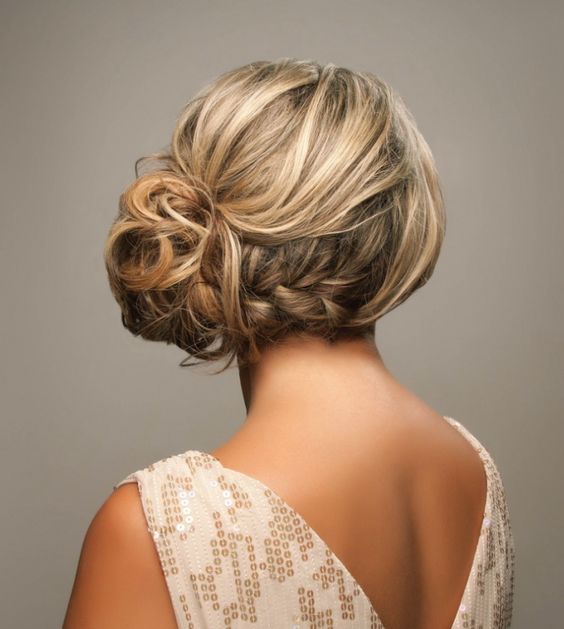 Twisted Bun
Tuck your twist bun with a flower and have a nice day.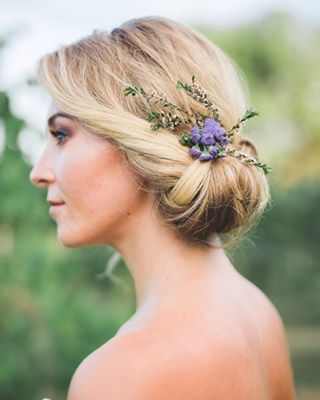 Top Bun
The top bun fits various wedding dresses. It will pair the look well with some wedding hair pieces.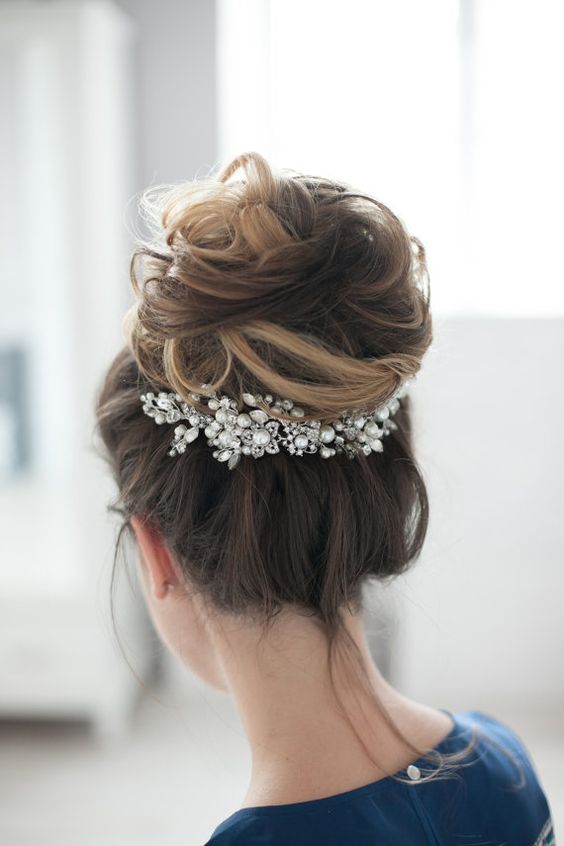 Pretty Braid
How to pair your stylish wedding dress? You can opt for a blunt braid. Style it in a stylish way then. Choose some flowers which are the same color as your wedding dress to upgrade a simple braid.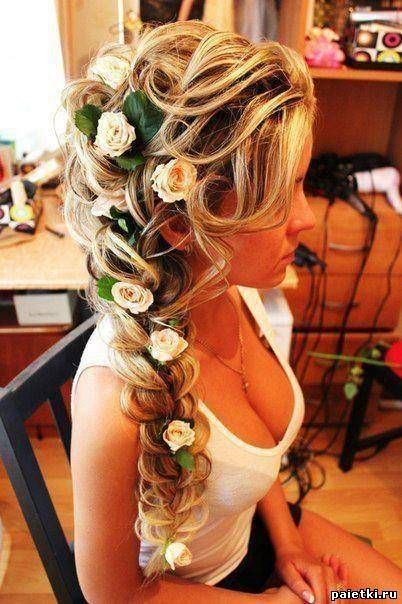 Messy Braid
Sometimes making a messy hair look can pair your dress well.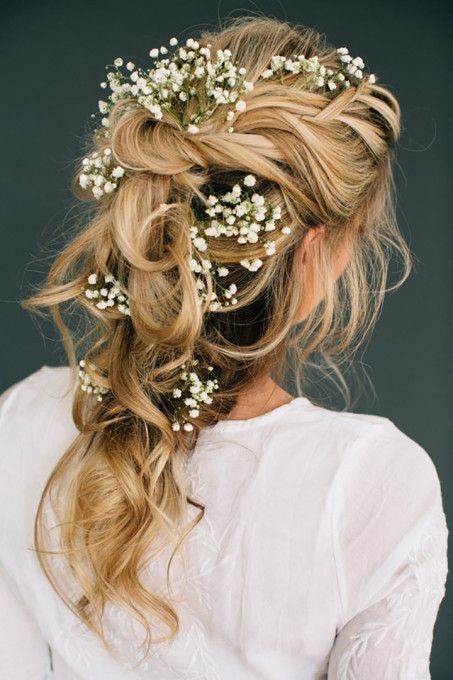 Forest Braid
This time, you can use something green to pop up the hair look and complete the wedding dress.