20 Trendy Grey & Silver Hairstyles for Spring
Spring is here and it is the season for change. If you've been following recent hair trends, then you won't have been able to miss the popularity of silver locks. This edgy shade is the ultimate color for any dedicated fashion follower who absolutely loves to stand out from the crowd. When teamed with white, silver hair is brighter and bolder than ever before. We absolutely love this icy combination of colors and believe that it would be an ideal new look to try out this spring. It's important to note, that this is not a 'do it yourself' sort of style.
If you're going to turn yourself in a sexy silver vixen this season, it is essential that you go to a profession hair colorist with expertise in this field. It's also important that you prepare yourself for plenty of retouching and upkeep, especially if you're a naturally dark haired girl. Here are 20 stunning ways to show off your silver and grey hair.
Hair Flower
Why place a flower accessory into your up-do when you could transform the whole of your hair into a blooming flower shape? This is a seriously impressive style which can be created by looping the hair carefully into a rose-like structure.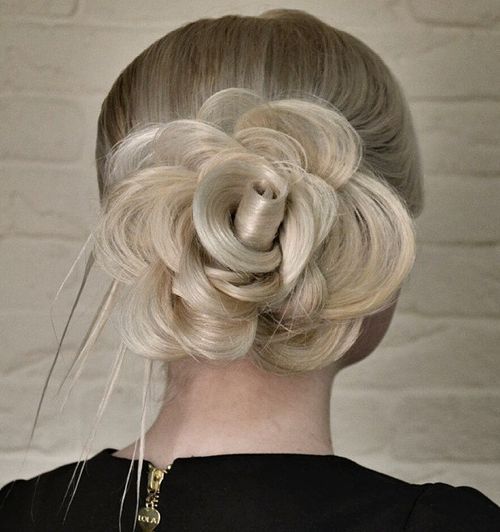 Loose Crown Braids
White and silver streaks look beautiful when worn with multi-tonal blonde and brown balayage. This stunning combination of colors is emphasized by the romantic, loosely flowing crown braid it has been styled into.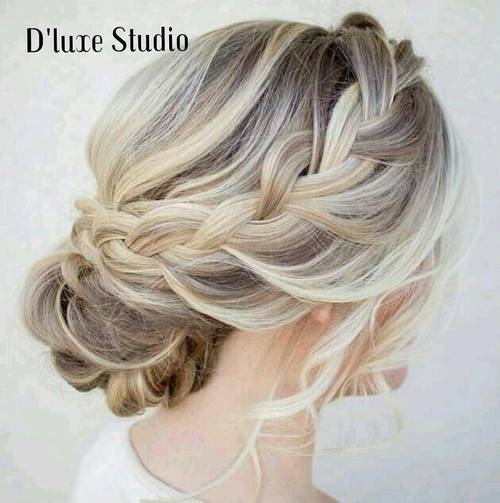 Milkmaid Braids
As if icy white hair didn't already look fit for a fairytale princess, this European inspired braided style will transport you back to the medieval days of knights and maidens. Loose wavy strands at the front update the look and make the whole look appear carefree and romantic.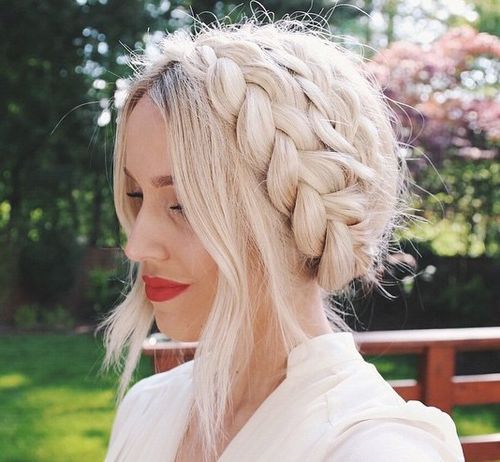 French Twist
The color of this chic up-do is slightly more subtle than other white and silver styles. This shade is the perfect blend of warm gold and icy blonde and that French twist is surprisingly simple to recreate for something for stylish.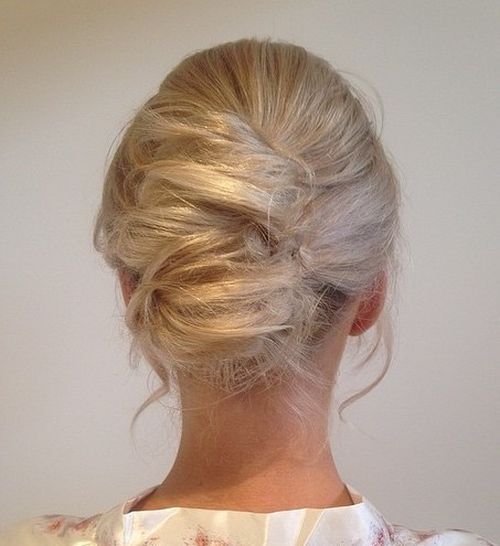 Curly Bob
Cute little curls like these show off the glistening tones of silver and white perfectly. The color of this bob almost has a very pale blue tint to it and will look amazing in the spring sunshine.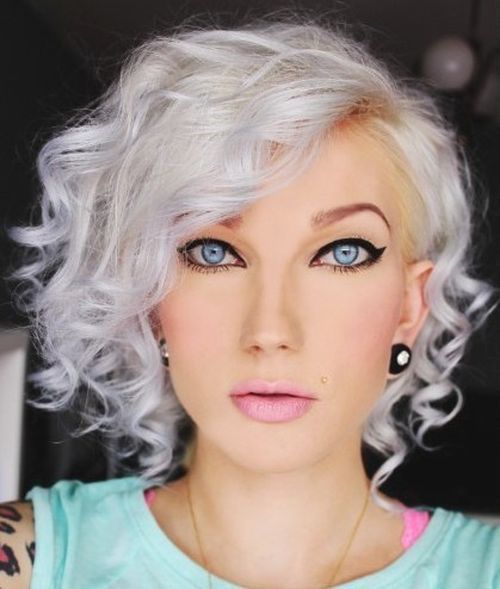 Sleek Bob
Make sure your locks are sleekly straight and add a deep side parting to recreate this bob. It looks totally fresh and stylish, especially worn with such a white, bright shade.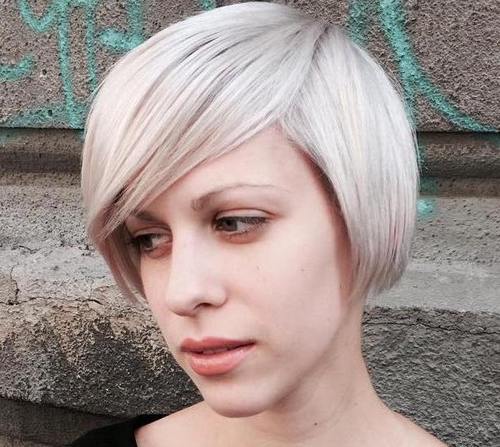 Platinum Pixie
It's no secret that pixie crops are youthful and full of fun. This choppy cut adds texture to the hair and can show off your features to their very best. We can't get enough of that perfect platinum blonde color.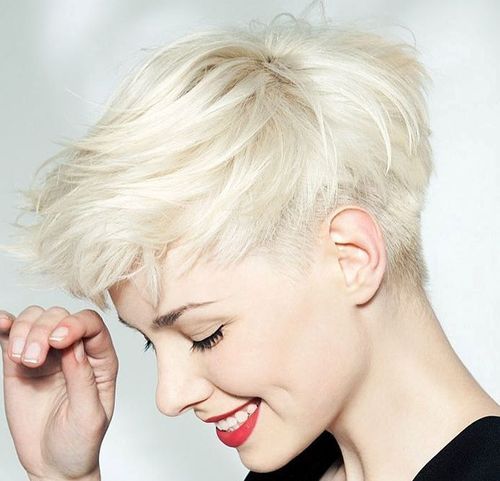 Super Short Pixie
Here is another, very different, example of how perfect pixie crops can look. This style has been cropped extremely short and close to the head, and then dyed a stunning shade of silver all over.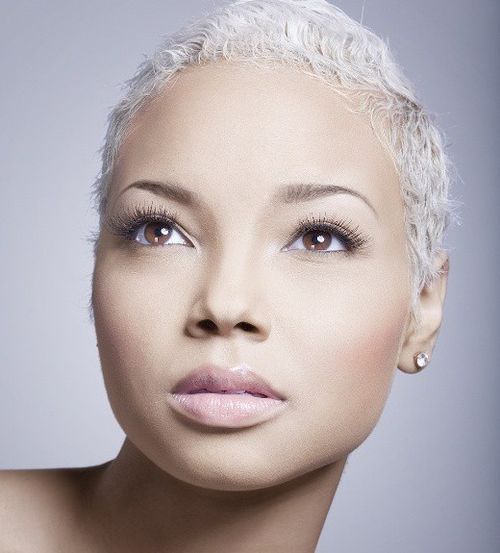 Side Sweep
This short hairstyle is one for outgoing girls who really want to stand out from the crowd. The asymmetrical cut is shaved into an undercut on one side and left long and floppy on the other. That dazzling shade of white is the ideal color for such a daring do.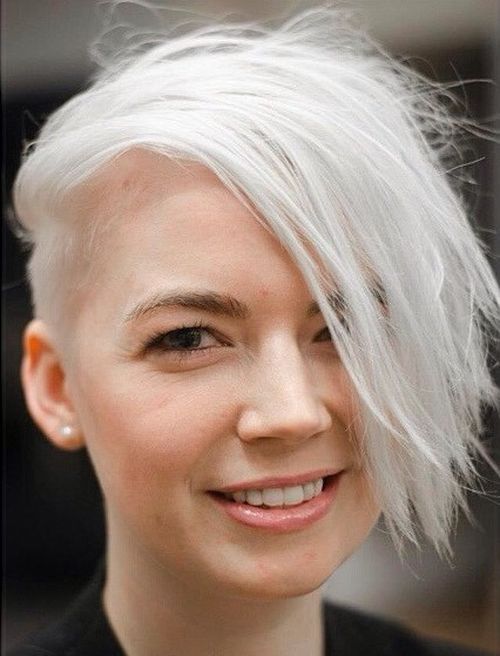 Pompadour
It's hard to imagine a hairstyle looking more sleek and stylish than this. The Mohawk-esque buzz cut has been left long on top and waxed up and back to create a rock and roll quiff shape. Finish off the rock chick vibe by dying your locks pale platinum.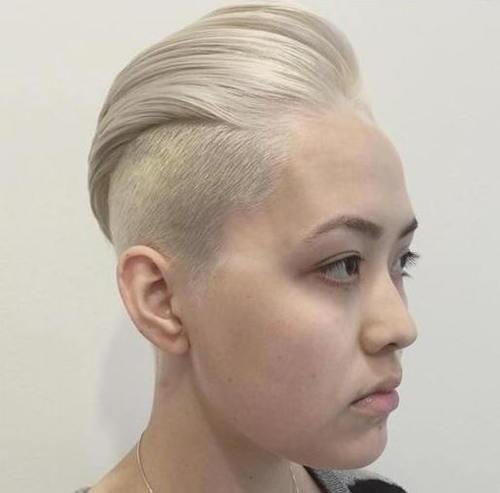 Ombre Waves
We could gaze at this beautiful hair color all day. The blend between white, platinum blonde and slightly darker blonde is so gradual and subtle that it almost looks natural, but the dark roots add a rebellious edge. We also love way the long waves have been cut into an A-line shape.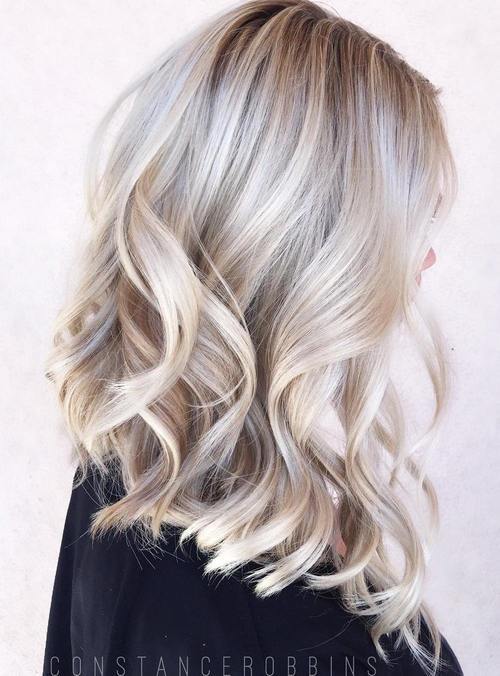 Sleek and Straight
This gleaming shade of white looks especially impressive when worn on perfectly straight, mid-length locks like these. Be warned that your hair will look so bright and white that you might want to put on a pair of shades!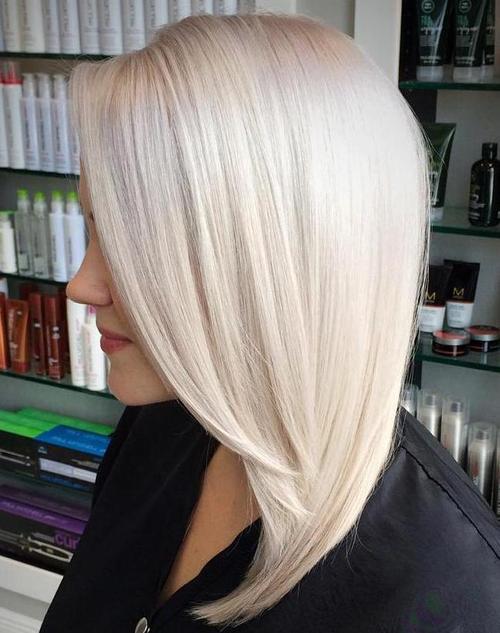 Classic Waves
Have you ever gazed enviously at the hairstyles of vintage pin up girls and screen sirens? These deeply parted waves look fit for the 1940s, but the pastel shade of silvery blue adds a thoroughly modern twist.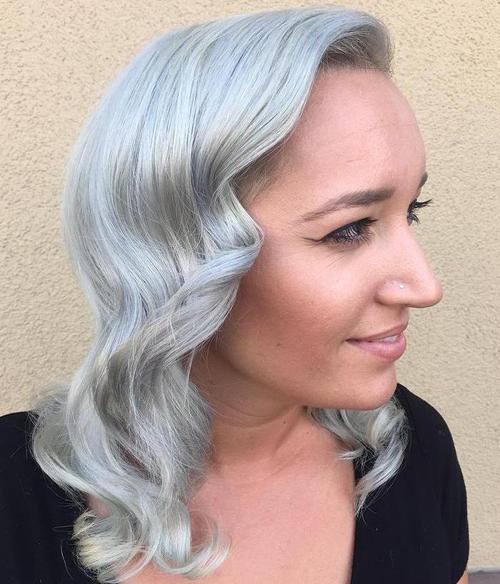 Ombre with Roots
There's something very rock chick about wearing dark roots with light blonde hair. Unleash your inner rebel by trying out this looks for yourself on long beach waves.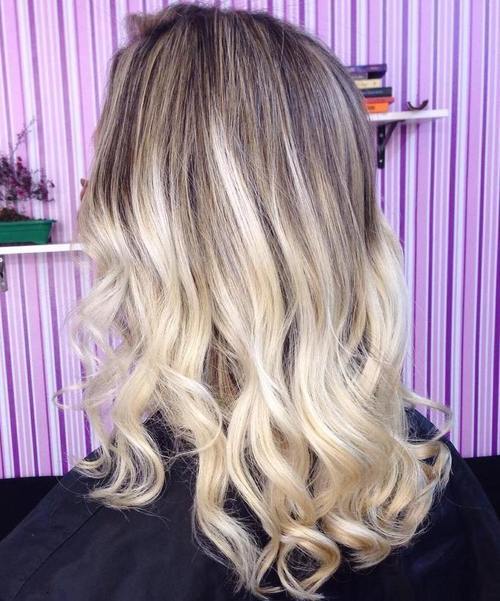 Platinum Princess
Achieving a color as bright and light as this one will take a fair bit of time, effort and bleaching. This is definitely not a look for lazy girls, as it also requires constant upkeep. The results, however, will leave you looking and feeling ready for the red carpet.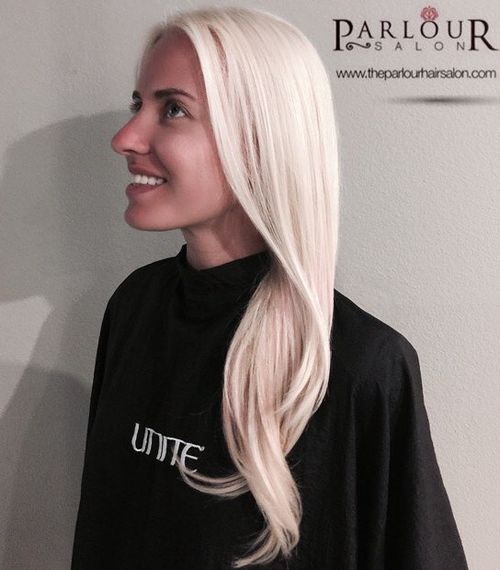 Ashy Bob
Thin streaks of white and silver bring out the best in this jaw length bob. We love the cut and this chic hairstyle will be incredibly easy to style.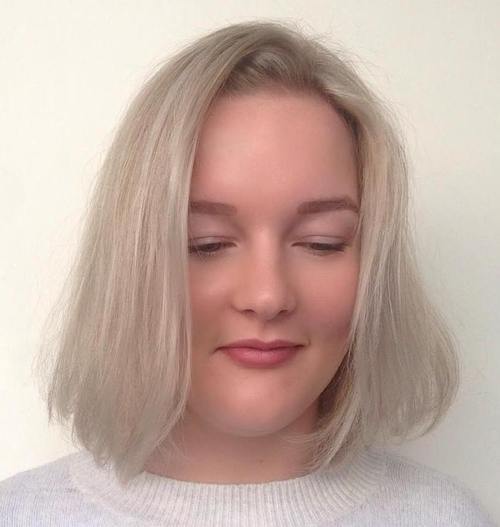 Big Curls
If you're lucky enough to have natural curls which are as big and beautifully bouncy as these, then you can guarantee icy blonde hair will suit you. This model has a golden skin tone and dark hair, so she has sensibly chosen to add warmer shades of blonde as well, which compliment her coloring.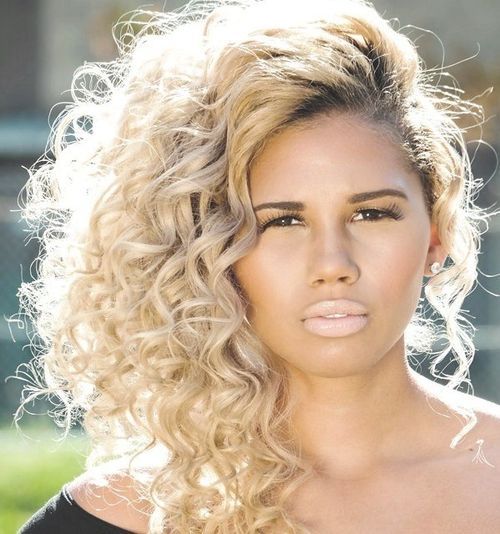 Braided Waves
You can make your balayage white and blonde waves look fit for a fairytale princess by adding a twist of fishtail braids in the back of the hair. These beautiful plaits come together to form one central style.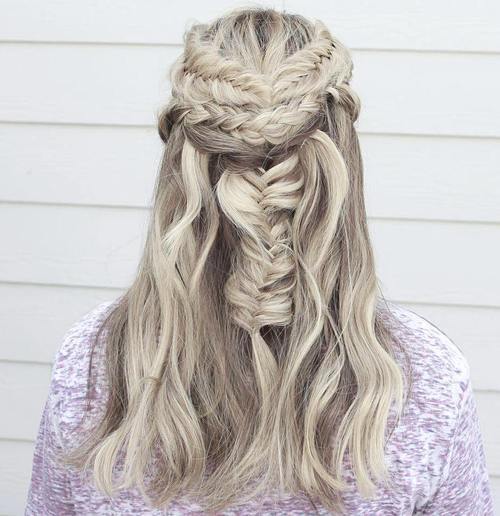 Edgy Bob
Hairstyles don't come much more trendy or edgy than this one. Dark roots really stand out against the pale silver shade, creating a crown like effect. The hair itself has been cut into a jagged, straight bob.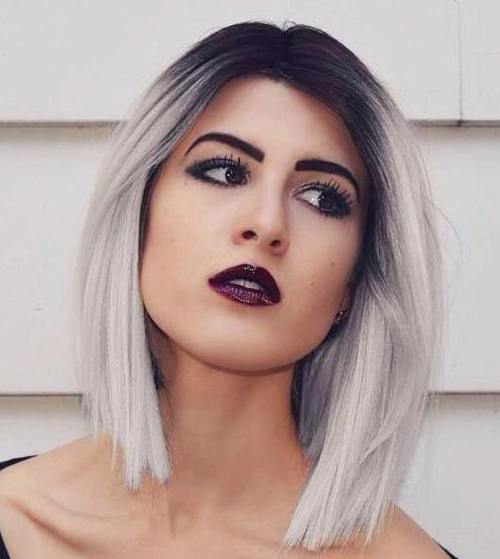 Trio of Braids
Open up your facial features in an intricate style by pulling small sections of hair back into three braids. This is incredibly simple and looks almost magical with those little braids.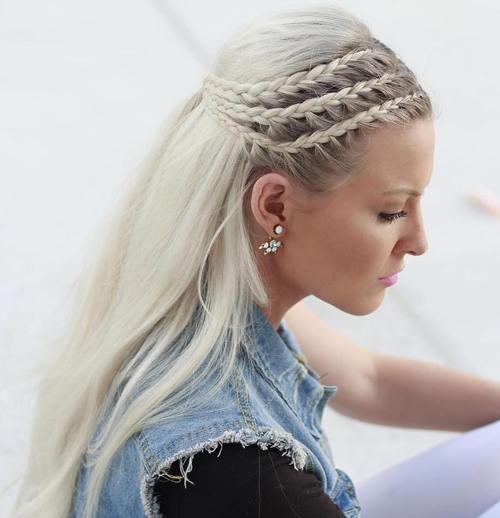 Save