2024 Rihanna Latest Hairtyles & Makeups for Fashionistas to Get Inspried
Undoubtedly, Rihanna is one of our favorite icons in fashion. Her hair and her makeup looks are what we are always following to try. She is edgy and can always show us the most fierce fashion. This time, let's just review the tremendous fashion information she delivered to us in the fashion week and get some new inspirations from her best hairstyles and makeups.
Rihanna at Stella McCartney
While most super stars are just wearing glasses in black, Rihanna chooses an orange one to pair with her red lips.  That's just the trend for spring makeups this year, which we have said before in another post. You can also try some glasses with colorful frames. That's cute and chic!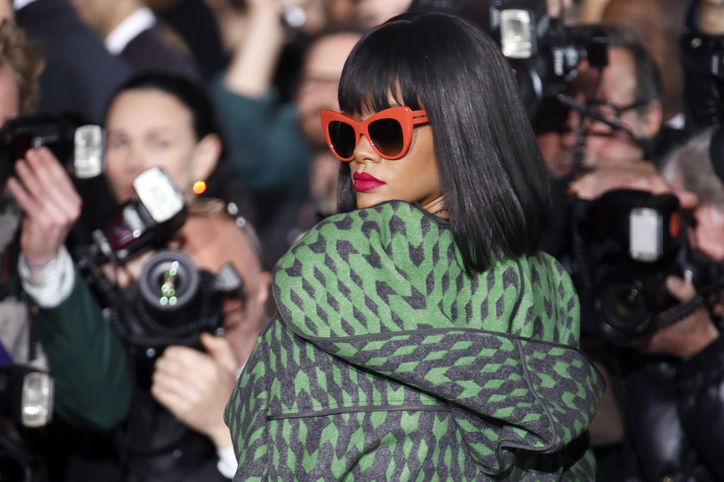 Rihanna at Miu Miu
The medium straight haircut with blunt bangs make Rihanna so adorable yet the red lips upgrade her fashion style instantly. Try it!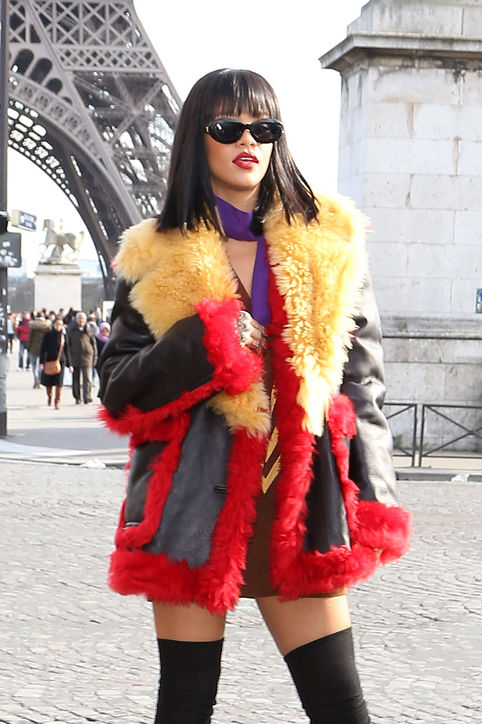 Rihanna at Lanvin
Wispy bangs set the eyes the center of attraction. Then, the lashes and thick eyeliners emphasize the big eyes. As a contrast, Rihanna just choose a nude lip so that the focus of her makeup can be popped out. That's a rule we should remember. While you want to make your eyes the main points in your makeup, tone down other places.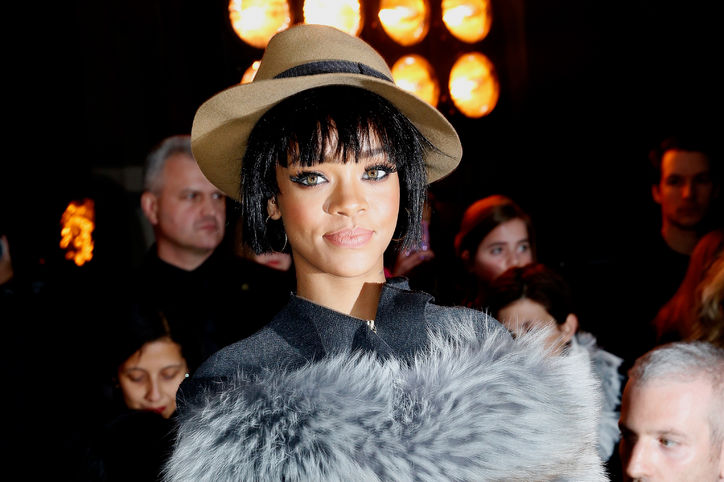 Rihanna at Jean Paul Gaultier
Can you rock the black lips? Just enjoy! I like her hair, so soft!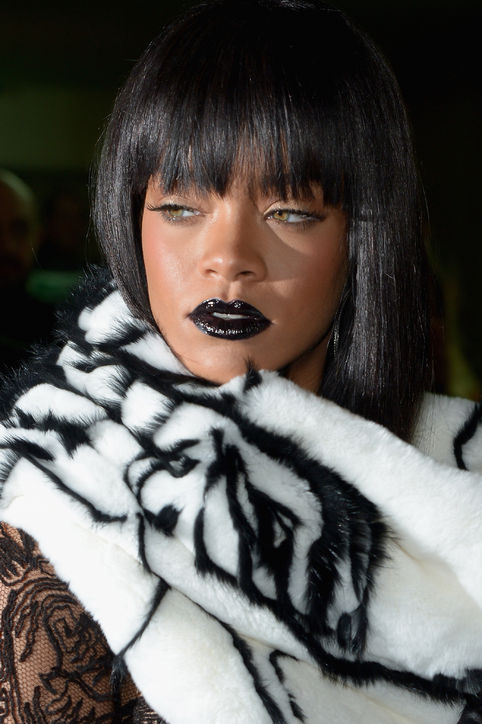 Rihanna at Givenchy
The lips in tomato hues catches our eyes at once. This color make Rihanna look cheerful and healthy. Each woman should have a lipstick in such a red color, for it can really bring you a happy mood.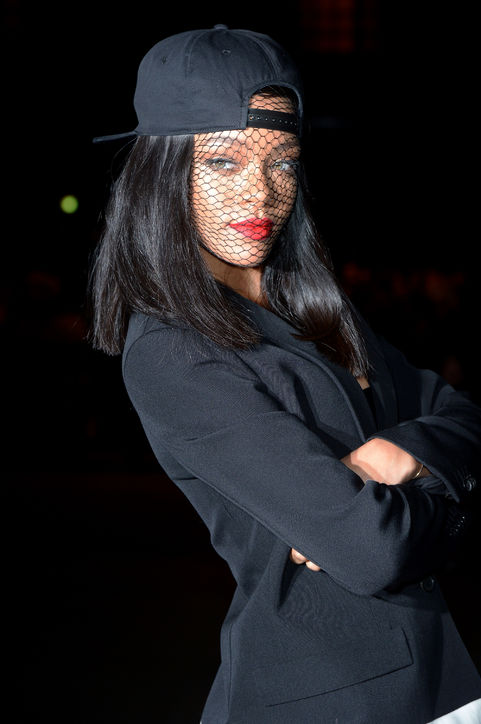 Rihanna at Dior
The chin-length straight haircut has been blown inward to embrace the lovely face, paring with blunt bangs. This hairstyle works so well to frame the face and create a tiny-face baby! I really love RiRi in this style. Adorable, fashionable, cool…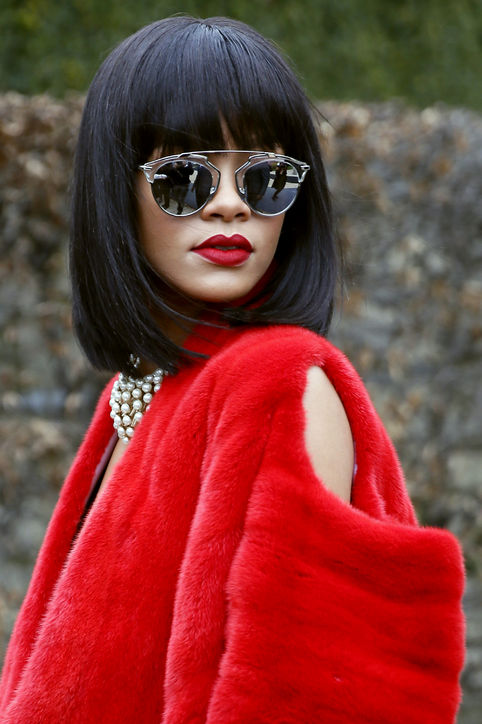 Rihanna at Chanel
Our RiRi just wears a light makeup to show off her girly beauty. She looks so fresh and much closer to us!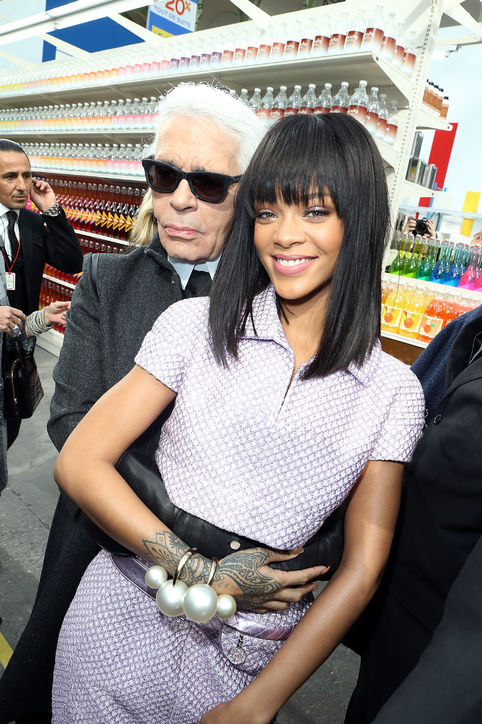 Rihanna at Balmain
Wow, the bob is so drastic and fierce. And, the purple lips are so eye-catching. Do you like this style? I like her lips' look. By the way, you can buy yourself one purple lipstick. While the orange lips were quite last year, the purple one will be on the trend this year!
trend for this year's makeup looks.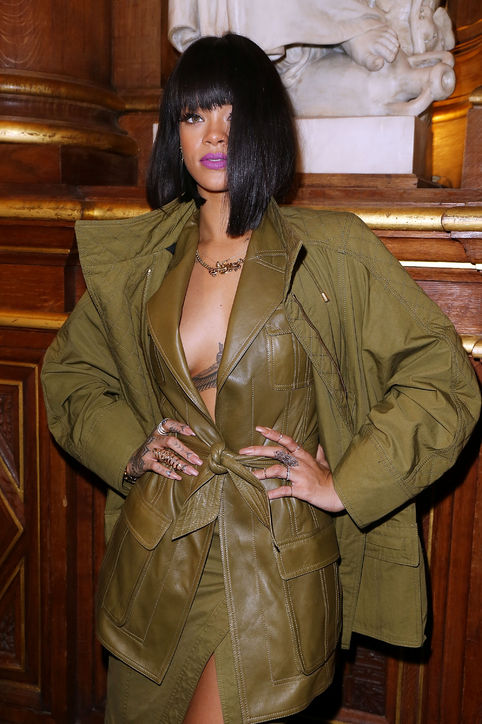 Rihanna at Balmain