2024 Calendar with Holidays (Printable and Free Download)
We designed and collected some simple elegant printable calendars of 2024, you can download these calendars for free.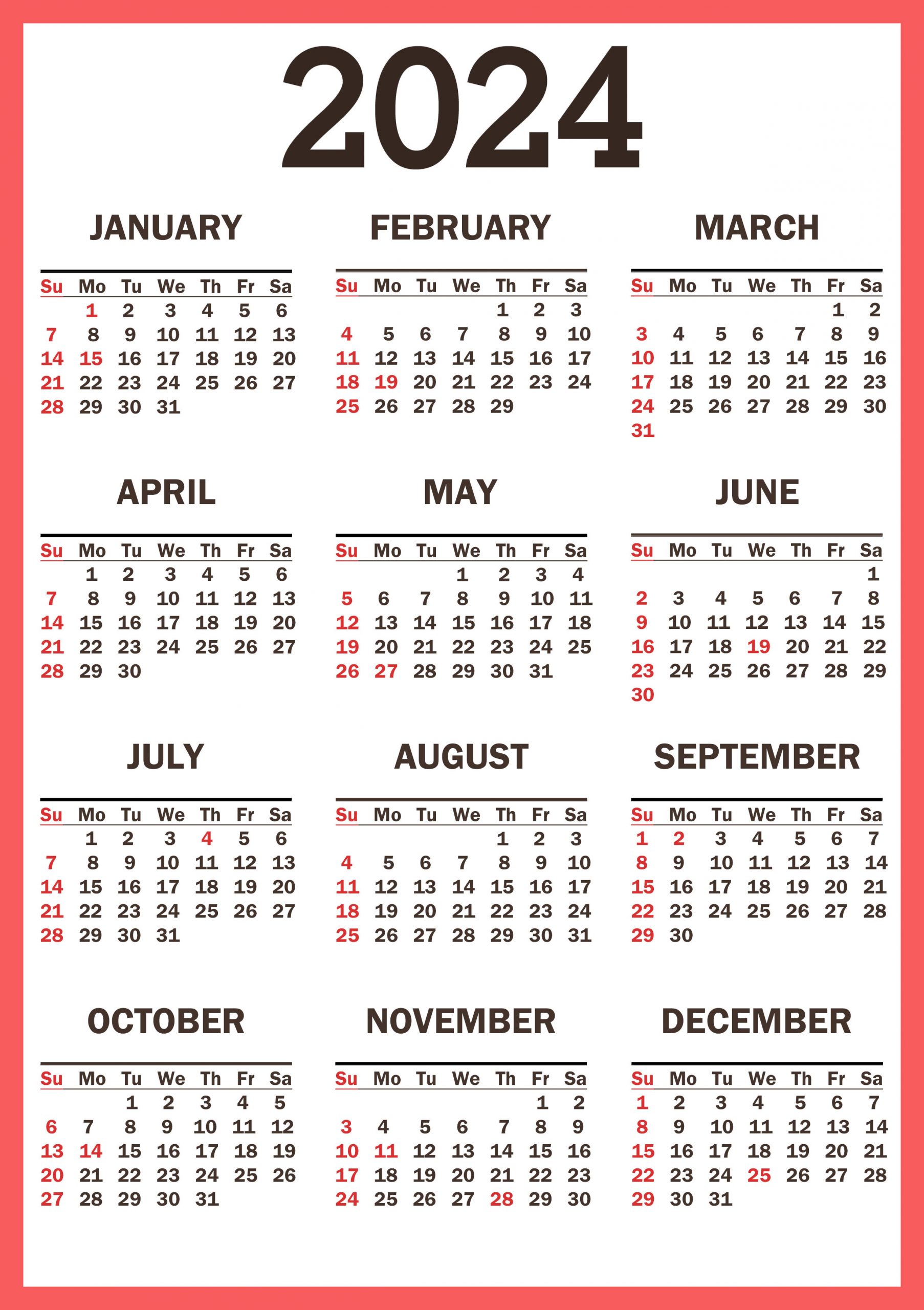 As we look forward to the coming year, it's helpful to have a roadmap of the significant dates and holidays that we'll encounter. Whether it's a time for celebration, reflection, or remembrance, each day carries its own significance. Here's a comprehensive guide to the holidays and key dates of 2024 in the United States—a helpful reference as you plan your schedules, vacations, and family gatherings.
New Year's Day 2024: Usher in a fresh start on Thu, Jan 1, 2024.
Martin Luther King Jr. Day 2024: Celebrate the life and achievements of an influential American civil rights leader on Mon, Jan 15, 2024.
Valentine's Day 2024: Share love and affection with your dear ones on Wed, Feb 14, 2024.
Presidents' Day 2024: Honor the legacies of past presidents on Mon, Feb 19, 2024.
St. Patrick's Day 2024: Embrace Irish heritage and traditions on Sun, Mar 17, 2024.
Easter Sunday 2024: Observe this significant religious holiday on Sun, Mar 31, 2024.
Mother's Day 2024: Show appreciation for mothers and mother figures on Sun, May 12, 2024.
Memorial Day 2024: Remember those who have given their lives for the country on Mon, May 27, 2024.
Father's Day 2024: Celebrate the influence of fathers in society on Sun, Jun 16, 2024.
Independence Day 2024: Mark the birth of American independence with festivities on Thu, Jul 4, 2024.
Labor Day 2024: Acknowledge and appreciate the American labor movement on Mon, Sep 2, 2024.
Columbus Day 2024: Reflect on the history of American discovery on Mon, Oct 14, 2024.
Halloween 2024: Engage in traditions of trick-or-treating and costume wearing on Thu, Oct 31, 2024.
Veterans Day 2024: Honor military veterans on Mon, Nov 11, 2024.
Thanksgiving Day 2024: Gather with family and friends to give thanks on Thu, Nov 28, 2024.
Christmas Day 2024: Celebrate this joyful holiday with loved ones on Wed, Dec 25, 2024.
As the year unfolds, each of these days will offer a moment to pause and partake in traditions new and old. They're not just markers on a calendar but invitations to engage fully with life and the people who make it meaningful. As you navigate through 2024, may this guide help you make the most of every holiday and special occasion.
As we wrap up the year, let's not forget to reflect on the moments that brought us joy, the challenges we've overcome, and the anticipation of yet another promising year ahead. May your 2024 be filled with happiness, health, and memorable celebrations.