22 Ciara Hairstyles-Ciara Hair Pictures
We love the "Goodies" girl, Ciara. Ciara has not only a beautiful voice, but also pretty images. Her hair comes in different colors and styles. We pick up some pictures of her looks. Let's see how she rocks the hip hop world by styling her hair.
Ciara Short Hair style: 2014 Bob with Center Part
Ciara wears her short hair in the chin-length hair 'do with center parting which is face-framing. The hair has straight blonde locks and black-highlighted roots. Ciara looks chic and fresh in the hair. It's a versatile hairstyle for any face shape.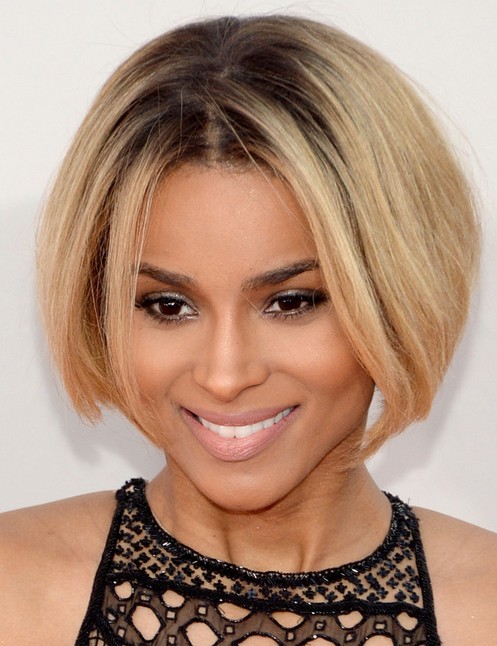 Ciara Medium Hairstyles: 2014 Blonde Bob
Ciara has her medium hair done in a blonde bob with center part. The hair is shoulder-length style with subtle wavy locks. The textured locks obscured part of her face and bring a pretty and stylish look.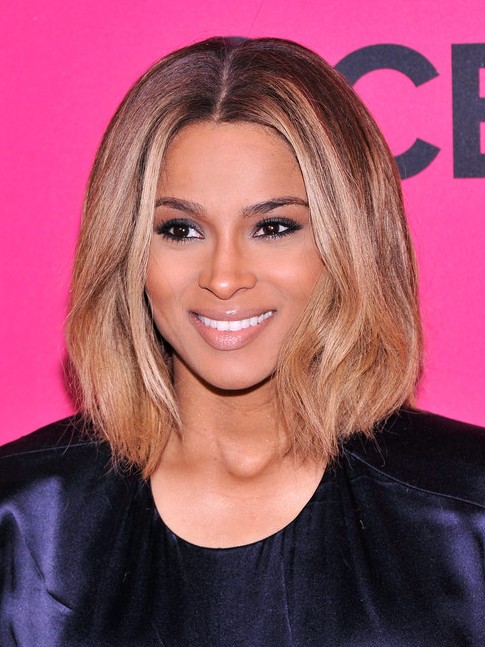 Ciara Short Hairstyle: Angular Hair
Ciara keeps it a breezy look with her angular short haircut. She styles a Mohawk-like hair which has wavy locks and deep side parted bangs. The thick bangs obscure half of face to create a mystery and playful look. If you are bold enough to chop your hair, you can feel free to try out different length of bangs with the hairstyle.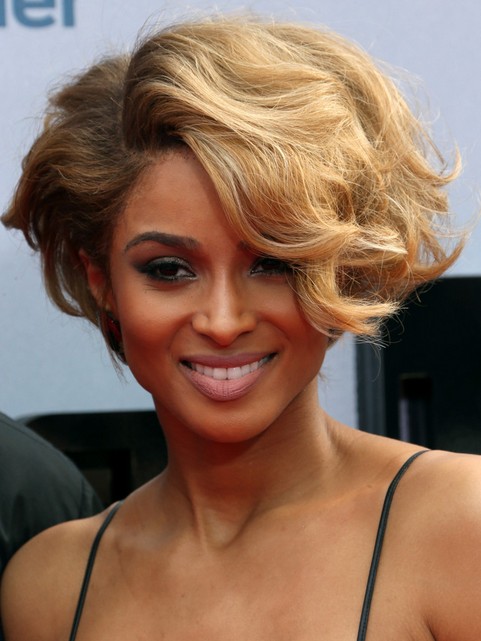 Ciara Short Hairstyle: Mohawk Bob
Ciara wears a Mohawk-like hair again. This time she chops off her hair and makes a shorter bob. The bob has teased side parted bangs which draw attention to her face shape. It's carefree and versatile.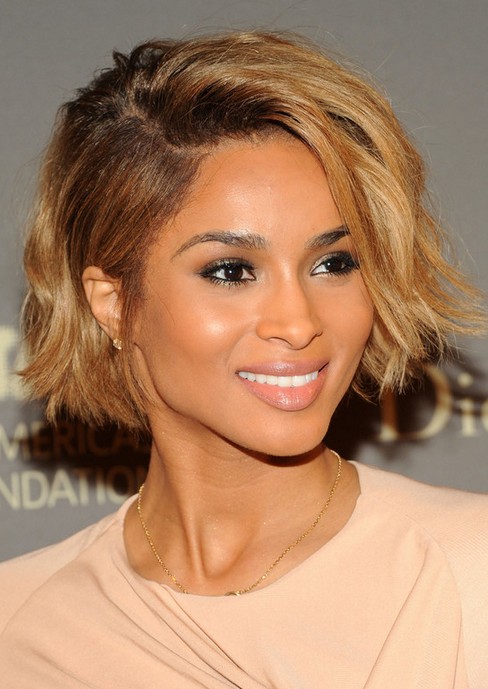 Ciara Short Hairstyle: Side-swept Part
Ciara looks oh-so-chic in her raven hairstyle. The black pixie is so classic and textured that it brings a chic look for the singer. The side-swept bangs also complete her look elegantly.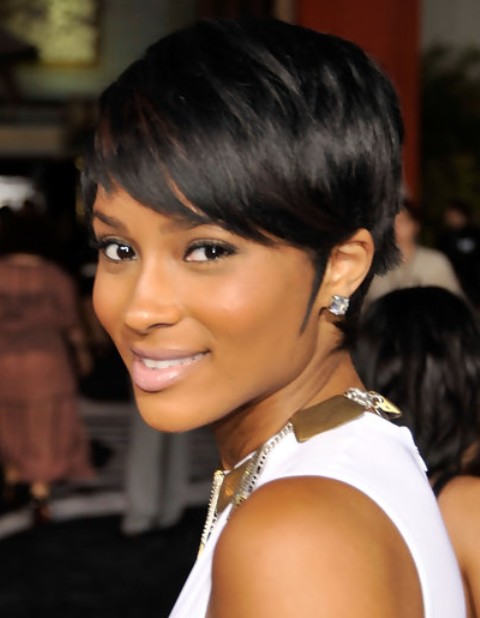 Ciara Medium Hairstyle: Curly Side Part
Ciara opts for the medium length slightly waves for the look when she attends the People's Choice Awards nominations press conference. The hair is center parted and flatters for her skin-tone.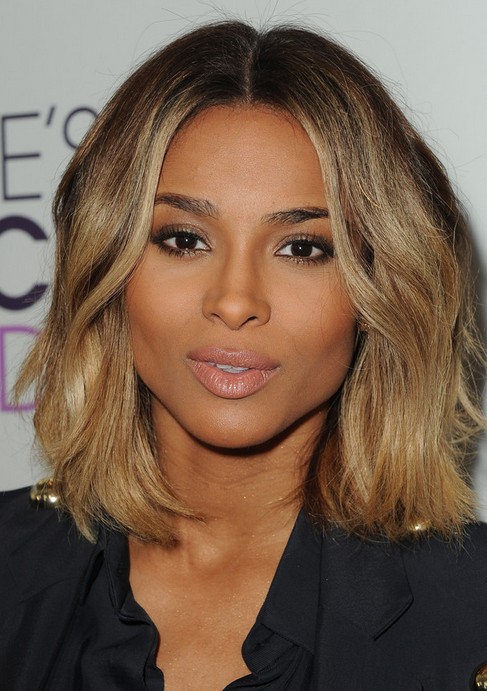 Ciara Medium Hairstyle: Layered Haircut
Ciara chooses a layered haircut for her medium hair. The highlights and the lowlights brighten up her face while the center long parting enlightens her eyes.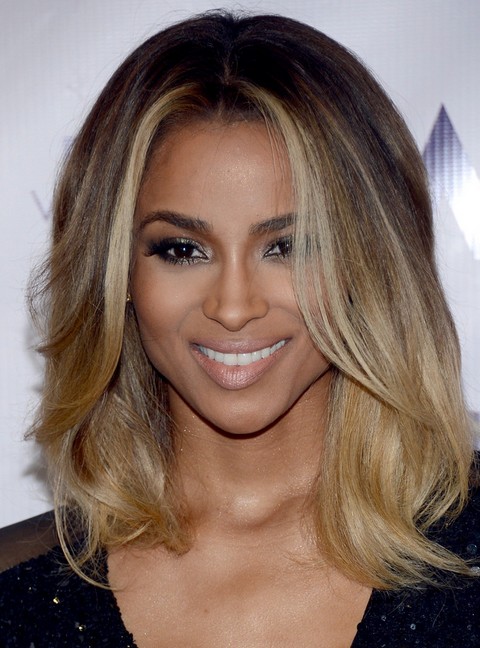 Ciara Medium Hairstyle: Ombre Hair
Ciara completes her look with an ombre hair with center parting. Her honey-blonde locks are curled in subtle waves and falling naturally. It's easy for you to copy the hairstyle, but it's not easy to handle the color.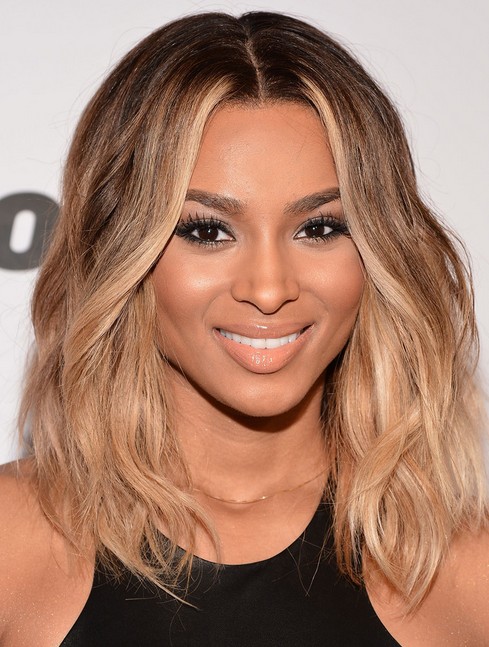 Ciara Long Hairstyle: Side Parting
Ciara styles her long hair in straight layered haircut with center parting. She looks so young in the tresses which are soft and a little wavy. Thus the hair is an age-appropriate 'do.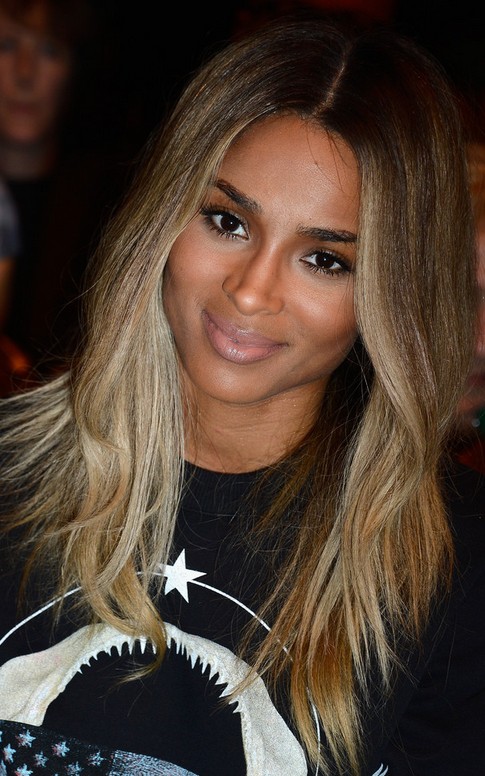 Ciara Long Hairstyle: Two-tone Waves
Ciara rocks her two-tone waves with side parting for the look at the Valentino flagship store opening. She makes her locks black at the top and blonde at the curly ends. The hair combines black and blonde to create a super chic look.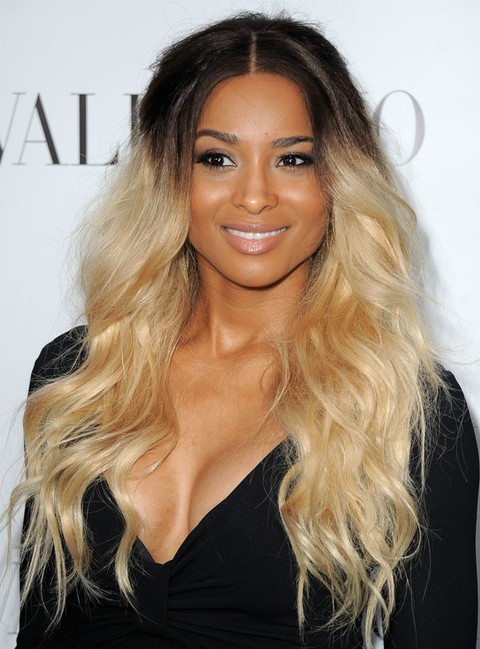 Ciara Long Hairstyle: Highlighted Hair
Ciara wears a long black curly hair with wispy bangs. To spice up her look, she adds blonde highlights to the hair.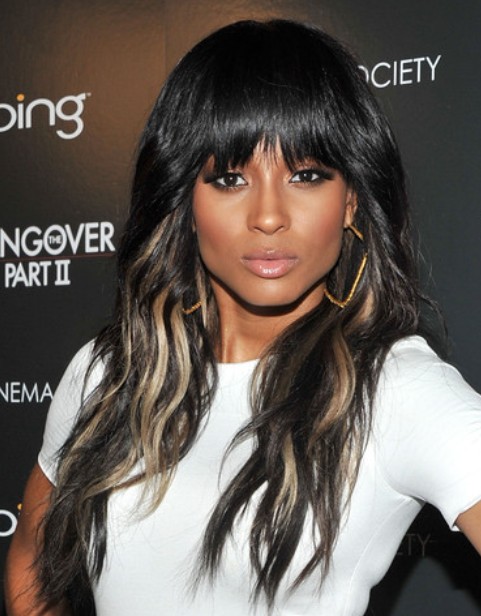 Ciara Long Hairstyle: Heavy Curls for Thick Hair
Ciara chooses heavy curls with center part which becomes her trademark bangs for a party. To recreate the hair, you can use the large-barrel iron and some anti-frizz products.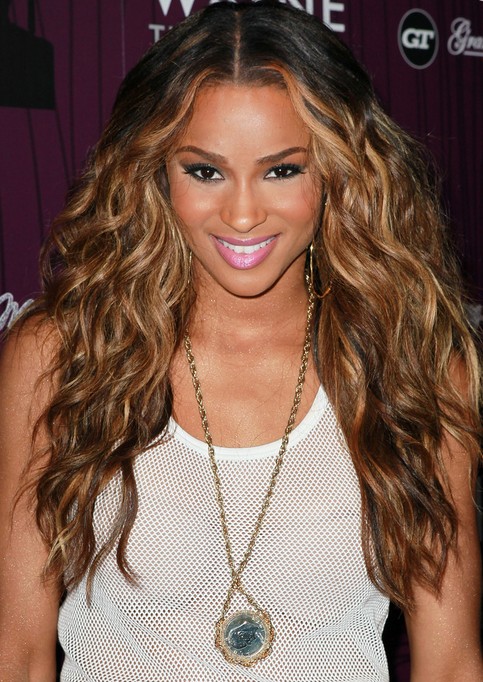 Ciara Long Hairstyle: Raven Hair
Ciara wears her raven curly hair cascading on her back. With the long curly bangs, she looks so sexy in the hair.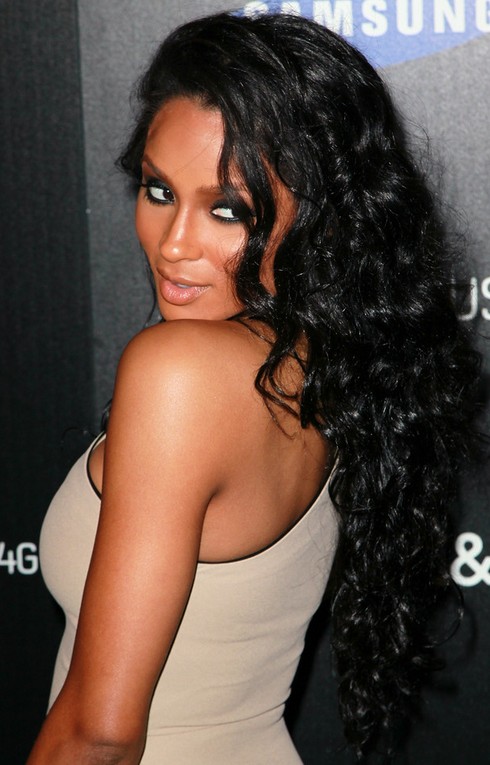 Ciara Long Hairstyle: Black Curly Hair
Ciara sports her long center parted waves when she attends the NBA All-Star game. The bouncy locks give more movements to the look.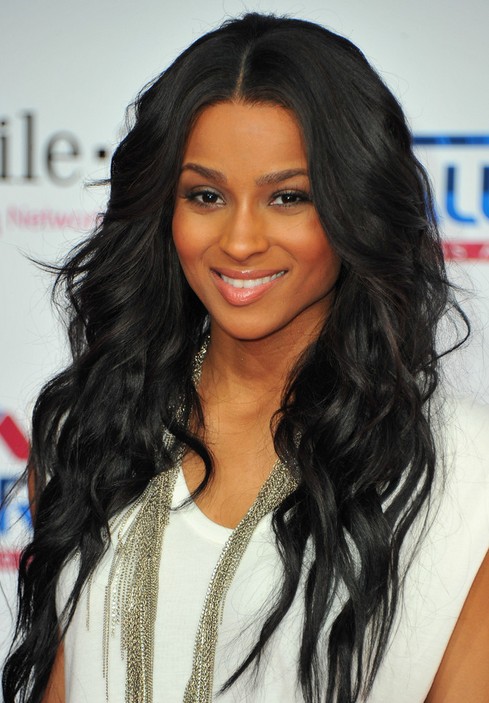 Ciara Long Hairstyle: Elegant Brunette
Ciara completes her outfit with the long curly hair with center parting. Her tresses wow us again with the fine locks and chic style.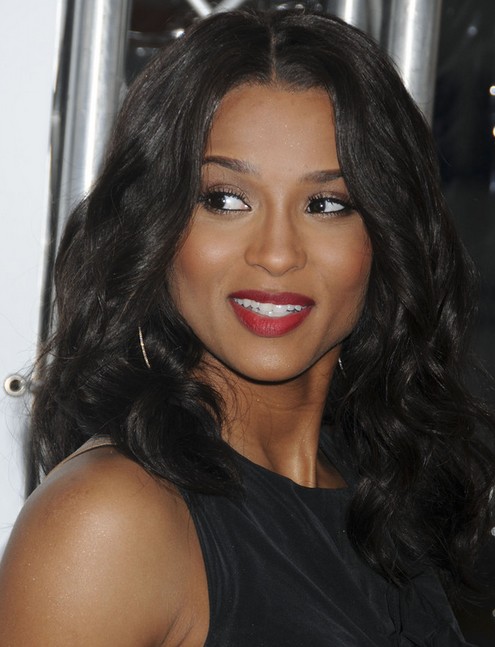 Ciara Long Hairstyle: Straight Hair
Ciara shows off her long sleek hair. The hair is straight haircut and center parted. It's an easy 'do and suitable for many events.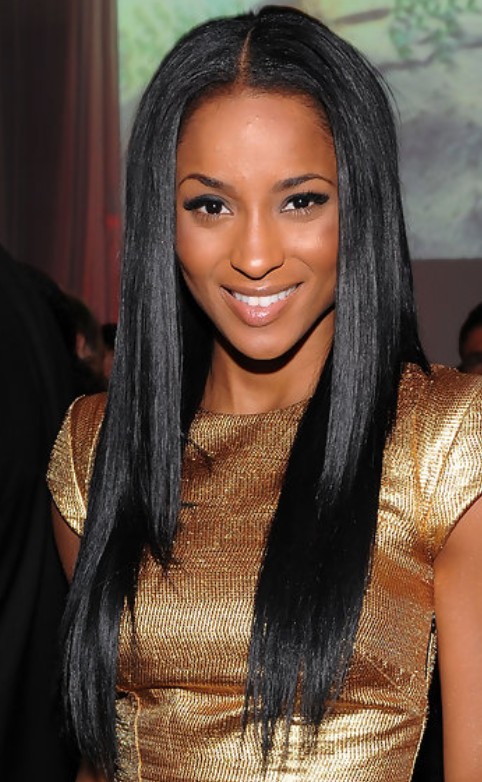 Ciara Long Hairstyle: Curly Hair with Highlights
Ciara wears a curly hair with highlights and side parting. The hair is fluffy on the crown but it has glossy locks flowing down freely.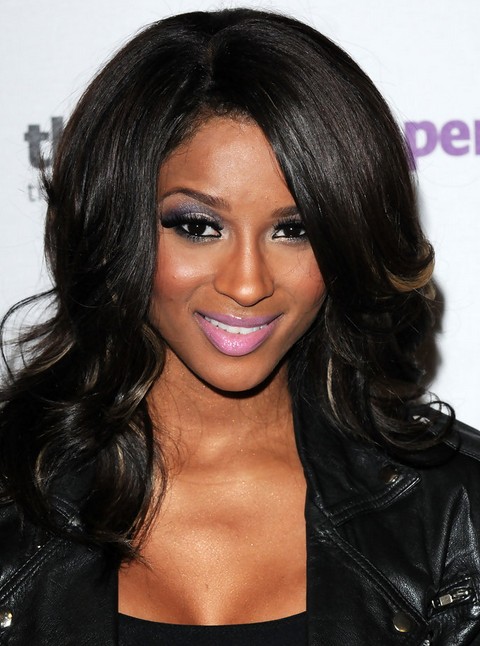 Ciara Long Hairstyle: Side Swept Part
Ciara steps out with her side swept parted straight hair. Her swept tresses make a nice shape for her face and enlighten up her face.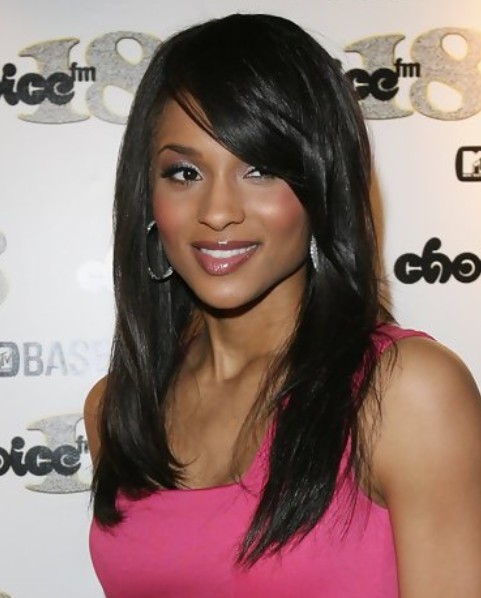 Ciara Long Hairstyle: Retro Curls
Ciara has her long black hair styled with voluminous retro curls and deep side part. She is gorgeous and sassy in the hair.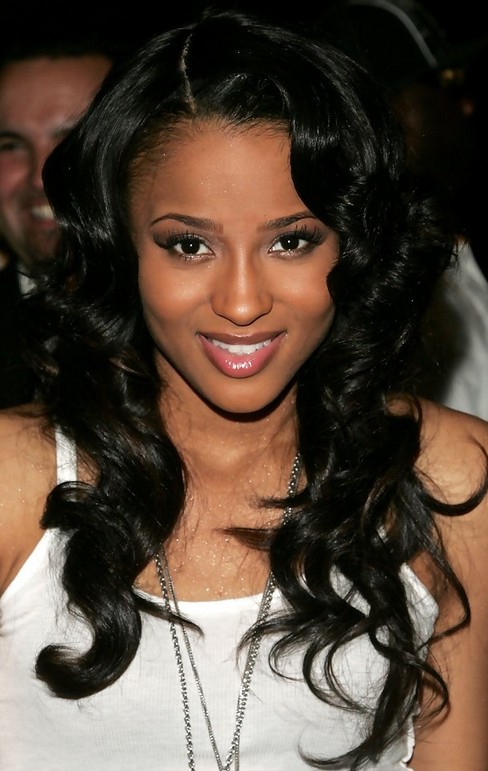 Ciara Long Hairstyle: Ultra-long Ponytail
Ciara shows off her ultra-long ponytail at a ceremony. She looks confident and polished with all the locks drawn back.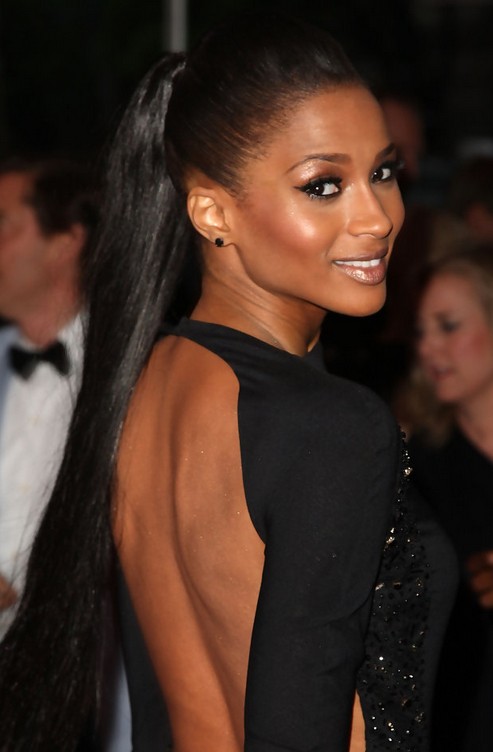 Ciara Long Hairstyle: Braided Haircut
Ciara looks stunning in the cornrow hairstyle. She sports several braided do from top to waist. It's a sophisticated hair which needs skills and right hair products.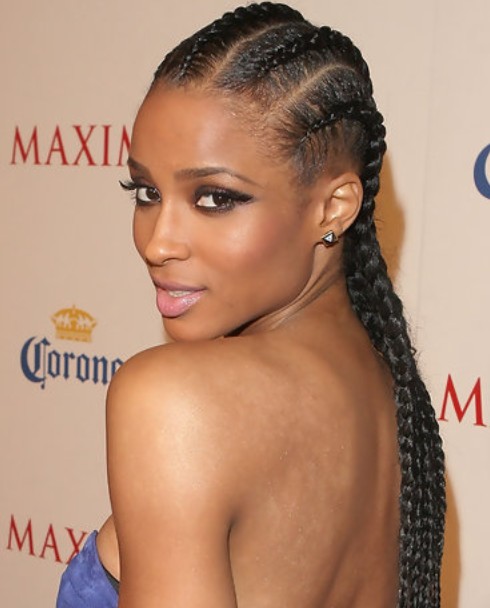 Ciara Long Hairstyle: Cool Knot
Ciara looks sassy and modern in her knot hairstyle. She first styles a highlighted hair. Then she draws all the locks back and piles up her locks on the top to create a perfect bun.