23 Ways to Wear a Pair of White Sneakers
As a fashion designer, I am often asked to identify wardrobe essentials – the timeless, versatile pieces that form the backbone of any truly stylish ensemble. Among those quintessential items, the classic pair of white sneakers undoubtedly secures its place. Marrying comfort with chic minimalism, these kicks have transcended the boundary of casual sportswear and have firmly established themselves as a fashion staple.
The beauty of white sneakers lies in their chameleon-like ability to adapt to a wide array of outfits, effortlessly transitioning from casual to formal, day to night. Whether you're an urban fashionista, a contemporary minimalist, or a vintage lover, here's how you can infuse a pair of white sneakers into your unique style narrative.
For an everyday casual look, pair your white sneakers with denim. Whether it's distressed jeans, a pair of cutoffs, or a denim skirt, the combination exudes an easygoing, laid-back charm. Add a simple t-shirt, a denim jacket, or a light sweater, and you're good to go. Remember, fashion is as much about how you feel as how you look – so comfort is key!
As for an elevated street style, consider matching your sneakers with a chic jumpsuit or a pair of high-waisted trousers. The contrast between the formal attire and the casual footwear will create an intriguing fusion of styles that is both comfortable and uber-stylish. Accessorize with statement pieces, such as a wide-brimmed hat or an oversized clutch, to add a personalized touch.
The avant-garde combination of white sneakers and dresses or skirts has transformed the fashion landscape in recent years. Be it a breezy summer dress, a structured midi skirt, or even a sophisticated maxi, the addition of white sneakers brings a refreshing, youthful edge to these traditionally feminine garments. This contrast of styles serves as a testament to the modern woman's dynamic, multi-faceted nature.
Incorporating white sneakers into your office attire can also make a bold fashion statement. Pair them with tailored trousers, a sleek blouse, and a well-cut blazer for a smart, chic ensemble that challenges conventional norms of corporate wear. The juxtaposition of the casual and formal elements presents a sophisticated, yet approachable image – ideal for the modern professional.
When it comes to taking care of your white sneakers, regular cleaning is essential to maintaining their pristine condition. Use a gentle cleaning solution and a soft brush, and avoid wearing them in harsh weather conditions.
How to wear white sneakers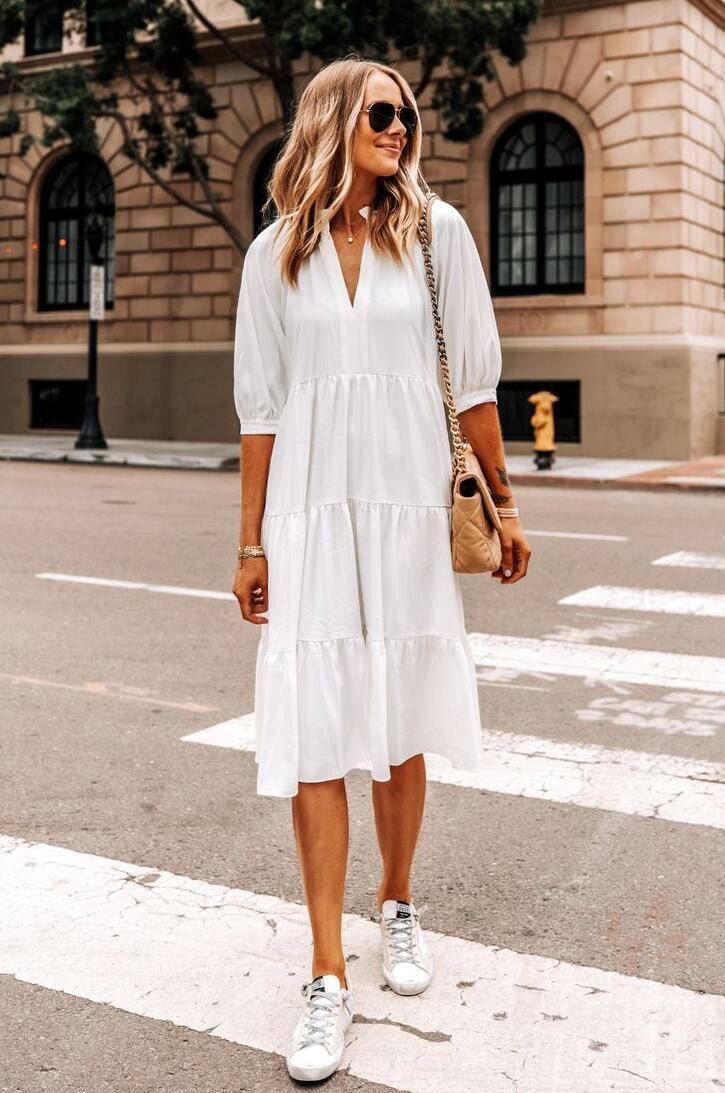 Today we continue to bring you some tips to wear your white shoes. You may find something pretty and tricky nobody tells you before.
Long Coat and White Shoes
It's easy to pair your black and white outfit with a camel long coat.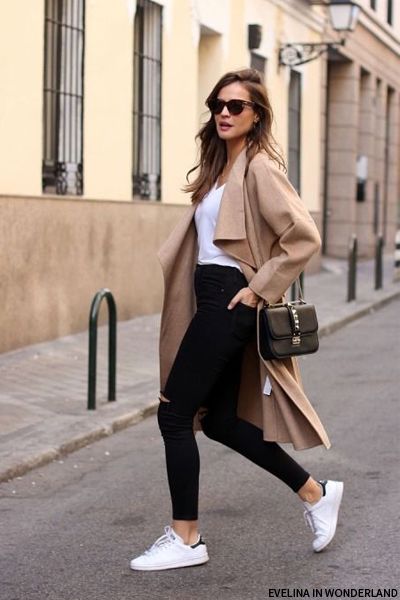 Ripped Jeans and White Shoes
Gigi Hadid shows us how she pair her casual look with a pair of white shoes.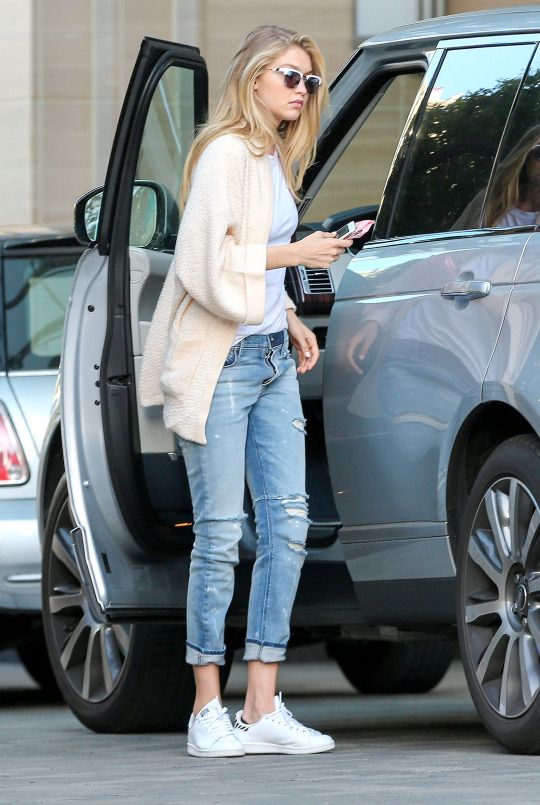 Blue Velvet Dress and White Shoes
Have you thought of pairing a blue velvet dress with a pair of white shoes? You can try out the style for the season.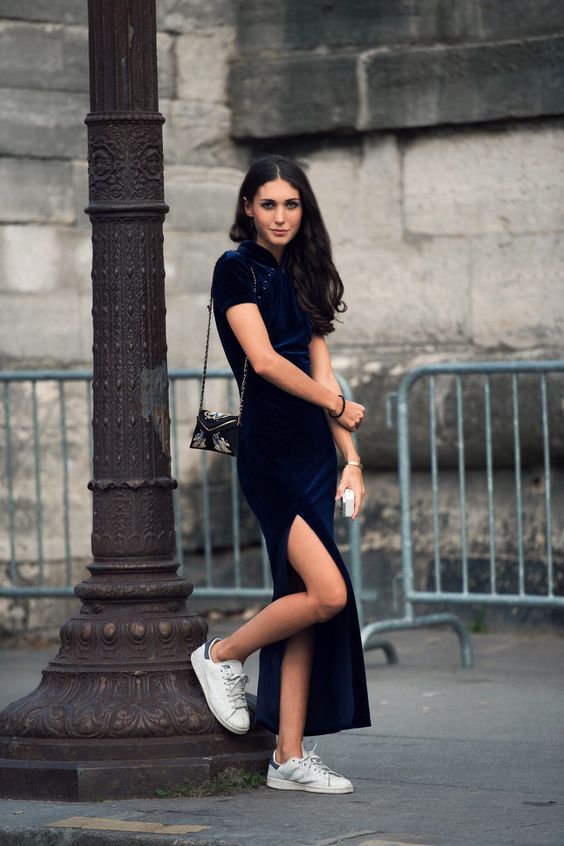 Oversized Coat and White Shoes
How to glam a street look? It is simple to wear an oversized coat and a pair of white shoes.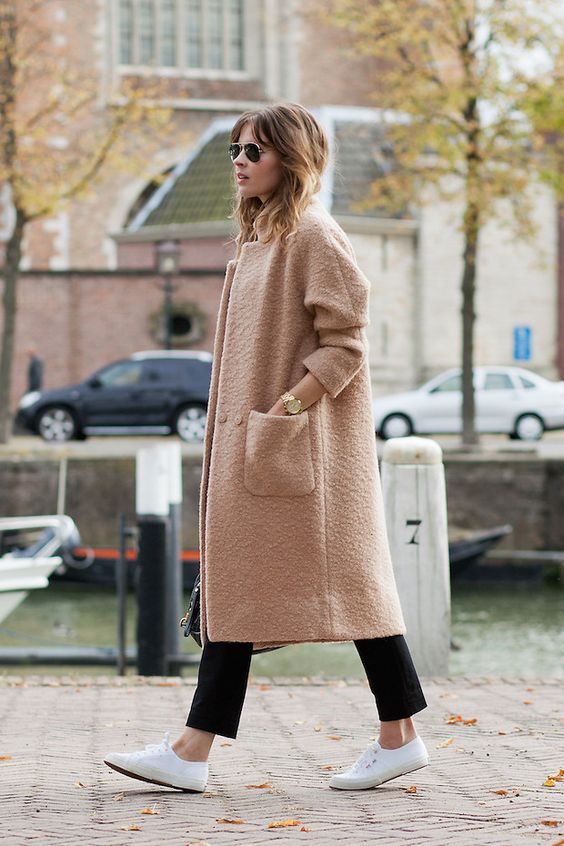 Black Basic and White Shoes
Is it cool for you to rock the winter look?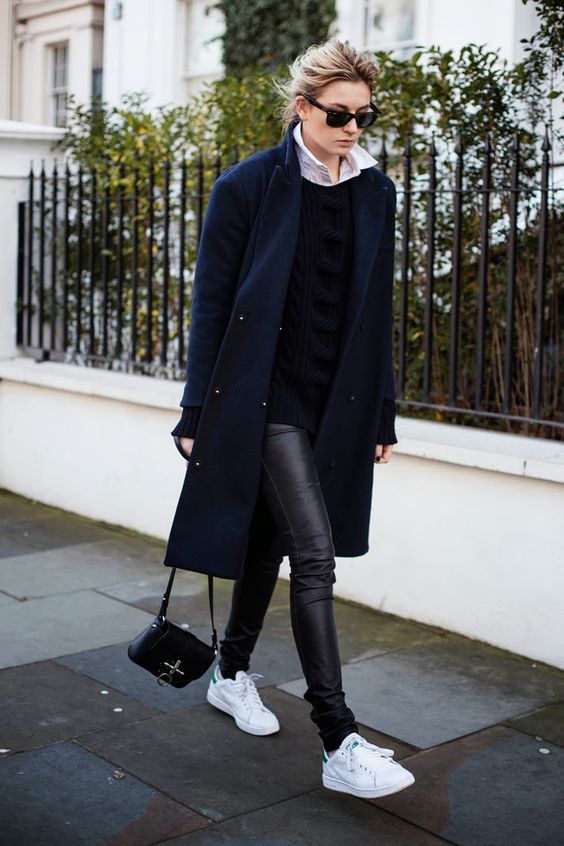 Blue Outfit and White Shoes
It is pretty for girls who have straight hair to wear polka dot top and blue jeans.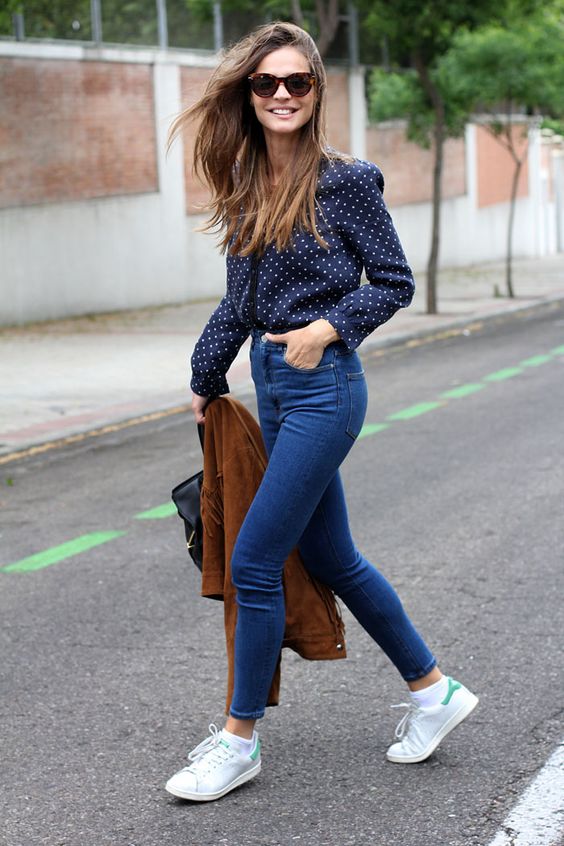 Boyfriend Jeans and White Shoes
Take your oversized sweater and boyfriend rolled jeans out! Pair the lazy look with a pair of white shoes.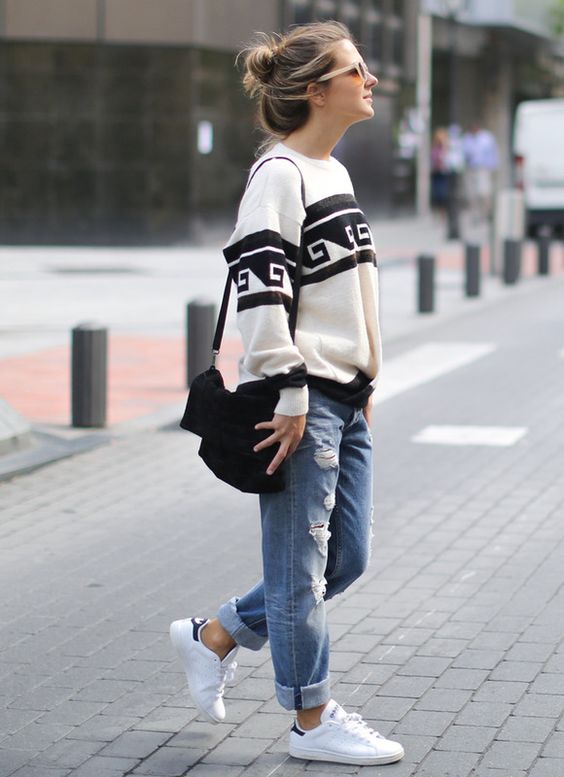 Black and White Outfit
What is the easiest way to make a casual look? You can simply wear a white top, a jacket, black jeans and a pair of cozy shoes.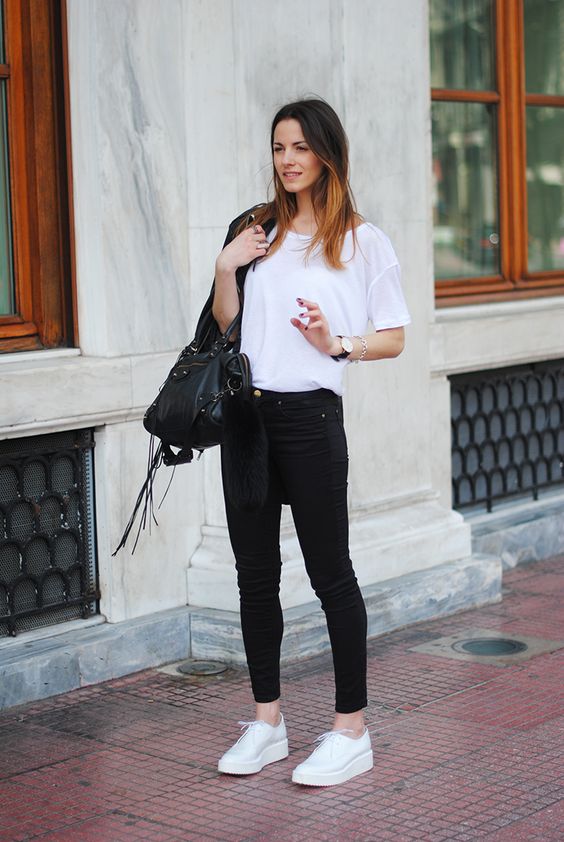 Stripy Top and Jeans
You can enjoy the warm sun in such a breezy outfit.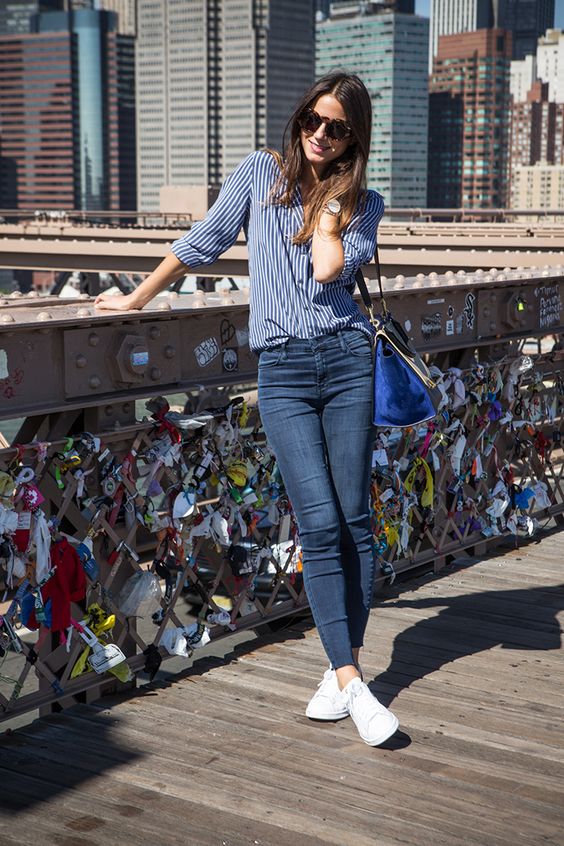 Black Outfit and White Shoes
She gets her look in black, but she cleverly chooses a pair of white shoes to pop the color up.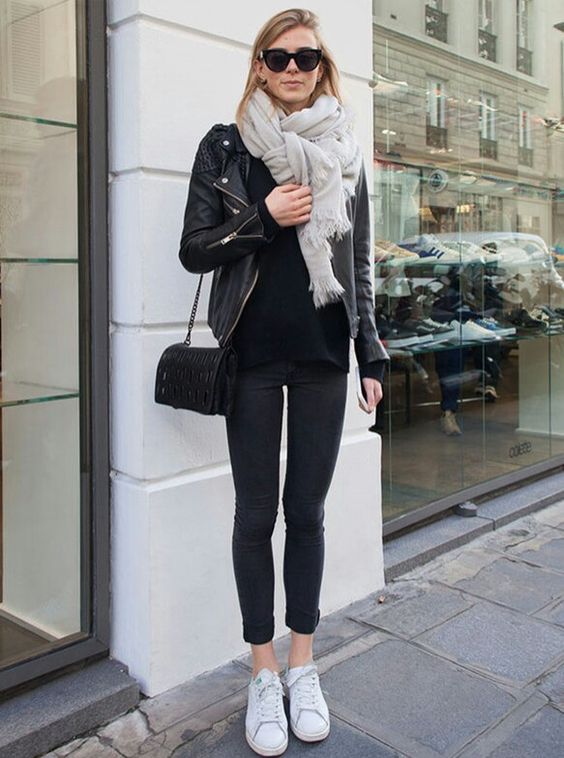 Pastel Coat and White Shoes
If you have a pastel coat, you can pair it with a pair of white shoes as well.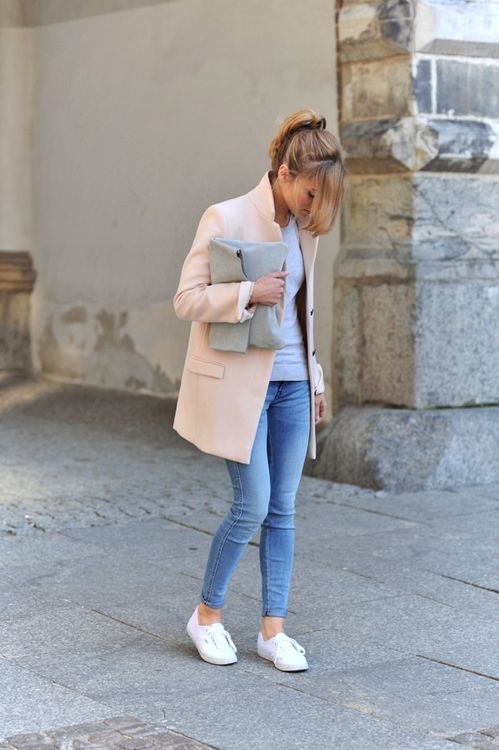 Crop Top, Pale Jeans and White Shoes
Do you miss your crop tops? Pull them out and wear them in a warm day. Don't forget to pair the outfit with an oversized coat and a pair of white shoes.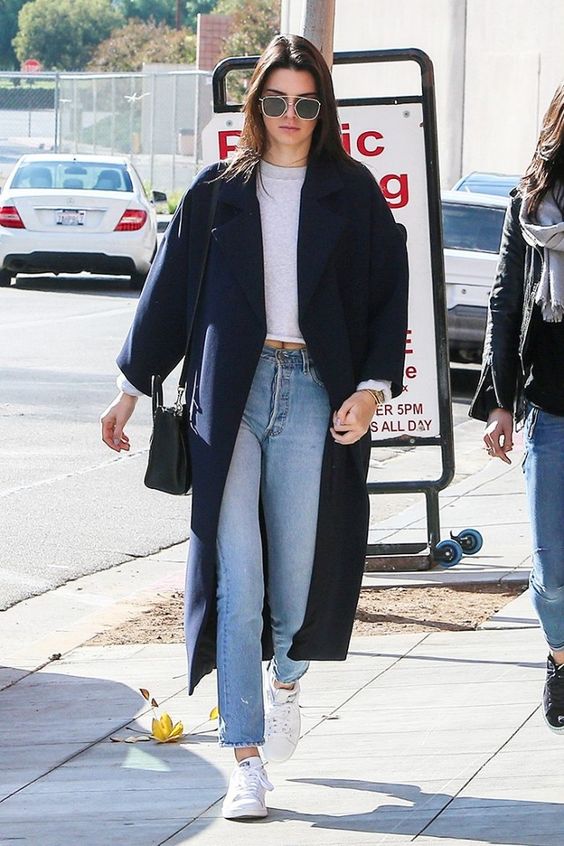 Black Dress and White Shoes
If you always go with black and white, you can try this easy outfit for next even.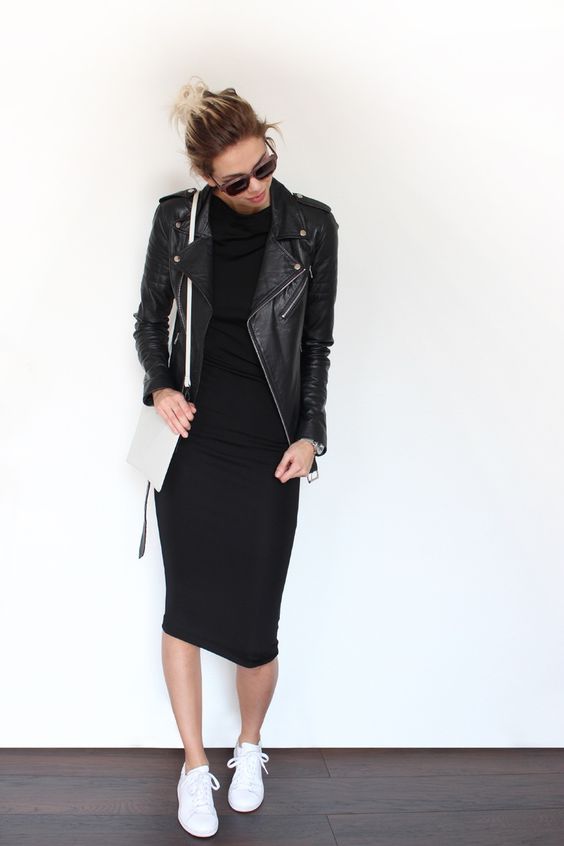 Oversized Sweater and White Shoes
Combining grey with white can be perfect sometimes.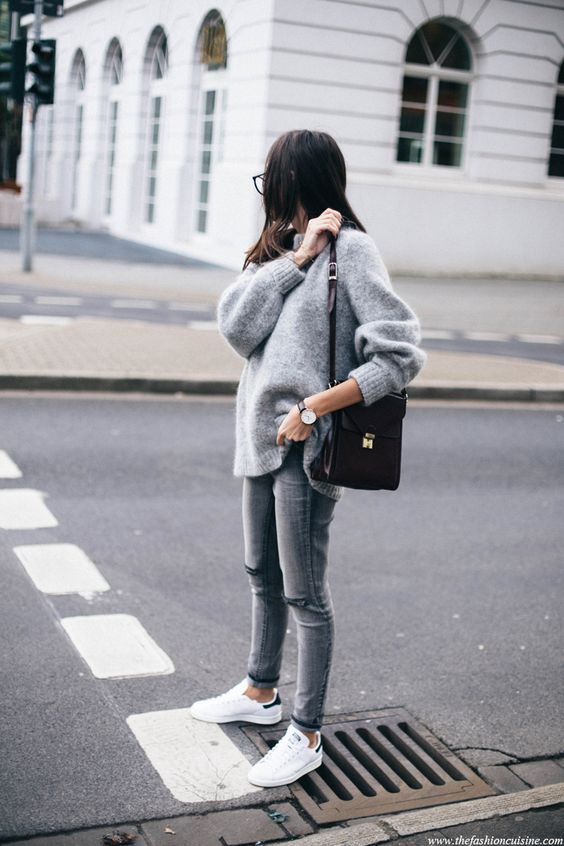 Spring Casual Outfit
It is chic to glam the look for weekend.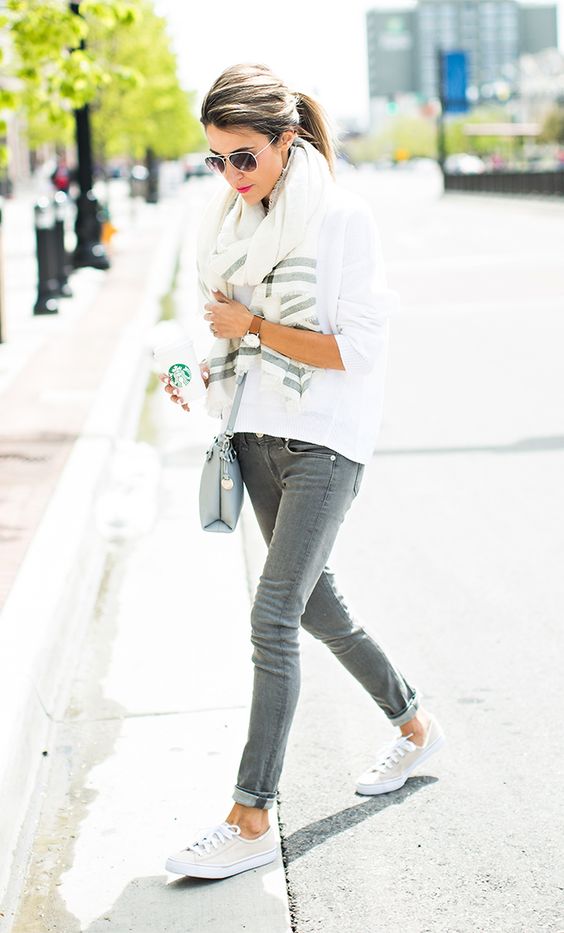 Jessica Alba White Dress and White Sneakers
Jessica Alba shows her white sneaker look prettily. She wears an army jacket over her white dress and she looks casual.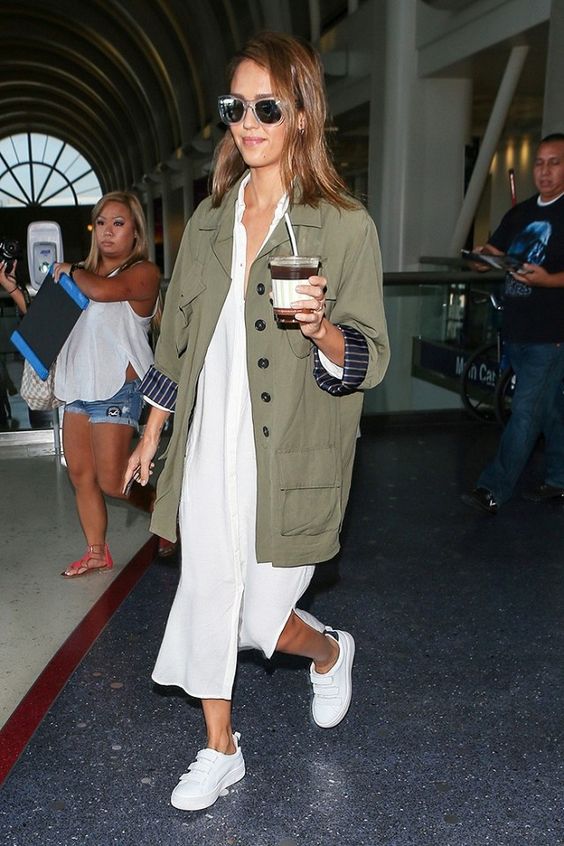 Grey Outfit and White Sneakers
You can try the look for your work outfit.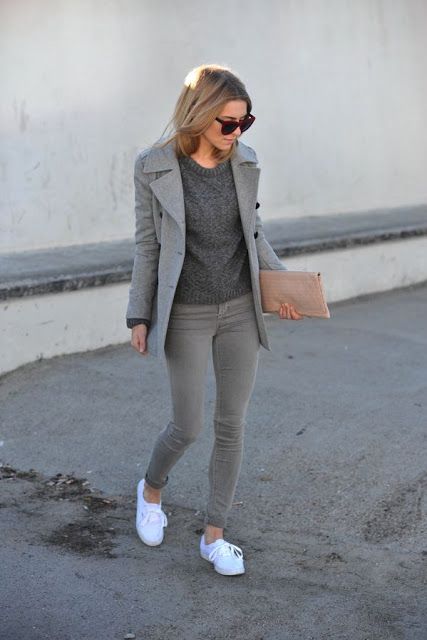 Camel Coat and White Shoes
When you go out with a camel coat and a pair of white shoes, don't forget to take a plaid scarf.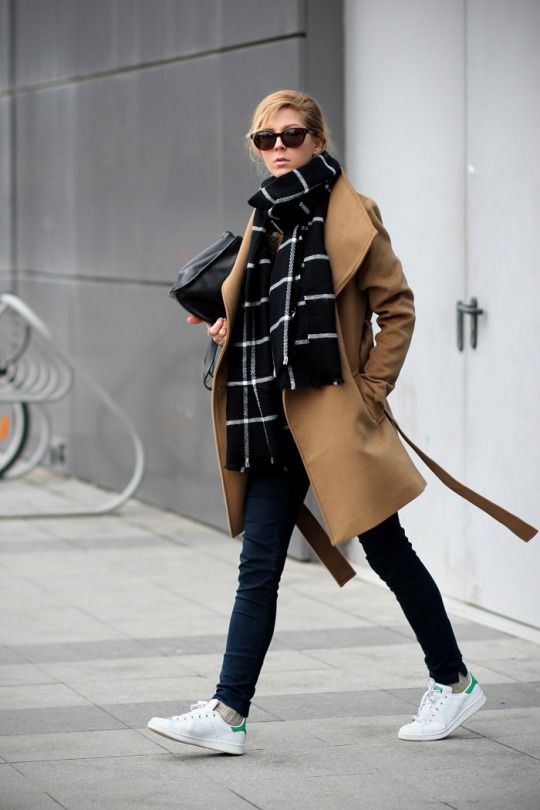 Gigi Hadid White Sneakers
Gigi Hadid shows her flight look with a pair of white sneakers again.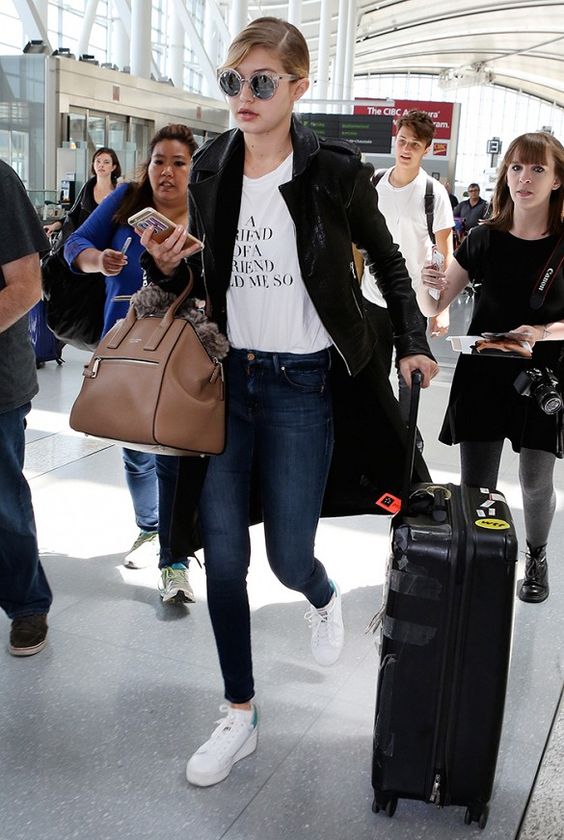 Pencil Midi Skirt and White Shoes
The outfit looks sporty as well as chic.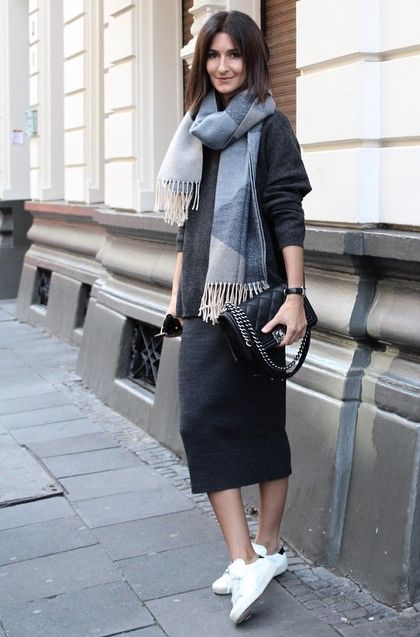 Varsity Jacket and White Shoes
If you are a Varsity jacket lover, you will not miss the style. You can glam a Varsity jacket over a white top and black jeans. What's important is to step on your white shoes.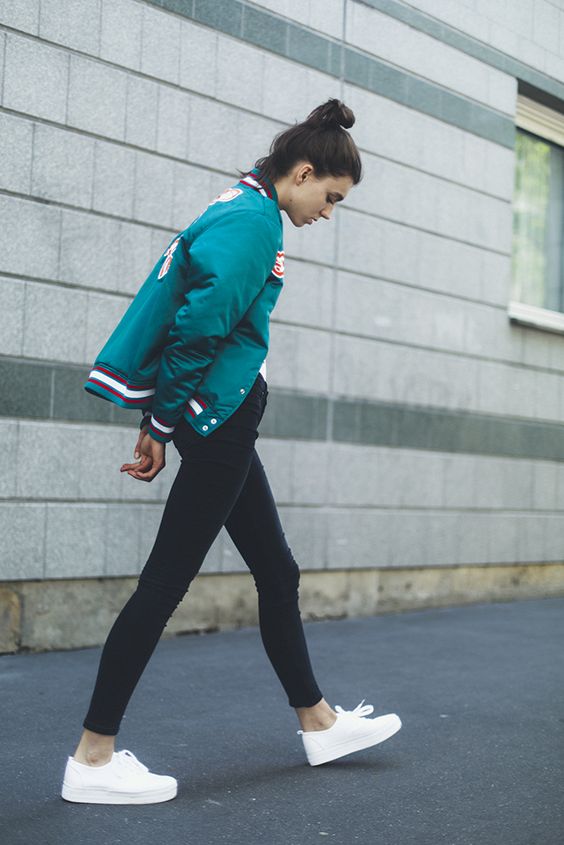 Denim Top and White Shoes
Denim jackets and white shoes can be great combination for your spring look.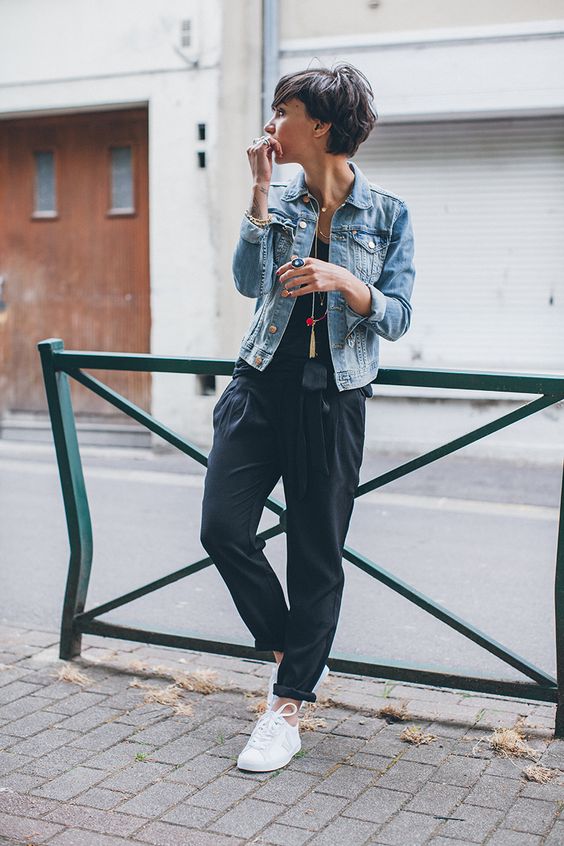 Simple Outfit and White Sneakers
The simpler, the prettier. You can just pair your staples with a pair of white shoe to get a pretty look.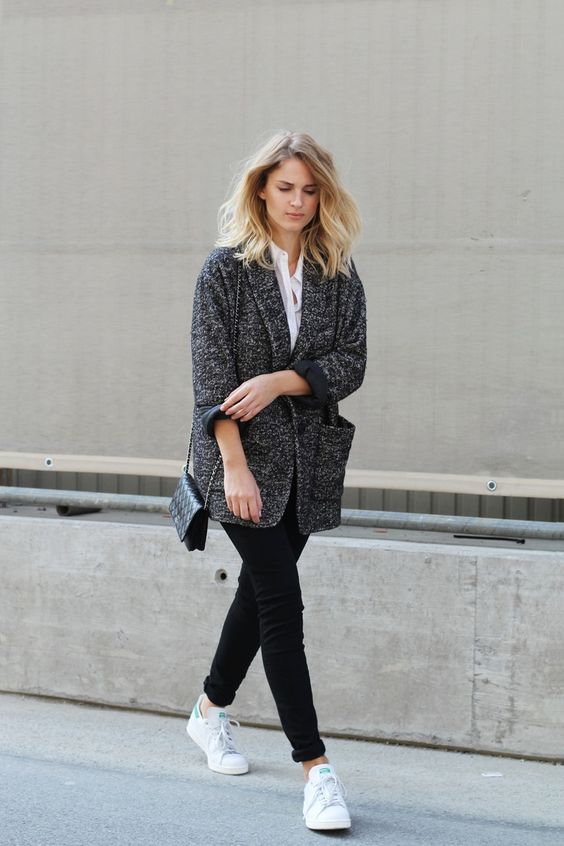 White sneakers are an embodiment of minimalistic elegance, unparalleled versatility, and comfort. By blending them into various outfits, you're not just making a style statement, but also embracing a lifestyle that values comfort as much as fashion. So, lace up those white sneakers, stride in confidence, and let the world be your runway!