26 Glamorous Pinned Up Hairstyles for Women
The vintage styled pin-up hairstyle is idea to create a super charming look for women. It can work greatly on medium length hair to very long hair. As we all know, the rolled up fringe is a great way to show off our best facial features among all kinds of stylish bangs. You can also wear some pretty hair accessories to give added glamour factors to the whole look. Today, let's take a look at 26 glamorous pinned up hairstyles for women in this post and hope you'll be inspired!
Simple Ponytail with a Bouffant Top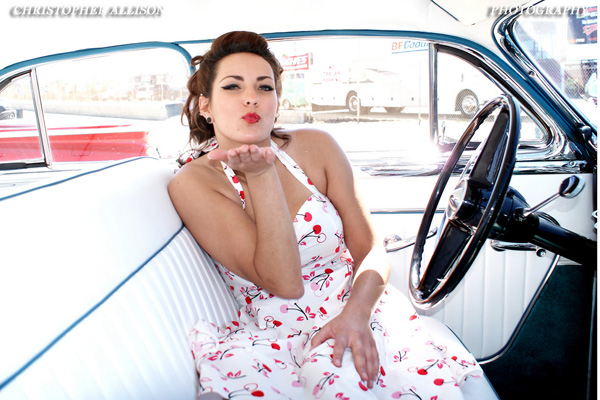 It is an effective way to style your simple ponytail with a vintage styled bouffant top at the front for more glamour factors.
Shoulder Length Platinum Blond Hair
Shoulder Length Platinum Blond Hair via
The pin-up hairstyle would show more interesting with the platinum blond hair and lighter skin tone.
Short Bob Haircut for Thick Hair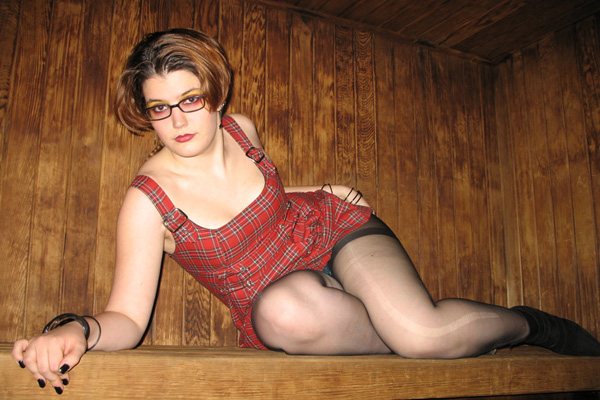 Here's a very impressive way to pull off a short bob haircut for girls who are born with thick, fine hair.
Rolled Updo with Bandana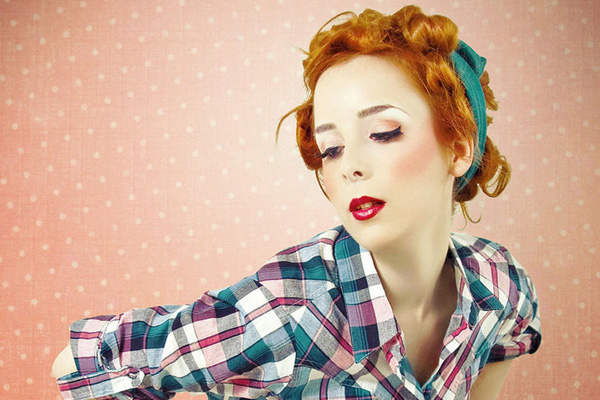 This pinned up hairstyle looks very cute and pretty with a thick bandana across the head.
Retro Styled Updo for Pinned Up Hairstyles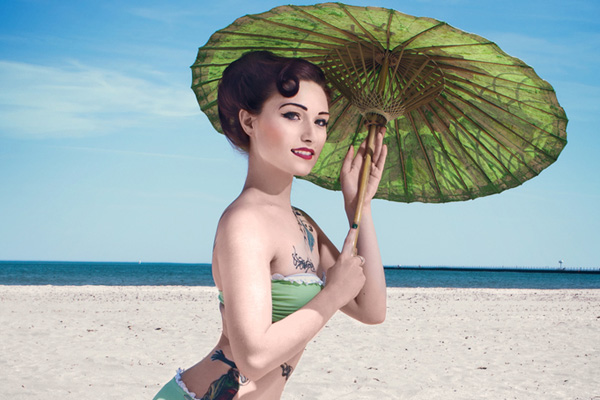 The sleek pin-up hairstyle would show you a strong touch of classic sense for any hair type.
Retro Long Wavy Hairstyle with Bangs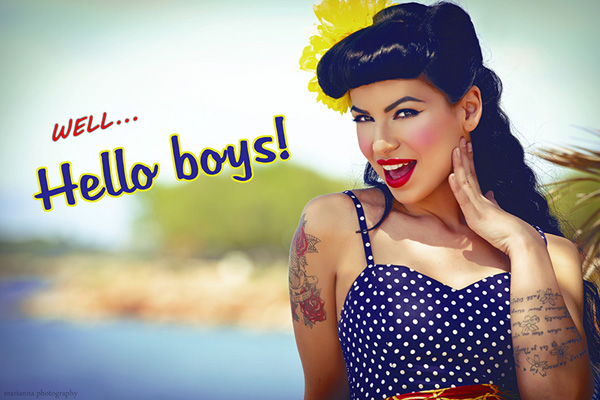 This glamorous pin up hairstyle with bangs is certain to make you become the center of attention in the crowd.
Pin-Up Half Up Hairstyle
The vintage styled bouffant top can bring a lot of charm to one's hairstyle.
Pinned Updo for Medium Hair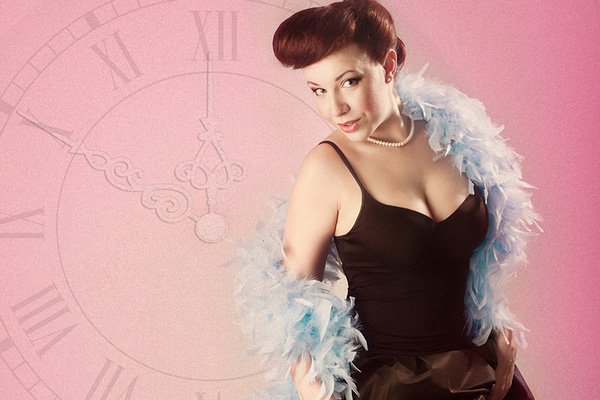 There's no doubt that the slicked-back pinup hairstyle is ideal to create a very feminine and mature look for aged women.
Pinned Up Hairstyle for Blond Hair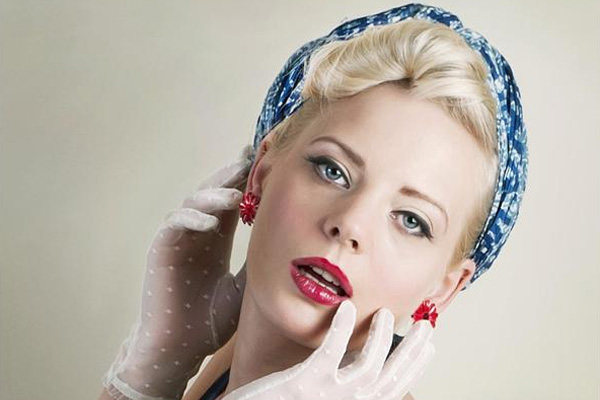 The light blond hair looks very charming with a print scarf wrapped around the face.
Soft Curls for Mid-length Hair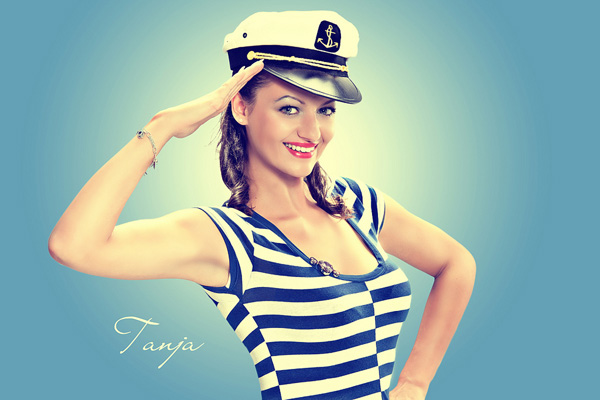 It would be a flattering way to style your medium length hair with soft pinned up curls.
Messy Updo with Bandana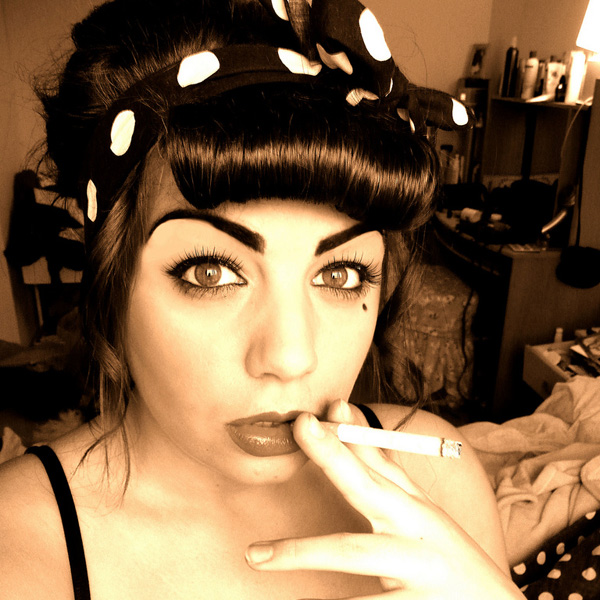 It looks super cute and lovely to wear a black and white polka dot bandana for your vintage styled pin-up hairstyle.
Medium Curly Wavy Hairstyle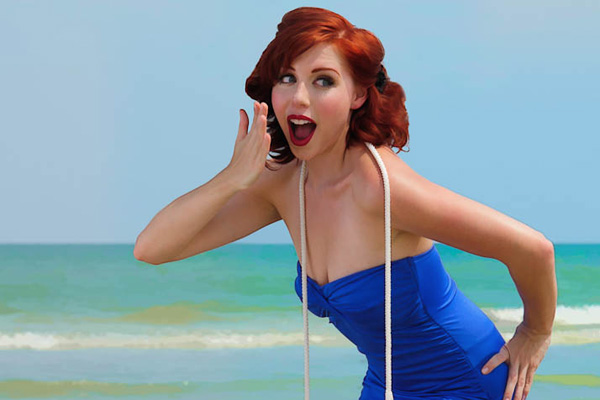 The romantic medium curly wavy haircut is ideal to create a carefree and relaxed holiday look for pretty girls.
Medium Curly Wavy Hair for Women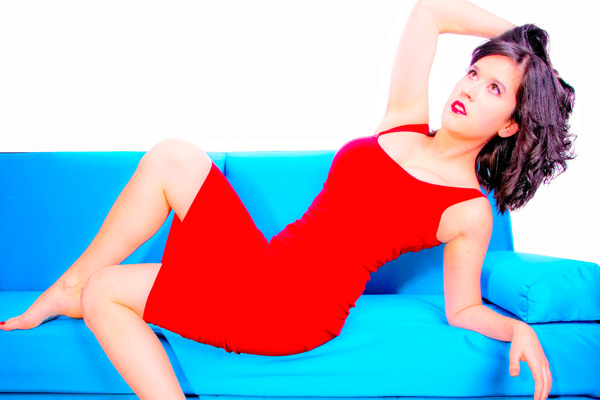 This medium curly wavy haircut matches with the sexy red dress in a perfect way.
Long Wavy Blond Hairstyle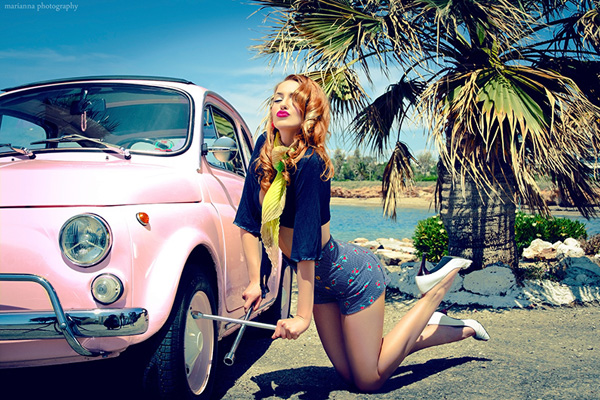 The big Hollywood waves make a very glamorous look for this long brown hair.
Long Layered Straight Hairstyle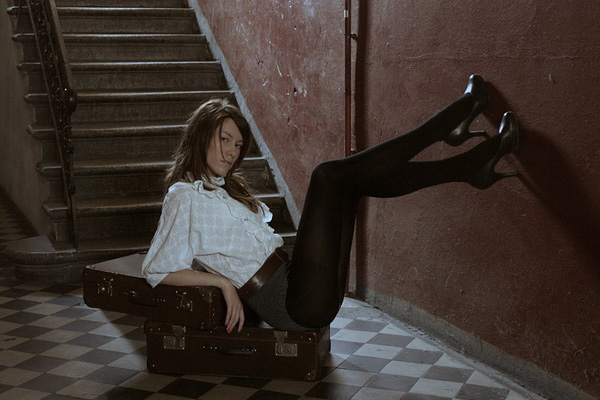 It will look very casual-chic to wear a long layered hair cut for your everyday hairstyle.
Black Wavy Hair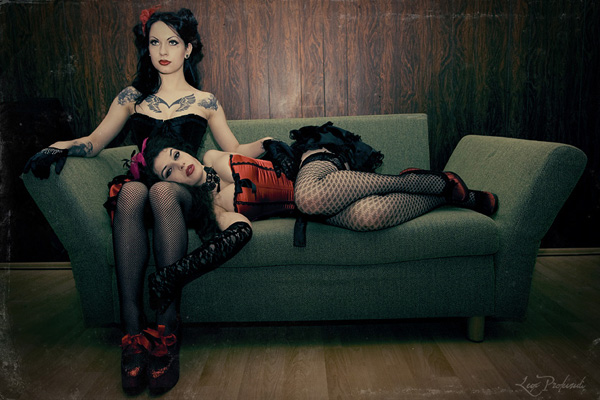 It looks magic to have two look-alike beauties there for our great picture.
Long Red Wavy Hairstyle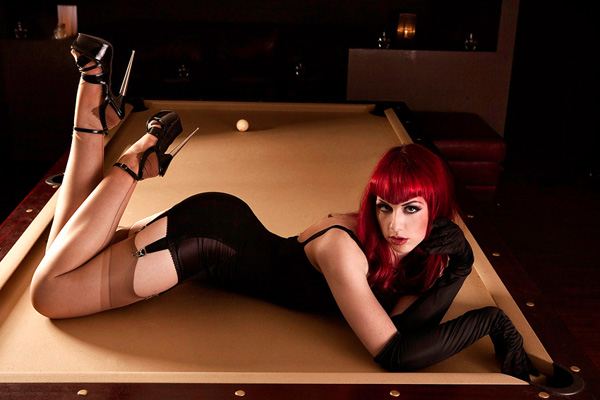 The glamorous long wavy hairstyle looks really amazing on this smashing red colored hair.
Classic Updo with Blunt Bangs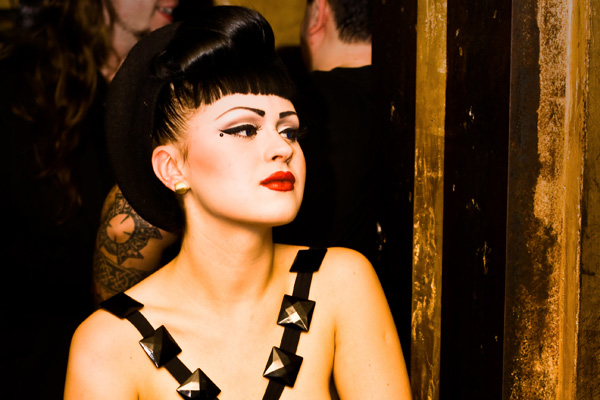 This Indian-inspired pin-up hairstyle with full bangs makes this woman look like a true beauty with the deep red lips.
Blond Curly Hair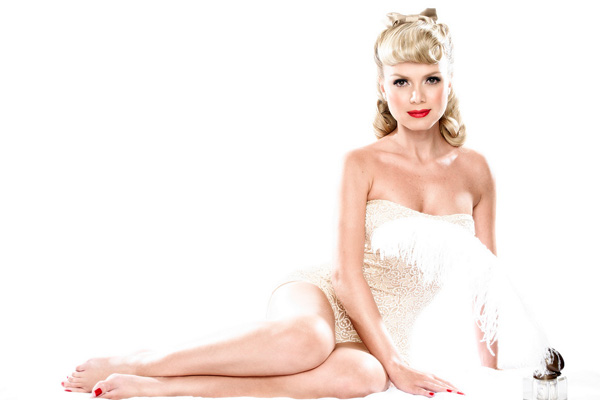 This sweet baby doll-like girl owns very charming blond hair and hot red lips.
Long Curly Brunette Hair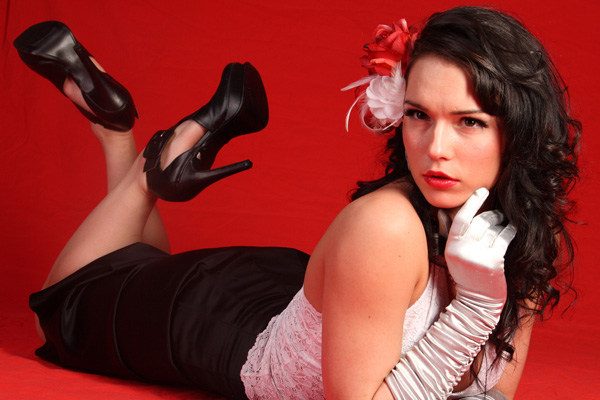 This glamorous long curly hairstyle shows very sexy with red and white flowers pinned up at one side.
Long Brown Hair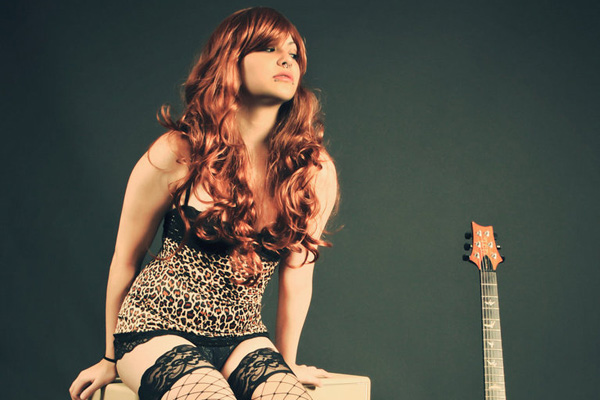 It looks stunning and overwhelming to create a glamorous pin-up hairstyle on reddish copper hair.
Long Black Hair with Green Highlights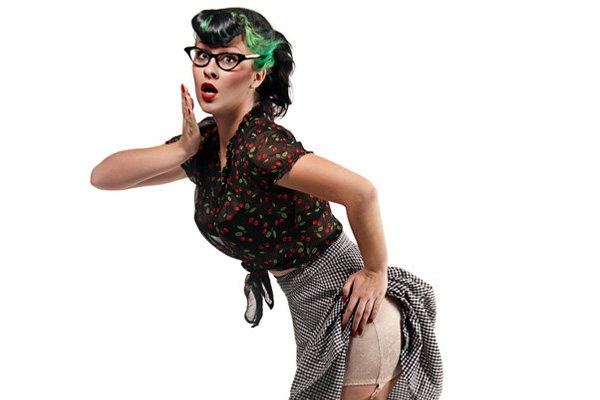 This stylish pin up hairstyle is great for those girls who are having mid-length hair and want to create a clean and neat look.
High Ponytail with Bandana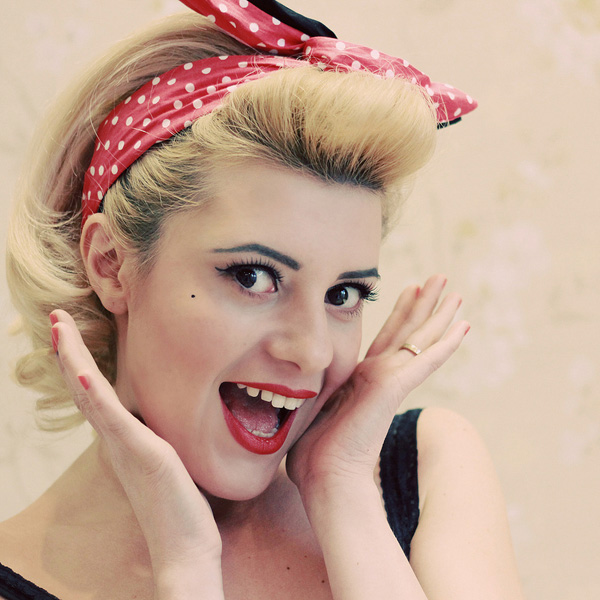 This pinned up hairstyle created on light blond hair makes a Barbie doll-like look with a pinkish bandana.
Half Updo Hairstyle for Orange Hair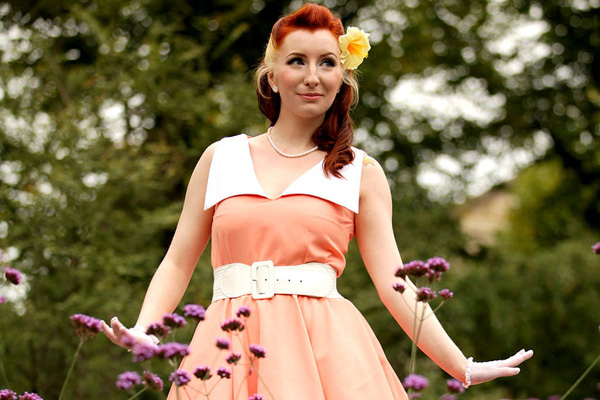 The orange colored half up hairdo gives a fantastic and warm look to this beautiful woman.
Glamorous Long Wavy Hairstyle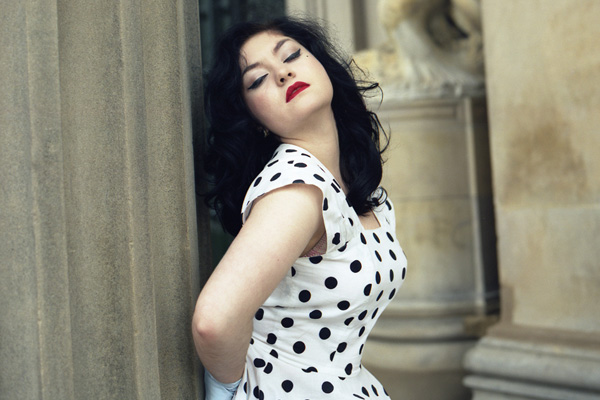 The vintage pin-up hairstyle looks way too gorgeous on dark-colored hair for all women.
You can find more (pinned up hairstyles) on prettydesigns.com