26 Super Cool Hairstyles for Short Hair
If you want to look edge than cute this season, we've got plenty of cool short hairstyles in this post for your choice. As we all know, choppy layers will be able to give more lightness and lift to our hair look. They are being a great choice to create an unconventional style for short hair. Besides, the new cutting and coloring techniques can also add a totally different definition to the short hairstyle. Follow us with 26 super cool hairstyles for short hair and find more inspirations here!
Blonde Spikey Pixie Haircut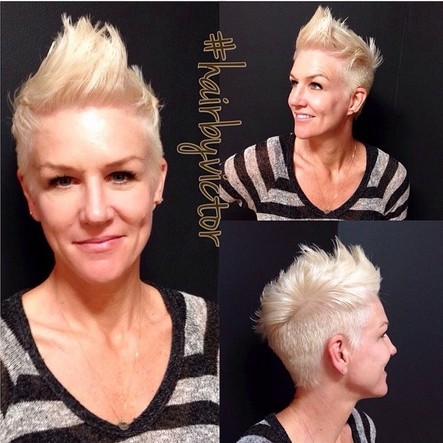 The short spikey haircut looks extremely funky on light blond hair. Tease the long top layers for added height into the hairstyle.
Edgy-Chic Short Spikey Hairstyle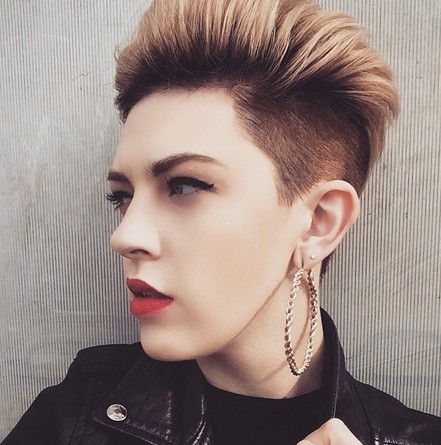 The short spikey hairstyle will be greatly enhanced by the blond ombre color. The warm gold-blond shade can be a great choice.
Long Pixie Haircut for Red Hair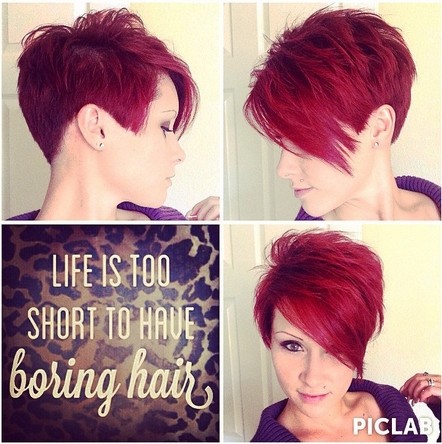 The long pixie haircut looks extremely alluring on smashing red hair. The whole look will be greatly enhanced by the stylish long side bangs.
Messy Short Spikey Haircut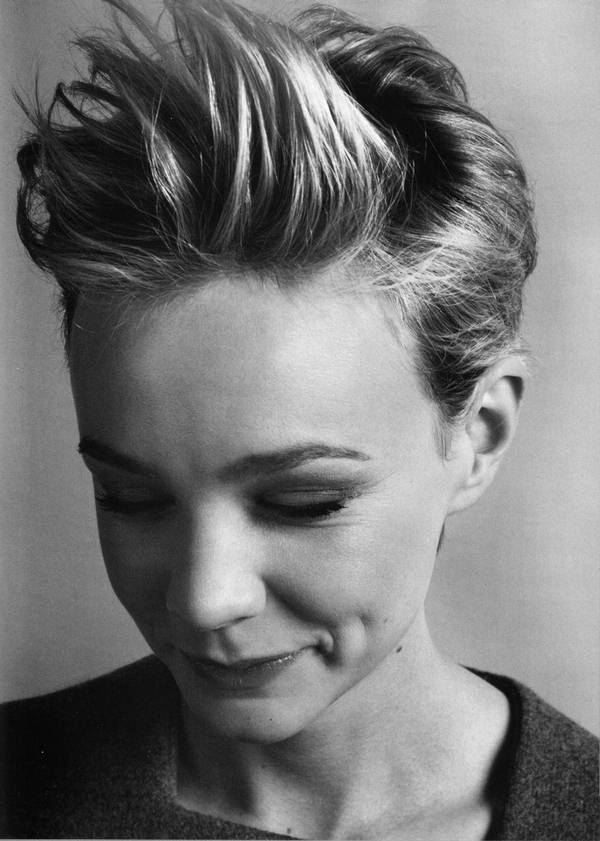 Short hairstyle will always have a main part in the trends for women. If you don't believe this, just check out what celebrities wear for their glamorous red carpet look.
Casual Spikey Hairstyle for Very Short Hair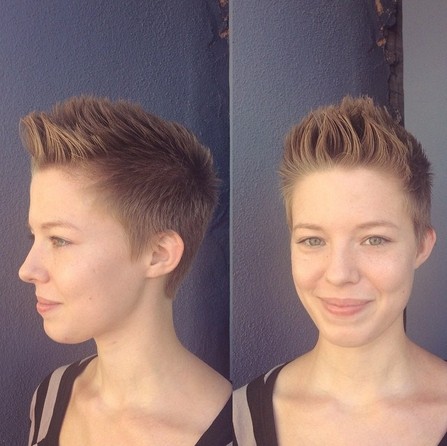 It looks very casual-chic to wear a very short haircut on light brown hair. You can adjust the length of top layers depending on your own face structure.
Platinum Pixie Haircut for Fine Hair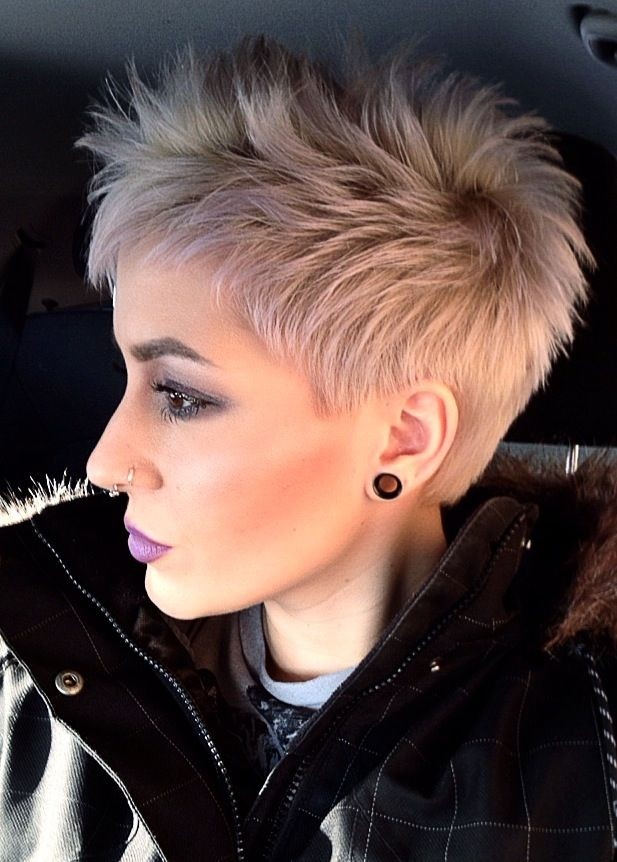 It looks ultra-cool and chic to have a short choppy haircut on blond hair. Style it with subtle bangs and hairspray for added shine and hold.
Short Blond Hair for Everyday Hairstyles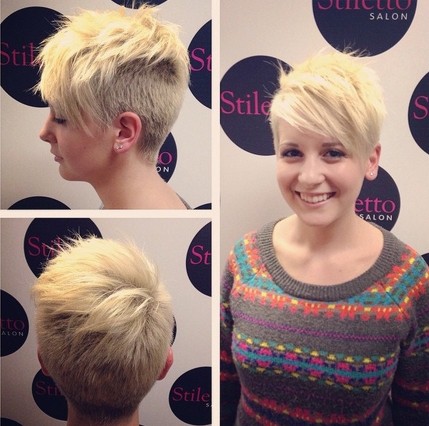 The short hair will look very chic and pretty for young girls. It is being a best choice for you to make a difference with your long hairstyle this summer.
Short Layered Pixie Hairstyle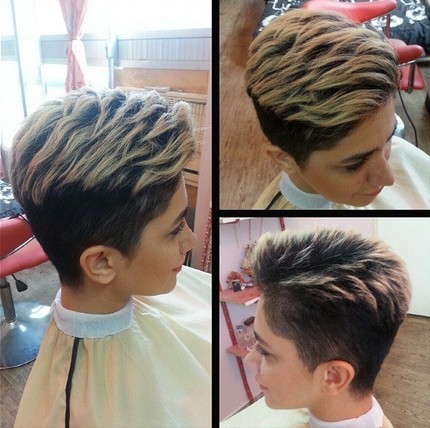 It is a trendy way to add blond highlights to a short layered haircut. You will have a wide range of blond shades to choose nowadays.
Short Ombre Hair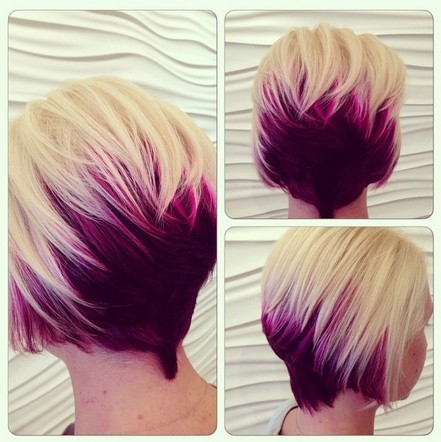 The short bob hairstyle looks really amazing with purple colored ends. The whole effect is greatly enhanced by the graduate length.
Short Ombre Hair Idea for Women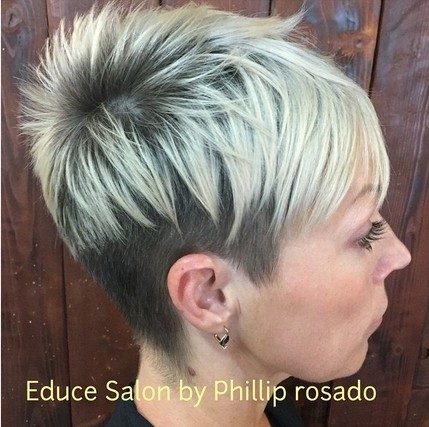 The platinum blond highlights will  create a dramatic look for a short haircut. Style it with heavily tapered cut ends for more lightness to your hair look.
Short Pixie Haircut with Long Side Bangs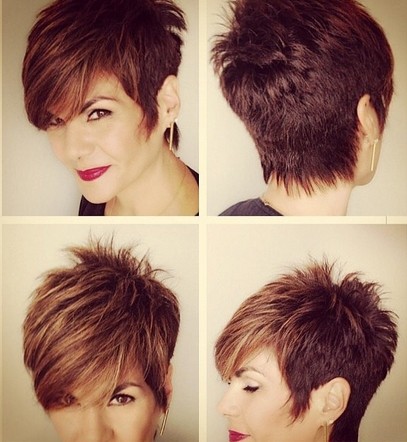 The short pixie haircut will look more impressive with chopped cut ends. It can be tapered to suit any face shape.
Short Shaved Haircuts for Blond Hair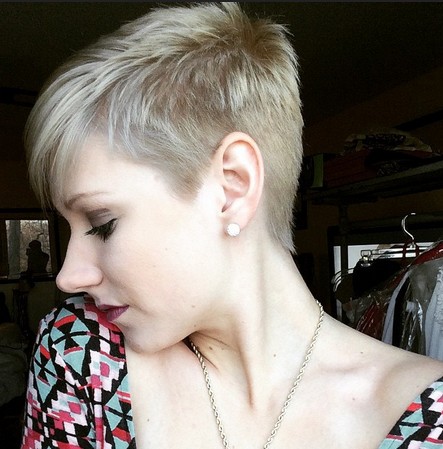 It looks excellent to have a shaggy hair cut for very short hair. This is also being a best way to get rid of the boring thickness to achieve a clean and neat style.
Short Shaved Hairstyle with Side Bangs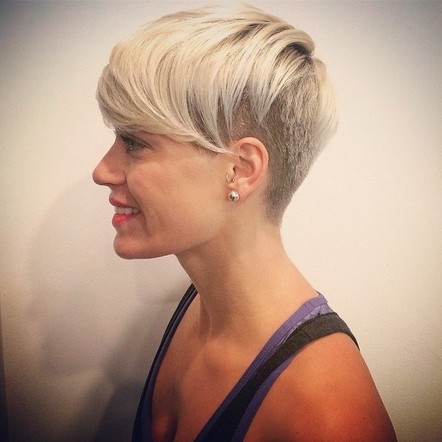 Side bangs are a best way to enhance the very feminine and mature sense for a very short haircut. This hairstyle can also expose the smooth neckline greatly for girls.
Short Spikey Haircut for Women Over 50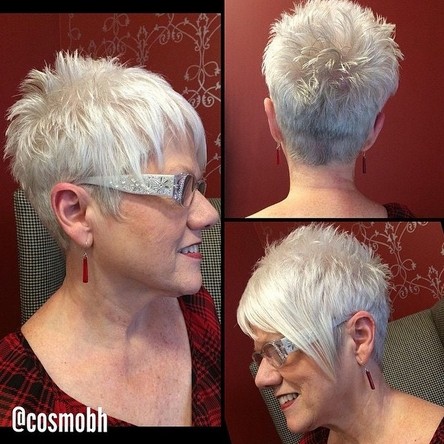 The short spikey hairstyle will create a much younger look for aged women. Keep long side bangs for subtle feminine feel to the final style.
Short Spikey Hairstyle for Long Face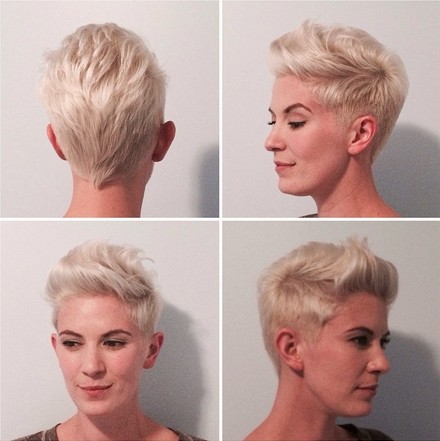 A deep side parting is being an effective way to shorten a long face. You can also keep side swept bangs to create added width around the cheekbones.
Short Spikey Hairstyle for Round Face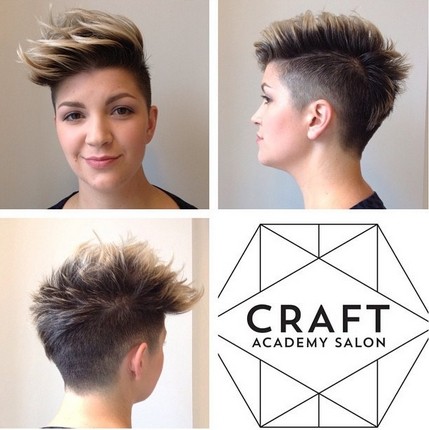 The wind-swept top will be able to create added height to your hairstyle. It is also being a great choice to balance out a round face.
Short Spikey Hairstyle for Thick Hair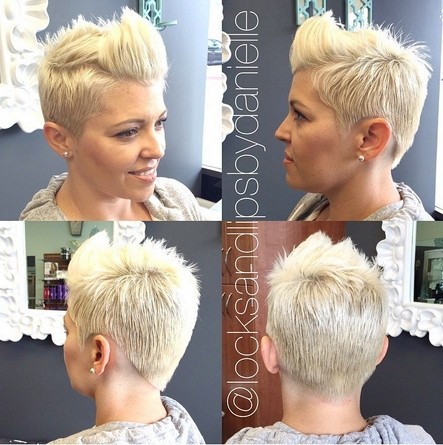 The short hairstyle will look very formal if cut with regular trims. So it can be worn for both formal and informal occasions.
Short Spikey Hairstyle Idea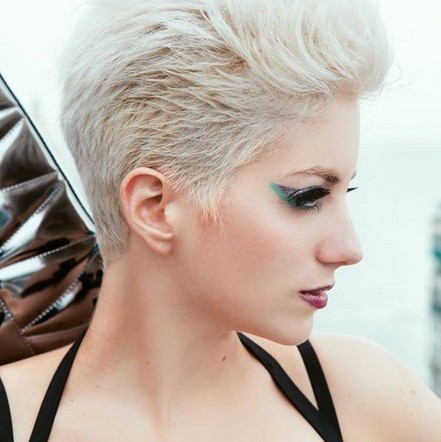 Short spikey hairstyles can work perfectly for all face shapes. Your stylist will help you to create an ideal oval-shape for your face.
Short Spikey Hairstyle with Undercut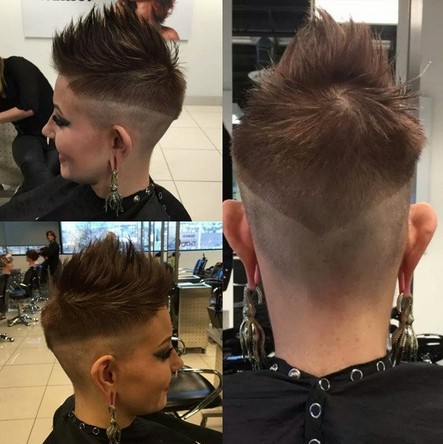 There are endless ways to create a short spikey hairstyle for girls. This time, you can shaved all your hair at the bottom to create a totally ingenious look.
Short Spikey Hairstyle for Blond Ombre Hair
Some blond highlights will be able to bring your hairstyle up to the date. You can place them casually depending on your own preference.
Spikey Ombre Short Hairstyle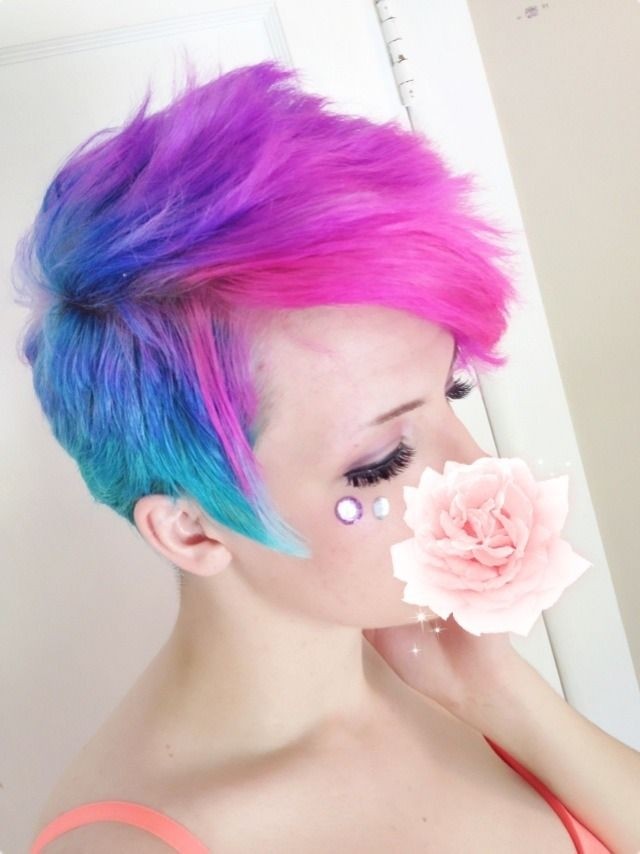 A spot of bright color will be able redefine the short hair with more charm. It is a good idea to wear the rainbow colors for hot summer days.
Spikey Short Pixie Haircut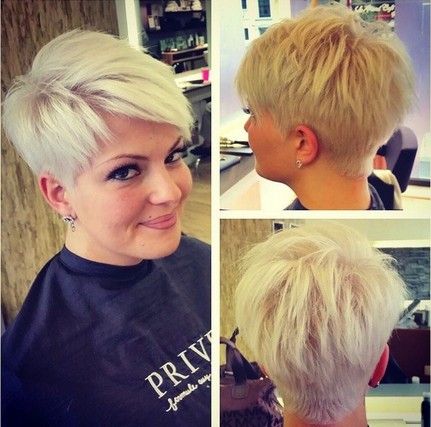 The short layered hairstyle is very easy to style in the morning for average girls, which make it an ideal option for our everyday hairstyles.
Stylish Short Haircut for Women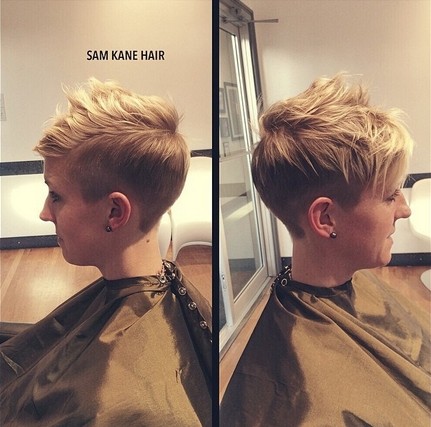 The short spikey hairstyle still looks fantastic in a messy shape. You can apply some styling products with your hands during the process.
Stylish Short Pixie Haircut for Women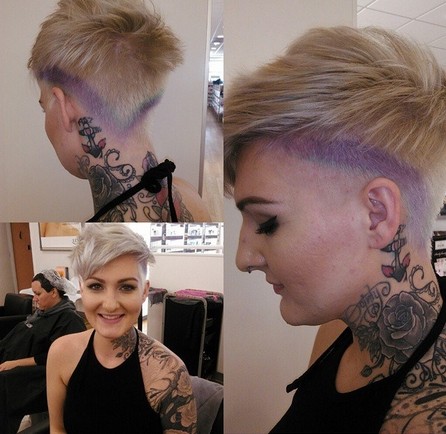 The short spikey hairstyle is ideal for those girls who want to make a bold statement with their hair. It will definitely earn plenty of head turns on street.
Trendy Short Curly Hairstyle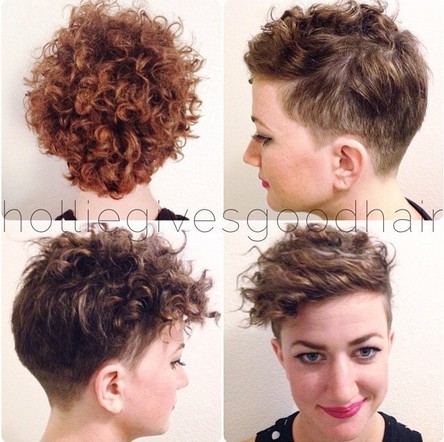 Curls would make the short hairstyle look more interesting and fun. It is also being a perfect choice for girls who are born with natural curly hair.
You can find more (hairstyles for short hair) on prettydesigns.com