30 Miley Cyrus Hairstyles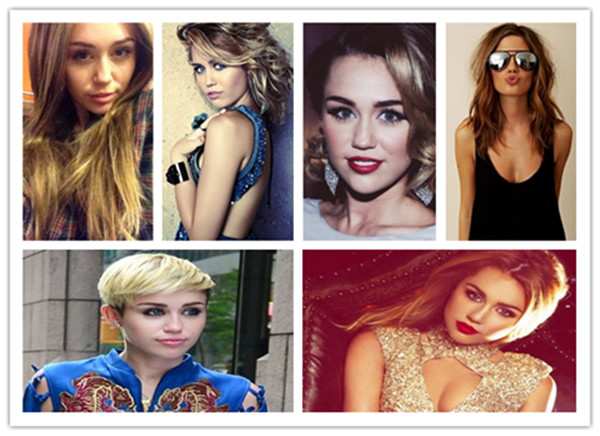 In recent years, the pop star Miley Cyrus has changed a lot on her hairstyles. From beachy waves to ponytails, from long hairstyles to short haircut, Miley is always gorgeous.
Although Miley is now always wearing a short haircut, it doesn't hinder our love for her previous hairstyles. Do you still remember Miley with pretty long hair?
This time, we will wake up our memory about Miley's most impressive hairstyles that she has ever rocked. At the end of the article, we will see the pictures of Miley with the familiar short haircuts.
 Miley Cyrus Hairstyles: Side-swept Waves
Miley is gorgeous with the blonde curls. Darker shades on the crown contrast fiercely with the blonde curls, making them more splendid.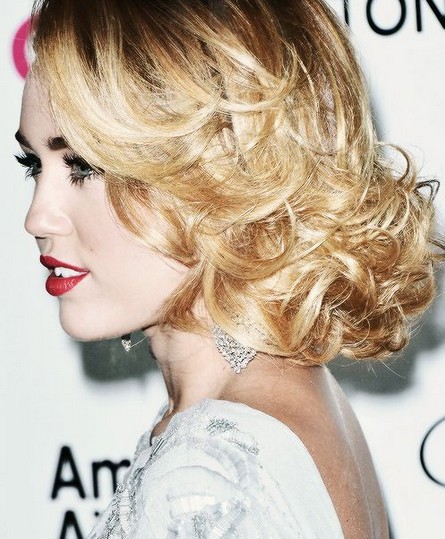 Miley Cyrus Hairstyles: Silky Straight Haircut
Miley wears her silky brunette locks in a straight haircut. The center-parting and the slightly opened fringe make her face prettier. Her shiny long locks are really alluring.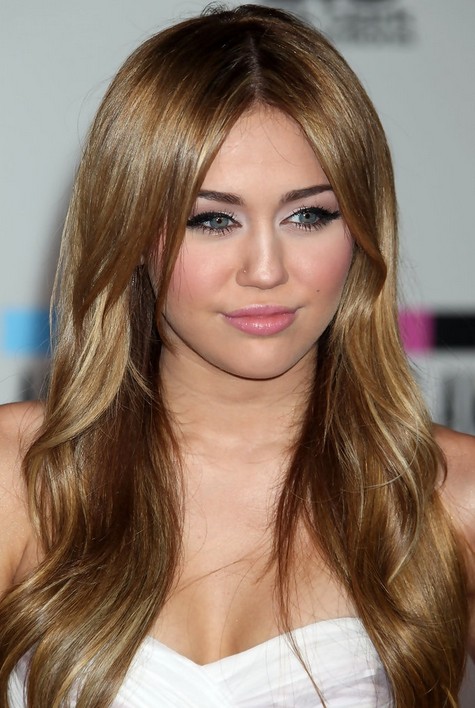 Miley Cyrus Hairstyles: Handsome Short Haircut
This short straight haircut makes Miley so cool and the side-parted hairstyle softens the overall look and makes it suitable for women. We will see more pictures of Miley's short haircut later.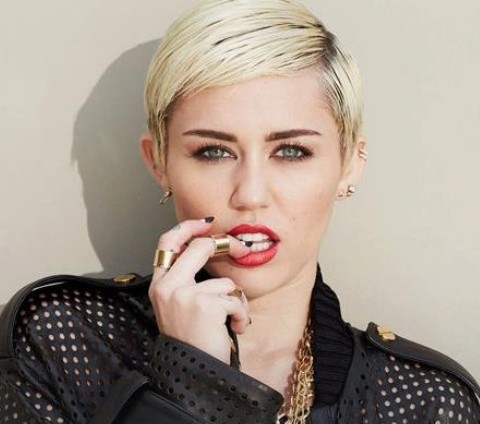 Miley Cyrus Hairstyles: Sweet Waves
Miley shows off her beautiful brown locks with these long curls. She is sweet with this haircut. She parts the hair slightly from the side and lets the bangs hang along the face so that they can moderate the face shapes.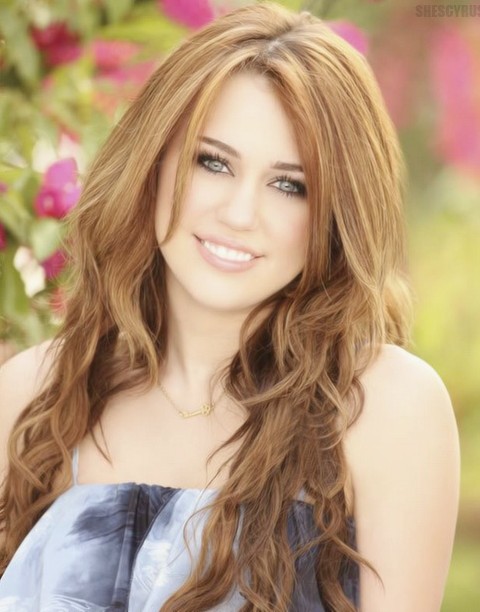 Miley Cyrus Hairstyles: Gorgeous Curls
The medium curls make a woman mature. Take a look at Miley in this picture. The deep side-parting, the intensive curls and the golden highlights make contribution to the finial exquisite look.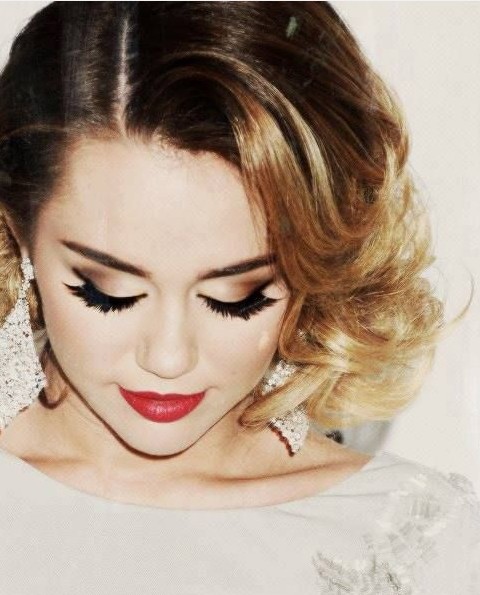 Miley Cyrus Hairstyles: Vivacious Waves
Miley looks sweet with her long curls. The center-parted hairstyle can modify the face shapes. Therefore, young women can all opt for this pretty and stylish hairstyle.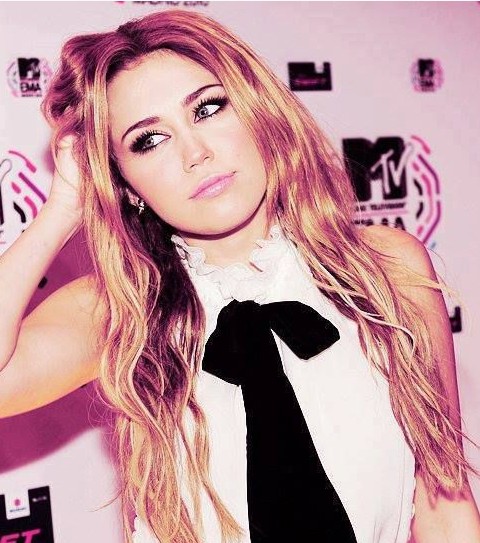 Miley Cyrus Hairstyles: Side-swept Curls
These side-swept long curls are classy and unique. The hair color becomes darker and darker from ends to the roots. And the tapered locks are skillfully twisted. If you wear this hairstyle, you must be stunning.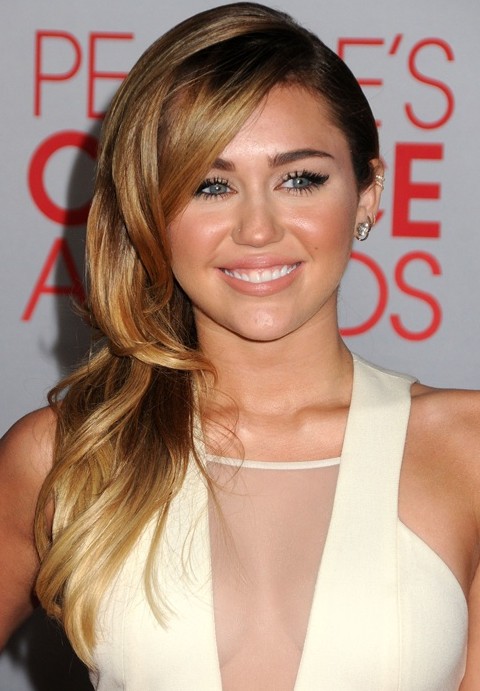 Miley Cyrus Hairstyles: Stylish Long Curls
Miley rocks a head of chocolate curls, and she is so pretty with the long curls. The messy look is still trendy nowadays and it can make the face look soft and small. If you want to go for a casual-chic look, try this hairstyle.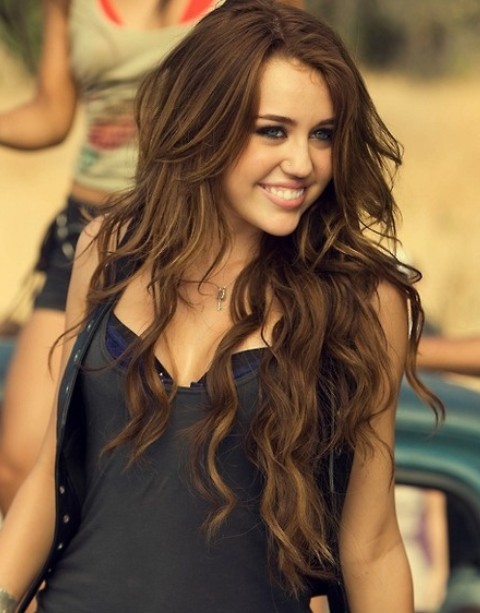 Miley Cyrus Hairstyles: Ombre Medium Waves
With a side-parted medium curls, Miley Cyrus looks refreshed and sunny. The ombre hairstyle makes the look outstanding. Any occasion is suited for this fabulous haircut.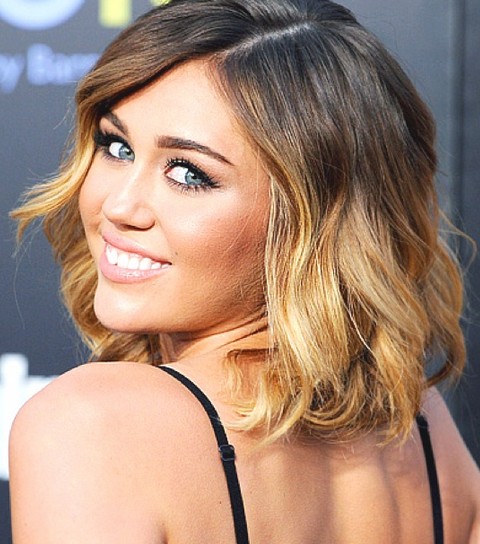 Miley Cyrus Hairstyles: Brunette Long Curls
Miley looks adorable and trendy with these long curls! This center-parted hairstyle works well to frame the faces and younger women will be fabulous with this pretty hairstyle.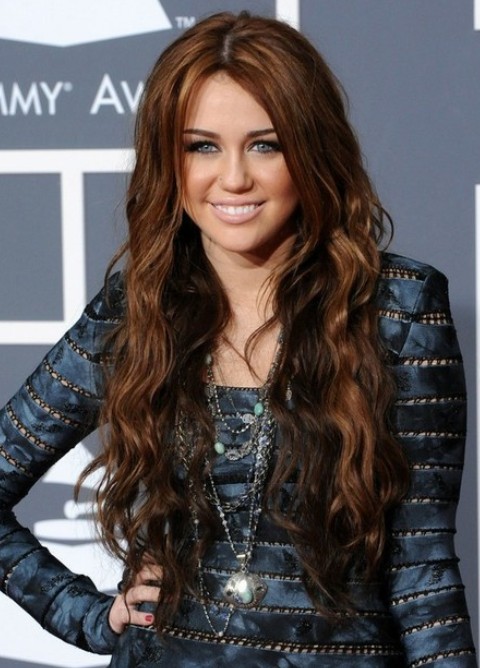 Miley Cyrus Hairstyles: Twiggy Curls
Miley shows off her beautiful golden hair with these voluminous twiggy curls. Some beige highlights have been added to the hair, which makes the whole look full of life and freshness.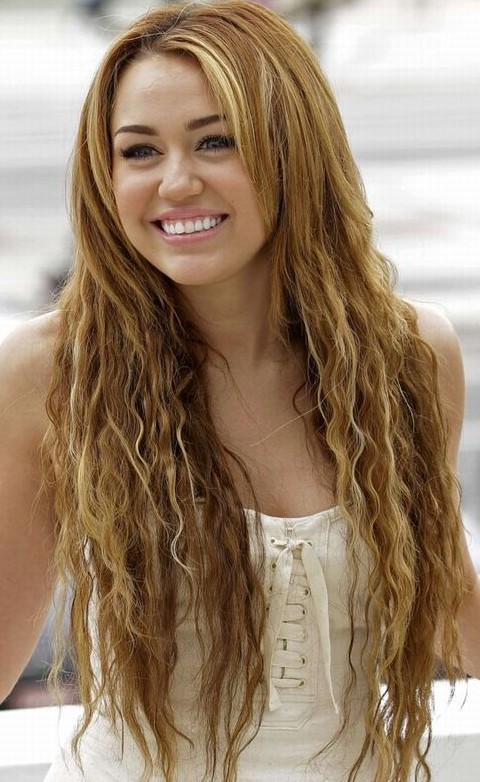 Miley Cyrus Hairstyles: Blonde Curls
Miley goes for a fairy look with these ombre long curls. The locks have been tousled casually to create a shaggy and fluffy look. It is really a gorgeous hairstyle for women and you can even choose this one for a wedding hairstyle.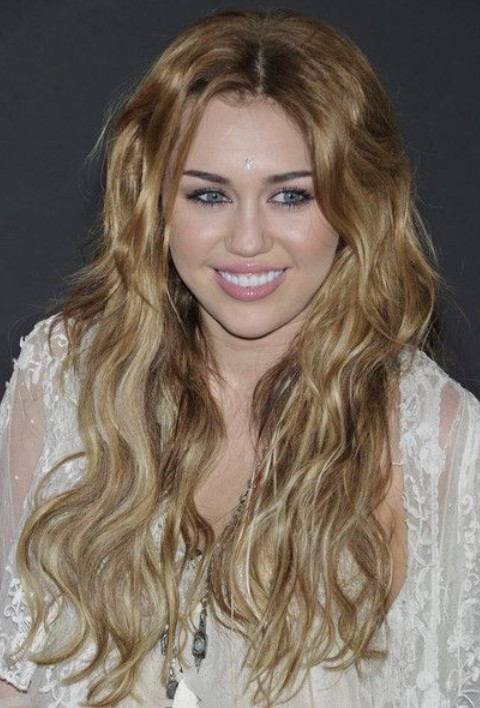 Miley Cyrus Hairstyles: Messy Updo
Miley looks elegant and voguish with this messy updo! The thick bangs parted in the front and loose strands have been pinned back to create a casual yet fashionable look.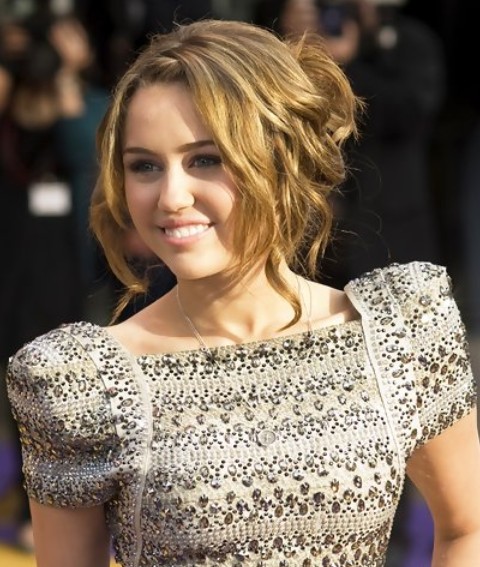 Miley Cyrus Hairstyles: Ombre Ponytail
Miley is gorgeous with this straight ponytail. Back-teased hairstyle opens up Miley's pretty face and gives her a refreshed and spirited look. The ombre hair color make the elegant ponytail stand out.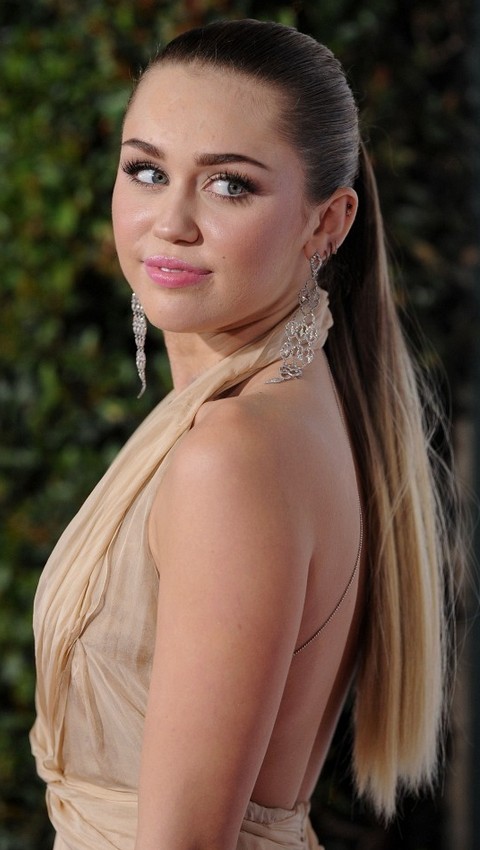 Miley Cyrus Hairstyles: Long Braid
This loose ponytail hairstyle is fabulous indeed. The upper section has been tousled messily and some locks are left hanging there in order to get a messy look. The thick and long braid is also teased fluffily to avoid a country-girl look.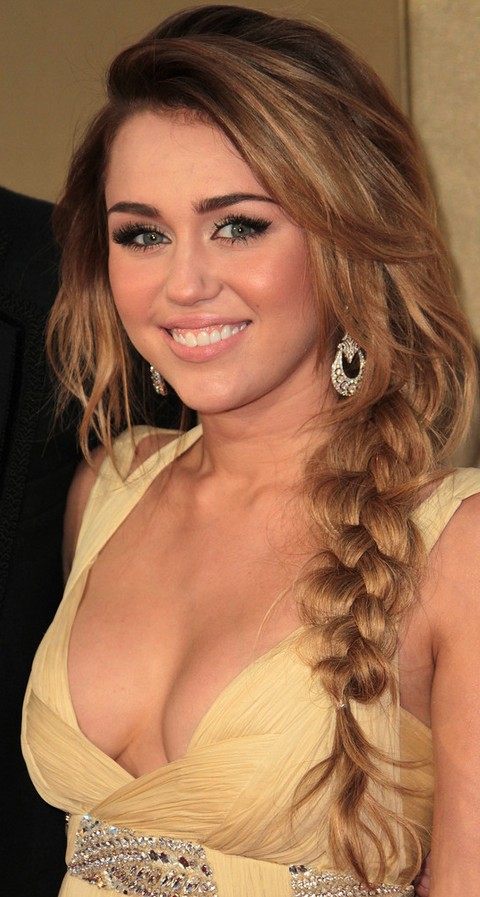 Miley Cyrus Hairstyles: Radiant Medium Curls
Miley glows with these radiant medium curls. The side-swept curls add charm to women and makes women alluring. When you rock this amazing hairstyle, don't forget to use some hair products to shimmer your curls.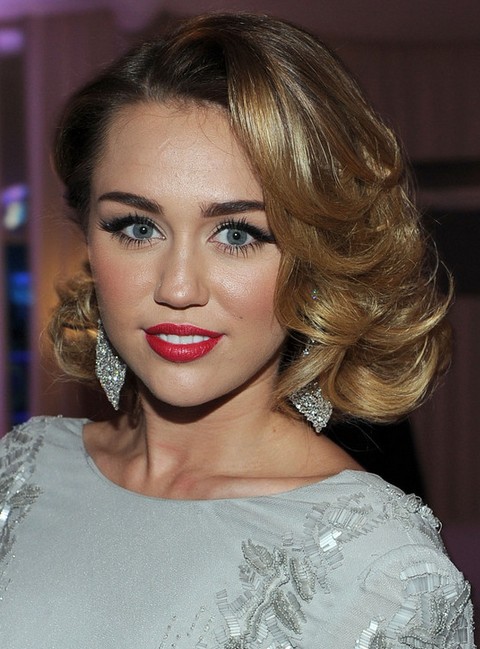 Miley Cyrus Hairstyles: Medium Straight Haircut
This adorable medium haircut is simple and decent for everyone to wear in our daily life. Except for the long faces, any other face shapes are welcomed to rock this haircut.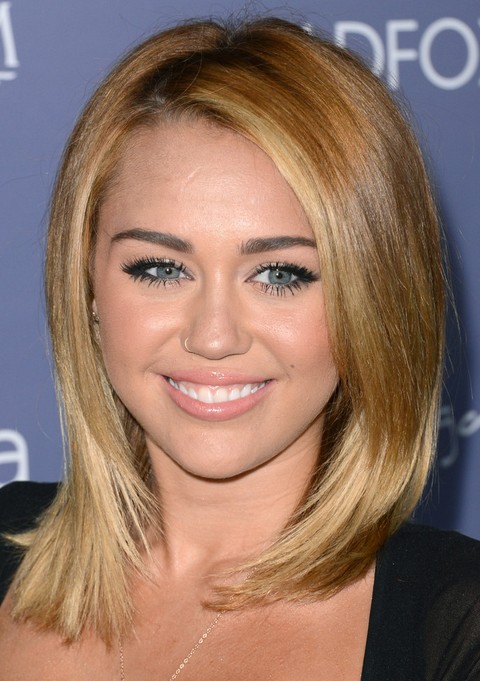 After seeing so many long hairstyles of Miley Cyrus, it's time for us to enjoy her pretty hair looks with the short haircut. In my eyes, Miley is more cheerful and vivacious with the short haircut. She seems to be a few years younger when she rocks a short haircut than with a long hairstyle.
 Miley Cyrus Hairstyles: Pixie Haircut
Miley is cheery with this blonde pixie haircut. She is the still so pretty and adorable.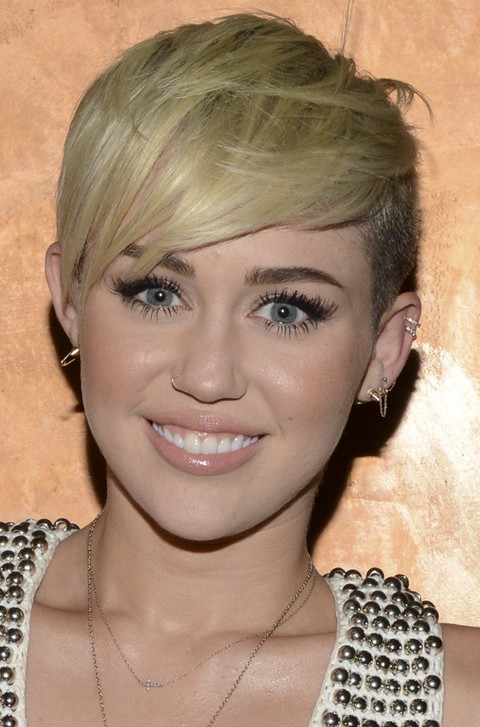 Miley Cyrus Hairstyles: Platinum Short Haircut
This platinum haircut is really high-fashioned and it upgrades Miley's taste instantly.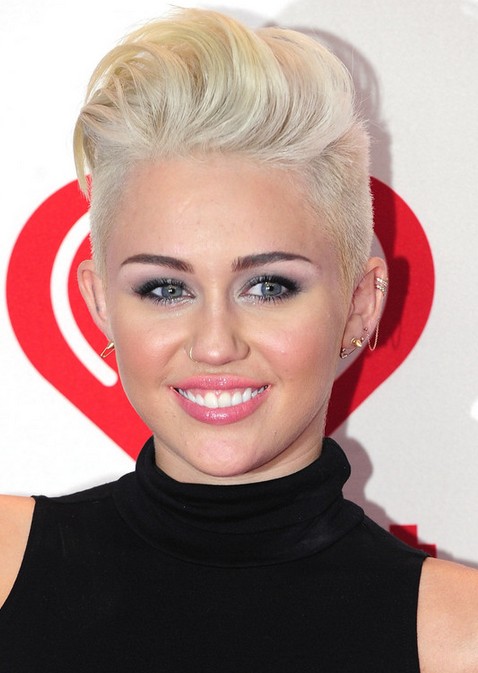 Miley Cyrus Hairstyles: Faux Hawk Haircut
Miley goes for an edgy-chic look with the faux hawk haircut. She is stunning with this hairstyle. And her sweet smile is the trump card to warm up this look.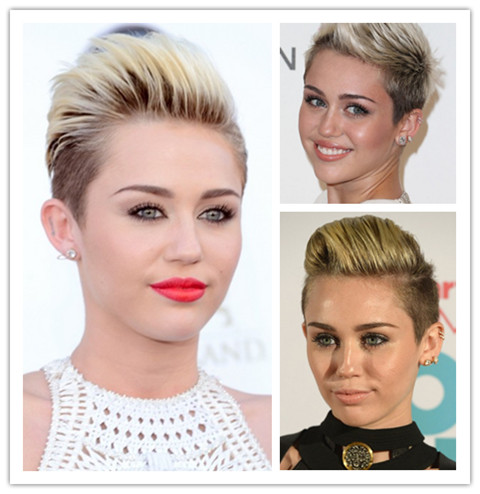 Miley Cyrus Hairstyles: Cute Hair Knot
Miley is a cute girl and this funny hair knot is so suitable for her. Uh, really interesting! Don't you think so?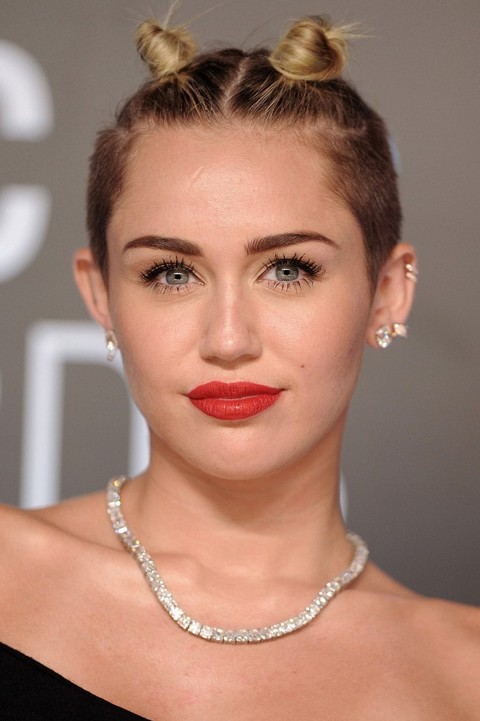 Miley Cyrus Hairstyles: Short Haircut
Miley rocks a side-parted short haircut and she is really cool. The look is edgy with the appearance of the shaved sides. Only the great beauties and confident women can pull off such a stylish short haircut. Do you dare to have a try?