36 Breath-Taking Wedding Hairstyles for Women
I bet you must be very excited to see the latest wedding hairstyle trends for 2015, especially for those to-be-brides. This year, you can choose cooler shaded highlights or layered haircuts for your hair. Some delicate floral accessories will be mostly preferred for wedding hairstyles. Even for a short hair, we will still have flattering ways to make it look glamorous. Scroll down this post to find 36 breath-taking wedding hairstyles right here!
Beautiful Bridal Updo for Mid-length Hair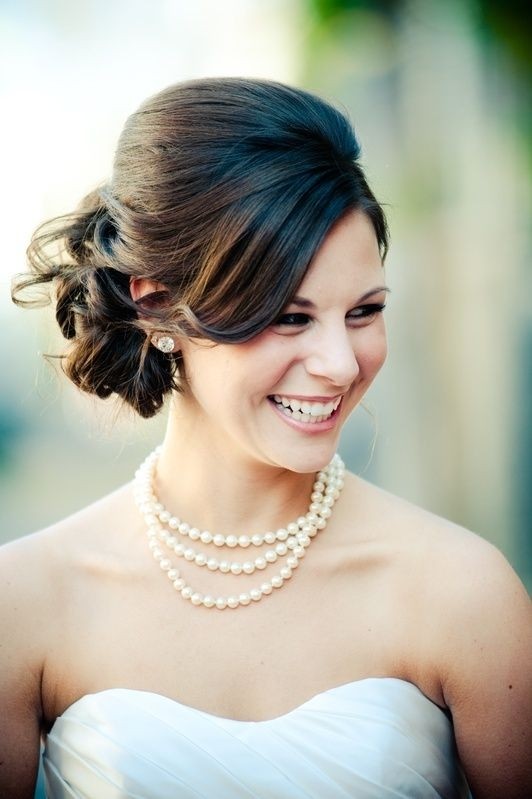 The updos for mid-length hair will look very sleek and neat for women. You can also style it with side bangs to emphasize the very feminine feel to the whole look.
Beautiful Wedding Updo for Curly Hair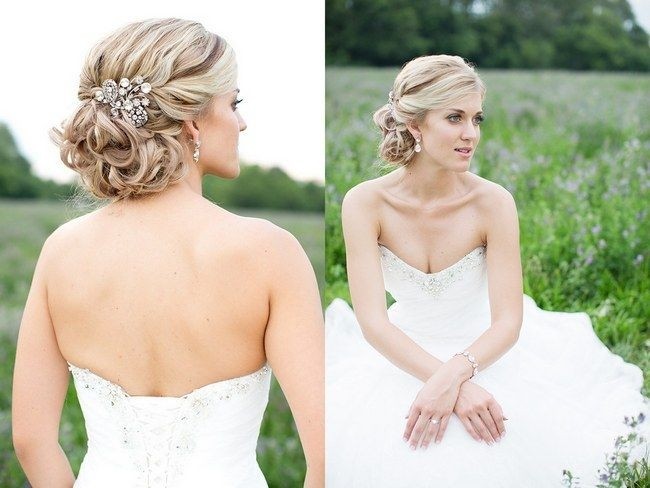 The updos on medium length hair will still look beautiful and gorgeous for women. The front sections are twisted and pinned up at the back with a diamond hair pin.
Classy Wedding Hairstyle for Long Wavy Hair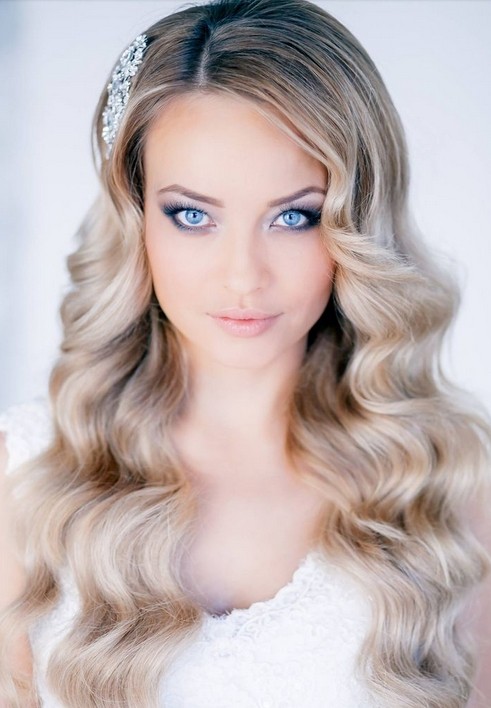 To get a luscious and glossy look, you should first keep your long hair in a good condition. You can use some hair pomade to smooth all roughness and wisps before styling.
Cute French Twist Hairstyle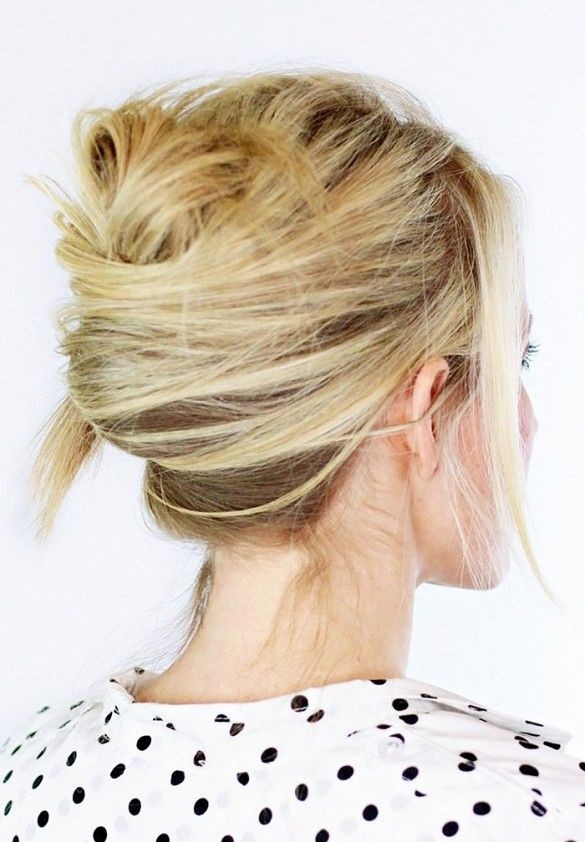 The classic French twist updo will still look fabulous in a messy shape. It is very easy to create for average girls.
Easy Wedding Long Hairstyle for Brides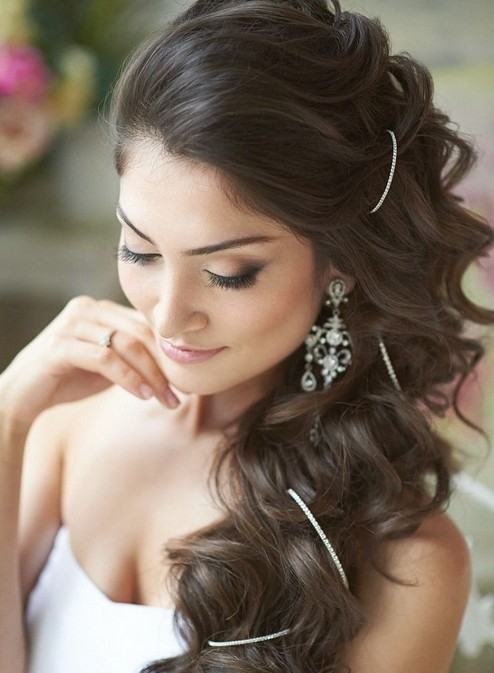 It looks totally stunning to style the long wavy hair to one side of the shoulders. Weave a fabric right in for more glamor factors to your wedding hairstyle.
Elegant Flower Updo Hairstyle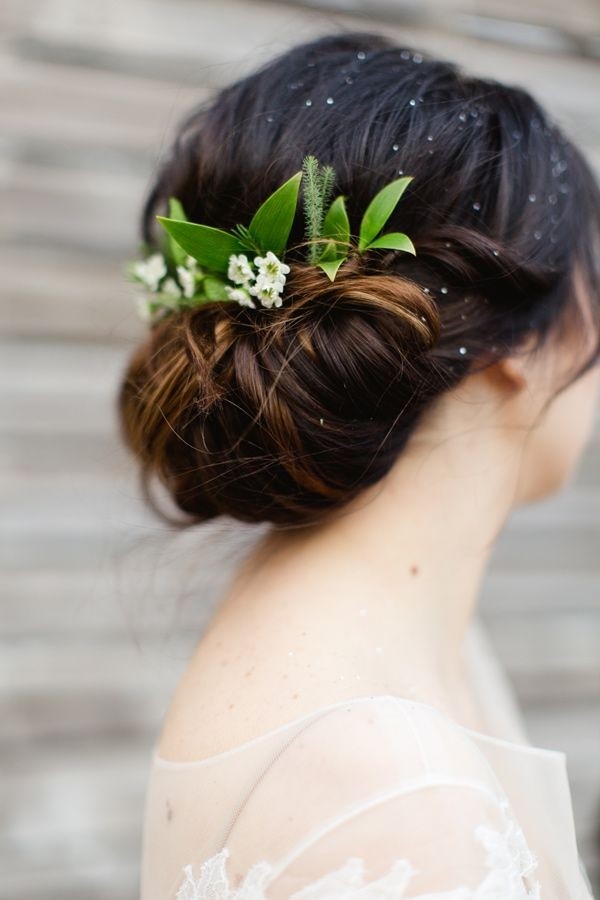 The beautiful flowers can add a spot of color for your wedding hair look. They will act like the fresh air into a dull life.
Elegant Half Up Half Down Hairstyle for Wedding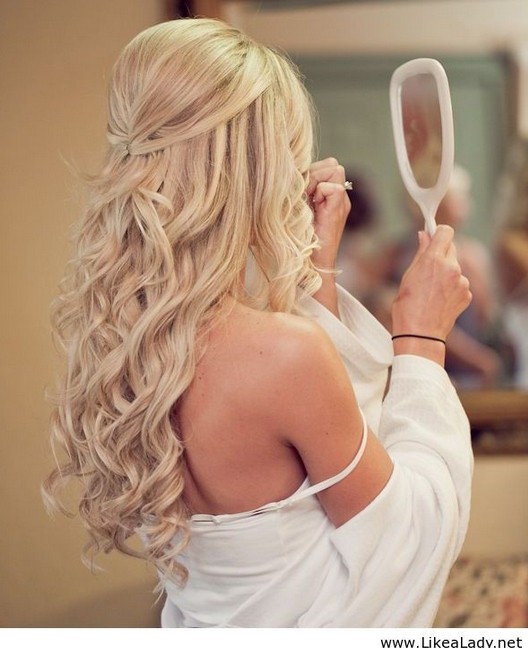 It is great to create a half updo on blond wavy hair for wedding. The top layers are being pulled back and pinned up around the crown.
Side French Twisted Updo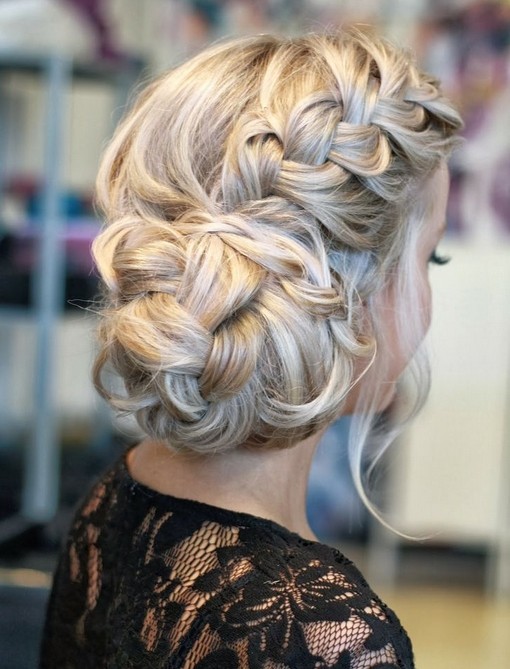 Here's a casual-chic way to wear the French braid for long hair. You can create it on curly or wavy hair for desired bounciness into the cute bun shape.
French Twisted Updo for Wedding Hairstyles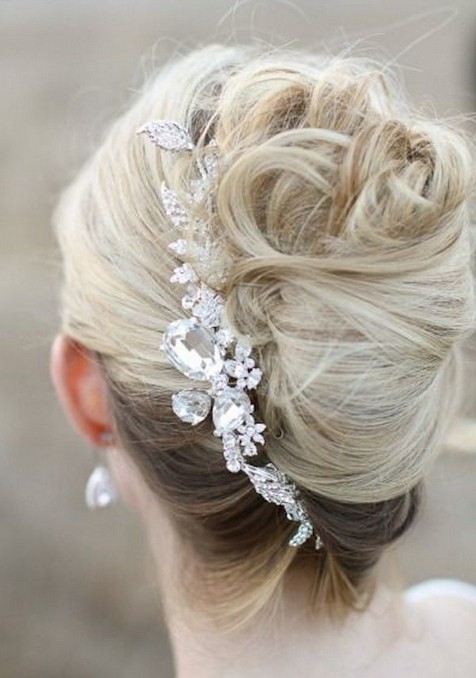 The hair colors for wedding hairstyles this year tend to be lighter and cooler than before. You can wear platinum blond or ash blond to keep up with the latest trend.
Glamorous Half Up Half Down Hairstyle for Wedding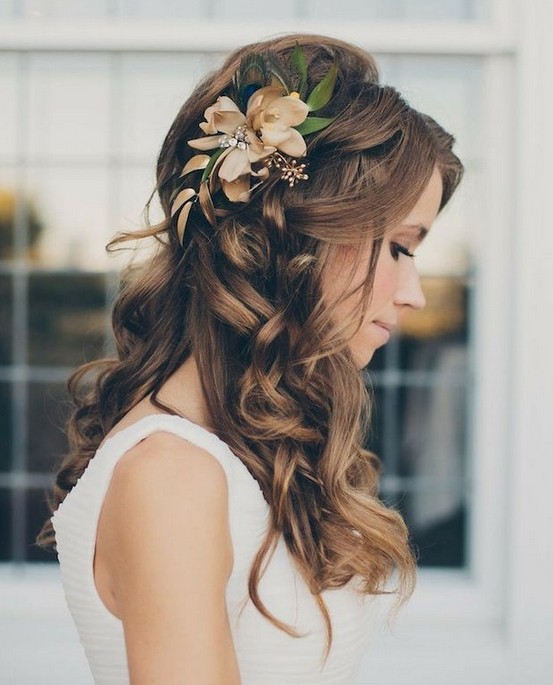 If you are going to get married in the next half year, you can wear a fascinating floral headpiece for your wedding hairstyle, which just meet the changes of the mainstream hair fashion.
Glamorous Wedding Updo Hairstyle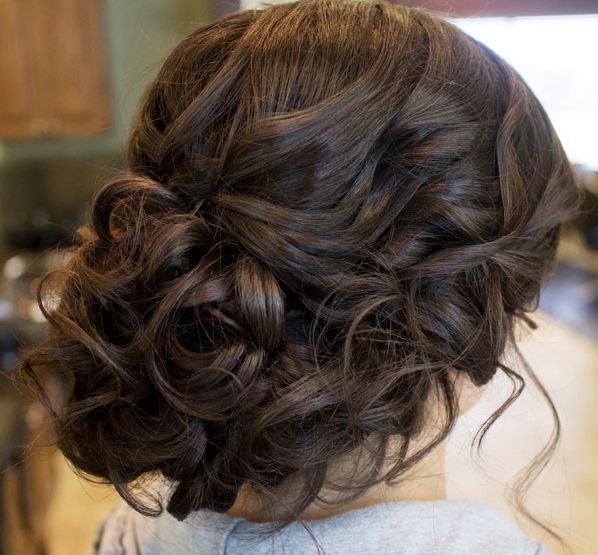 The wedding updo on curly wavy hair will look extremely fun and interesting for brides. Fix the short layers with bobby pins for a finished style.
Half Up Half Down Hairstyles for Ombre Hair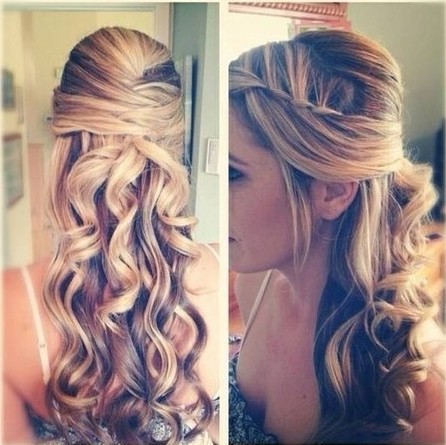 The half up half down hairstyle will work greatly on blond ombre hair. It can shape a perfect color pattern from the back side view.
Top Bun Hairstyle with Braid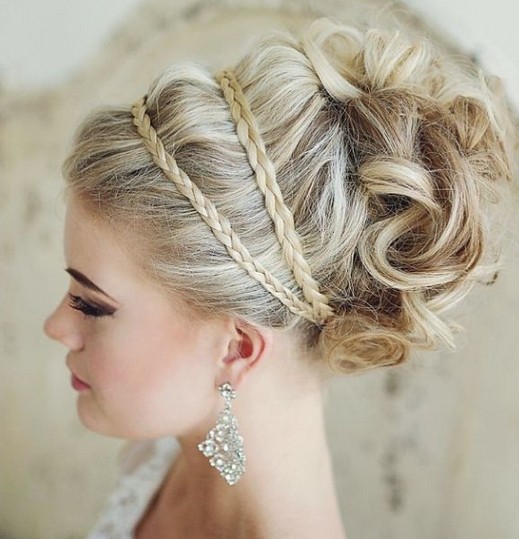 It is a trendy way to create a high bun hairstyle for wedding. Add some braiding details to draw more attention to your hair look.
Jaw Dropping Wedding Updo Hairstyle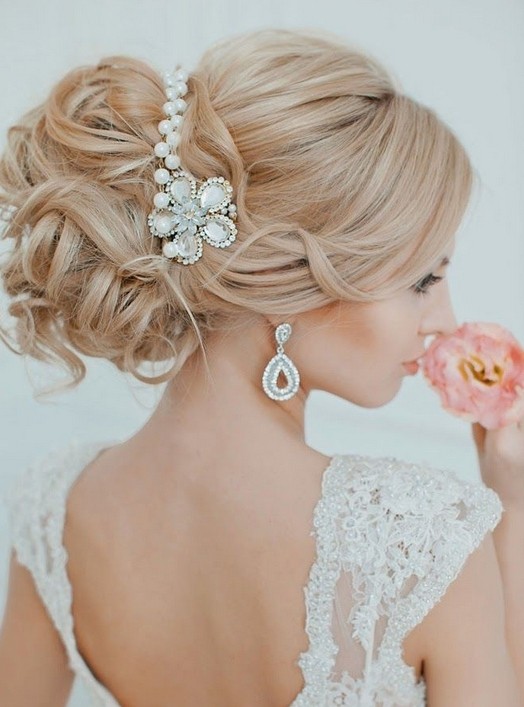 We have many different ways to create an updo for wedding. It will look totally glamorous and breath-taking with well-defined shape and crafted strands.
Latest Wedding Hairstyle Inspiration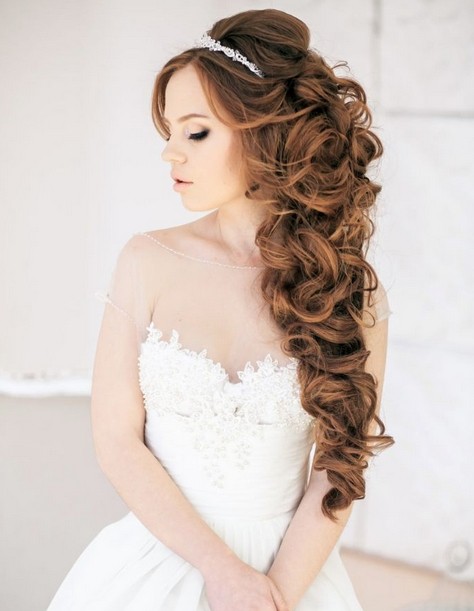 The soft waves look extremely charming on very long hair. It will definitely turn you into the center of attention in a wedding.
Long Curly Hairstyle for Wedding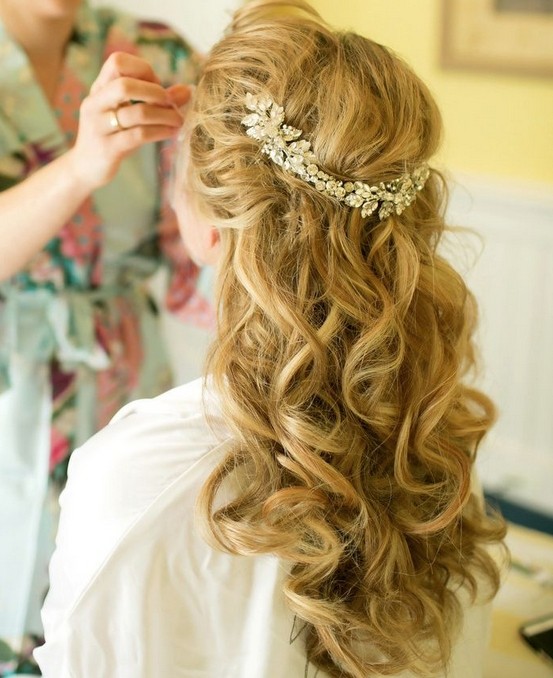 A thick embellished headband will increase the glamor factors greatly for a long wavy hairstyle. Place it gently over the head before you attend the wedding.
Long Wave Hair for Wedding Hairstyles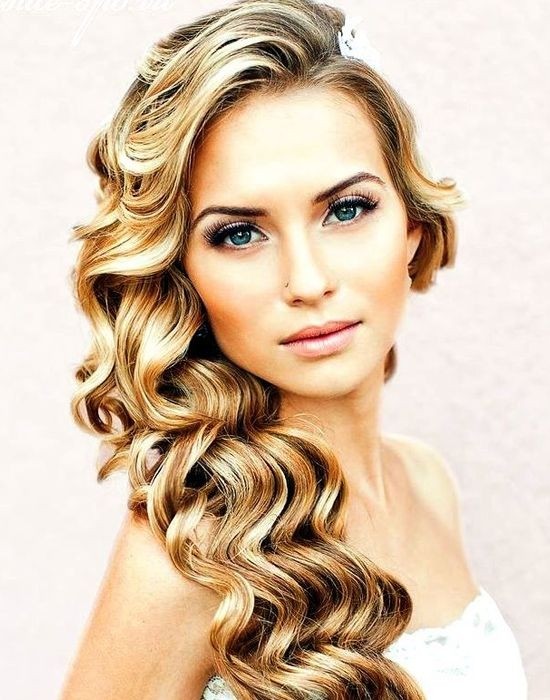 The glamorous long wavy hair will look perfect for all occasions including the wedding. Loosen up the curls gently after you've done with the curling iron.
Long Wavy Hairstyle with Braid for Wedding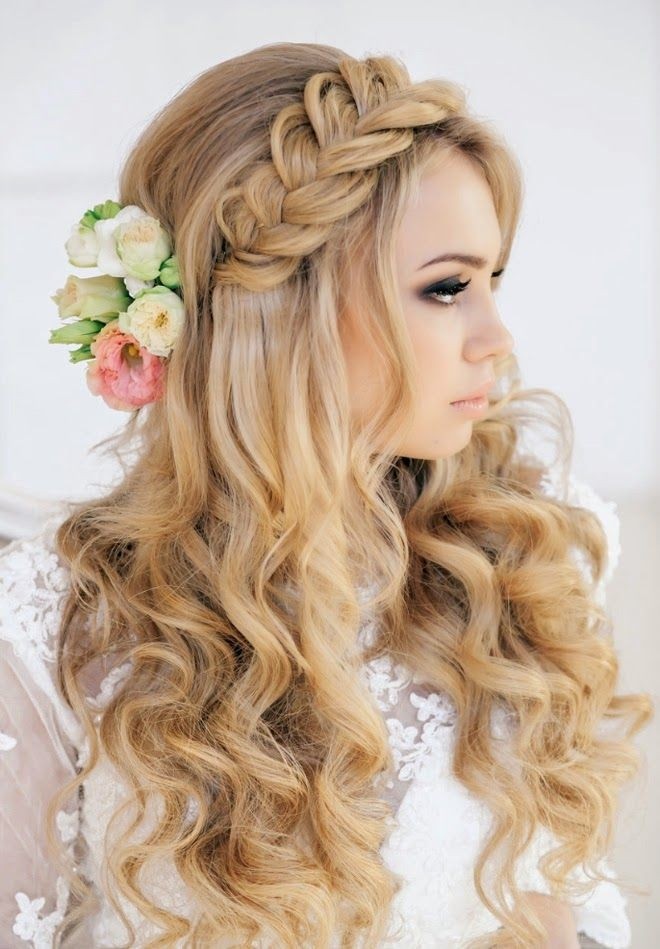 The lovely floral headpiece will be able to make your wedding hairstyle look beautiful and romantic. You can enhance the whole look with a loose braid over your head.
Loose Curly Hairstyle for Wedding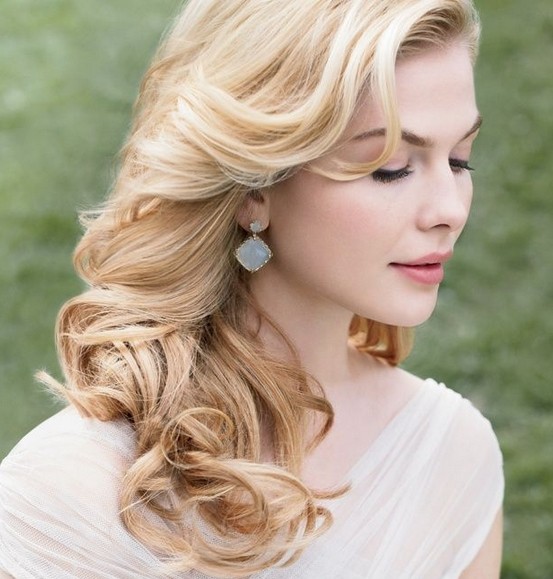 It is a glamorous way to style the long blond hair with soft curls. The twisted hair will sit beautifully over the shoulders.
Messy Side Braided Updo for Wedding Hairstyles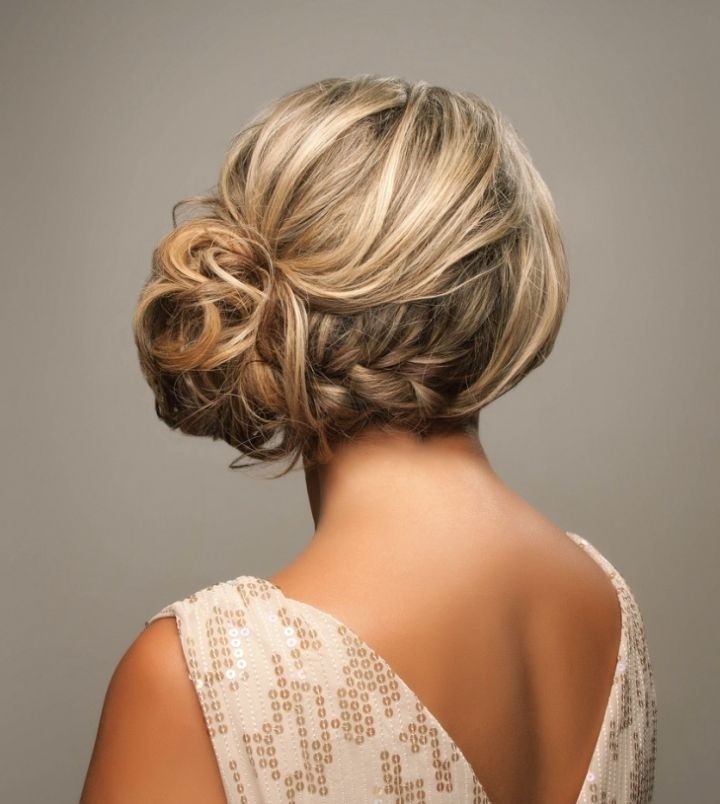 If you are not the bride for a wedding, this casual-chic braided bun will work perfectly on you. It is created to one side above your shoulders to make a little difference to the conventional look.
Perfect Braided Updo Hairstyle for Wedding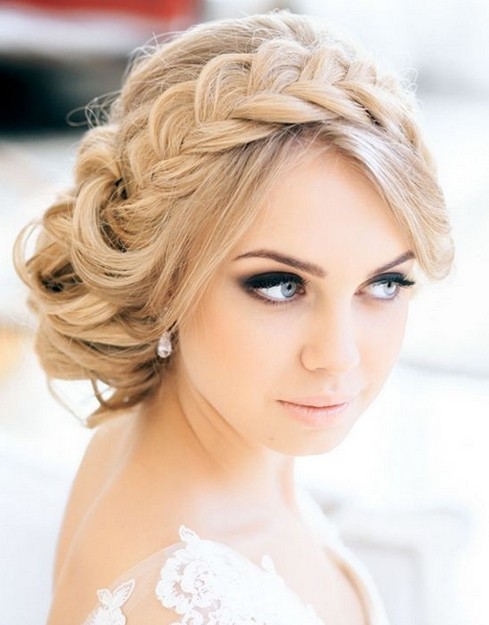 Braids will be able to add a strong romantic sense to wedding hairstyles. This time, you can create it like a headband across the head.
Pinned Up Half Updo for Wedding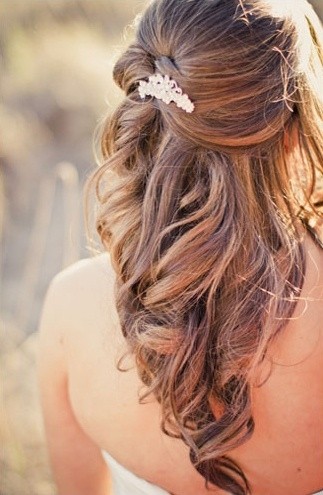 The elegant half up half down hairdo always plays an important part for wedding hairstyles. The front layers can be twisted or braided for create this look.
Pretty Side Updo for Bridal Hairstyles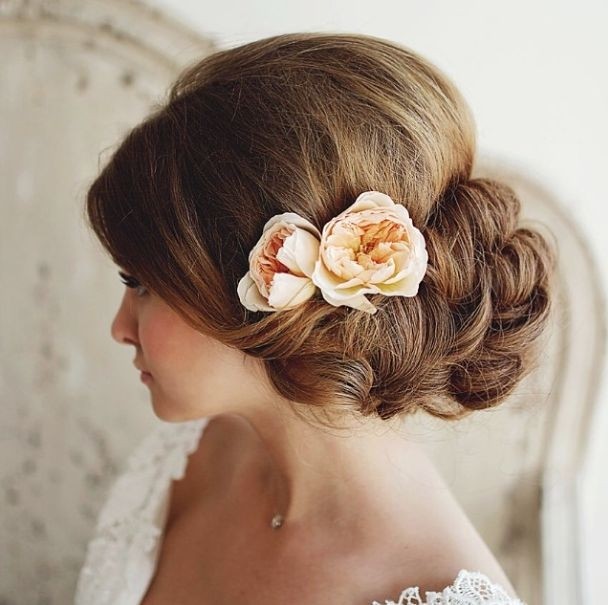 It looks delicate to add some flower details into a side braid bun. It is created at a lower position around the neck.
Beautiful Lacey Braid Hairstyle for Wedding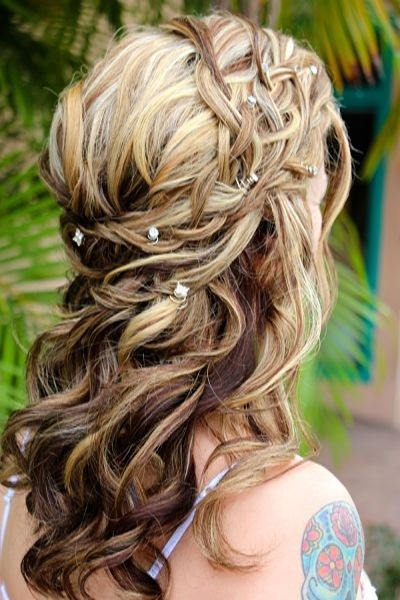 The lacey braid will work beautifully on long wavy hair. It is being a best option for the glamorous wedding hairstyles.
Romantic Wedding Updo Hairstyle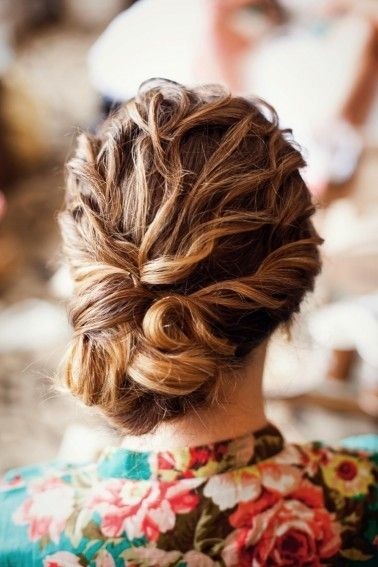 It looks quite natural and chic to style all your hair into a cute side bun at the back. Define the final shape with your fingers to get rid of the wispy hairs.
Side Ponytail Hairstyle with Braid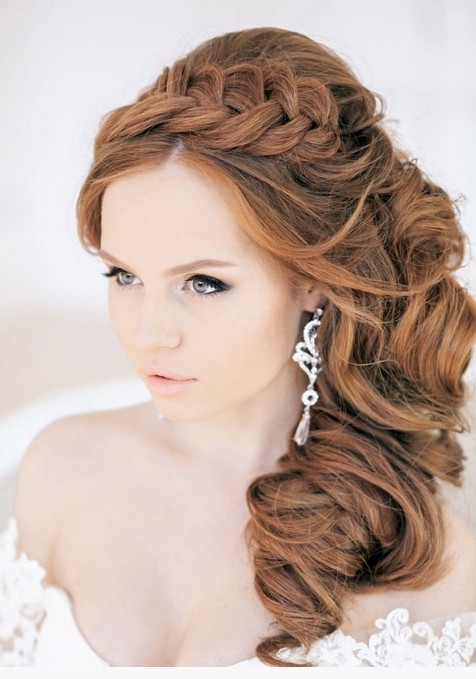 It is a stylish way to make a loose side braid for wedding. This hairstyle will expose your neckline in a flattering way.
Trendy Side Wedding Hairstyles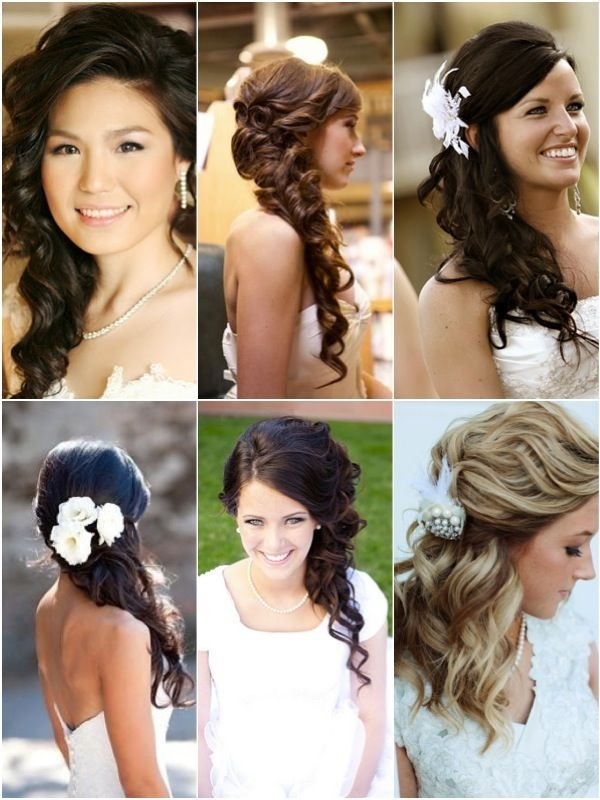 The stylish side hairdo is being a perfect choice for those girls who want to look special in a wedding. Add a hair accessory as you like.
Twisted Updo Hairstyle for Medium Hair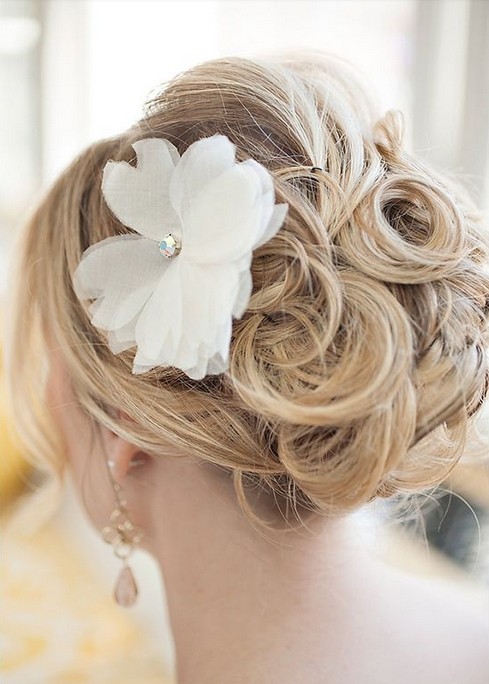 It is an effective way to decorate your wedding updo hairstyle with a flower. You can place it at the side or back as you like.
Wedding Updo Hairstyle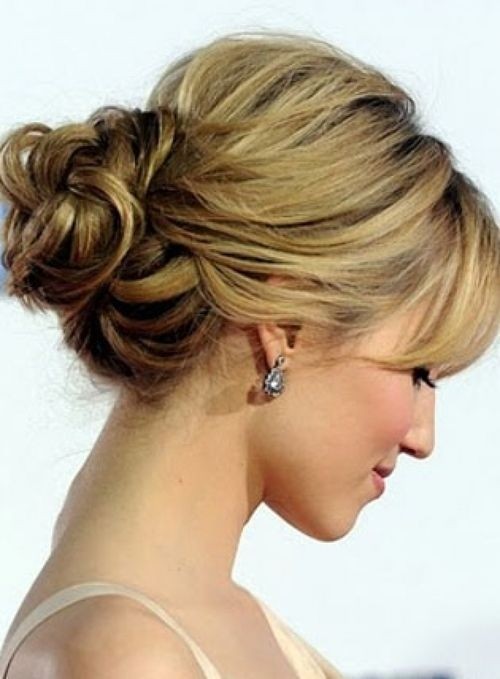 Here's another easy updo hairstyle for those girls with shoulder length hair. Twist all the strands artificially and fix with bobby pins.
Wedding Updo Hairstyle for Long Hair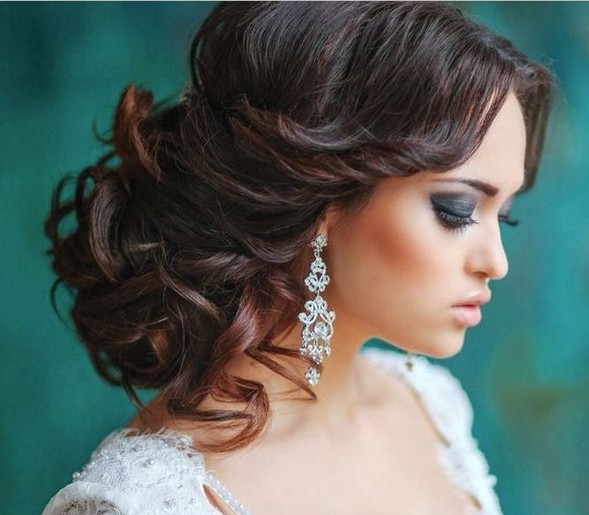 The wedding updo will look very luscious for brunette hair. Style it with large waves and twists for the casual and natural-chic effect.
Wedding Updo Hairstyle for Wedding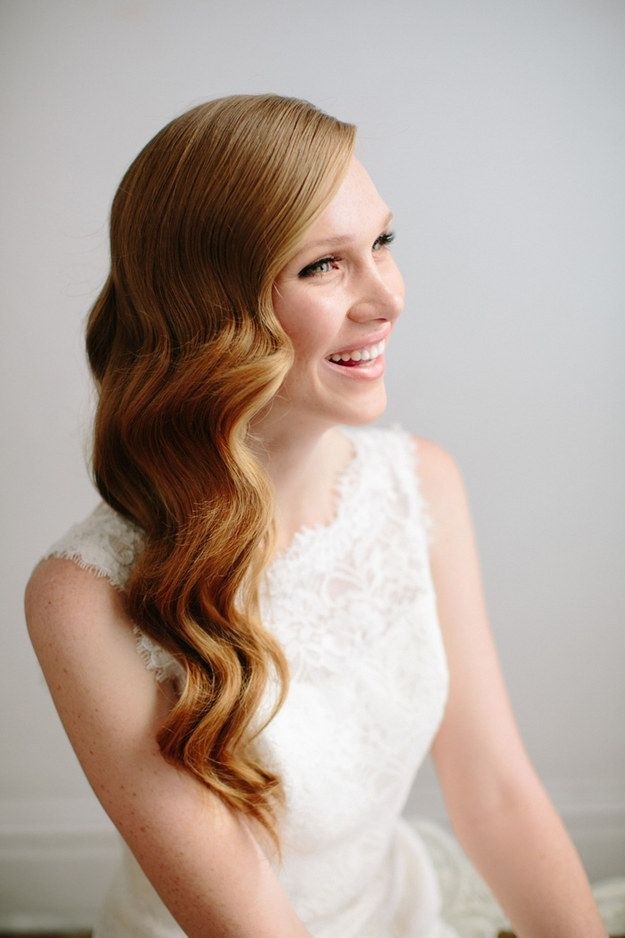 It will be a classy option to style your long blond hair with finger waves. You can create a deep side parting to give a strong modern-chic sense to your glamorous retro style.
Wedding Updo Hairstyle with Headband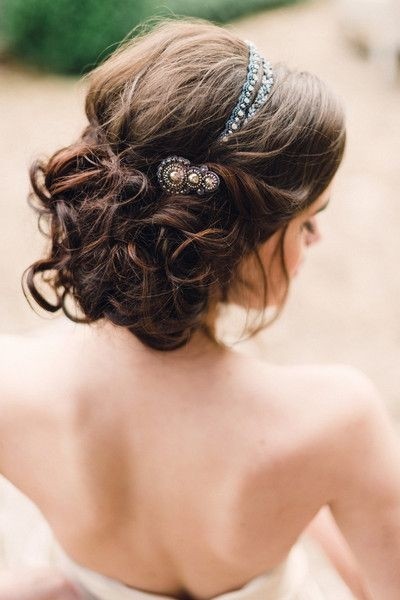 The romantic curly wavy hair is mostly preferred when creating a glamorous wedding hairstyle. A headband will help to give a better control to your unruled tresses.
Wedding Updo with Hair Accessories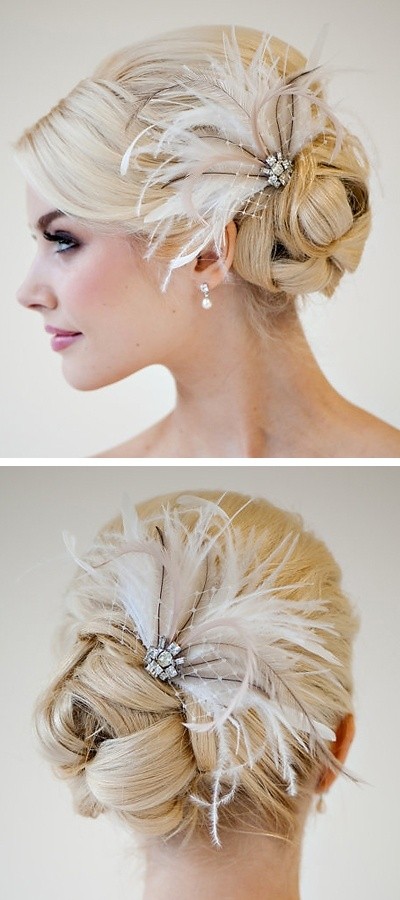 The dainty hair accessories will play an important part for this year's wedding hairstyle trends. They are most essential for a short and medium hairdo.
Wedding Updo Hairstyle with Veil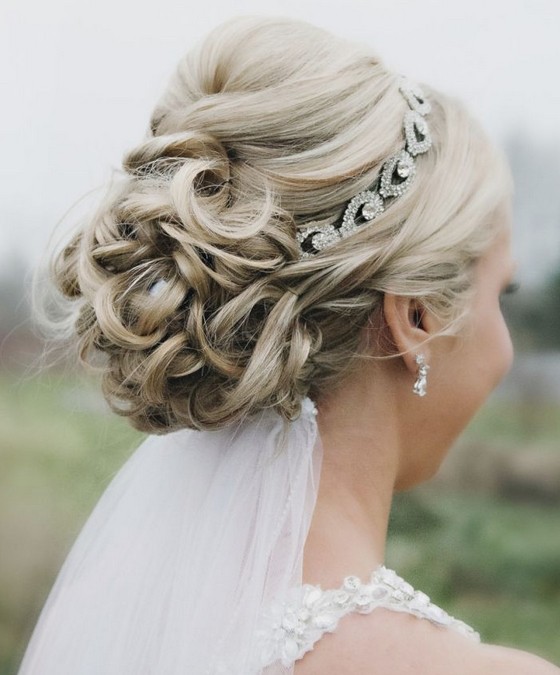 The cute twisted updo will look more alluring with a wedding veil pinned at the back. It should also work well with your wedding dress at the same time.
Romantic Braided Wedding Updo Hairstyle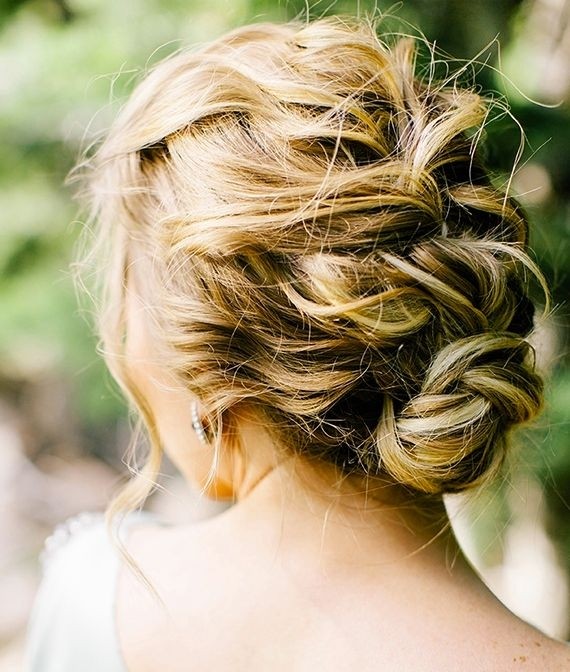 It looks quite romantic to braid all your hair to the head. Tuck the ends inward and secure with bobby pins for a finished style.
You can find more (wedding hairstyles) on prettydesigns.com