5 Best Satin Bridesmaid Dresses for Fabulously Fashionable Weddings
Satin bridesmaid dresses are a huge trend for this year and perfect for autumn, winter and spring weddings when the temperatures may be low and your attendants need to be comfortable.
And of course, not all countries have warm weather in the summer – so satin bridesmaid dresses can be perfect for all seasons, really!
The advantages of satin bridesmaid dresses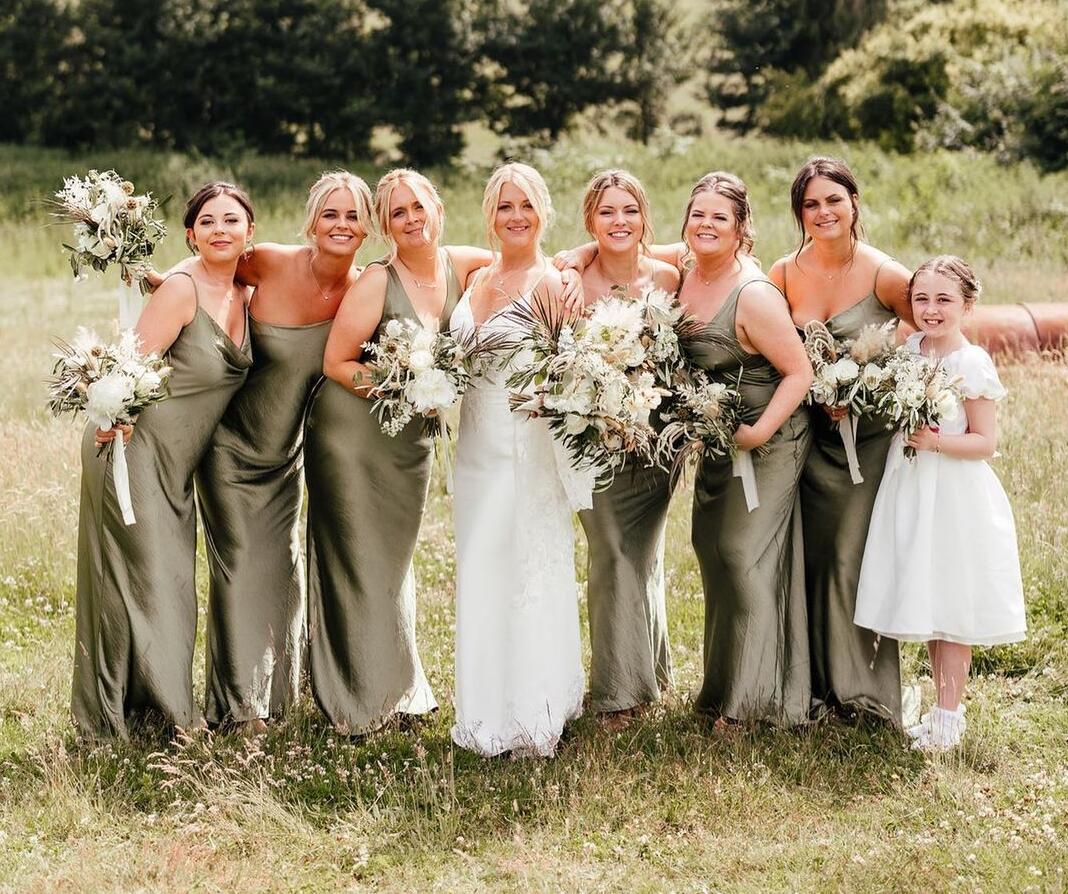 So before you start your search for the perfect bridesmaid dresses, it's a good idea to decide what type of fabric will be best for the big day.
Just two of the main advantages of satin bridesmaid gowns is that they are very comfortable to wear and give a very classy feel to the wedding, which will be captured forever in lovely photos!
Satin is a synthetic fabric which resembles silk in having a discreet sheen to it, but it's more substantial and heavier than silk.
This means that satin bridesmaid dresses can be more structured than chiffon and jersey dresses.
And from the bridesmaid's point of view, satin is much cheaper than flimsy silk and a pretty, yet practical fabric that washes beautifully and needs little ironing.
Color & style options for satin bridesmaid dresses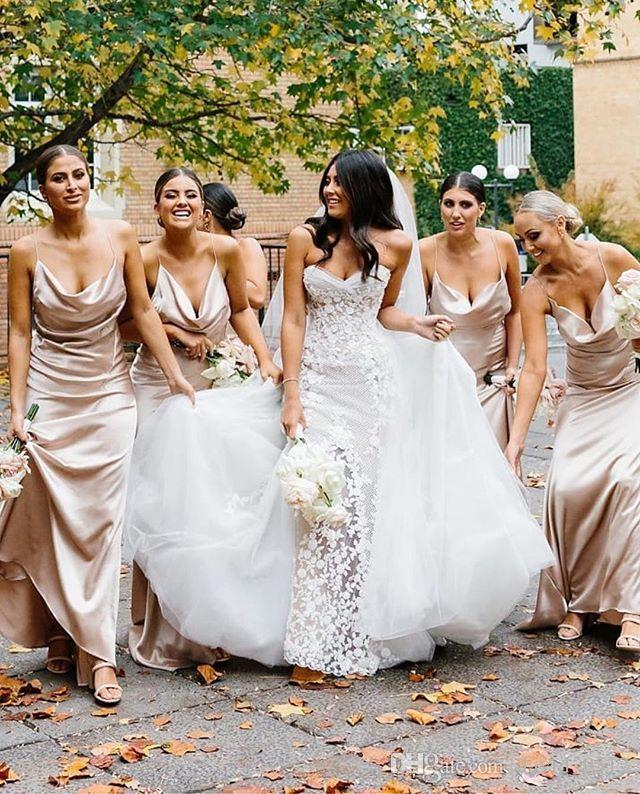 Satin bridesmaid dresses are available in every color you can imagine and this gives you a lot of choice in buying color shades to suit the skin and hair tones of all your 'maids.
Instead of having all of your bridesmaids wearing the exact same color and style, the latest trend is to choose a main color theme and then vary it by shade and style to flatter each of your bridesmaids perfectly!
This is an idea we should have thought of years ago, so a lot of fraught wedding planning meetings could have been avoided!
Choosing your bridal clothing is a happy time, and after you've selected your bridesmaids, you need to ensure they are all pleased with the dress they'll be wearing.
As your bridesmaids will be paying for their dress, they will naturally want a style that suits their figure and a color they will enjoy wearing after the wedding.
And as bridesmaid groups are getting larger each year, you need a way to shop with your 'maids' that's more convenient and fruitful than a couple of frantic visits to your local bridal shop on a busy Saturday!
Online bridesmaid specialist stores
These days, online bridesmaid specialist stores are offering a wonderful range of different styles.
The ranges are much wider than a bricks and mortar shops could possibly offer, and you can easily arrange sessions with your friends to review the dresses and agree on individual styles.
Online stores also offer the latest fashion styles and are providing excellent quality, service and speedy deliveries.
With sizes ranging from extra-small to US size 30, the online bridesmaid stores have embraced inclusive sizing, so all women can shop in the same store!
With the option of virtual stylists who will assist you in creating the perfect matched or mismatched style – plus free returns – the online bridesmaid store is a popular way to do your gown shopping.
How to see satin bridesmaid dresses' fabric-swatches in person
Most online bridesmaid dress specialist stores encourage you to order their free fabric-swatches, which will arrive lightning fast.
And this is because they know that the quality and attractive colors of their satin can best be appreciated by seeing and feeling them at home.
And their confidence in their fabric quality allows you to trust your important wedding day purchases to an online store!
And now take a look at this small selection of gorgeous colors and styles in satin bridesmaid dresses you can choose from this year:-
1. Plus-size burgundy satin bridesmaid dresses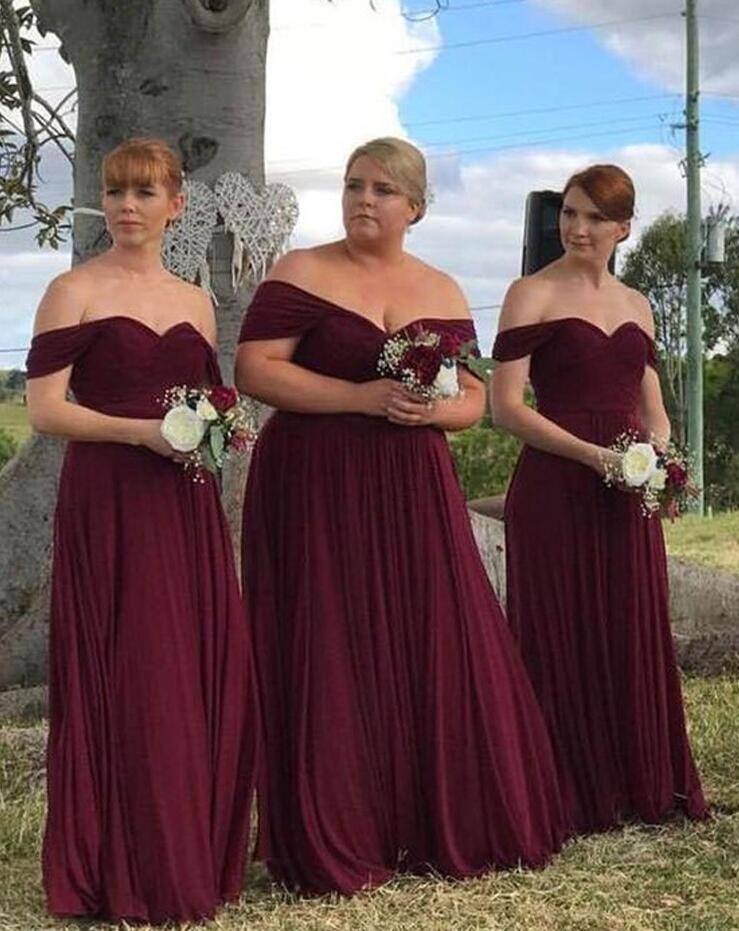 There are lots of gorgeous, plus-size, burgundy satin bridesmaid dresses on offer this year!
Burgundy is part of the latest trend for terracotta, cognac, burgundy and burnt-orange bridesmaid dresses for autumn and winter weddings.
We recommend this lovely, long style with wide straps for plus-size comfort and excellent fit.
Strapless gowns are fine for smaller busts, but more generous sizes need strong support from well-fitting, broad straps.
This style has a lovely, sweetheart neckline to show off an attractive cleavage and an elegant pleated section across the hips and stomach.
The asymmetrical line is great for making hips appear slimmer and the pleats break up the line to make your tum appear smaller!
Floor-length satin bridesmaid dresses save you the problem of getting the exactly correct length to suit your maids and the heel-height they wear on the big day!
The trendy side-split is glamorous and makes it easy to walk and dance in a long dress that shows off a curvy figure beautifully! You can find more plus size burgundy satin bridesmaid dresses here.
2. Long lemon satin bridesmaid dresses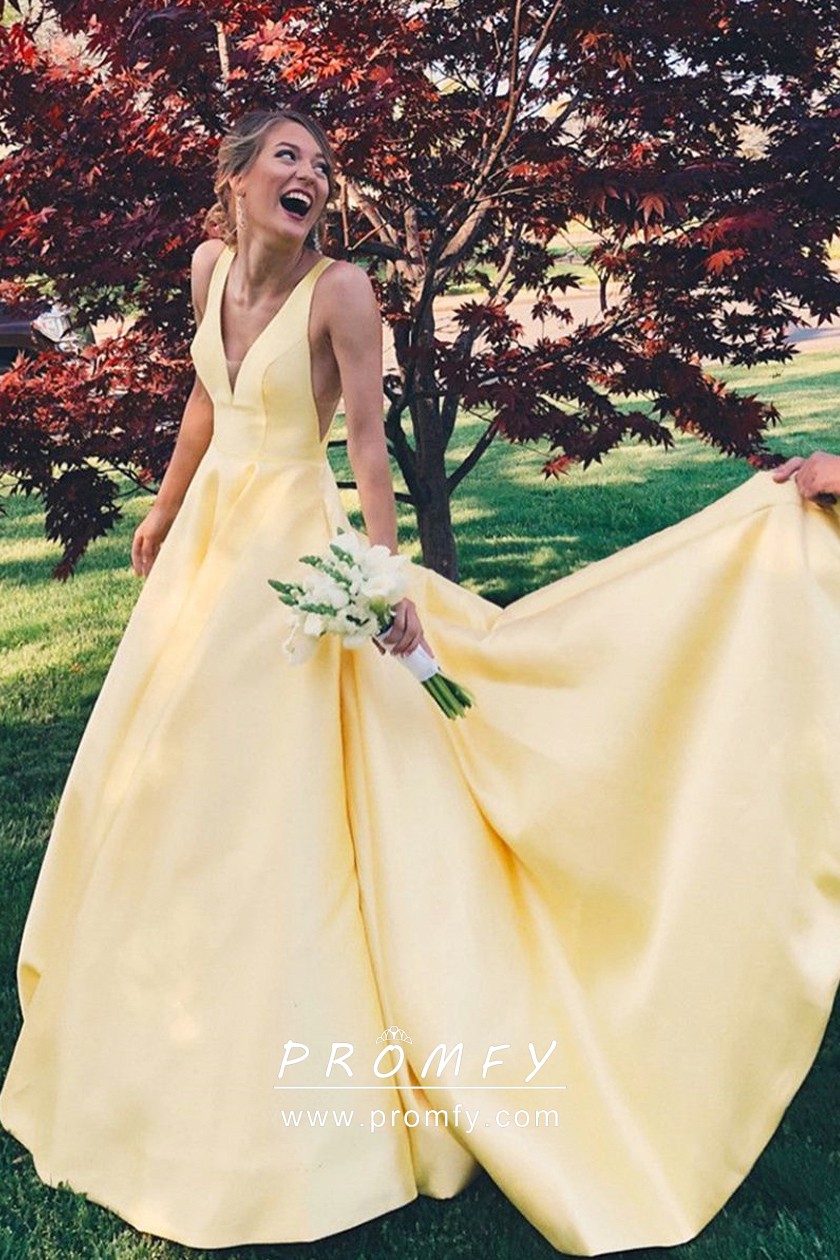 The perfect color for spring – think yellow crocuses – and summer – cool lemon sorbet! The long lemon satin bridesmaid dresses are going to keep your bridesmaids cool, but with cute dropped sleeves to add extra appeal.
The smooth, V-necked bodice is beautifully shaped into the waist, with a hint of cleavage and modest chest coverage, well-supported by trendy spaghetti straps for comfort.
The lovely gathered detail is a flattering style over the stomach and hips, and the asymmetrical design is a clever idea that tricks the eye into seeing a slimmer silhouette!
This helps your bridesmaids get an excellent fit and flatter around the front. And this appealing detail also produces a lovely texture-contrast with the rest of this excellent example of smooth, long, lemon satin bridesmaid dresses!
The sexy split will show off smooth, tanned legs and makes walking and dancing comfortable!
3. Long burnt-orange satin bridesmaid dresses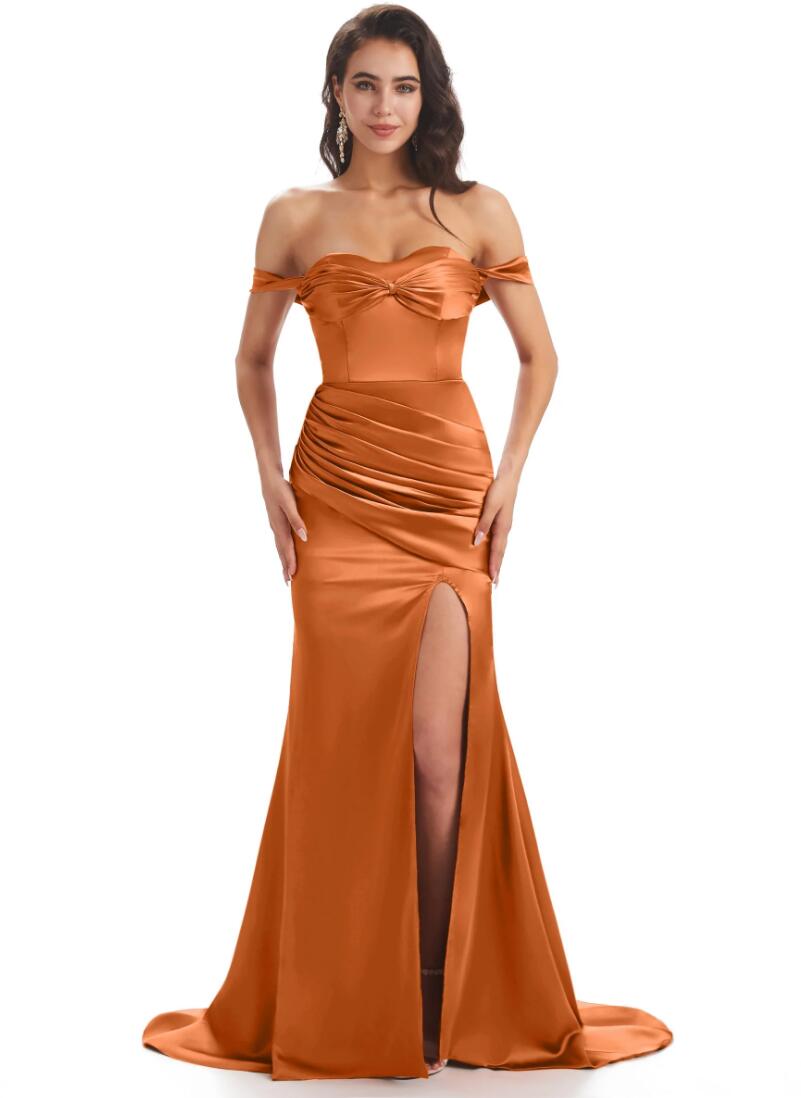 Tall, slim bridesmaids look great in satin bridesmaid dresses that are smooth around the hips and show off their slender silhouette.
Floor-length long, burnt-orange satin bridesmaid dresses are meant to drape on the floor and this gives extra length to accommodate tall bridesmaids wearing high-heels.
But it can also be worn by bridesmaids of any height, which makes floor-length, satin bridesmaid dresses a popular choice.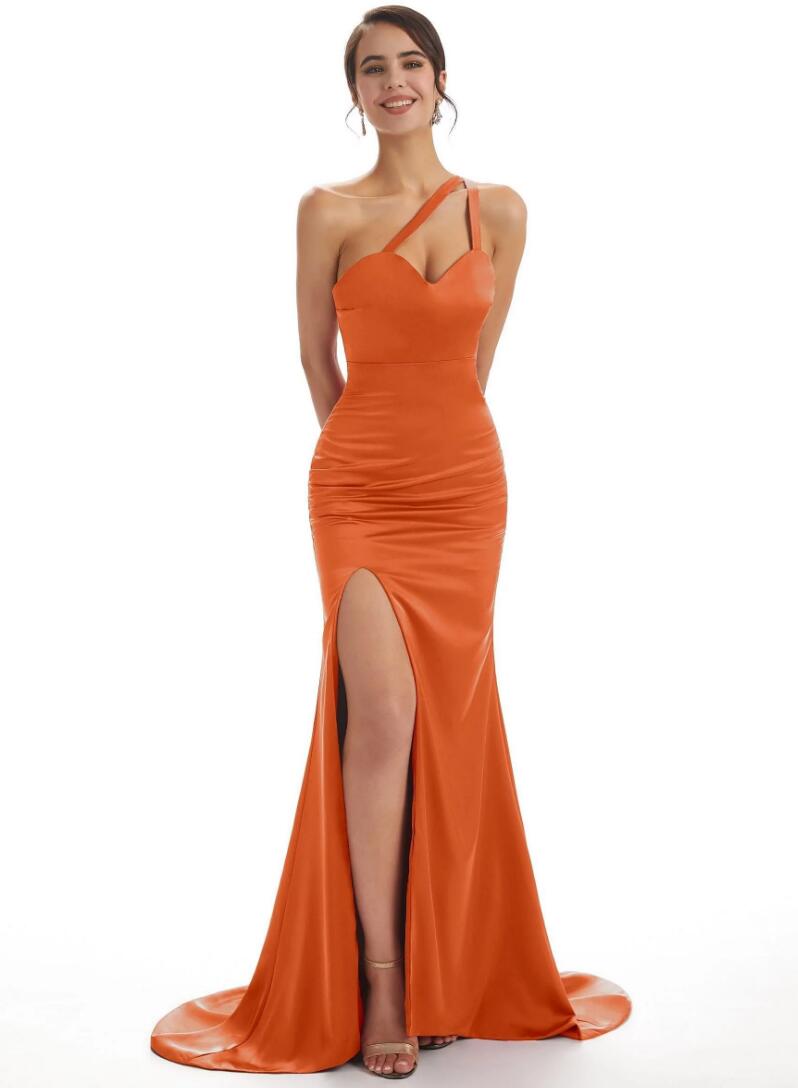 And to add shape to an athletic body, there's a broad, lightly textured waist-band to emphasize the waist and contrast with the smooth satin.
And unusual geometrical bodice panels give elegant, burnt-orange, satin bridesmaid dresses an appealing avant-garde look!
Long burnt-orange satin bridesmaid dresses are a top fashion color choice right now and will be throughout the autumn, winter and spring fashion season!
4. Long terracotta satin bridesmaid dresses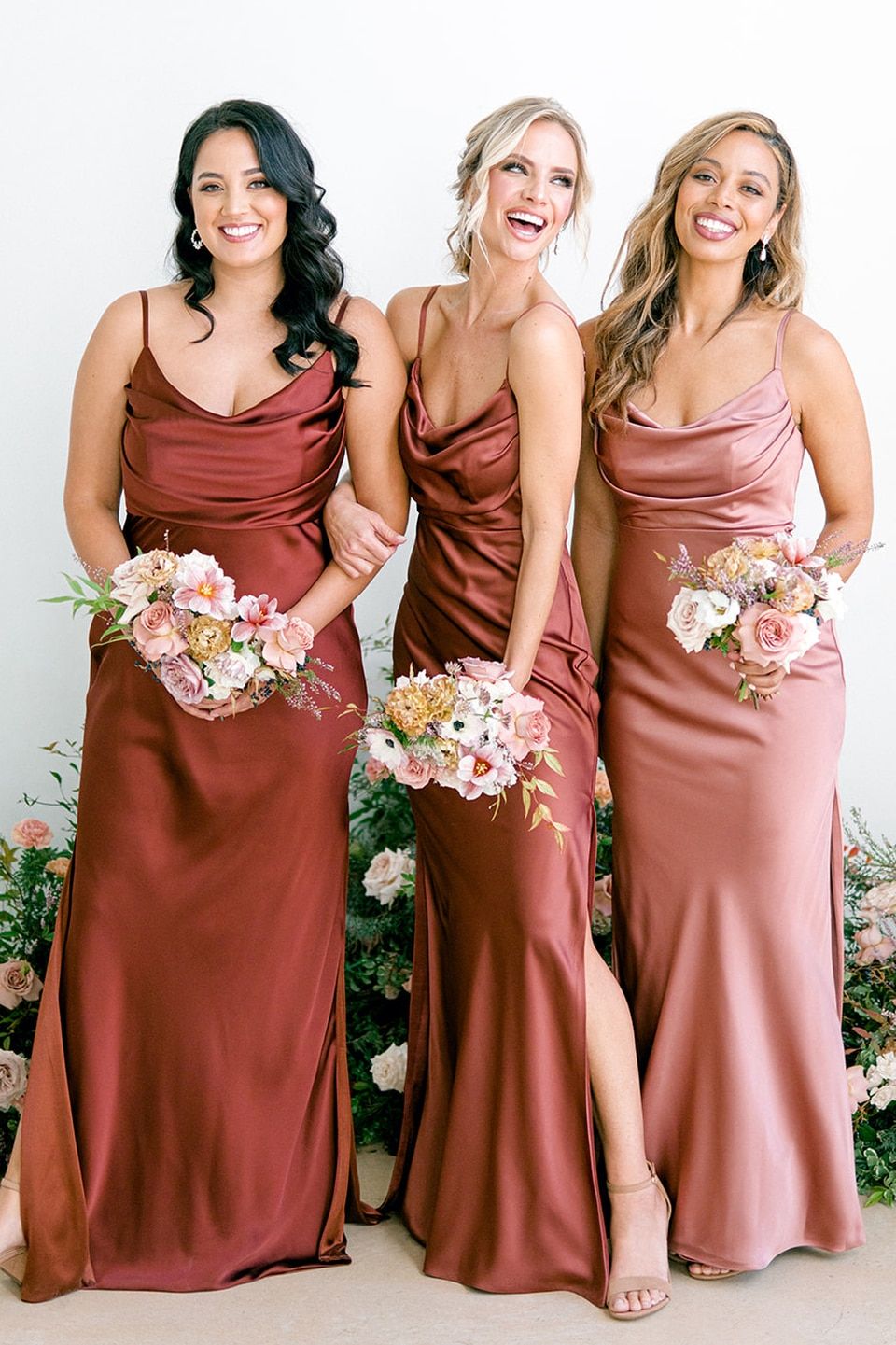 This is a gorgeous version of the long terracotta satin bridesmaid dresses that are topping the trends this year for autumn and winter.
It is a strapless satin bridesmaid gown, with supportive bust lining and shaping to keep the bodice looking great and firmly in place.
The dropped sleeves are a pretty decoration drawing attention to the bust and this style will really show off any bridesmaids' well-shaped shoulders.
The gathered section around the stomach and hips smooths over any little bumps. And this version is long enough to cover hips and thighs for a flattering silhouette.
It also deals brilliantly with the problem of fabric wrinkling at the front after the wearer has been seated for a while. Which means it will stay looking fresh through a long day!
The long skirt length makes it suitable for bridesmaids of all different heights.
And finally, the high side slit allows for easy movement and adds lots of sex-appeal, with the long, gathered section above ensuring it never reveals too much.
5. Plus-size royal-blue satin bridesmaid dresses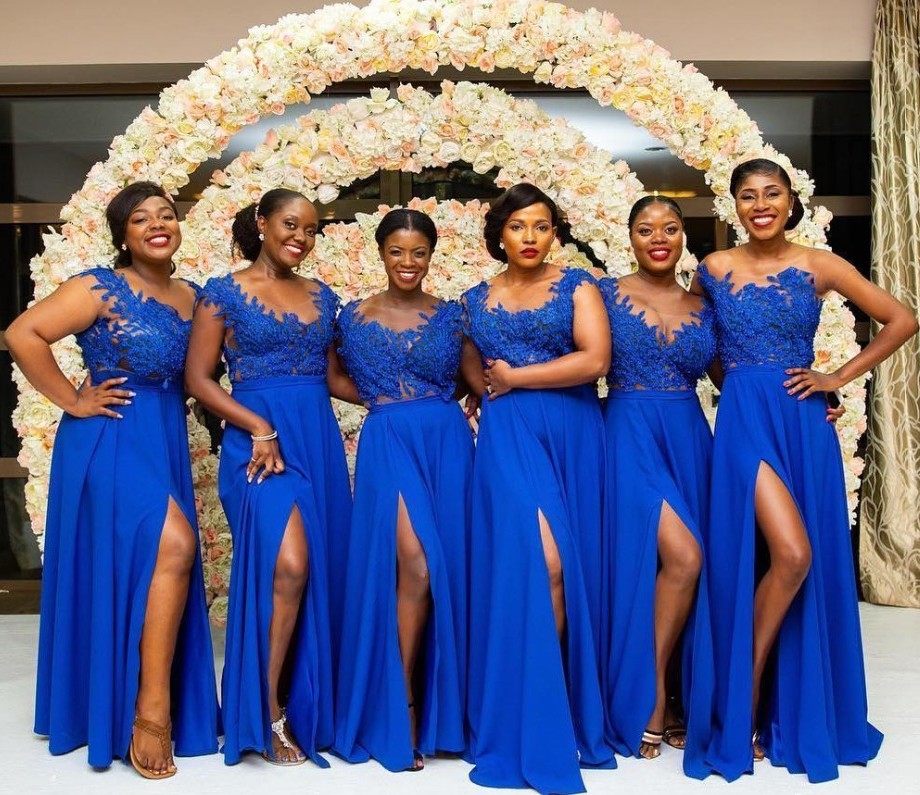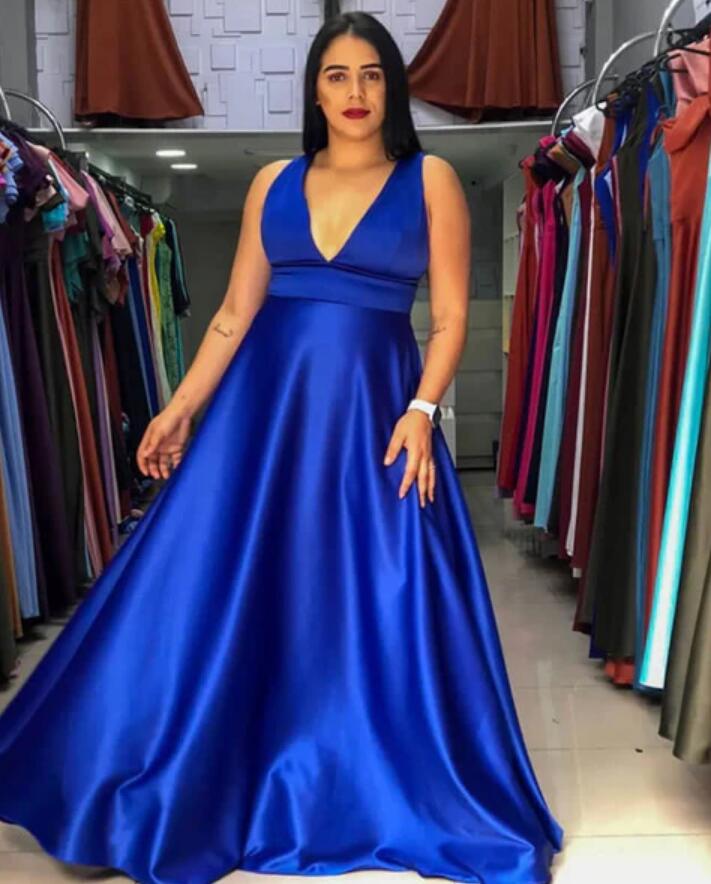 Anyone with a curvy figure will know that broad straps are the best for support and comfort.
This beautiful, plus-size bridesmaid gown has a flattering wrap-over, V-neck. And the bodice is perfectly shaped with a section of elegantly crossed-over fabric that emphasizes the waist area beautifully.
In addition, it has an attractive gathered front to smooth over any extra weight around the tum and hips.
And with a little more skin cover at the back and front, it's a great choice for cooler temperatures.
The elegant plus-size royal blue satin bridesmaid dresses are easy to walk and dance in!
As an example of high-quality, plus-size, royal-blue, satin bridesmaid dresses, it really couldn't be more flattering and 'royal' blue will look fabulous next to the bright, white bridal gown!
So whether you have cool summers and hot winters or vice-versa, there's a huge range of high-quality, flattering and trendy, satin bridesmaid dresses on offer this season.
Brides who live in the US, UK, Canada, Australia, New Zealand or any other excellent country can rest assured that we work hard at HerStyleCode to always keep you totally up-to-the-minute with the latest fashion styles and colors!
Your comments
Now it's time for you to share your comments about the bridesmaid dresses on offer this year.
1. Which do you prefer standard shops or online bridesmaid stores?
2. Have you had any good/bad experiences you can share to help us avoid problems?
3. Do you have a favorite online bridesmaid store?
4. What do you think about the trend for smooth satin bridesmaid dresses this year?