50 Cool Skull Tattoos Designs
Recently, skull designs have gained wide-wide popularity. As for the prosperous tattoo industry, skull tattoos own a lot of symbolic meanings so they are super popular among both sexes. Just as the other tattoos, you can choose to ink the stunning skull tattoos on your arm, foot, chest, hip, or back. You can hide it if you do not show it and you can expose it if you want others to see it.
Skulls may be a simply of the soul of the dead or wisdom of ancestors, which could also represent horror and death. If you think a single skull tattoo looks terrible, you can add it with some flowers, such as roses which mean grateful dead or love. Besides, you can mix the skull tattoo with green leaves to contrast the life and death.
You can also enlighten your skull tattoo with your creativities and bold ideas to make it more artistic and special. You can opt for just one tone on the tattoos. If you desire to make your skull tattoos more impressive and brilliant, you can try out various contrastive colors.
Skull Tattoo Designs for Women: Upper Arm Tattoos /Source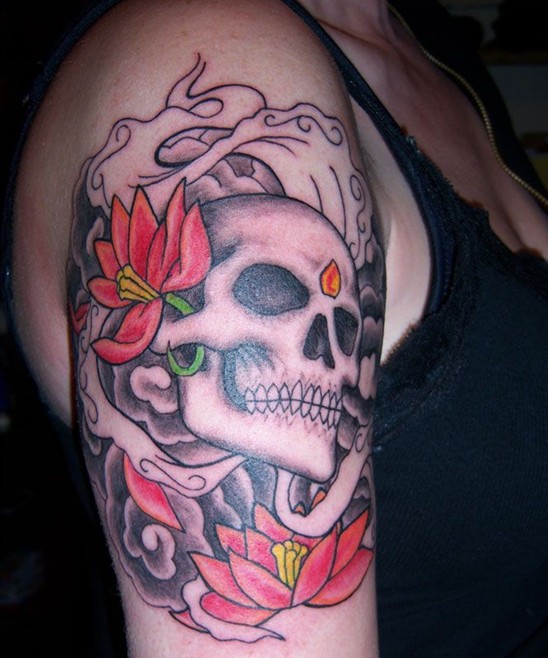 There are a great number of awesome skull tattoos that suit your age. In addition, you can choose small, medium or large sized skull tattoos according to the place where you desire to create.
If you desire to choose a way to show your bold and special personality, just ink one skull tattoo.
Skull Tattoo for Woman /Source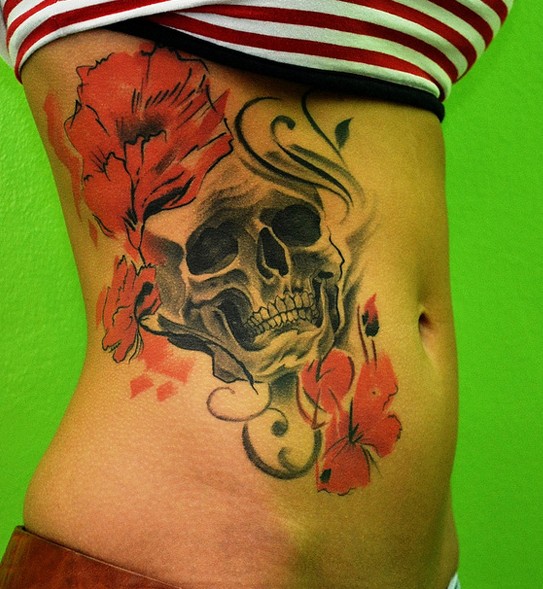 Skull Tattoo Ideas /Source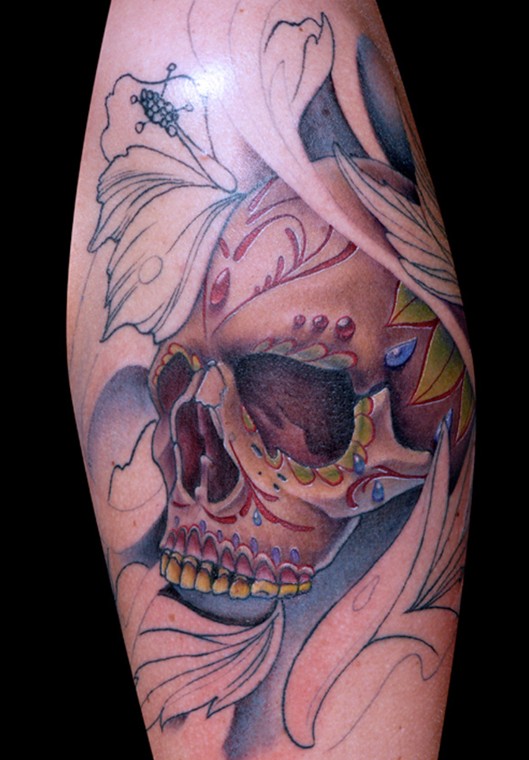 Freehand skull on head tattoo  /Source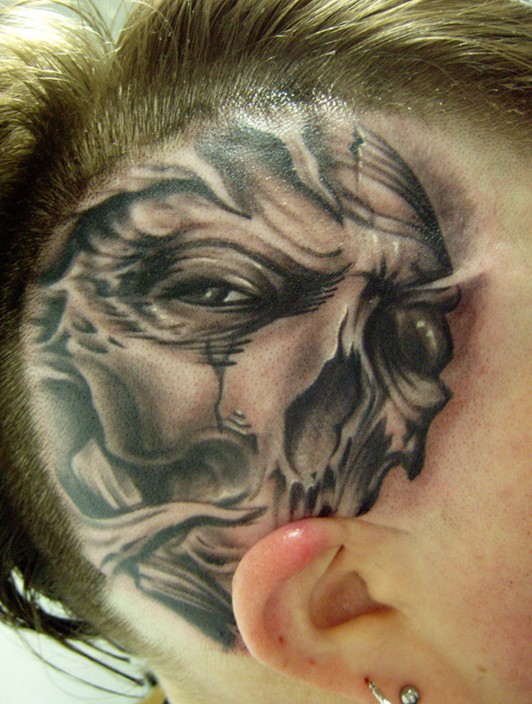 Skull Tattoo on hand /Source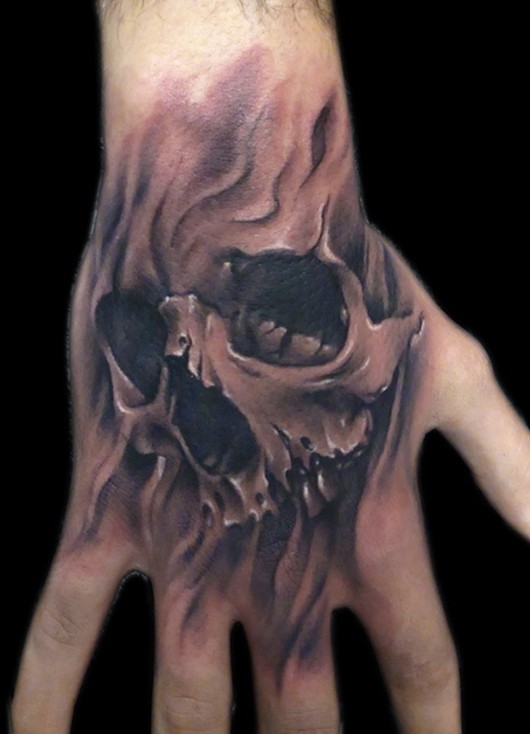 Skull and roses tattoo on black /Source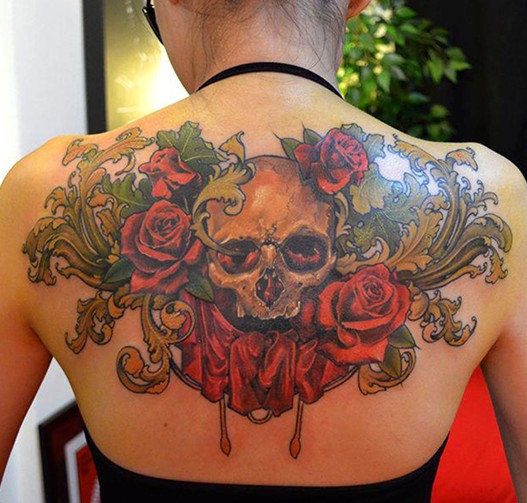 Skull Tattoo on Upper Arm /pinterest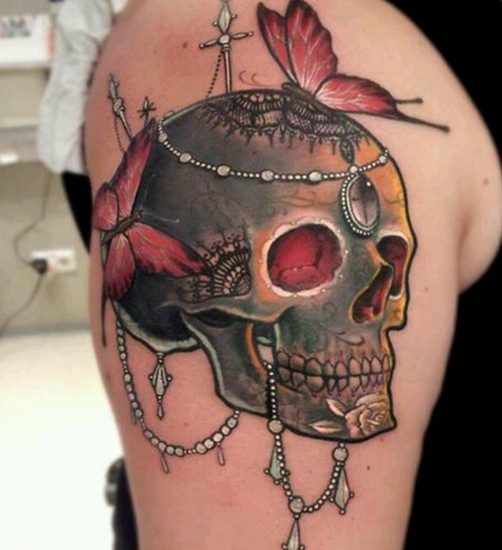 Girly skull tattoo ideas /Source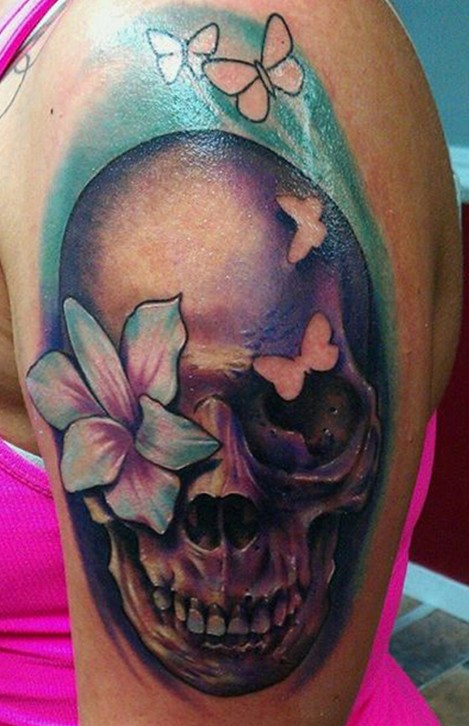 Leaf and skull tattoo /Source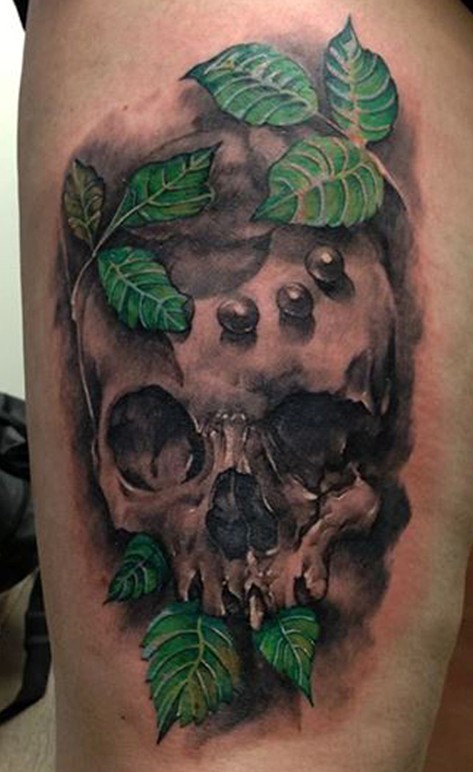 Skull and Roses Tattoo on Upper Arm /Source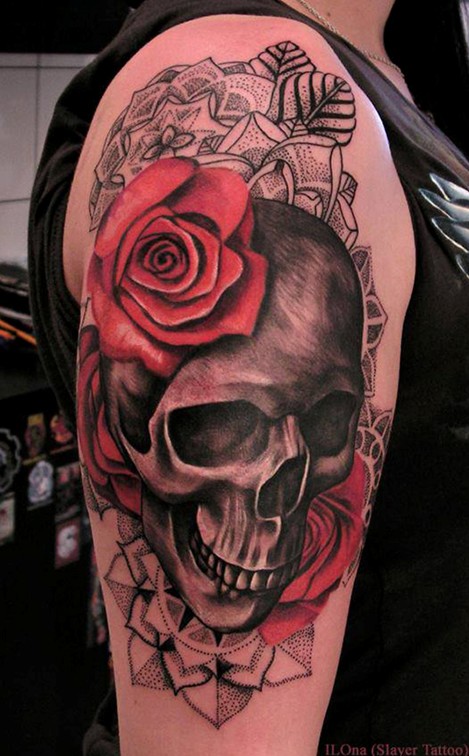 Skull Tattoo /Source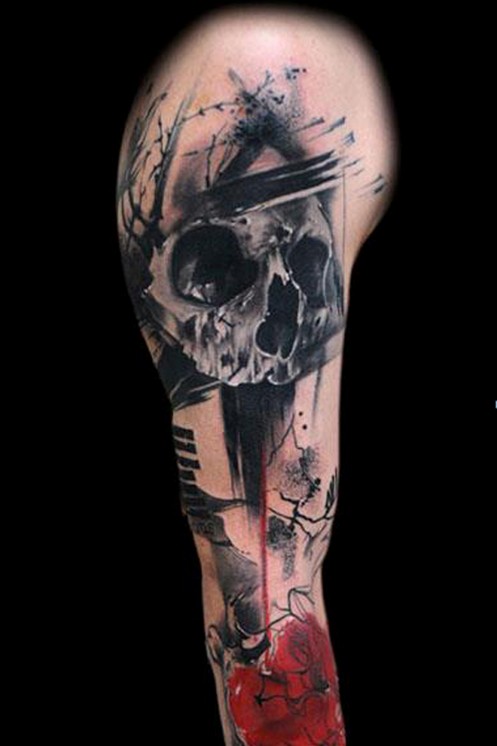 Skull Tattoo Foot /Source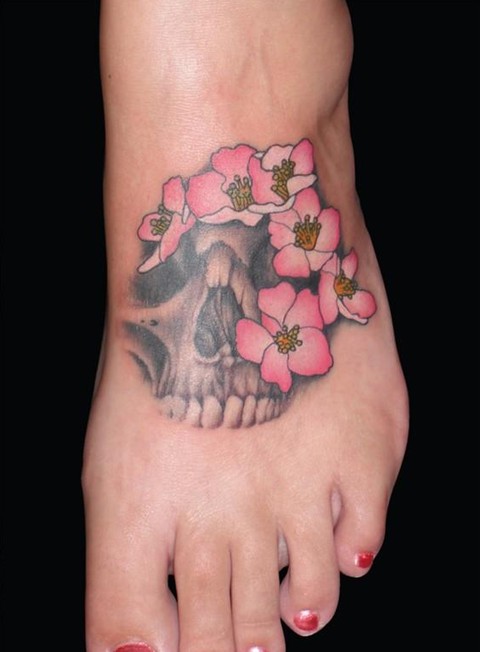 Cool skull tattoo design for female /Source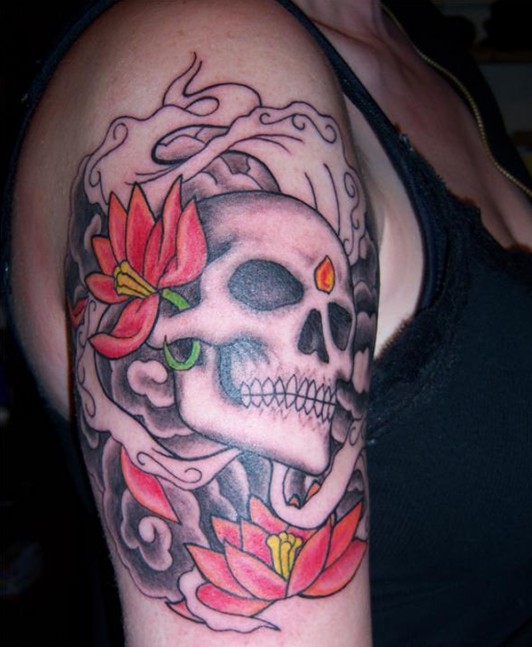 Skull tattoos ear /Source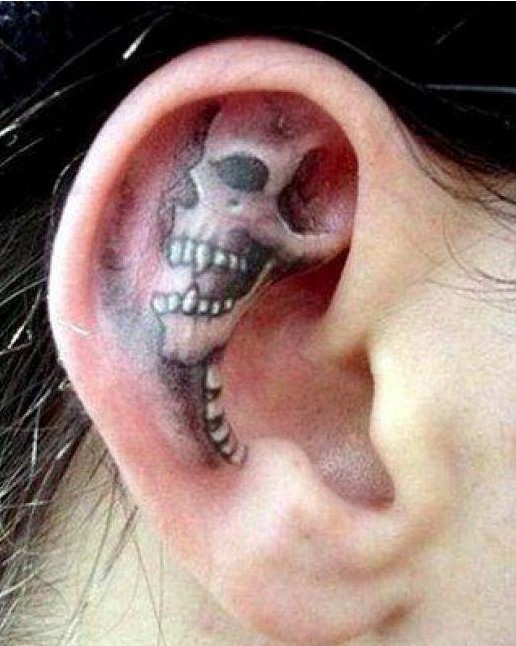 Cute Skull Tattoo on Foot /Pinterest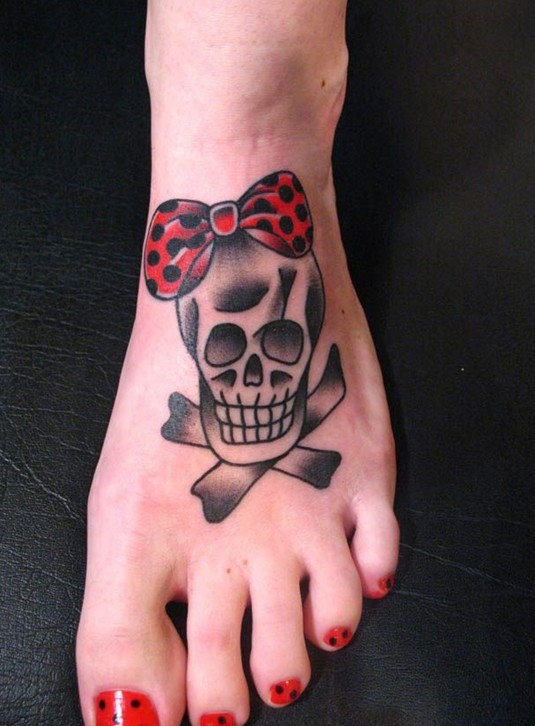 Girly skull tattoo /Source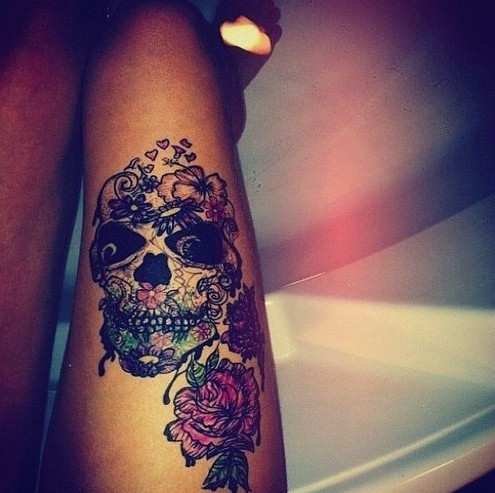 Girlie Skull Tattoo /Source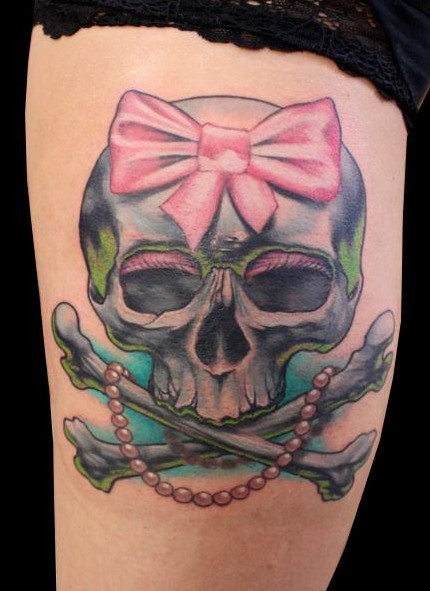 Girly Sugar Skull done in Black pearl tattoo studio /Source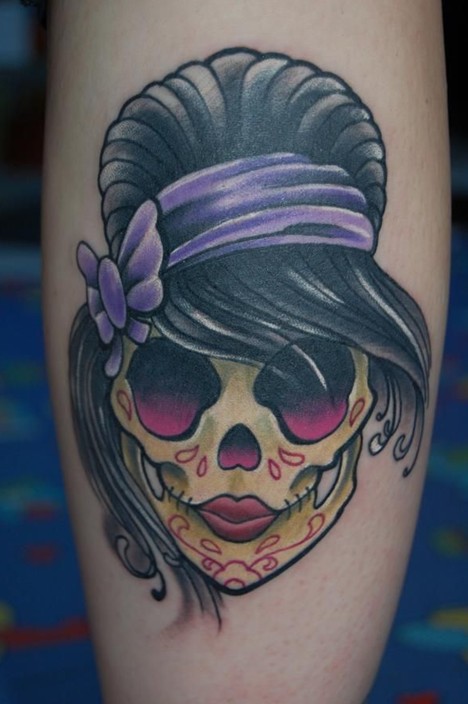 Halloween skull tattoo for girls /Source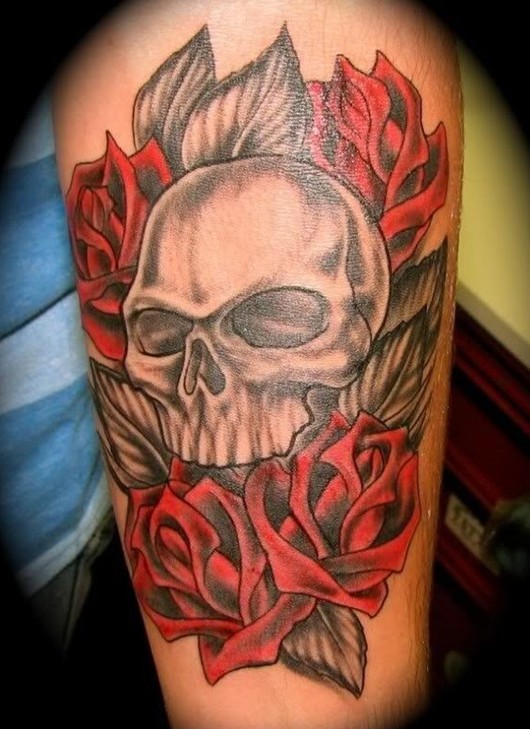 Half Sleeve Skull Tattoo Ideas for Women /Source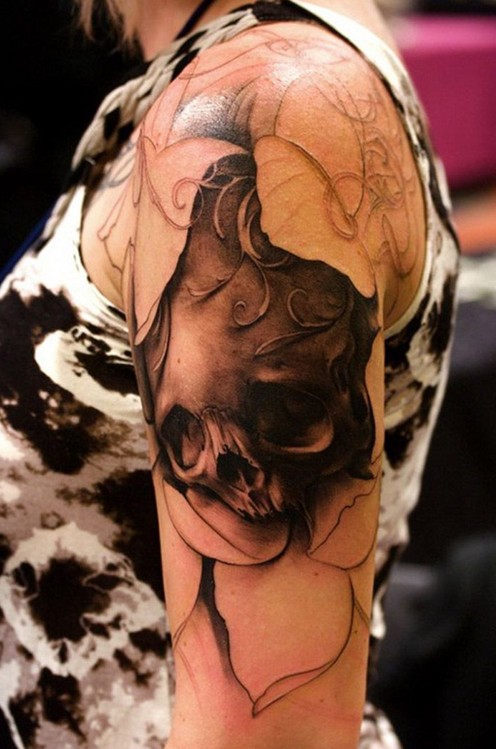 Rose and Skull Tattoos /Source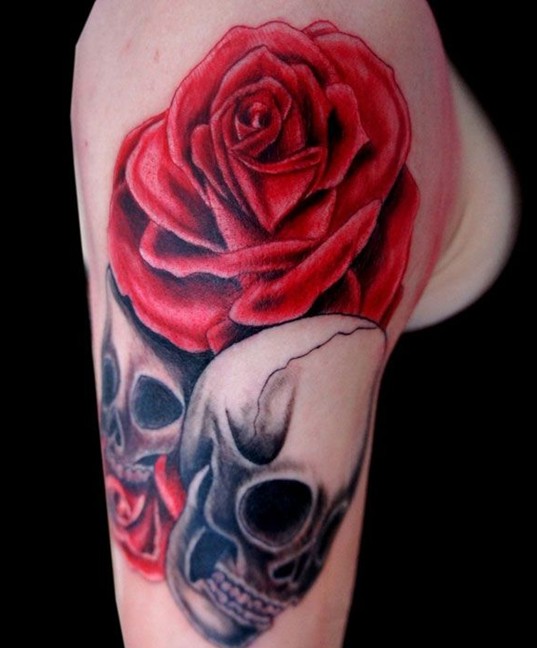 Skull Tattoo on Arm /Source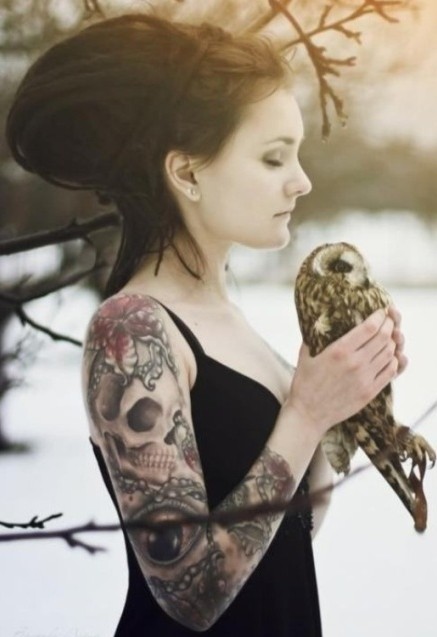 Butterfly and Skull Tattoo /Source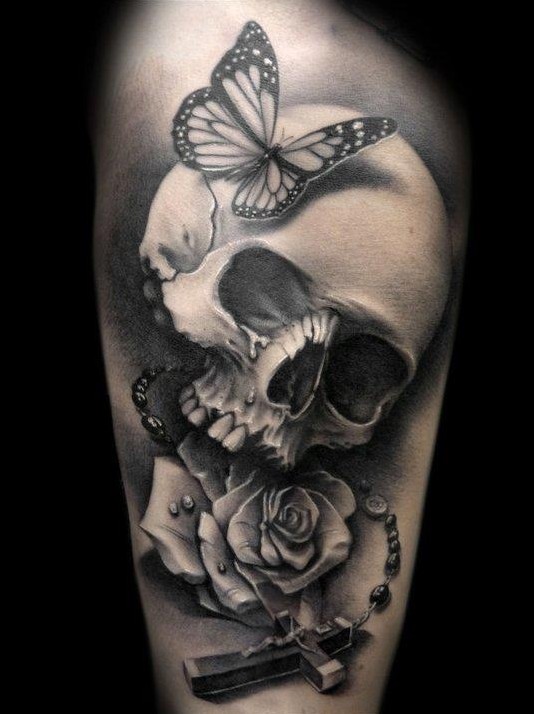 Skull Tattoo for Women: Arm tattoos /Source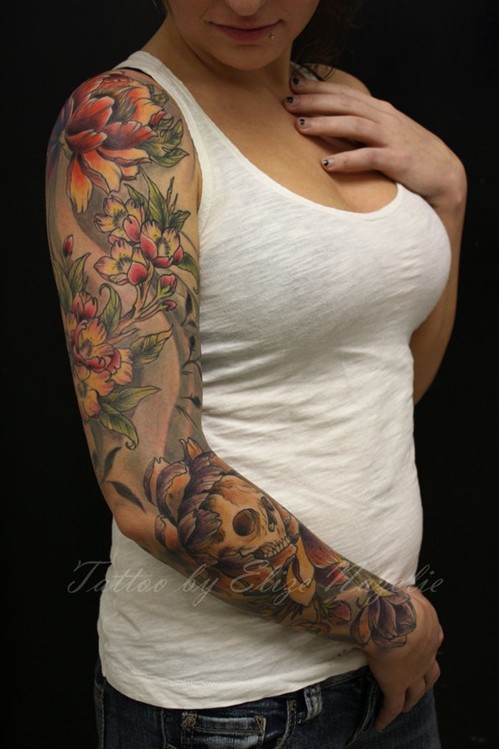 Rose and Skull Tattoos on Tumblr /Source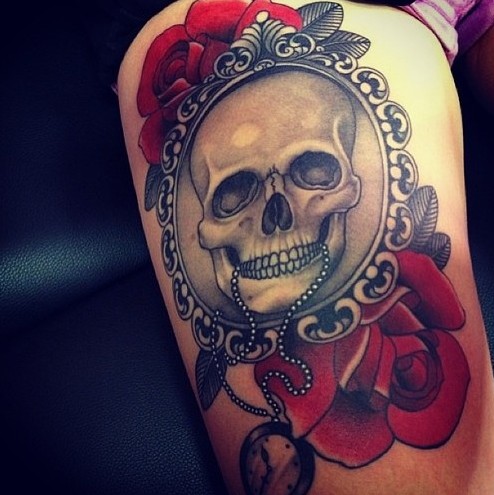 Black rose and skull tattoo /Source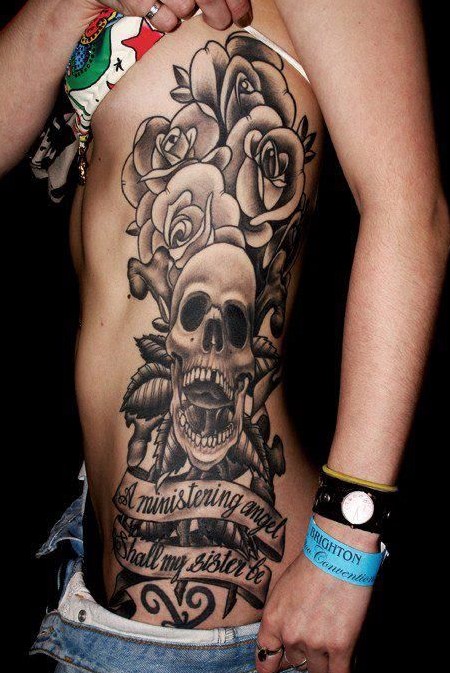 Small skull tattoo designs on fingers /Source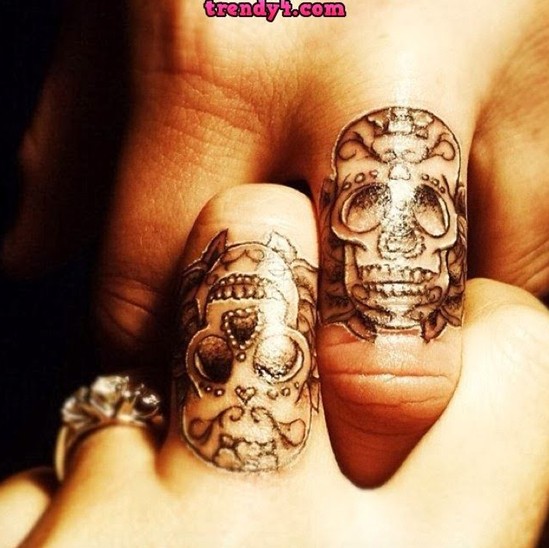 Rose and skull tattoos designs /pinterest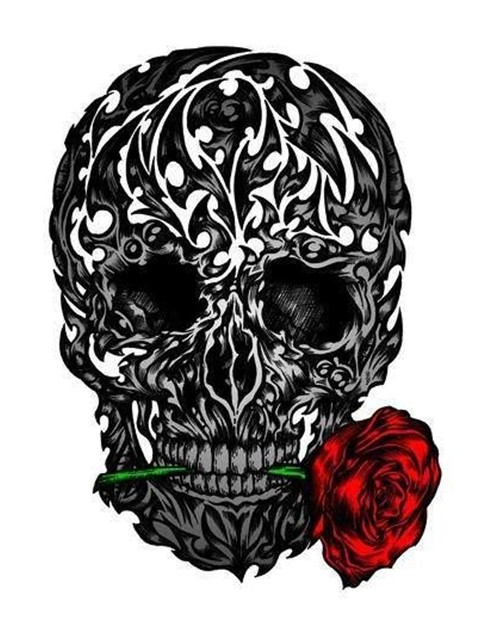 3D skull tattoo designs for girls /Source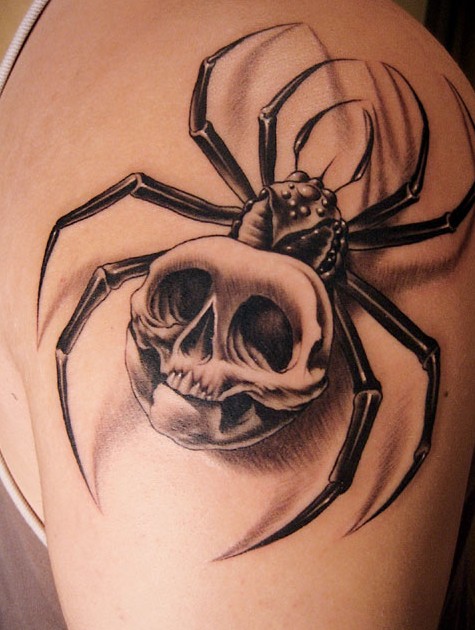 Butterfly Girl Skull Tatoo on Upper Back /Source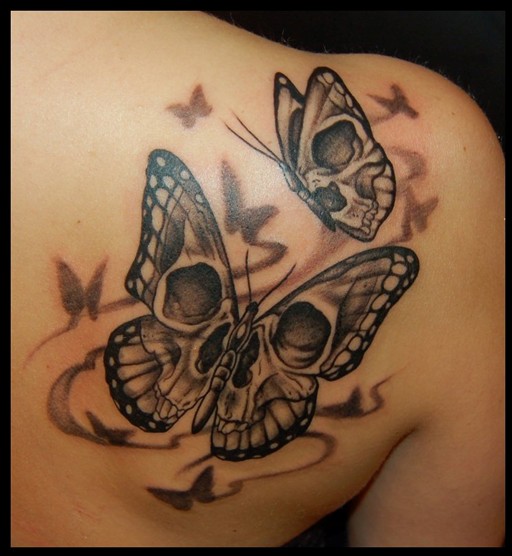 Upper Back Tattoos: Skull Rose Tattoos for Girls /Source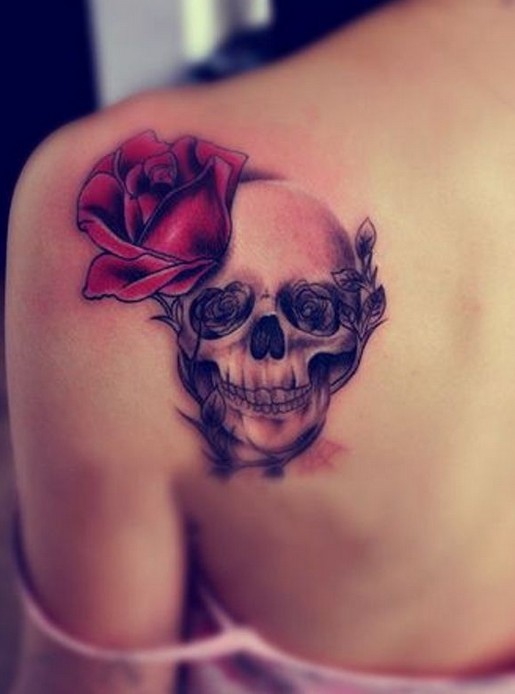 Flower Skull Tattoo Designs /Source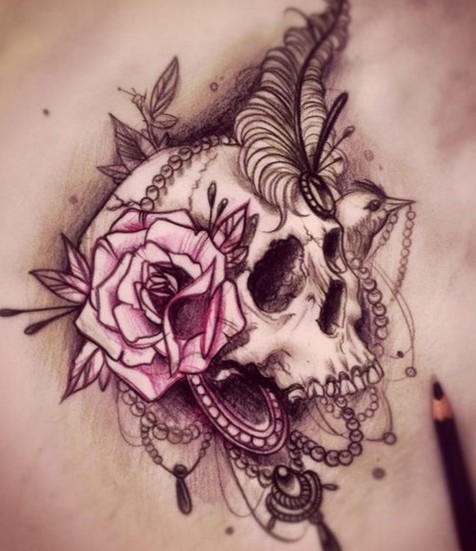 Blue Rose and Skull Tattoo: Arm Tattoos for Girls /Source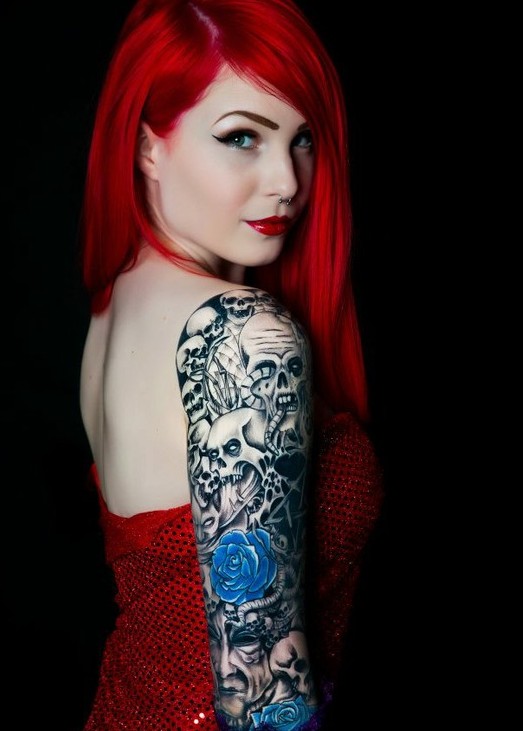 Skull Spade Tattoo Designs: Foot Tattoos /Source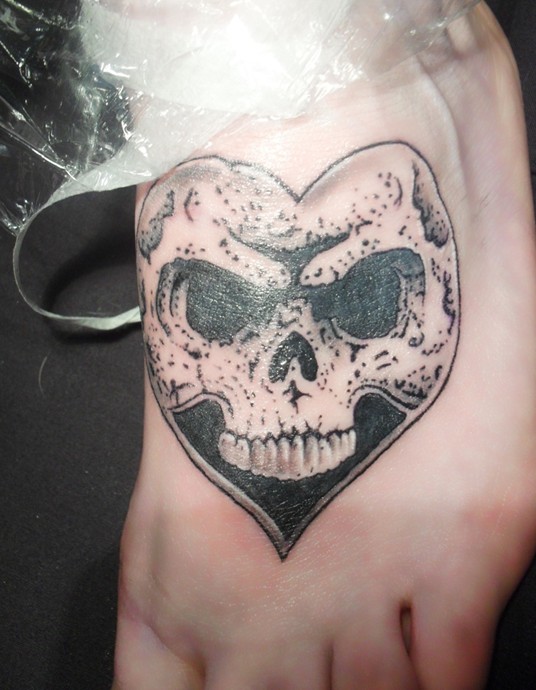 Skull Tattoos: Chest Tattoo Designs for Women /Source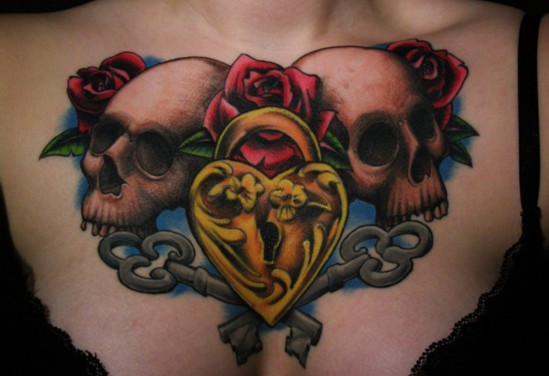 Finger Tattoo Designs for Girls /Source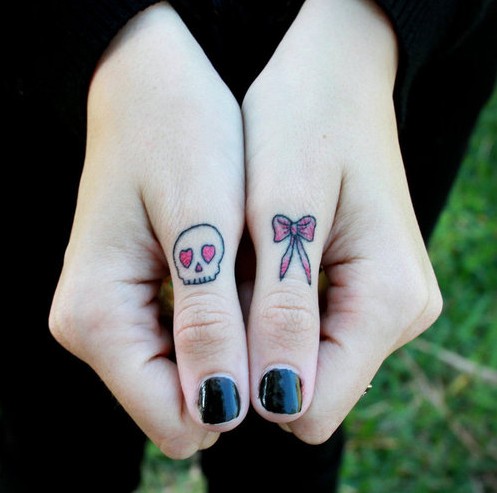 Cool Skull Tattoo for Girls: Arm Tattoos /Source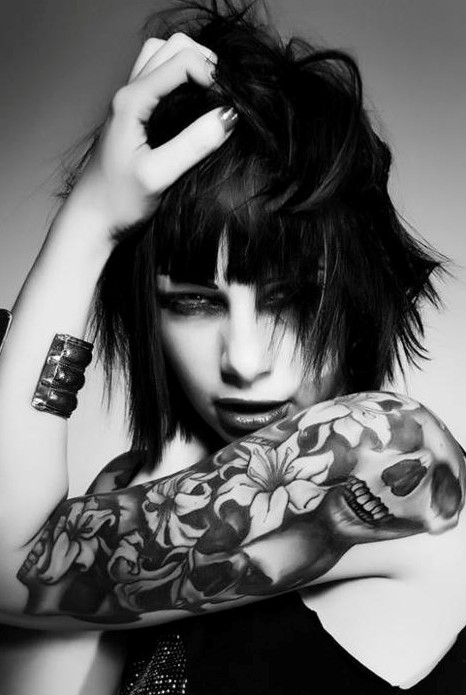 Butterfly, Rose and Skull Tattoo Designs /Source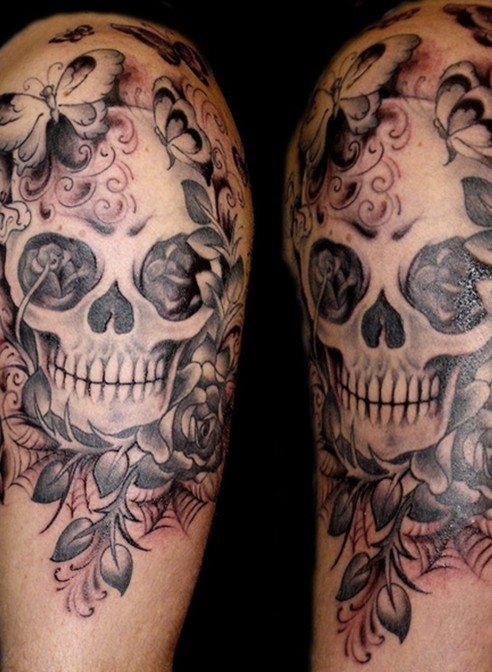 Rose Skull Tattoo Designs for Girls: Foot Tattoos /Source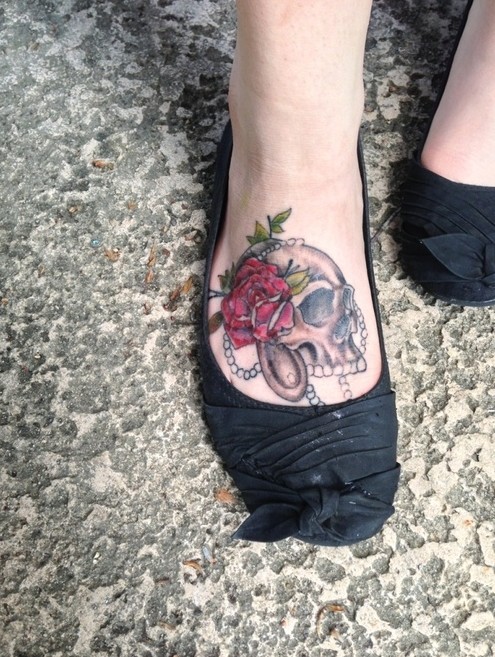 Beautiful Skull Tattoo Ideas /Source