7 Reasons to Buy Oval Makeup Brushes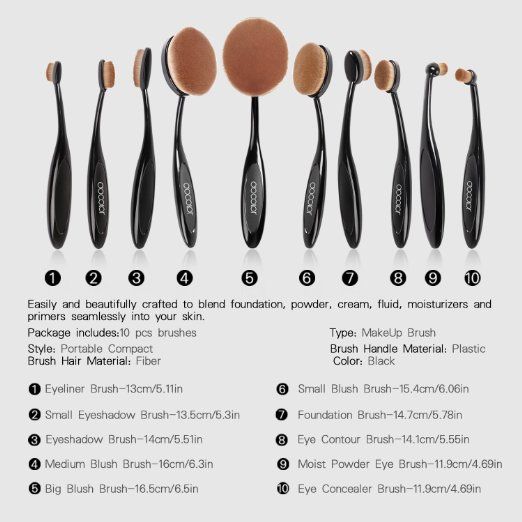 Oval makeup brushes are the newest trend in cosmetics. These hairbrush-shaped brushes are sweeping the makeup world off its feet and have been recently praised by celebrities and trusted makeup artists. So, are oval makeup brushes really worth buying, or are they just another passing fad? Read on to discover seven reasons to buy oval makeup brushes today.
1. They Don't HAVE to Be Expensive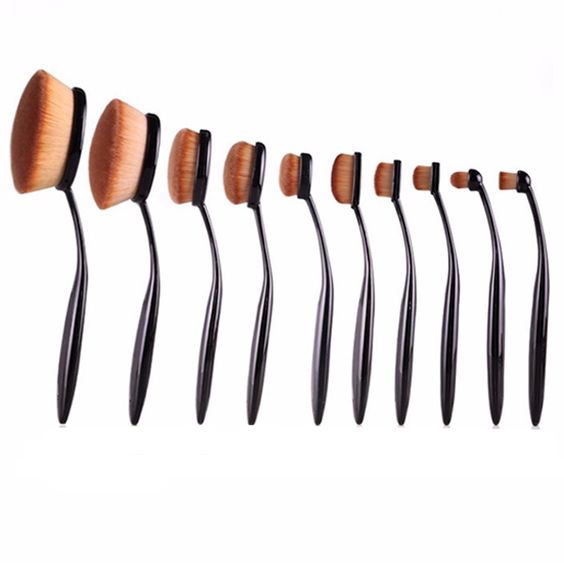 Yes, if you buy oval makeup brush sets from high-end manufacturers like Artis, you're looking at a price tag of upwards of $300 for a set and no less than $50 per brush.
However, there are plenty of oval makeup brush dupes that retain the same style and shape without costing you an entire paycheck. You can find full sets of high-quality oval brushes from distributors like Amazon.com for $20 to $30. So, really, what do you have to lose?
2. One Word: Blending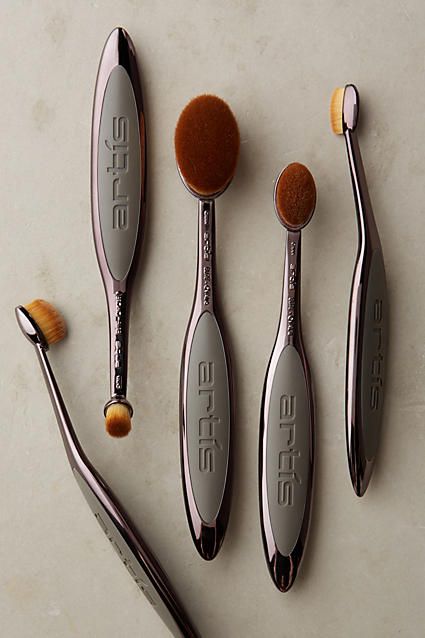 Blending your makeup sufficiently can be one of the most challenging parts of makeup application as a whole. The primary claim to fame of oval makeup brushes is their incomparable ability to blend and buff skin makeup to create an airbrushed finish.
These claims are true. The dense, compact shape of oval makeup brushes allow them to blend your makeup effortlessly until it is completely smooth without smearing it off.
3. They Feel Like Pillows

Oval makeup brushes are so, so soft on your skin. Seriously, when you apply makeup using an oval brush, it feels like you're putting your makeup on with wisps of clouds.
Many other makeup brushes can irritate your skin if you push too hard in order to sufficiently blend and buff your foundation. No matter how hard you press against your skin with oval brushes, they feel soft and gentle.
4. They're Cruelty-Free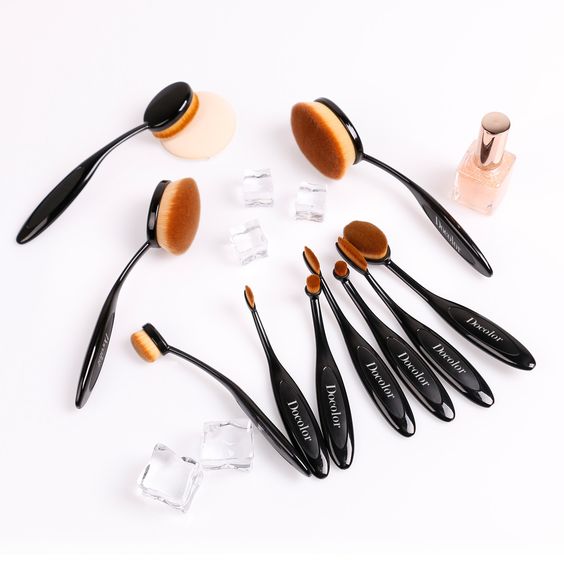 If you're not into animal torture, you can rest your mind at ease with oval makeup brushes. Almost all oval brushes are crafted from synthetic fibers.
Of course, some manufacturers and distributors might sneak some animal hair into their oval brushes, so it's always important to double check. For the most part, however, you can use oval makeup brushes with a guilt-free mind and heart.
5. They're Easy to Clean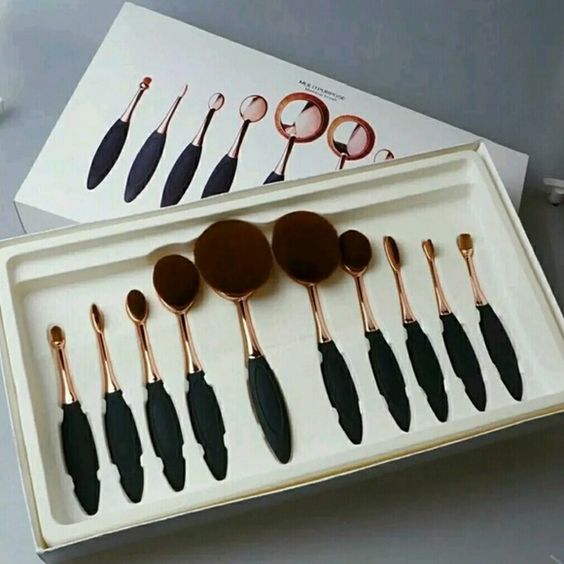 Gone are the days of washing your makeup brushes with soap and water between uses and waiting upwards of twelve hours for them to dry before you can use them again.
Oval makeup brushes are available with their own unique cleaning systems. You can use this dry, solid cleaning system to effortlessly and thoroughly remove product from the brushes and use them again immediately.
6. They're Versatile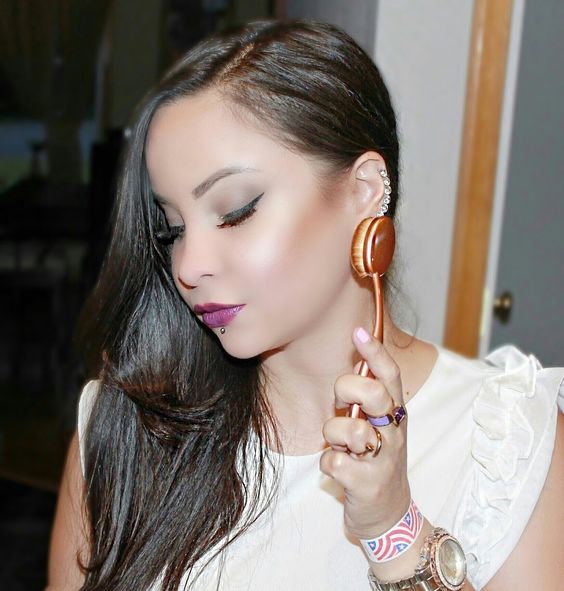 With oval makeup brushes, you don't need to invest in a full set of twenty or more brushes to fulfill all of your makeup needs. Oval brushes are much more versatile than traditional makeup brushes.
One oval makeup brush can be used to buff your foundation, apply your concealer, and even blend your eyeshadow. Experiment with different sizes of oval brushes to see which ones you feel most comfortable using on multiple areas of your face. Mid-sized oval brushes are generally the most versatile sizes that can be used anywhere from your cheeks to your eyelids.
7. They Save Product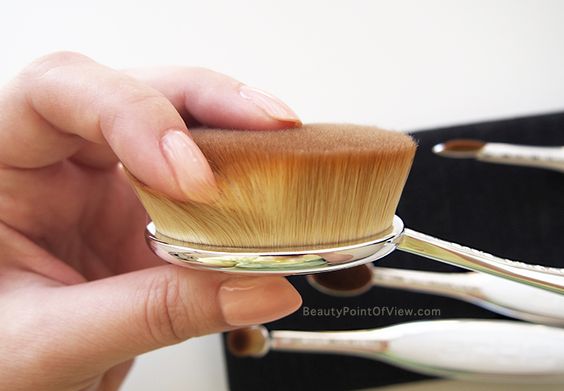 The dense, thick fibers of oval makeup brushes prevent excess liquid and powder products from getting trapped in the bottom of the brush and becoming unusable.
Many traditional makeup brushes waste tons of product, forcing you to use more makeup and buy replacements for your favorite products much more quickly. Oval makeup brushes help you save both time and money by keeping makeup on the surface of the brush and blending all of it onto your face without wasting.
Oval makeup brushes have many advantages over traditional makeup brushes. Treat yourself and buy oval makeup brushes to experience these unique benefits for yourself.