20 Really Cute Haircuts for Your Baby Boy
Ever look at your baby boy and wonder where the time goes? They certainly do grow up fast, but nowhere near as fast as their hair grows. This is why picking the perfect haircut for your little one can be a difficult decision. You want the world to see just how gorgeous your baby is and you definitely don't want him to cringe with embarrassment when he looks back over his baby photos in years to come! Here are 20 adorable haircut ideas which we're sure you'll be inspired by for your baby boy.
Slicked Down
There's no age limit on being dapper. If you want you your baby boy to be the smartest kid in the crèche, give him a neat side parting and slick down his hair like this tiny tot.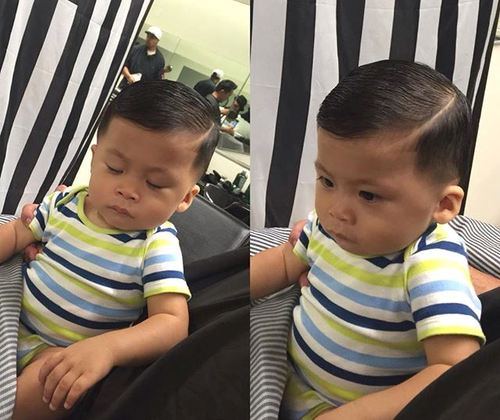 Spiked and Shaved
Are you raising a mini rock star? If so, he is sure to appreciate this adorably rebellious spiked up quaff, complete with shaved sides. The lightning bolt shaved into the sides makes it even more cool.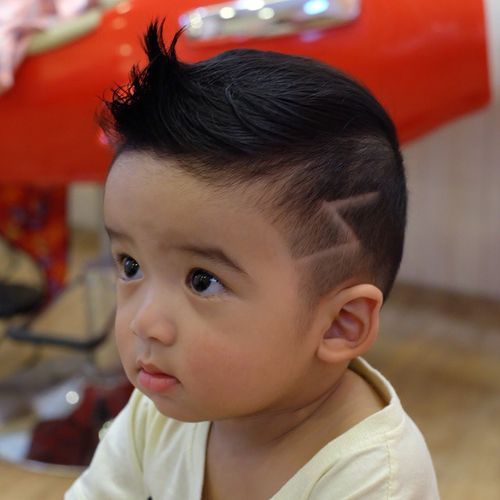 Floppy Hair with Undercut
A shaved undercut with longer, wavy hair on top is a trendy style for boys of all ages. When worn by teens and grownups it can make them look like handsome members of boy bands. On a baby boy, however, this haircut is almost too cute for words.
Cute Curls
If your little boy is lucky enough to be blessed with tight curls, make sure you show them off to their absolute best. The slick, neat hairline accentuates these cute curls perfectly.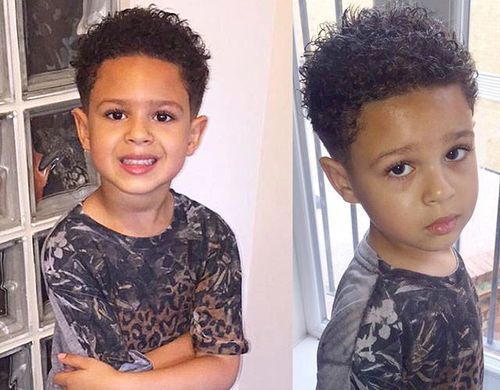 Mohican
Give your kid a punk rocker vibe by shaving his hair into a cool Mohican. Spike up his locks to guarantee that he looks and feels like the trendiest tot in town.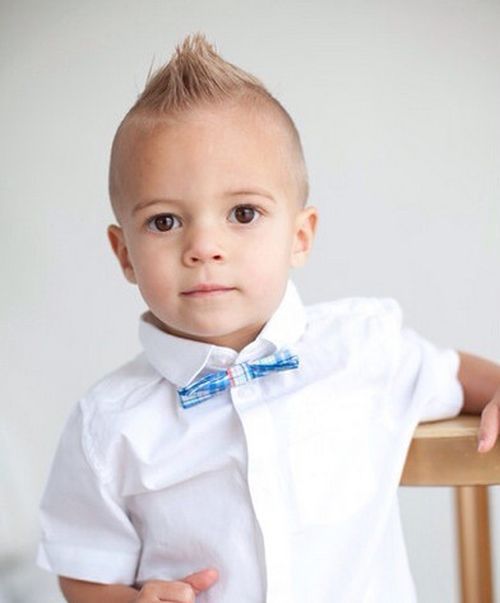 Shaved Lines
Shaved lines are possibly one of the most fashionable hair trends for men at the moment. If you want your son to look as adorable as this chubby cheeked little boy, give him twin shaved lines and an extreme side parting.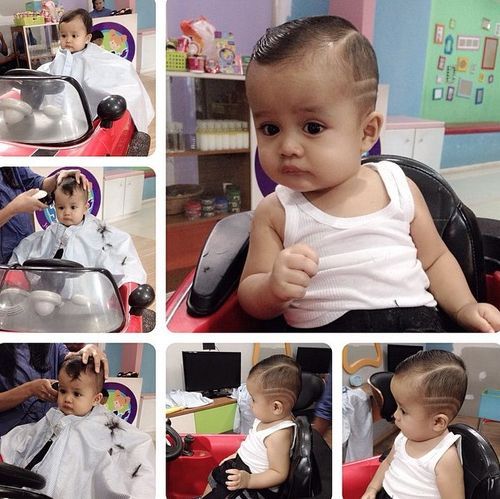 Slicked Down with Shaved Lines
This trendy cut looks like a combination of number one and number six. The sweeping crown, which has been pristinely slicked down makes this baby look neat and polished. The faint shaved lines, however, give him a slightly rebellious edge.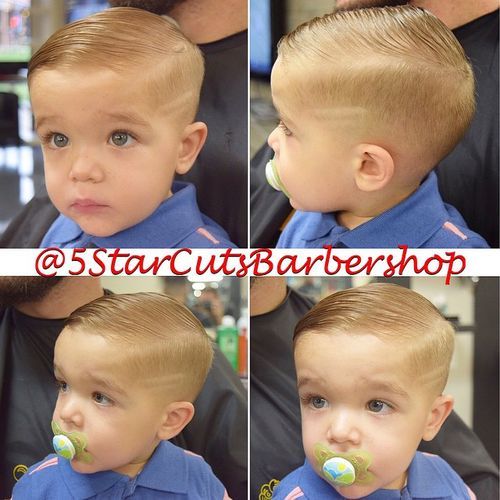 Long on Top
Let the world see how cool and carefree your little dude is with this floppy style. Keep the sides short and let the top flow free like in this relaxed style.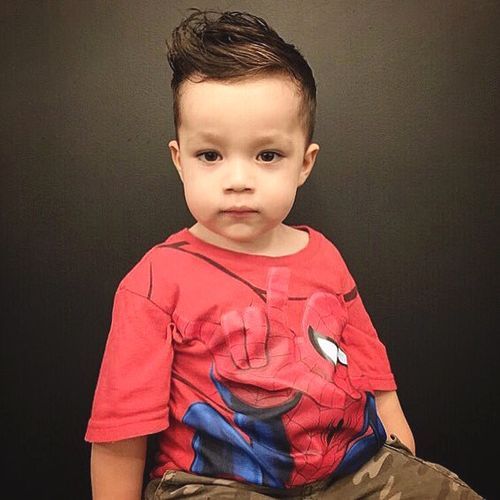 Perfectly Tidy
If you'd prefer your baby boy to rock a clean shaven cut, try out this adorable do. This blond little boy has a side parting and a smooth style with not one hair out of place.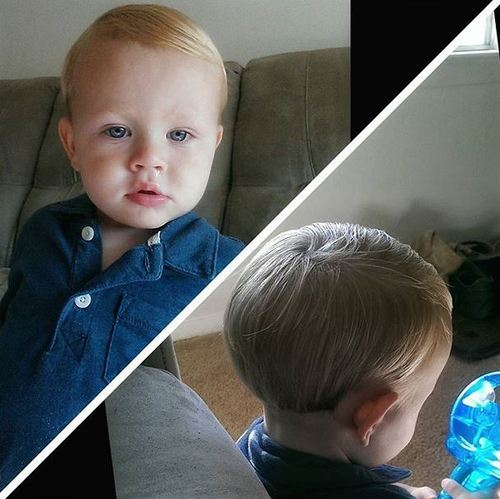 Tight Curls
This tightly curled haircut will look particularly adorable on little boys with afro texture locks. His spiraling curls have been cropped so close to the head that they have been kept perfectly neat and tidy.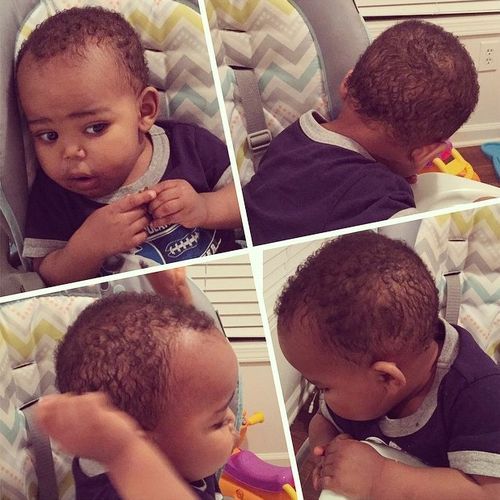 Hipster Baby
Your baby will look too cool for pre-school with a haircut like this. Just like a grown up hipster, leave his locks on top straight and completely shave the sides. This is totally edgy and will make any baby look cool.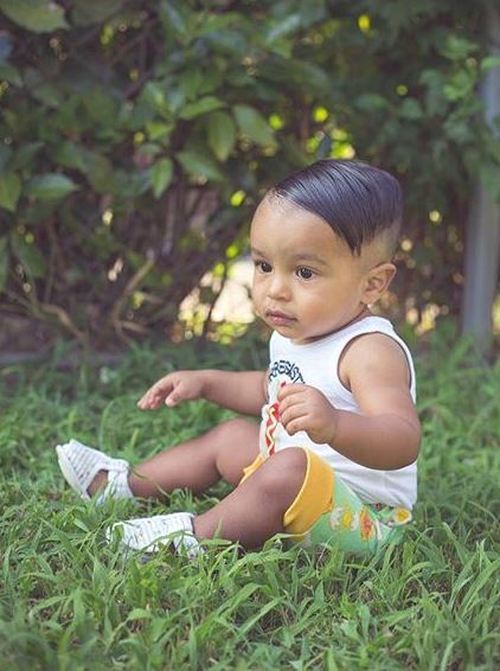 Swept Back with Angled Lines
Want your baby boy to look both handsome and super sweet at the same time? Treat him to this perfectly swept back haircut with choppy layers on top which gradually fades into a grade one cut. The shaven sides look gorgeous, especially thanks to the pristinely cut lines in his hairline.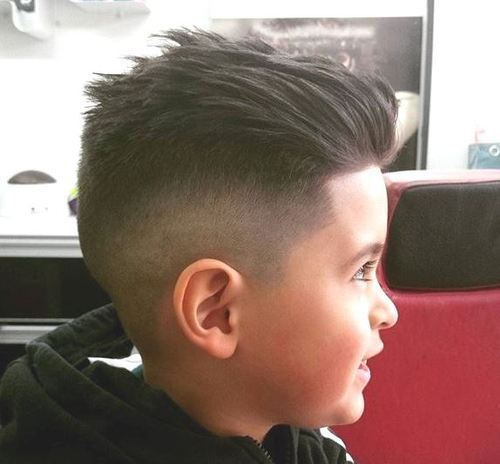 Thick and Layered
Baby boys with naturally thick hair will look absolutely adorable with this bouncy, layered haircut. The deep side part and perfectly coiffed tresses on top go together beautifully.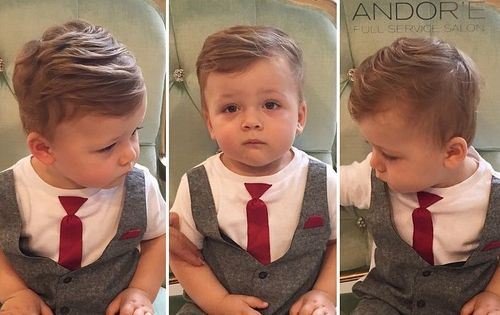 Baby Spikes
Show off just how cute your little boy's facial features are by spiking up his locks into jagged little points. Cut the sides short to keep the style on trend and your son will be turning heads wherever he goes.
Daring Little Darling
If you opt for show stopping styles in your own day to day life, then why shy away from it when it comes to your baby boy? Give him a haircut like this one, which looks fashionable enough to be featured in a chic editorial magazine. Long with cute babyish waves in the back and short in the front, with a jagged little fringe; this haircut is one that will really make your son stand out.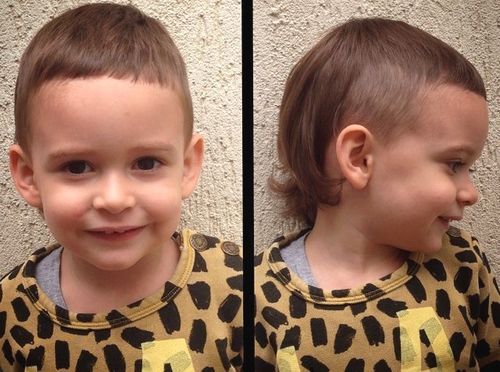 Purple Mohawk with Zig Zags
We can't imagine anything cooler than a little boy with vibrantly dyed locks. This curly little purple Mohawk is too cute for words and the zig zag fade is sure to cement his role as the most popular kid in playschool.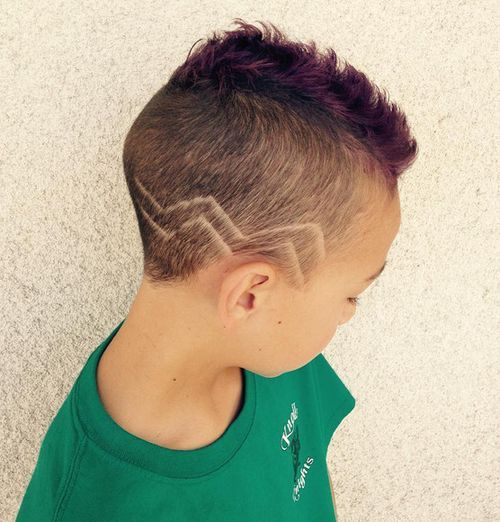 Spider Man
Cobwebs aren't just for Halloween costumes! Little boys and girls around the world dream day in day out of becoming a superhero like Spiderman. You can help your son get one step closer to achieving this dream by shaving a spooky spider's web into the back of his hair, just like this mini style superhero.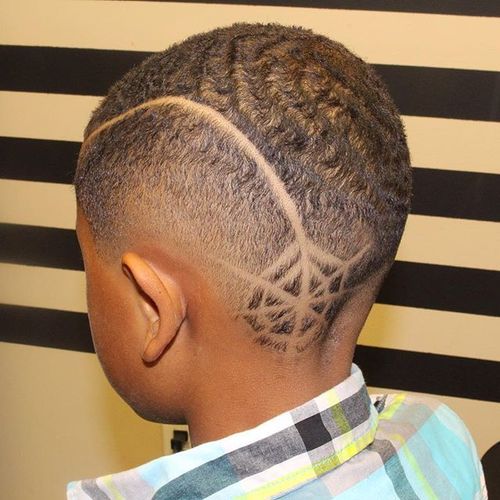 Double Stripes
We've already established that shaving stripes into a little boy's hair is a sure fire way to make him look adorable and feel about as cool as it gets. Why not go all out and get twin lines shaved the whole way around his hair? Keep the top half long and neatly styled to keep him looking smart.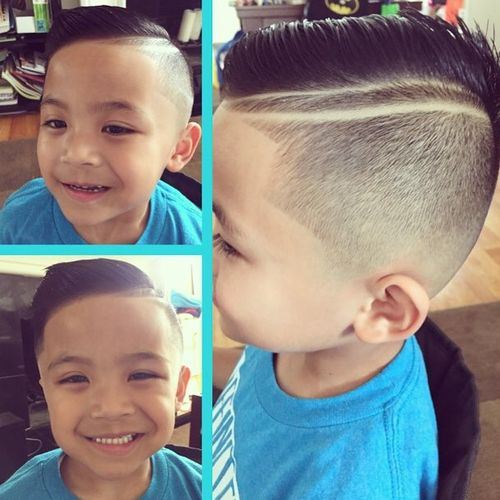 Wavy
If you want to experiment with the shaved lines on your baby boy, but don't like the dead straight stripes, try out this wavy fade. The swirling lines at the bottom of the hair look amazing, especially when teamed with the slick hair on top.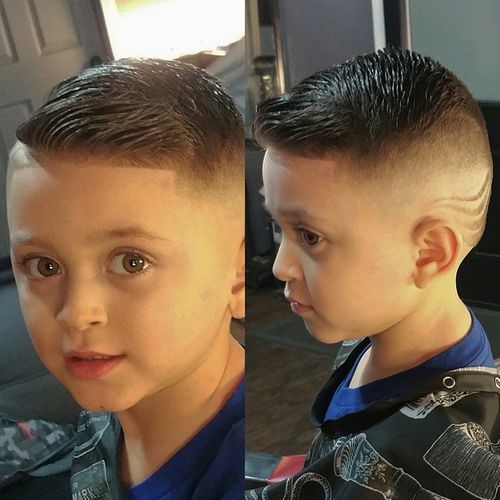 Side Sweep and Fade
If you have a chubby faced little cherub of your own, accentuate his cute, round features with this haircut. The hair on top is slightly long, and combed neatly over to one side, the hair around the sides is shaved into a gradual fade which we think looks handsome.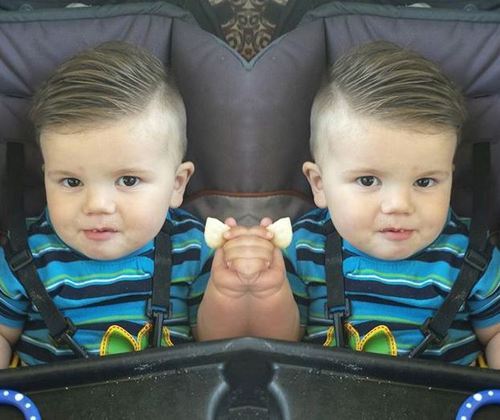 Save