40 Gorgeous Ways to Rock Blonde and Sliver Hair
We never thought we'd see the day where girls around the world were envying their grandma's hairstyles. However, these days, silvery locks aren't just for the over 50s. If you've been following hair fashion over the past few seasons, then you're sure to have noticed the surge in popularity that grey tresses are currently enjoying. There's no question that this unusual shade can turn heads and look gorgeous on any girl. However, we believe that the best possible way to rock the silver hair trend is to team it with a pretty, classic blonde. If you love the sound of these two truly stunning tones together, but can't quite decide how to design your new look, check out these 40 gorgeous looks for inspiration.
Silvery Blue Waves
Rainbow hues and pastel colors are all the rage right now. If you want to try out this trend for yourself but don't feel like going all-out vibrant with your hair, a silvery pale blue could be perfect for you. This magical shade, together with long waves, looks fit for a mermaid.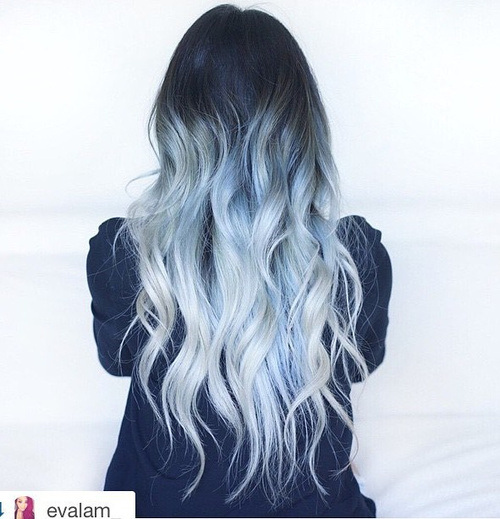 Big, Bouncy Waves
As if silver locks weren't already eye-catching enough, try styling them into sleek and voluminous waves like these. You're sure to grab plenty of attention on a night out with this hairstyle.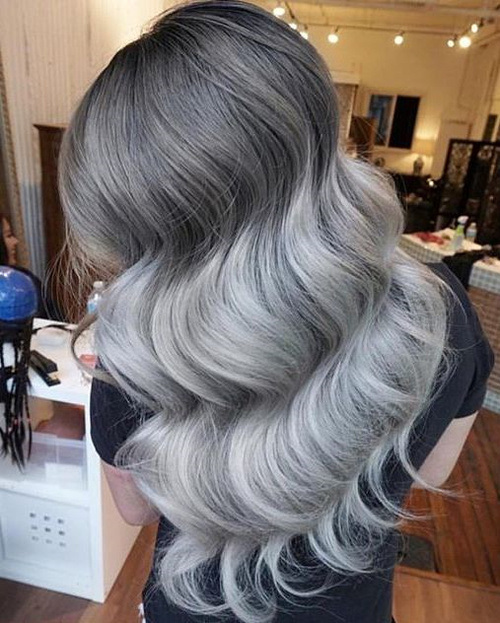 Silver and Purple Graduated Bob
It's hard to go wrong with a classic cut like the graduated bob. This a-line hairstyle is effortlessly stylish and can look great on just about everyone. Reverse ombre in silver and purple is an ideal way to update this style.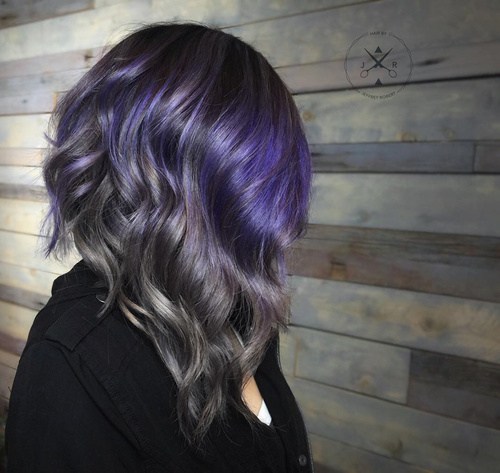 Silver Ombre with Sweeping Bangs
This heavily layered haircut with a sweeping side fringe is the perfect way to frame your face. The subtle silver ombre curls make it look even better, especially with those cute curls.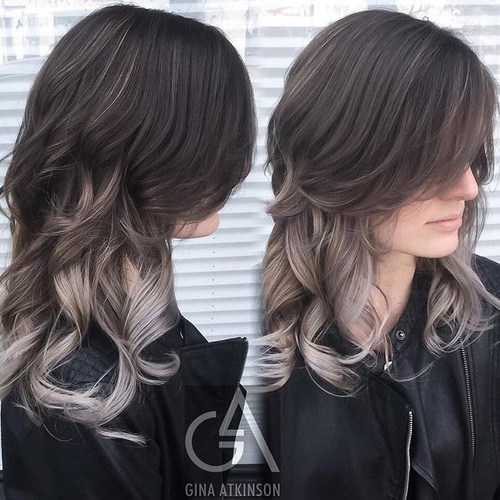 Blonde and Silver Ombre with Dark Hair
We can't imagine a better way to look cool and totally on-trend than this mid-length, centre parted hair with blonde and silver ombre. These two pictures prove that it can look equally beautiful when worn straight and wavy.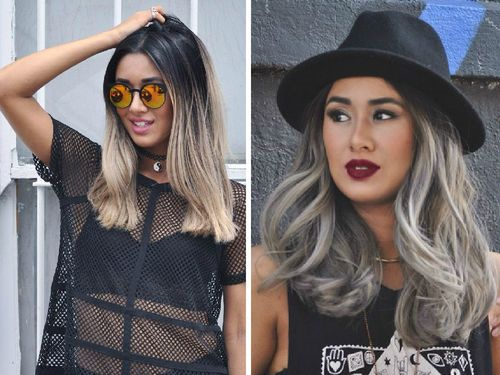 Silver Ombre Curls with Black Hair
Here is yet another stunningly silver ombre hairstyle. This look proves just how bold and beautiful grey tones can look against jet black locks.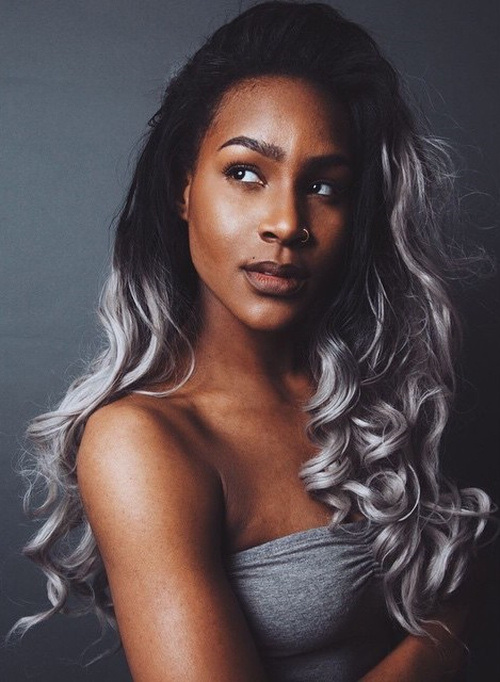 Light Blonde with Subtle Silver
Together, platinum blonde and faint streaks of silver can look amazing. The grey tones here are a lot less noticeable than in the other looks, but they still add a quirky edge to bright blonde locks.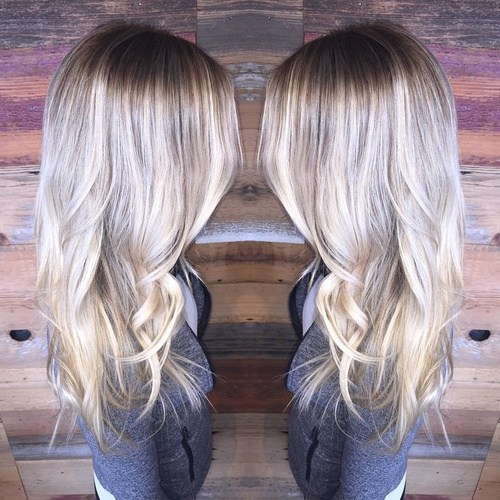 Brown and Silver Curls
Rich brown locks styled into pristine princess curls is a classic look that can make any girl feel super glamorous. If you're looking for an edgy way to update the style, try adding a vivid grey dip-dye to the tips.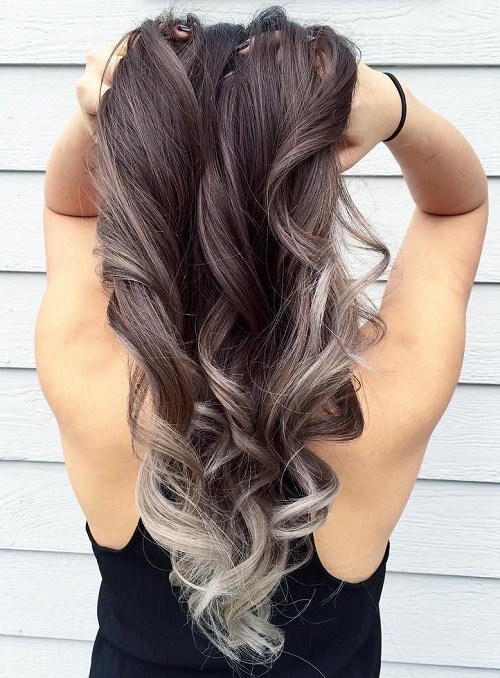 Honey Blonde with Silver Ends
Silvery shades of ombre don't have to be vibrant or bold to make you stand out from the crowd. Make the tips of your caramel blonde hair a soft shade of grey and style into loose waves to recreate this dreamy look.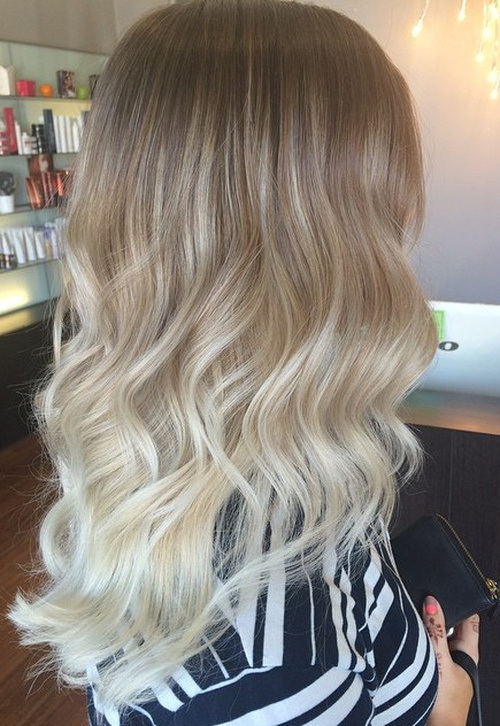 Multi-Colored Ombre
These coffee colored tresses are the ideal look to try this spring. We simply can't get enough of the combination of shades from deep brown, to creamy blonde and shiny silver.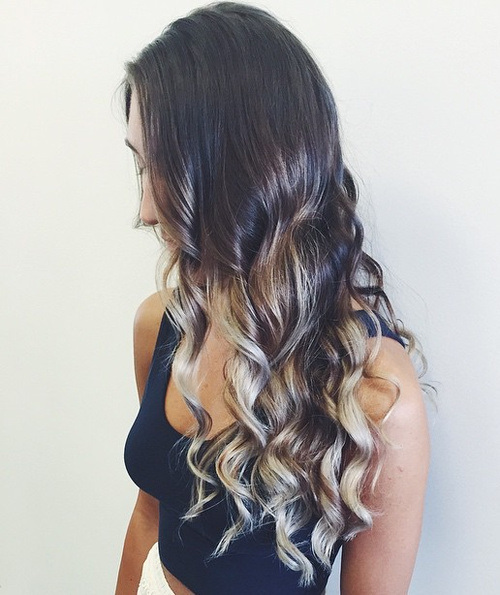 Super Long and Sleek
Add some cutting edge color to long, smooth tresses by styling them with a mix of silver and honey blonde.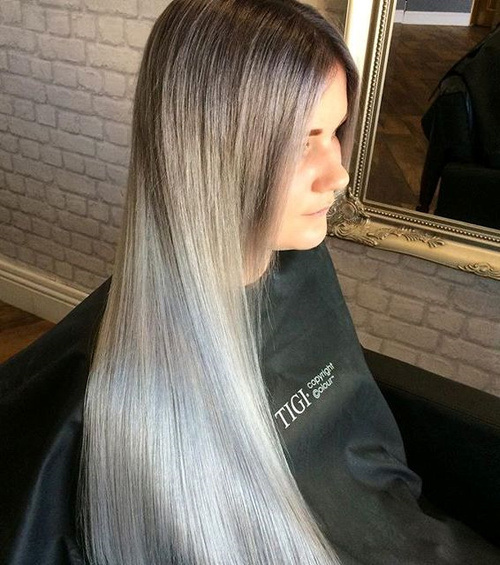 Laid Back Silver and Blonde
Your mid-length locks will never be in danger of looking dull again if you opt for some shocking silver shades which gradually fade into blonde. These colors are stunning enough as they are, so you won't need to do anything to your hair other than leave if effortlessly loose.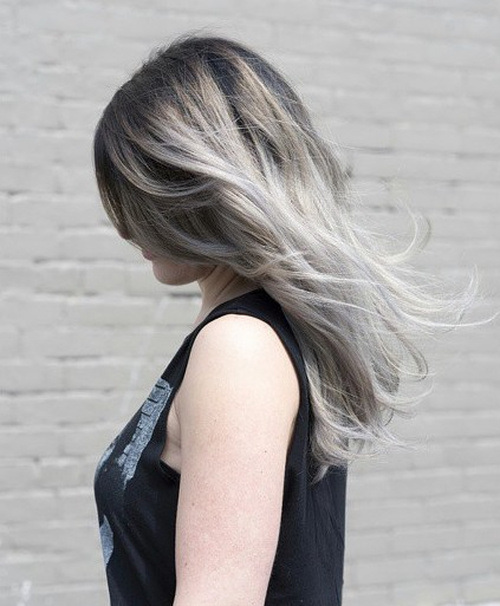 Dark Hair with Full Bangs
A hint of grey can spruce up just about any hairstyle. This shimmery silver adds a whole new dimension to this (already beautiful) chocolate brown lob with thick, face-framing bangs.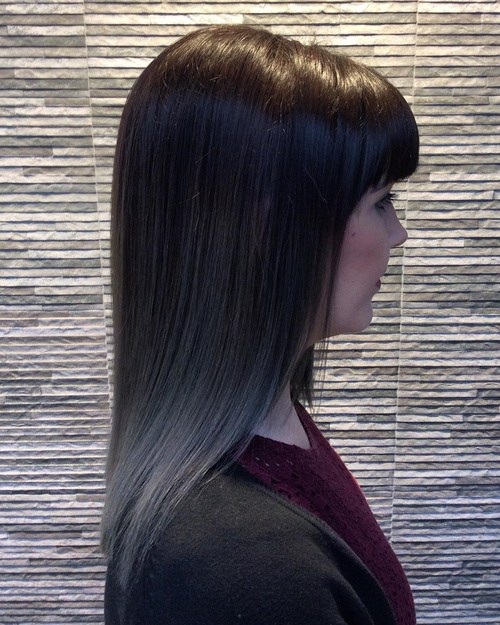 Gold and Silver Waves
Glossy golden beach waves are guaranteed to leave you looking as though you've just got back from a tropical vacation. Add some flecks of silver to these loose curls to make them even more textured and pretty.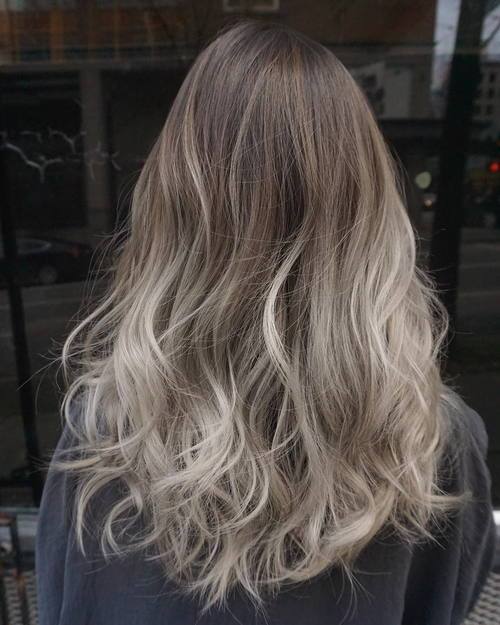 Vintage Waves
There's something distinctly 1940s-esque about these sleek, classic curls. Getting this screen siren look is, surprisingly, a lot easier than you'd imagine. All you need is a little bit of time and some big barreled curlers.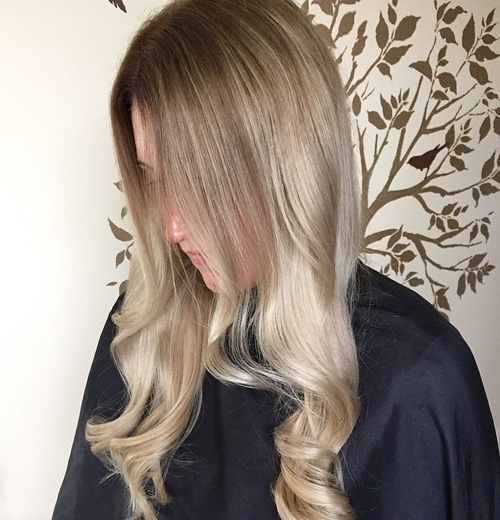 Bold Blue and Silver
Make your look really stand out from the crowd by going for all-out blue streaks, with just a touch of silver. These tones look great against the natural, mousey brown.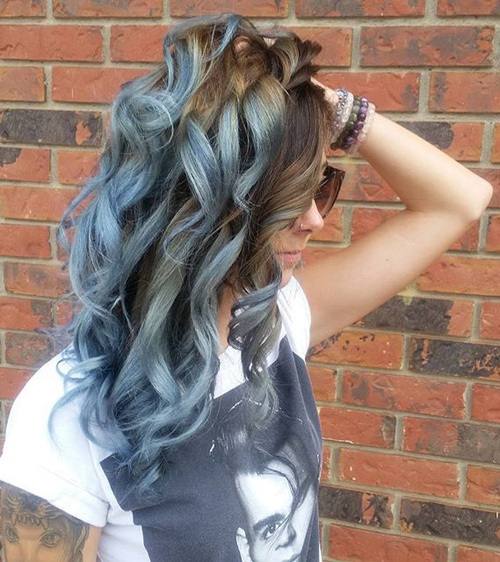 Deep Brown and Vibrant Silver
Here is yet another great way you can rock grey ombre hair. The silver looks incredible with chocolate brown locks and these big, bouncy curls are good enough for the red carpet.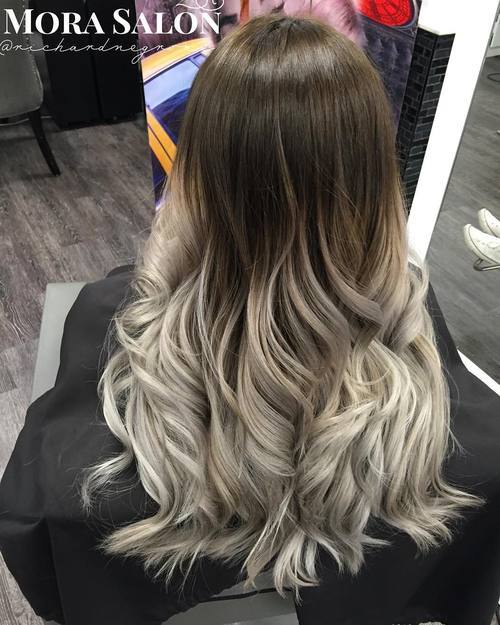 Brown and Silver Balayage
Balayage is everywhere at the moment – from the runway to the red carpets of Hollywood. Get this celebrity style by putting streaks of golden blonde and subtle silver through long, wavy hair.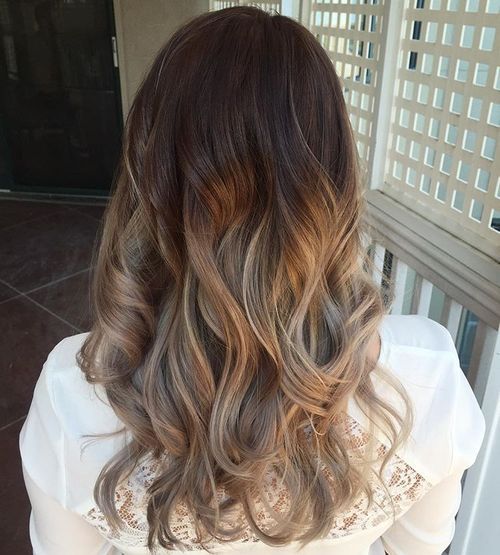 Dead Straight Dark Blonde and Silver Ombre
The subtle fade from dark, ash blonde to bright silver in this hairstyle has been painstakingly styled to perfection. The look also proves that you don't need flowing waves or spiraling curls to make silver look stunning.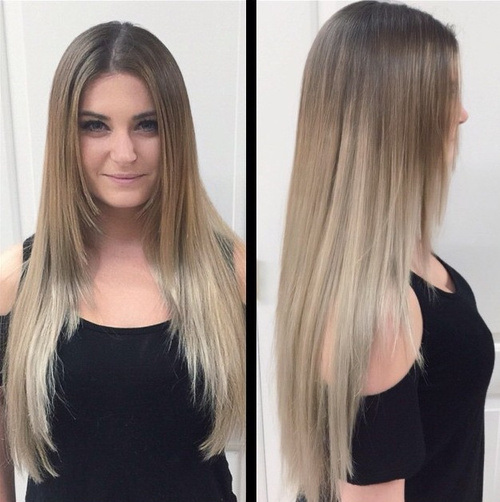 Frosted Waves
These gigantic curls with frosty flashes of silver will make you look like an ice princess. The dark, natural roots make the pale waves stand out even more.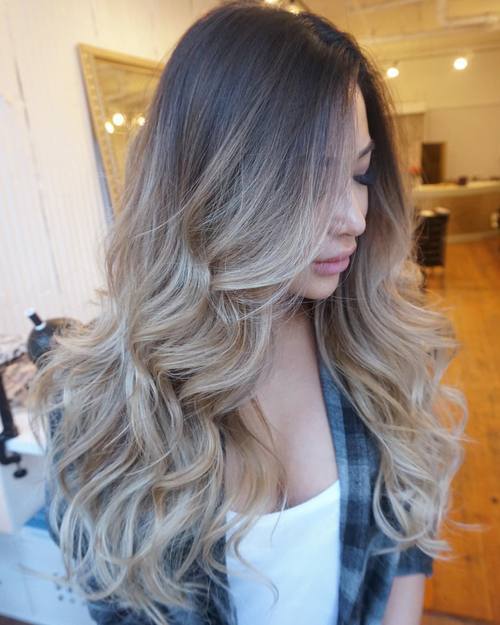 Graduated Lob with Silver Ombre
The long bob, also known as 'the lob', is the very latest chic update to the classic bob cut. If you're looking for a new style this spring, this graduated lob could be it. Make it look even better with subtle silver tones.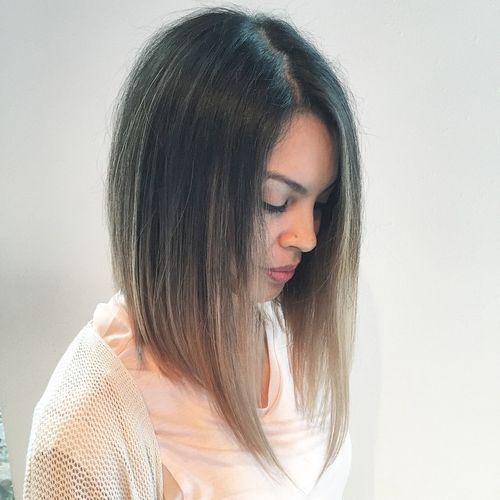 Jagged Cut with Silver Ends
Dead straight, jagged ends like these can make hair look edgy and unleash any girl's inner rock chick.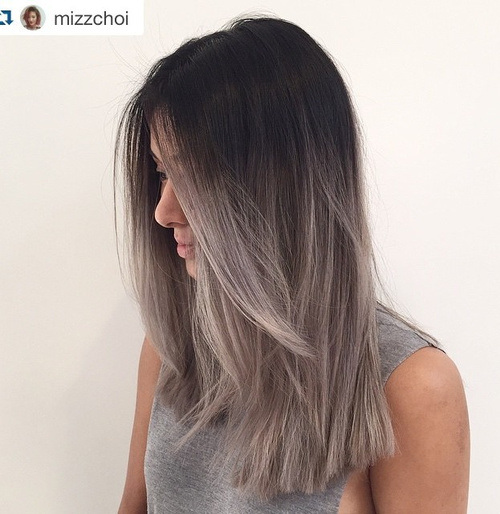 Obvious Ombre
Many girls who opt for ombre style, try to make the colors blend into each other in a soft, natural way. But, when you're going all out with two totally different shades, like brown and grey, why not make the contrast as dramatic as possible?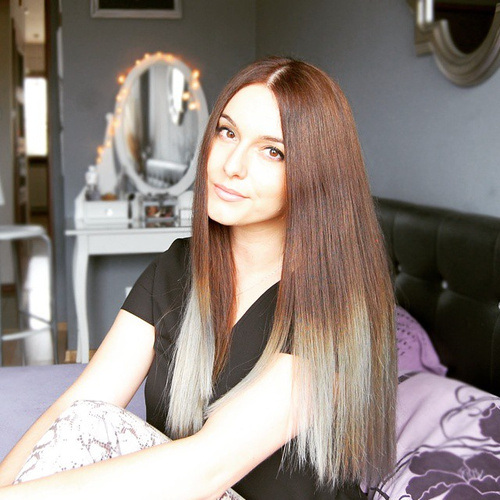 Brown, Blonde and Silver Balayage
Balayage is a French word which means 'to streak or to paint'. This is why your stylist or colorist needs to paint the streaks through by hand, unlike ombre or dip-dye which can both be done with foils. The flashes of gold and silver in this style have been beautifully painted on; we can almost see the brush strokes.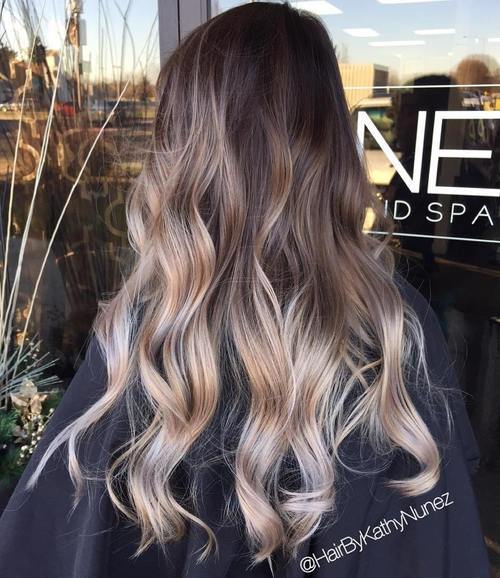 Creamy Balayage
These sleek, stylish waves look almost good enough to eat. We love how the crown of the hair starts off a deep brown with just a hint of gold, and by the time it reaches the tips, the hair is light, shiny silver.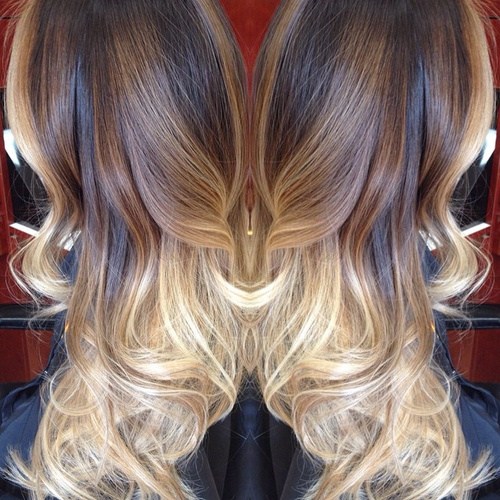 Silver Pixie
You don't need long, flowing locks or even a long bob to rock the silver hair trend. This beautifully styled pixie crop looks incredible with blonde and grey hues.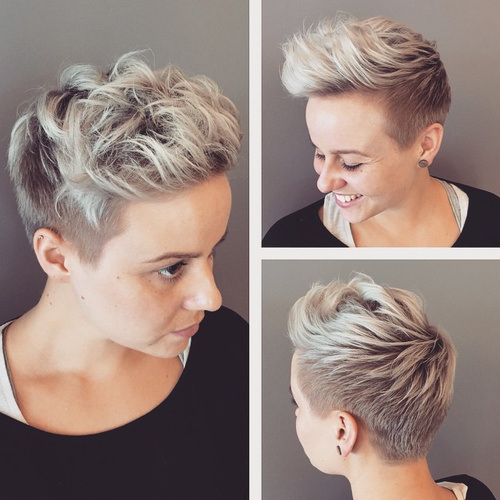 Silver and Brown Curls
Spiraling curls can add fullness, bounce and body to even the finest hair. The gorgeous silver and blonde ombre adds even more texture and tone to thin locks.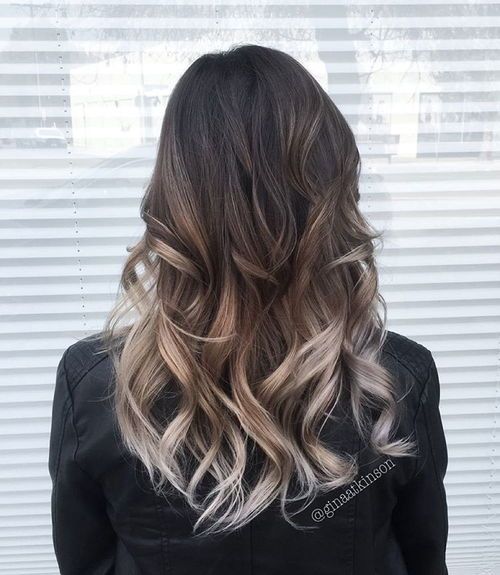 Totally Dark
There's something seriously bewitching about these lustrous dark locks with just a hint of silver. This could be the look for you if you feel like adding a touch of dramatic magic to your style this spring.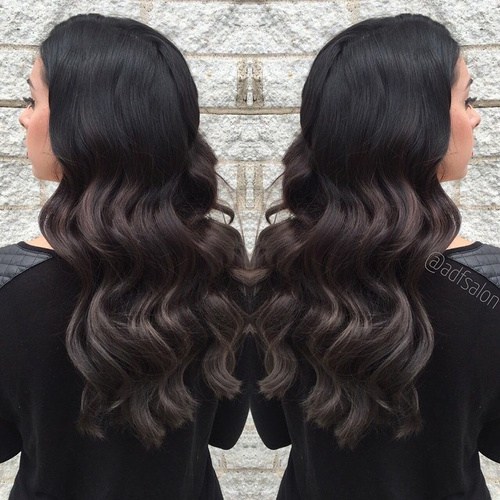 Choppy Crop
Can't decide between a bob and a pixie cut? This asymmetrical cut is the ideal 'in between' style. The texture is even better thanks to the contrast between dark roots and silver hair.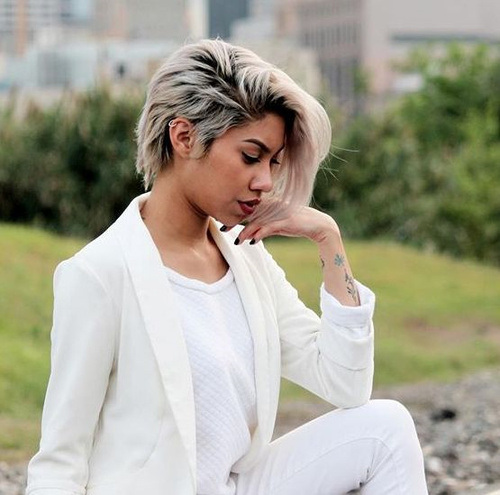 Thick, Beach Hair with Bangs
It's no secret that dark, glossy hair can make hair look healthier and in better condition than ever, especially when teamed with soft silver ombre. The full fringe and thick curls add even more body and bounce.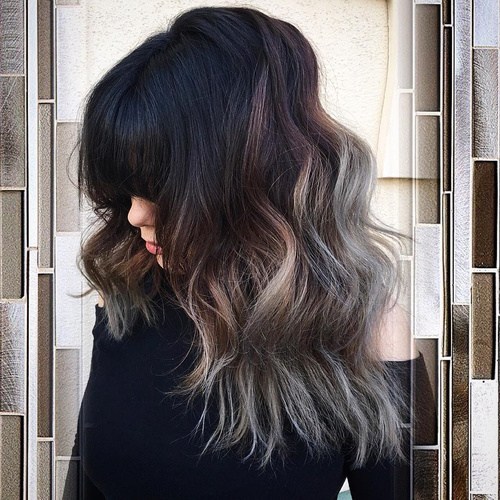 Bohemian Waves
The centre parting and gorgeously flowing waves make this hairstyle look totally boho. The pretty mixture of golden blonde and just a touch of silver add to the hippy chic image.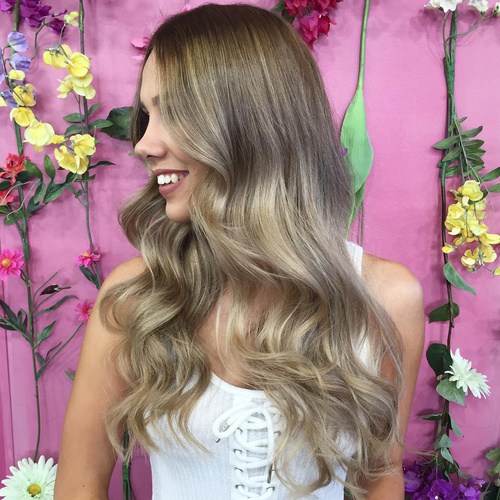 Dark Brown and Silver Curls with Side Part
The darker your natural hair color, the better your silver tones can look. This girl proves that brown/black hair with blonde and silver dip-dye can look incredible. A side parting can open up your face beautifully.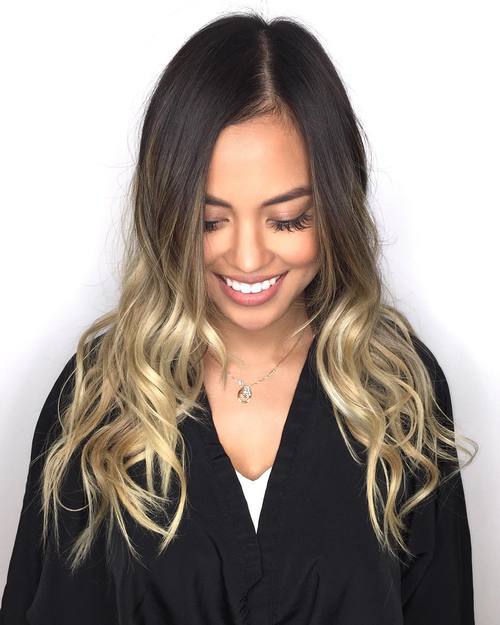 Multi-tonal Curls
These thick curls really do look fit for a princess. The combination of gold, silver and dark brown add tone and texture to long, flowing locks.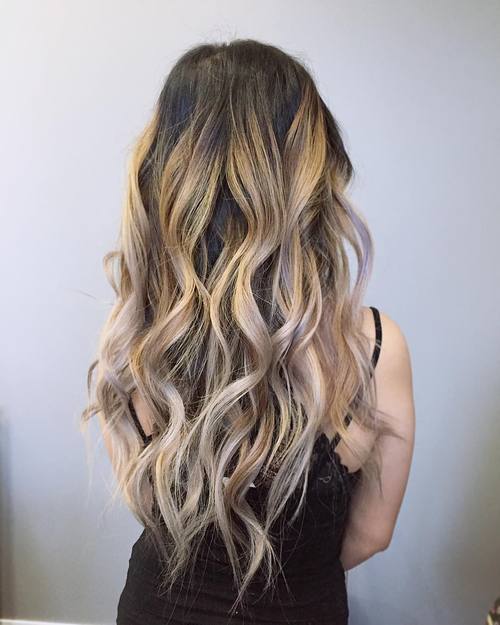 Silver Choppy Bob
This choppy bob is filled with layers which create a thoroughly textured shape. A cut like this, complete with thin silver highlights, could suit any girl with any style.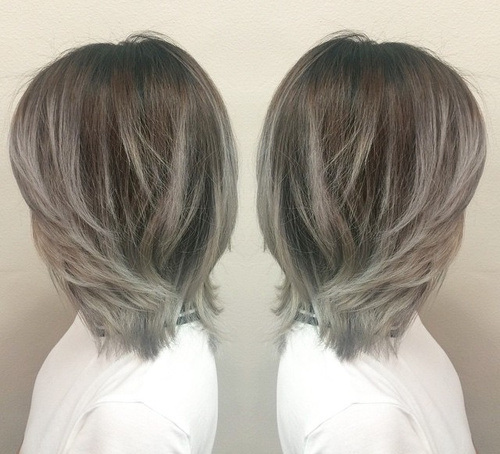 Straight and Curly Graduated Bob
There is so much going on in this fabulous hairstyle that we don't even know where to begin.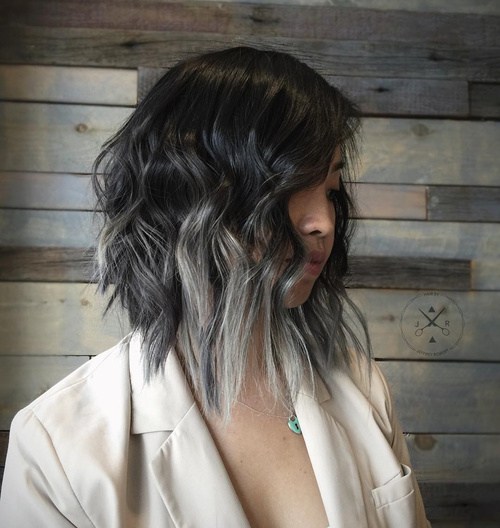 Silver and Blonde Pixie with Sweeping Bangs
You know what they say; 'if you've got it, flaunt it.' So, if you happen to have delicate, feminine features which are well worth showing off, try out this short, stacked pixie with fabulous, face-framing bangs.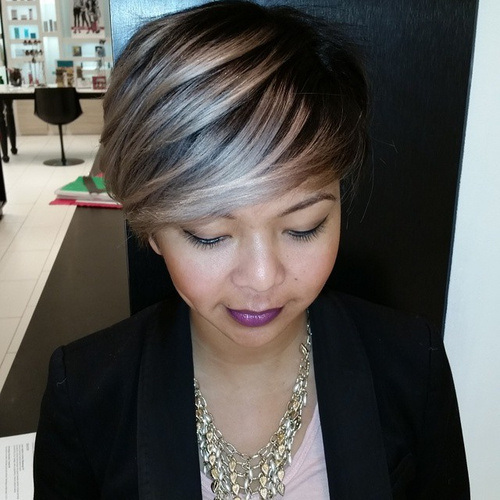 Honey Blonde and White/Silver Ombre
The way this golden honey colored hair gently transitions into a futuristic tone of pale silver is so gorgeous, we could stare at it all day. The two shades are shown off by the sleek, poker-straight hairstyle.
Reverse Ombre
When we see and admire an ombre hairstyle, it usually begins with a more natural color at the root and gradually becomes a more outrageous shade towards the ends of the hair. The reverse ombre trend does the complete opposite. This chestnut brown looks amazing on the ends of platinum blonde hair, as do the subtle flecks of silver at the root.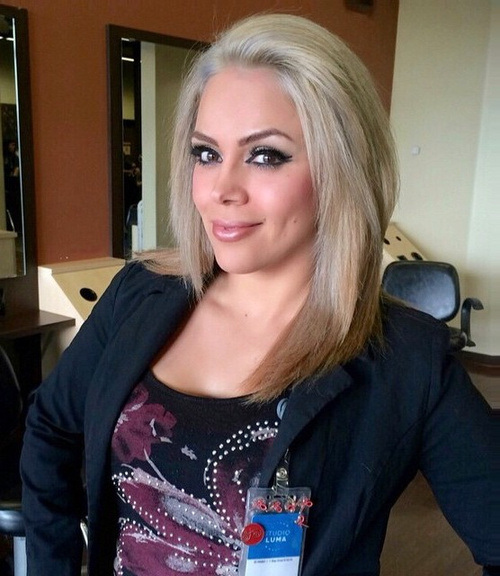 Bold Reverse Ombre
Here is another example of reverse ombre, but with a more dramatic and noticeable contrast between the blonde and brown tones.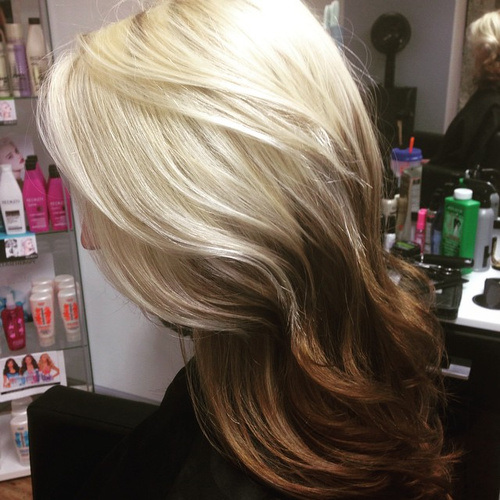 Curled Silver Ends
Finally, this hairstyle really does have the best of both worlds. This lucky girl's locks are long enough so that she can rock straight dark hair right down to the shoulders and then curled white-silver ends. The combination of both is so pretty we just can't stop staring.