How to Clean Diamond Earrings at Home
Diamond stud earrings are a timeless piece of jewelry that make their wearers glow, and they elevate any look; Even the smallest diamonds may be extremely simple in design, but they act as an impactful accessory. These gems accentuate your face shape and highlight your best facial features.
Why is it Necessary to Clean Earrings?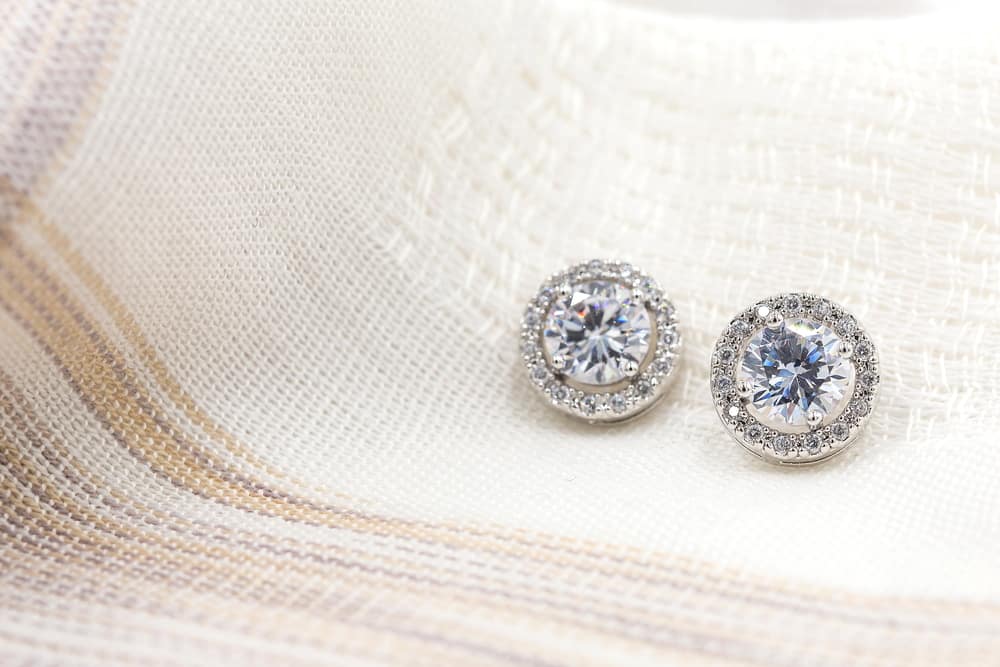 Although the sparkle of these versatile stones is sure to enhance your outfit, it is easy to see that regular use often results in the dazzle and sheen of a diamond fading when it is not taken care of. Nothing is more frustrating than a cloudy and lifeless gem. Diamonds are often large investments, and their value is tarnished in the eyes of the wearer if they bear signs of dullness.
Regular use of your diamond jewelry allows numerous product residues to accumulate on them such as sweat, oils, lotions and creams, and dead skin. In addition to the aesthetics of the stone being impacted, ignoring the need to clean this residue encourages the breeding of bacteria and infection. Ear piercing infections stemming from unclean earrings are common but easily preventable.
This is why it is important to adopt a careful yet thorough cleaning routine for your jewels at home. In the following few paragraphs, we will tell you everything you must know to clean your favorite diamond stud earrings with a regular cleaning regimen.
Don't worry – cleaning your earring studs and making a jewelry cleaning kit is really simple! Read on for some handy tips on how to keep your diamond earrings sparkly and new.
Easy Ways To Keep Diamond Earrings Looking Sparkly, Clean, And New
It is strongly recommended that you do not clean your precious belongings over a sink lest they slip out of your grip and down the drain. For this reason, make sure that you use a glass or ceramic container to wash your diamond stud earrings. Soak your earrings in this container in a mixture of cleaning agents and warm water for about 20 minutes.
As for what cleaning agent to be used, by far the most accessible cleaning agent in any urban household is a simple mixture of warm water with a few drops of liquid dish soap. This will serve as an effective cleaning agent for your diamond stud earrings.
Alternatively, some use baking soda, hydrogen peroxide, or ammonia as cleaning agents as well. Bear in mind however that you must carry out research to ensure that the advanced professional-level cleaning kits do not contain abrasive and toxic cleaning agents. This is recommended as some of your diamond jewelry might also have coral, pearls, or other gems that do not react with these coarse solvents or cleaners.
The safest and most effective tool to use while cleaning any piece of jewelry is a clean, soft-bristled brush. Children's toothbrushes, makeup brushes, or any similarly-bristled appliance would be most ideal to gently scrub off the pollutants on your diamond studs.
When finished, rinse with some cool water carefully in a container and buff dry the earrings with a microfiber cloth.
Dry Your Earrings Completely With A Soft Cloth Before Putting Them Away
Microfiber cloths are known for their ability to lift and hold dirt, grime, and grease without being too abrasive. To maintain the clarity of your diamond studs, this cloth would be a useful tool. Additionally, ensuring that the cloth is dark-colored and lint-free would allow contrast and more visibility for you to keep your jewelry secure. This dark-colored cloth would serve as a background mantle; A diamond stud might be camouflaged with a light-colored cloth and this setting might be more difficult to keep track of the stud.
Consider using Professional Cleanings for the most delicate diamond earrings
As for professional cleanings, an annual professional cleaning for your most frequently worn or most delicately designed diamond stud earrings is recommended. A professional would be able to expertly reach the crevices of your earrings to ensure a thorough job.
Ensure that you put aside some time every month to give your diamond stud earrings a careful but thorough scrub. This will ensure that your diamonds will dazzle for longer and not lose their luster. Perhaps most importantly, this will ensure that the earrings are kept hygienic, bacteria-free, and protected from piercing infections. So, that's that! Stick to the tips provided above and never let your precious diamonds lose their sparkle and brilliance.