Top 22 of Kate Hudson Most Beautiful Hairstyles
Kate Hudson looks gorgeous all the time although she is already a super mom. She is only 34; however, it seems that she knows quite well about how to live a fabulous life. Otherwise, how could she be so successful on any aspects? This time, let's get inspired from Kate's most beautiful hairstyles and learn from this amazing woman.
Kate Hudson Hairstyles: 2014 Voguish Side-swept Curls
How witching Kate Hudson is when she blow her blonde locks to one side. The messily tousled locks are really voguish. This haircut looks great on any face shape and it's easy to achieve. If you like it as me, do it at home!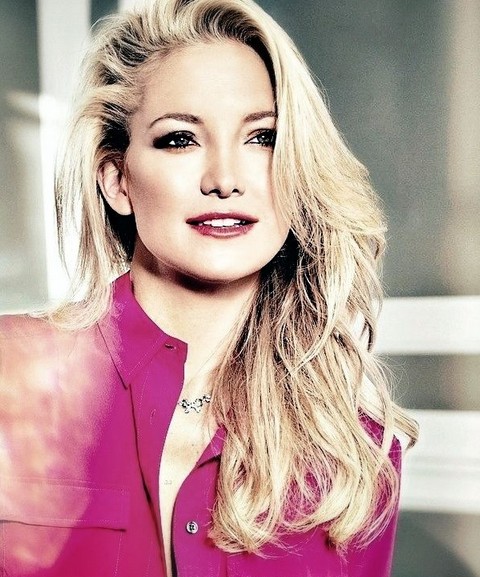 Kate Hudson Hairstyles: 2014 Trendy Loose Bun
Loving Kate with this simple hairstyle! Kate Hudson looks graceful and stylish when she styles her golden hair into a loose bun on the nape. In this picture, Kate seems to be a smashing woman with so many stories.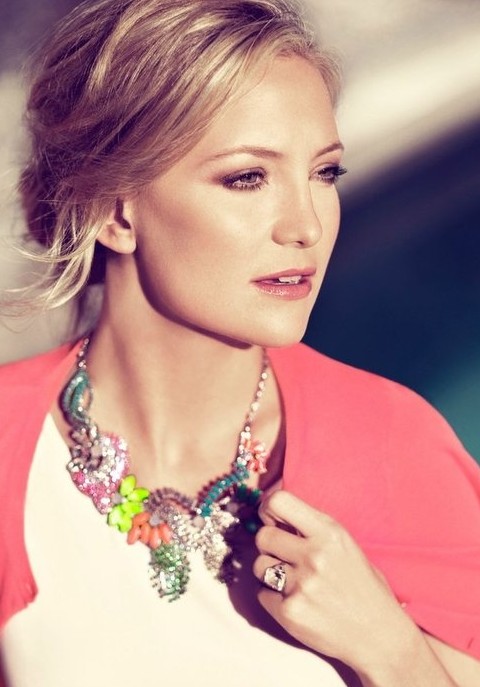 Kate Hudson Hairstyles: Trendy Long Wavy Haircut
This seemingly-easy loose curly' do is so fabulous. The loose curls take effect to make the thinner hair look thicker and it can top off any outfits with a stylish look effortlessly. Just like Kate in this picture, she is so fashionable with such a hairstyle.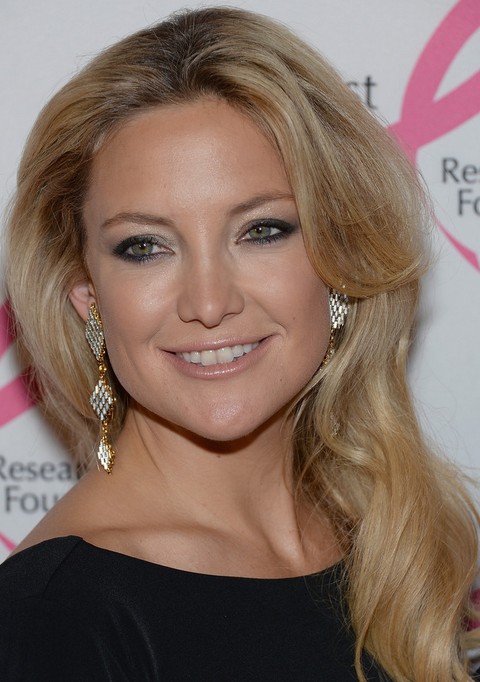 Kate Hudson Hairstyles: Super-chic Ponytail
Ponytail is suited for any occasion. To get an eye-catching ponytail, you may learn from this one. Tousle all your locks back with your fingers into a low ponytail at the nape. Hair on the head should be neat yet the finer-tousled waves add life to the look. Then curl the tail with intense medium sized curls. You'll be stunning with such a beautiful hairstyle.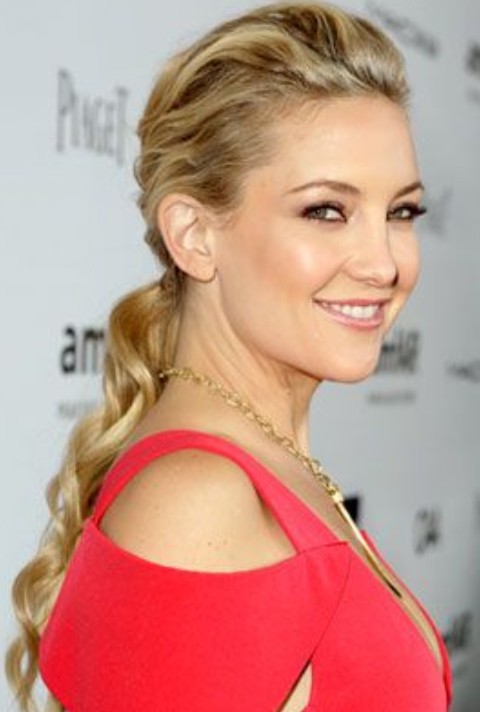 Kate Hudson Hairstyles: Stylish Loose Bun
Looking for an updo hairstyle? A strongly recommended one for you! Tease all your straight hair with your smart fingers and do a high pony tail on the crown. Then, twist all the locks loosely in circles. You can get this adorable and stylish loose bun.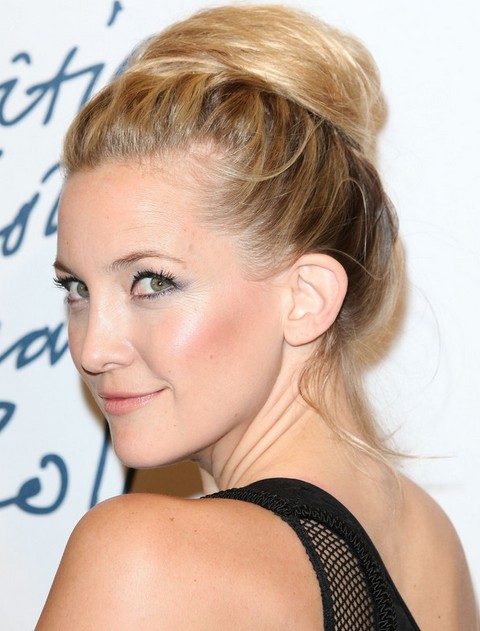 Kate Hudson Hairstyles: straight Haircut with Bangs
A classic hairstyle for any occasion! Just wear your hair down naturally and sweep your bangs aside. This simple hairstyle is great for women at any age to get a decent look.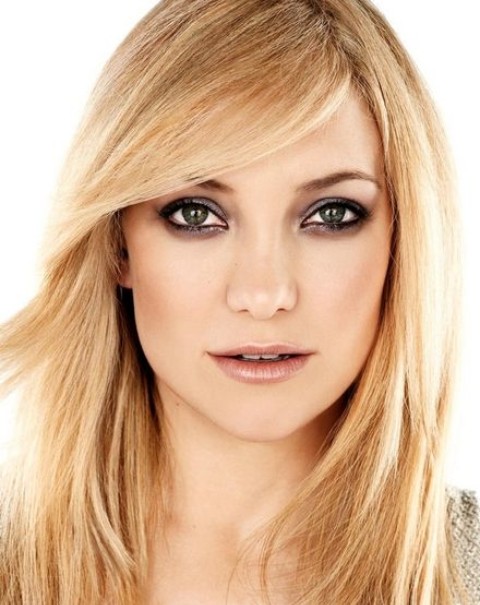 Kate Hudson Hairstyles: Side-parted Straight Haircut
This side-parted straight haircut is really fabulous. The slight layers works well the frame the face shape. Women with long face shape should walk away from this hairdo and other face shapes congratulation!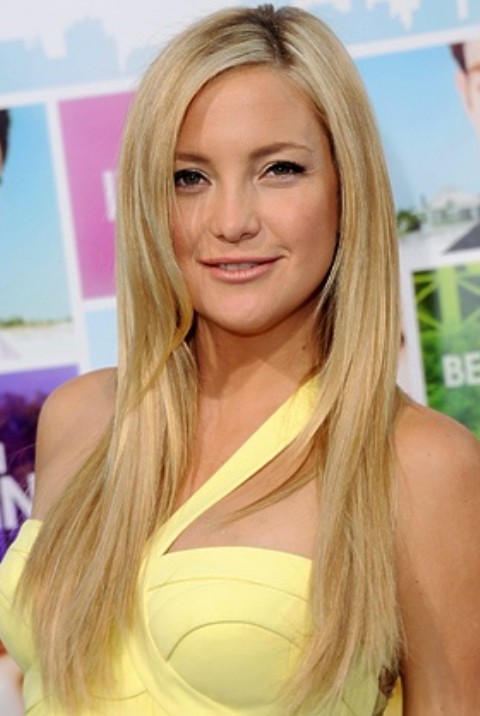 Kate Hudson Hairstyles: Shiny Long Curls
Kate Hudson looks really glamorous with this super-shiny' do. The center-parted hairstyle opens up Kate's face and showcases her bright face. The long curls have much texture and volume and it is a fabulous hairstyle for round face shape.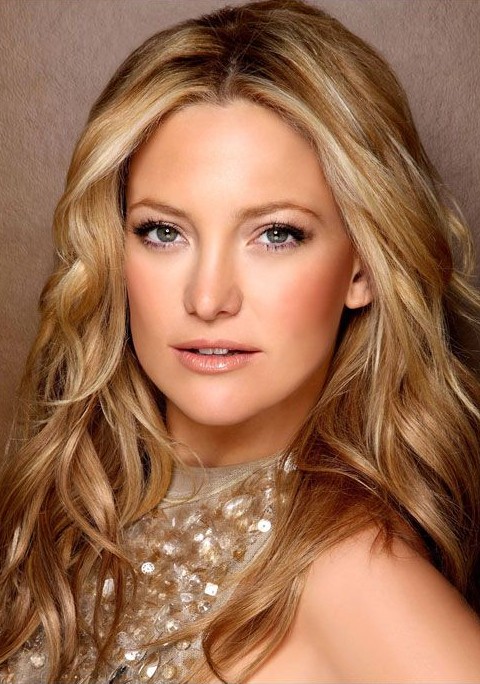 Kate Hudson Hairstyles: Sexy Loose Braid
Kate Hudson is so brisk with this loose ponytail. The center parted long bangs are parted from the center and subtle curls have been added to it. This makes the hairstyle sweeter. The messily braided plait adds casual-chic to the overall look. Younger women are most suited for this sexy and naughty hairstyle!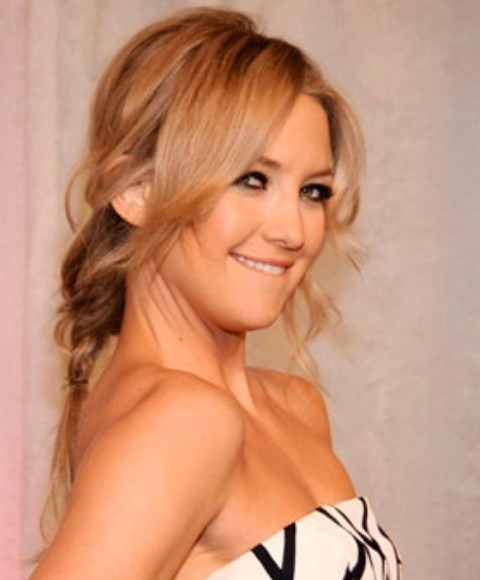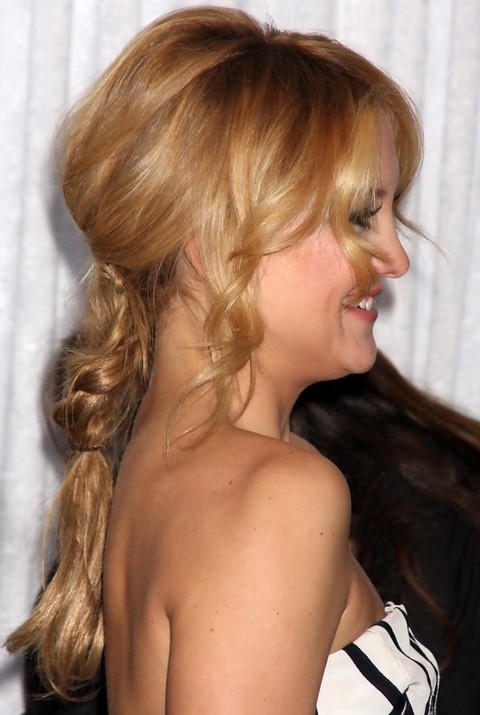 Kate Hudson Hairstyles: Sassy Long Curls with Braids
Women are always the most beautiful when they wear a head of long curls. Kate Hudson looks so fabulous with such a fabulous hairstyle. The cute braid makes the stylish blonde long curls more adorable and sweeter. You must be stunning with this haircut on any occasion.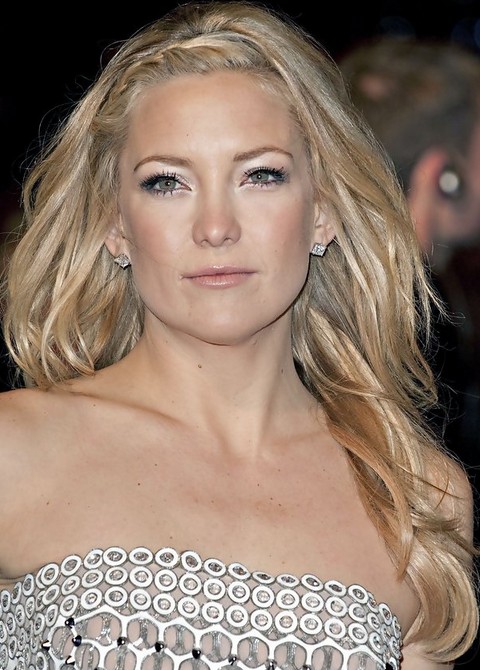 Kate Hudson Hairstyles: Retro-chic Updo
Kate Hudson looks so elegant with this retro-chic hairstyle. The waves in the front take great effect to frame the face! Mature women will look great with this graceful and glamorous hairstyle.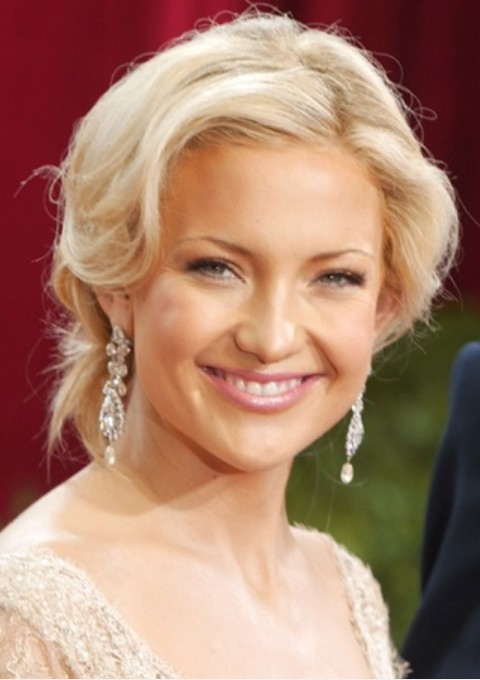 Kate Hudson Hairstyles: Radiant Long Curls
Kate Hudson wears her long locks in the side-parted curly' do, and the funny-curled fringe adds stylish vibe to the overall look. The soft medium sized long curls make the hair bouncy and lively.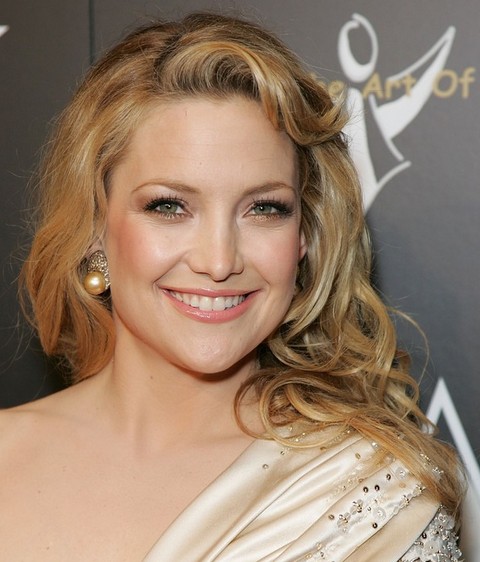 Kate Hudson Hairstyles: Pretty Long Curls
Loving Kate Hudson's big smile! She looks so cheerful with these pretty long curls. The layered curls look loose and soft. Locks in the front just gape a little wide and this makes the face cuter. Younger women will be fascinating with this stylish hairstyle.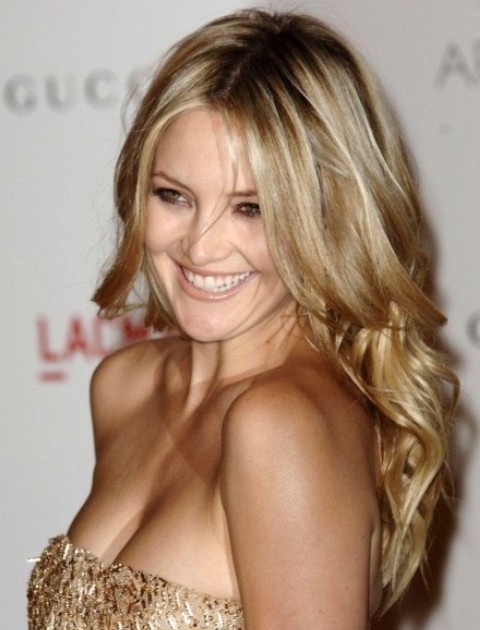 Kate Hudson Hairstyles: Modern Medium Curls
Kate Hudson goes for a simple-chic with a center-parted wavy hairstyle. These intense medium curls make Kate spirited. This simple yet stylish hairstyle is perfect for any occasion.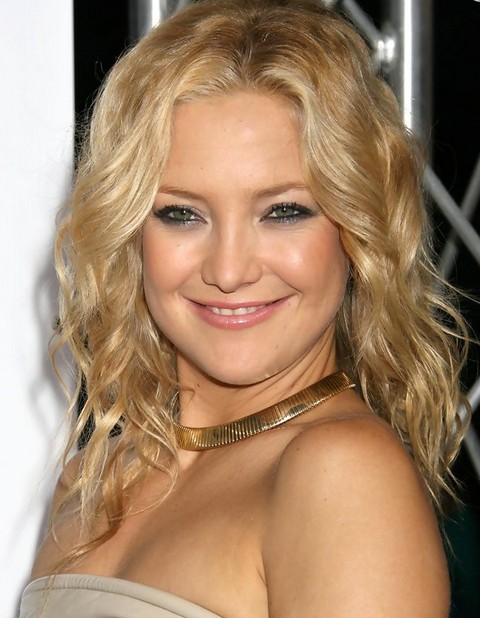 Kate Hudson Hairstyles: Messy Straight Haircut
Kate wears her beautiful long locks in a messy straight haircut. The deep center-parting elongate the face visually. The pretty locks on both sides of the face works well to cover the round or square corners on the face. So it's quite a great hairstyle for women with round or square faces.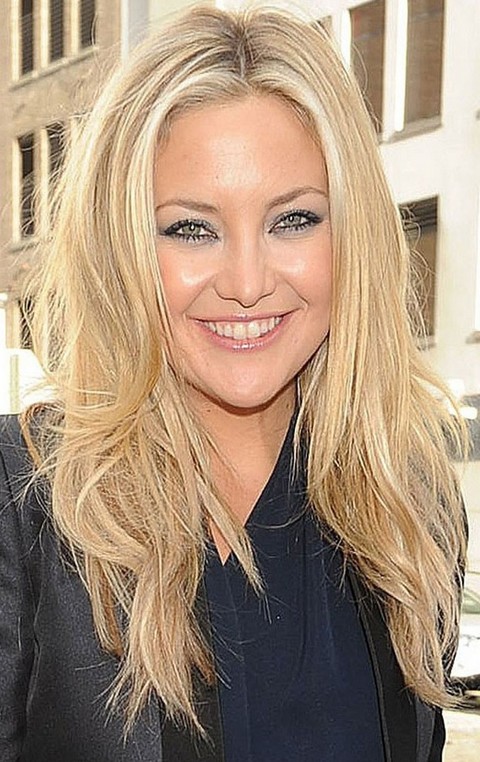 Kate Hudson Hairstyles: Messy Hairstyle
Do you envy Kate Hudson's pretty blonde long locks? I do! How I wish to own such gorgeous hair! The key to achieve this stylish hairstyle is to tousle the hair messily and causally. Why not have a try on your own immediately?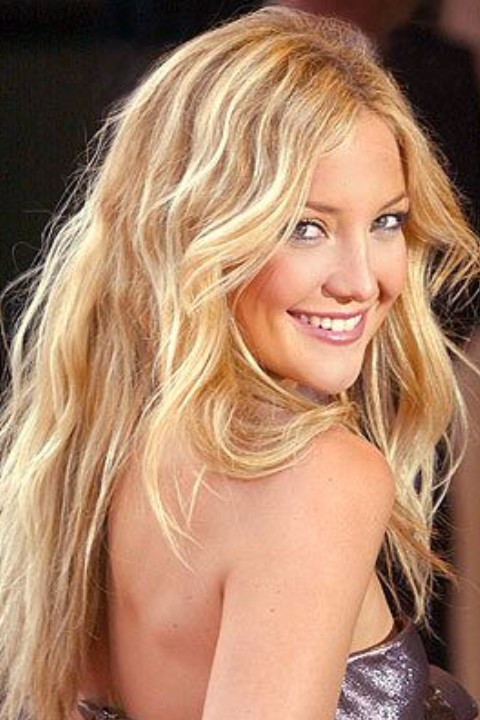 Kate Hudson Hairstyles: Layered Straight Haircut
Kate is so smashing with this straight haircut. The buttery blonde hair glows with the wonderful medium curls! This trendy hairstyle looks great on any occasion and it is suited for any woman.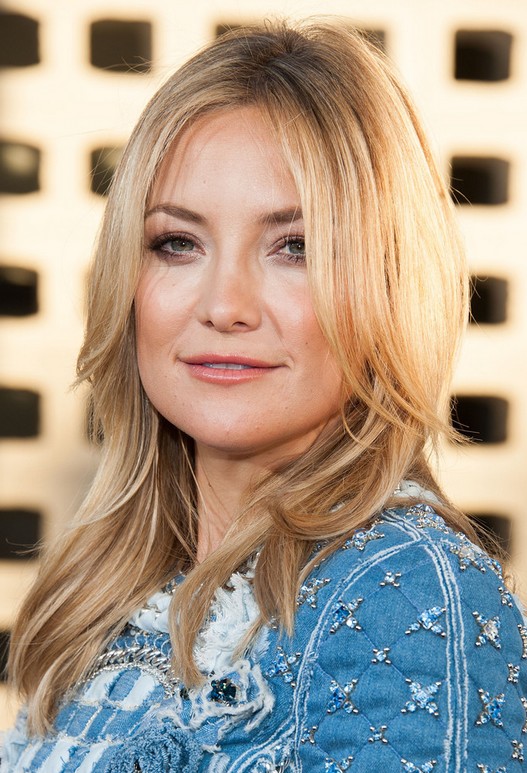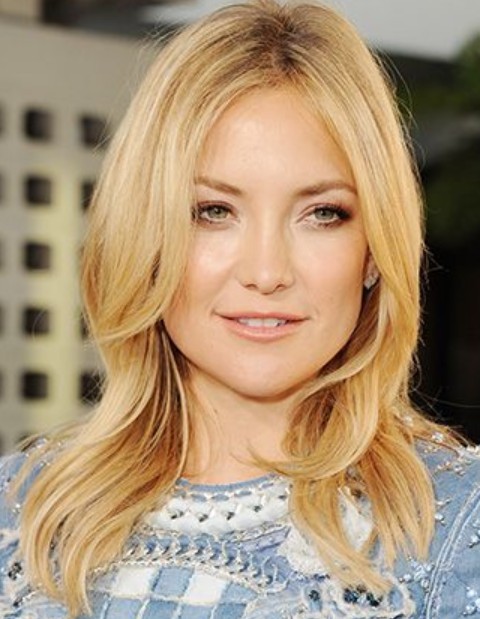 Kate Hudson Hairstyles: Gorgeous Messy Updo
Kate is so gorgeous with this messy updo hairstyle. Tease all your locks back messily and shaggily and add volume and height to the crown. This can help to make your face look longer and stereo. You can get a super-edgy elegant look with such a fantastic updo.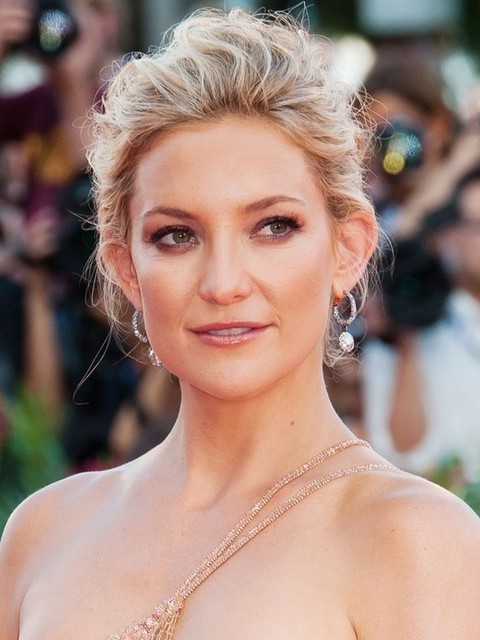 Kate Hudson Hairstyles: Gorgeous Long Curls
Kate Hudson shows off her radiant blonde hair with a long curly hairstyle. She parts the bangs slightly in the middle and tuck them back, then she decorate the look with a sparkly headwear. The long curls cascade beautifully down in the front. And she is just a princess!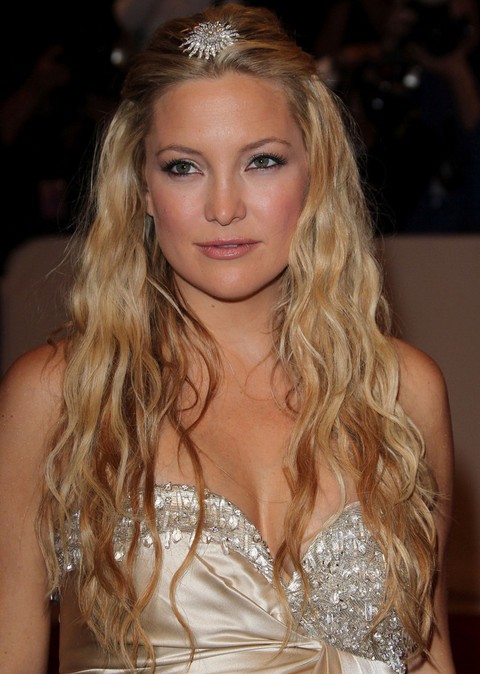 Kate Hudson Hairstyles: Chic Long Curls
Kate Hudson looks so decent with these side-parted long curls. The deep side-parting play a crucial role to draw the outline of the face and the side-swept dense curls enables Kate to be more alluring and feminine. Any women can opt for this haircut for a voguish look!