All You Need to Know about Amazon Prime Day 2023
On July 12th Amazon promises us a cyber Monday in July. Amazon Prime day the day every active amazon shopper has been waiting for. For those of you that are not aware of what this day consists of here it is. Amazon prime day is the day amazon puts everything on SALE!. It promises extra savings above and beyond their already low prices.

What this means is you will be in a position to purchase any item you have been eyeing for an even better price. Here is everything you need to know about Amazon Prime Day. Sales begin on July 12th at 12 am with a new sale going up every 5 minutes.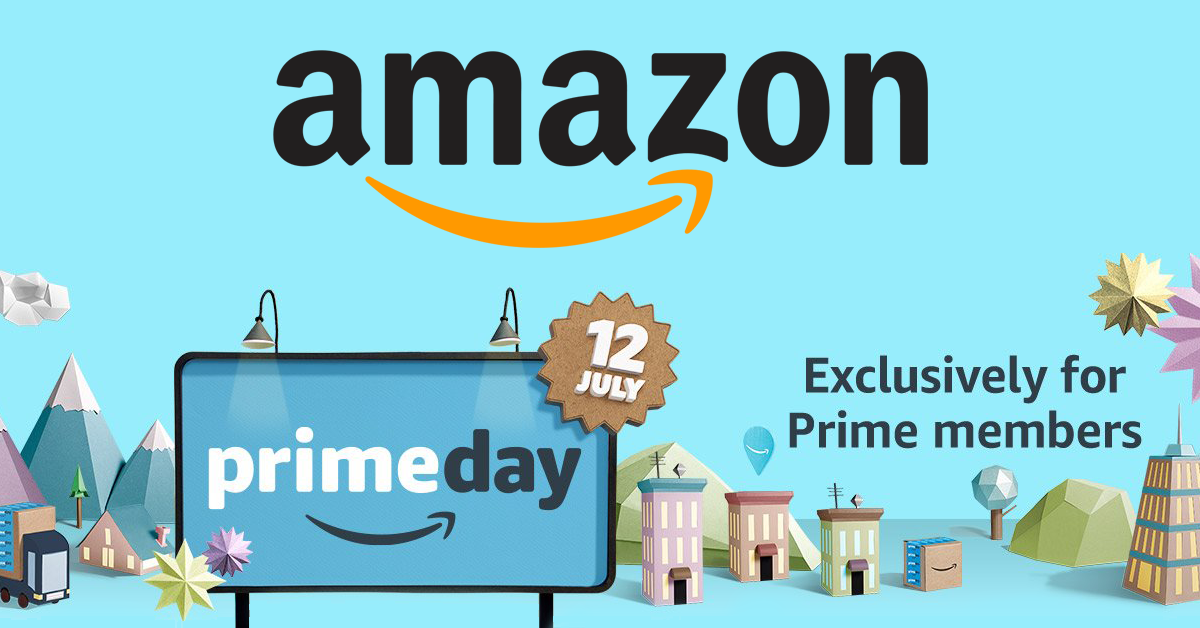 Who is it for?
If you are interested in Amazon prime day you have to be an amazon prime member. As amazon prime day is exclusive to amazon prime members.  By being a member you will not only be able to take advantage of the sale that will be happening but also be able to receive your item in 2 days with free 2 day shipping.

Amazon prime members pay a yearly fee of $99 to receive free 2 day shipping on all items that they purchase. However, if you are interested in amazon prime but have yet to give it a try you can try it for 30 days free of charge and take advantage of the sales.

You Can Get Amazon Prime Membership for
30 Days FREE

!

Don't Miss the Prime Day! Choose products now, and buy it on the Prime DAY!

If you're not the Amazon Prime, just sign up here for 30-day free, if you're a student, you can get 6-month free!

And you can cancel it anytime!!! Sign up now!
What is Promised?
This year amazon has promised TVs and toys as their main sale items. Although, all of their items will be on sale TVs and toys will be their main focus. Amazon has announced that they are expecting to sell more TVs and toys than any other item that will be on sale. This being because all television systems and toys will have huge discounts.


As of last year Amazon announced they sold 398 items per second exceeding black friday at the time. Amazon is expecting to surpass their number of sold items from last year. They have also guaranteed to have something for everyone to enjoy. Amazon has also declared that they will have over 100,000 items at discount prices under all categories.
Using the Amazon App to Shop
Amazon prime day consists of getting your hands on the items you have had your eyes on from the beginning. However, like most sales first come first serve is the motto. Which means if you miss your item and it becomes sold out you will not be able to get it at the sale price again. This is when the amazon app comes in handy. It will notify you when your favorite item has gone on sale.

Many times amazon will post items on sale at different times which can cause you to not notice when the item you have wanted goes on sale. Let's face it nobody is going to sit in front of their computer or smart phone waiting for an item to go up on sale. That is where the amazon app could help you do your shopping effectively and seamlessly. It will also help you get your hands on your desired item before it is sold out.
The deals will go fast and we mean in a few minutes your item that you were interested in could be gone. For this reason, after you download the amazon app you want to enable their one click shopping. One click shopping enables you to purchase your item of interest by simply clicking on it.
There will be no requirement to go through the hasty process of putting in your information. By enabling 1 click shopping feature everything it will be done for you with a simple click on the items you wish to purchase.
Most popular items that will be on Sale
Despite the fact that, there hasn't been a sneak peak by amazon as to what popular items will be on sale. We have done our research and have found that this year amazon will have 2 times as numerous electronics on sale as they did for black friday. One of the items that people are most excited about is a 32 inch TV bundle that includes a fire TV stick for only $119.99.

This bundle has been declared as amazon suspects it will be one of the quickest items that will sell out in a matter of minutes.

International Shipping
Amazon Prime day is exclusive to amazon prime members however, they do ship internationally. Which means if you are an international amazon prime member you will have the same sales and my benefits as someone who is not international.
The key is getting your item first before it does sell out. If you are international and do want to participate in amazon prime day, but do not have a prime account . Remember you can sign up for a free 30 day trial and still take advantage of all the sales.

Waking up Early
If you are truly interested in a certain item and have an estimate idea as to what time it will go up on sale you may want to wake up early and wait for that item. You will have a bigger chance of actually getting the item you want if you are among the first people to get your hands on it.
If you have an interest in more than one item and want to get both. We recommend using the 1 chick shopping option, the amazon app and purchasing the electronics first. Electronics are among the first things people want to purchase especially if they are at a huge discount.

Amazon has also declared they will have an upto 40% discount on over 100,000 items. This means they will have something for everyone regardless of what they are concerned about.
If you are interested in something specifically be sure to follow these steps to get the best deals. Also to take advange of what amazon has to offer on Amazon prime day.
If you are interested in amazon prime day what items are you most excited about purchasing? Please tell us in the comments below what items you are looking forward too.