Rihanna Hairstyles Gallery – 28 Rihanna Hair Pictures
There seems no a constant hairstyle that Rihanna usually rocks. Rihanna is such a pioneer who dares to try any edgy hairstyles. This time, let's appreciate the top 28 Rihanna hairstyle to witness the pop star's enormous glamor.
Rihanna Hairstyles: Edgy-chic Side-swept Long Curls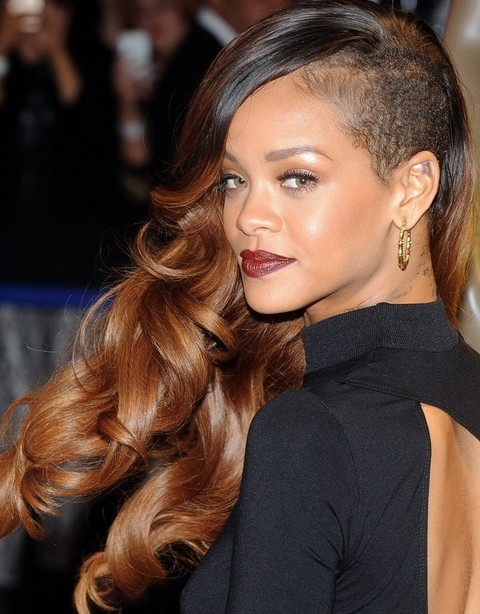 Rihanna rocks bouncy long curls and sweep all the beautiful locks to the front. The other side has been shaved in order to get an edgy-chic look. This hairstyle really upgrades Rihanna's look and shows her unparalleled fashion statement.
Rihanna Hairstyles: Alluring Long Wavy Haircut for Young Women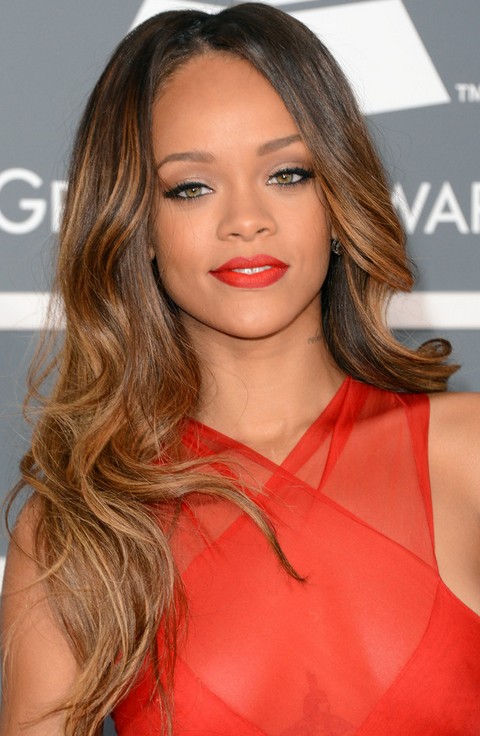 The lovely RiRi is a typical Barbie with this long wavy haircut. The out-curled loose curls and the sun-kissed highlights add romance to the overall look. Young girls, try this and you will be more attractive.
Rihanna Hairstyles- Modern Boy Cut for Oval Face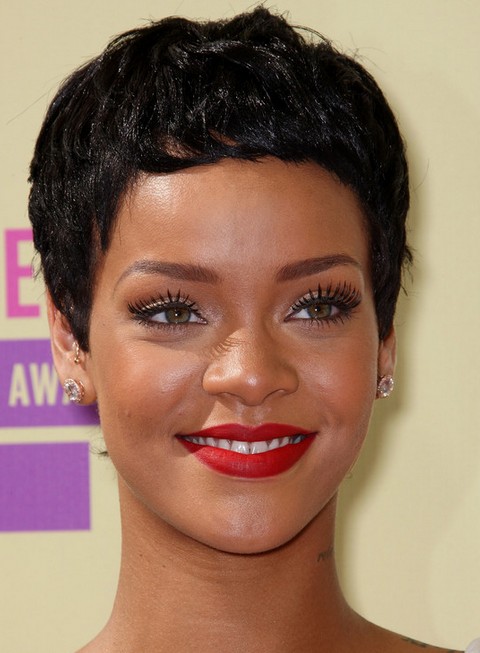 The super star gives up her pretty long curls for this close haircut. We can't deny that it suits her indeed. She is the same charming whether wearing a long hairstyle or a short haircut.
Rihanna Hairstyles: Adorable Long Wavy Haircut with Bangs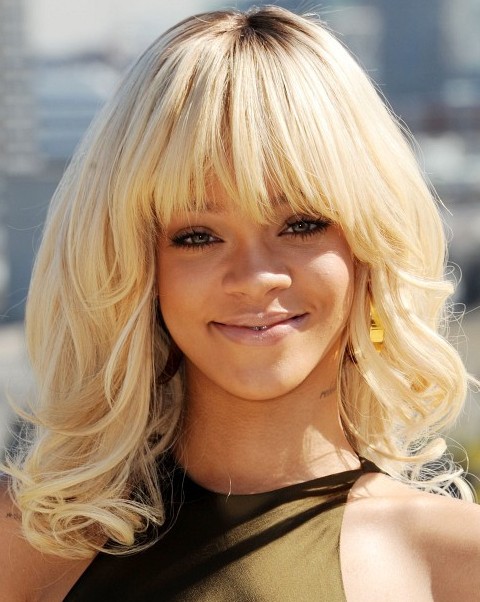 Rihanna can't be more adorable with this platinum blond hairstyle. The on-trend full fringe makes it suited for any face shapes, and it is a great one to lessen your ages.

Rihanna Hairstyles: Super-chic Classic Bun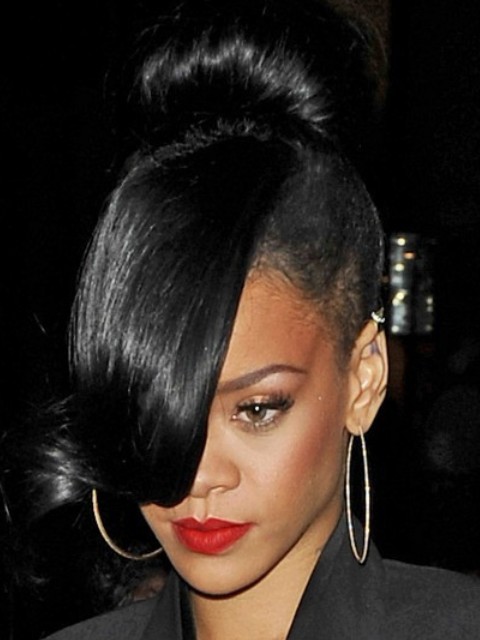 I've never seen a more stylish bun than this one. The sleek raven bangs fall down to cover half of the face and there is flip-out end on it. The girly bun looks fierce with the shaved undercut. It's really chic.
Rihanna Hairstyles: Gorgeous French Twist with Wispy Bangs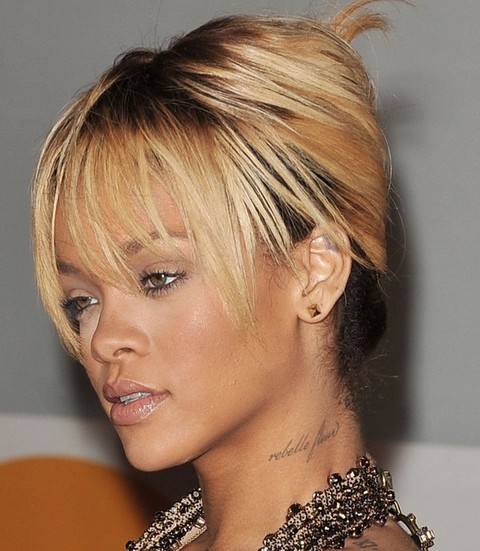 Rhianna looks sassy with this French twist hairstyle. The wispy bangs touch her face lightly and give off a brisk vibe.
Rihanna Hairstyles: Trendy Pixie Haircut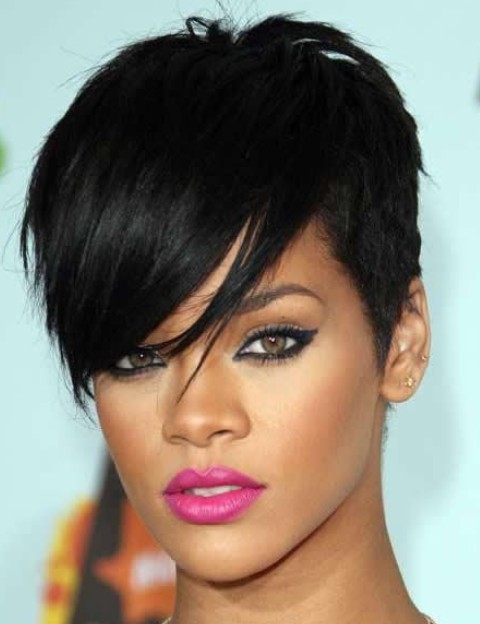 This super-short raven pixie haircut dazzles our eyes. It is really star-worthy! Hurry up! Rock your style with this pixie crop!
Rihanna Hairstyles: Sassy Blonde Medium Curls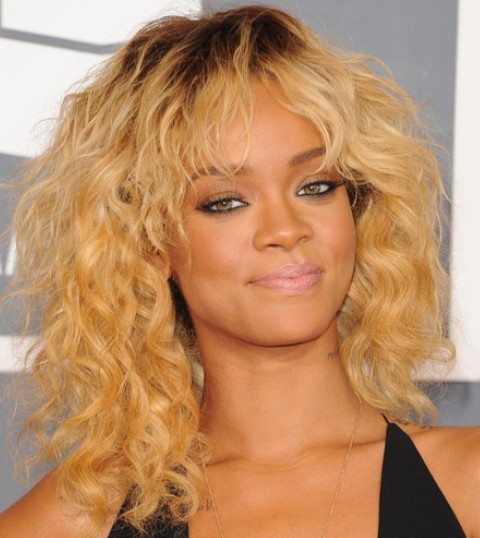 Rihanna looks easy-going with this fluffily tousled medium curls. This haircut adds volume to the hair and it is great for ladies with thin locks.
Rihanna Hairstyles: Side-parted Long Curls for All Face Shapes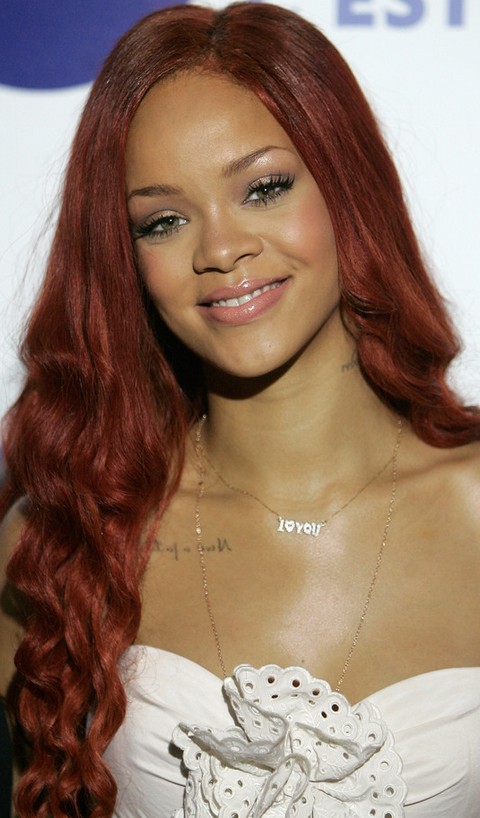 Our dear RiRi looks like a gorgeous goddess with a head of cherry-red long curls. The side-parted locks falling along the face works well to frame the face. So, whatever your face shape is, go for it as you like.
Rihanna Hairstyles: Amazing Braided Hairstyle for Party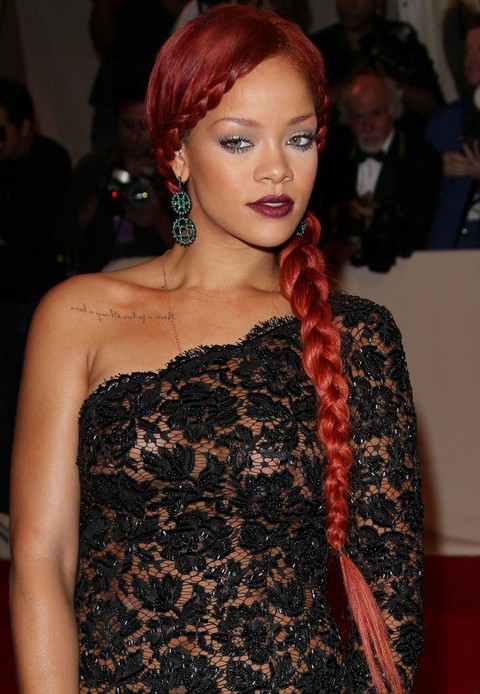 Rihanna styles her faddish cherry-red locks into a long plait. The braided fringe adds sweet touch to the look.
Rihanna Hairstyles: Seductive Mid-length Bob for Women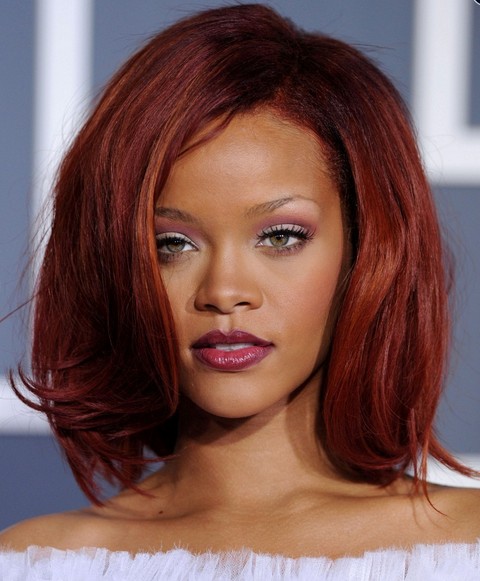 This modern hairstyle is achieved by the combination of a traditional blow-dry and an up-dated cherry-red hue. This is also great haircut for round and square face shapes.
Rihanna Hairstyles: Rebellious Scarlet French Twist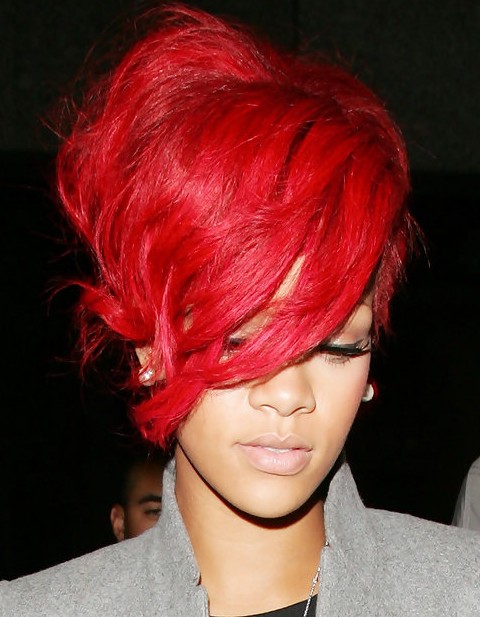 Once I thought the French twist must be graceful, when I saw this picture, I knew I was wrong. The French twist can be fiercely chic when you add some smashing color to it. Find your favorite hue and experiment with it.
Rihanna Hairstyles: Burgundy Pinned Up Ringlets for Holidays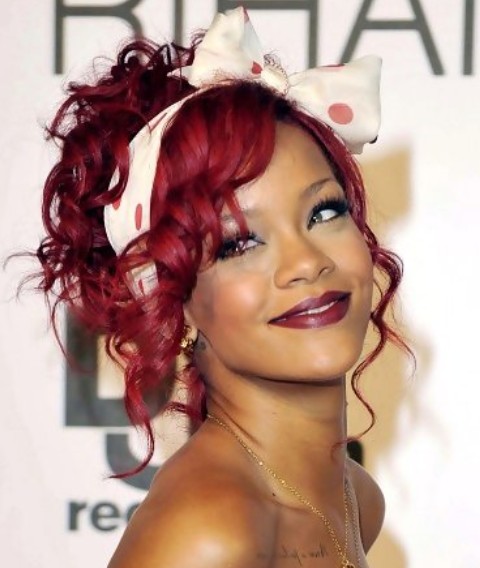 Rihanna stuns us with these adorable pinned up ringlets. The bowknot hair band makes the overall look cute and romantic. It's a really ideal hairstyle for your holidays.
Rihanna Short Hairstyles: Edgy Scarlet Straight Haircut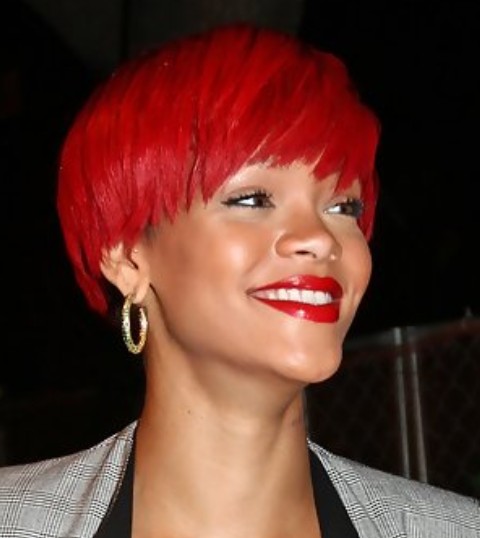 Rihanna is sophisticated with this simple haircut. The scarlet hair is heartbreakingly fashionable. The long blunt bangs make the face look shorter, so this hairdo is ideal for long face shapes.
Rihanna Hairstyles- Stylish Fauxhawk for Fashionistas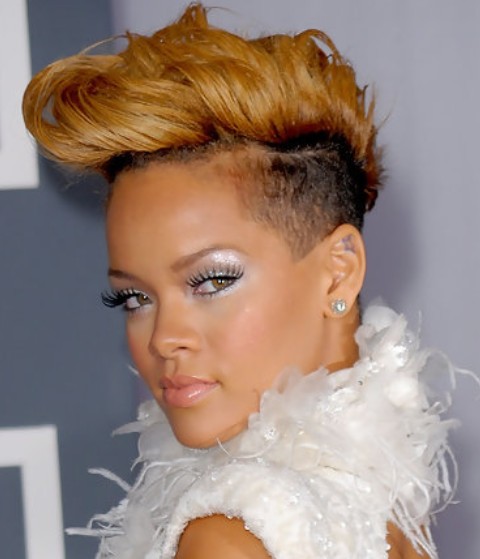 The golden fauxhawk and shaved path on the sides give a rather rock-chic look. If you are a rocker, show off your statement with this stylish hairstyle.
Rihanna Hairstyles- Voguish Side-swept Long Curls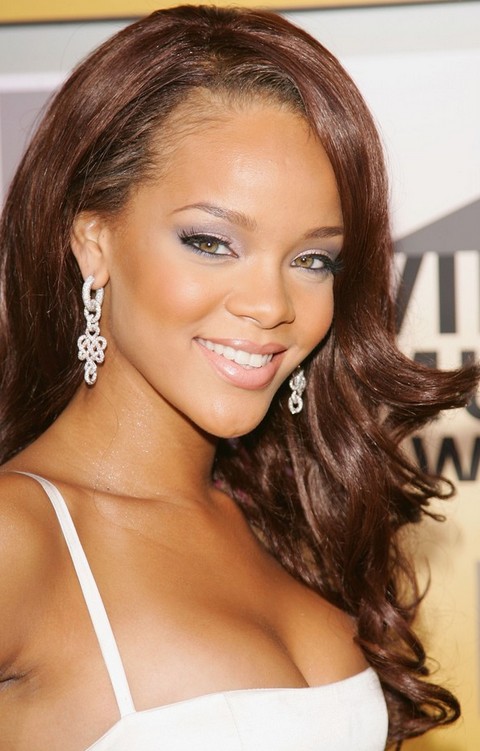 Rihanna is so seductive with this side-swept hairstyle. The bright hair color add glamor to the look. This hairstyle is versatile and it is suited for any occasion.
Rihanna Hairstyles: Sophisticated Medium Straight Haircut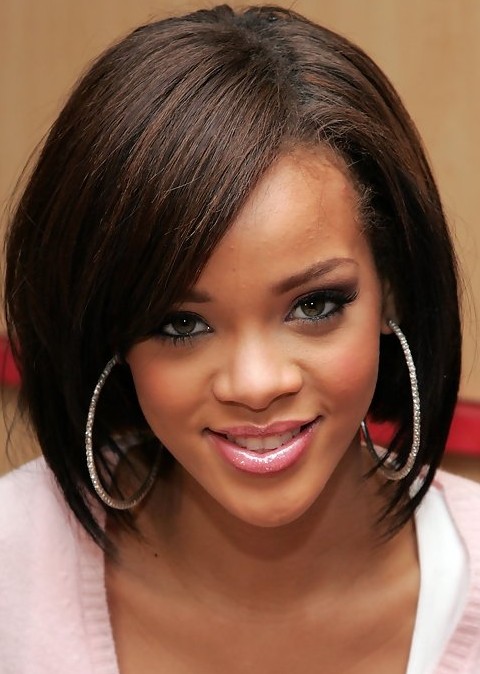 This is quite a classic hairstyle. The side-swept bangs frames the face shape perfectly, and the tapered ends give an airy look.
Rihanna Hairstyles: Interesting Bowl Cut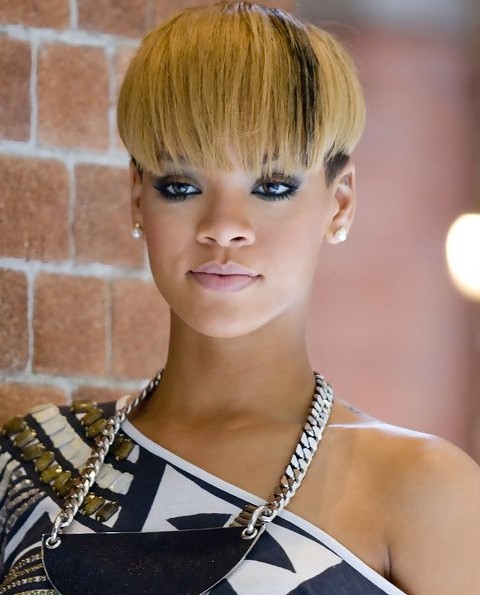 Rihanna looks cool and chic with this funny bowl cut. Women with round face may look lovely with this haircut, but square face shape is not suitable for it.
Rihanna Hairstyles: Classy Loose Bun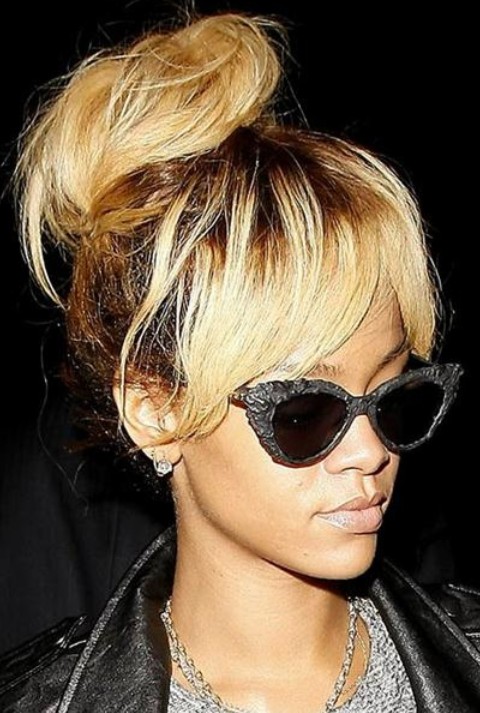 Rihanna provides another inspirational hairstyle with this loose bun. Add some shades to your blonde locks and get wispy bangs for yourself. Then you can get this achingly-cool look.
Rihanna Hairstyles: Sexy Ombre Loose Curls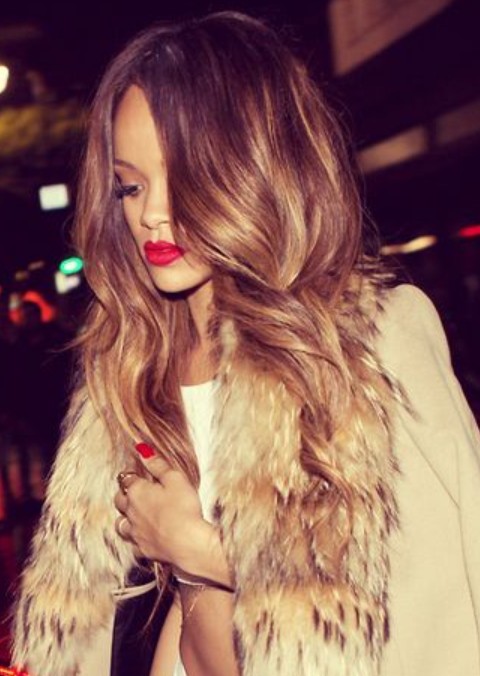 I'm fond of this mellifluous hairstyle. Rihanna looks so sexy and pretty with it. If you have such beautiful long locks, go for it without hesitation.
Rihanna Short Hairstyles: Scarlet Wavy Haircut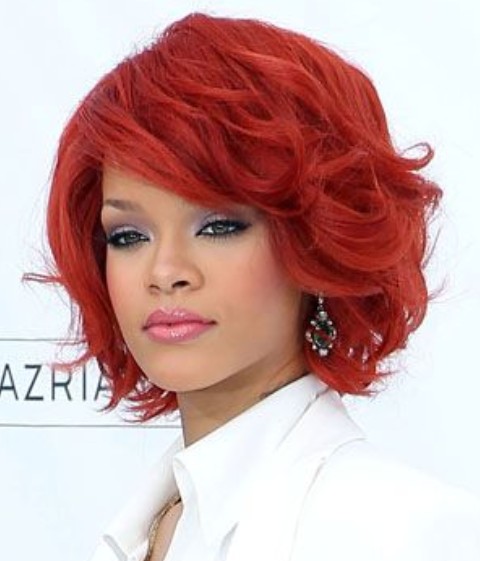 Here is another faddish look that is achieved by the combination of a traditional hairstyle and a fierce hair color. Pay attention to you make up, and make it as minimal as possible.
Rihanna Hairstyles:Super-sleek Asymmetric Black Bob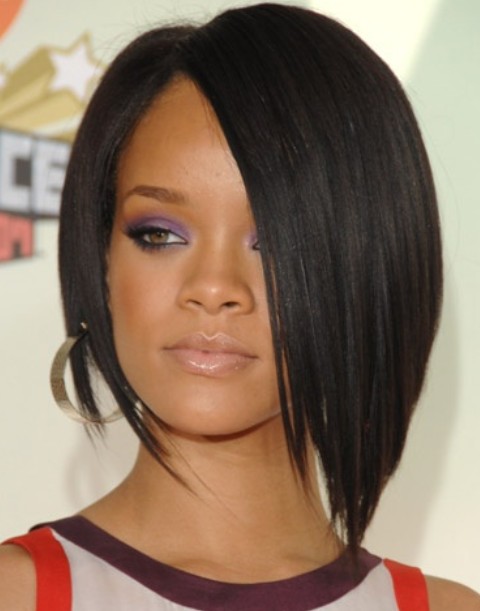 Rihanna looks quite edge with this asymmetric black bob. Except the long face shape, all the other face shapes are perfectly suited for this modern hairstyle.

Rihanna Hairstyles: Sweet Side-Swept Medium Curls with High lights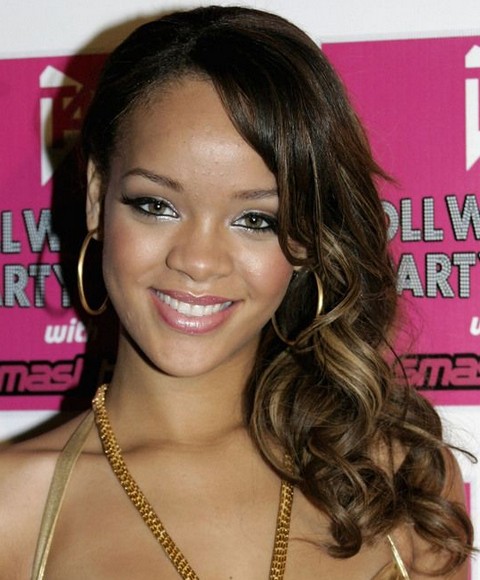 These side-swept curls look sweet with Rihanna's shiny smile. Beautiful ladies, you will be more attractive with this hairstyle.
Rihanna Hairstyles: Graceful Chignon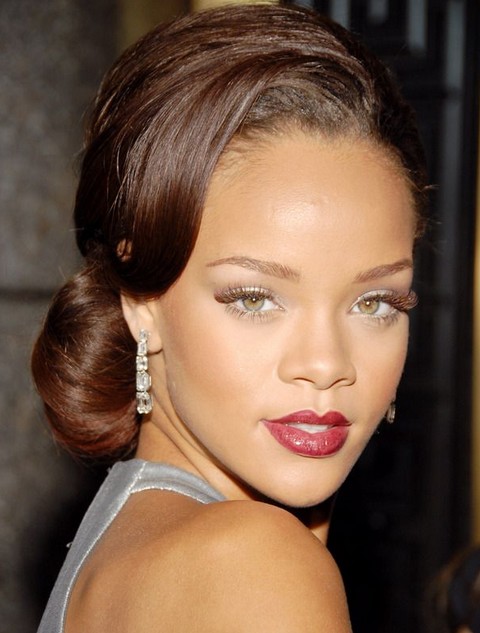 Rihanna is really elegant and radiant with this graceful chignon, which opens up her beautiful face. This hairstyle is quite great for any formal occasion.
Rihanna Long Hairstyles: Lovely Layered Haircut with Blunt Bangs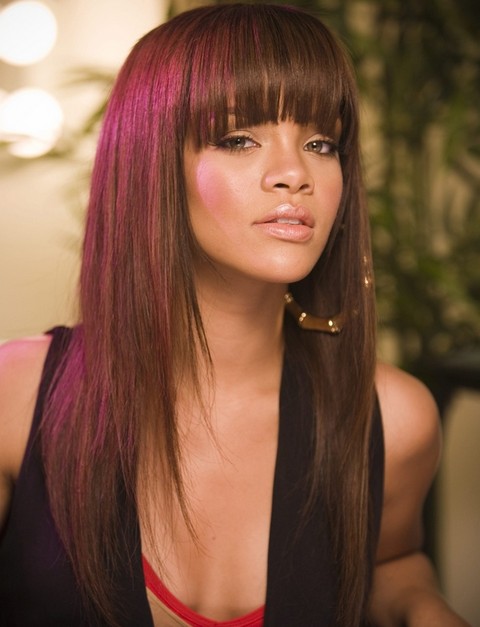 It's not so often to see Rihanna with such long super-straight hair. I think she is beautiful with this hairstyle. The blunt bangs and the layered cut make her so adorable and alluring. I like it, what about you?
Rihanna Hairstyles: Golden Medium Wavy Haircut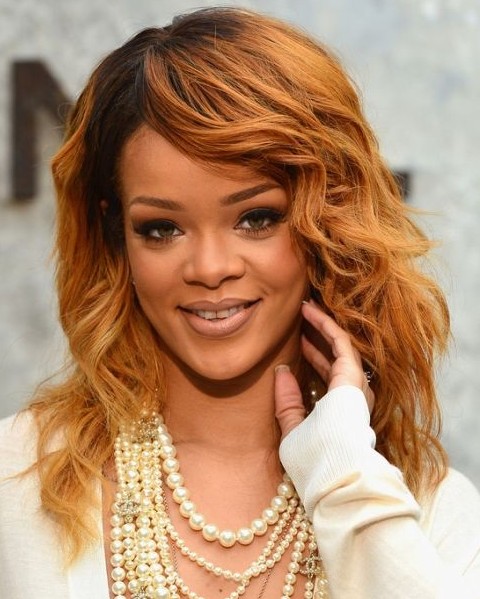 Rihanna styles her lovely golden locks into a stylish medium wavy haircut. The side-parted hair makes her pretty face the focus of attraction. It is indeed a fabulous look for any occasion.
Rihanna Long Hairstyles: Stylish Scarlet Side-swept Haircut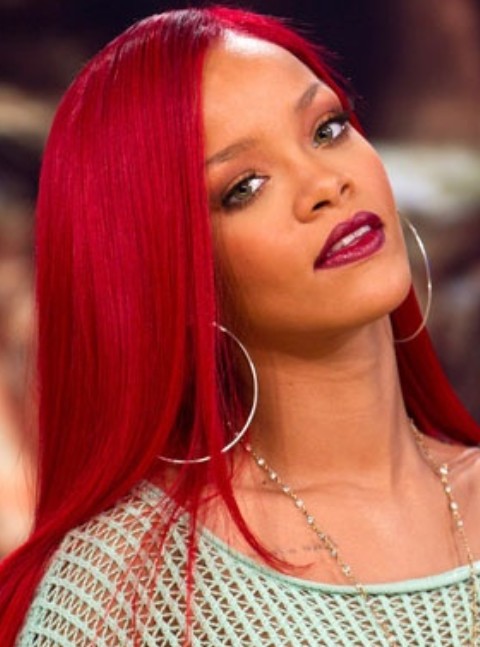 Rihanna wears her super straight hair down and part it from one side. This simple hairstyle becomes edgy when the color is turned into a raging red. Any face shapes are suited for it.
Rihanna Hairstyles: Asymmetric Short Haircut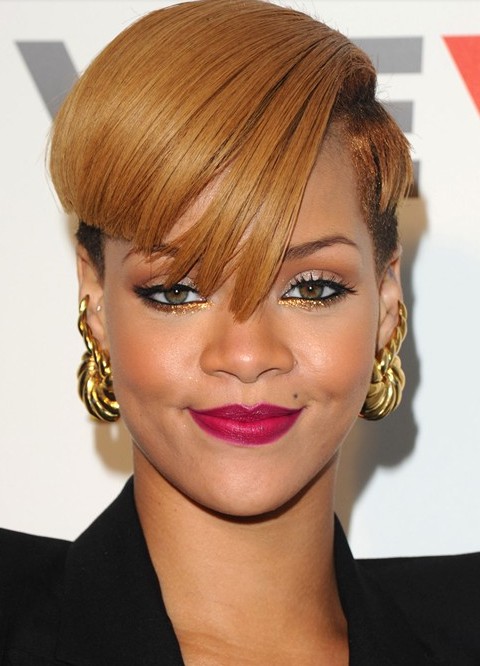 If you like short haircuts, why not try this one? The distinctive asymmetric haircut will make you outstanding from the crowd and give you a rather voguish look.