How to Rock Boyfriend Jeans
Boyfriend jeans, or jeans with a loose, baggy fit, have gained increased popularity as a trend in recent years. Many women, however, think that boyfriend jeans just don't look good on them and that they can't possibly pull them off. Have you ever looked at someone else wearing boyfriend jeans and wondered how they can look so good in them? If so, you're not alone, but your notion that boyfriend jeans aren't for you is definitely wrong.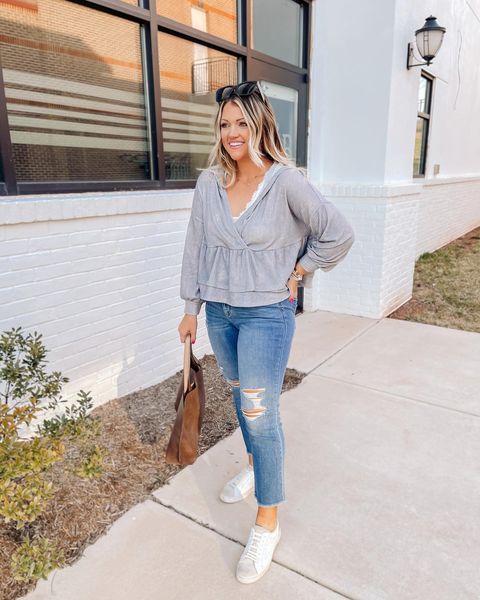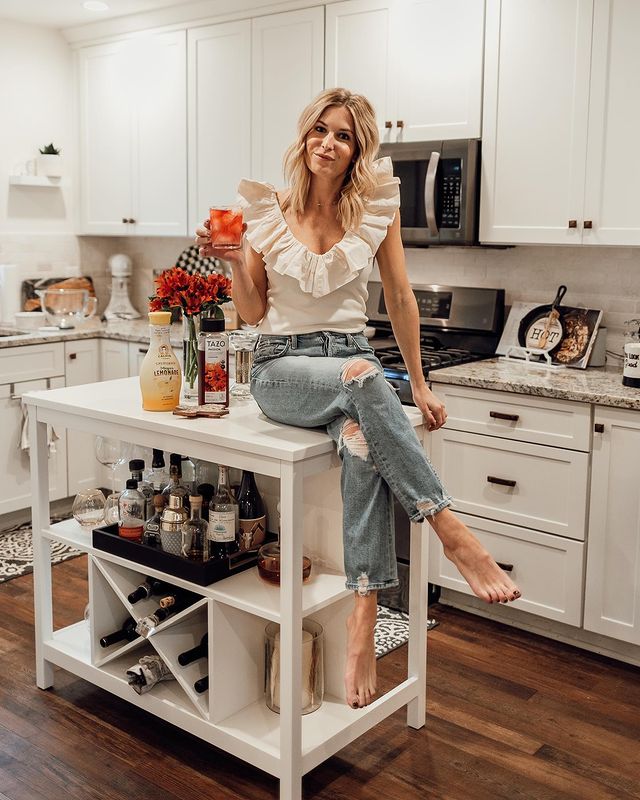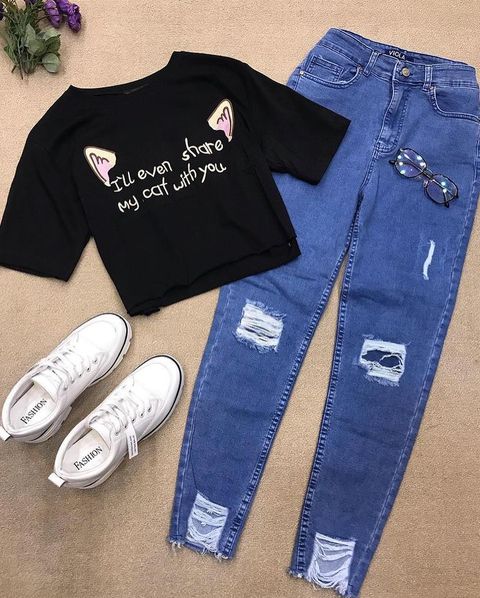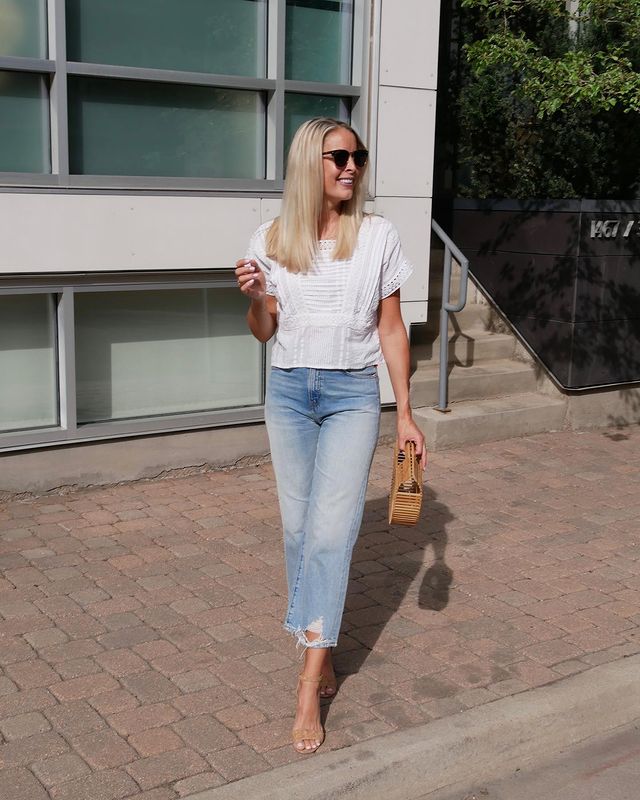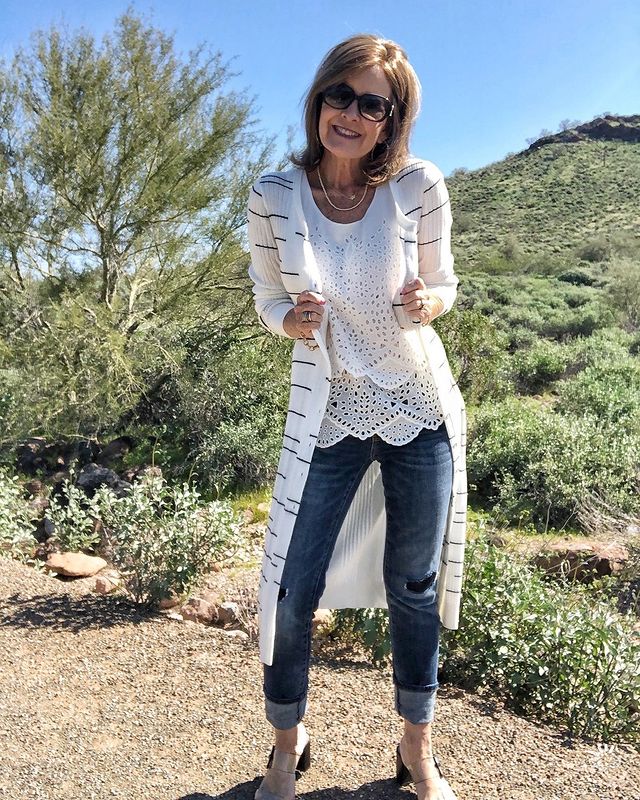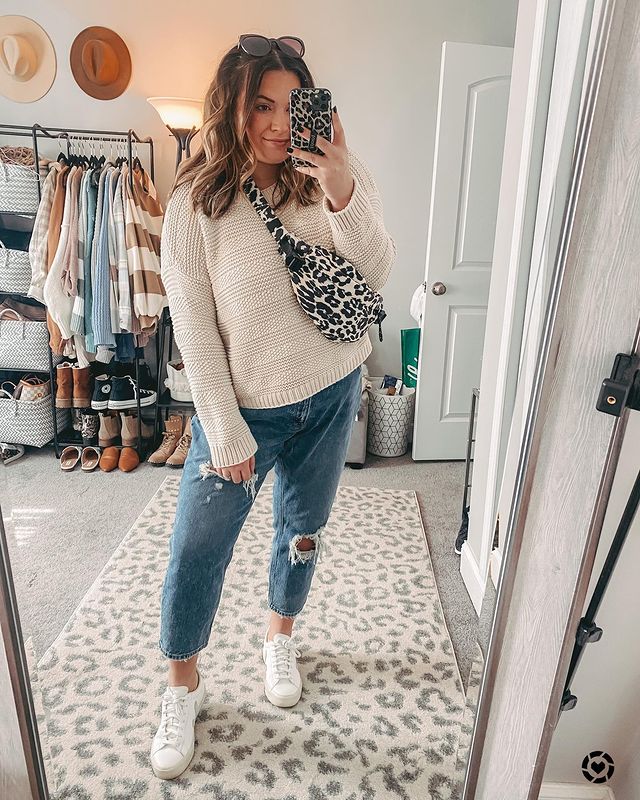 Keep reading to find out how to rock boyfriend jeans no matter what.
1. Balance Loose and Tight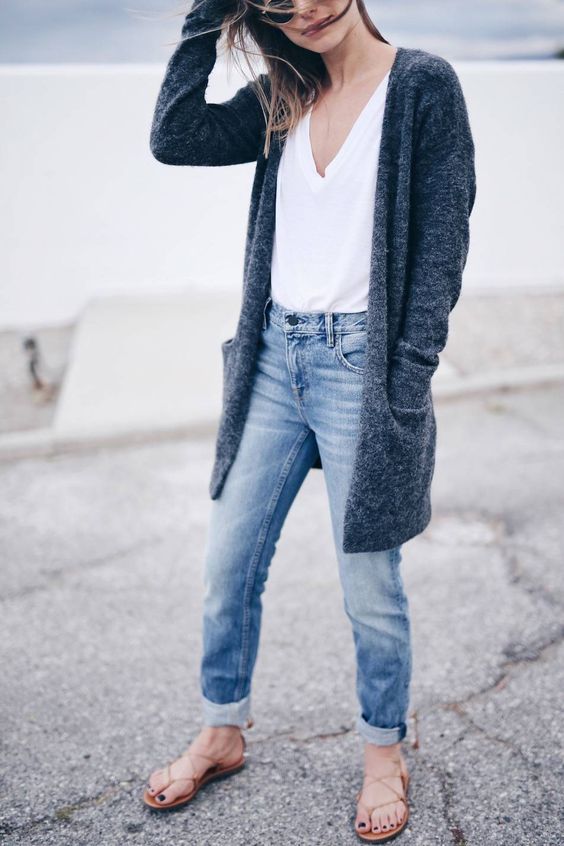 Boyfriend jeans have a tendency to look messy or excessively casual when paired with the wrong clothing pieces. To avoid this look when you wear boyfriend jeans, try pairing the jeans with a tight top that is fitted in order to offset the purposely loose fit of the jeans. A fitted tee with boyfriend jeans make a great pair.
If you do want to wear a shirt with a looser fit, make sure that you tuck it into your boyfriend jeans to ensure your shape is still visible.
2. Loose Doesn't Mean a Bad Fit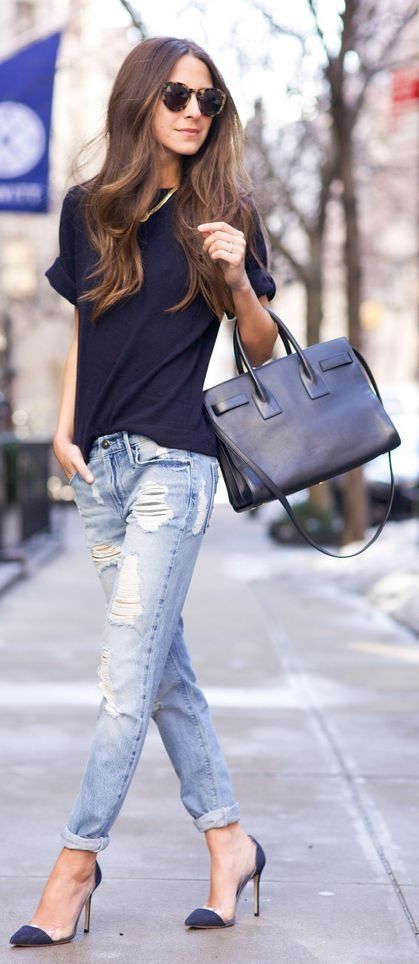 One of the biggest problems many women have with boyfriend jeans is that they feel like they never fit correctly.
It is important to recognize that, while boyfriend jeans are supposed to fit loosely, they're still supposed to fit. Make sure that the waist and crotch of your boyfriend jeans are fitted and that the legs are the only part of the jeans that are noticeably loose.
3. Embrace the Casualness

One of the best parts about boyfriend jeans is that they are a great, trendy addition to a classic casual outfit. Embrace the casual yet chic nature of boyfriend jeans by pairing them with a T-shirt and flats.
4. Dress Them Up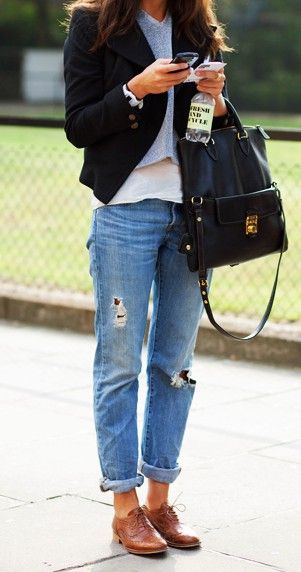 While wearing boyfriend jeans is a great way to go casual but cute, they don't have to be a part of a casual outfit. You can dress up your boyfriend jeans by wearing them with a collared top and blazer. You'll be comfortable, but you'll look ready for a board room meeting.
5. Don't Go Destroyed

You might think that destroyed boyfriend jeans are the only boyfriend jeans that exist. While boyfriend jeans with holes in them are much more popular than those without, you can find boyfriend jeans that are not destroyed.
If you're looking for boyfriend jeans that you can add to a more formal outfit, try a pair without holes. However, just make sure that you wear a belt or buy jeans with stitched pockets to add some interest to your look.
6. Try Heels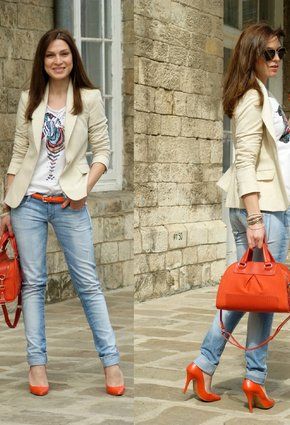 If you still feel like you look nothing but slovenly in your boyfriend jeans, try wearing a pair of heeled shoes with them. Your heels don't have to be stilettos; try a pair of wedge sandals or ankle booties with a short stacked heel. Wearing heeled shoes with your boyfriend jeans can add some femininity and subtle formalness to your look to cast off all notions of looking like a slob.
7. Wear a Leather Jacket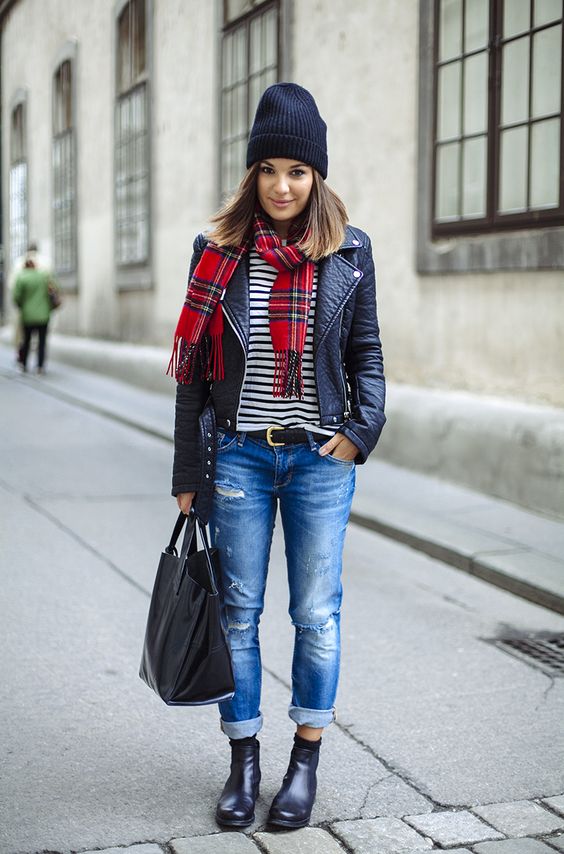 A leather jacket is a great way to spice up a pair of boyfriend jeans, especially when the weather gets colder. Try pairing a leather jacket with a fitted patterned tee and your favorite boyfriend jeans for a chic, modern finish that still looks casual and feminine.
Boyfriend jeans are a non-discriminate trend. It's a total myth that you have to have a certain style or body type to pull them off successfully. If you want to get into the boyfriend jean trend, use the tips in this post to learn how to rock boyfriend jeans confidently every time.