Top 26 Salma Hayek Hairstyles
Salma Hayek is well known for her intelligence and fairness. No matter she is convulsing the red carpet or playing her virtual role as a responsible mom, she can always keep herself fabulous! Now, let's glance over Salma Hayek's most beautiful moments and try one or two your favorite styles by yourself!
Salma Hayek Hairstyles: 2014 Bouffant Haircut
Salma Hayek stuns us with this center-parted Hairstyle. The upper section is blown straight naturally and just touches the face. The bouffant ends make the hair look soft and bouncy. It's really a warm hairstyle for women!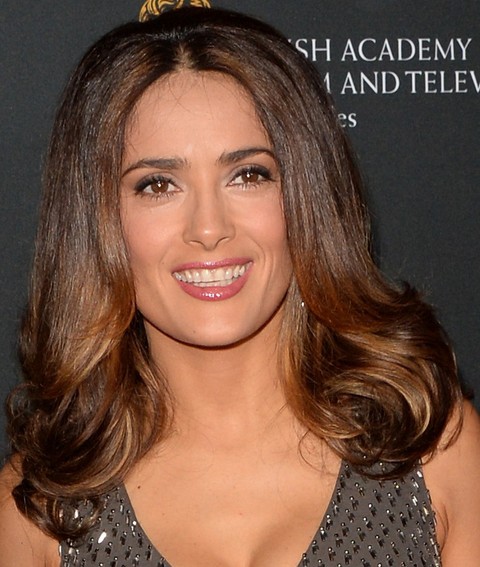 Salma Hayek Hairstyles: 2014 Elegant Classic Bun
Salma wears her raven locks in an elegant updo hairstyle. All the locks have been teased back in order to emphasize her beautiful face, and the golden hairpin add glamor to the hair. Any women will look fabulous with such an elegant hairstyle.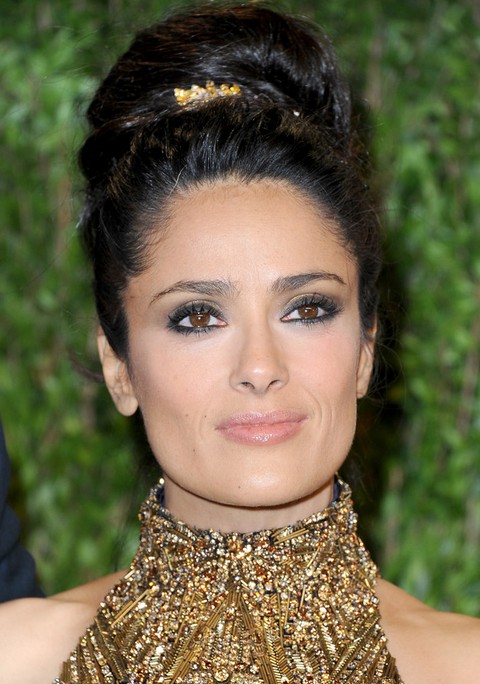 Salma Hayek Hairstyles: Side-swept Straight Haircut
Women with straight hair should have a good try with this center-parted hairstyle. The deep center-parting always works well to lengthen the face silhouette, and the side-swept hairstyle makes the overall look more alluring and amazing. Any occasion is suited for this great hairstyle.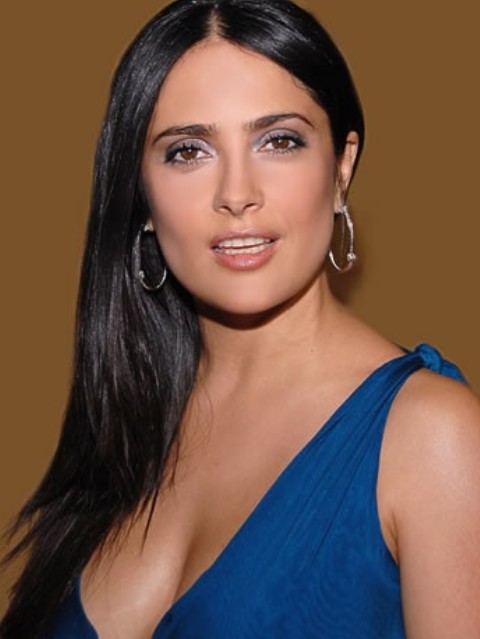 Salma Hayek Hairstyles: Fluffy Straight Haircut
This fluffy straight hairstyle is really sassy and it oozes a casual-chic. The haircut is best suited for women who like neutral fashion style. It can make you cool and tempting at the same time.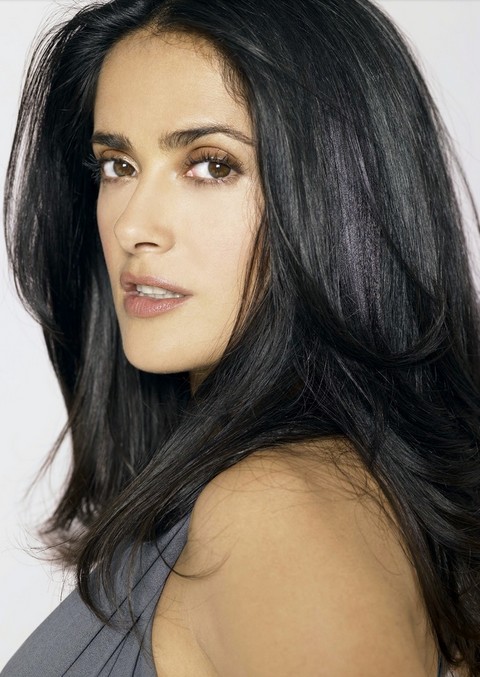 Salma Hayek Hairstyles: Straight Haircut with Bangs
Just tease you raven locks straight and sweep the fringe aside, you can get this stylish straight haircut effortlessly.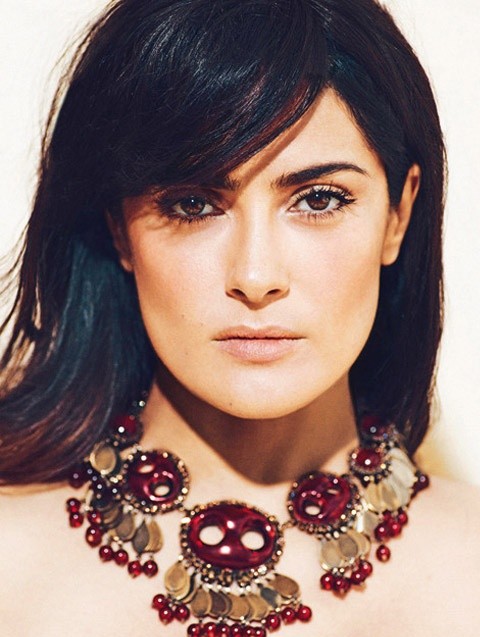 Salma Hayek Hairstyles: Fabulous Straight Haircut
Salma Hayek looks fabulous with this center-parted haircut! Get your brown hair a layered cut, and then flip the ends out. You can be as gorgeous as Salma Hayek. This is a versatile hairstyle for any occasion and any face shape.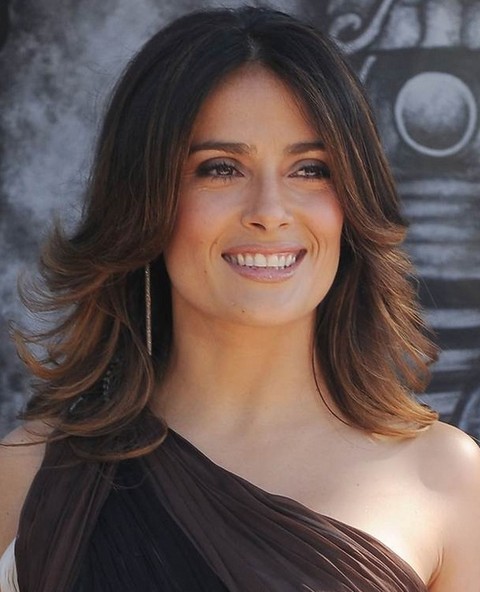 Salma Hayek Hairstyles: Radiant Medium Curls
Salma Hayek goes for an Old Hollywood fashion with these screamingly gorgeous curls. The flip-up fringe makes the look so flirting. If you like this hairstyle, why not take this picture to your hair stylist and have your own one?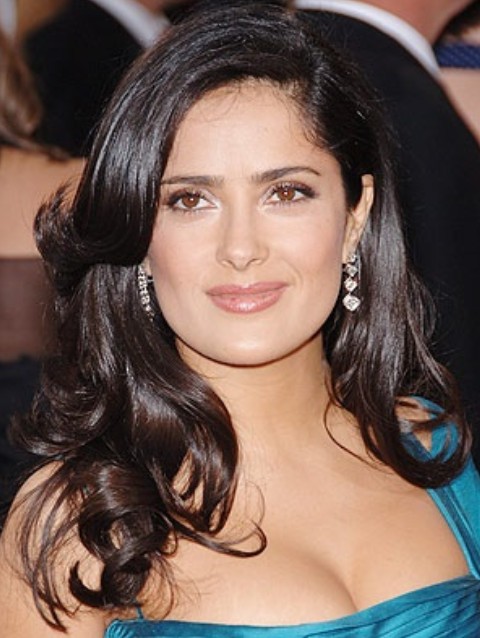 Salma Hayek Hairstyles: Ombre Long Bob
Salma is really edgy with such an ombre lob. The mix of blue and brown is unique, too. Younger women will look oh-so-chic when wear this hairstyle for a party. It is also stylish if you just turn the hair color into a simplex color, such as black, brunette or golden etc.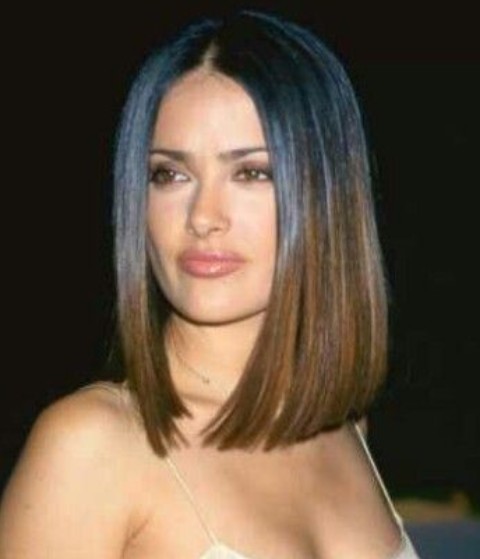 Salma Hayek Hairstyles: Gorgeous Bobby Pinned Updo
Salma Hayek demands attention with a gorgeous bobby pinned updo. The neatly-tousled hairstyle is more graceful with the help of the two wavy strands hanging over along the face. This hairstyle is most suited for occasions like the red carpet, formal parties or some great meetings.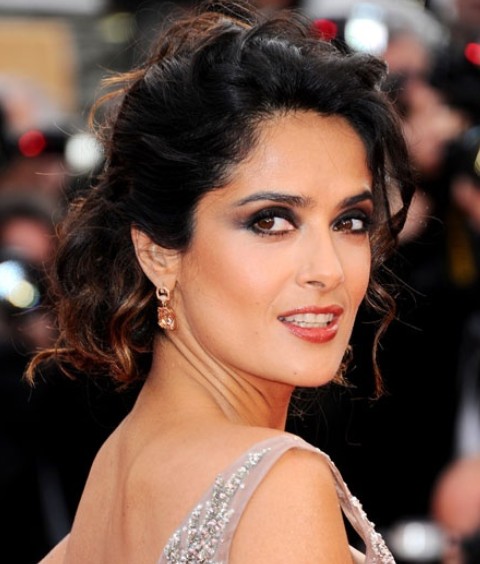 Salma Hayek Hairstyles: Raven Loose Curls with Hairpin
The dark and raven curly hair can also be glamorous when you decorate the hair with a sparkly hairpin. The medium sized curls add volume and texture to the hair and it is great for women who have thin hair. Any occasion is suited for this hairstyle.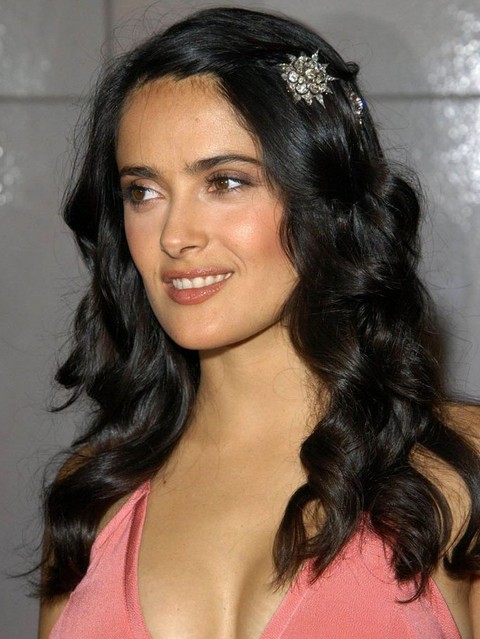 Salma Hayek Hairstyles: Ultra-straight Haircut
Salma Hayek goes for a simple and sleek look with her ultra-straight locks. The deep center-parting makes the face look longer and all the locks have been tucked behind the ears, which makes the look more spirited.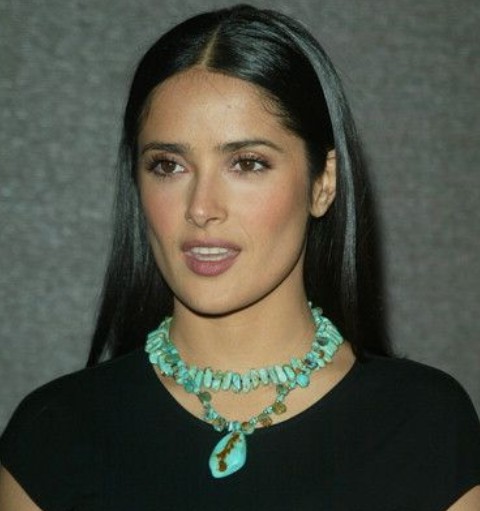 Salma Hayek Hairstyles: Stylish Center-parted Haircut
Loving this layered straight haircut! The center-parted style makes the look so cool and stylish. The rich layers add movement to the straight hair and works well to frame the face shape. Round and square faces are most suited for this simple yet stylish hairstyle.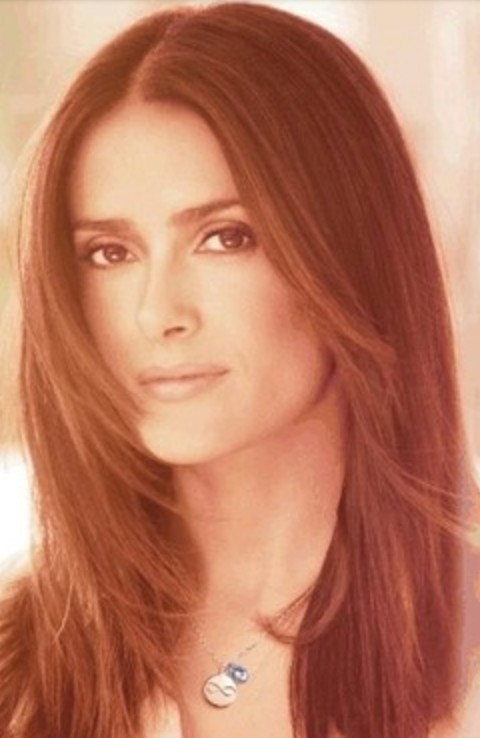 Salma Hayek Hairstyles: Cheerful Ponytail
Salma Hayek teases all her locks back smoothly and styles them into a ponytail. How cheerful she is with this classic hairstyle for any women!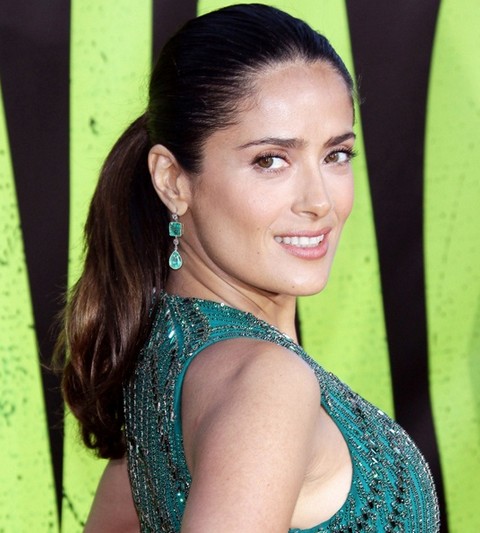 Salma Hayek Hairstyles: Straight Layered Haircut
Another layered straight haircut for you! The long layers are more sophisticated than the short layers and therefore it is more suitable for older women.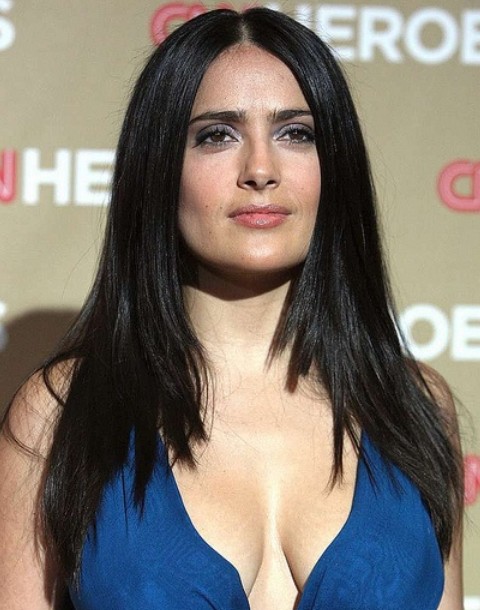 Salma Hayek Hairstyles: Edgy Hair Knot
Do you love hair knot? This sleek high hair knot is really fabulous for younger and older women. As it showcases the face totally, square face shapes should walk away from it!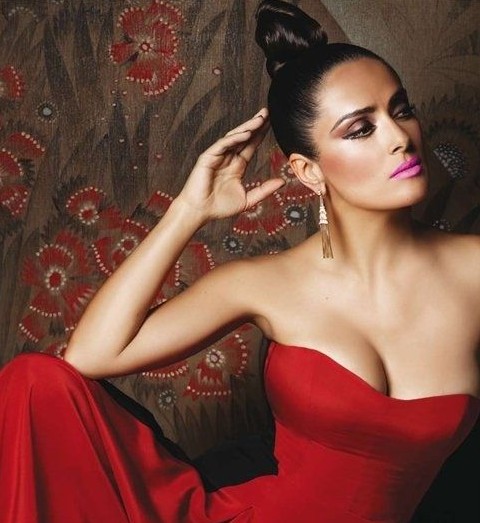 Salma Hayek Hairstyles: Fantastic Braided Hairstyle
This braided hairstyle is dramatically beautiful! It has some taste of original. You can wear it for a red carpet or an official gathering. Pay attention! You should get rid of the green ribbon when attending the formal occasions.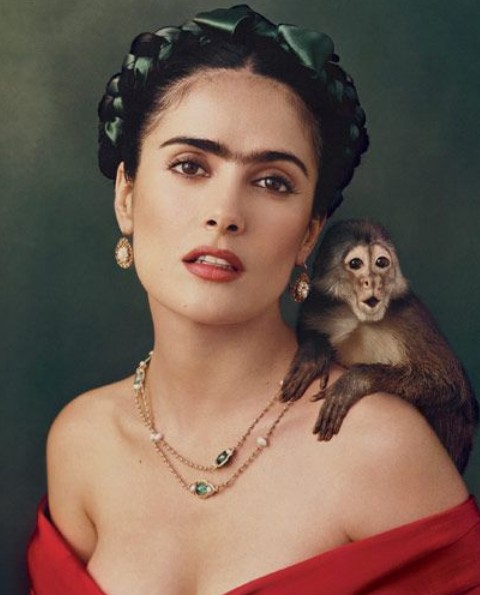 Salma Hayek Hairstyles: Tousled Wedding Hairstyle
I'm really fond of this sassy look! The messily tousled wavy hairstyle is so gorgeous that it can make you stunning on any occasion and with any outfits. The fluffy hair adds chic vibe to the look and you can go for it whatever your face shape is!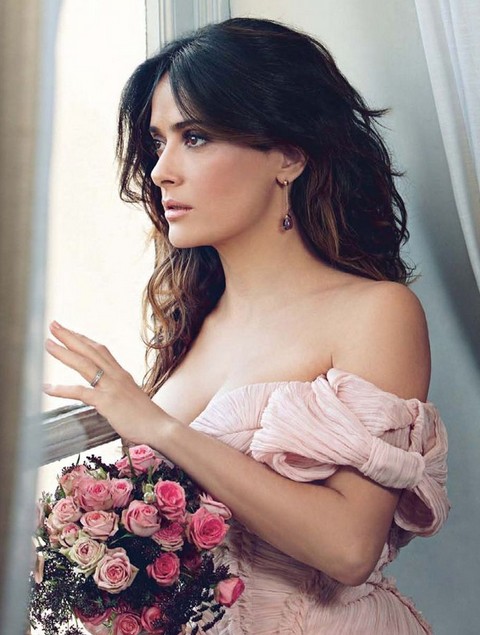 Salma Hayek Hairstyles: Elegant Braided Bun
This Indian style braided hairdo is fabulous with a long dress! Younger women can make it more adorable by adding some hairpins. Older women can wear it for an elegant and stylish look!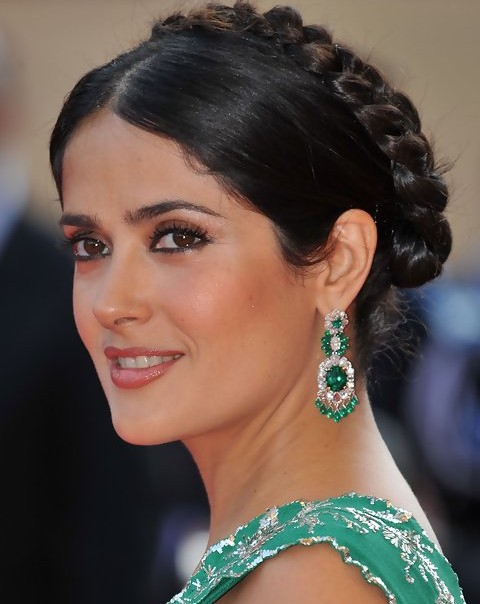 Salma Hayek Hairstyles: Edgy-chic Side-swept Haircut
Salma Hayek is so chic with this side-swept hairstyle! She gives her straight medium hair a slight layered cut and a deep side-parting. Half of the face is covered by the pretty locks, which makes the overlook so mysterious and tempting! This hairstyle is quite great for cool women.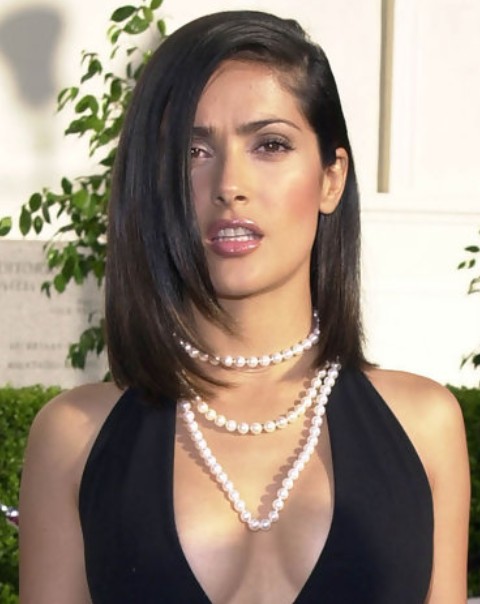 Salma Hayek Hairstyles: Fun French Twist
This French twist is chic and fun, especially the layered fringes! Do you like it? Maybe you can sport it for some friends or family gatherings.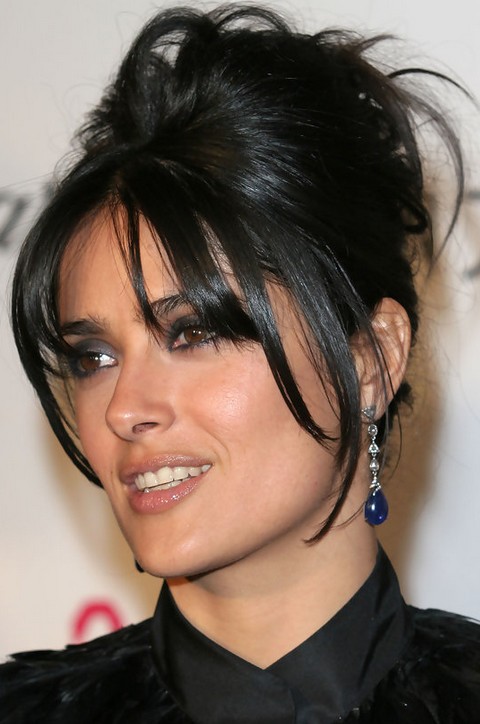 Salma Hayek Hairstyles: Beautiful Center-parted Haircut
This ombre long wavy hairstyle is so beautiful! The loose lengths and the wavy ends contrast fiercely. Whatever you wear, you can always be fascinating with such a trendy hairstyle. As the locks on sides of the face can frame the face shape, any women can rock it as you like!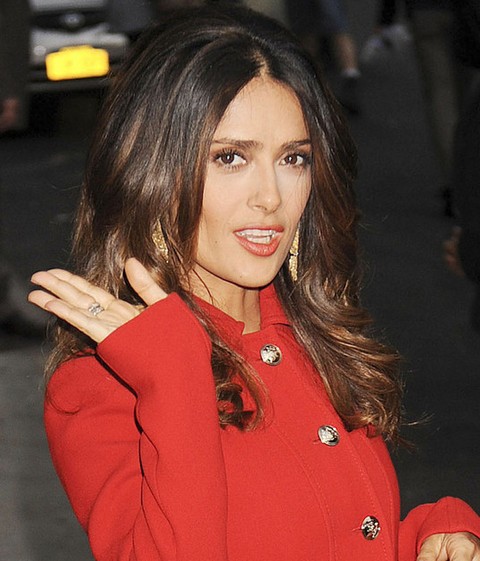 Salma Hayek Hairstyles: Gorgeous Feathered Flip Hairstyle
How cheery Salma Hayek is with this flip-up' do! Women at all ages can be vivacious with such a lovely and lively hairstyle! On the hot days, you can go with a smart dress; on the cold days, you can go with a fur-coat. How beautiful!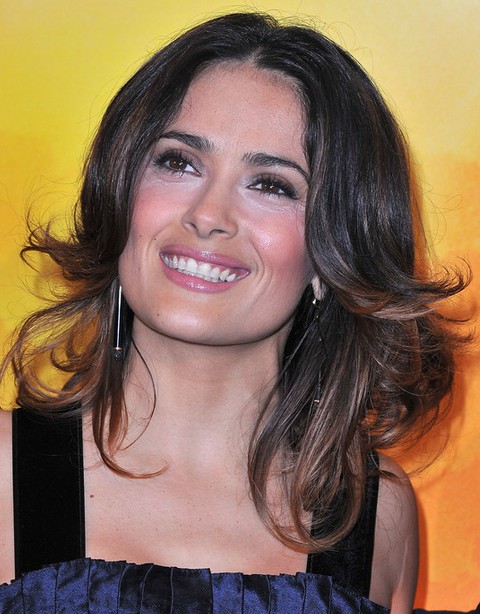 Salma Hayek Hairstyles: Sleek Medium Curls
This center-parted hairstyle is more formal and it suited for any woman to get a nice everyday look! The brunette highlights on the ends make the overlook more stylish. Do you like it?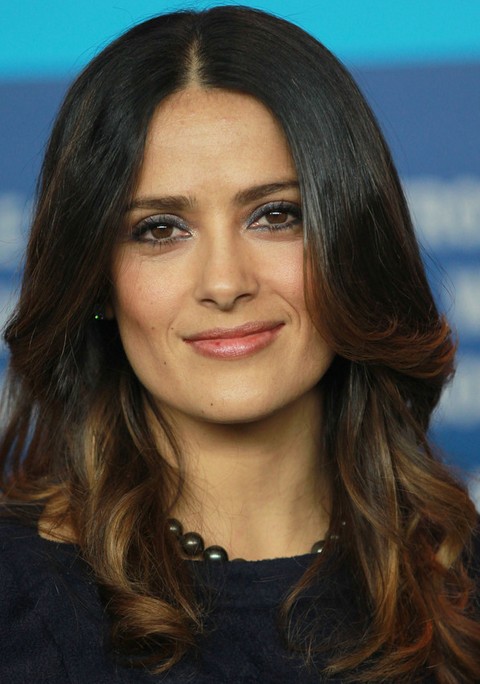 Salma Hayek Hairstyles: Ombre Long Curls
This ombre hairstyle is really gorgeous! The center-parted line and the blow-out long curls just make Salma a queen! Younger women will be more mature with such a style and mature woman will be sophisticated and alluring with it! In a word, I love it!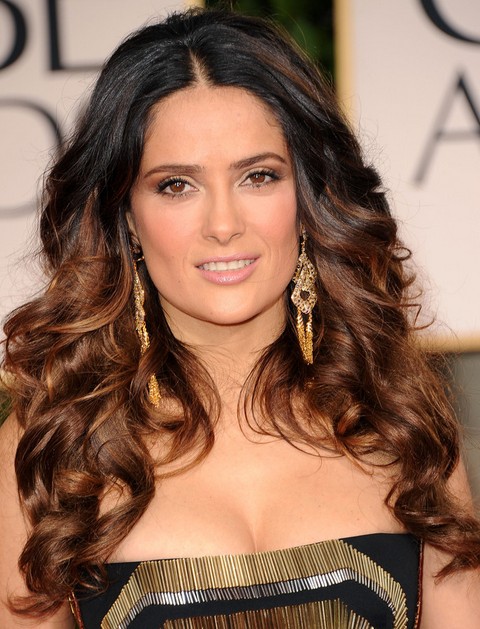 Salma Hayek Hairstyles: Sassy Medium Curls
The shaggy and loose curls are quite great for women with thin hair! It is best suited for older women, and this hairstyle can make them younger and chicer!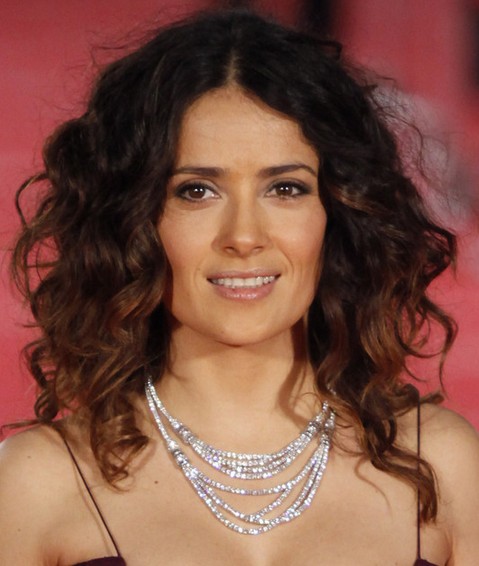 Salma Hayek Hairstyles: Long Braided Hairstyle
This long braided hairstyle is quite stylish and younger women will be so lovely and sweet! Come on! Have a try on your own!