20 Sassy Blue Hair Colors – Ombre, Balayage, Dark Blue Hairstyles
Our generation, more so than any other, is prone to playing around with exciting hair colors. From vibrant rainbow shades to cotton candy pastels, we just can't get enough of the otherworldly look that these sassy colors bring. If there's one tone of hair that brings magic and mystery to mind it's blue. This is the ultimate choice for all aspiring mermaids out there and can look beautiful on just about anyone.
Whether you favor subtle hints of color or bold statements, or whether your hair is long and flowing or short and cropped, blue could be the color for you. You've seen your favorite celebs and style icons rock sapphire locks, so isn't it time you took the plunge yourself? If you're still undecided about taking such a big leap into the world of blue hues, we're sure that these 20 sassy examples will help make up your mind.
Baby Blue Princess Curls
Even on a less impressive hair color, these chunky, perfectly preened curls would still look stunning. Subtle lilac ombre in the ends of the hair really helps bring this cute, cartoonish style to life.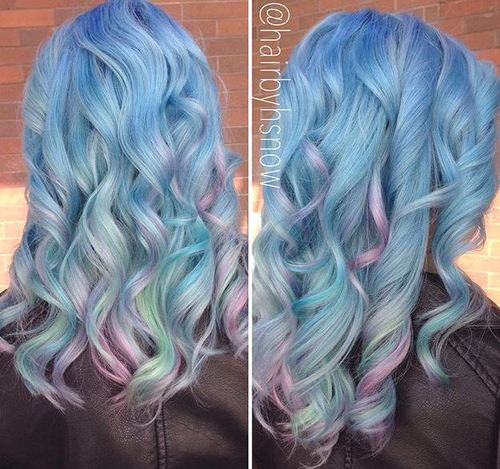 Ocean Waves
These cascading blue waves almost look like a scene from the ocean itself. Touchably soft and flowing, with a subtle mix of dark and light blue hues this style is sure to cause a splash wherever you go.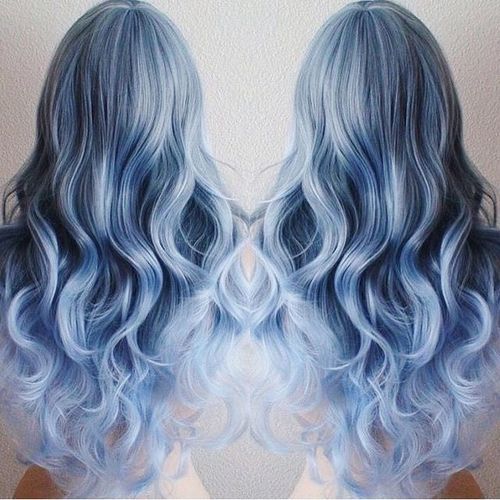 Waves with Side Braid
There's a very good reason why a French braid hidden among long flowing locks is so popular with boho chicks around the world, and this stunning style is a wonderful example of that. You too can bring some romance to your purple and blue ombre by trying out this chunky side braid.
Blue and Purple Dip Dye
We're only at number four in our list and already we've seen a few examples of how beautifully blue and purple go together. Take this color combination to extreme lengths by opting for an eye-catching, half and half style like this one.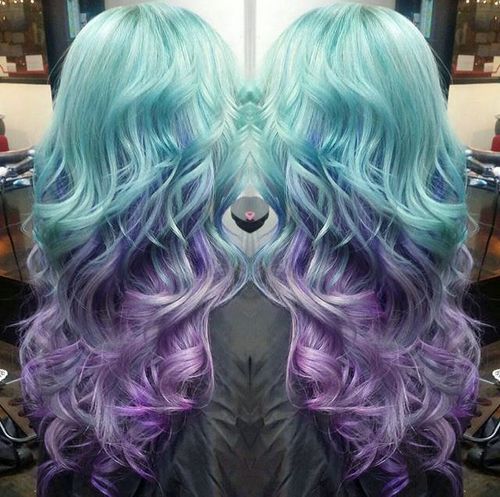 Icy Blue Curls
The hairstyle this girl is wearing is a classic and traditional one. Wearing a demure, prettily curled do like this is the perfectly way to keep some old fashioned femininity in your otherwise shocking blue locks.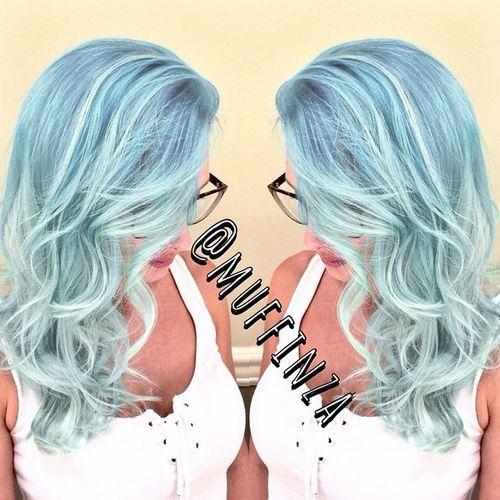 Blue and White
We've all seen more than our fair share of ombre and dip-dye styles by now. As gorgeous as this hair trend is, you might think there's no way to rock it that hasn't been done a thousand times before. Think again; as this look proves that white blonde and pastel blue make perfect partners in ombre.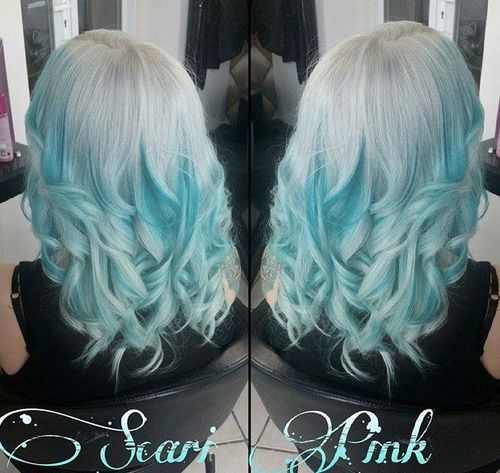 Beach Waves
It takes a fair bit of effort to turn your hair blue and then to maintain the upkeep of the look. But that doesn't mean that you have to put a whole load of effort into the way you style your locks. These long and laid-back beach waves are hassle-free and the ideal companion to multi-tonal blue.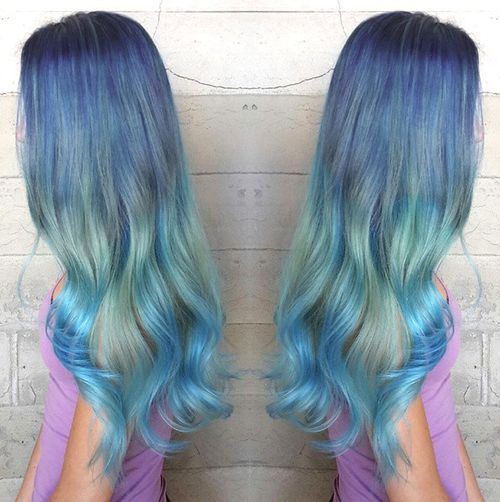 Mermaid Braid
It's easy to see how the mermaid braid earned its name. This hairstyle would look fit for a fairytale when worn by even a natural haired girl, so when teamed with vivid blue locks, it looks completely magical.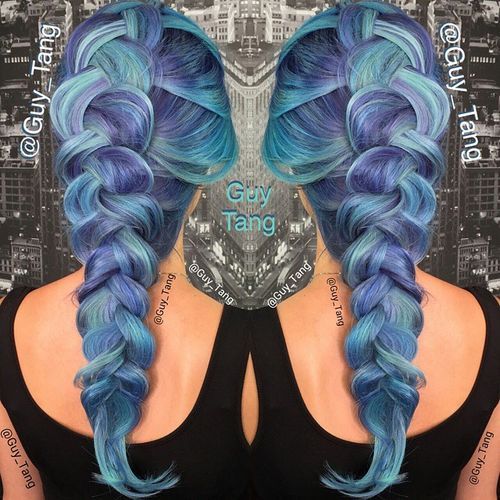 Pastel Rainbow Dip Dye
Playing around with pastel hues allows you to try as many different colors in one style as you like, without it being too daring or bold. There's something very soft and subtle about this long, naturally colored hair with pretty pastels at the ends.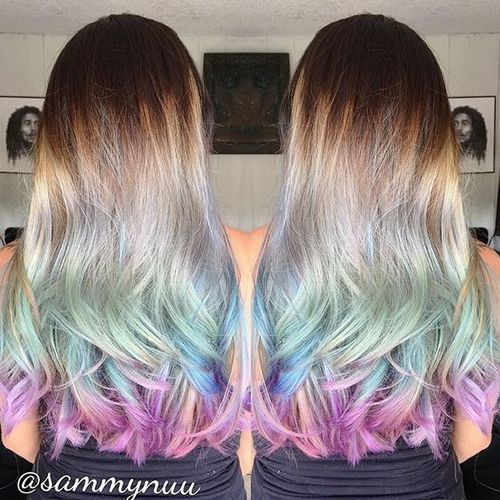 Blonde with Blue and Purple Highlights
If you know that you're a beautiful blonde at heart and you don't want to stray too far from this flattering color, you don't have to miss out on the bold, blue trend! Add some texture and personality to your long blonde tresses by throwing in some vibrant aqua and lavender highlights like these.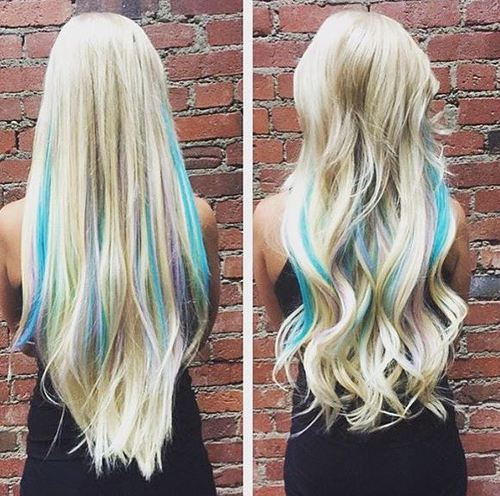 Brown and Blue Curls
When we see brown hair with ombre, it is normally teamed together with a natural hue like a golden blonde or a lighter shade of brunette. Not many people would think to leave their hair natural with jaw-dropping blue ends, but as you can see here, the two go perfectly together.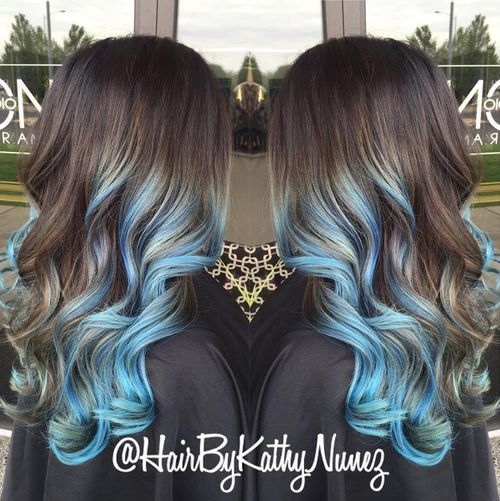 Blue and White Stripes
There's something quite sweet and sixties about the sweeping side bangs and retro flip in this hairstyle. The dazzling combination of icy white blonde and purplish blue, however, is thoroughly futuristic.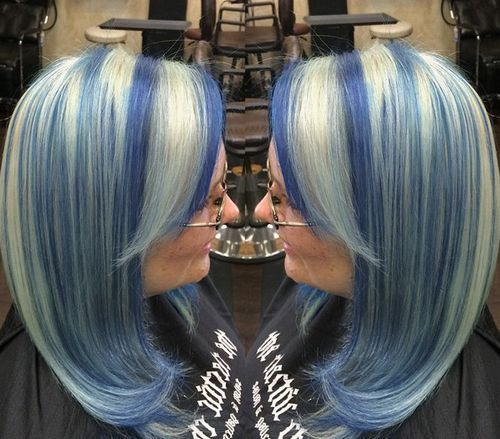 Turquoise and Lilac Bob
Short haired girls, don't be put off by the amount attention we've paid to long locks so far in this list. A dazzling color like pastel blue is the perfect way to brighten up your chic and shaggy bob.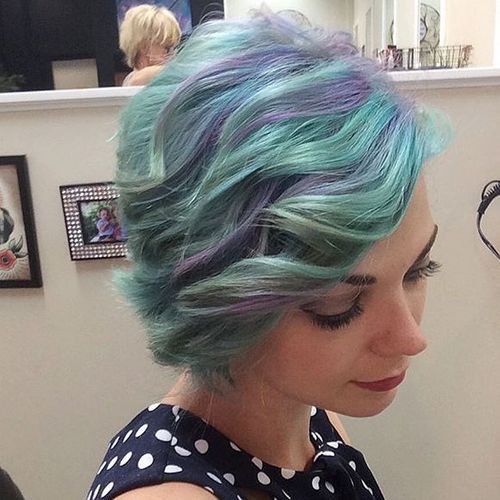 Blunt Bob
A hard edged blunt bob can look equally stunning when dyed a vibrant shade of blue. This classic cut is always in style and is flattering on almost every type of face, so you can rest assured that you'll look incredible with this hairstyle.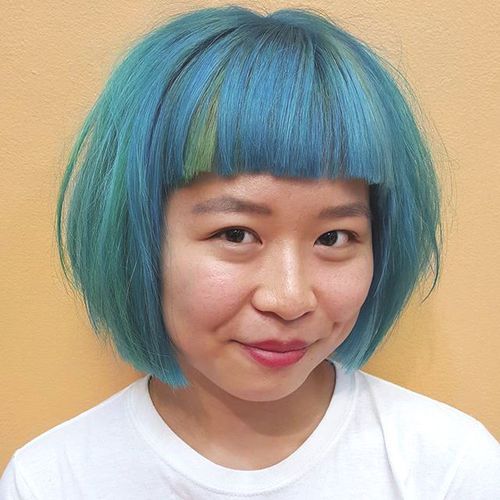 Multi-Colored Messy Waves
The only way we can think to improve upon a cool, relaxed hairstyle like messy waves and full, thick bangs is to add an array of rainbow colors. The way the cotton candy pink hair gradually fades into lilac, then into blue and, finally, lime green is quite mesmerizing.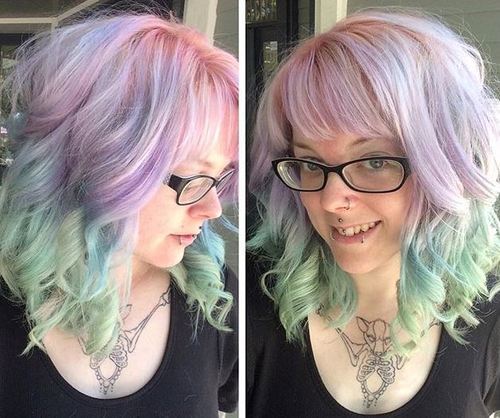 Straight Blue Hair with Black Stripe
Want to make a serious statement with your stunning choice of hair color? You can easily ramp up the drama by daring to add a thick, chunky black highlight through the middle of blue hair. The straight style and face framing fringe in this look are also extremely flattering.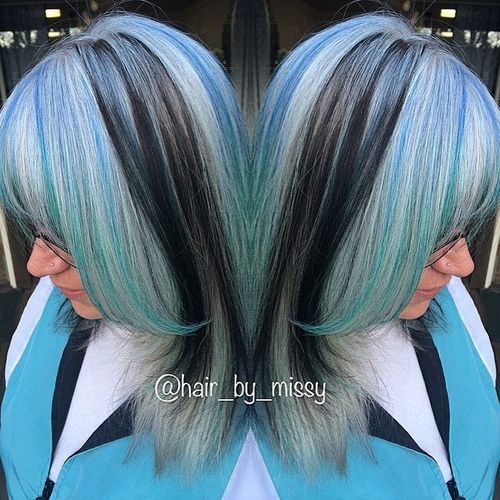 Sleek Graduated Bob
It's hard to think of a haircut that is more flattering and timelessly trendy than the graduated bob. This sleek, effortlessly stunning crop looks truly enchanting with the addition of deep blue and sea-green highlights.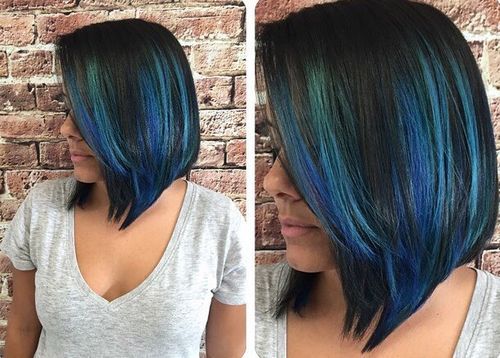 Hidden Blue
Hidden hair colors are all the rage right now and it's to see why. Not only does this style allow you to cover your blue tones when you need to look more conservative for work; it also looks incredibly beautiful when movement in the hair causes the concealed color to shine through.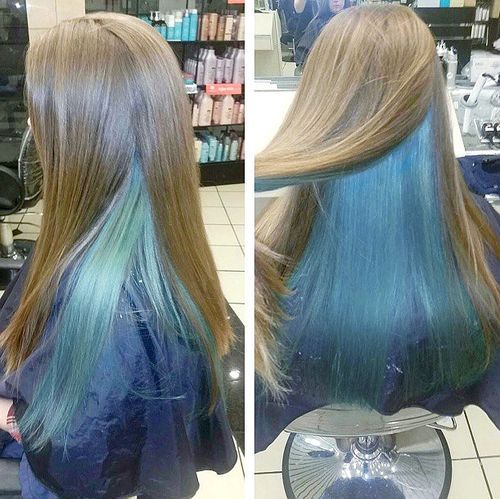 Blue and Lilac Up-Do
Worried about how you're going to wear your rainbow colored hair for a formal occasion? This super chic lilac and baby blue up-do proves that even the boldest haired girls can look classy and feminine with and elaborate twist.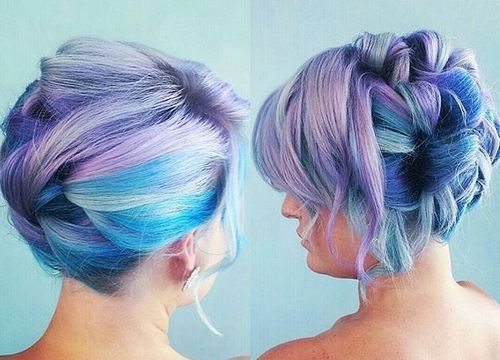 Black and Teal Waves
Black hair is one of the best base colors to really make blue stand out. Dye the tips of your black locks an ocean teal and you'll see just how well the two go together. As if that wasn't enough, the relaxed waves finish off this style in the best way possible.