Top 23 Beyonce Knowles Hairstyles
Beyonce Knowles, the sexy and perfect goddess in the world, leads the trend all the way. Today, let's take a good look at Beyonce's top 23 hairstyles and you may get yourself inspired.
We have classified the hairstyles into two categories: the straight hairstyles and the wavy hairstyles. No matter which one you opt for, you will be absolutely gorgeous.
Straight Hairstyles
Beyonce Hairstyles: Cute Ponytail with Bangs
Ponytail is a classic and timeless hairstyle for women. In this photo, Beyonce teases her blonde hair back into a low ponytail. The blunt bangs works well to lessen her ages. Any face shape goes well with this hairstyle, so if you like it, do it.
Beyonce Hairstyles: Fascinating Ponytail for Oval face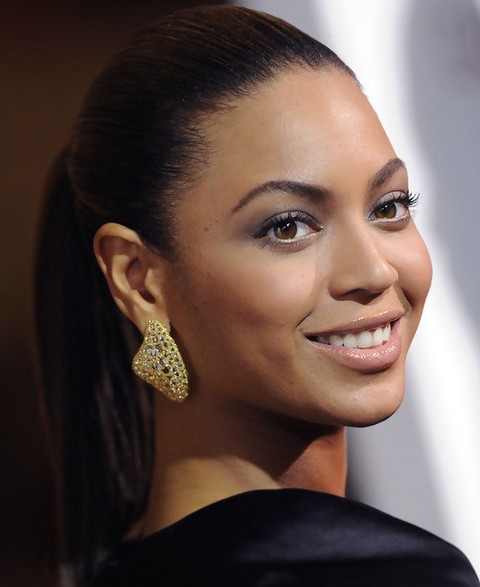 Here's another picture of the ponytail! This time, Beyonce turns her blonde hair into black and teases all her locks slickly back. This will give you a fresh-new face. However, if you face is fact, or too long, you'd better try the above ponytail instead of this one.
Beyonce Hairstyles: Youthful Ponytail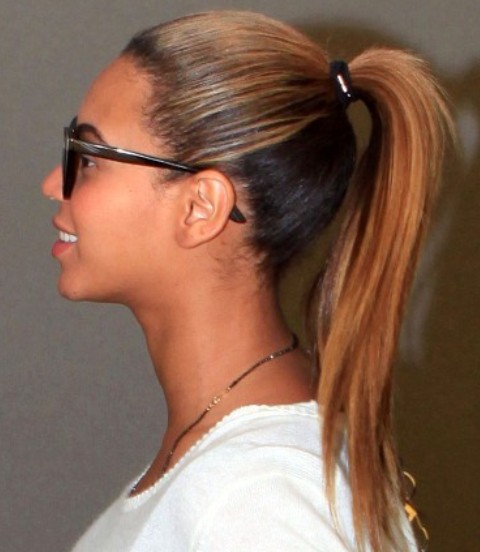 There must be no difficulty for you to do such a ponytail. Yes, it's simple yet it can give you a vibrant look and makes you a few years old younger.
Beyonce Hairstyles: High-fashioned Half-up Half-down Hairdo for Older Women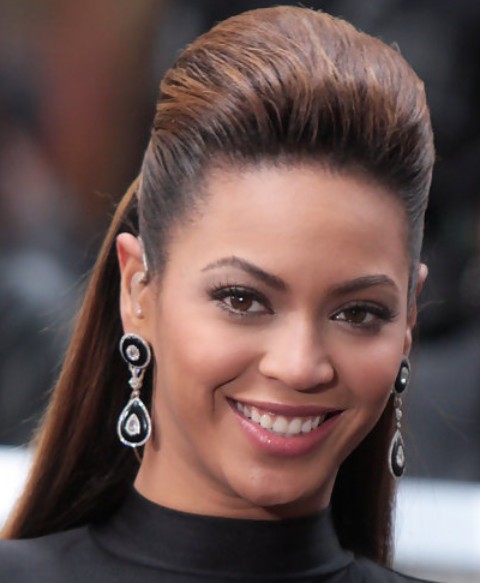 This is a great half-up half-down hairdo especially for those sophisticated mature women. Making a tidy and smooth upheaval on the crown has a good effect to lengthen your face. The rest of hair is left behind to create a seemingly simple yet quite unique hairstyle. You can sport this hairstyle for your workdays.
Beyonce Hairstyles: High-fashioned Half-up Half-down Hairdo for Young Girls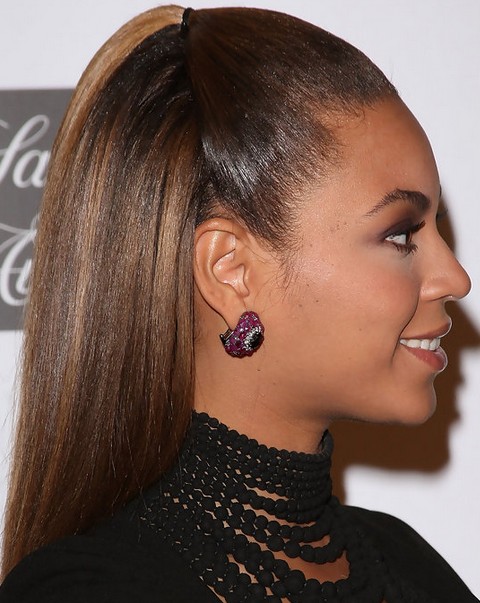 For those younger girls, you can also look trendy with this half-up half-down hairstyle. Take a small section of the locks on the crown, and then fix them with a black rubber band. It is easy and stylish. You should tease your hair slickly and use some hair product to give your hair some texture.
Beyonce Hairstyles: Ombre Long Straight Haircut with Bangs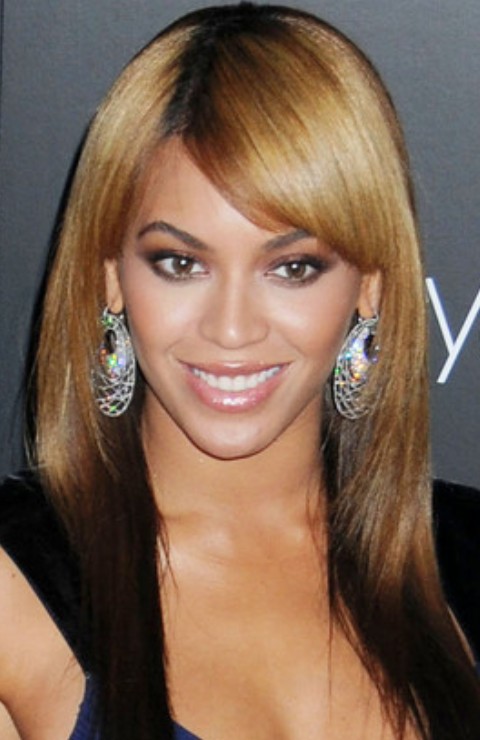 Beyonce looks really classy with this ombre straight haircut. The side-swept bangs and the locks around her face make Beyonce a rather radiant lady. The bright blonde hair contrasts with the lower darker ends, and gives an illusion of medium hairstyle.
Beyonce Long Hairstyles: Romantic Straight Layered Haircut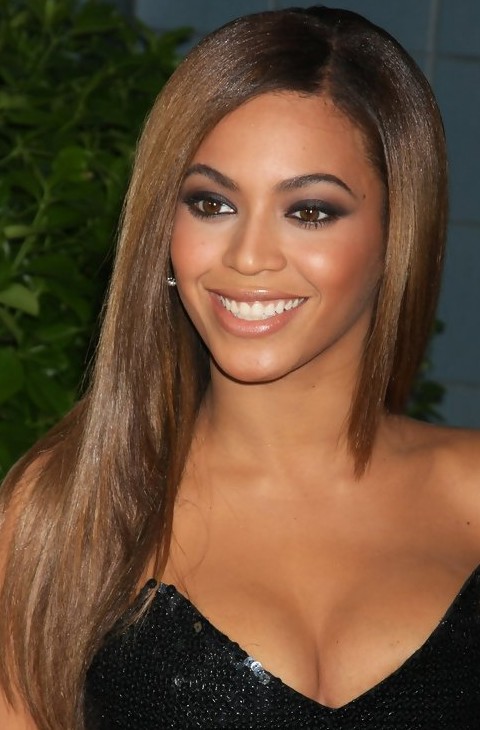 You must like this hairstyle. It looks simple without too many gaudy tricks. Beyonce parts her beautiful long locks from one side and sweep them to the front. The sleek straight hair is really pretty, and I like this layered haircut. You can choose this hairstyle without any hesitation. Whatever your age is, whatever you face shape is, you can always be great with this hairstyle.

Beyonce Hairstyles: Slick Long Straight Haircut with Bangs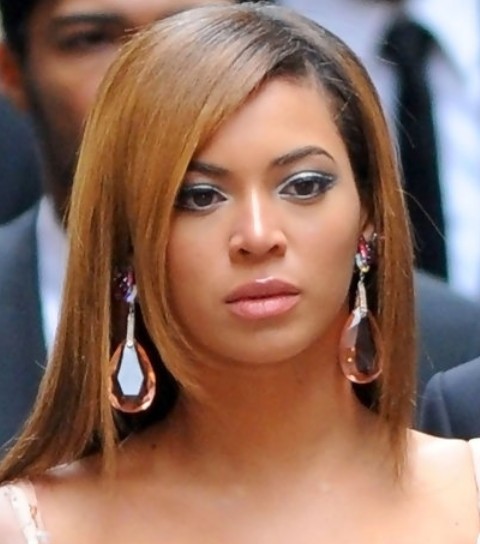 This hairstyle looks like the above one. The difference is that there are bangs in this one. The side-swept fringe just embraces the face, and the layers on the other side soften the frame of the face. In this way, this hairstyle makes you look cuter than that one. If you are not so confident with your face shape, try this haircut.
Beyonce Long Straight Hairstyles- Messily Tousled Center-parted Hairstyle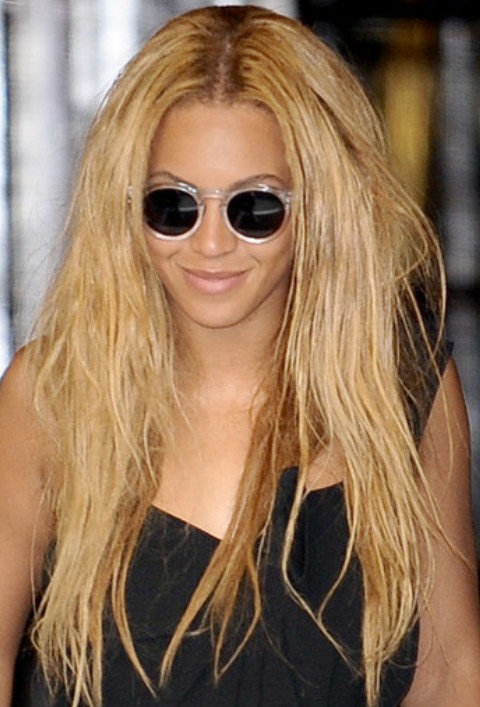 So, do you like this one? You are a shiny star with this hairstyle. Tousle your hair with some hair gel by your fingers to create such a messy effect, you can be stylish effortlessly.
Beyonce Hairstyles- Rock Style Hair Knot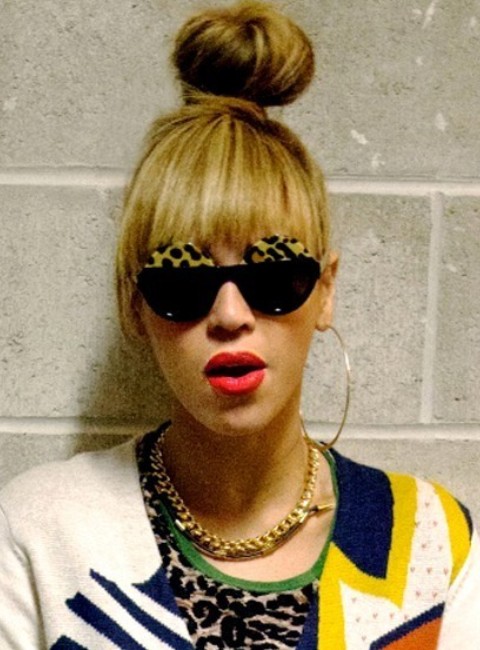 This hairstyle looks quite rebellious and of course, it's quite chic. If this is your taste, go for it and rock the street!
Beyonce Hairstyles- Lovely Hair Knot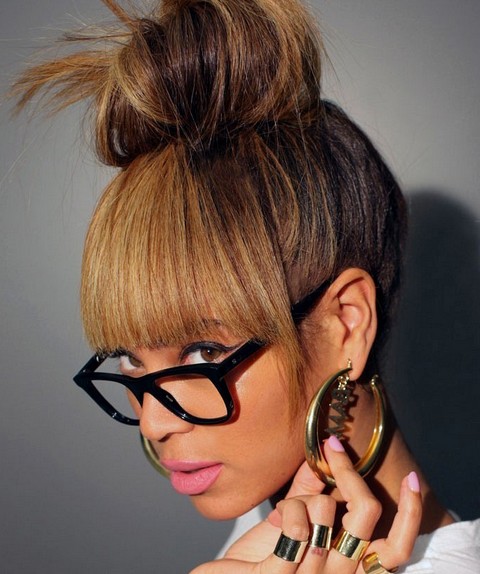 I love this lovely hair knot. So chic, so cute! The blunt bangs works great to lessen your age and the messy knot on the top give a naughty vibe. It's really a nice choice for young girls.
Beyonce Hairstyles: Classy Braided Classic Bun for Elegant Women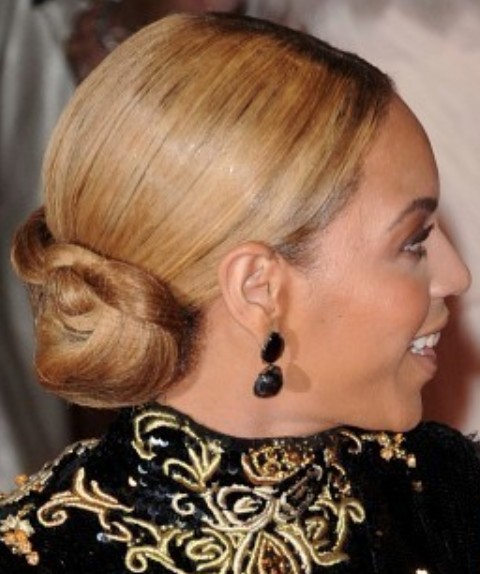 If you are looking for an elegant look, opt for this braided bun. Tease all your beautiful locks back then twists them in a bun. Last, fix them at the nape. That's an easy way to make this hairstyle. if you are skillful, try to make some braids first, and then twist them into a bun. That will be more gorgeous.
Wavy Hairstyles
Beyonce Long Hairstyles- Radiant Center-parted Wavy Haircut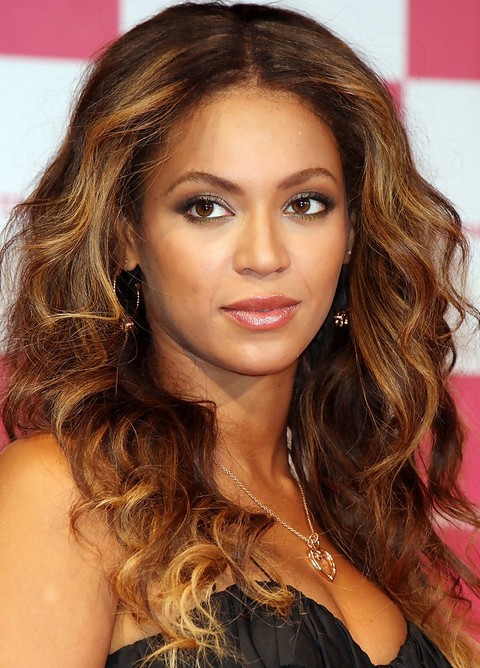 The brown hair with highlights is so radiant! Beyonce part her pretty hair in the middle and make her face the center of focus. The textured curls on the sides frame the face perfectly. How amazing it is! This is also a great hairstyle for almost every occasion and any face shapes.
Beyonce Hairstyles: Stylish Long Wavy Haircut for Mature Women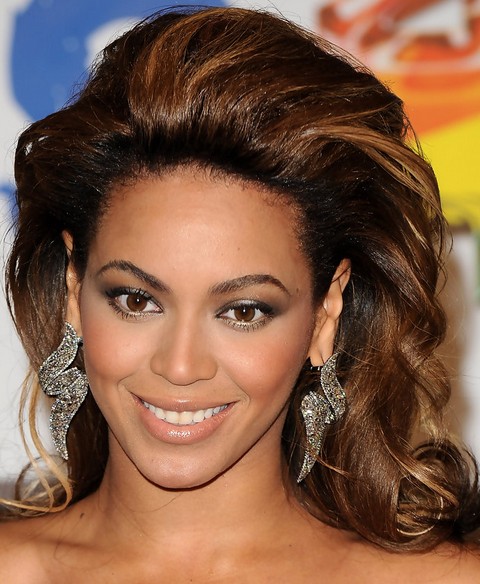 Beyonce looks fierce with this blown curly hairstyle. She blows all her hair back and style the crown into a high hump. I have to say that this hairstyle is splendid. So, experiment with this hairdo and get yourself a fresh-new face.
Beyonce Hairstyles: Super-chic Chocolate Ombre Long Wavy Haircut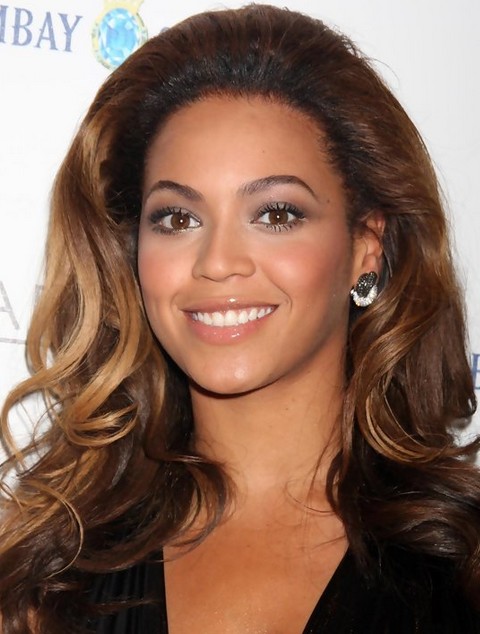 This hairstyle is also one that has been blown back. But, it's not so exaggerated. The ombre chocolate hair has a sun-kissed effect, so it's quite beautiful. This is especially great for office ladies, making you trendy and decent.
Beyonce Hairstyles: Stylish Voluminous Long Curls for a Party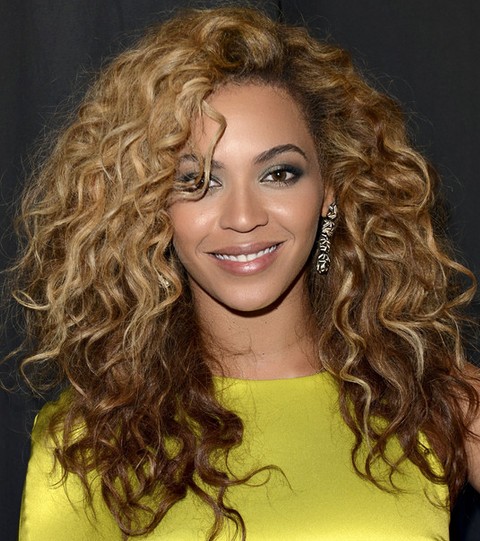 WOW! If you rock this hairstyle, you will absolutely be a stunner among the crowds. The voluminous curls contrast fiercely with Beyonce's cute face, and it's quite a super star look. Not to mention how faddish it is!
Beyonce Hairstyles: Retro-chic Long Side-parted Hairstyle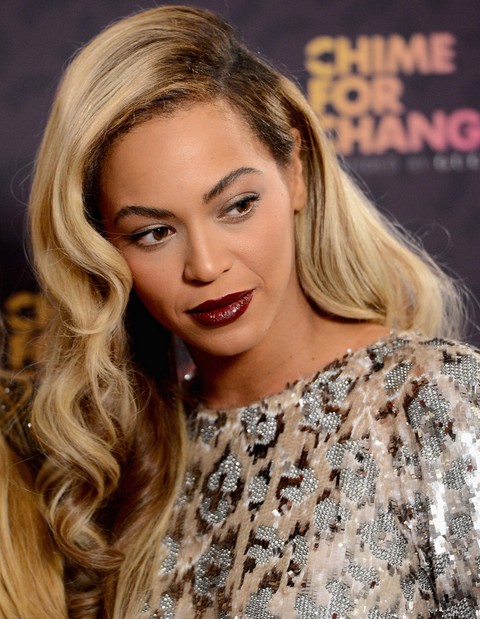 This is an oh-so-fabulous hairstyle! The deep side part and the side-swept curls make Beyonce so sexy and attractive. All face shapes are suitable for this hairstyle. It can make your face look smaller and make you high-fashioned.
Beyonce Hairstyles: Modern Blond Long Curls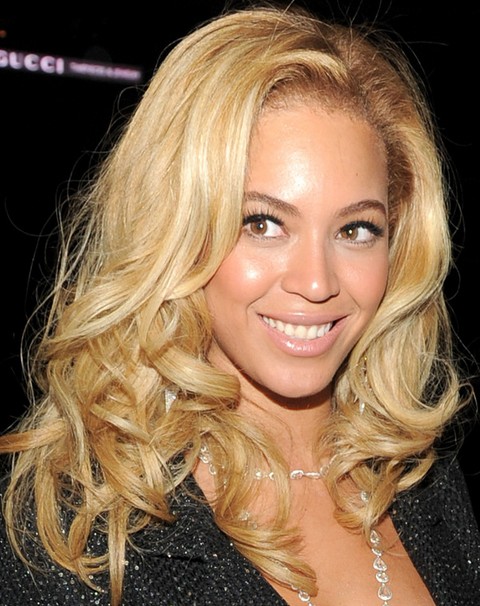 Beyonce is radiant with this blond long wavy hairstyle. The loose curls add life to her look and make the face look quite exquisite. You may also choose this hairstyle, because it is versatile indeed.
Beyonce Hairstyles: Stylish Long Curls for Sophisticated Ladies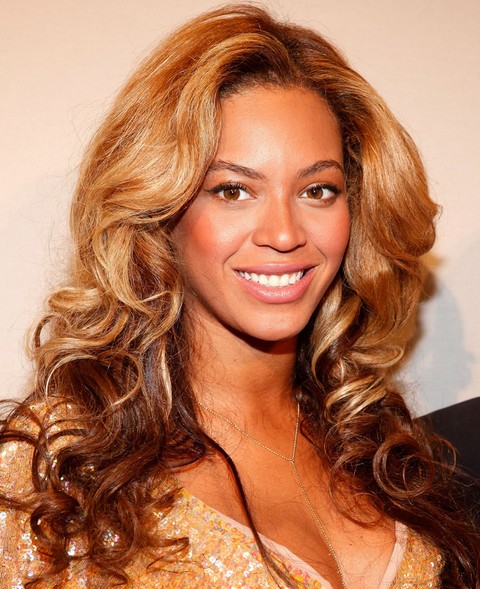 Do you like this hairstyle? The loose medium waves present a sophisticated look. You may sport this hairdo for any import occasions.
Beyonce Hairstyles: Gorgeous Center-parted Long Curls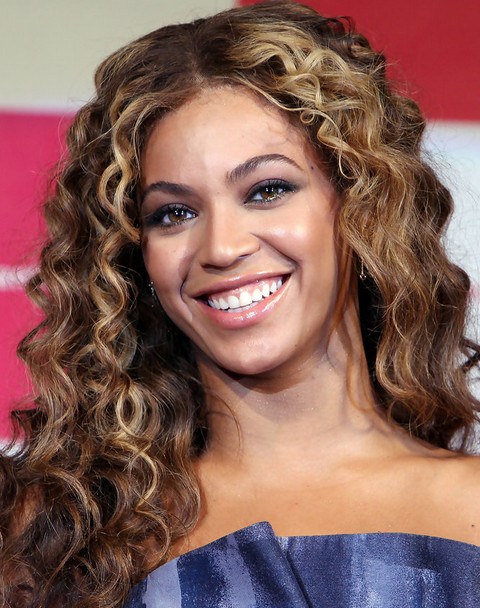 Beyonce looks gorgeous with this center parted long curls. The copper curls add volume and texture to her beautiful look. It is so great for women whose hair is thin. Besides, we can't deny that this hairstyle is really sassy.
Beyonce Hairstyles: Fantastic Curly Ponytail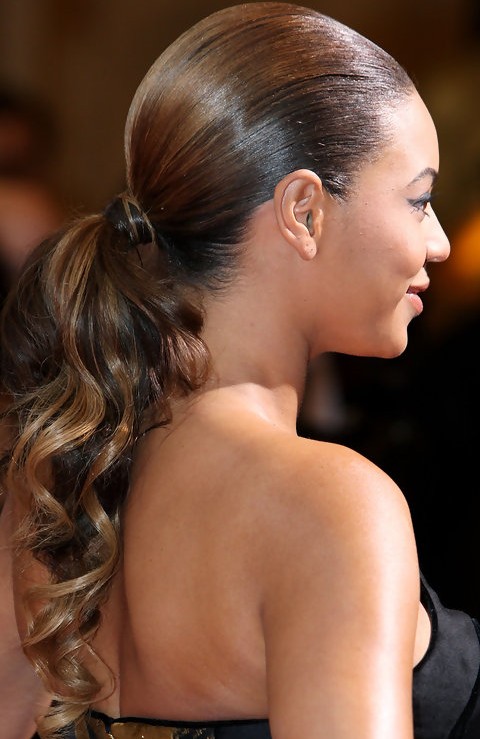 In the part of straight hairstyles, I have recommended three kinds of ponytails. Now, here's a curly ponytail for you. Tease all you hair back in a smooth way, and then do a lower ponytail. Curl the tail with a curling iron. This is a fabulous hairstyle for both workdays and party time
Beyonce Hairstyles: Beautiful Brunet Long Curls for Trendy Women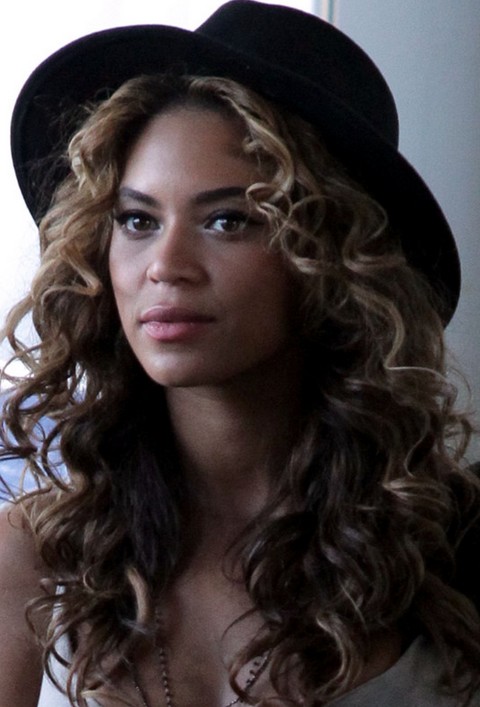 Beyonce decorates her adorable brunette long curls with a black hat. This is so edgy. Quite a Hollywood film star look, isn't it?
Beyonce Hairstyles: Adorable Long Braided Hairstyle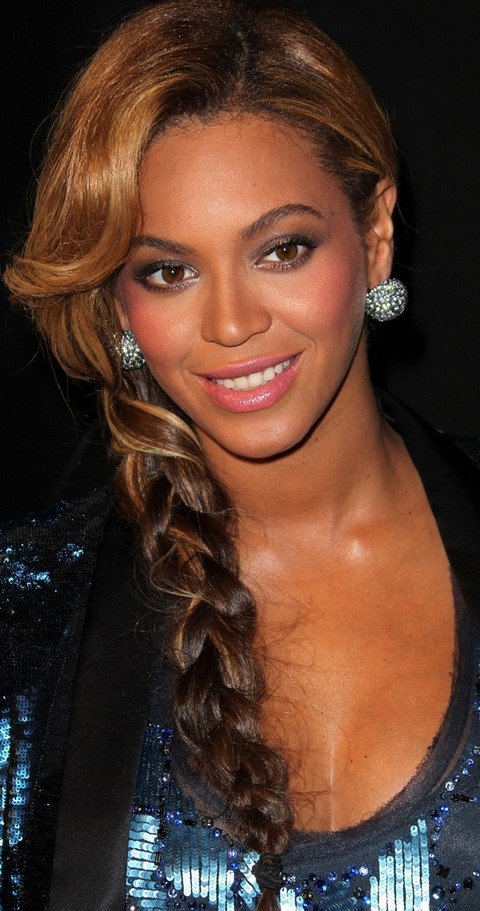 If you like braids, this is a good one for you to get inspired. Braid the locks into a tight plait and then tousle it messily. Add some curves to the fringe and make it flip out, thus the look can be more vibrant and trendy. The highlights in the braid are also an important trendy element.