Top 26 Selena Gomez Hair Looks
Selena Gomez is always spotted with beautiful hairstyles no matter she is on the Red Carpet, performances or even small running errands. I like Selena's sweet smile and her lovely face. Today, let's learn from this sweet heart and make your hairstyle as luscious as her locks.
Selena Gomez Straight Hairstyles: Elegant Layered Haircut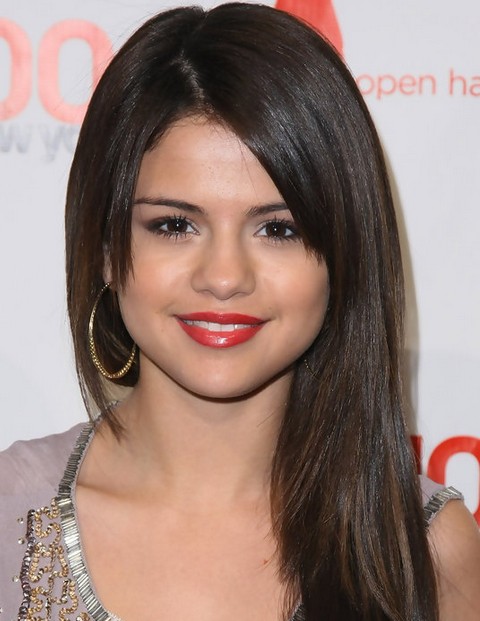 This is a simple layered cut. The side-parted bangs on the forehead frame the face perfectly. When Selena sweeps all the long locks to one side in the front, she looks so feminine. If you want to rock this hairstyle, please trim the fringe regularly so that you can maintain a great look!
Selena Gomez Hairstyles: Trendy Side-swept Long Curls for Long Face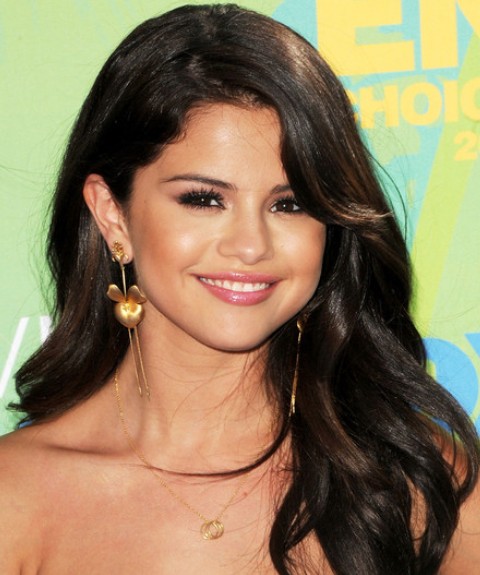 Selena looks really melting with these long curls. The curls are layered through the sides and back and stretch to the ends, which add style and movement to the overall look. It is best suited for the long face shape, for the out-flipped fringe take great effect to shorten your face. Well, girls, try it!
Selena Gomez Hairstyles: Sweet Half-up Half-down Hairstyle for Round Face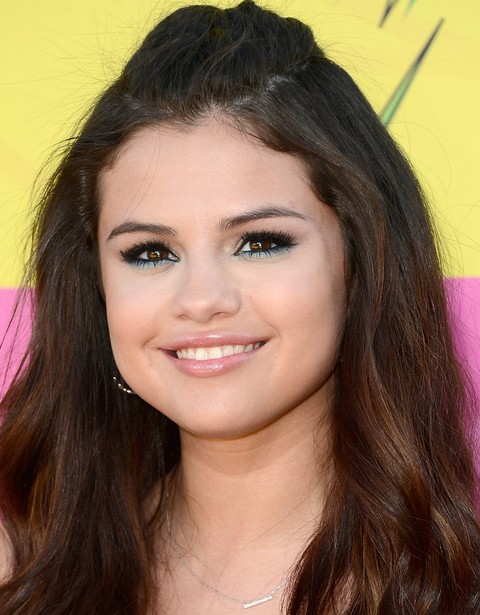 We must admit that Selena's face is a little round. So, if you are round-face girl, learn from this hairstyle. Leave your beautiful locks fall over your shoulders to the front. Take up the top section and pull it back. Use a bobby pin to fix it on the top. This added height works well to balance out the round face.
Selena Gomez Hairstyles: Sophisticated Chignon for Elegant Women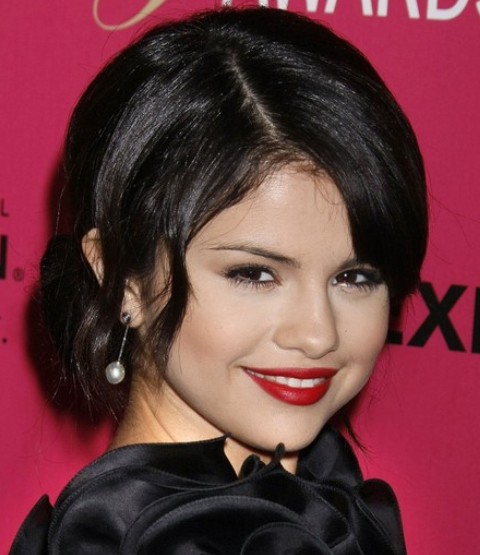 Selena rocks her adorable black hair with a sophisticated chignon. The side-parted bangs and the two intentionally left hair strands make Selena fiercely stylish. If you are looking for an elegant yet super-chic hairstyle, this must be the rightest choice.
Selena Gomez Hairstyles: Slick Straight Haircut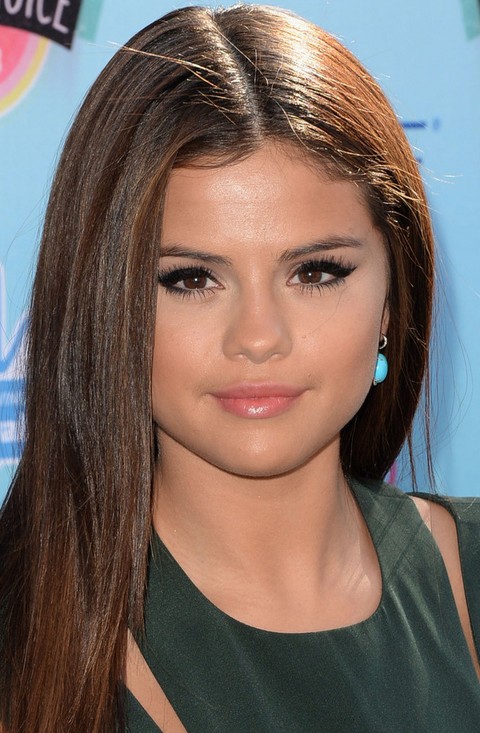 This is a very common hairstyle, but it is an easy- matching hairstyle at the same time. Use some hair product to add texture to your hair so that it won't be too shaggy, and then give it a deep side-part. This can make your face look longer. If your hair is fine and thin, blowing it a little fluffy will look better!
Selena Gomez Hairstyles: Sassy Straight Haircut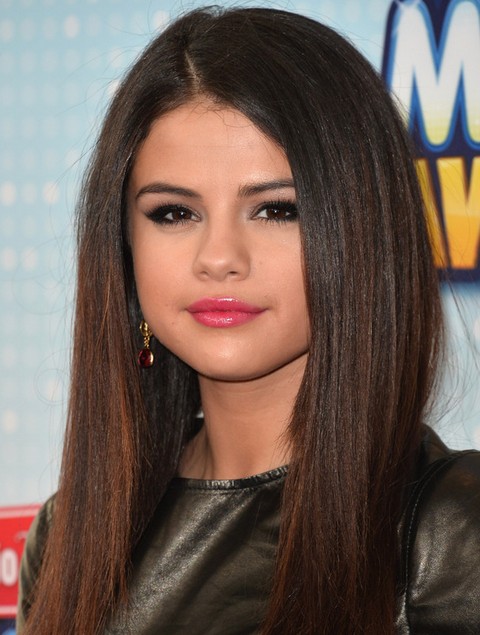 Do you like this one? I do, and I think it's pretty cool. Selena's dark brunette hair has been blown smoothly straight, which gives off a sassy vibe. The best thing is that it is easy to achieve by yourself. Hah, just take up your hair drier and your comb to be a great hairdresser!
Selena Gomez Hairstyles: Romantic Brown Messy Updo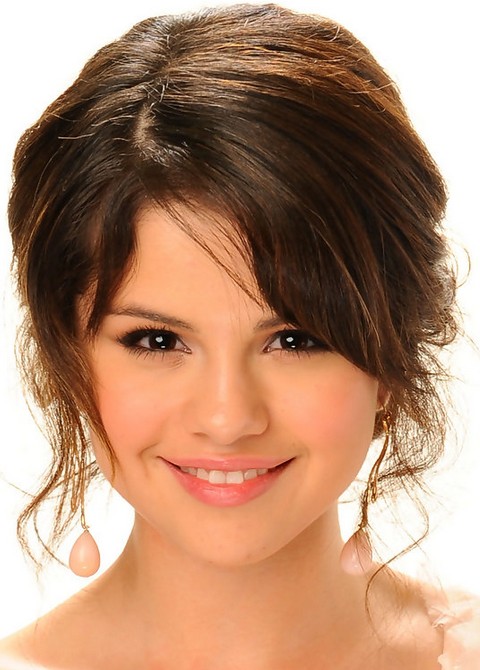 In this picture, Selena styles her lovely brown locks into messy updo. The slender and wispy curls hanging over the sides of face add romance to the overall look. The bangs are swept to one side and just glance off one of Selena's bright eyes. It's so beautiful that you can even sport this hairstyle for your wedding. You must be the happiest bride in the world with this romantic hairstyle.
Selena Gomez Hairstyles: Retro-chic Medium Curls for Women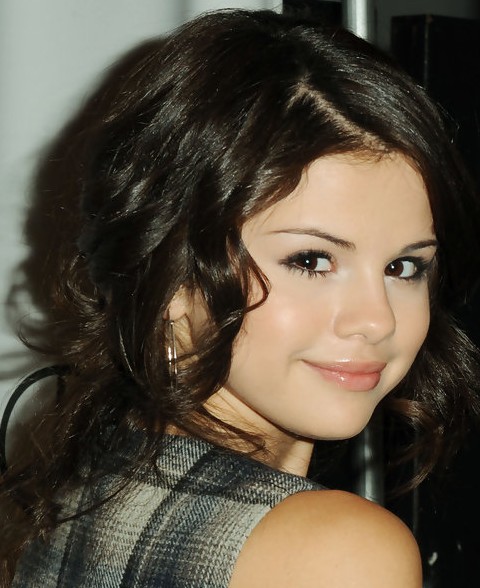 he vintage style is always elegant and voguish. Selena goes for a retro-chic with a medium curly hairstyle. These loose curls add life and volume to the dark locks. They just look so great with Selena. If you like the retro-chic, try this hairstyle with a proper makeup and outfit. Wonderful! I can even imagine how gorgeous you will be!
Selena Gomez Hairstyles: Radiant Long Curls for Mature Women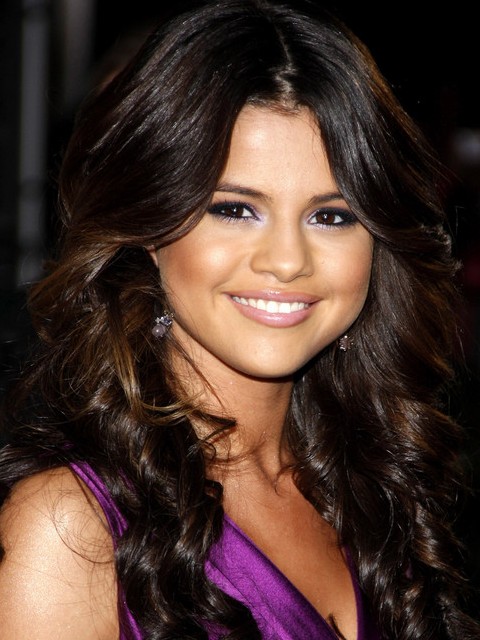 Selena parts her dark brunette locks from the center and let her beautiful be the focus of attention. All the locks are left to fall over the shoulders from both sides to show off the pretty curls. This hairstyle can really make you look mature and alluring.
Selena Gomez Hairstyles: Pretty Messy Updo for Young Ladies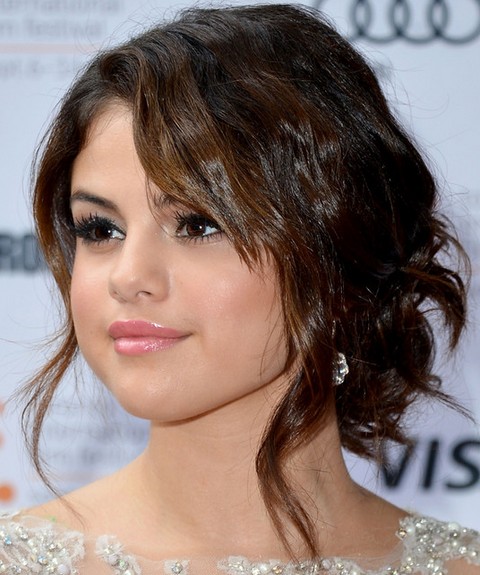 This beautiful messy updo is ideal for young ladies to get a sophisticated look. The subtle waves endow the hairstyle with casual and vibrant beauty. It is suited for any face shape, so experiment with this hairstyle if you like it.
Selena Gomez Hairstyles: Lovely Mid-length Bob for Girls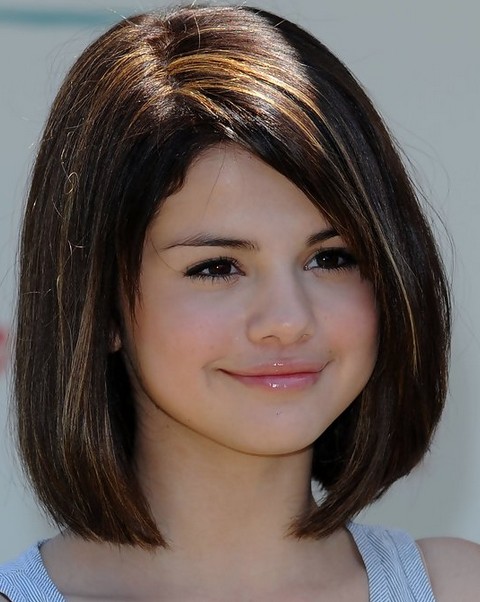 When we are used to Selena's long curly hairstyles, it really astonishes us when we see she wearing this simple and lovely mid-length bob. The side-parted locks are blown a little fluffy at the ends and they embrace her cute face warmly. The round-face girls are lucky with this hairstyle, because it has great effect to make your face look smaller!
Selena Gomez Hairstyles: Loose Ponytail with Bangs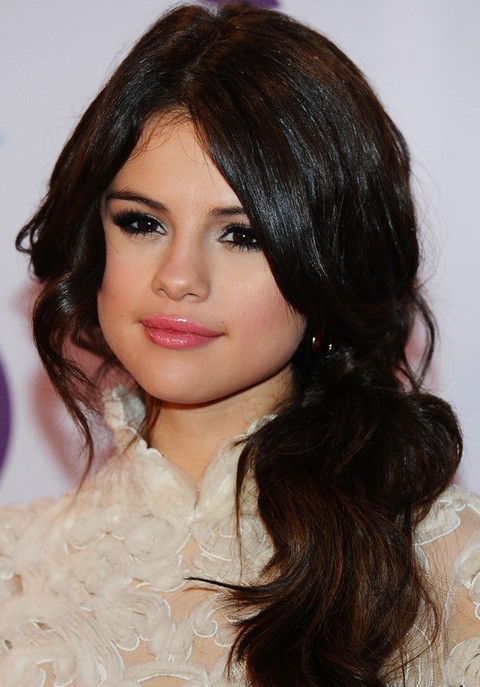 If you like ponytails, take some inspirations from this one. Curl your hair slightly and part them from one side. Then fix them loosely over the shoulder to one side. The key point is the causally and loosely curled fringe and ponytail, which play important roles to add glamor to the overall look.
Selena Gomez Hairstyles: Graceful French Braids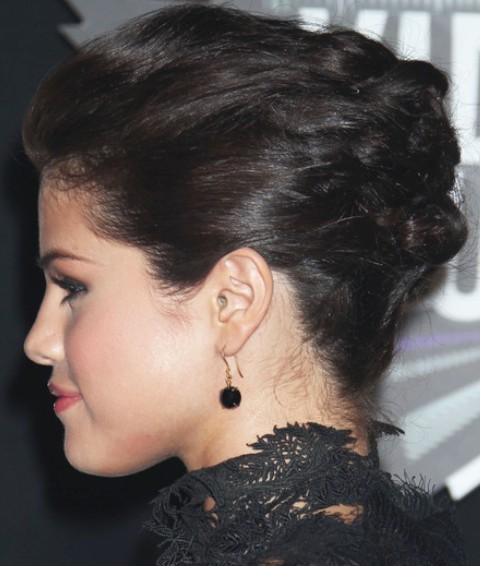 This French braids hairstyle is really graceful. Don't you think so? You can choose this for any important occasions.
Selena Gomez Hairstyles: Glamorous Chignon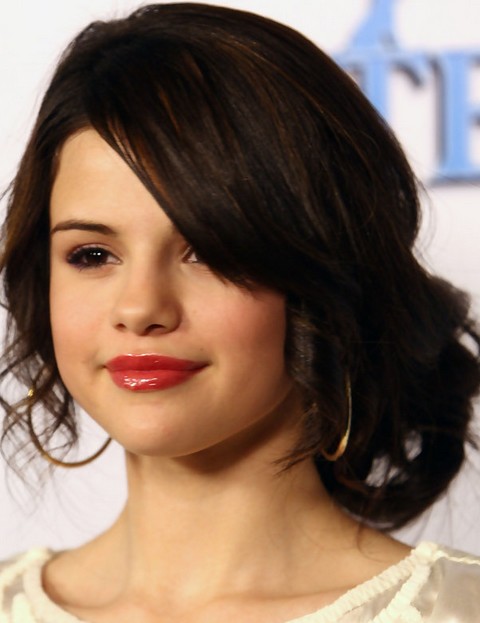 Who said only older women can rock the chignon? In this photo, Selena looks like a pretty doll with the chignon. The lively curls hanging around her face and the side-swept loose chignon make her look really glamorous and romantic.
Selena Gomez Hairstyles: Formal Medium Wavy Hairstyle for Square Face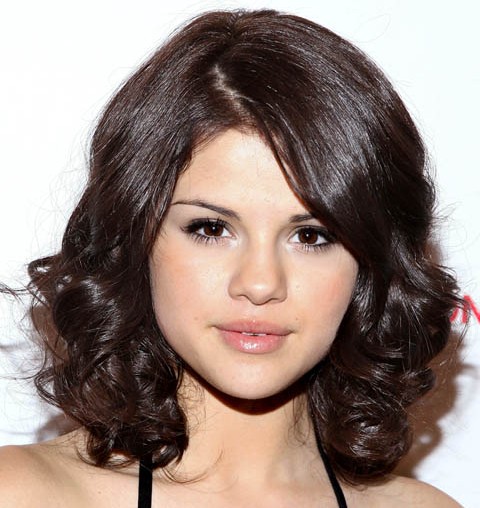 Although I think this hairstyle makes Selena looks older than her real age, I have to admit that it's indeed a great hairstyle for square face shape. The side-parted bangs and the abundant small curls that touch the face so closely work well to frame the face, and make the square face into an pretty oval one!
Selena Gomez Hairstyles: Cute Loose Ponytail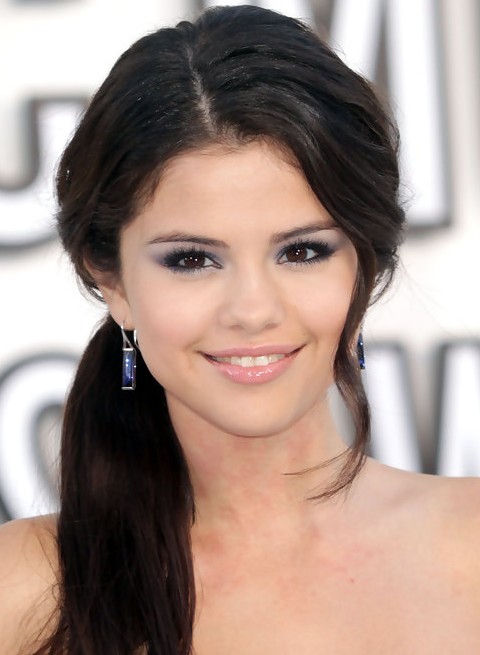 Selena looks rather fresh and fairy with this cute ponytail hairstyle. Part the hair from the side and tousle them loosely. The left curly strand is a stunner for the stunning look of this hairdo.
Selena Gomez Hairstyles: Cool Medium Wavy Haircut for Women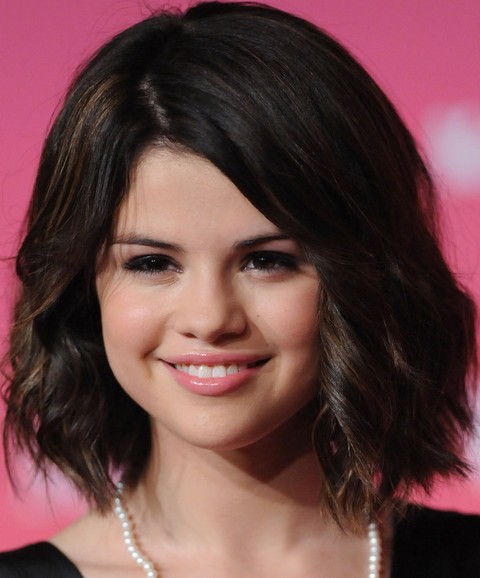 Attention, girls with mid-length hair! Take this fabulous wavy haircut picture to your stylist, and you will get quite a sassy look.
Selena Gomez Hairstyles: Chic Side-parted Hairstyle with Bangs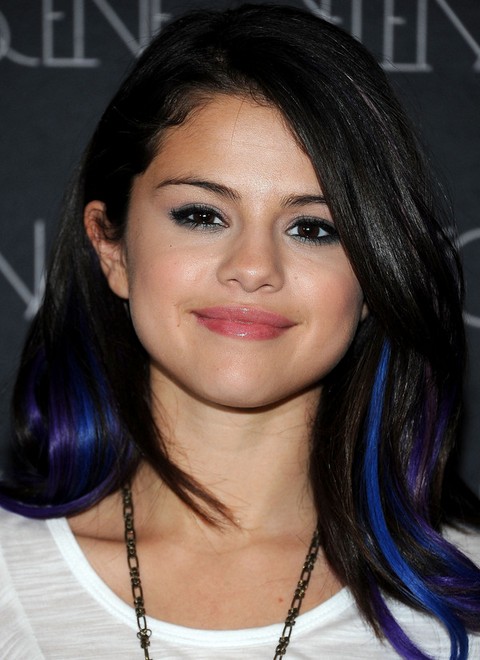 Selena is edgy-chic with this side-parted haircut. She sweeps her bangs aside, which makes her so cool. The dark blue highlights make the hairstyle distinctive from the ordinary straight haircut. Show off your unique fashion statement with your favorite highlights!
Selena Gomez Hairstyles: Center-parted Wavy Haircut for All Face Shapes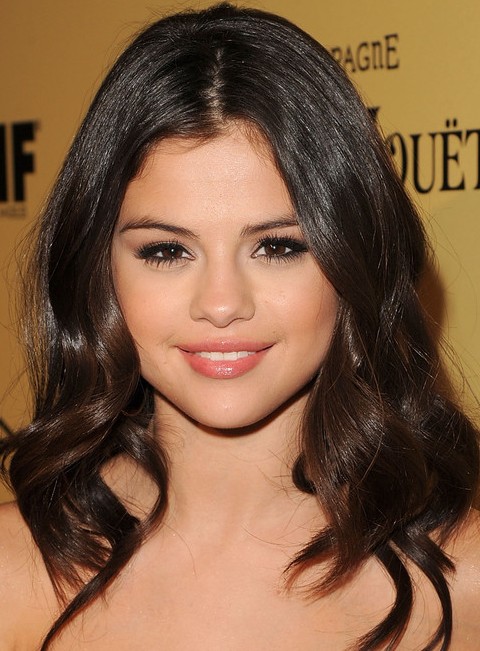 The simple center-parted wavy haircut flares with Selena's sweet smile. I love these soft waves, because they give off a natural beauty. It's neither too showy nor too understated, and it's just beautiful in a proper way.
Selena Gomez Hairstyles: Center-parted Layered Cut for Girls-Next-Door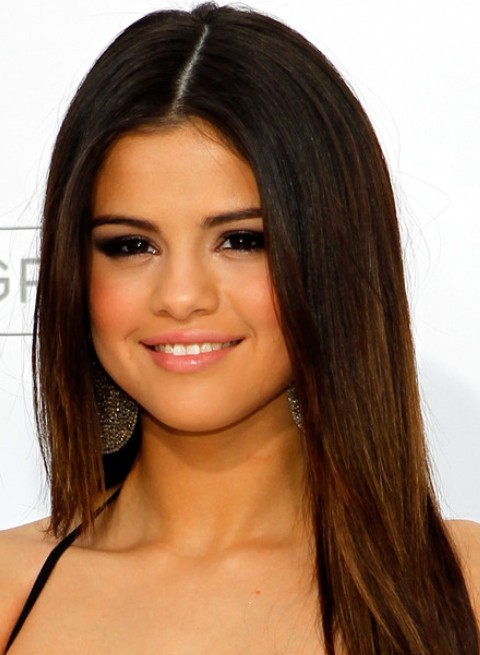 The key to this girl-next-door look is to keep the locks slick and simple. It is especially great for a round face shape.
Selena Gomez Hairstyles: Brunet Long Curls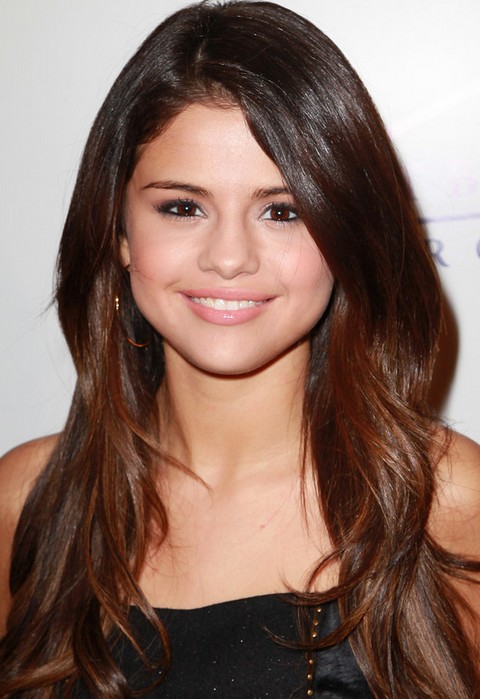 The subtle wavy layers give bounce to the divine locks, and the length of the locks are blown outward to open up the pretty face. It's a sassy hairstyle that will suit all face shapes and all occasions.
Selena Gomez Hairstyles: Brunet Bobby Pinned Hairstyle for Round Face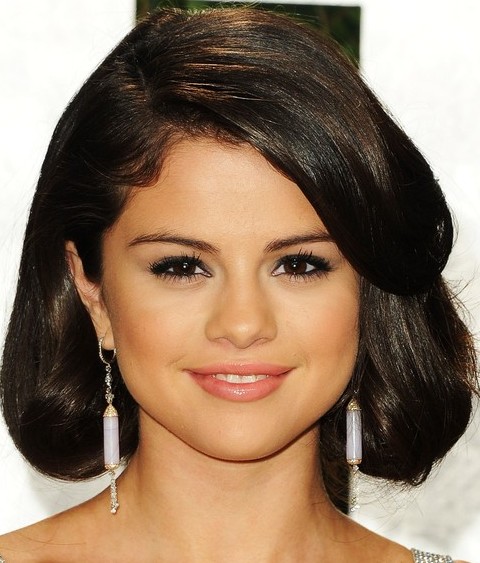 Selena is adorable with this bobby pinned hairstyle. The textured locks present a healthy and graceful beauty. Go for it if you like this style.
Selena Gomez Hairstyles: Amazing Long Braided Hairstyle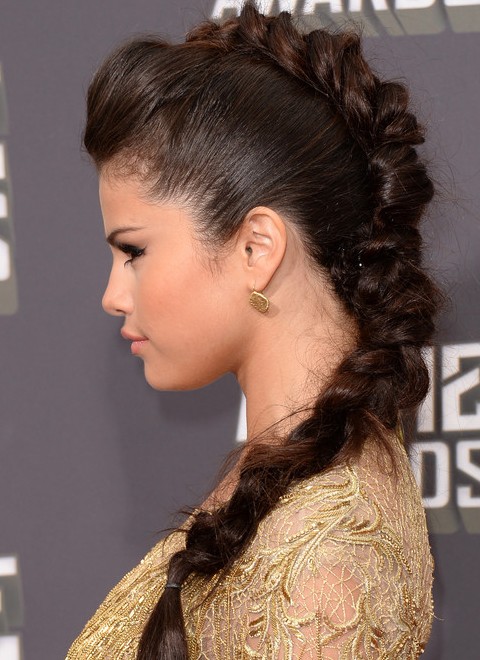 Selena rocks this super-chic hairstyle for the MTV Movie Awards 2013, and it's really an eye-catcher. She teases all her cute brunette locks at the roots and braids them from top through the back. This hairdo is so wonderful. Haha, I'm afraid that if you are not skillful enough, you'd better not try it.
Selena Gomez Hairstyles: Faddish Braided Hairstyle for Romantic Women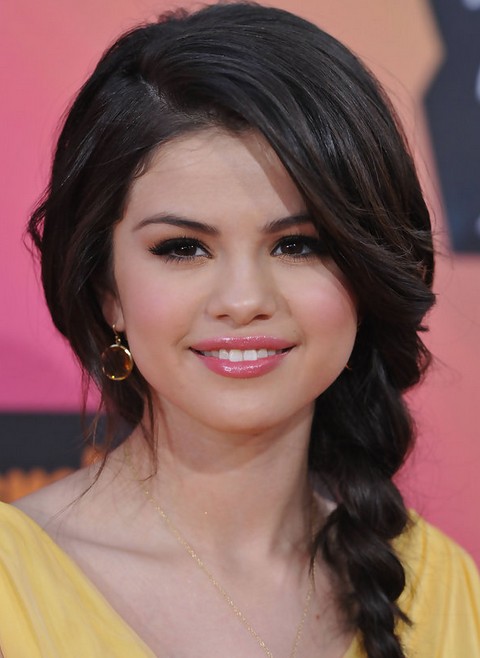 Bothered with your dull long locks? Experiment with this braided hairstyle. It's simple yet head-turning. The longer your hair is, the nicer the look will be!
Selena Gomez Hairstyles: Beautiful Long Wavy Haircut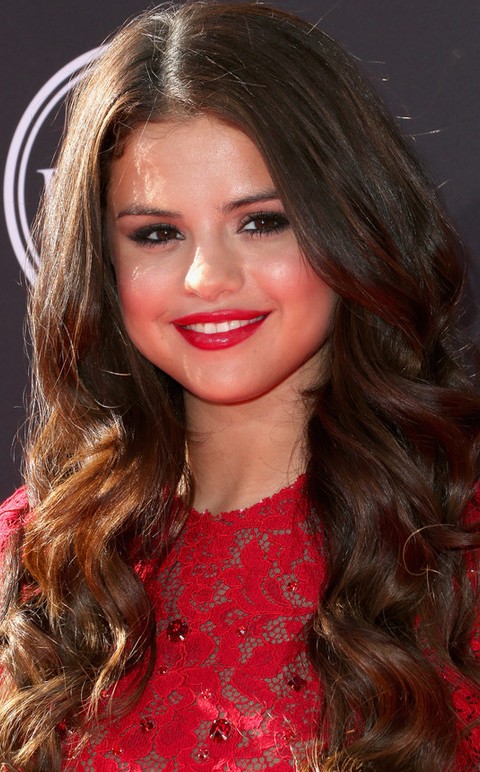 Selena looks radiant with this long wavy haircut. She adds stunning waves to the mid-lengths so that the locks look lavish and voluminous. The good news is that this beautiful hairstyle is perfect for any occasion.
Selena Gomez Hairstyles: Adorable Ponytail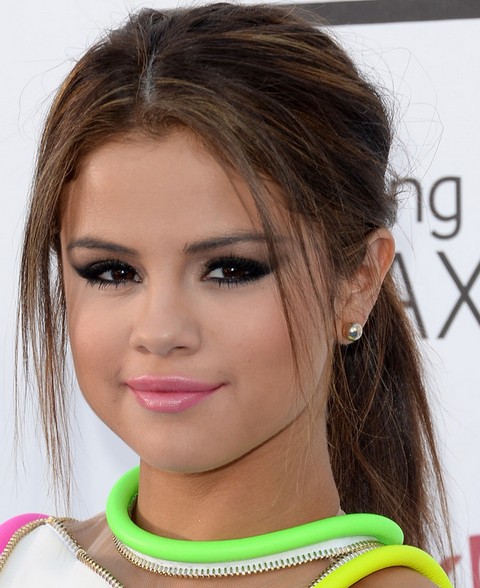 This seemingly easy ponytail is quite stylish. Tousle the top hair casually and fix into a low ponytail. Some strands of locks have been left in the front to frame the face and add movement to the hairstyle. For a trendy everyday look, this is a very nice choice.