Top 100 Celebrity Hairstyles
With the New Year 2015 coming near, many a woman desire to upgrade their hairstyles. In this article, we will introduce some splendid amazing and stunning hairstyles created by the popular and fashionable celebrity.
The first kind is the braided hairstyle. No matter how you create the braid, it always offers people a fun and romantic look. Besides, you can also add your creative ideas to it to enhance its charm.
A ponytail is always in trend. A lot of celebrities have proved that there's even a ponytail can shine the red carpet. The ponytail is quite vertical since it can be created on super stick-straight and playful curly hair. Besides, you can pair it with pouf. Hiding the elastic by wrapping your hair around the band can add more wow factors. Blake Lively, Kim Kardashian, Ferdie and Jessica Simpson are just a few red carpet divas who have created the ponytail.
If you desire added volume on you hair, you can turn to curly or wavy hairstyle, which can always make your hair bouncy and voluminous.
In addition, we will recommend the up-styles, which is frequently by a number of celebrities since they can create people a graceful and formal smashing effect.
Jessica Alba Medium Hairstyles: Straight Haircut and Side-swept Bangs
Jessica Alba styles her mid-length wavy hairstyle naturally down her shoulders. The loose hairstyle features soft waves and luster. The long fringe is swept to one side which enhances her facial contours.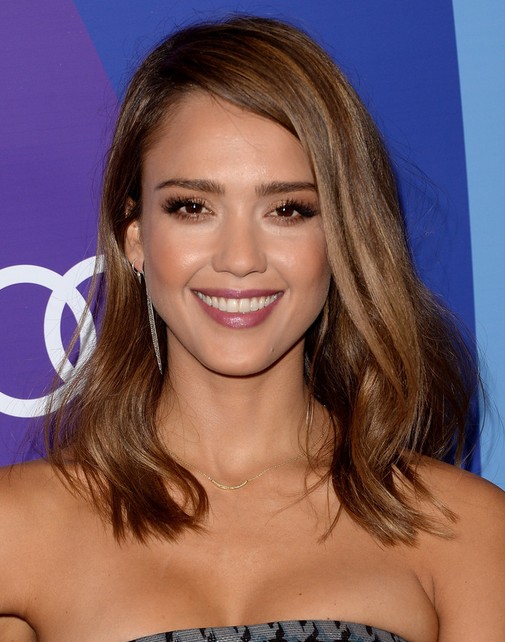 Rihanna Medium Hairstyles: Layers and Soft Waves
Rihanna's shoulder length hairstyle with long layers and soft waves offers people a carefree flattering and fun feeling! The well crafted layers create tons of movement and shape to the mid-length and at the same time make it lighter and weightless. The beautifully-styled bangs flare out to one side. A bit of texturing crème and gloss can help maintain the bouncy hairstyle.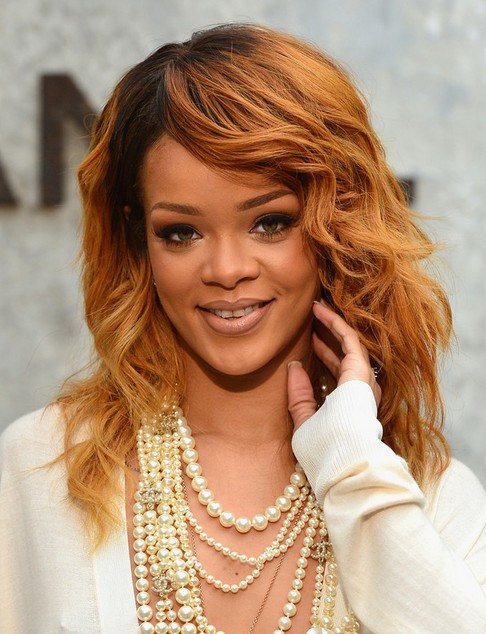 Michelle Obama Medium Hairstyles: Big Wavy Hairstyle for Black Women
The first lady's raved layered wavy hairstyle looks voluminous and round. The dark tone enhances her complexion. Her stunning hairstyle has shallow layering along the lower sections and a gently sloping cut along the bangs. The layers and soft waves create much shape and movement in the mid-length hairstyle.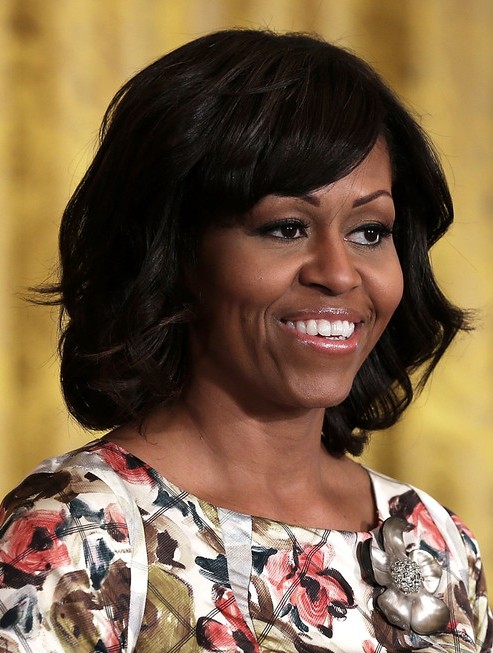 Paris Hilton Medium Hairstyles: Bobby Pinned Updo Hairstyle
The first lady's raved layered wavy hairstyle looks voluminous and round. The dark tone enhances her complexion. Her stunning hairstyle has shallow layering along the lower sections and a gently sloping cut along the bangs. The layers and soft waves create much shape and movement in the mid-length hairstyle.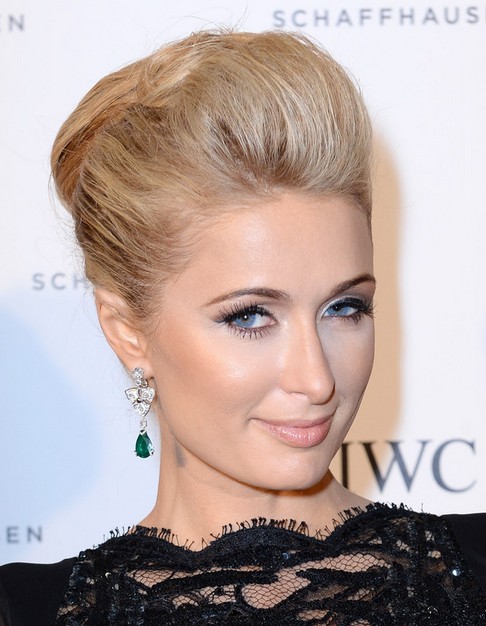 Selena Gomez Long Hairstyles: Fishtail Braided Ponytail
Selena Gomezi's long fishtail-braided ponytail stuns a great number of people and attracts many head turns. The front section is created into a mini pomp. The inverse French braid is created all the way down her head and secured with clear elastic. This versatile gorgeous braided pony his hairstyle can work greatly for informal events.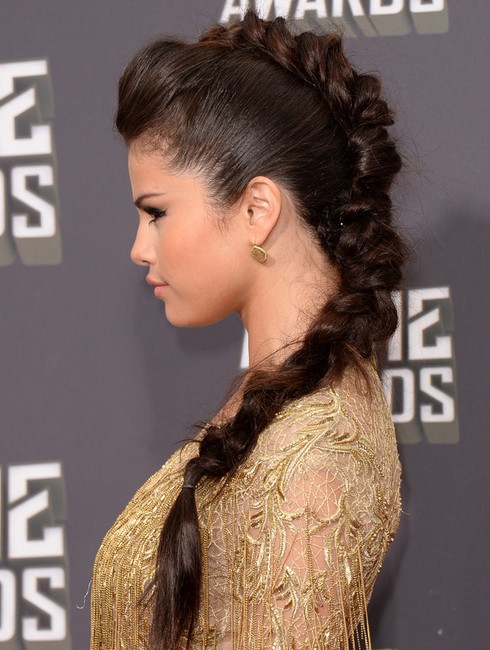 Vanessa Hudgens Long Hairstyles: Side Braided Hairstyle
Vanessa Hudgens styles her long lustrous beachy hair into a casual side pony twisted Fishtail braid. The fabulous pony style with some loose strands on the side creates an asymmetrical and charming modern look.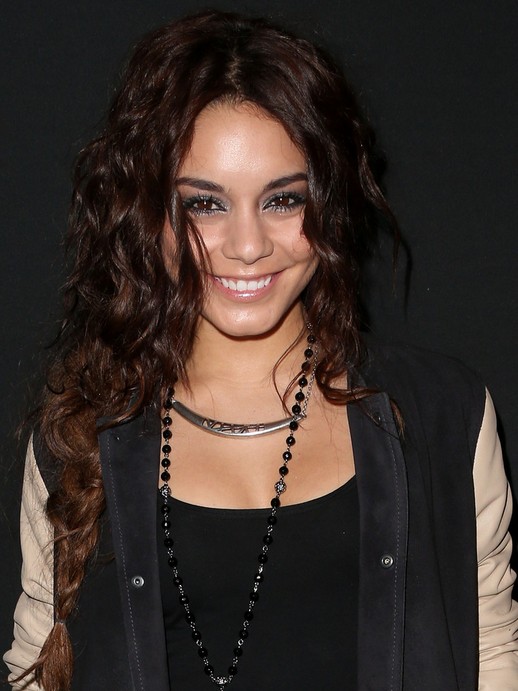 Katy Perry Hairstyles: High Ponytail for Long Hair
Katy Perry just brushes her lengthy raved hair into a super high ponytail and it also enhances her stunning face shape. The hair wrapped round the ponytail hides the elastic which add a touch of class.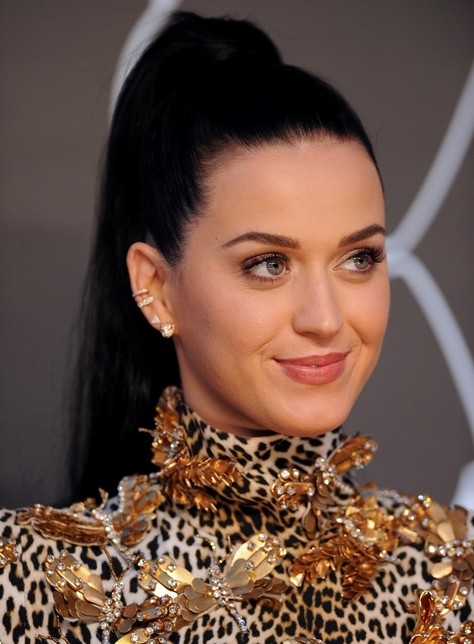 Alessandra Ambrosio Hairstyles: Center Part Hairstyle for Straight Hair
Alessandra Ambrosio's long hair are slices, angled and slithered to frame the face as it dresses down her shoulders. Her lengthy straight hair is heavily textured in its ends. Smooth layers are created to overlap each other, offering one interesting structural effect. The double-tones bring new life of silky appeal to the smoothed look.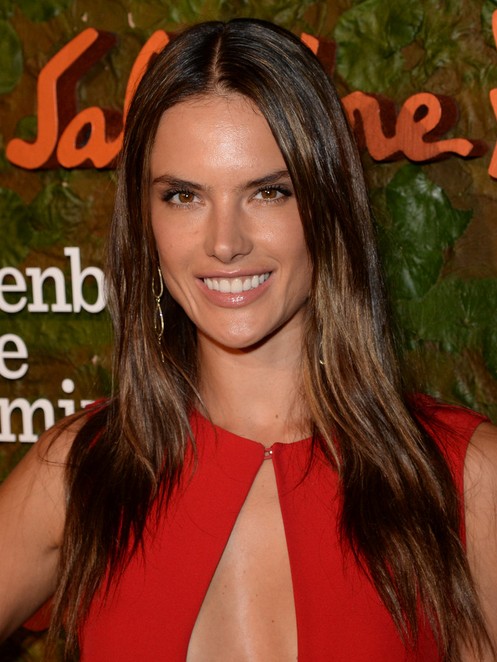 Jennifer Lopez Hairstyles: Layered Wavy Hair Style for Long Hair
Jennifer Lopez lets her hair roam free and the sweet tousled hairstyle is full of wavy and unruly texture. A few strategically-created layers enhance the swing and stunning volume. The classic blonde hairstyle is overwhelmingly seductive.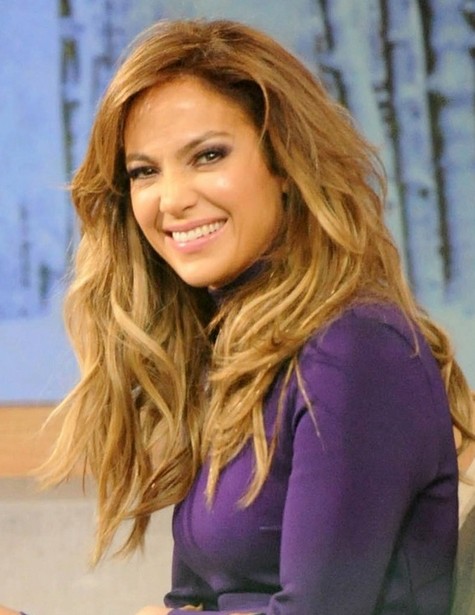 Olivia Palermo Hairstyles 2014: Straight Long Hair Cuts
Olivia Palermo's long sleek and healthy hairstyle with a smooth middle part is full of allure and looks beautiful. Layered around the sides add soft texture, natural movement with curves in the hair ends. The ultra sleek hair with healthy shine texture and finesse can be a cool choice for your bad hair days.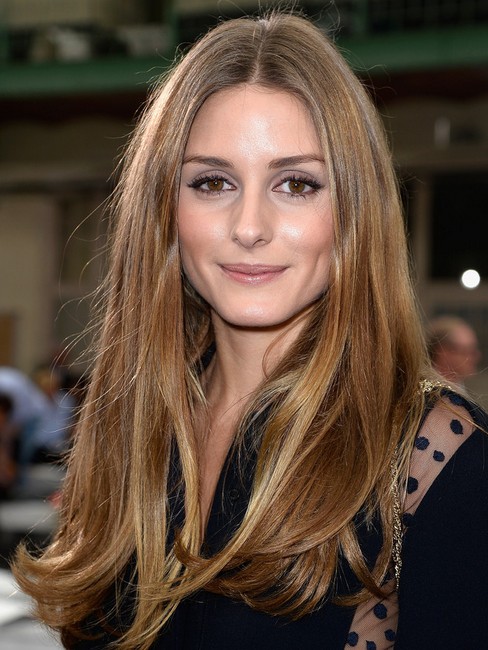 Heidi Klum Hairstyles: High Ponytail Hairstyle for Long Straight Hair
Heidi Klum creates her super long sleek golden blonde hair into an elegant and classic crown ponytail. The cool ponytail is feminine, pretty and is super simple to create.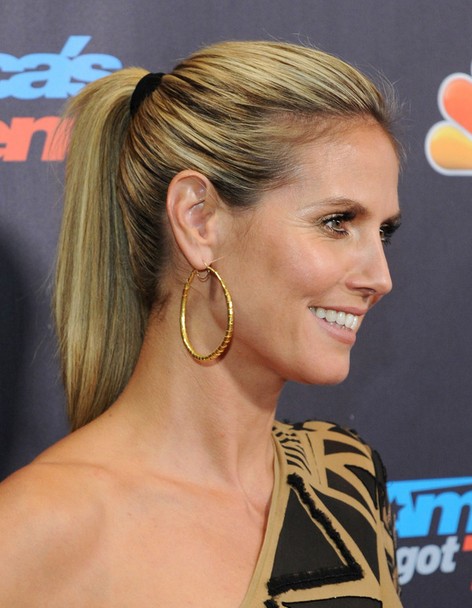 Taylor Swift Hairstyles: Braided Updo with Bangs
Taylor Swift's halo braided up-do hairstyle makes her look like a charming angel. This Feminine braid is wrapped all the way around her crown. Her sexy lip with a pop of natural shine and smoked eyes match the neat heavy bangs greatly. Some soft hold hair spray can maintain it long.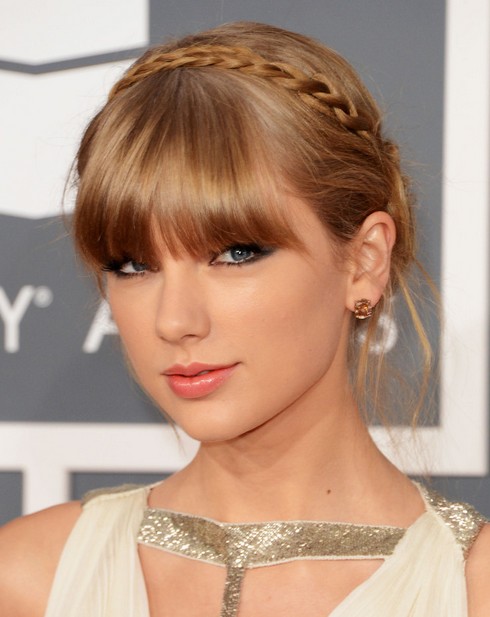 Eva Longoria Hairstyles: Soft Long Wavy Hair
Eva Longoria's long wavy hairstyle looks super polished impressive with rolled-under ends. A wide section in front is taken to the back to expose the forehead. Rough texture with edgy waves looks relaxed soft and bouncy. The warm, honey tinged brown tones enhance her complexion.
Sarah Jessica Parker Hairstyles: Center Part Hairstyle for Long Waves
Sarah Jessica Parker has her long hair layered with shallow layers. The lengthy hair is styled with the length waves in soft curves. Soft layers frame her flawless face and continue around her head for swinging and fun movement.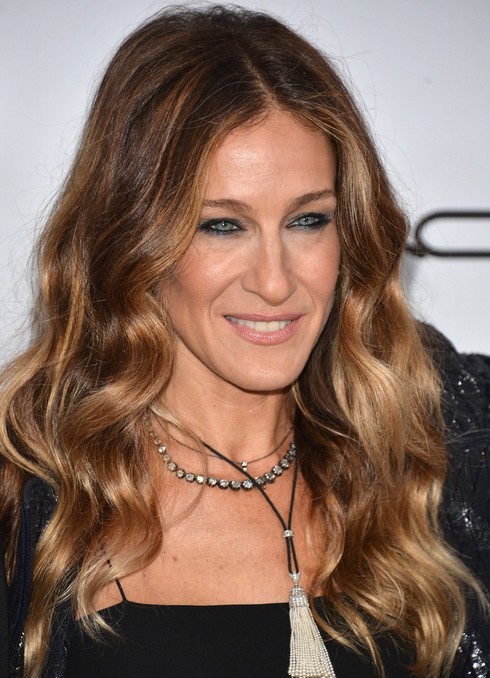 Miranda Kerr Hairstyles: Brown Long Wavy Hair
Miranda Kerr's long wavy hairstyle is subtly tapered at the hair ends. The bouncy waves plus a causal side part enhance her oval face shape. Besides, her red lipsticks and the sexy white dress also match the stunning long hairstyle.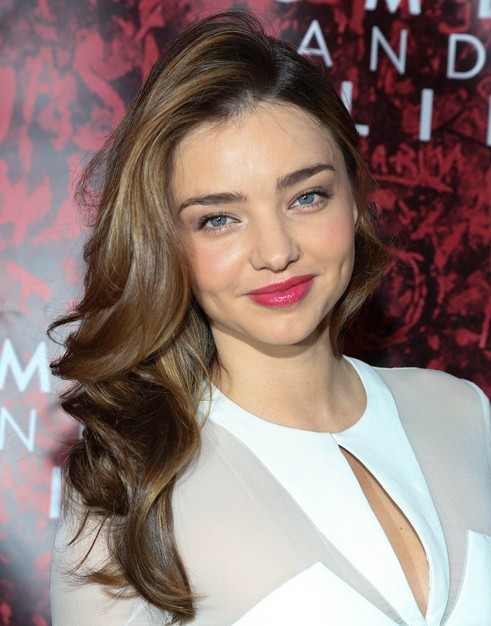 Miley Cyrus Hairstyles: Trendy Short Haircut
Miley Cyrus's short straight hairstyle with an edgy smoothed back looks cool fabulous and inscrutable. Wispy strands with sleek textures at her crown plus the intriguing shaved sides add spice to a thrilling amazing and wild hairstyle.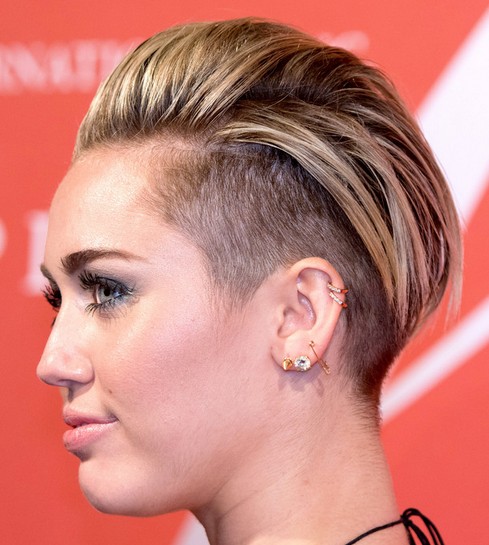 Zooey Deschanel Hairstyles: Long Hairstyle with Bangs
The shoulder-length hairstyle, combining with smooth to wavy hair, increases in volume from top to bottom. Fascinating curls flow gently down her shoulders and infuse her long hair with airy volume and fun movement. Long layers are cut to achieve the balanced cascade. The neat bangs balance out the volume on the sides and complete the sexiness of the radiant look.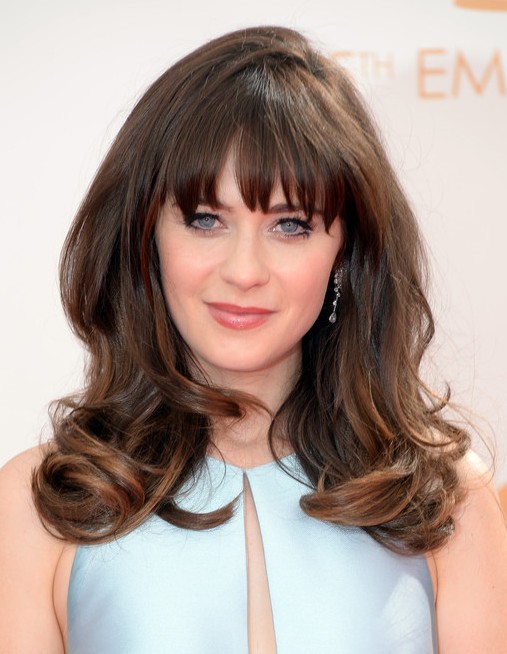 Blake Lively Hairstyles: Messy Updo
Blake Lively styles the textured coif perfectly and seductively. A few strands are left flow elegantly, which add much softness and romance to the wonderful look.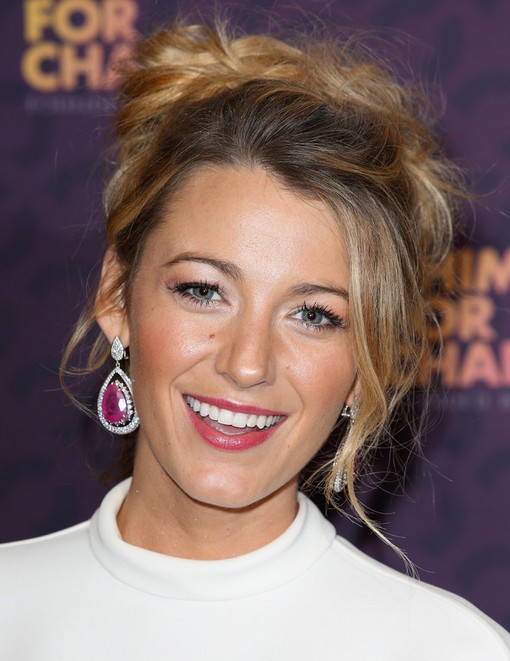 Kerry Washington Hairstyles: Long Hair with Short Bangs
Kerry Washington turns to side heavy bangs to add spice to her raven curly hairstyle. The adorable disheveled hairstyle is slightly layered and tapered for added bounce volume. The playful curly hair increases the fashion factor and adds much grace to the brunette beauty. Straight bangs shift the volume to one side.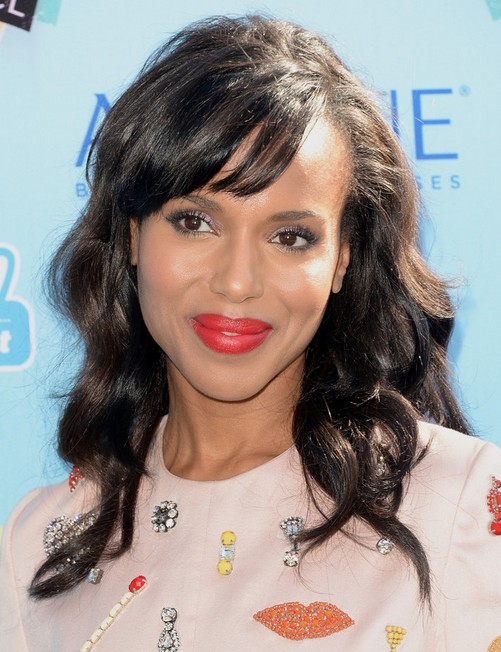 Gwen Stefani Hairstyles: Blunt Medium Haircut
Gwen Stefani rocks her straight hair down to the shoulders with uneven layers for enhanced volume and shape. The sleekly textured cutting line is styled with forward movement. Just a little styling is needed to maintain this heavily textured hairstyle shine.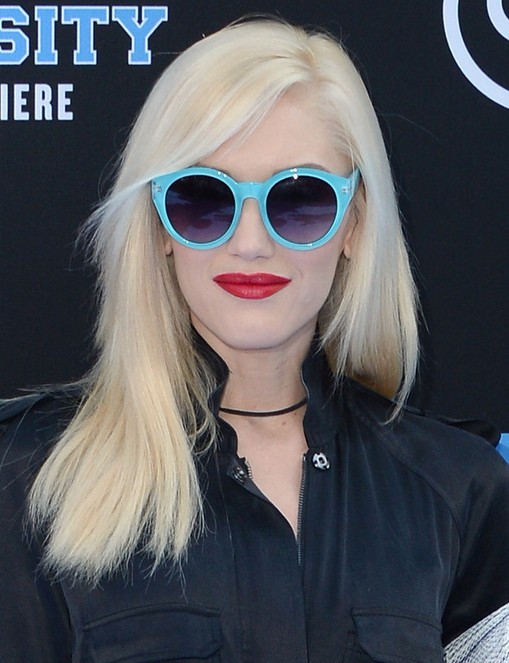 La La Anthony Hairstyles: Brown Long Hair
The widest section of long curly hairstyle is at ear level and all of that bounce and thrilling volume comes in a flattering way. A center part opens up to the sides.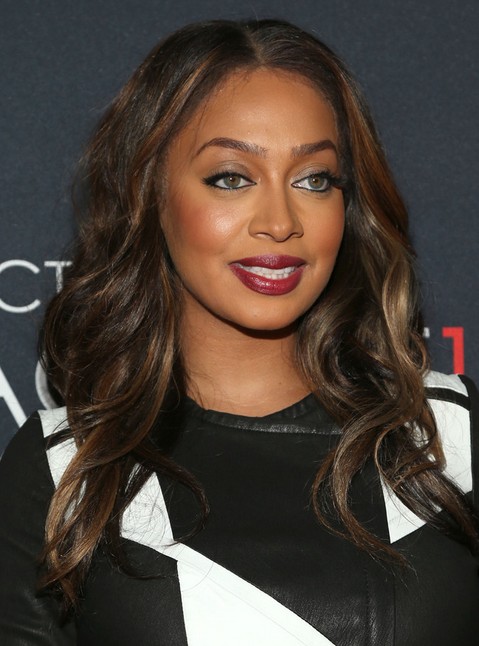 Maria Menounos Hairstyles: Fishtail Braid Ideas
Maria Menounos looks stunning and radiant with the greatly tousled side fishtail braid. The messy crown adds much volume to the flat curly hairstyle. The green earrings and the peacock-inspired necklace pair her magnificent hairstyle perfectly.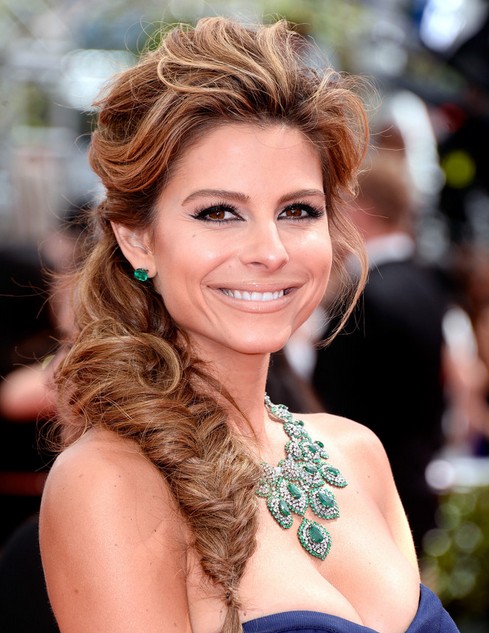 Lady Gaga Hairstyles: Long Layered Wavy Hairstyle
Lady Gaga likes to try out various bold and unique things to enhance her special personality. This bouncy bouncing bombshell hairstyle also enhances her look as ever. The long curly hair gently twisted and frolic round her shoulders with casualness and in a spirited dance. The soft curls entangle the cool senses with a playful attitude and add movement to the sunning hairstyle. Some curl fortifying product can help accentuate the accentuated bounce.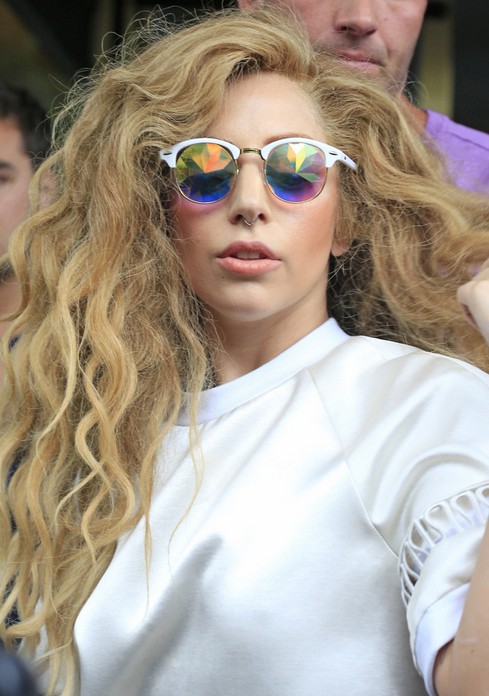 Beyonce Knowles Hairstyles: Blonde Long Wavy Hair
Beyonce Knowles's long flowing wavy hairstyle creates tones of volume and movement effects. It is created side part and the less part is tucked behind her ear to create an asymmetry effect. The mahogany lipstick pairs her platinum blonde hair greatly.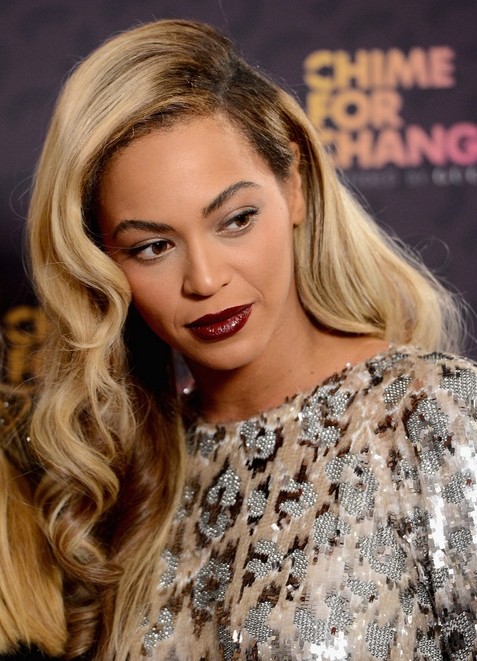 Kim Kardashian Hairstyles: Braided Long Hair
This photo shows that Kim Kardashian has a lovely long braided hairstyle. The lengthy hair is styled in a fun and intricate French Braid on one side. The black headband keeps all the front hair away from her forehead. The shining ear drops match perfectly with her blue dress.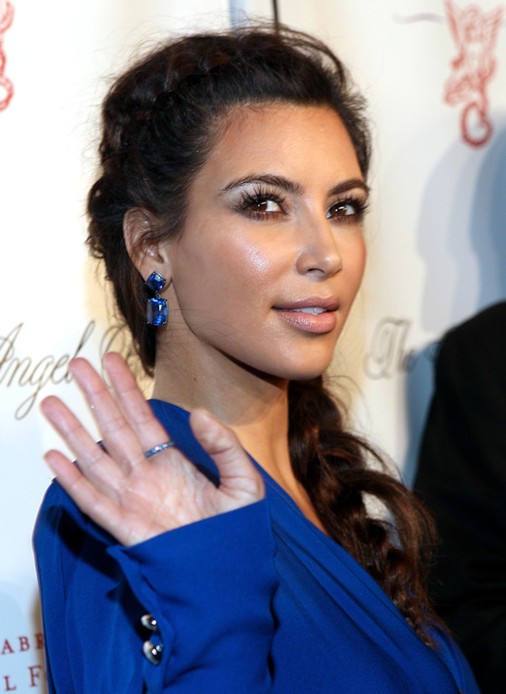 Jennifer Lawrence Hairstyles: Cute Pixie Haircut with Side Swept Fringe
Jennifer Lawrence's short blonde hairstyle appears a bit messy and quite cool . The is tapered with razor-cut layers with great skills. Some razor-textured tendrils help frame her face, and the most of her hair is swept in a wonderful curved line.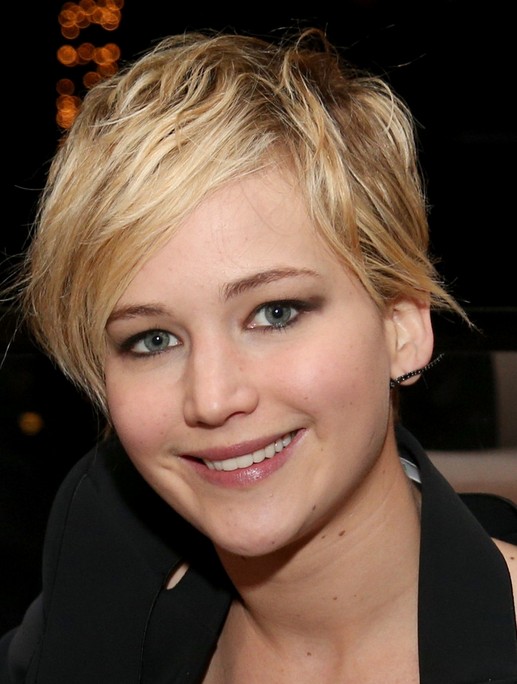 Nicky Hilton Hairstyles: Medium Straight Haircut
Nicky Hilton cerates her hair smoothed down her shoulders. This hairstyle is textured and the tapered sides contour her face. Layers are looks quite sleek and balance the shape and movement greatly through the whole long hairstyle.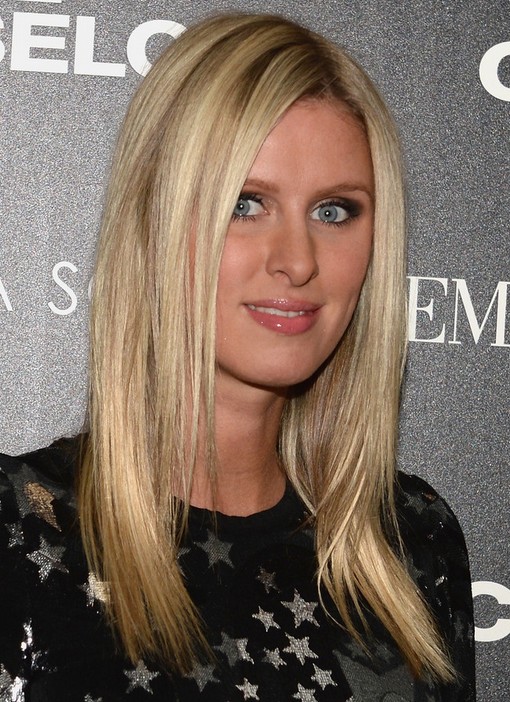 Reese Witherspoon Hairstyles: Easy Medium Haircut
Reese Witherspoon's mid-length layered hairstyle with loose curls is full of energy and volume which makes her a sporty and feminine look. The sides swirl just kisses her face and open it up. The neck-length hair is wispy and gently tousled for a fashionable messy look that can create much gentle radiance.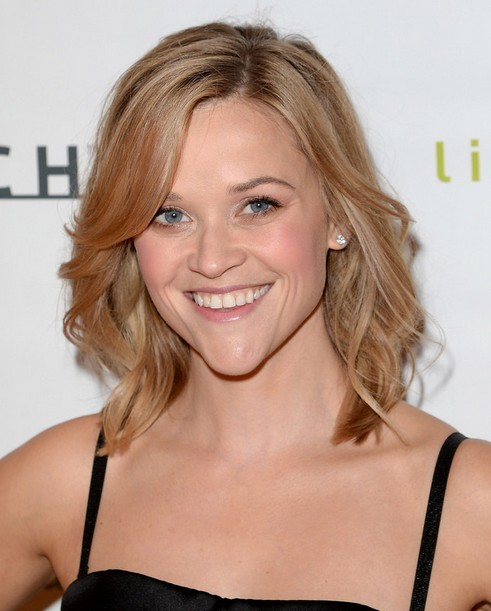 Carrie Underwood Hairstyles: Messy Updo for Prom
Carrie Underwood's twist hairstyle appears charming and fun. It is sure to earn a lot of envy glances since it offers her a graceful and interesting look and feel. The up twist light blonde hairstyle matches perfectly with her red dress.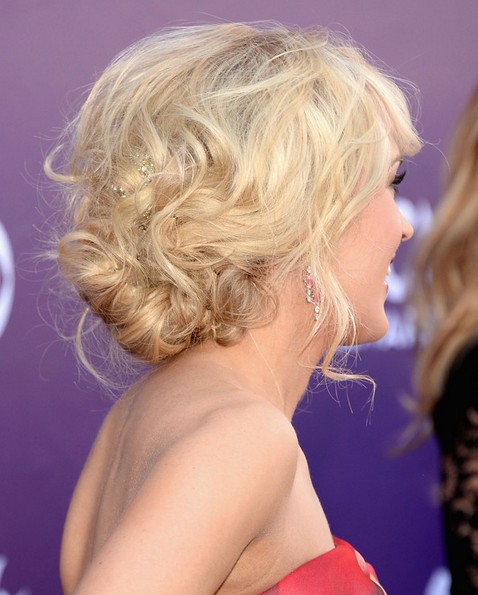 Nicole Richie Hairstyles: High Braided Ponytail
Nicole Richie add some spice to her long brown hair by combing it into a smooth high ponytail and then braiding it neatly, fix with a hair band. This fabulous hairstyle enhance her perfect forehead and natural eye make-up.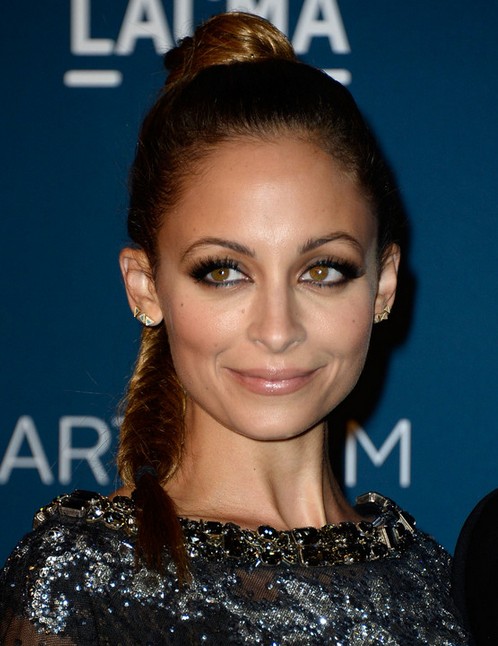 Ashley Tisdale Hairstyles: Medium Straight Hair
Ashley Tisdale leaves her long hair naturally-dressed down her shoulders.
Smooth layers are created to overlap each other, creating one interesting structural effect. The straight locks are heavily textured in its ends which creates a causal and cool look.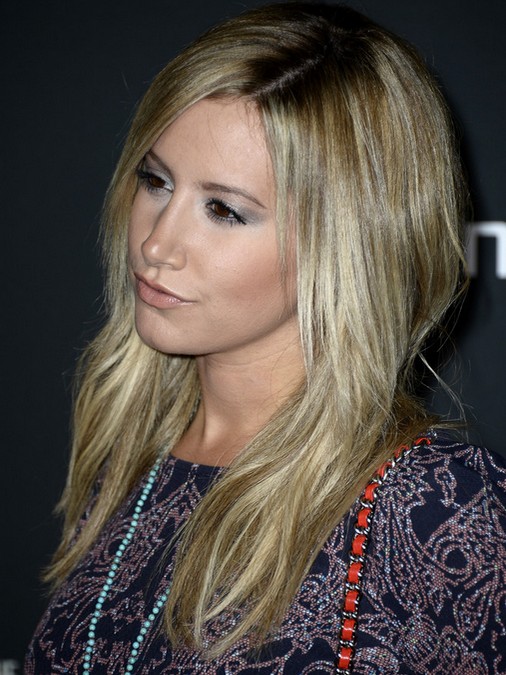 Kate Middleton Hairstyles: Formal Long Hair
The shoulder length wavy hairstyle features volume, bounce and elegance. Smooth seduction is in every curl and every curve of the romantic glam look.The luscious casual but modern look flatters her face in a flattering way.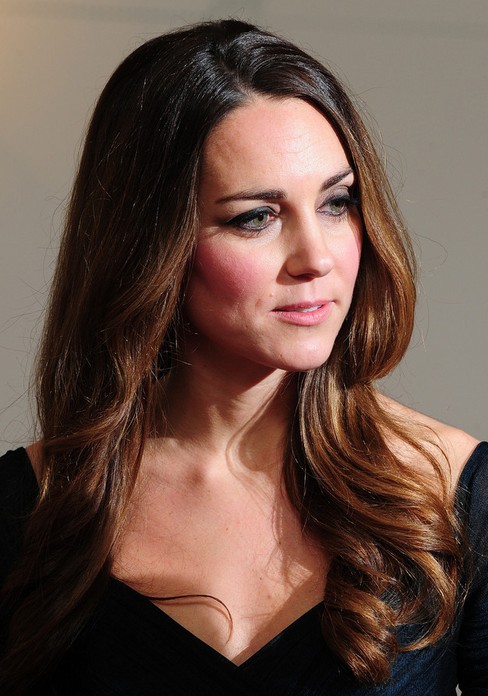 Julianne Hough Hairstyles: Medium Layered Haircut
The timeless lure of the cool light blonde hairstyle is created naturally. A careless side part and crafted curved ends made this mid-length seductive hairstyle unbeatable. The flipped outwards heavily razored hair ends add much fun and and fullness to the straight and fine-textured look.
Some strong-hold gel and styling wax can aid create the perfect natural effect.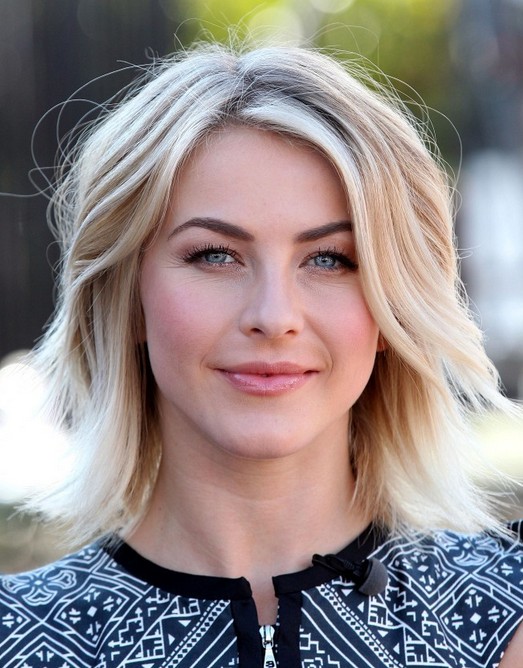 Fergie Hairstyles: Ombre Long Hair
This is a super long layered hairstyle cerated by Fergie. The smooth deep center part just divides the whole hair evenly. The various layers and the thinned hair ends lessen the weight of the lengthy hair.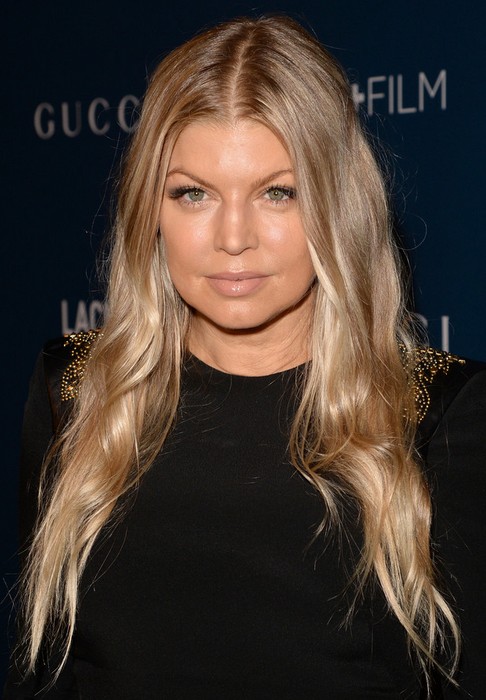 Khloe Kardashian Hairstyles: Center Part Hairstyle for Long Hair
Khloe Kardashian's long flowing copper hairstyle makes a great number of people admire again. Her lengthy hair is also feathered by darker tone at the hair root and lighter tones form the eye level, which draw all focus to her big eyes.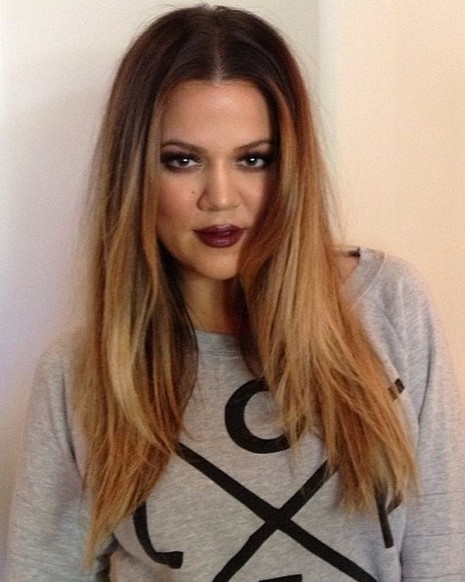 Kelly Osbourne Hairstyles: Shoulder Length Haircut with Blunt Bangs
This super lovely and radiant hair tone makes Kelly Osbourne more impressive and youthful. The shoulder-length hairstyle with dense neat bangs frames her square face shape in a flattering way. If you want a fresh and cute look, you can also try out the eye-catching hair tone.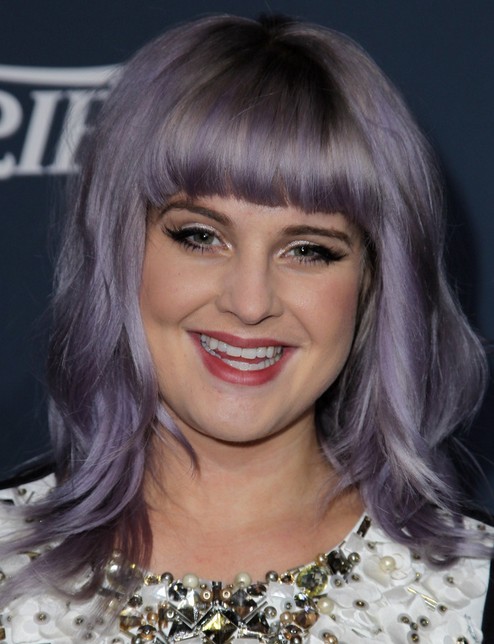 Lea Michele Hairstyles: Ombre Straight Hair
Lea Michele just brushes all her hair back, which looks like a wonderful waterfall. The modern dress pairs her lengthy smooth hair greatly. Some hairspray may help keep it shine and neat longer.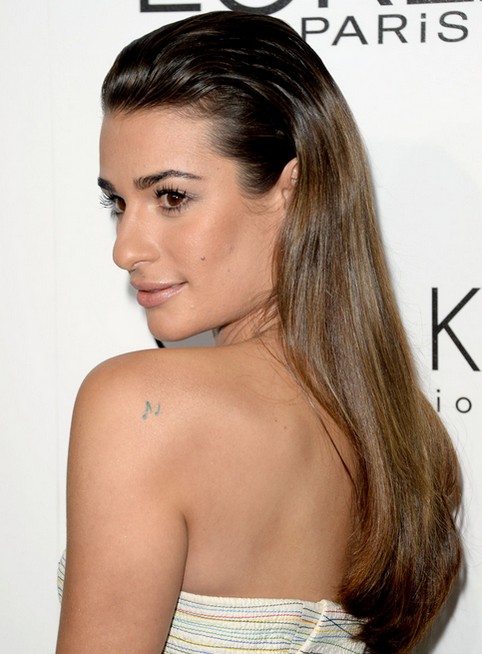 Kylie Minogue Hairstyles: Casual Medium Hair Cut
The center-parted shoulder-length hairstyle has soft curls from the cheek, which soften her face feature and add more volume and shape to the usual mid-length hairstyle.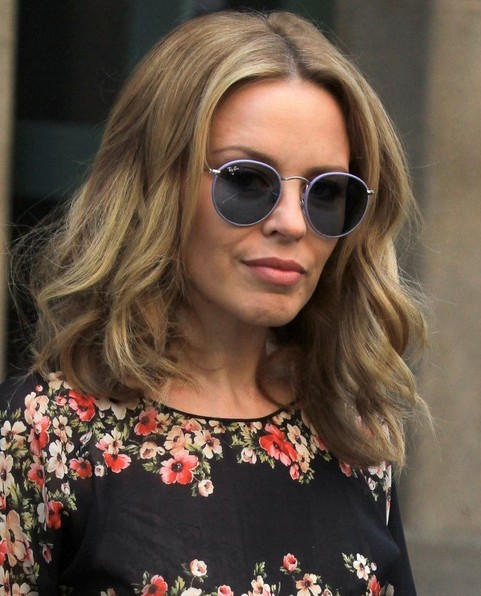 Halle Berry Hairstyles: Short Pixie Haircut
The tousled short hairstyle charmingly frames Halle Berry's forehead showing off the jagged cut layers throughout the crown section. The the nape area is kept longer and teased up to add volume to the superb modern short length hairstyle. Some hold hairspray mousse can help keep it in place naturally. Do you love this short haircut? Find more celebrities short hairstyle for 2015 here!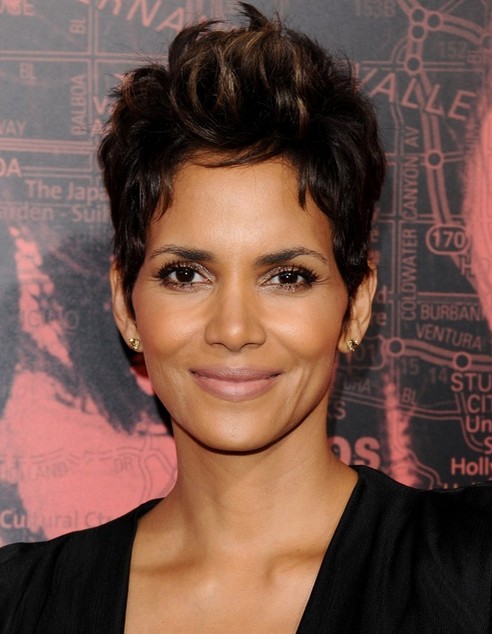 Ashley Greene Hairstyles: Long Wavy Hair
The retro waves and the radiant blonde tone make s Ashley Greene more adorable and seductive. One side part is pulled back her ear to expose her ear and create a cooler look.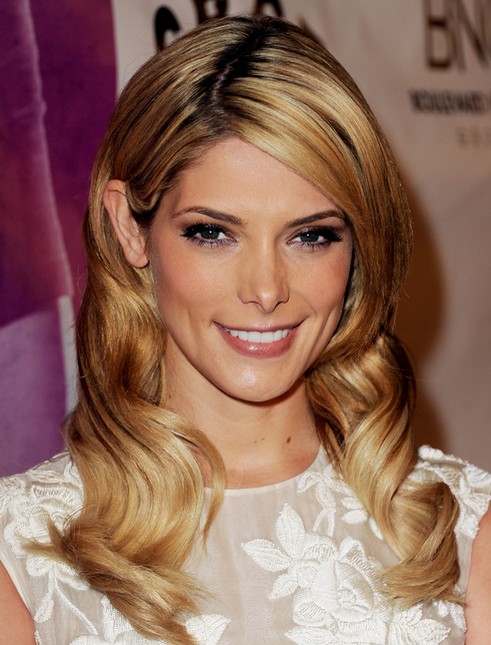 Olivia Wilde Hairstyles: Ombre Hairstyle for Long Layered Wavy Hair
Olivia Wilde just styles her double-toned lengthy hairstyle naturally down her back. The soft and glamorous curls add more charm and sexy appeal to her look. The brown tone at the upper part plus the light blonde hair ends contrast each other and form an inscrutable effect.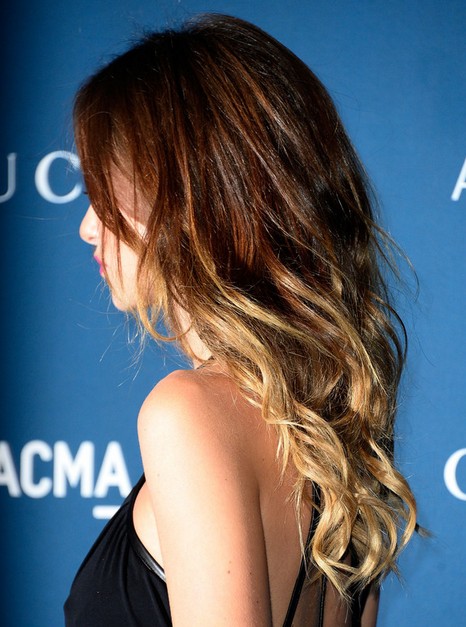 Kate Bosworth Hairstyles: Braided Updos
Kate Bosworth's braid-inspired hairstyle looks elegant and romantic. This unique and spectacular hairstyle exposes her ear and sexy nape to a larger degree.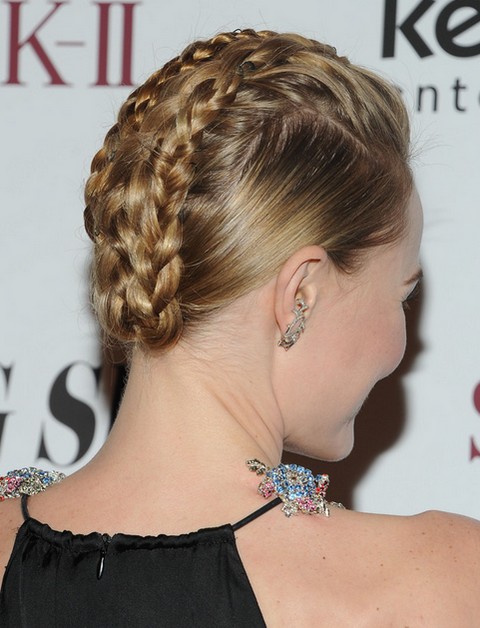 Hayden Panettiere Hairstyles: Messy Braided Hairstyle
This messy braided hairstyle add some cute and fun factors to Hayden Panettiere's flawless look. The front part is kept loose and the hair ends is fixed with a elastic band.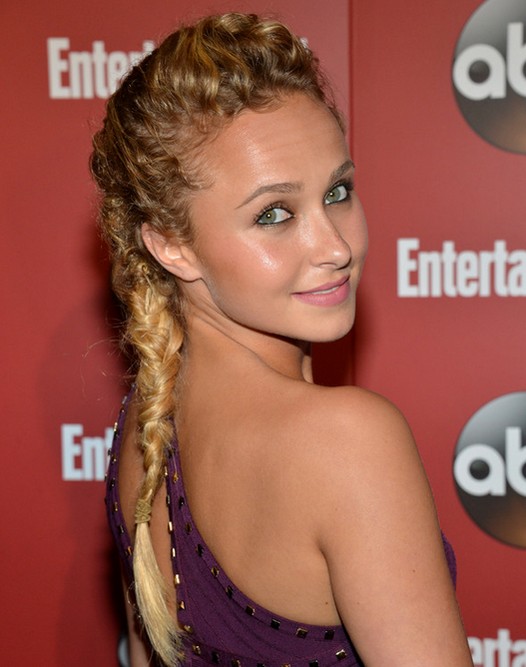 Eva Mendes Hairstyles: Brown Long Hair
Eva Mendes's long bouncy curly hairstyle is full of glitz and charm. Some long bangs just hide one of her eyes, adding some mysterious effect.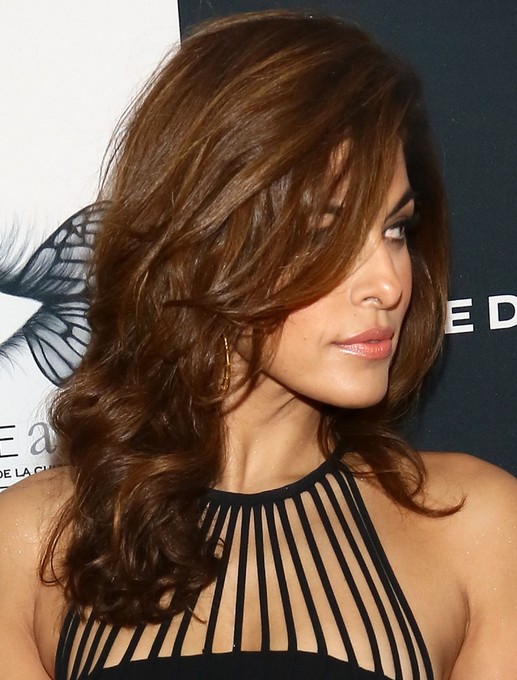 Kristen Stewart Hairstyles: Lovely layers for Long Hair
This cool layered long hairstyle enhances her smoked eye make-up. The various face-framing layers reduce the length and the weight of the lengthy hairstyle and is a great option for the hot summer.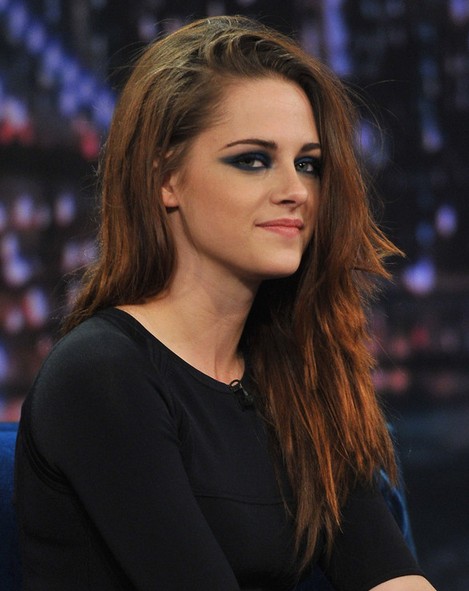 Emma Roberts Hairstyles: Soft Long Wavy Hair
The large daisy waves are full of movement and sexy appeal. One side hair is dragged back to expose her shining earring. The black dress contrasts her golden blonde hair.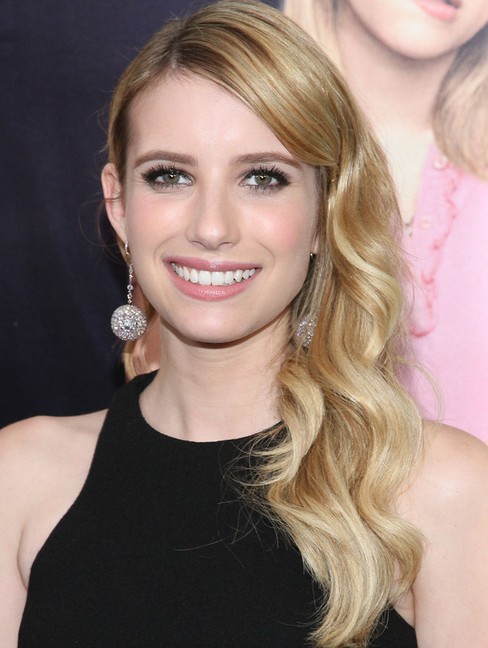 Zoe Saldana Hairstyles: Easy Long Wavy Hairstyle
Zoe Saldana's raven long hair is curled loosely and left on her shoulders. The dark hair tone enhances her complexion and the red lipstick make her whole radiant and impressive.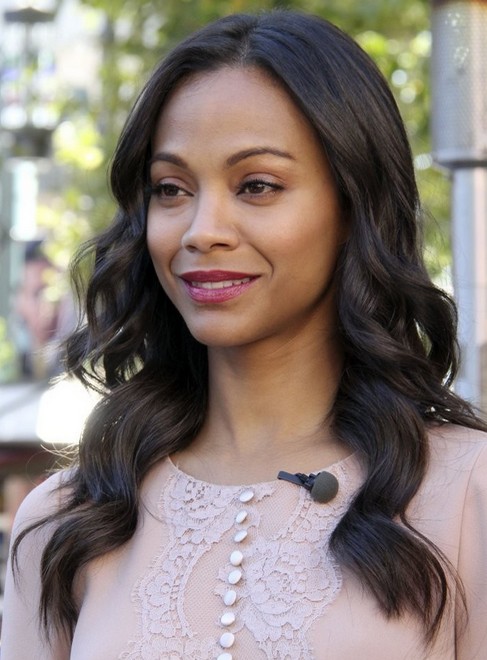 Jessica Biel Hairstyles: Long Hairstyle with Blunt Bangs
The lengthy hair sit down her shoulders and the ends of the long neat bangs are textured and softened to crate a smooth, soft edge to complete the awesome look.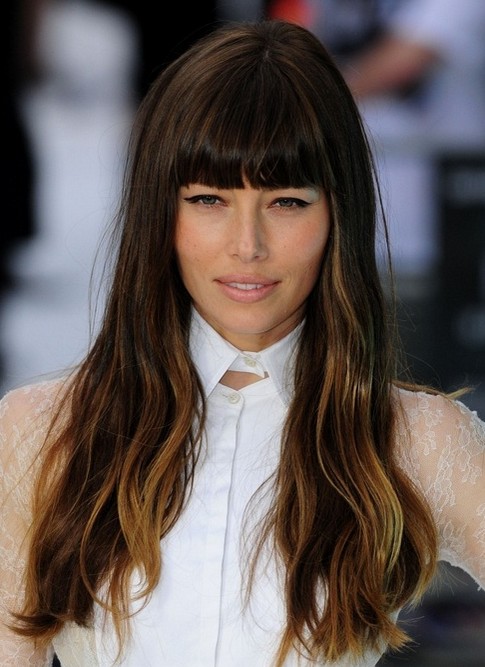 Kristin Cavallari Hairstyles: High Ponytail Hairstyle
Kristin Cavallari combs her golden hair into a simple smooth ponytail. This super high pony exposes her stunning look and her distinctive earring.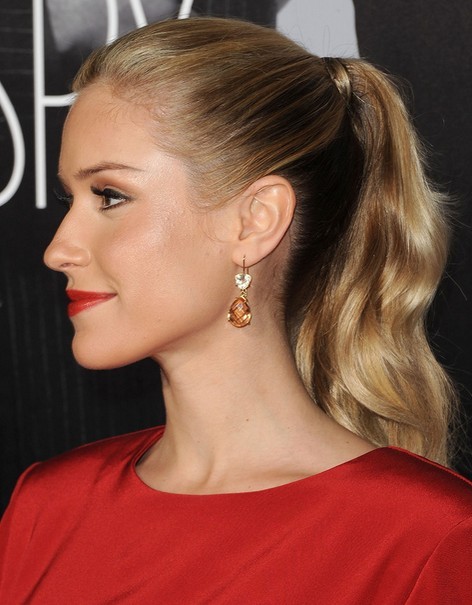 Diane Kruger Hairstyles: Low Ponytail for Long Hair
Diane Kruger's pony-inspired hairstyle offers people a fun and special look. Her long hair is divided into 3 sections and the first two parts are twisted into fun shapes and the lowest section is combed into a low ponytail. The hair ends is hued into the chic popular and lovely pink.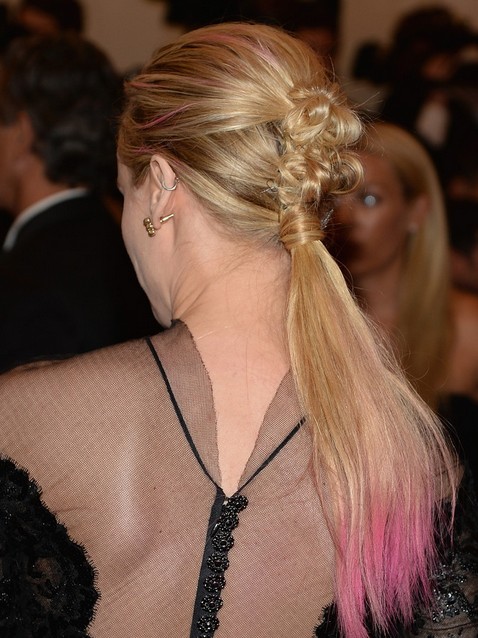 Eve Hairstyles: Blunt Medium Straight Hair
This soft shoulder one-length hair captures the tones of gradient reddish brown. The smooth center part exposes her natural stunning make-up. The lengths are well-defined with the help of light styling spray.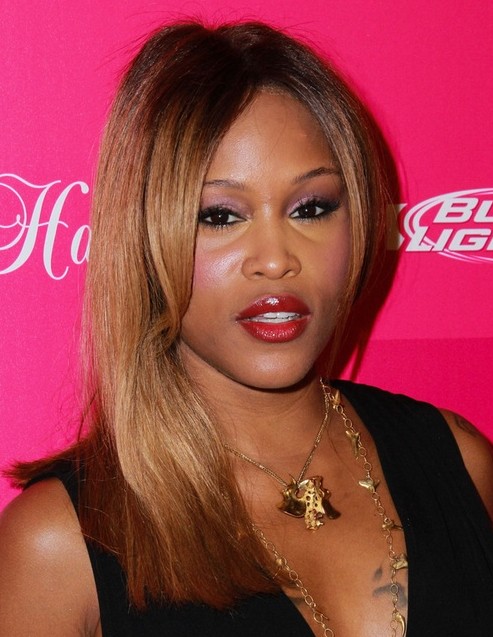 Rachel Bilson Hairstyles: Long Hair
This long layered wavy hairstyle is featured by a center part and loose curls. The charming hair style is executed with a diffused blow-dryer plus some volumizing mousse. A dab of styling product can help add some definition to the lengthy hair.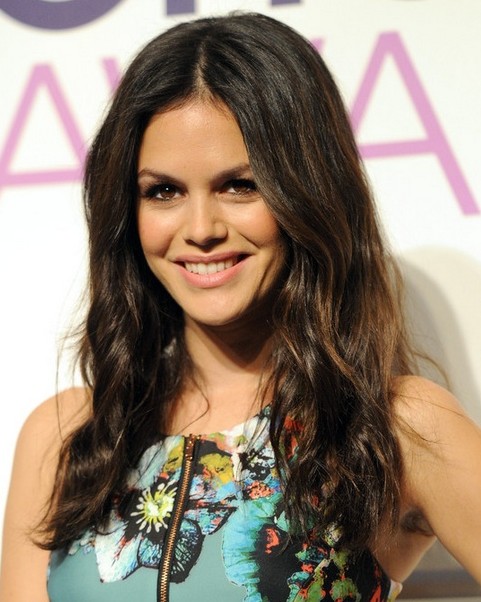 AnnaLynne McCord Hairstyles: Half Up Half Down Hairstyle for Curly Hair
AnnaLynne McCord's super long wavy hairstyle offers her a romantic fairy tale princess look. The soft bouncy curls are made with a medium-sized curling iron. The tight raven curls and large waves gives an adorable bohemian feel. The long earrings plus the crown hair band match each other wonderfully.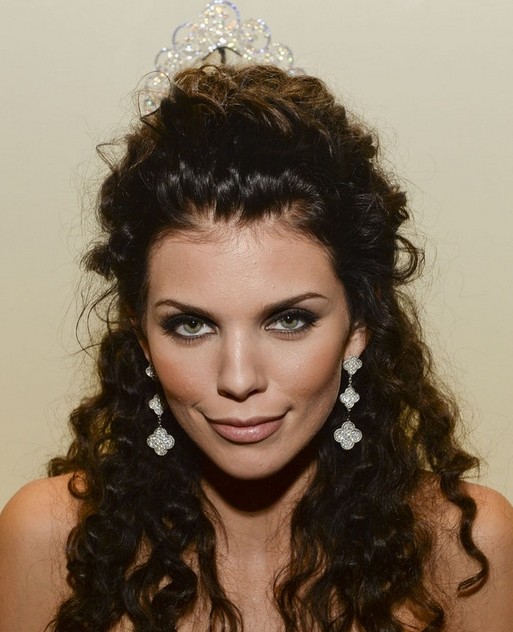 Megan Gale Hairstyles: Simple Bun Updos
This is a simple yet stunning updo hairstyle. Megan Gale just brushes all her dark hair back into a crown bun which add some height and cool factors to the smooth casual look.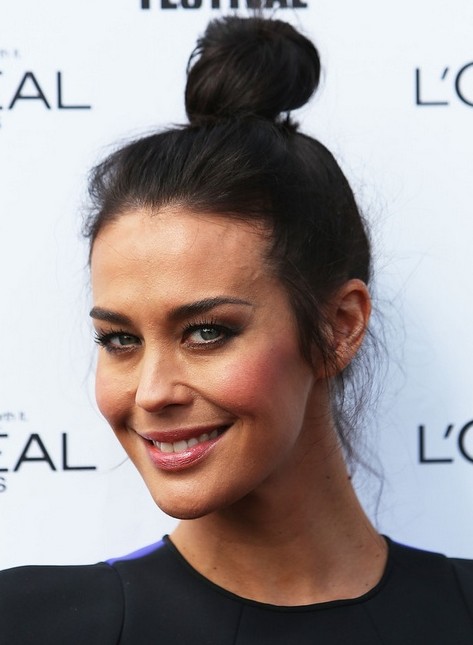 Victoria Beckham Hairstyles: Brown Long Wavy Hair
Victoria Beckham's long hairstyle is parted in the middle and has textured angles curled under along the two sides and contour her face below her shoulders. The delightful mass of lustrous curls swirl in its lower half, which adding some movement and momentum . A large curling iron can be used to create this stunning hairstyle.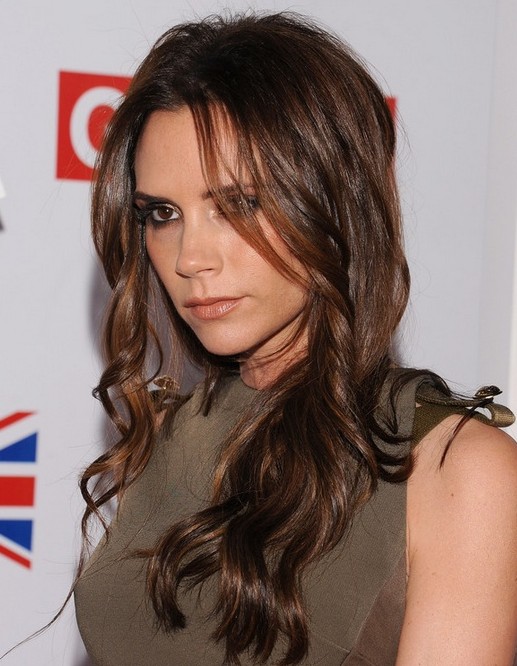 Anne Hathaway Hairstyles: Easy Short Pixie Haircut with Side Swept Bangs
Anne Hathaway's short, pixie-type sleek, smooth hairstyle features a fuller top and crown area. The weighty side parted bangs lie over the eyebrow. The clear outline is neat and shows an exquisite sense and elegant shape. I love this chic short cut so much, how about you? Find more latest short hairstyles for 2015 here.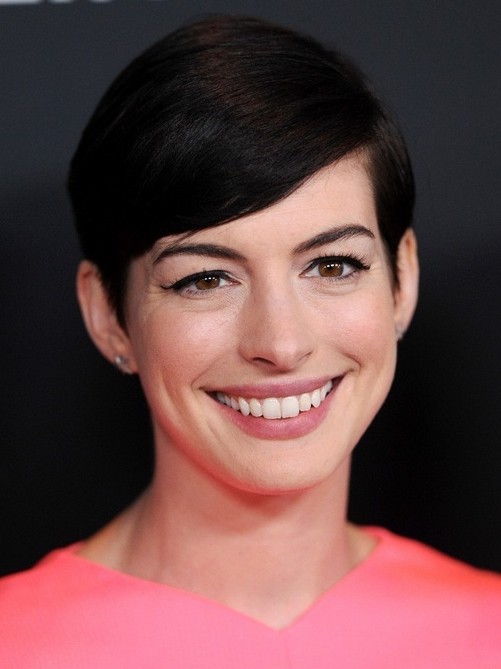 Katie Holmes Hairstyles: Messy Updo
Katie Holmes rocks her brown hair into a causal messy updo hairstyle, which frames her flawless in a flattering way. This fabulous hairstyle exposes her sexy neck and matches her seductive blue dress.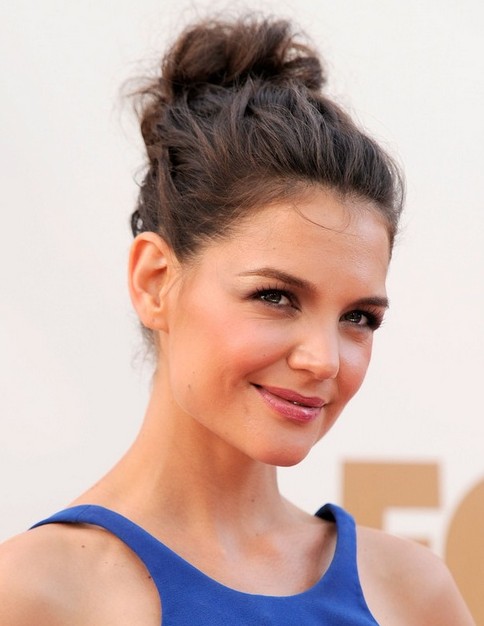 Angelina Jolie Hairstyles: Formal Messy Updo Hair Style
Angelina Jolie chooses a messy updo hairstyle to pair her formal suit. Her black dress contrasts greatly with her blonde hair and the whole look offers people a formal and graceful feel.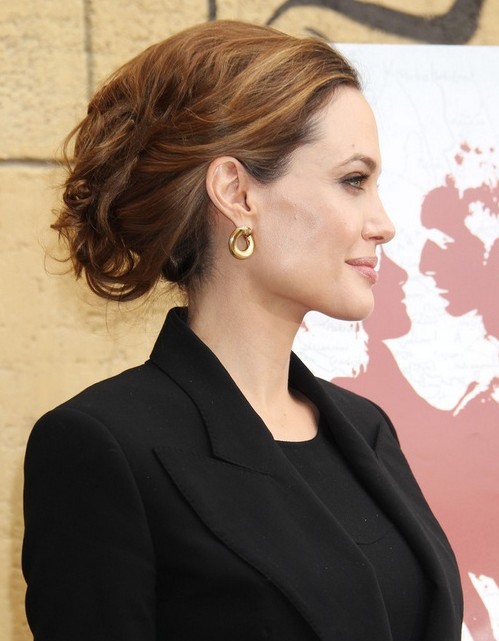 Cameron Diaz Hairstyles: Straight Short Bob Hair Cuts
Cameron Diaz's neck-length smooth hairstyle is featured by side swept heavy fringe and textures. The side part puts the major volume to one side. The length enhance her cheeks.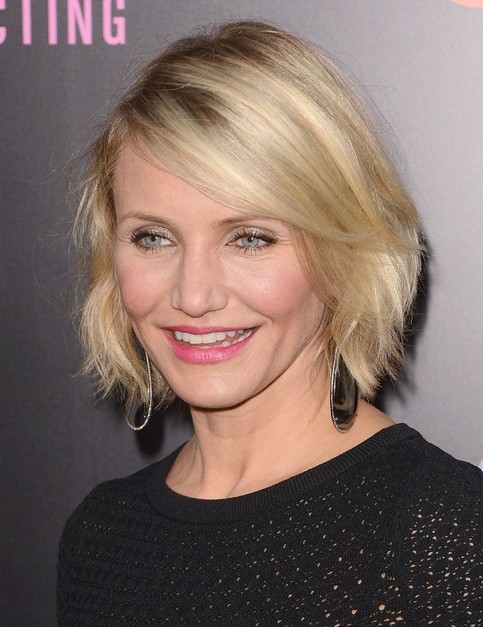 Jennifer Aniston Hairstyles: Medium Straight Haircut
Jennifer Aniston's long hairstyle is cut with horizontal bangs which curve to blend into the sides and hair ends are razor-cut to soften the subtle layering that contours her face. It is a great cool cut for her hick, straight hair. The smooth hairstyle can be best executed with a blow-dryer and flat paddle brush. Some smoothing/anti-frizz serum and light-hold styling gel can refine the lengthy hair.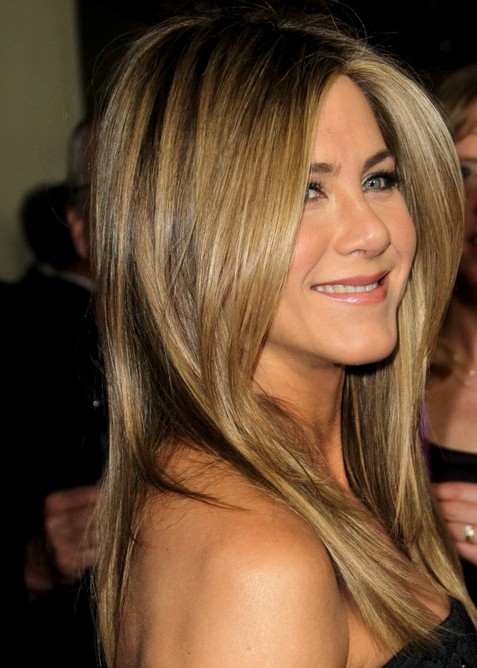 Audrina Patridge Hairstyles: Tousled Two-tone Hair
Audrina Patridge chooses the trendy fashion. The two distinct, but natural base colors combine each other greatly. her topper part is a brown blonde that transitions to a lighter blonde in the hair ends. Some darker tones can be found in the lower part. The unique style is sporty, yet really romantic.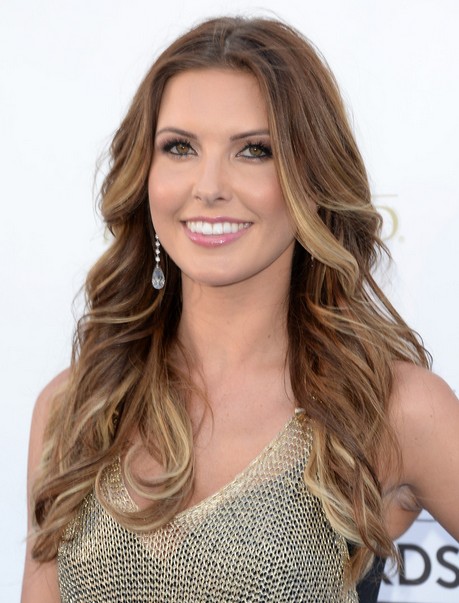 Demi Lovato Hairstyles: French Twist Updo
The wonderful French twist make Demi Lovato's head full of volume and height. The glamorous and distinctive hairstyle exposes her lovely tattoo at her left ear back.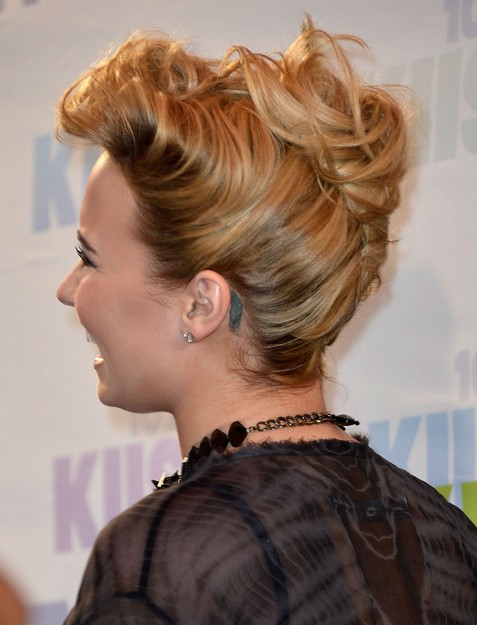 Laura Whitmore Hairstyles: Layered Straight Hair
The top of Laura Whitmore's long smooth hairstyle reminds us of the eternally fabulous bob. However, the length takes our look to her shoulders. The hairstyle seduces with the contrast of smooth center part and heavy texture in the lengths, which add much interest and volume to the neat look.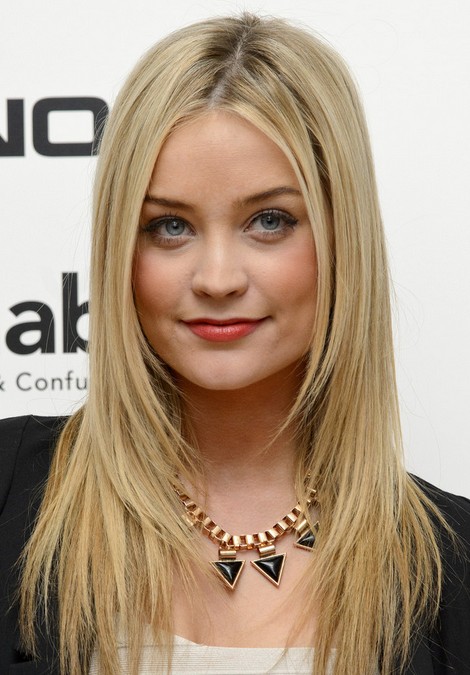 Dita Von Teese Hairstyles: Retro Long Curly Hair
Dita Von Teese's retro look with bouncy waves is dramatic, graceful and stunning. Her lustrous raven shoulder-length hair is curled and set into gorgeous waves, which contour her face. This retro look is superbly sensual and admiring. Large curls are styled inwards to enhance her perfect oval face.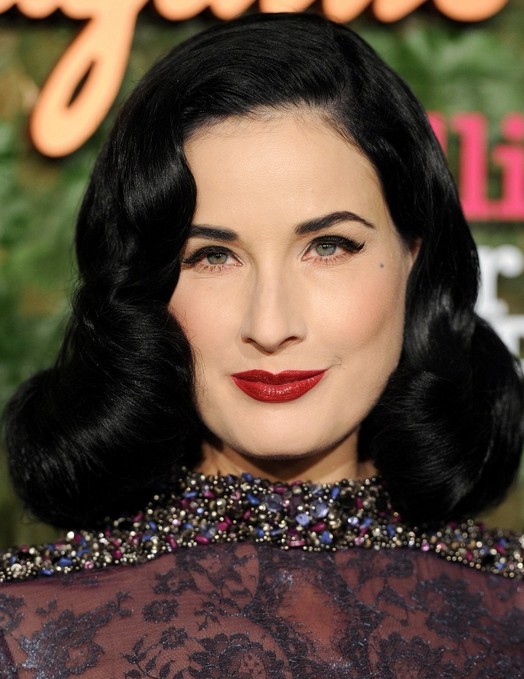 Victoria Justice Hairstyles: Blunt Long Hair
Victoria Justice spcies up her long straight layered hair by combining warm and fashionable red colors. The eye-catching red color and the crafted cut are in great harmony. The face-framing layers are full of texture. The rays of color attracts many head turns.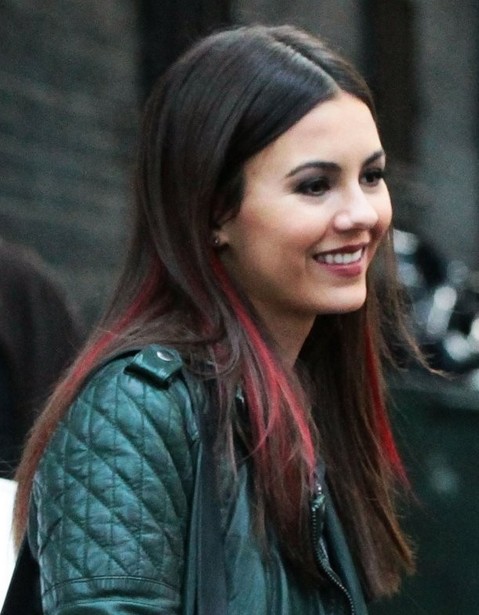 Christina Aguilera Hairstyles: Sexy Layered Hairdo
Christina Aguilera styles her long blonde sun-kissed hairstyle gently dressed down her shoulders. Some flexible hair cream can help keep the individual strand at the ends more natural and shiner.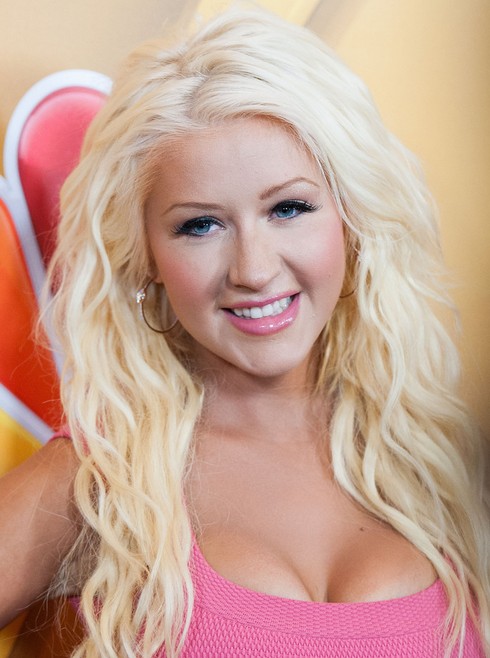 Bella Thorne Long Hairstyles: Curled with Blunt Bangs
Bella Thorne combines her long hair with straight hair at the topper part and curly hair at the lower part, and they match wonderfully. The heavy neat bangs draw all people's attention to her big eyes. A bit of smoothing serum can help set the soft curls to maintain a shiny and natural finish.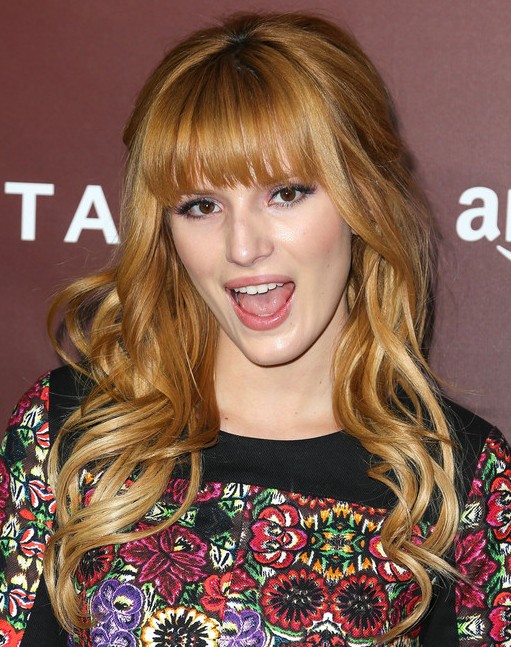 Salma Hayek Hairstyles: Shoulder-length Hair
Salma Hayek's shoulder-length hair is full of old fashioned romance. Her long hair is layered from the mid point downward allowing the volume. The hair at the topper part is smooth down and the hair ends is curled with great elegance.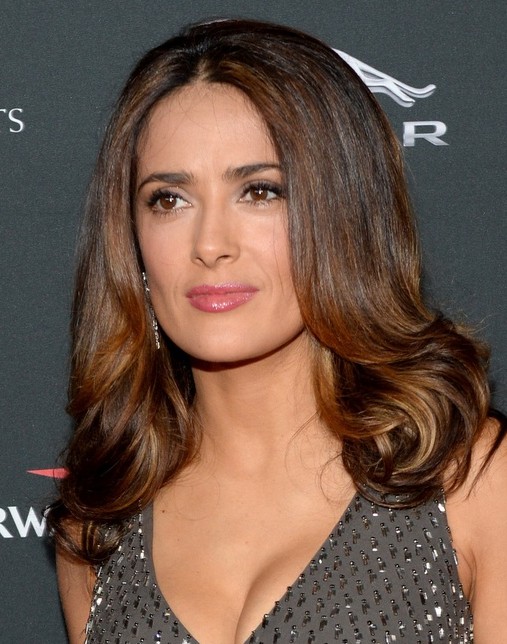 Hilary Duff Hairstyles: Sleek Blonde Waves
Salma Hayek's shoulder-length hair is full of old fashioned romance. Her long hair is layered from the mid point downward allowing the volume. The hair at the topper part is smooth down and the hair ends is curled with great elegance.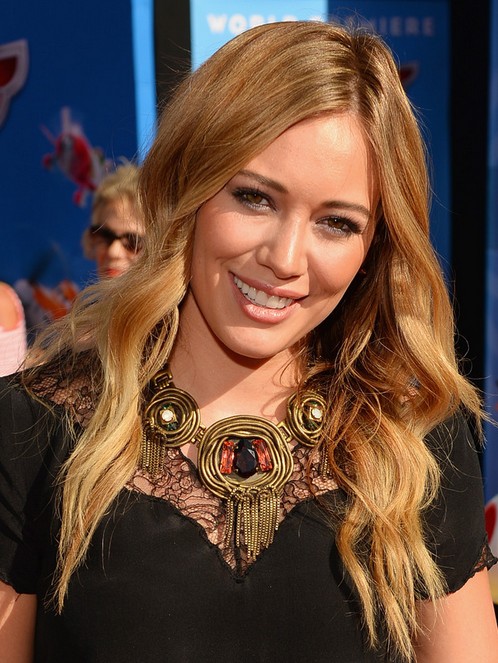 Whitney Port Hairstyles: Cute Ponytail
Whitney Port showcases her adventurous casual fun hairstyle. The messy layers with soft bouncy waves boost the sexy volume and shape.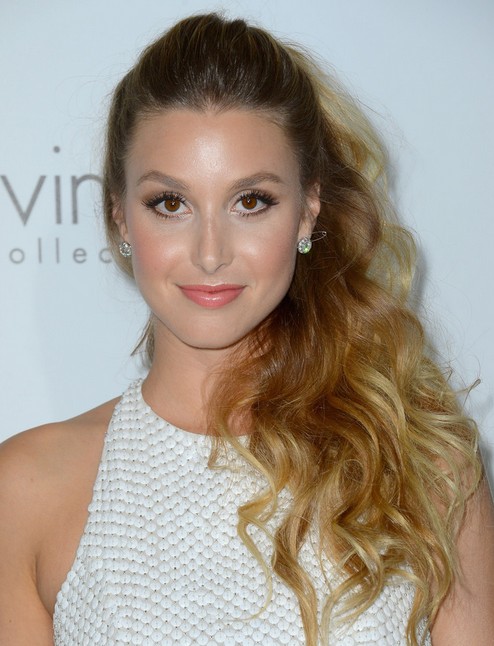 Brooklyn Decker Hairstyles: Braided Updo
The lovely rope braid at the crown brings Brooklyn Decker much softness and sophisticated sexy appeal. This lovely and fun hairstyle can be a cool option for outgoing or holidays.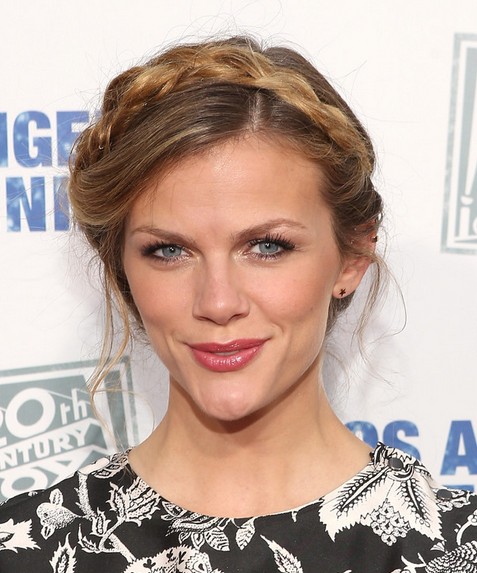 Britney Spears Hairstyles: Blonde Messy Updo
Britney Spears just simply twist her blonde hair into a messy up-style which looks causal and voluminous. The side-parted long bangs along the sides add some softness and complete the chic hairstyle.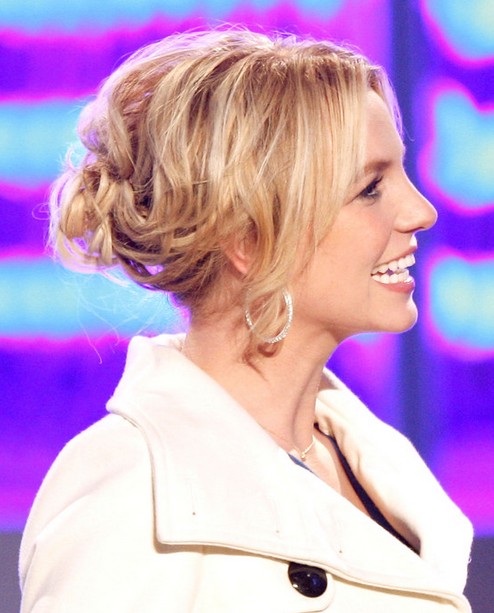 Nicole Scherzinger Hairstyles: French Fishtail Braid
This is a super smooth fishtail braided hairstyle and Nicole Scherzinger proves us that the lovely raven hairstyle can also be a cool option for the important social events. The front section is teased up for add volume.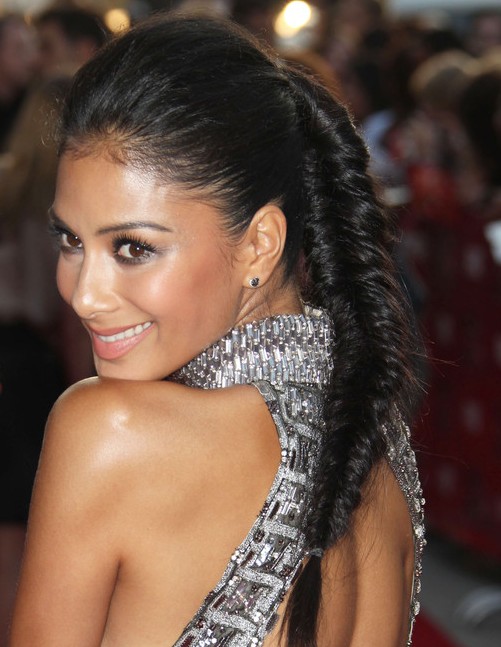 Amy Adams Hairstyles: Easy Bun Updos
The smooth updo hairstyle exposes Amy Adams's shining earrings and her sexy neck. This fun hairstyle is best for formal events.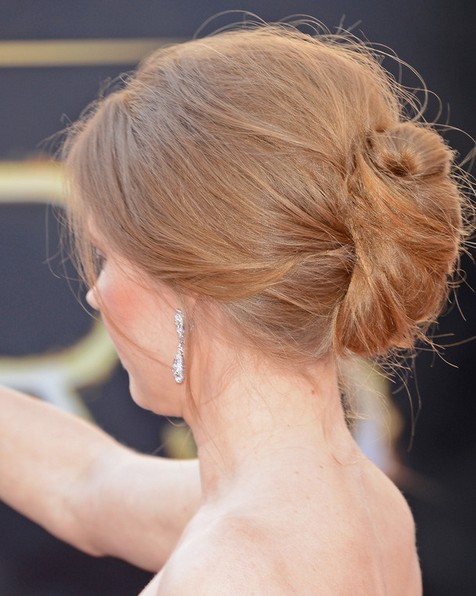 Margherita Missoni Hairstyles: Short Bob Cut
Margherita Missoni's neck-length brown black hairstyle is overwhelmingly luscious and seductive. She creates a touch of mystery with the soft thick fringe that are customized over one eye from the side part. To frame her pretty face. A few well-placed layers enhance the swing and sensual volume and movement.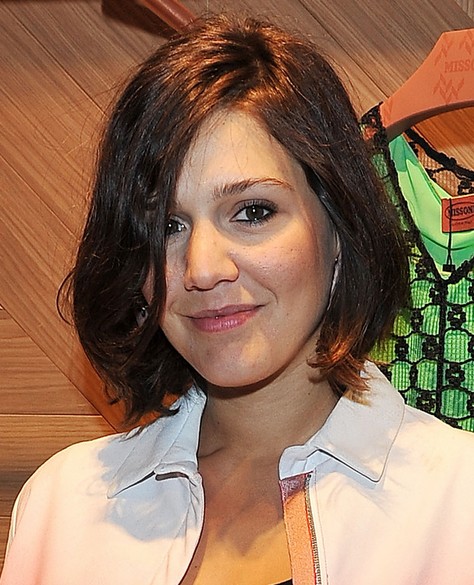 Marcia Gay Harden Hairstyles: Center Part Hairstyle for Long Hair
Marcia Gay Harden's seductive long hairstyle has only minor layers in the hair ends, which soften and balance the volume and movement. The sensual hairstyle is full of bounce and romance. The center part allows the hair to be formed into sweeping shapes that melt into the soft curls at the hair ends.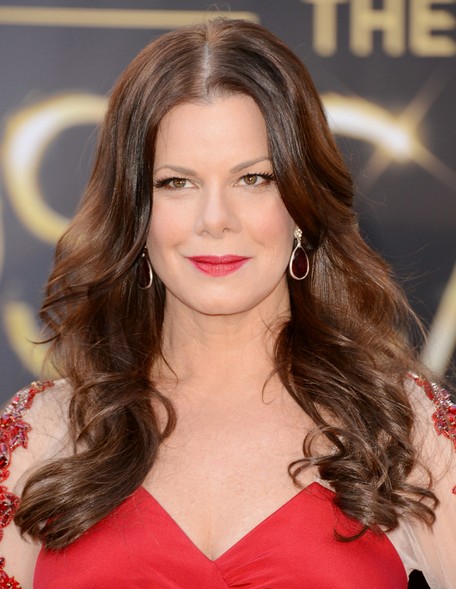 Rachel Zoe Hairstyles: Long Hair with Short Bangs
Rachel Zoe leaves her gorgeous long spun gold hair dressed down her shoulders offers her a simple yet exciting and spectacular look. The neat luscious piecy bangs hide her forehead.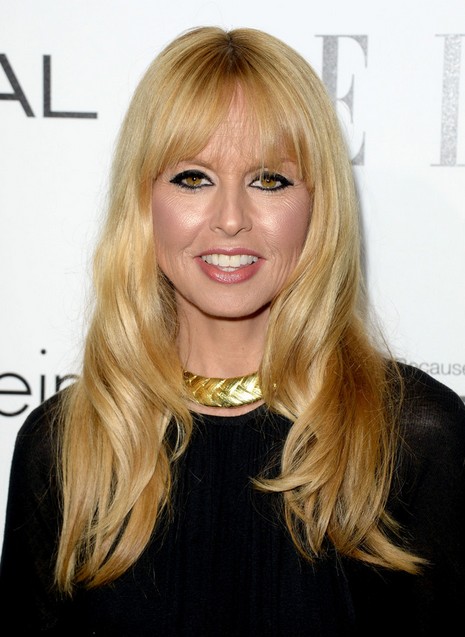 Sofia Vergara Hairstyles: Sexy Waves
Sofia Vergara rocks her long saddle brown colored hair charmingly. The hair ends cluster into sexy waves and sensual curls which extend a fun and sexy decoration around her shoulders. With a center part, the long hair falls to two sides in even measure and boosts fluffy volume, bouncy waves and the timeless grace.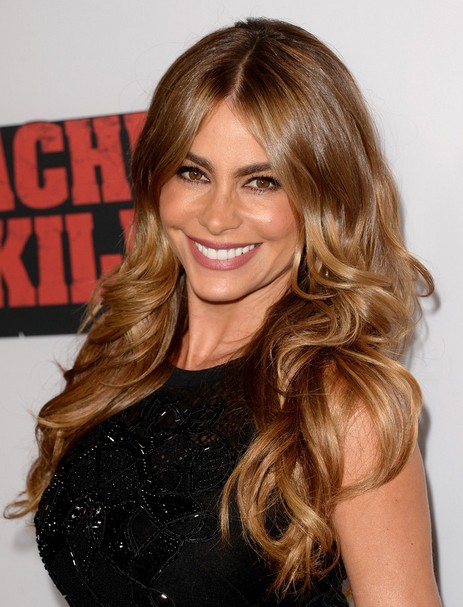 Amanda Seyfried Hairstyles: Long Curly Hairstyle for Prom
Amanda Seyfried spices up her cool and fashion attitude with the shiny retro wavy hairstyle of vintage glamour. The refined and well-defined divine bountiful waves which gather around one shoulder enhance her grace and charisma. The side part creates sexy asymmetry and frames her face in a flattering way.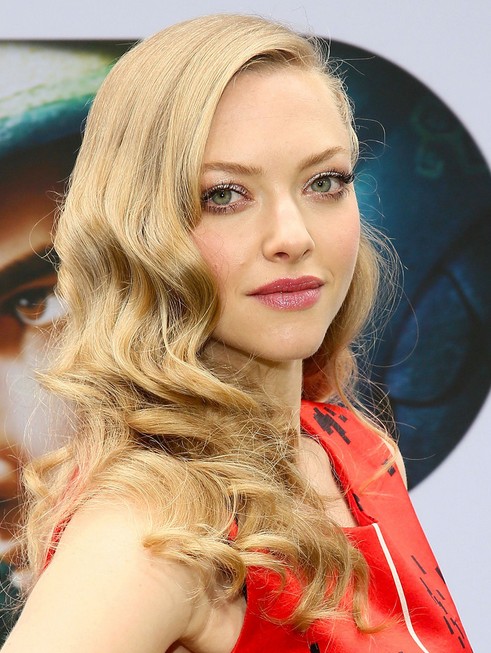 Kate Hudson Hairstyles: Center Part
Kate Hudson creates her glassy soft hair along the back longer than the sides and allows it to flow down from the neckline, while the side hair reaches the shoulders. The bangs are curved outward over part of her eyes.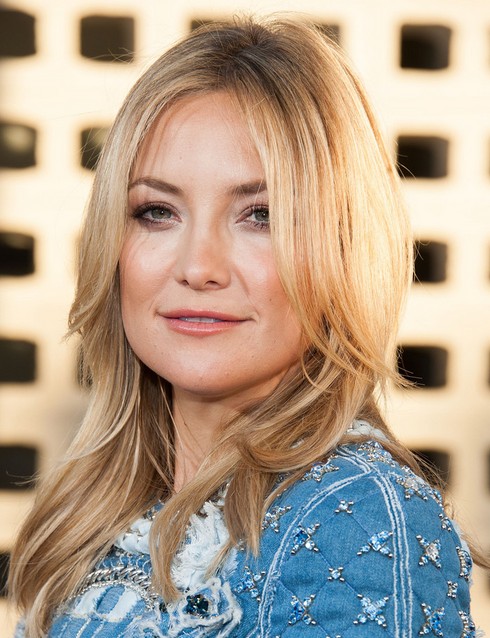 Rosie Huntington-Whiteley Hairstyles: High Ponytail
Rosie Huntington-Whiteley wears her long blonde hair into a simple stylish,ponytail. Her lengthy hair is pulled tight in her crown a two inch high base. This causal hairstyle creates it much height and extra impact to stand out of the long sleek locks.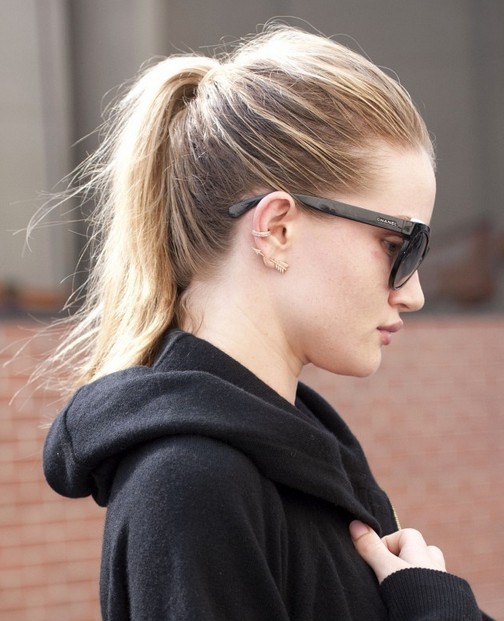 Alexa Chung Hairstyles: Brown Medium Hair
Alexa Chung styles her winsome hair textured toward her face and gently lying on her shoulders The messy heavy bangs hide her forehead completely. Some smooth serum and spray maintain the hair shine and neat longer.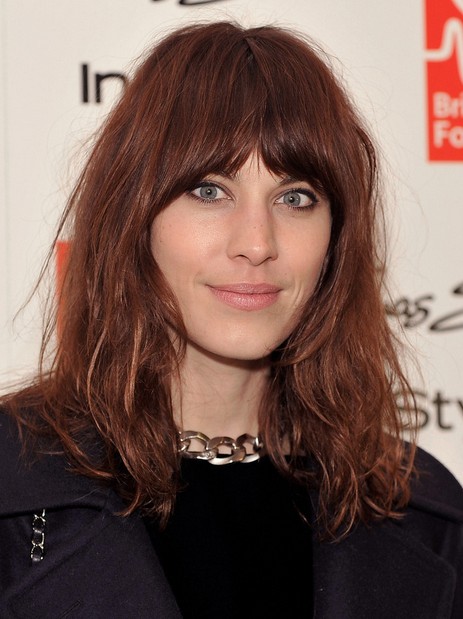 Emily Blunt Hairstyles: Ombre Long Bob Haircut
Emily Blunt classic double-toned silky smooth bob looks fashionable playful and stunning. The blunt textured cut on the ends and just undercut to charmingly curve round her shoulder. The centered partition creates a lure of mystery.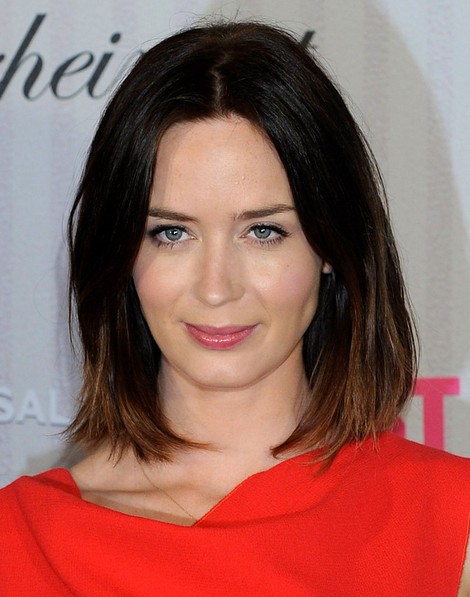 Gina Gershon Hairstyles: Long Curly Hair
Gina Gershon looks like a diva with the bouncy long hairstyle which features a great number of slightly deconstructed luxurious curls and blinds greatly with the shine that reflects from the neat top section. The motion and the incredible volume offered by the soft curls make this long haircut dramatic and luscious.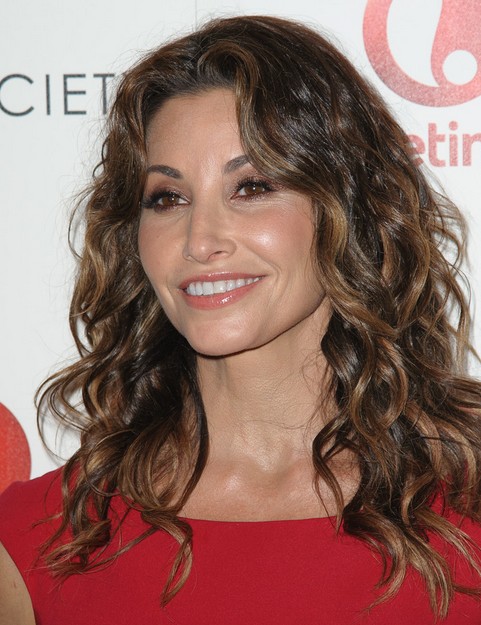 Sandra Bullock Hairstyles: Brown Ombre Hair
Sandra Bullock turns long thread-like layers to grace her long hairstyle with the bangs given plenty of bulk that ride over the eyebrows. There are textured wisps of hair that flip out and others that lie in various shapes below her shoulders.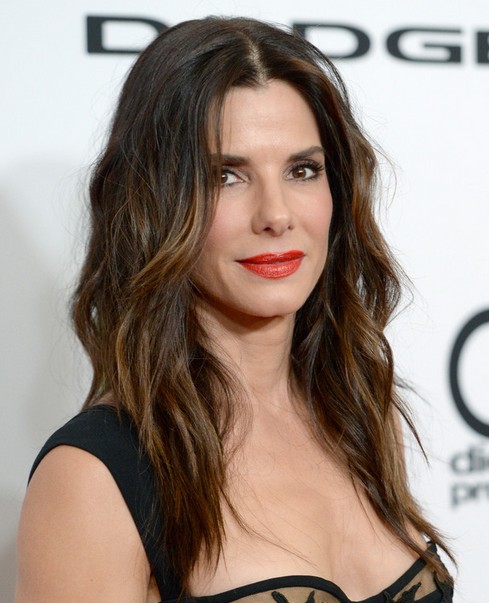 Naomi Watts Hairstyles: Updo Hairstyle Ideas for Prom
Naomi Watts creates a glamorous, sophisticated and fluffy hairstyle for the special and formal social events. The front hair is teased up and bounced up for added volume. The elegant up-style is full of volume and movement.
Jennifer Lawrence Hairstyles: Best Short Pixie Haircut
Jennifer Lawrence's short smooth short hairstyle is featured by fun pointed sides, cute neat bangs and a long nape. The ear section is cut out in a steep curve to create much movement. The dark red lipstick contrasts greatly with her blonde brunette hair. Some styling product can maintain the silky smoothness.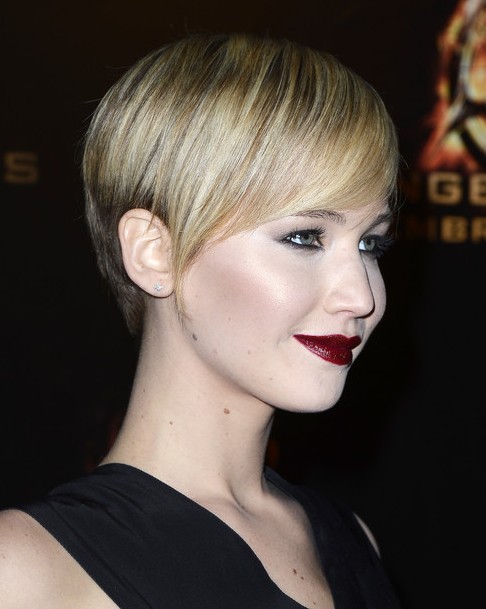 Michelle Rodriguez Hairstyles: Casual Long Hair
Michelle Rodriguez's magnificent long raven hair roll down her shoulder sensually. The causal romantic and feminine hairstyle with a middle part can suit the office and outgoing.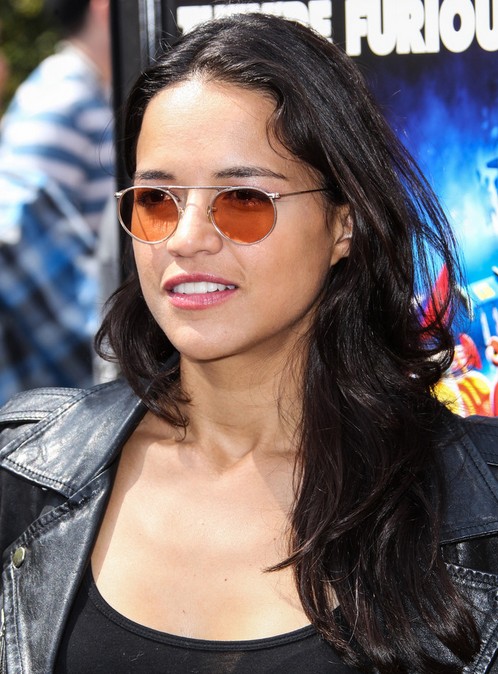 Coco Rocha Hairstyles: Easy Chic Pixie Haircut
Coco Rocha turns exciting smooth lustrous short hairstyle plus red lipstick to enhance and beautify her face. A straight side part is created and her majority hair is combed backwards to expose the attractive forehead.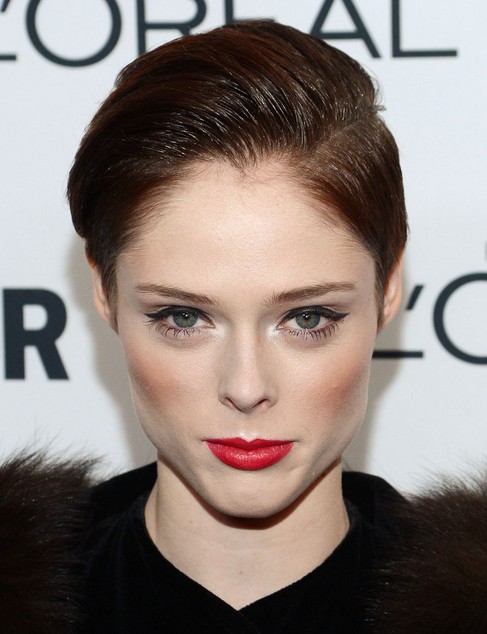 Karolina Kurkova Hairstyles: Blonde Long Hair
Karolina Kurkova's long flowing golden hairstyle is layered structured with tapered ends to create stunning volume and movement. Her long smooth hair is parted just a bit off center to create super modern asymmetry without putting much weight on any side.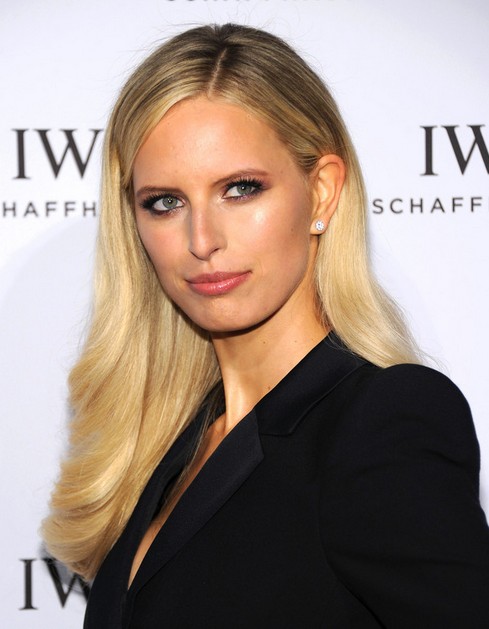 Kate Beckinsale Hairstyles: Messy Bun Updos
Kate Beckinsale's trendy, up-style looks casual, yet quite elegant. Her lustrous hair is taken to back and fixed with invisible pins. This fashionable hairstyle opens up her glamorous face and creates a stunning and fun silhouette in the profile.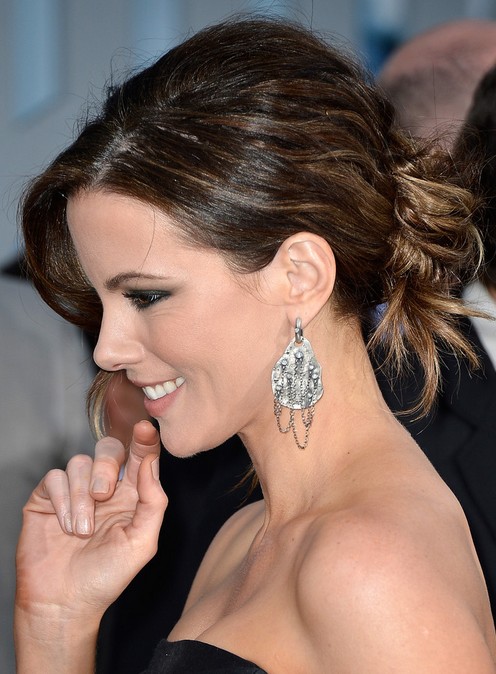 Olivia Munn Hairstyles: Black Straight Hair
Olivia Munn keeps her silky black hair brushing her shoulders. The sides are fringed either from the razor or the scissors toward the face.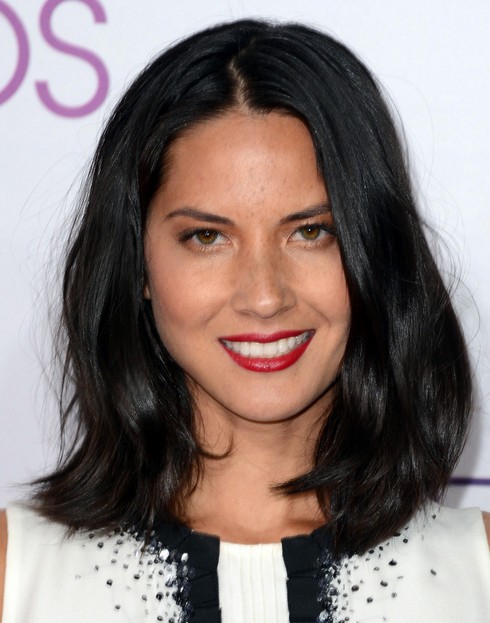 Karlie Kloss Hairstyles: Classic Bob Haircut
Karlie Kloss styles her light blonde hair into a timeless one-length smooth bob. The elegantly curved ends plus the neat seductive bangs make her more charming. Her fashionable hairstyle has lots of volume but features a smooth surface.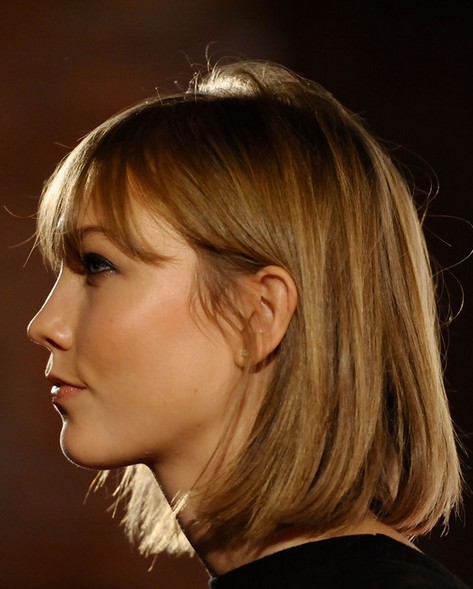 Nina Dobrev Hairstyles: Loose High Ponytail
Nina Dobrev styles her long hair into a fussy ponytail. Her brown hair is medium-textured and mildly curly, dragged back loosely and secured. The hair fastener is covered by wrapping the hair with hair.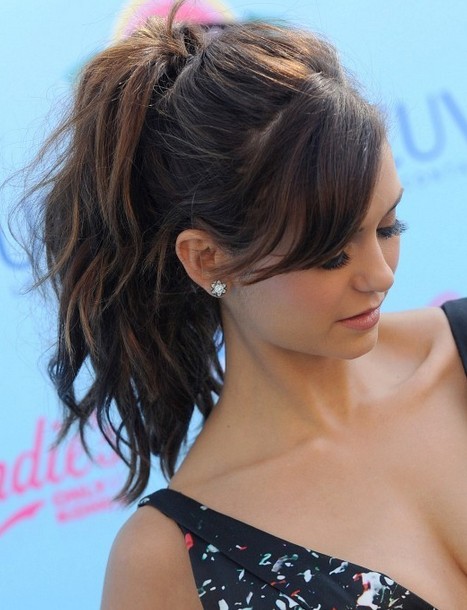 Jennifer Garner Hairstyles: Medium Hair
Jennifer Garner's long hairstyle is of simplicity and strikingness! The magic lines are wonderfully arranged to balance the shape and intrigue. In the lower part much texture is cut into the angled layers. This silky sleekness enhances her daisy appearance.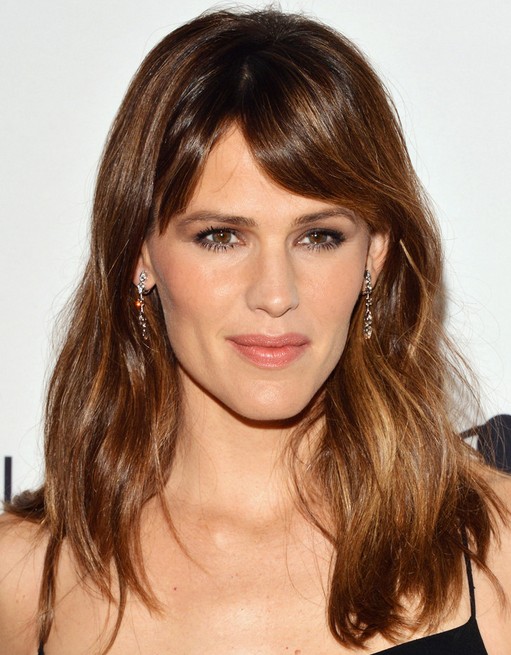 Jessica Chastain Hairstyles: Blonde Layered Haircut
Jessica Chastain'ssexy red and layered hairstyle gains her many head turns. The side part cerates her long hair an interesting asymmetry. The top section is styled into long side swept face-framing fringe. The textured layers are created with curved ends for a cooler effect.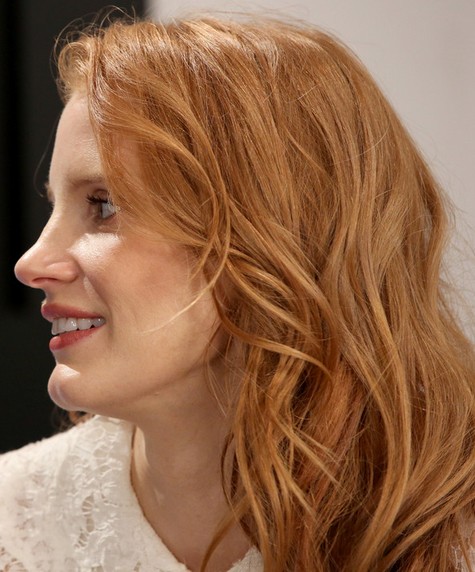 Laura Dundovic Hairstyles: Long Straight Hair
Laura Dundovic's long golden blonde hair is of super sexy appeal. The strongly textured hair ends balance the density and create a slimming and weightless effect. This long sleek hairstyle with subtle layers is perfect for modern people. Side long bangs frame her face softly.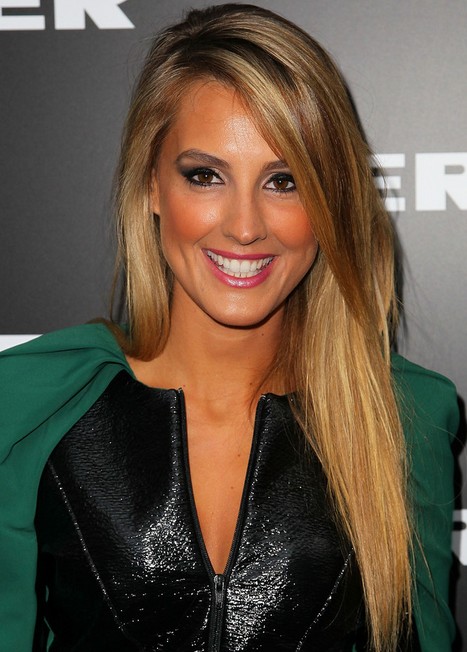 Emma Stone Hairstyles: Blunt Layered Hairstyles for Medium Hair
Emma Stone's shows off her amazing healthy and dense shoulder-length hair. Face framing roundness is off set by exquisite longer layers. The long side sweeping bangs add some softness to the whole look.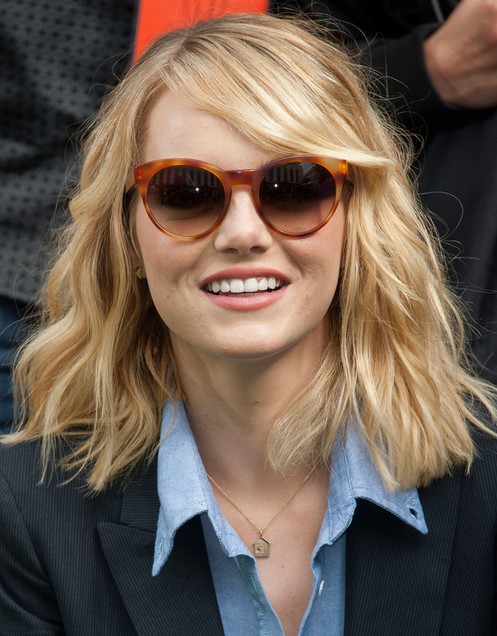 Hayley Williams Hairstyles: EMO Hairstyle for Girls
Hayley Williams' brilliant and hairstyle with flowing waves and eye-catching red and orange hues make all people stop. One side of her hair is hued into popular bright red and the other side is contrasted into a cute orange. The flawless smoothness at the amazing short neat bangs match the loose curls wonderfully.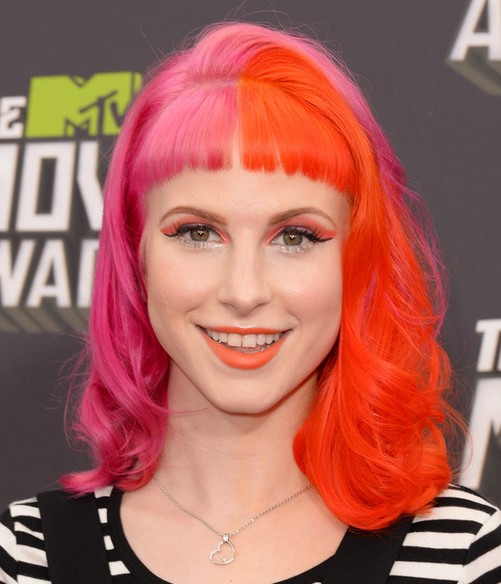 Avril Lavigne Hairstyles: Easy Long Hair
Avril Lavigne's super long flowing platinum blonde hair is full of smoothness and shine bring her incredible volume and admiring eyes. This lengthy hairstyle use a center part to distribute the hair evenly to both sides where it is tapered in a textured angle from the neck to the shoulders.This stunning hairstyle is quite suitable for thinner hair since the light waves bring much volume and fullness .