12 Demi Lovato Outfits You Can Rock Too – Demi Lovato Outfits Ideas
Much like Selena Gomez, Demi Lovato (check out here instagram here)was introduced to the world as a Disney darling. Eventually, after a stint in a rehab and a complete life makeover, Lovato seems to be in a better place and so does her style. She shows off her body instead of hiding it and almost always wears outfits that accent her figure and body amazingly. Her style is pretty classic but edgy which makes it perfect to wear for every day. She also isn't afraid to take risks with her outfits and that's why her style is relatively easy to recreate. If you like her style, then try rocking these 12 Demi Lovato outfits.
1. Casual Demi Lovato Outfit for Summer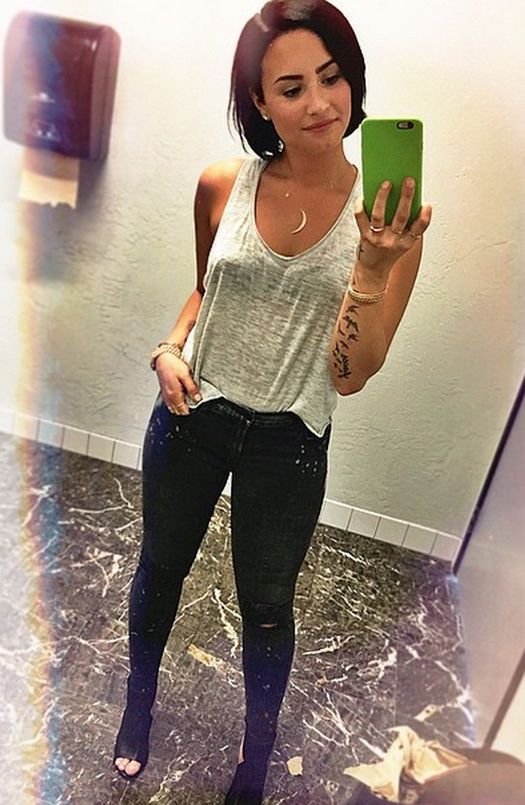 If you're looking for a casual by edgy look, take a stab at this one. Try pairing a flowy tank top with black ripped jeans and a pair of wedges or heels. Finish it off with some simple gold accessories and you'll be ready for a fun night out or maybe even a date.
2. Fall Casual Demi Lovato Outfit for Spring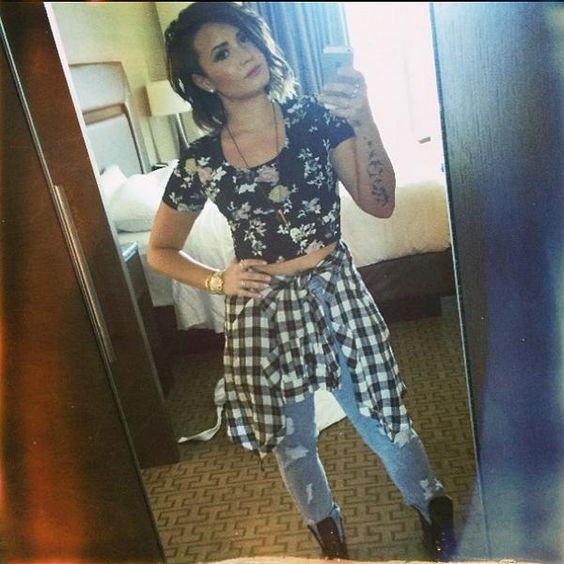 If it's a little colder outside, this second outfit might be better. Pair light jeans with a crop top and boots before finishing off the look with a plaid shirt tied around your waist or worn. This outfit would be great for that transition from summer to fall when it's first starting to get cold out.
3. Dressy Fall Demi Lovato Outfit for Fall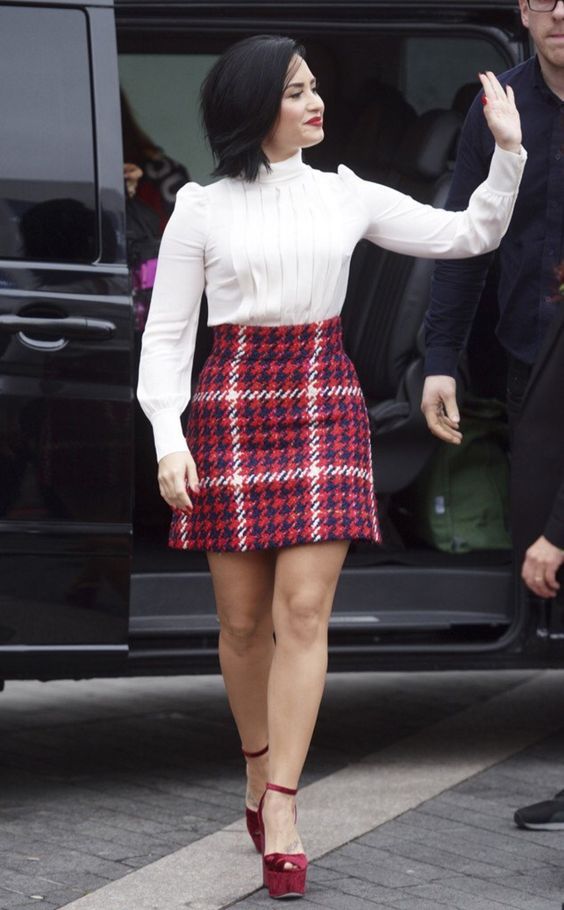 Plaid skirts don't always have to be short and skimpy…exhibit A. Add a dressy blouse to a plaid skater skirt for a dressy look for fall. You could wear either heels like she did or even wear boots. Adding leggings could help if it's a little chillier out.
4. Casual Statement Outfit for Spring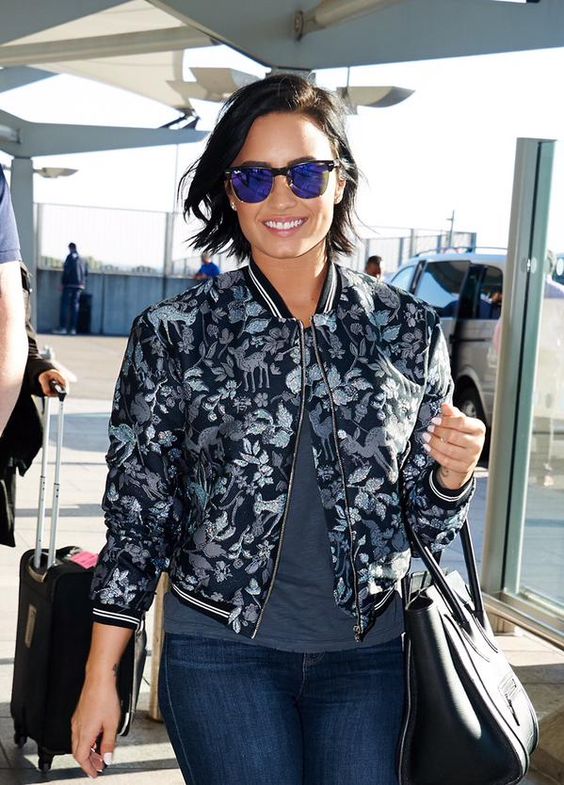 If you're bored of your plain t-shirt and jeans look spice it up by adding a statement jacket. It will take your outfit to an entirely new level and make you look twice as fashionable. You can either stick to a similar color like she did or try adding a completely different color if you're feeling adventurous.
5. Demi Lovato Patterned Jumpsuit Outfit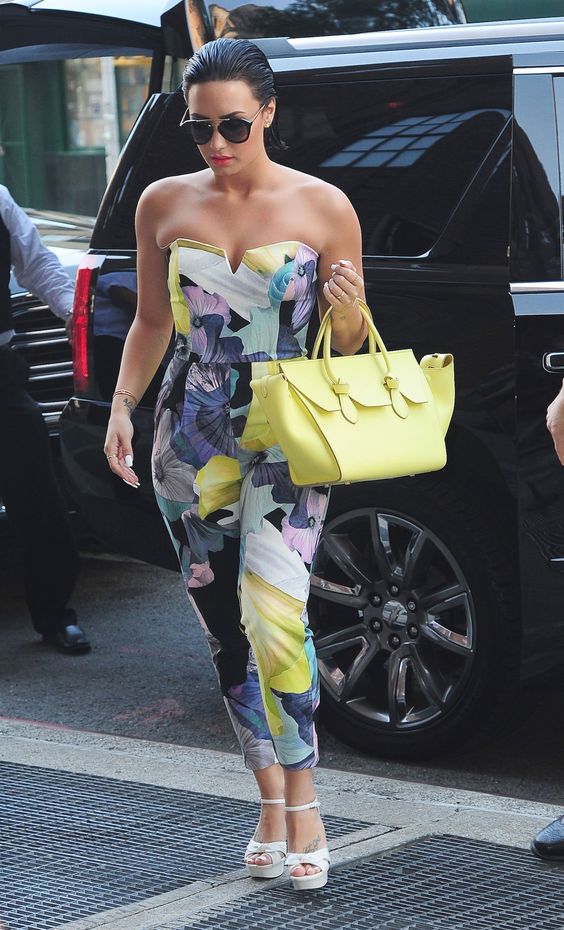 Summer might almost be over, but there's plenty of time to rock a jumpsuit. Demi is wearing a patterned strapless jumpsuit and the pattern is awesome for summer. Finish it off with some wedges and you'll be good to go. It's a simple outfit but the pattern is really what makes it pop.
6. Demi Lovato Crop Top Outfit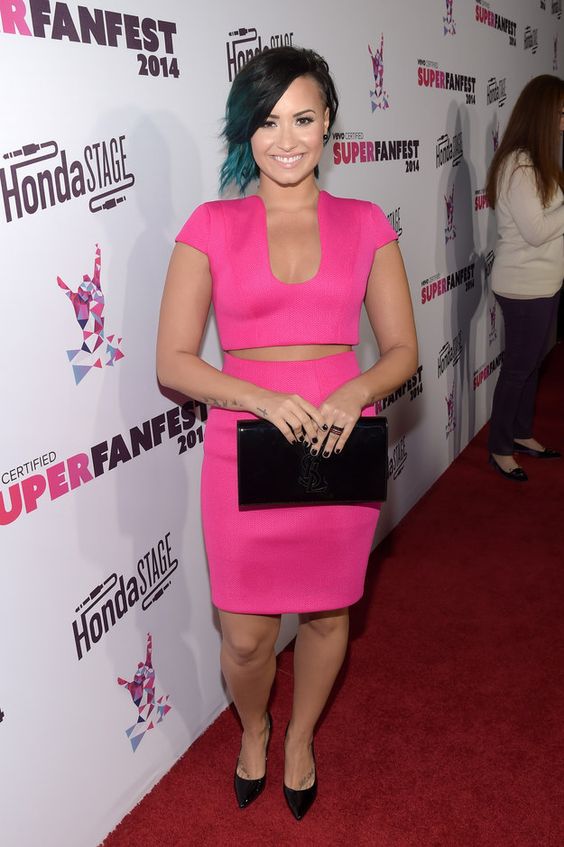 Crop tops are a staple for summer and one that Demi wears often. This time, she opted for a matching pink crop top and skirt which you could easily recreate. Your pieces might not be completely matching, but the look will leave you looking cool for the summer!
7. Demi Lovato Romper Outfit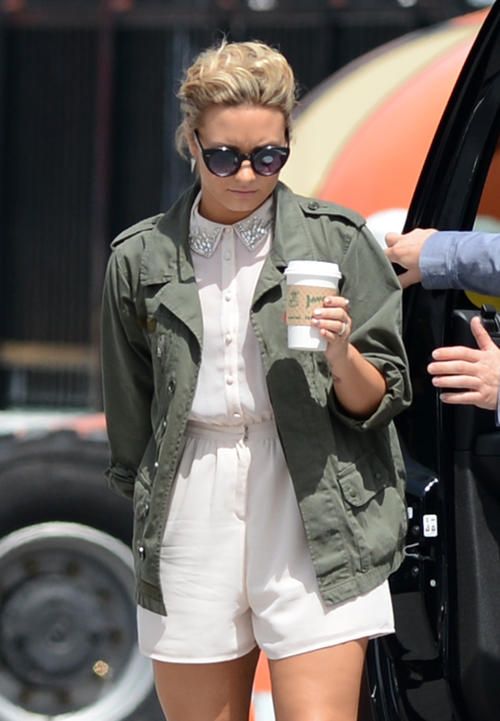 This outfit demonstrates her tendency to mix girly pieces with not traditional girly pieces. The romper is obviously girly but adding the olive green jacket gives it an edgier feel. If you want to recreate this look, wear a girly romper and accessorize it with a leather jacket or an olive green jacket like she did.
8. Flirty Demi Lovato Outfit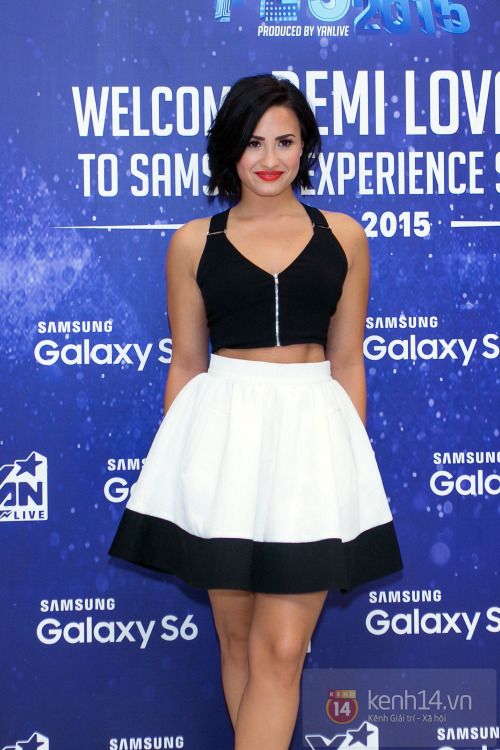 This outfit screams flirty or date night! Wear a crop top with a skater skirt to show off some skin like Demi did. Keep the accessories minimal so you'll be the center of attention.
9. Fall Crop Top Outfit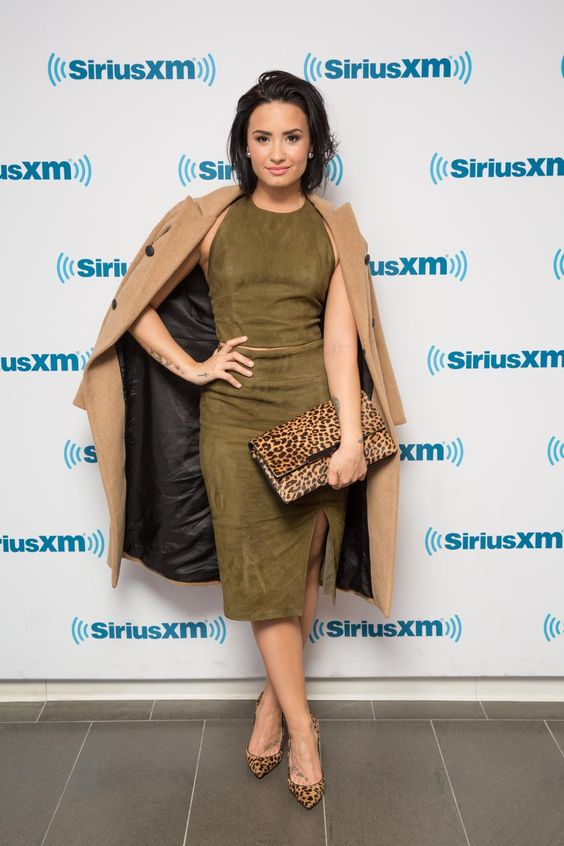 Crop tops aren't just for summer. Wear a darker color such as olive green with a big coat if it's cold outside and add a patterned shoe like she did to make it look a little different.
10. Demi Lovato Boho Outfit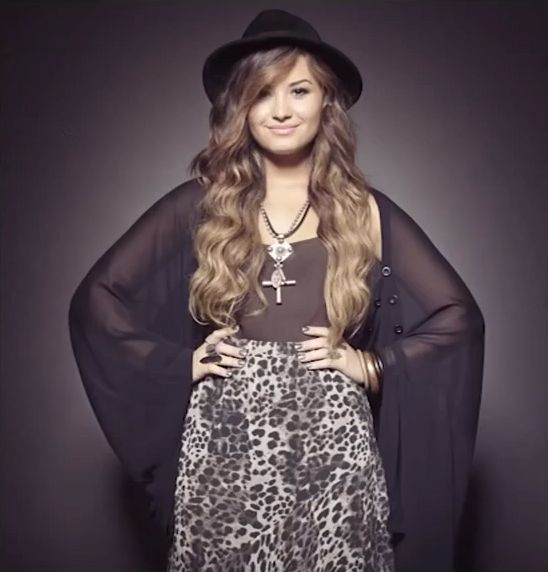 If you have a boho style, then this Demi Lovato look is for you. Start with a plain tank top and add a patterned maxi skirt. Add a flowy cardigan and some accessories such as statement necklaces and a hat. This outfit could be dressed up or dressed down depending on where you're wearing it.
11. Demi Lovato Party Outfit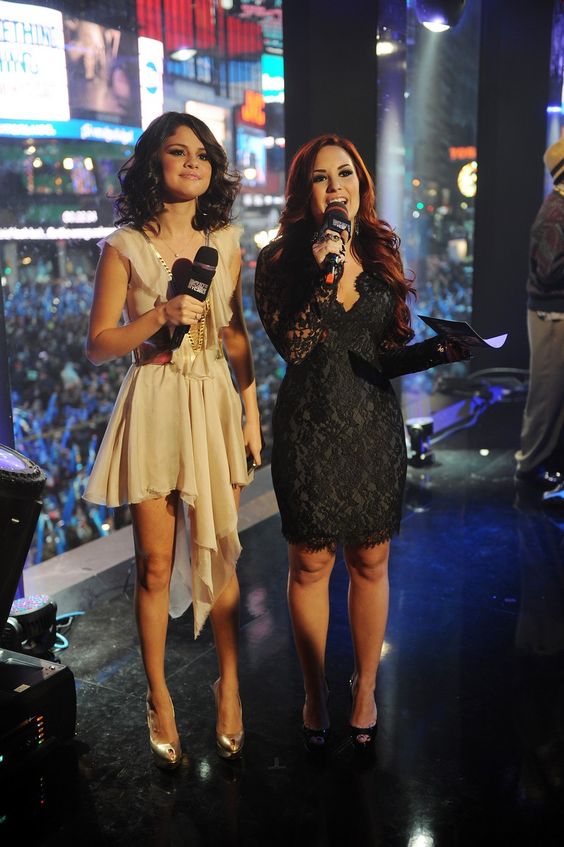 If you have a party to go to or just want a dressy look, then take a cue from Demi and wear a lace dress. This black lace dress is the perfect combination of sexy and sweet. Pair it with some black heels which will slim you down even more if you're looking for that.
12. Demi Lovato Travel Outfit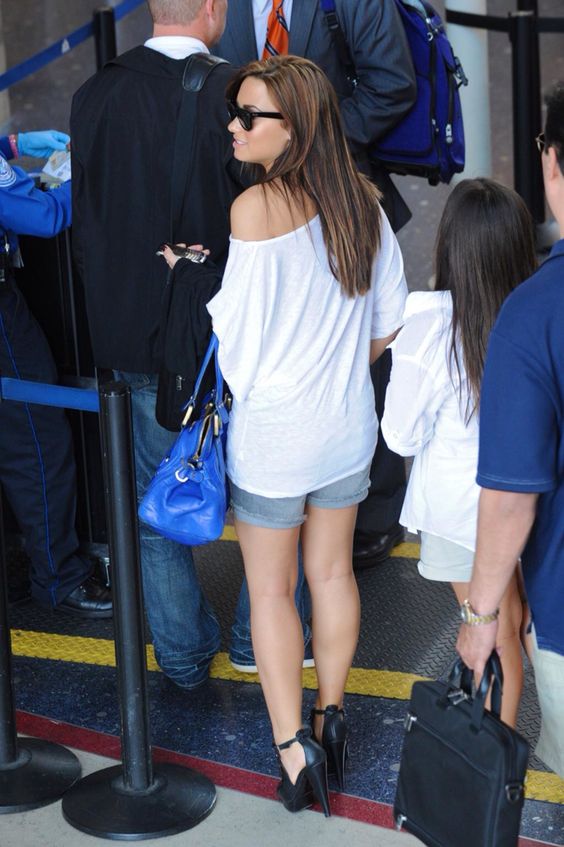 This last outfit is great if you're planning a last-minute summer trip. Demi wore a long and flowy white t-shirt with a pair of gray short shorts and heels. Maybe ditch the heels if you're traveling but I'm sure everyone has a variation of this they could pull out to stay comfy for a day of traveling.
Do you love these styles? Subscribe and get more fashion ideas on prettydesigns.com!