13 Great White Dresses To Wear Before Labor Day
"Don't wear white after Labor Day" has become a tradition in America's history. Even though the tradition isn't followed much today, white dresses aren't typically made for fall fashion. There's something about wearing a white dress in the summer that feels so right. Pretty Designs is here to help you find the perfect little white dress. Here are 13 White Dresses To Wear Before Labor Day.
1. Anni Coco® Women's Classy Audrey Hepburn 1950s Vintage Rockabilly Swing Dress In Classy-White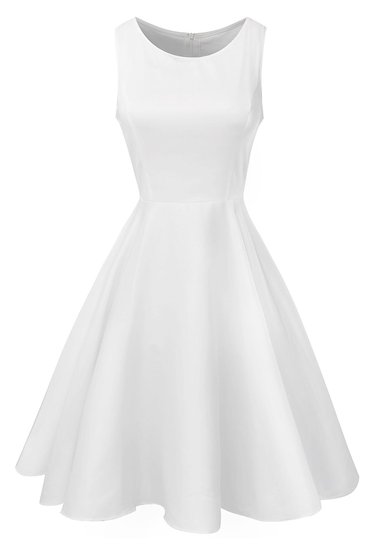 This dress is one of the classic options for this summer. It has the full skater skirt with thicker straps and doesn't really show off that much skin, covering up most of your chest and legs. This dress would be great for a date, maybe going to the movies or even meeting your significant other's family for the first time.
2. Cute White Dressess for Girls – Face N Face Women's Mesh Slim Sleeveless Short Mini Flare Dress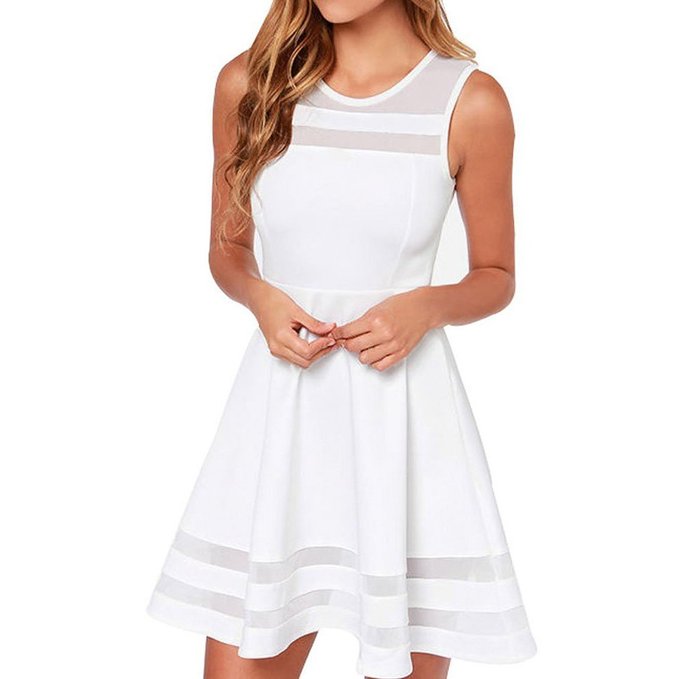 This white dress is the perfect blend of old and new. The length of the dress is definitely an old school touch but the mesh on the top and the bottom of the skirt give it that modern feel. This works perfectly for summer because it can really be worn at any point during summer. It would be great to wear for something slightly formal like perhaps a graduation or even business casual for work.
3. Plus Size White Dresses – POSESHE Womens Plus Size Deep V Neck Bodycon Wrap Dress with Front Slit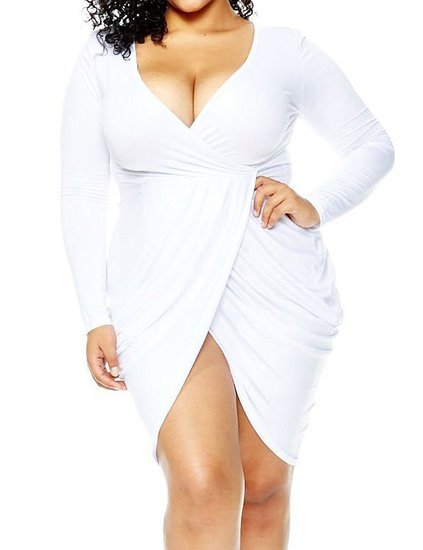 This dress is for the plus-sized ladies out there. One of the complaints about plus-sized wear is that everything is made to baggy and isn't sexy. However, this dress is the exact opposite. While it has sleeves, the top opens in a huge V shape to show off your cleavage and is really short, coming up to mid-thigh. This dress will hug your curves perfectly and showcase how sexy you truly are.
4. Chic White Dressess for Women – Fancyinn® Women Sexy Backless Spaghetti Strap Floral Print Short Mini Casual Dress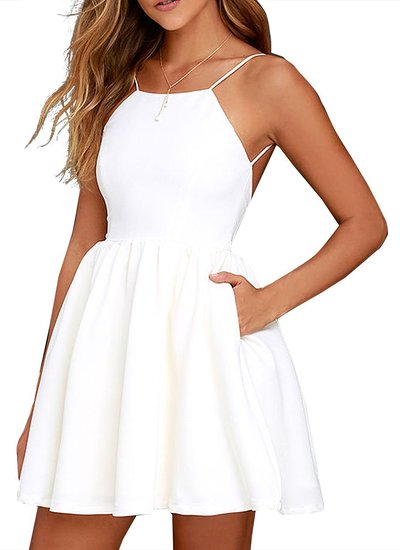 This dress is so trendy right now. It starts at the top with an almost sleeveless look with the small straps on the side and then flows out into a skater skirt. This dress is backless and even has pockets which almost every girl loves in a dress. This dress would be the perfect one to wear if you're going on a beach date especially if you paired it up with some simple jewelry and sandals.
5. Zkess Women's Solid Sleeveless Club Lace Vintage Dress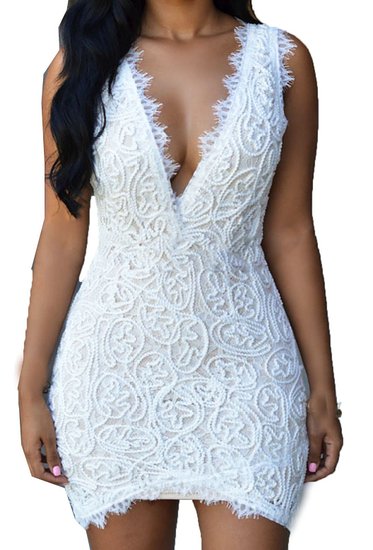 This is another sexy option for white dresses. The dress was made to show off your curves especially with the deep V-cut in the front and the short length. If you're looking for a sexy white dress to go out in, this one is for you.
6. Women Deep V Short Mini Cocktail Lace Evening Formal Bridesmaid Prom Dresses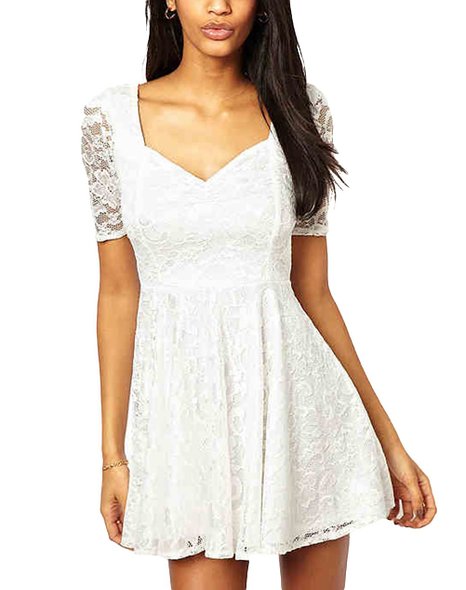 While the previous lace dress was sexy, this one is more modest. It has lace all over including the sleeves and is pretty loose-fitting which is great for the summer heat. This dress could honestly work for a lot of different occasions because you can really dress it up or dress it down.
7. E.JAN1ST Women's Spaghetti Strap Dress Low V-neck and Low V-back Long Maxi Dress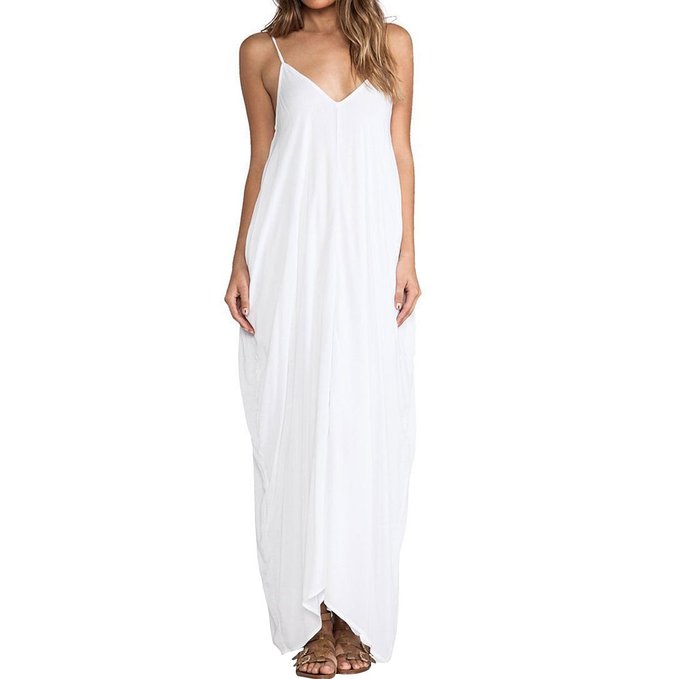 Maxi dresses are so simple because they're so effortless. This dress is no exception but instead of having just the low-cut in the front, it also has the low cut in the back, giving it a sexier feel. This is another dress that can be dressed up or dressed down, depending on the occasion.
8. OURS Women's Summer Sleeveless Chiffon Pleated Cocktail Party Dress With Belt In White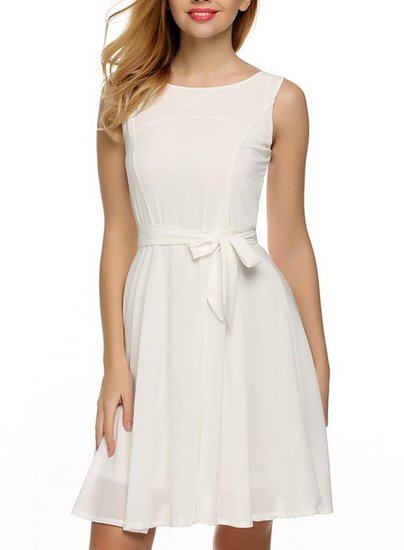 This dress screams summer. It's made for very thin and loose material has the thicker straps at the top and hangs loosely from the waist down, complimented perfectly with the belt in the middle. This dress would be great for a dressier summer barbecue.
9. Persun White Cold Shoulder V Neck Asymmetric Cami Mini Dress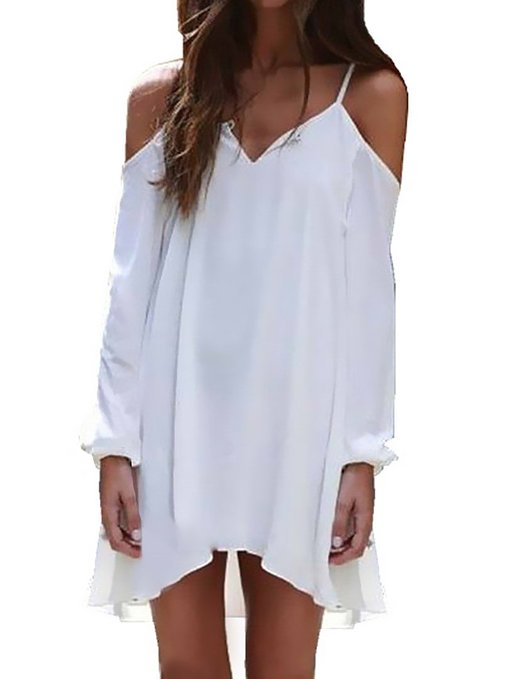 This dress is fun, flowy and sexy. This dress is very open and shows a lot of skin which would be perfect for a really hot day or if you're planning on sneaking out to the beach at night.
10. Beachcoco Women's Maternity Knee Length Sleeveless Lace Dress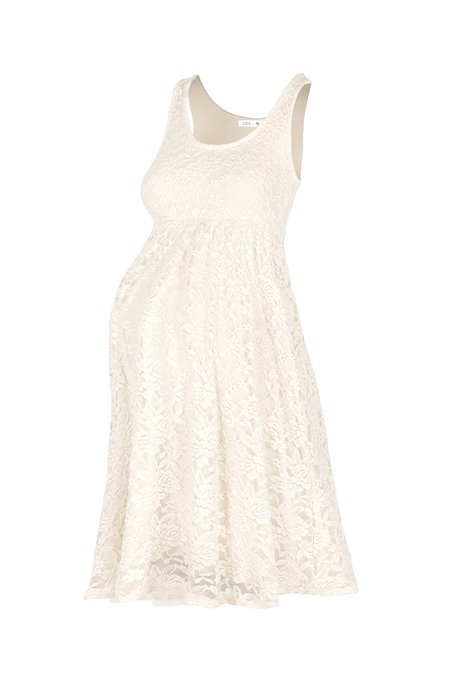 Being pregnant in the summer has to be difficult, but this dress might make it a little bit more bearable. It's white and lacy, giving the dress a more feminine touch and is a maxi dress so if you can't shave your legs, then no one can see anyway. It also has thicker straps which will help support you and your belly.
11. Ausom Womens Sleeveless Summer Party Jacquard Vintage Vest Dress Gown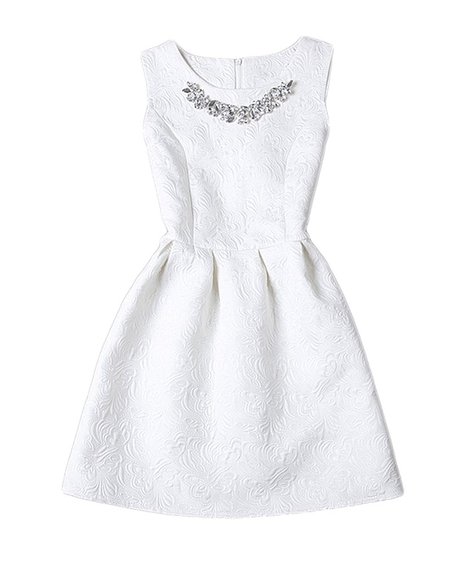 This is another formal dress option. The patterns on the dress are unlike anything else on this list and it has a higher neck which is really trendy right now. The embellishment at the top of the dress give it a dash of sparkle, but doesn't outshine it.
12. Elady White Sweet Scallop Pleated Midi Dress Women Elegant Evening Party Cocktail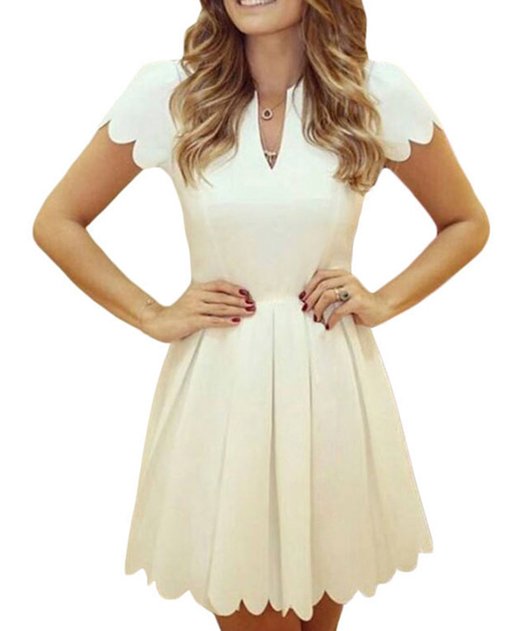 This dress is for someone who wants to wear white but doesn't want to wear white all over. This dress starts off with white at the top before gradually fading into a tan color. The sleeves and skirt of the dress have the same floral-like pattern and the neckline shows just enough skin if you're looking for a more modest cut.
13. Classic Party Dress – Enlishop women Sleeve Shift Fit Flare Evening Party Knee Length Dress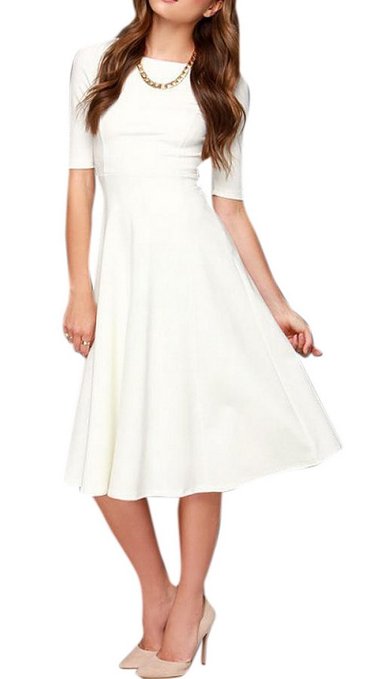 White party dresses – If you're looking for a classic party dress, this one is for you. It's very similar to the first dress on the list because they have all the same features except this one has sleeves. This dress is an example of how some trends never get old.
Do you love these dresses? And here are more outfit ideas for summer, check them out here!