15 Cool Styles with Leather Jackets
How to make a pretty fall outfit? It is easy and versatile for girls to have a leather jacket. Leather jackets will not only bring a pretty to girls, but also keep warm. There are ways to glam with your leather jacket. Though you have only one leather jacket, you can pair it in fashionable ways. This fall, let's wear leather jacket to pop up the season.
Leather Jackets can make a cool look as well as a pretty look. You will benefit from some useful pairing tips. In the post, you can find different ways to have a great look for the season. You can make a combo by following the styles below. From long pants to short skirts, you will find one of the staples to pair the leather jacket look.
More pairing ideas are shown in the post. Check them out right away.
Leather Jacket and Ripped Jeans
She looks super cool in the color blocked leather jacket. The  outfit is not dull because of the stylish collar of the jacket and the crop top.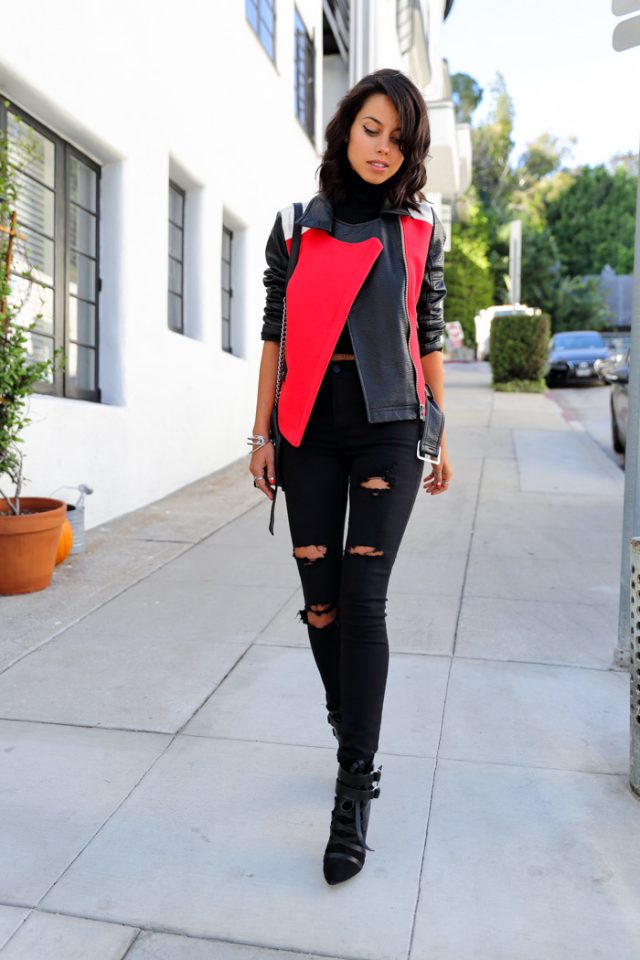 Black Leather Jacket and Pink Skirt
It is a great combo with both dark color and light color. When winter comes, why not take this look to warm your street look.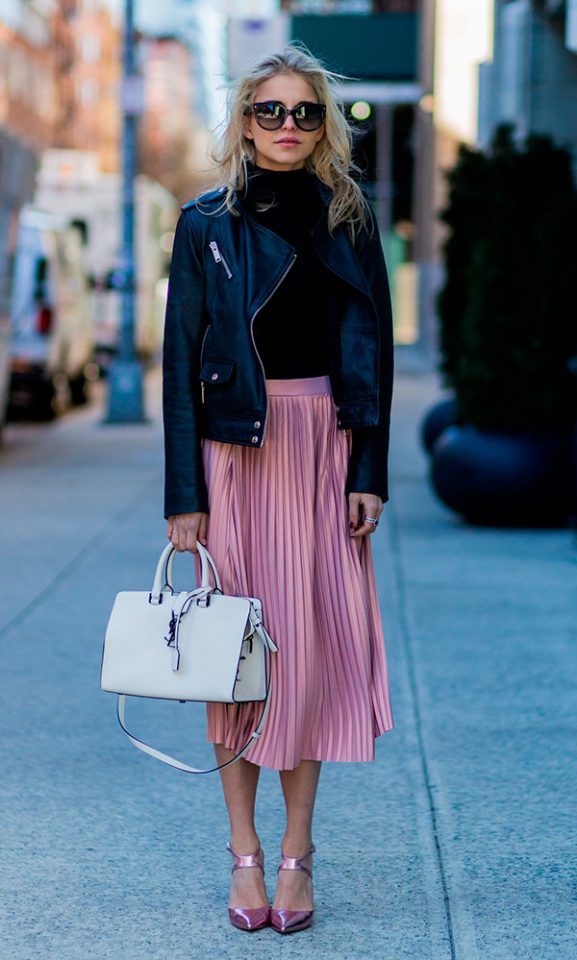 Studded Leather Jacket and Studded Skirt
It is an all-black outfit. The black jacket looks cool with studs and the studded skirt can make longer leg lines.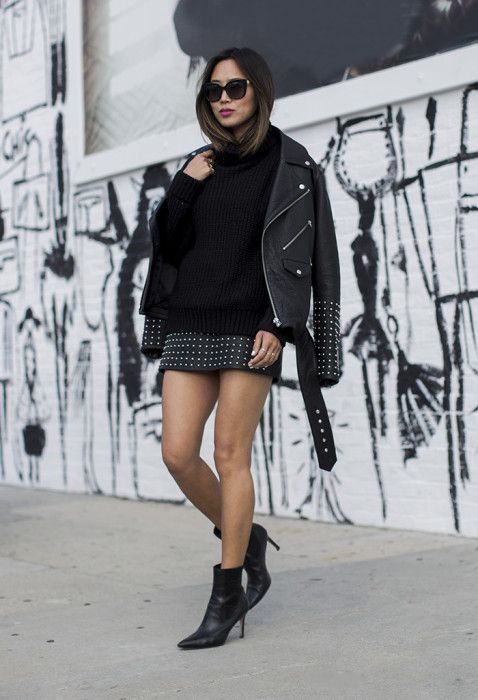 Camel Leather Jacket and Black Pants
You don't like leather jacket in dark colors? You can choose a light colored one. Pair it with great t-shirt and black pants.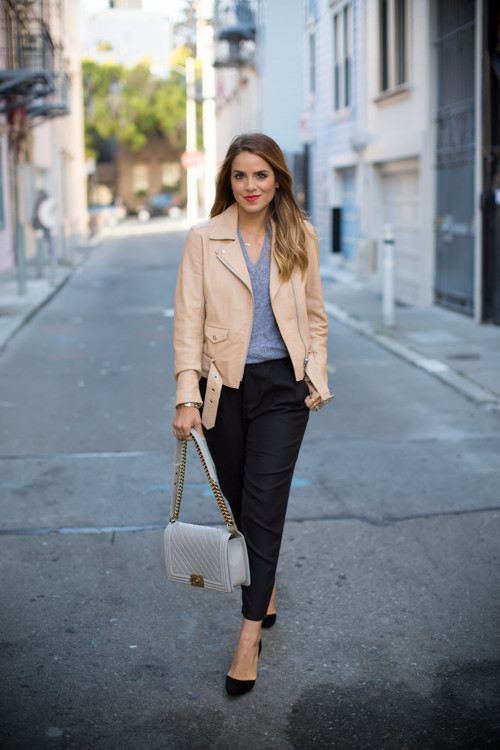 Black Leather Jacket, Ripped Jeans and Boots
It is a casual outfit for weekends or car trips. Put on all the staples and style a curly hair. Choose a berry lipstick to upgrade the whole look.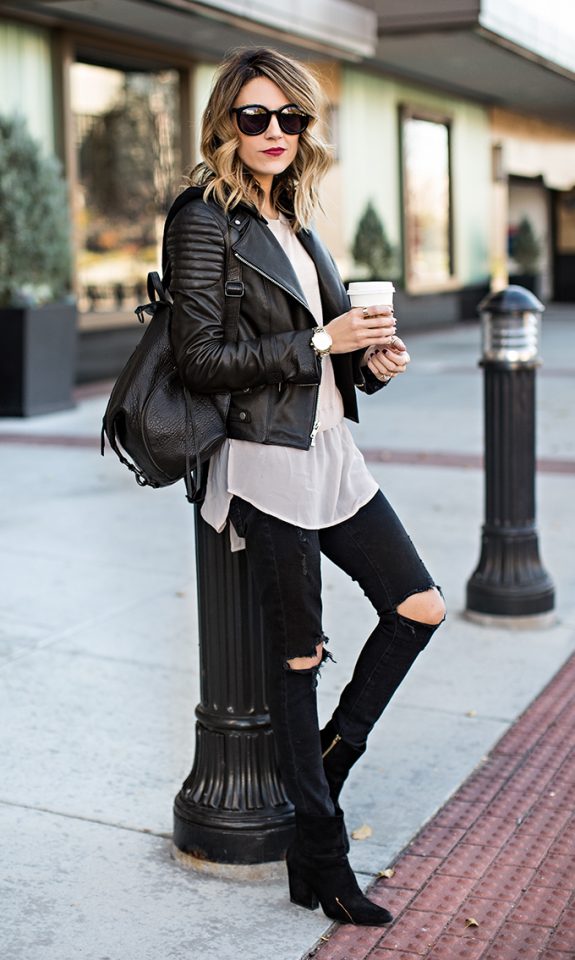 Black and White Outfit with Leopard Loafers
Do you feel too simple to take black and white outfit? If you say yes, you can step on a pair of leopard shoes.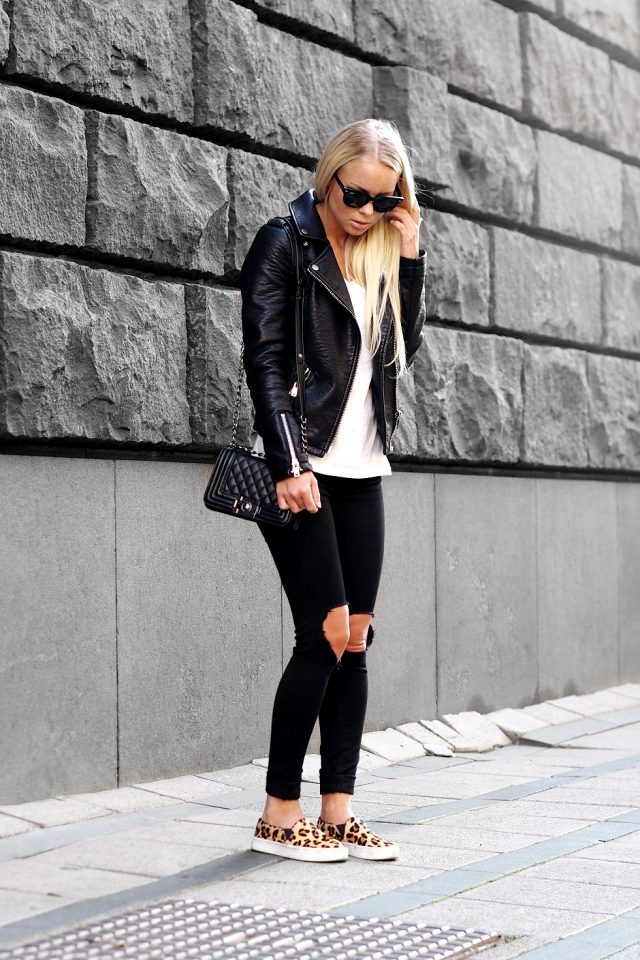 Deep Yellow Leather Jacket and Dress
Have you ever thought of pairing your night dress with a leather jacket? If you don't, try the look next time.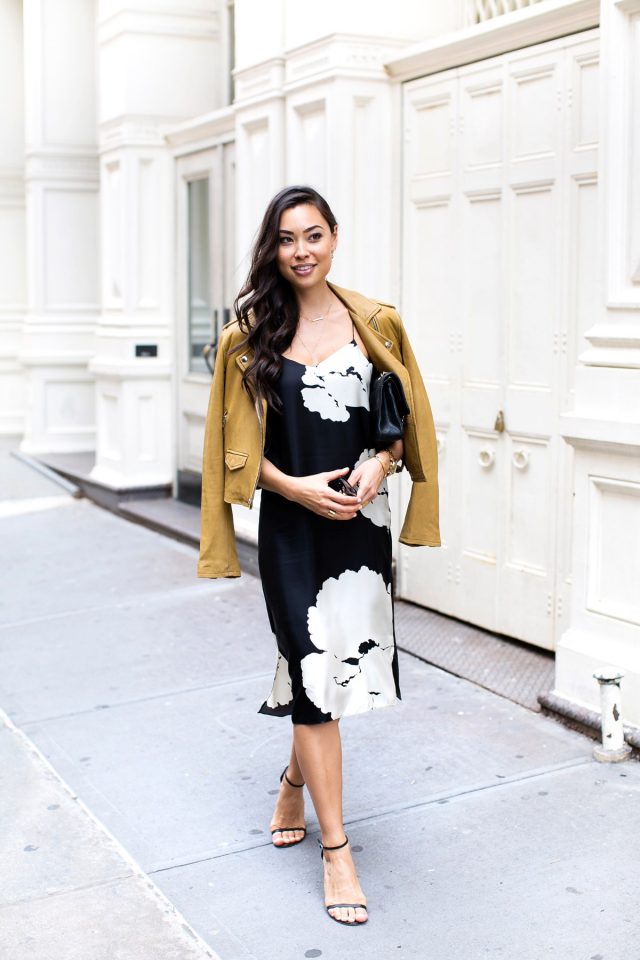 Black Leather Jacket and Flare Pants
If you want to go simple, you can take the look.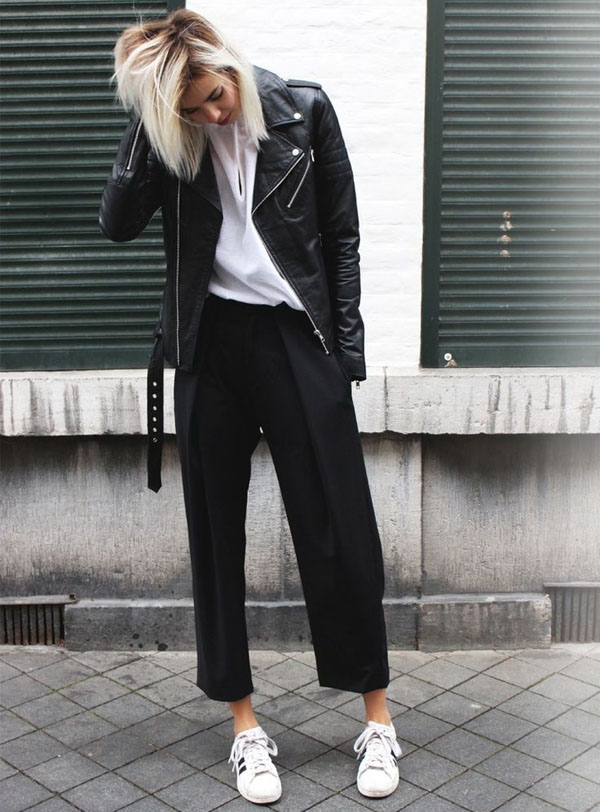 Black Leather Jacket, Ripped Jeans and Sandals
Leather Jackets can go well with skinny jeans as well.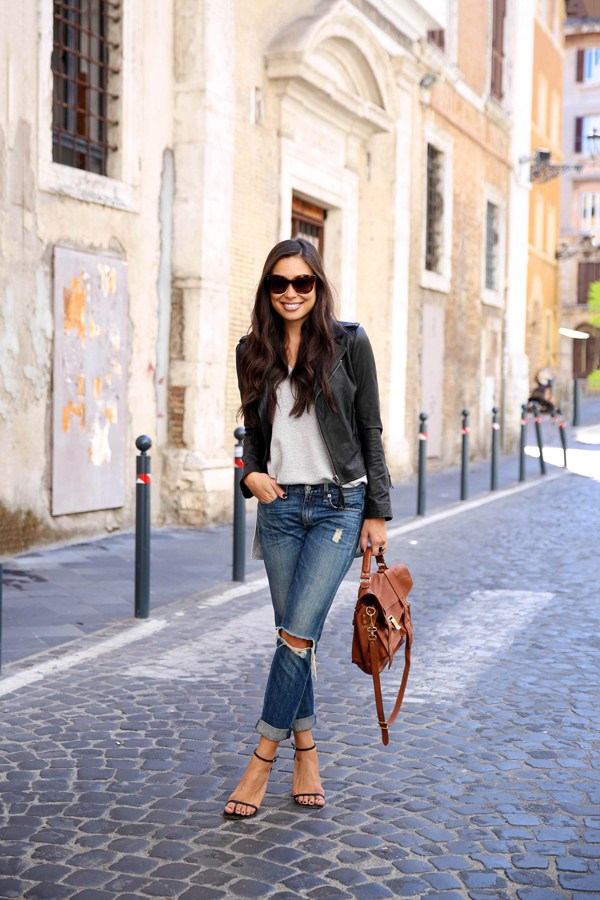 Leather Jacket and Plaid Skirt
Long leather jacket will sihluette your body and pair your pencil skirt well.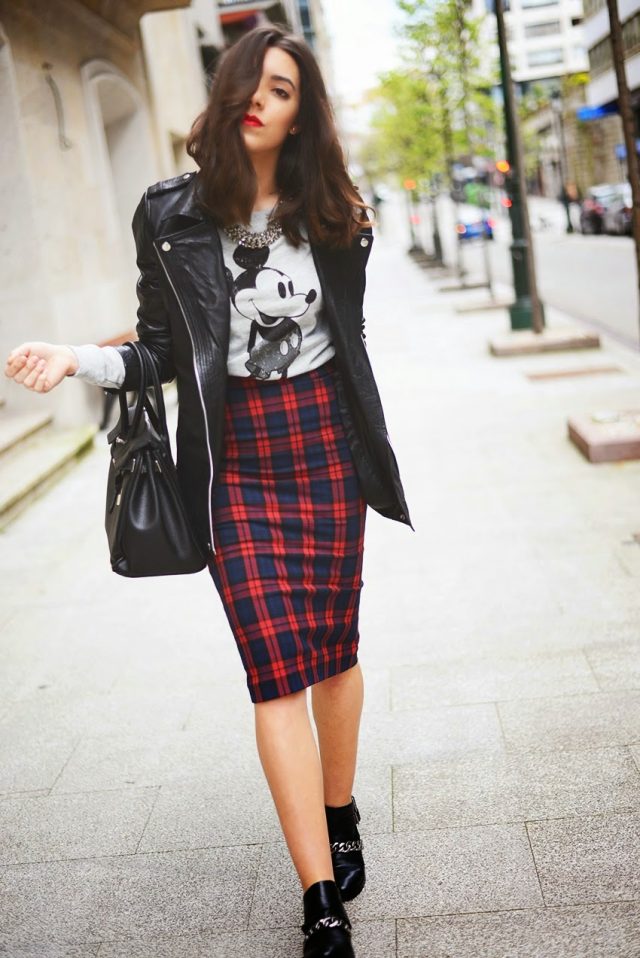 Leather Jacket, Cute T-shirt and Rolled Jeans
It can be cute with a leather jacket sometimes.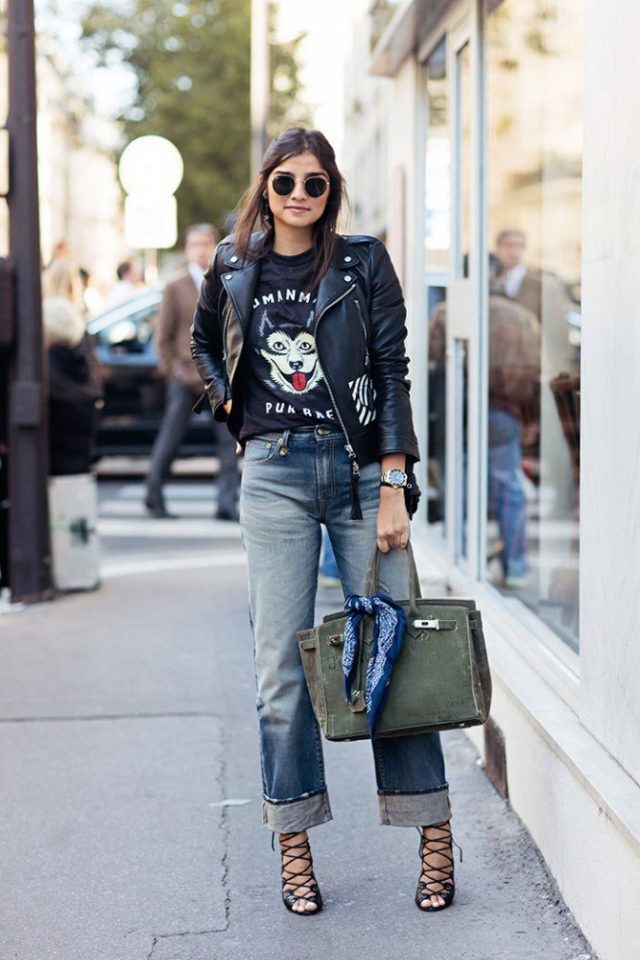 Black Jacket and Striped Pants
Feel free to wear your black jacket in winter or fall.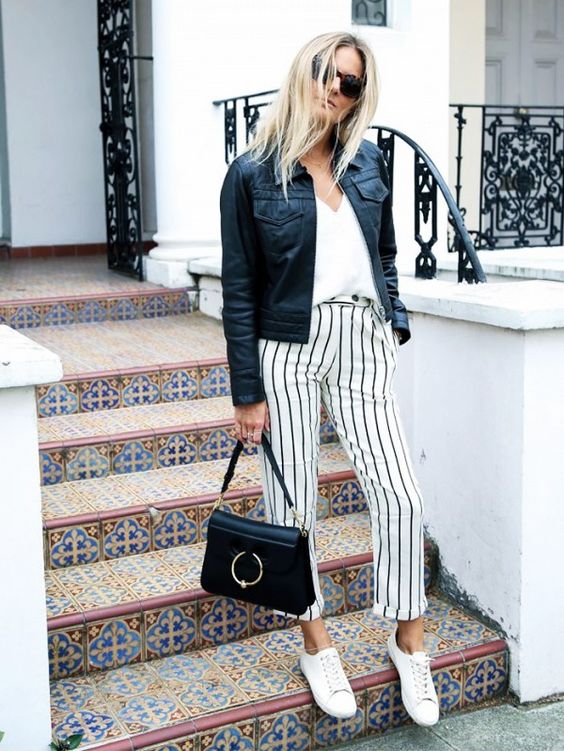 Black Outfit and Plaid Scarf
Don't be afraid to wear all-black outfit. Bright color accessaries can help you out.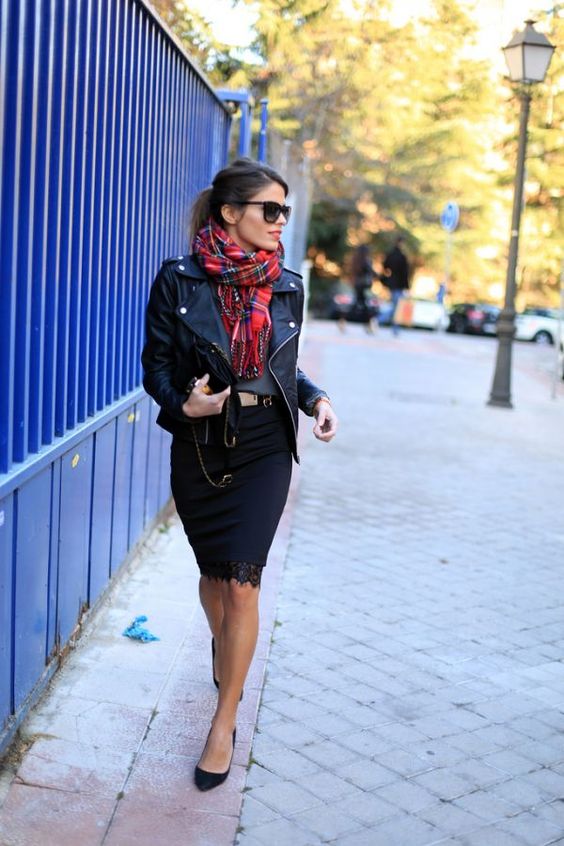 Black Leather Jacket, Red Skirt and Black Boots
You will not go wrong to wear leather jacket and pencil skirt.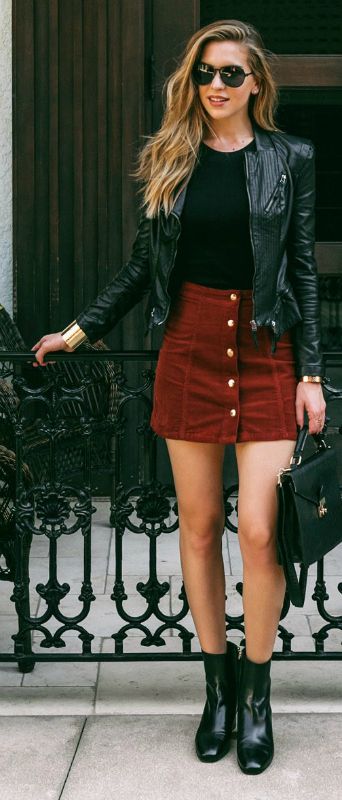 Black Leather Jacket and Turtleneck Sweater
The outfit is great for winter. Turtlenck sweater can keep warm while black leather jacket will bring a cool look.