20 Hottest Haircuts for Men 2024 – Cool Guys Quiff Hairstyles You Can Try!
Since the rock and roll era of the 1950s, barely a year has gone by where the quiff hair cut hasn't been one of the biggest trends in men's fashion. This enduring hairstyle is surprisingly simple for something so striking. All it involves is brushing the front of the hair upwards and back, away from the forehead. This is usually achieved using a little bit (or maybe even a lot) of product to enable height and make it stay in place. Considering the quiff is so simple and effortlessly cool, it's hardly surprising that it has remained at the top of the style stakes for so many decades.
There is plenty of room to experiment with quiffs and they can look totally dashing on just about every type of man. With this in mind, you can rest assured that you'll definitely find the ideal quiff hairstyle for you and there is no excuse not to try it out as your new look. Here are some of the best and fanciest modern quiffs for men, enjoy.
The Teddy Boy Quiff
Here is yet another example of how great a fifties throwback quiff can look on the modern man. This hairstyle is all about the texture on top and looks totally touchable and trendy.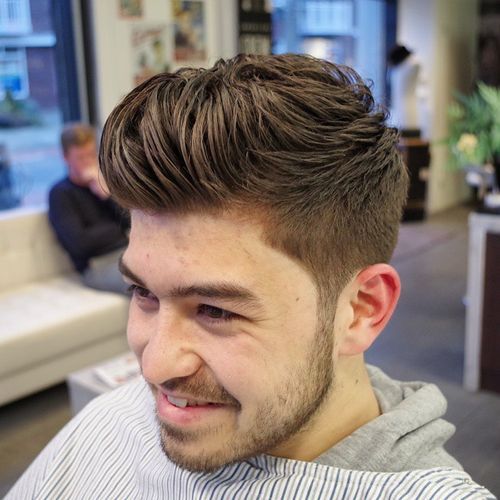 The Perfect Shape – Cool Haircut for Men with Thick Hair
Keep the sides of your hair closely tapered but the top as long as can be to recreate this look. You might need a whole lot of time and even more hairspray to get the silhouette of your hair as perfect as this, but once you do, you'll find that it's been well worth the effort.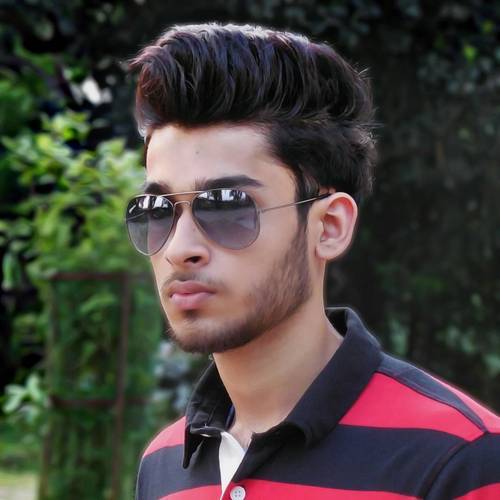 Long Quiff – Cool Stylish Haircut for Men
Who wouldn't love to look as devilishly handsome as this male model? All you need to do to steal this style is keep your hair quite long and wax it back into an effortlessly cool quiff. You could even go the extra mile and add few blond highlights to the front.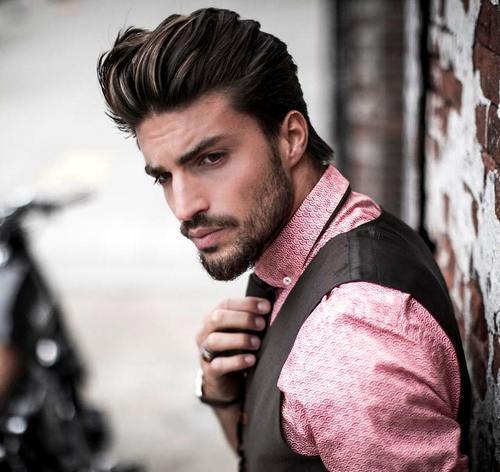 The Modern Quiff – Trendy Guys Hairstyle
We love the retro vibes that quiffs can give; however, today's trends are all about looking rebellious and carefree. You can combine the best of both worlds by trying out a super long, spiky and pushed forward quiff like this one, complete with a gradual fade.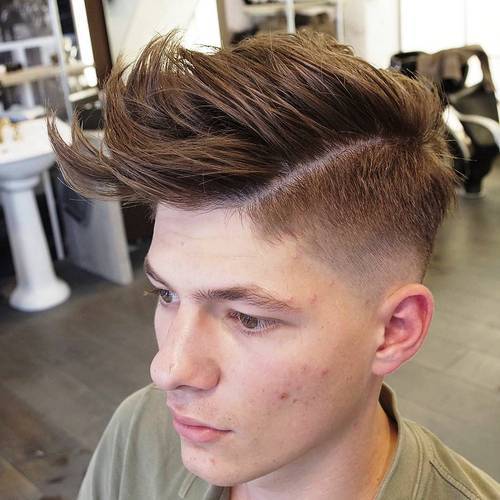 Extra Volume – Stylish Hairstyle for Young Men
When it comes to quiffs, we say, the bigger the better. This super pumped up, slightly feathered quiff with tapered sides has a rocker edge to it and is a guaranteed way to be the centre of attention.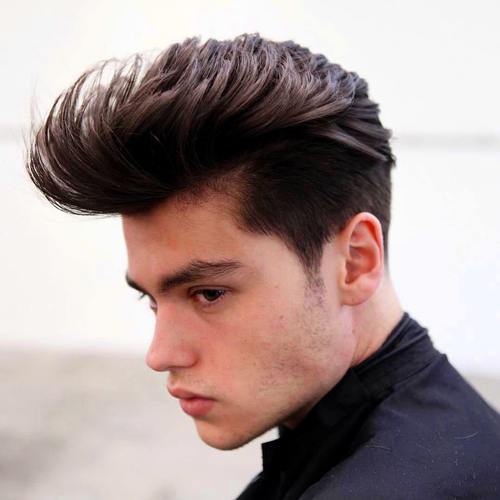 Rock Star – Hot Haircut for Men
The classic quiff is a flipped up hairstyle which is longer on top and shorter on the sides. This is an example of exactly that, complete with perfectly textured brown hair and some rock star stubble.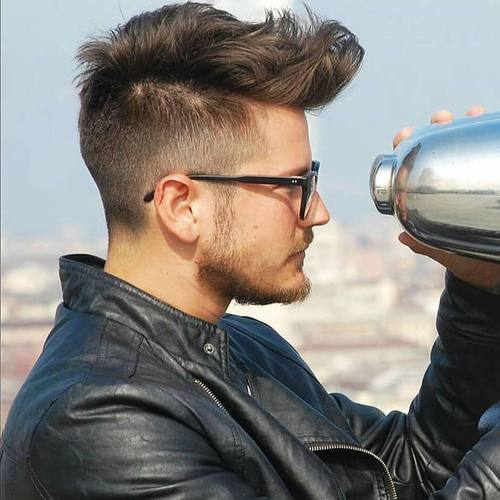 Short Quiff – Cool Short Haircuts for Men
Not all men like the idea of venturing into the world of long (ish) hair. If this sounds like you and you don't want to deal with the effort that big, voluminous hair requires, don't worry, you can still rock a quiff. This short choppy haircut is easy for any man to handle, but just a tiny touch of product in the front will transform it into a cool quiff.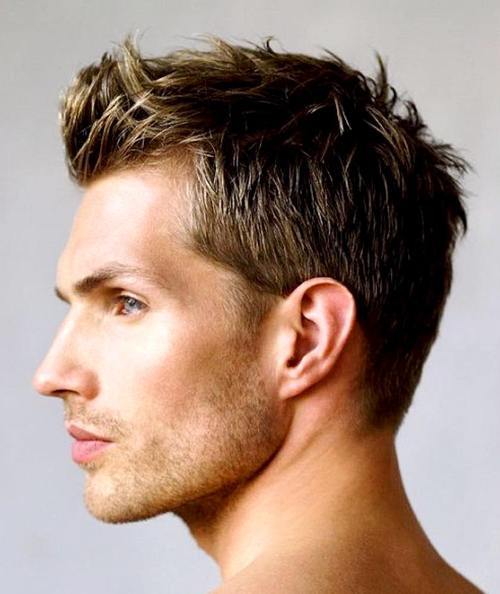 Rockabilly Pompadour  for Men – Men's Elegant Hairstyle
It doesn't get much cooler than this James Dean inspired pompadour. The height and slicked back styling of this pompadour reminds us of rocking fifties greasers. Try this retro hairdo out for yourself if you want a sexy new look.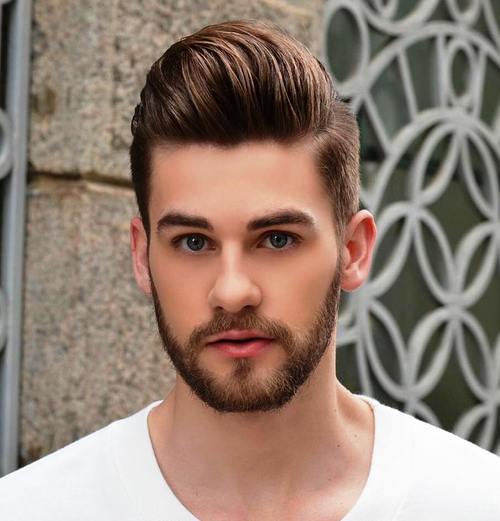 Tousled on Top – Easy Haircut for Guys with Glasses
There's something very romantic about this windswept quiff. Keep the hair on top a lot longer than the sides and style it in a carefree, relaxed way to recreate the look.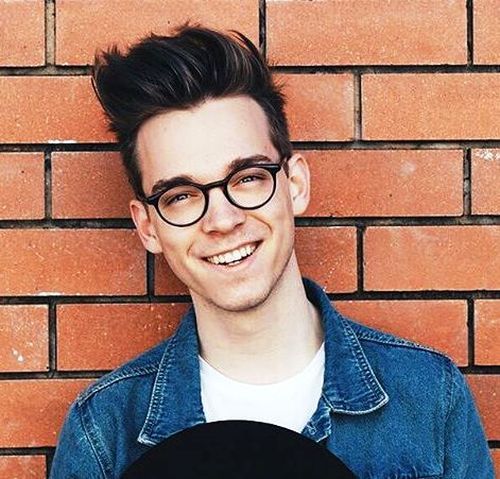 The Faux Hawk for Men – Men's Stylish Short Haircut
This Mohawk inspired quiff, also known as the faux hawk, is completely cool and edgy. The sides are closely clipped and the hair on top is styled upwards into a fashionable flip. This haircut looks especially great with a full beard.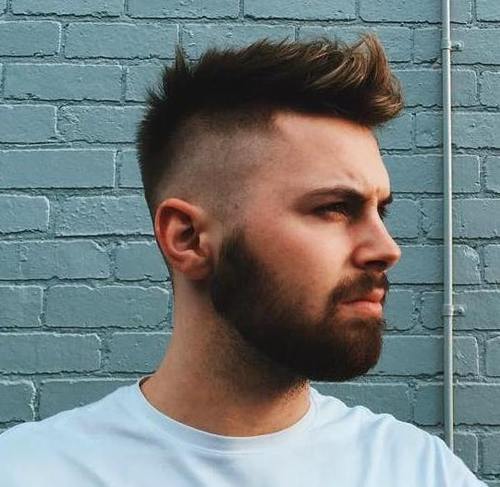 High and Straight Haircut for Men with Short Hair
Looking for a way to look chiseled and dashingly handsome? This golden blonde hairstyle, pushed straight up into a 'Prince Charming' style quiff is the perfect way to do exactly that.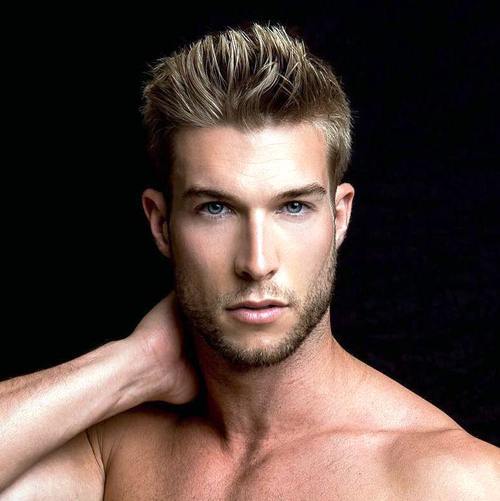 Silver Fox
Silver hair is an unlikely, but huge, trend right now. If you're a cool follower of fashion looking for an edgy new look, try turning your quiff an icy shade of silver like this.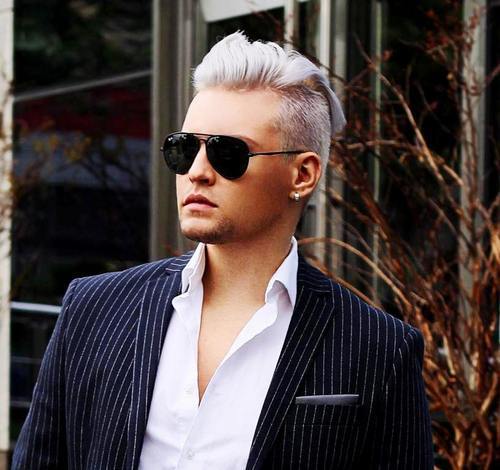 Messy Quiff – Trendy Haircut for Men with Short Hair
Keep it tousled and scruffy by playing around with this carefree quiff and faux hawk combination.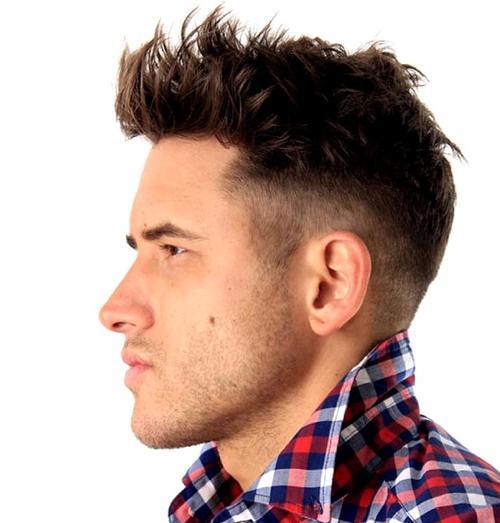 Combed Up – Men's Stylish Hairstyle
This perfectly coiffed hairstyle is everything a good quiff should be; combed up, high, slightly tousled and completely handsome. If your hair is as thick and lustrous as this mans, you should definitely try this.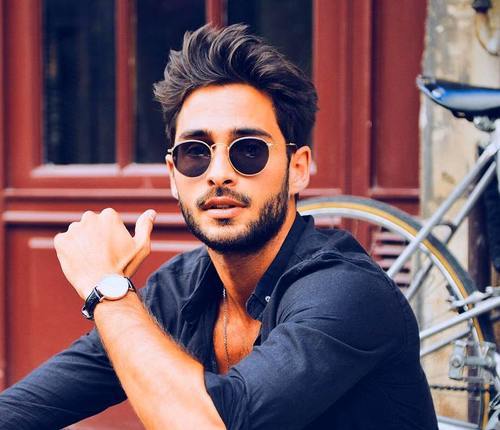 Neat and Tidy
You can keep your quiff as neat and trim as you like by wearing your hair closely cropped and spending a little bit of time making sure the flip is as sleek as can be.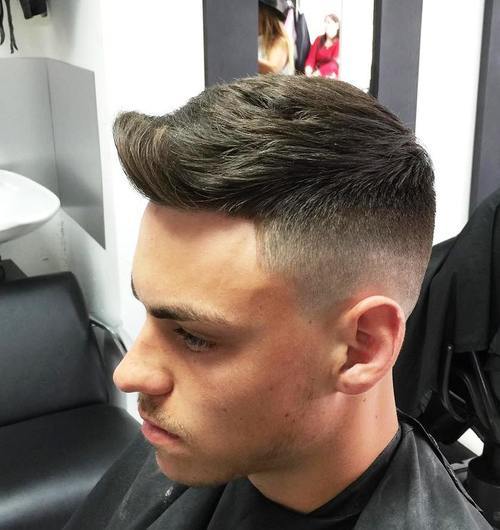 Blond Layers – Elegant Hairstyle for Guys – Hairstyle for Prom
Here is another example of just how neat and tidy your quiff can be made to look. There is something very boyish about this handsome haircut and it will look excellent at any formal occasion.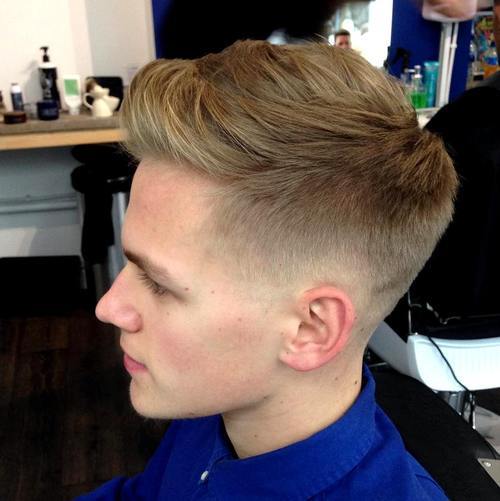 Perfect Fade – Easy Daily Haircut for Men
This haircut is all about the severe fade. The hair on top has been kept conservatively short and it soon disappears down the side into a cool shaved style.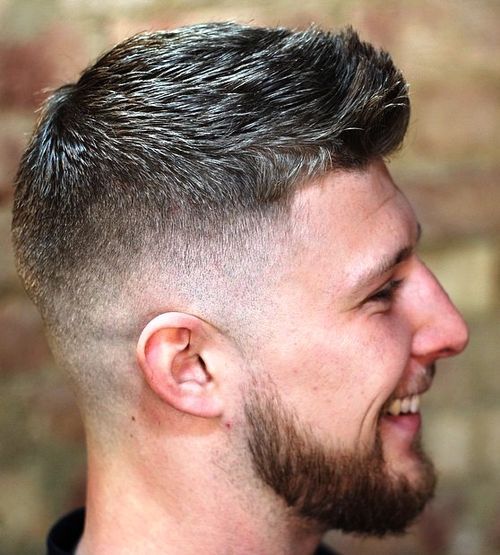 Severe Spikes – Cool Spiked Haircut for Men
Combine the vintage charm of a quiff and the edginess of a modern spiked hairdo by emulating this style. The sharp spikes which run throughout the hair look incredibly cool.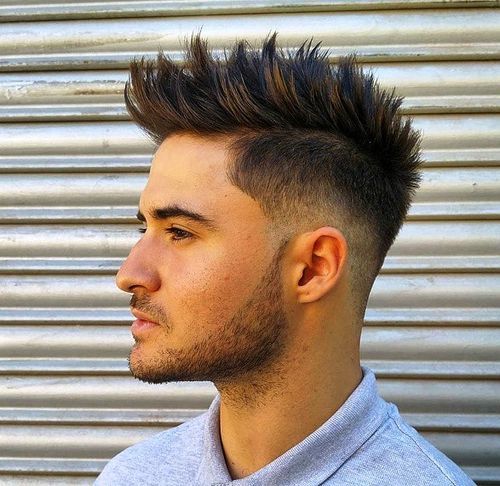 Scruffy Quiff – Hot Haircut for Guys
If you like the idea of looking like a slightly bohemian artist or musician, this haircut will certainly suit you. There is just a subtle quiff in the front and the rest of the hair is deliberately disheveled. The stubbly beard finishes this look off perfectly.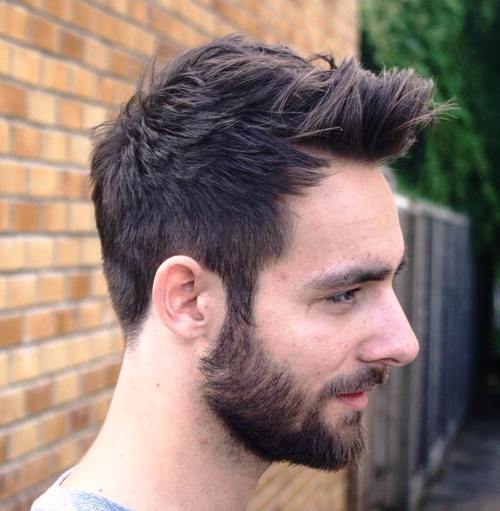 Slick Pompadour
This is a thoroughly modern take on the pompadour style. Somewhere between a Mohawk and a quiff, the small amount of hair on top has been slicked back with wax and the sides have been flattened down to create a neat look.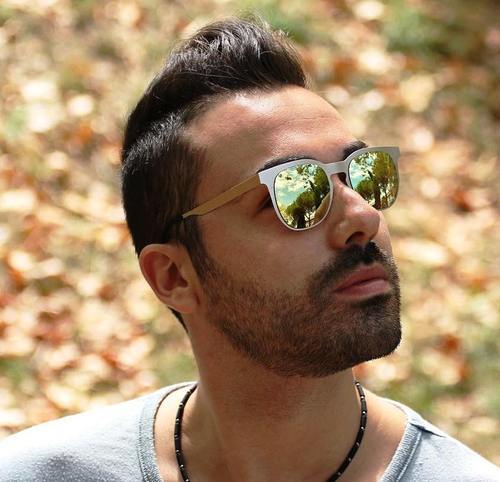 Do you love these men's haircuts? Find more cool stylish hairstyles on prettydesigns.com!