22 Great Braided Updo Hairstyles for Girls
Braided updo hairstyles will work greatly on medium length hair and long hair. From the casual braided ponytail to the classic French braid updo, you will always have a way to create a fabulous braided hairstyle depending on the occasion. Besides, the updo hairstyle can be created high above the crown or in a lower position at the neck and it will definitely make you look stunning. Scroll down to find 22 great braided updo hairstyles for girls right here!
Ballerina Bun Updo Tutorial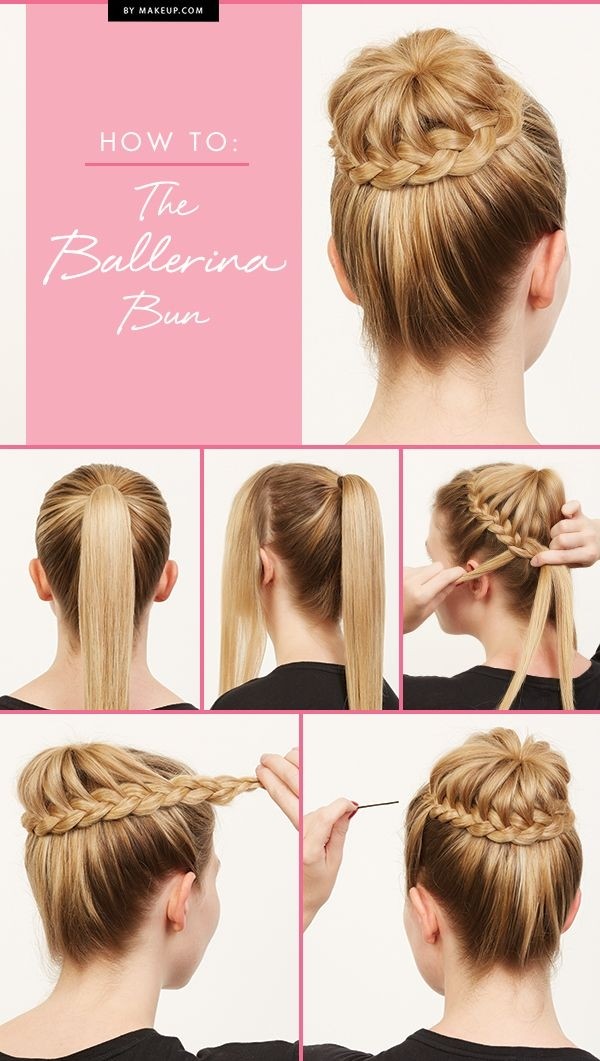 The classic ballerina bun will look very elegant for pretty girls. To make this hairstyle, you should first keep your long tresses in a good condition.
Braided Updo for Wedding Hairstyles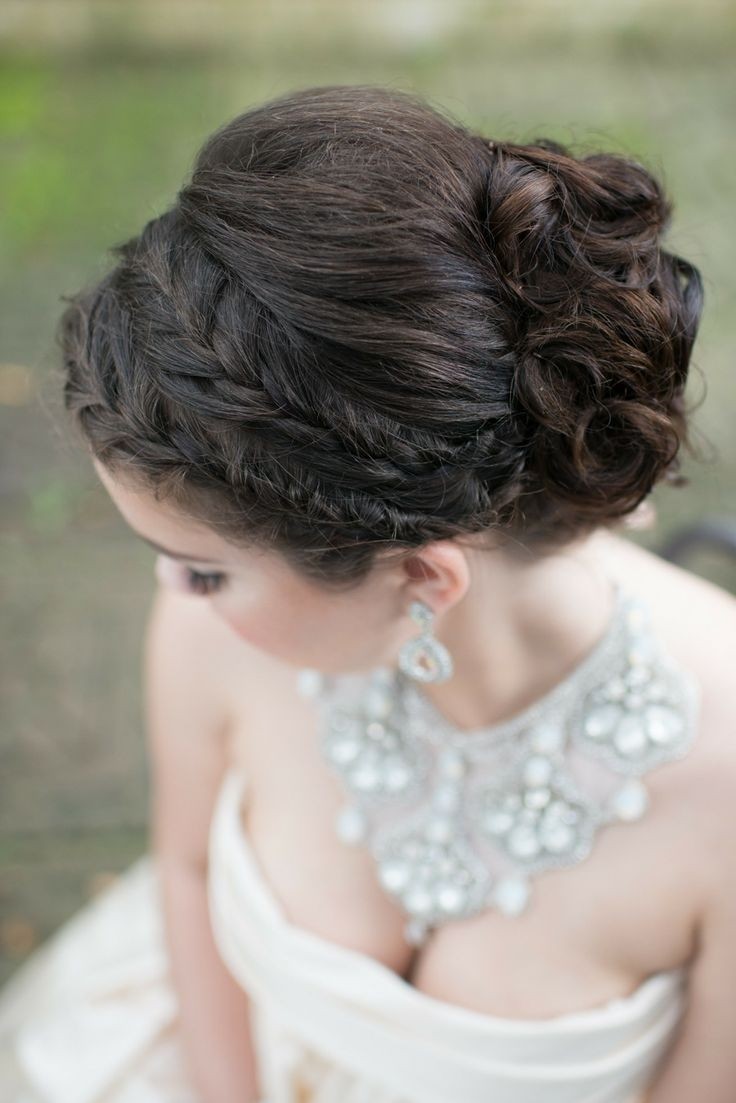 It would be a great idea to make the long front layers into braid for glamorous wedding hairstyles. The rest of hair is styled into tight curls to complete this look perfectly.
Double Braided Updo for Medium Hair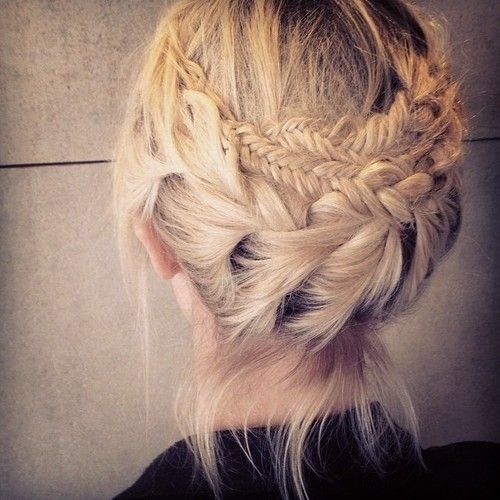 This hairstyle is a perfect combination of the Dutch braid and fishtail braid for girls. It is created in a slightly tousled shape with wispy hairs throughout.
Crown Braided Updo Hairstyle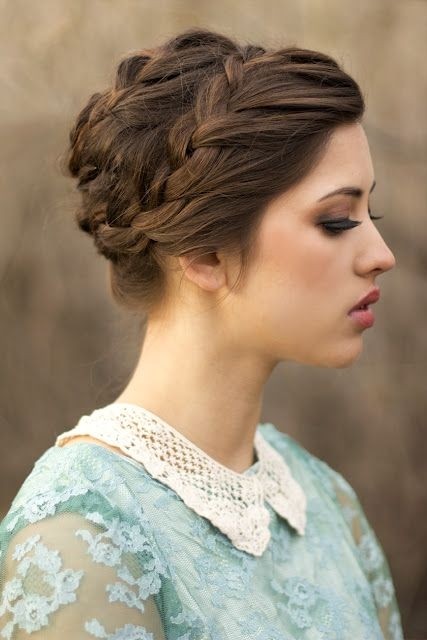 The crown braid bun appears more alluring when created on brown hair. This hairstyle will look better on round and oval face shape for girls.
Double Braided Updo Tutorial

This double braided bun looks very chic on sleek straight hair. This hairstyle is great for special and formal occasions.
Dutch Braid Updo Hairstyle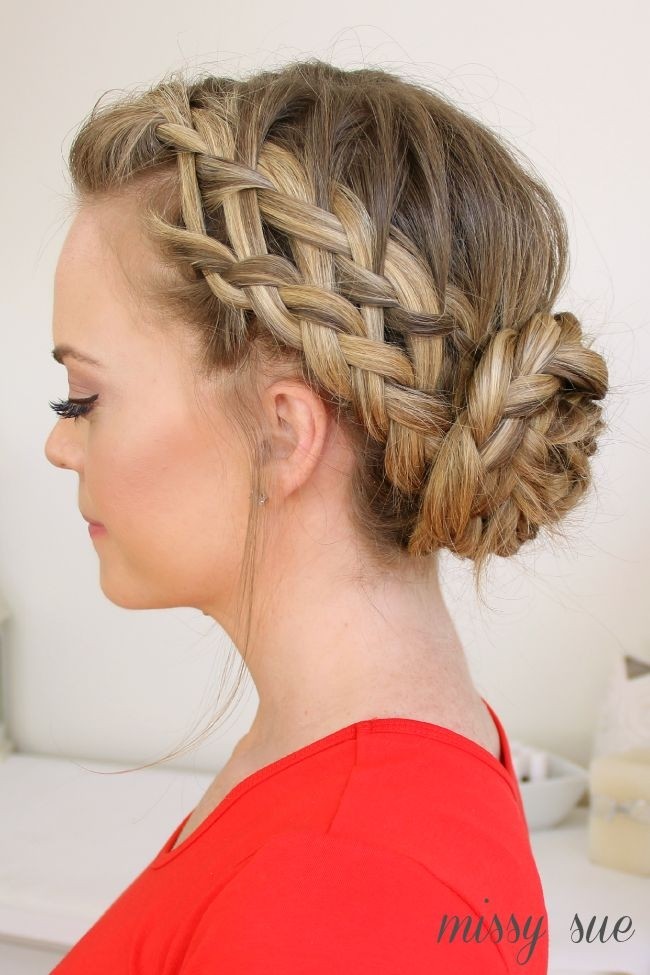 It looks so stunning to create a Dutch braid hairstyle on mid-length hair. You can also wear a delicate floral headpiece for added charms.
Crown Braid Updo for Prom Hairstyles

This cute braided updo is great for prom hairstyles. You can find a small crown braid created across the head.
French Braid Updo Hairstyle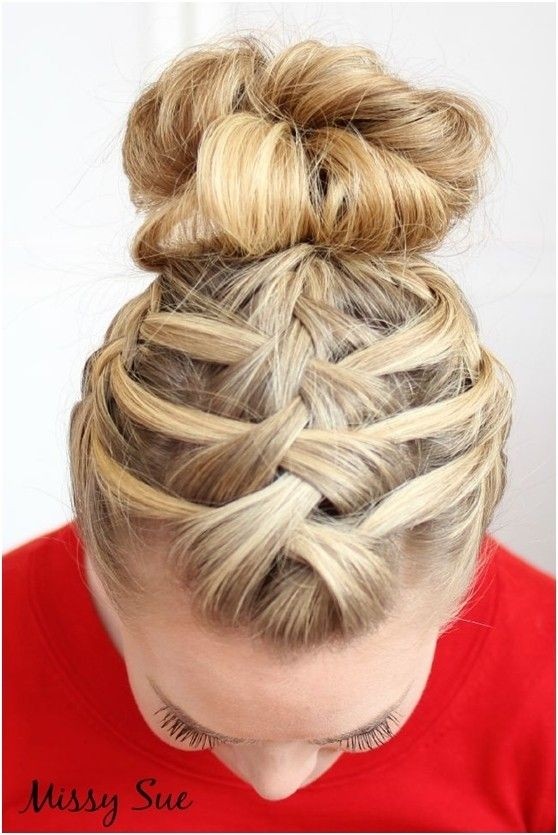 This triple braided bun hairstyle looks so amazing with all the strands overlapping with each other over the head. You will need to flip your head down when creating this hairstyle.
Casual Braid Updo Hairstyle for Girls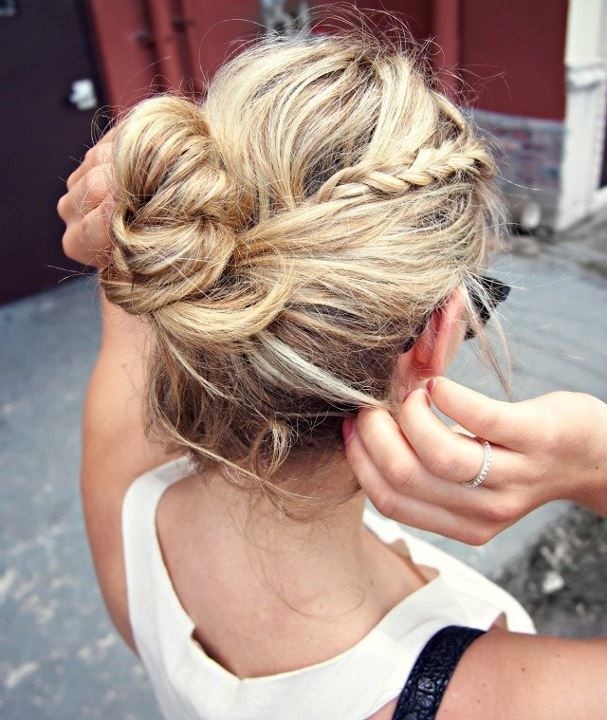 It is very easy to make a twisted bun for average girls. Some braiding details will be able to make the hairstyle look more romantic and splendid.
Braided Updo Hairstyle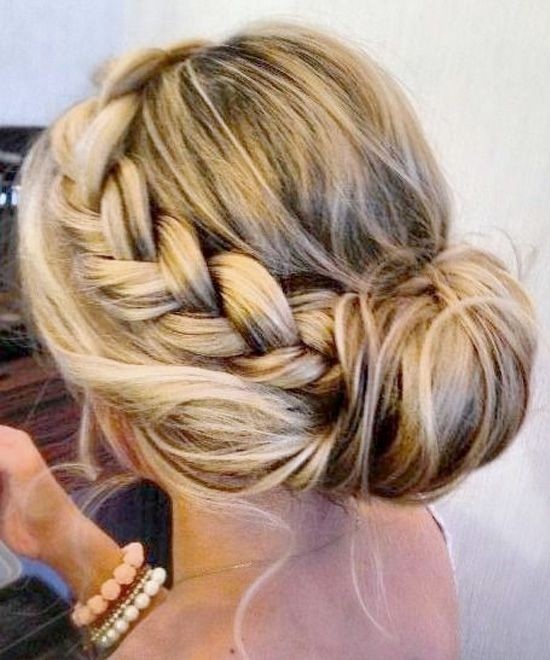 The casual braid into bun hairstyle is perfect for our everyday look. It can be created on medium length to long hair.
Top Bun Updo Hairstyle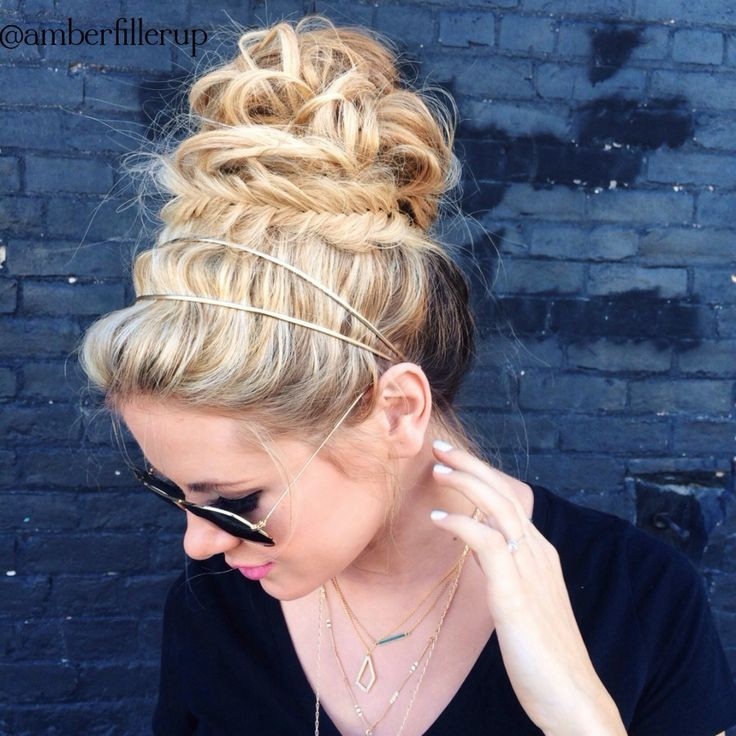 It looks quite trendy to create a high bun hairstyle for hot summer days. This hairstyle can expose your smooth neckline in a flattering way.
Waterfall Braid Updo Hairstyle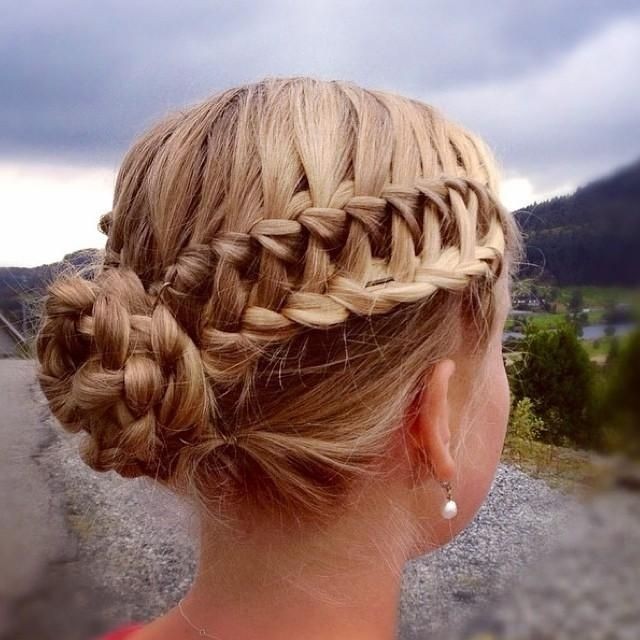 The waterfall and lace braid look so braid when created into a bun shape. Besides, it is made to one side for a cool and trendy look.
Easy Braided Updo for Everyday Hairstyles
Here's a simple way to add more interest into the bun hairstyle. The front sections are being braided and secured above the base.
Romantic Lace Braid Updo Hairstyle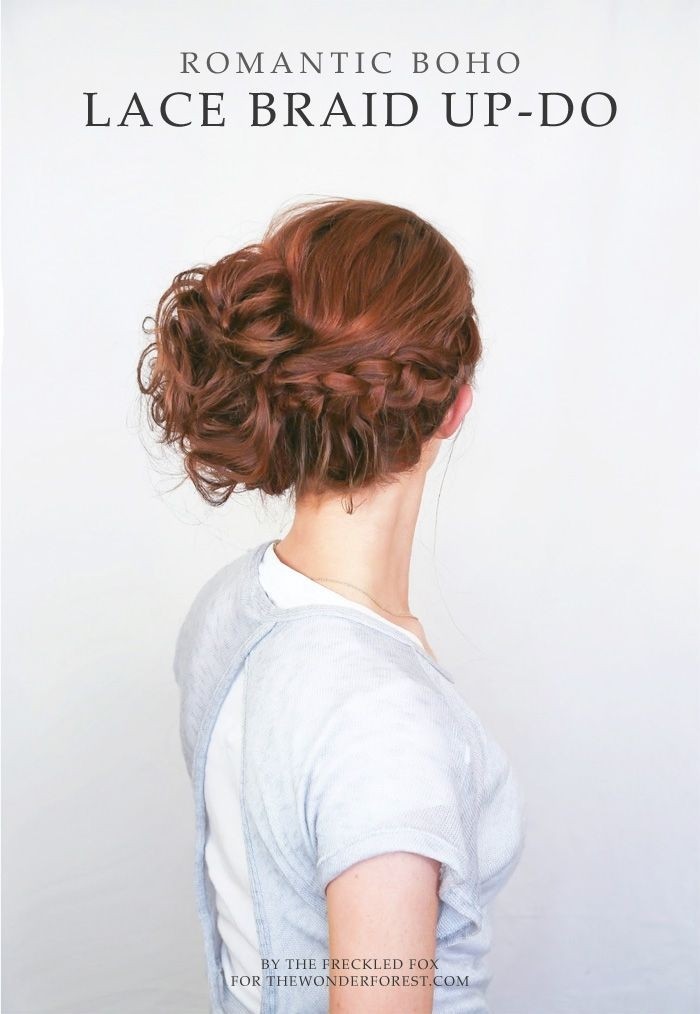 The braid updo will own a more flattering shape when created on wavy hair. So it is ideal for those girls who love glamorous looks.
Headband Braid Hairstyle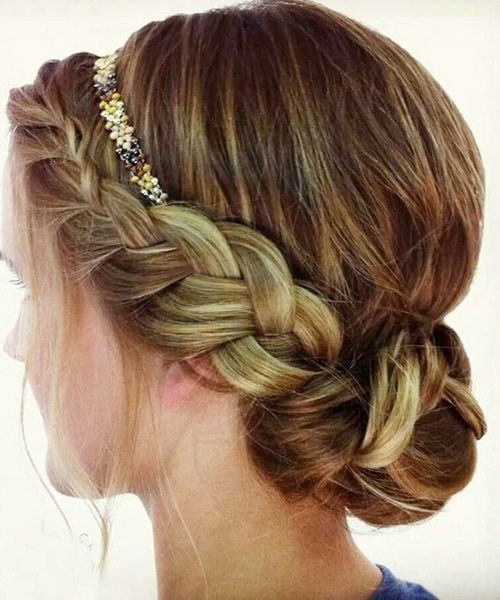 The headband braid will be able to create an open look for your face. You can create this hairstyle by starting to braid your hair from the hairline.
Heidi Klum Braided Updo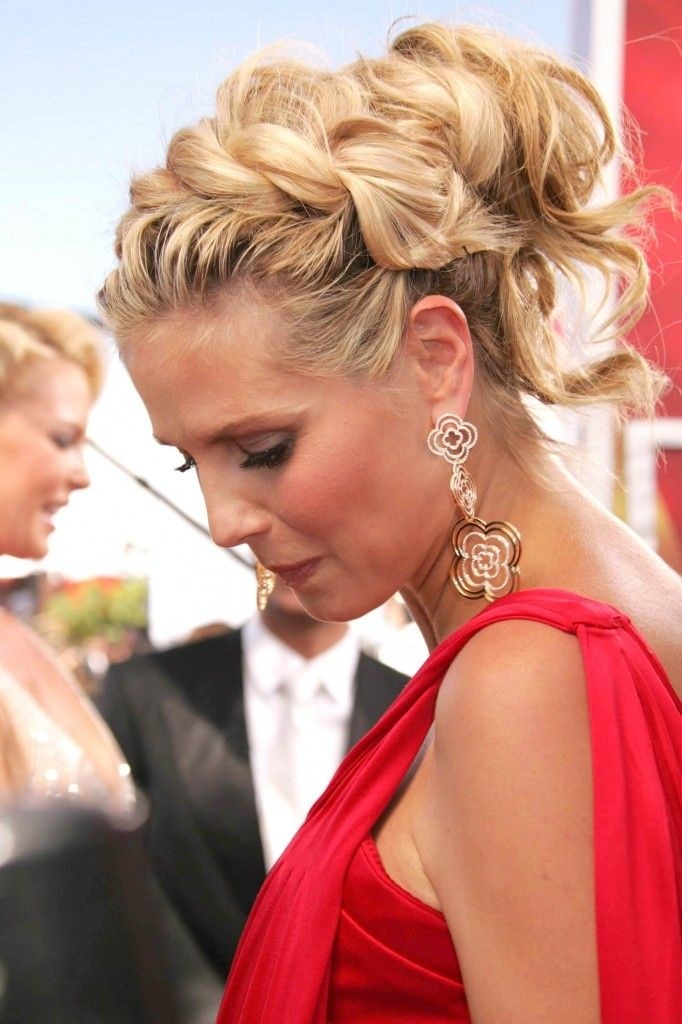 This charming top updo is featured with a rope-like braid across the head. It will look very chic for a bad hair day with the undone style.
Messy Braided Updo Hairstyle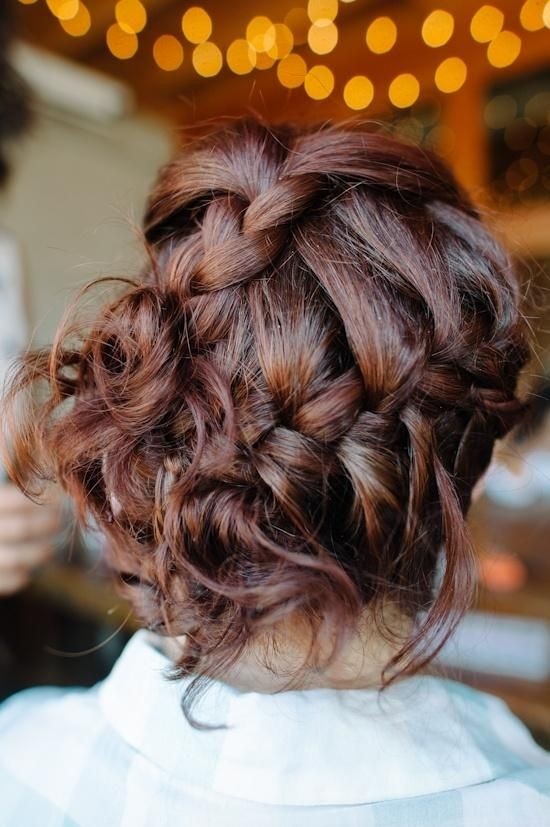 This messy braided bun is great to create a care-free holiday look. All the hair is being styled to one side in a beautiful way.
Boho-Chic Braided Updo Hairstyle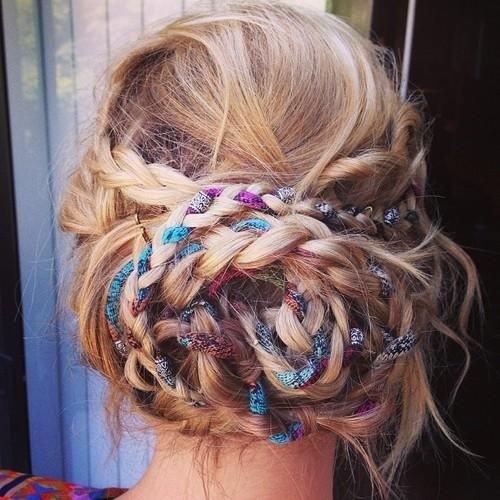 This braided updo looks very fabulous with colorful fabrics weaved right in. The long hair is being braided and twisted into a beautiful flower shape at the back.
Pretty Braided Updo Hairstyle for Wedding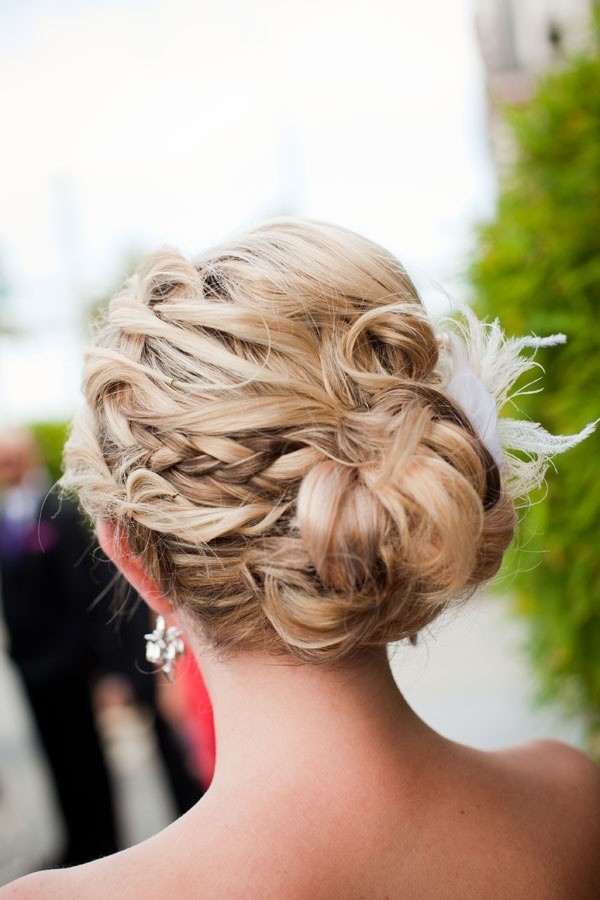 It is an interesting way to make small braids for a glamorous wedding updo hairstyle. Place a feathery hair pin at one side to draw more attentions.
Messy Crown Braided Updo Hairstyle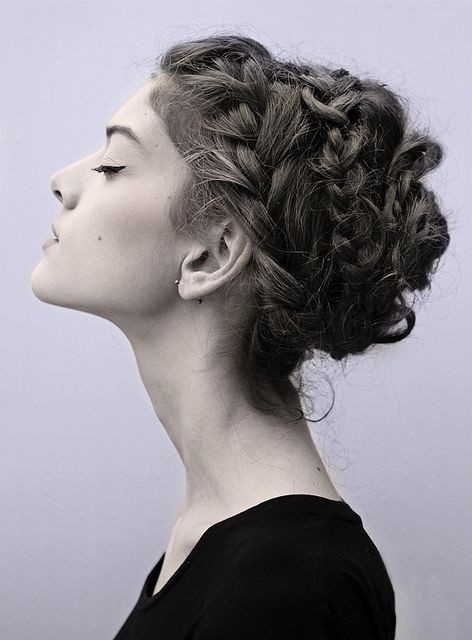 This messy braid bun looks like a piece of art with a long braid wrapped around the head. Loosen up some strands create a better frame for your face.
You can find more (braided updo hairstyles) on prettydesigns.com