35 Nina Dobrev Pretty Hairstyles
Nina Dobrev is stylish with her delicate face feature and flawless figure. Her hairstyles are not as various as some other super stars; however, she can still be amazing with them. This time, we will see a great collection of 35 Nina Dobrev's most popular hairstyles. Let's try to be gorgeous with some simple yet quite stylish hairstyles.
 Nina Dobrev Hairstyles: Voluminous Ringlets
The pretty long ringlets give Nina a princess look on the fairytale. This dreamy hairstyle is suitable for women with thin hair and it is suited for most formal occasions as well.
Nina Dobrev Hairstyles: Voguish Curls
Nina Dobrev is perfect with the luxurious long curls. The fluffy hair frames the face to the best shape effortlessly. All women are suitable for this voguish hairstyle.
Nina Dobrev Hairstyles: Sweet Straight Haircut
Go for a pure look with a simple straight haircut! Use a bling hair clasp to decorate the raven hair, and then you will be stylish.
 Nina Dobrev Hairstyles: Stylish Curls
The side-parted long curls are classic to create a sassy image for women. The big waves are most romantic among all the curls. When you rock this beautiful hairstyle, don't forget to use some polishing cream to make your curls look stunning.
 Nina Dobrev Hairstyles: Soft Tresses
Younger women are popular because they are pure and innocent. Go for a good-girl look with this side-parted straight haircut. Just blow your hair naturally straight so that your beautiful tresses will look soft. Women in their 20s are most attractive with this haircut.
 Nina Dobrev Hairstyles: Side-swept Hairstyle
Opt for this side-swept hairstyle if you are looking for a wild look. Blow all your locks to one side and use some gel to style the hump. All the lengths should be teased casually to contrast with the neat hump. Finally, you can top off this hairstyle with a wild cat's eyes makeup.
Nina Dobrev Hairstyles: Casual-chic Looks
No one can resist the enormous beauty of the nature. A natural look is always powerful enough to destroy all the disguised pretties. So, take good care of your hair and keep it healthy so that it can be beautiful when you just wear it down.
Nina Dobrev Hairstyles: Messy Looks
Shaggy hairstyles are quite popular nowadays. Nina just gives her brunette hair a casual center part. No matter it is the curly style or straight haircut, she is the same beautiful. Which do you like better?
Nina Dobrev Hairstyles: Long Braid
Nina chooses a neat fishtail for an elegant look. The 20-inch braid is really gorgeous. Women with long curls should really have a good try.
 Nina Dobrev Hairstyles: Ultra-Straight Haircut
The ultra-straight haircut is a timeless hairstyle for all women. Just take a look at these two stylish straight hairstyles of Nina Dobrev. They are all center-parted, but one is layered haircut and the other is blunt haircut. I like both of them. What about you?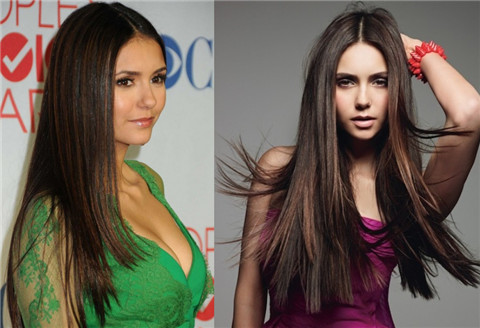 Nina Dobrev Hairstyles: Side-parted Curls
These side-parted curls are so sweet and classy. The side part works well to elongate the face and the long tresses play an important role to frame the face as well. All faces will be suited for this pretty curly hairstyle.
Nina Dobrev Hairstyles: Fluffy Curls
Nina wears her brunette locks in a fluffy wavy' do! The loose curls are really sassy and they frame the face to the perfect shape effortlessly. Women over 20 are suitable with this stylish hairstyle.
 Nina Dobrev Hairstyles: Bitty Braids
In this hairstyle, the braid has become an important accessory that makes the disheveled hair unique. Want to have a sweet look? Try this one!
 Nina Dobrev Hairstyles: All-back Curls
Nina rocks an all-back wavy hairstyle for a high fashioned look. The fluffy locks add volume to the hair look and it is an amazing hairstyle for mature women.
Nina Dobrev Hairstyles: Luxurious Curls
Nina Dobrev looks radiant with these luxurious curls. You can learn from Nina by adding some highlights to your curls. Oval and round faces can experiment with this hairstyle.
 Nina Dobrev Hairstyles: Brunette Curls
Nina sports an intensive curly hairstyle for a graceful look. The wavy bangs have some retro vibe and it makes the overall look stand out. Women over 20 will all be fabulous with this haircut.
 Nina Dobrev Hairstyles: Updo Hairstyles
The most classic hairstyles for an elegant look must be the updo hairstyles. A high updo makes women elegant yet youthful and younger women will be most suited for such updo hairstyles. The braided updos and bobby pinned updos are demure by itself and all women will be gorgeous with them. To be chicer you can rock a messy updo. The messy updo can be recreated from any updo hairstyles.
 Nina Dobrev Hairstyles: Ponytail Hairstyles
At last, let's see some hair looks of the ponytail hairstyles. Ponytail is the most familiar hairstyles for women. It can be stylish with some transformations. Get inspired from the following pictures.