5 Different Looks for Any Wedding
Getting a wedding invitation is always exciting, but the dress code at a wedding can be a little confusing. Trying to decide the perfect look is even more complicated when guests must follow a specific dress code. Weddings can vary from casual to black-tie, which means the appropriate attire is vastly different depending on the wedding. Luckily, you can find a rough guide of what would be appropriate to wear at 2021's upcoming nuptials. After all, you don't want to steal the limelight away from the bride's amazing dress, but you also don't want to commit a faux-pas at the wedding. All of these suggestions are guidelines, but you are the ultimate decision-maker!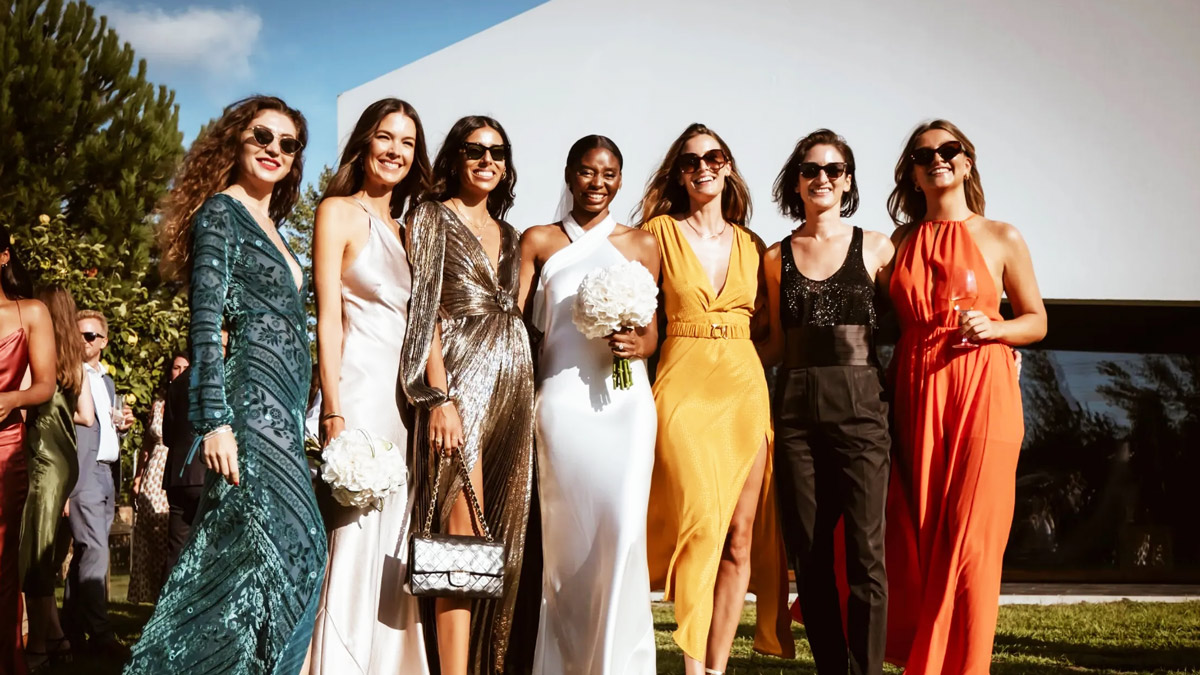 Photo: B_LOVE_STUDIOS
1. Casual
Casual weddings can be the easiest and most straightforward of wedding outfit types. Weddings that ask for casual attires are typically intimate, informal, and outdoor, which means the dress code is the most relaxed. Opting for something comfortable is recommended, and since it is a casual look, online retailers such as Forever 21, Fashion Nova, and H&M are all affordable and great options. Anything you wear to a lovely brunch is more than perfect. In addition, casual doesn't have to mean boring. To mix it up, you can opt for a modern chic jumpsuit or a long floral maxi. Sundresses are universal among brunches and casual weddings, and when it comes to shoes, it is good to also match your casual dress with a low pair of heels or strappy sandals.
2. Cocktail
A cocktail wedding often shares many similarities with a semi-formal wedding. The difference is cocktail weddings do not have a sit-down meal which means you can afford to be a little less sophisticated in your attire. But it is not as relaxed as a casual wedding. A cocktail wedding allows you to have a little more fun with the look. Traditionally cocktail dresses are known to be on the short side, and you can change it up with a unique cut or a bold color. Opting for something dark or bold can add to the sultry vibes of a cocktail wedding. Make sure to skip long evening gowns, which are too formal for a cocktail event, but you can wear your regular stilettos during a cocktail event.
3. Semi-formal
Semi-formal weddings require a certain level of sophistication to the outfit, but that does not mean it has to be boring or basic. Depending on the location of the wedding, you can opt for different options. Semi-formal gowns are generally at least knee-length but choose what makes you feel the most confident (and what the invite recommends). If it is an early wedding, it could be good to choose a more relaxed and bright fit. Any color besides white is a great color. A nighttime semi-formal wedding must pair well with a structure, darker-toned look. The dress code is more formal than cocktail dresses, so any long dress, skirt, or bottom that would be "too much" for a cocktail wedding is perfect for a semi-formal one!
4. Formal
Formal wedding attire is anything short of the Oscars. A floor-length gown, beautifully decorated midi dressy, or well-tailored pantsuit would not be out of place here. In formal weddings, ankles are luckily still appropriate. You can wear your prettiest and tallest heel here, and it would not be out of place. Choose a hemline that you love and flatters you. Trends to consider to make your formal gown a little different is an alternative neckline such as the one-shoulder. If unique necklines are not your thing, choosing a gown with an intricate print might be what gives you the edge. Or you could go for a figure-hugging maxi dress that is understatedly sexy.
5. Black Tie
A Black Tie Wedding is THE Oscars. Formal floor-length gowns that are red carpet-worthy are all acceptable and encouraged at Black Tie weddings. Traditionally, Black Tie weddings are the most formal dress code, and women are not known to show their ankles during this dress code. Depending on the bride and groom, they may be okay with a less dramatic gown or a shorter dress. Black Tie events are rarer these days as more casual weddings are gaining traction among newlyweds. Pairing your fanciest jewelry, heels, and bag with your black-tie gown is more of a given than an option. Designers to consider when shopping for a black-tie gown are La Femme, Mac Duggal, and Tiffany Rose. A Black Tie gown will often be accompanied by a Black Tie price tag, so be prepared for this type of wedding!